EQO
EQO aims to provide a single gathering place from which you can view and connect to all of your contacts via voice calls, SMS text messages, or instant messages. EQO's software supports AIM, Google, and Yahoo IM; photo sharing (you can embed images in EQO messages or send links via IM or text message); free messaging to other EQO users; the ability to post or follow EQO and Twitter status updates; and RSS feeds.
The service, currently in beta, works on various BlackBerry, LG, Motorola, Nokia, Samsung, and Sony Ericsson handsets. I tested it on the BlackBerry Curve 8900. Simply register your mobile number on EQO's site, and a link to a download site arrives on your phone via text message. Installation is easy, and to dial a number, you just enter it within the EQO interface; your phone then connects you by dialing a local access number, which EQO uses to route your calls over its network. (All of this happens in the background; you may not even notice it.)
EQO's voice quality was the best of the four services I tested, but it still wasn't as good as that of a conventional cell phone call. Voices were less than crisp and sounded slightly hollow, but overall everything was understandable. EQO's rates are substantially higher than those of the other services, starting at 2.3 cents per minute. And even calls between EQO users aren't free: They're half the cost of out-of-service calls.
Skuku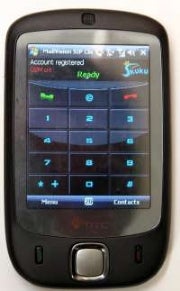 Skuku's principal current product is slightly different from the others I tested for this story. Designed to eliminate international roaming charges for calls made to the United States from overseas, Skuku requires a PC and Skuku hardware--either a USB stick or a handset into which you insert the SIM from your GSM handset. You connect the Skuku stick or handset to a PC's USB port, and Skuku's PC software routes calls to the company's servers, which use your SIM info to place the call virtually from your U.S. carrier.
The downside of this approach is that you're tied to a computer, but Skuku is working on a Windows Mobile version of its software for GSM handsets (the company says it will release the app for HTC handsets this spring). I tested an early version, which requires a Wi-Fi connection, and found the voice quality so-so. Calls sounded very fuzzy, with lots of static and a noticeable echo, but I could hear my callers and they could hear me.
Skuku's mobile app will likely be free, with service fees similar to those for the PC-based application (about $2.50 a day or $12.50 per month). It's a good deal for travelers who want to call home cheaply, but you'll still have to pay roaming charges for calls from one foreign country to another.
While the voice quality of the four services I tried would not win any awards, they could save you serious money if you make a lot of international calls. Since the software is free, you might want to try them out yourself to see if one of them works for you.