About three years ago, Web-based image editors started appearing, but most were not terribly useful, and they certainly did not threaten desktop-based editors -- they tended to be experimental projects and no more powerful than Microsoft Paint. More recently, however, newer Web applications have been launched that offer features similar to those found in desktop image-editing software.
Nowadays, there are so many image editors available online that even Dave Brushinski, whose Splashup was one of the earliest Web-based image editors, thinks this field has become too crowded. Asked why people should use his product over others, he is remarkably frank. "I think people should experiment and decide what image editor provides them the best user experience," Brushinski said. "At this point, there is something of a saturation point with what's out there."
For this roundup, I decided to look at six Flash-based image editors: FotoFlexer, Phoenix, Picnik, Pixlr, Splashup and Sumo Paint. (There are Web-based image editors that require only JavaScript and DHTML to work, but at this point, their features and capabilities do not match those of their counterparts driven by Flash.) This list is by no means comprehensive; instead, it focuses on the ones with the most robust features, including support for layers -- a must-have for any drawing/image-editing program to be used by a digital artist with moderate-level skills.
Another thing I looked at was how well each app encourages users to collaborate online or enables them to access and edit photos on their social networking or photo-sharing accounts. After all, what's the point of using an image editor through your Web browser if you can use GIMP, Paint.Net, Picasa, Artweaver or one of many other stand-alone photo-editing apps for free? Online collaboration enables artists to share their files with others to manipulate, which can make a Web-based image editor with this functionality useful for group sessions.
You will find essentially the same basic drawing tools (such as draw, fill, mask, crop and color selection) across most of these programs, which should fulfill your basic photo-editing needs. So the focus here is on each application's stability, ease of use and any extras that set it apart.
Note that none of these are replacements for an image editor of the caliber of Photoshop, especially in terms of heavy-duty professional use. And they can't load images saved in the Photoshop PSD file format. Another thing to keep in mind if you are concerned about privacy or copyright: Most of these editors require that you upload the picture you want to edit to their servers. The exceptions are Pixlr and Sumo Paint, which will load your images from your local computer without uploading the picture to its servers, if you run them with Flash 10. In fact, if you're not using a Pro account at Aviary, every photo you load and save on its Phoenix photo editor will immediately show up on the community site for all to see.
FotoFlexer
Through FotoFlexer, you can load a photo directly from your MySpace, Facebook, Flickr or Photobucket account and immediately edit it within your Web browser. When you're finished working on the photo, you can save it right back to your social networking or photo-sharing site.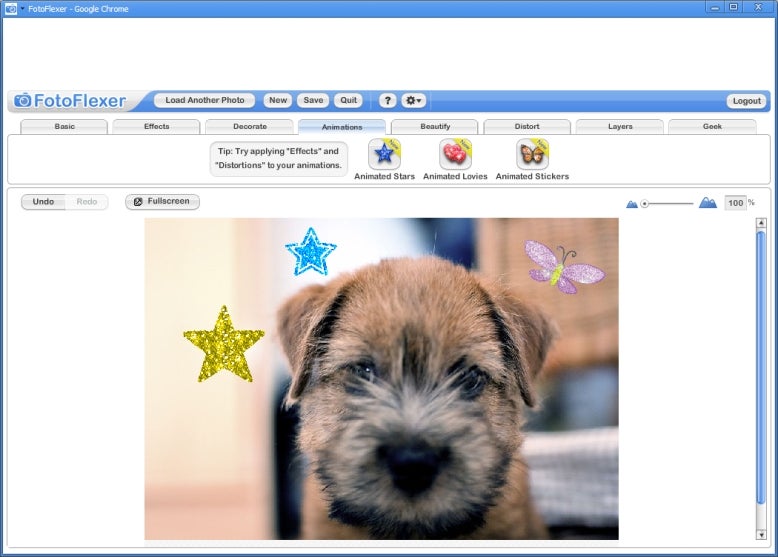 This application is built around manipulating snapshots of people, which is obvious in the kind of effects it offers. There are tools for removing blemishes and smoothing out wrinkles from people's faces, and you can litter photos with clip art of sparkly animated stars, hearts or butterflies. (Yes, you read that right.)