Updated
Hands-On: Asus Eee PC 1008HA, UX50, and U80V
Yes, Asus Makes 'Regular' Laptops, Too
With all the rapid releases on the netbook front, you might forget that Asus also has a reasonably large stable of standard laptops. I got a quick hands-on look at a couple other eye-catchers, the UX50 and the U80V.
As you can see in the pictures here (hands not included), these machines are made to be pretty spry, considering their all-purpose size.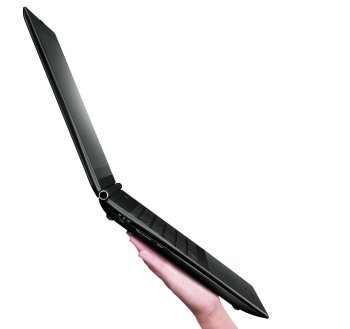 The UX50 makes a few nods to luxury design by incorporating a backlit Chiclet-style keyboard (think MacBook Air). It also utilizes an AI light sensor to automatically adjust the brightness of the display and keyboard to make it more usable wherever you set up shop. (Don't worry, I'll put that one to the test the first chance I get with a final unit.)
Packing an Intel Core 2 Solo SU3300 1.2GHz CPU, the UX50 is shooting for low-end performance but long battery life, though we can't confirm yet what kind of battery life you should expect. With 4GB of RAM and a modest, discrete nVidia GPU, the system can handle Vista Home Premium with little problems, Asus claims.
The 15.6-inch display and slot-loading DVD burner will allow for decent on-the-go movie viewing, while the 802.11n and Bluetooth support means you'll be able to connect with ease.The UX50 is set to sell for about $1199.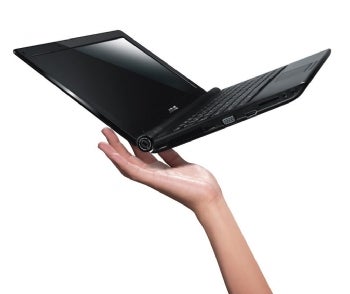 As for the other new laptop, the U80V has a couple of unique, flashy features of its own. This 14-inch notebook sports the same backlit Chiclet-style keyboard and ambient light-sensing tech that you find on the UX50, but in addition it has a wacky light vapor trail on the touchpad that actually traces where your fingertip moves. Who the heck ordered up the Pink Floyd planetarium laser show for my laptop? Yeah, it's more of a style/status effect, but if you want to impress the cute barista you've had your eye on, now you have your "move"--even if it'll reduce the battery life of the laptop. (Asus claims that this machine will last for 6 hours. We'll see about that after one shows up for proper lab tests.)
As for the stuff that really matters, namely performance, this machine rolls along with a Core 2 Duo T9550 2.66GHz CPU, 4GB of RAM, and a decent 512MB ATI Mobility Radeon HD4750 GPU. Throw in the 14-inch screen and built-in DVD-R drive, and I can't help but wonder how Asus plans to hit the $899 asking price. Honestly, the U80V looks like a pretty solid mobility choice that I'd like to get my hands on for further testing. We're stuck waiting until "sometime this summer" before any of these machines ship, though. Hurry, Asus: The baristas are waiting.
Shop Tech Products at Amazon