RoamAbout Helps You Stay (Socially) Networked
Tracking your many e-mail and social networking sites can take a lot of browser tabs. RoamAbout (free) aims to help you stay on top of your Facebook updates, Twitter tweets, new Gmail messages, and other Web service essentials without having to keep all those tabs open.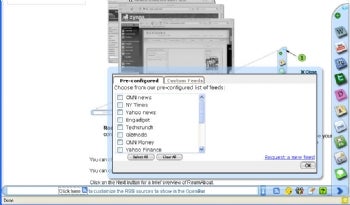 The free RoamAbout browser add-on for both Firefox and IE adds an 'Openbar' to the bottom of the browser that gives you the latest updates from your choice of RSS feeds, your Facebook friends, or your Twitter tweets. You can also bring up a right-side bar with applets for accessing Google Maps, Wikipedia, Hulu.com, Flickr or a number of other sites.
If the Openbar's constant updates start to make you feel twitchy, you can hide it. If you later decide you want it back, click a RoamAbout icon in the bottom-right corner of the browser to restore it.
RoamAbout can help manage a heavy social networking load. If you use these sites sparingly--or if you're content with accessing sites in the browser as you need them--then you probably don't need RoamAbout. But if you want faster access and constant updates to and from your favorite sites, this add-on may be for you
Shop Tech Products at Amazon