Microsoft's latest Edge 111 browser has a new built-in tool: Edge Copilot, which takes the AI-powered Bing Chat assistant and turns it into more of a butler.
By now, you should be somewhat familiar with Bing Chat: the AI chatbot Microsoft launched at the beginning of February is being rolled into Windows 11, even after a number of early experiments that saw Bing devolve into weirdness, or worse. Microsoft then set out to make Bing Chat less crazy by limiting replies.
But set that aside for a moment. Edge Copilot, which is found in the Bing sidebar that's accompanied a few of the latest Edge releases, does include Bing Chat. However, its design emphasizes Bing as a content-creation tool, a theme that we'd expect Microsoft to expand more on at a "Future of Work" AI event on Thursday. In addition to Bing Chat, there is also a "Compose" as well as an "Insights" tab that uses AI to create and learn more about what you're viewing.
Edge 111 is also ushering in a "new tab" feature for enterprise users. Instead of seeing the various new and features powered by Microsoft's Start content service, you'll see a larger, more thorough version of the Microsoft Feed. (The Feed refers to content that Microsoft's other algorithms show you, encompassing everything from relevant documents to employer-created content from Viva.) Microsoft did not confirm that its AI-powered Edge video upscaler has been released, however — it remains in beta.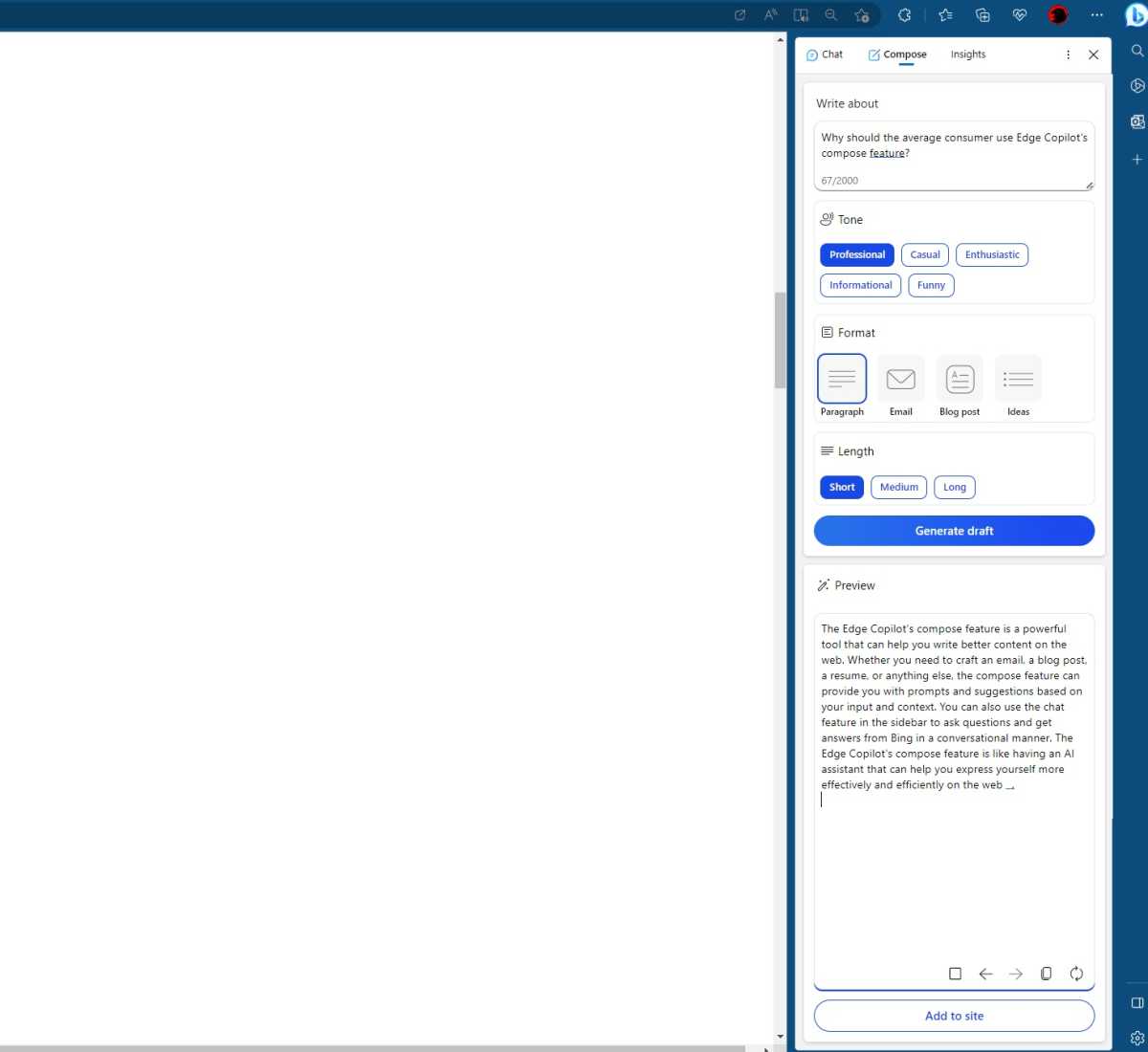 Mark Hachman / IDG
To upgrade Microsoft Edge to Edge 111, open the "ellipsis" menu in the upper right-hand corner, scroll down to Settings, and then go to About Microsoft Edge on the next screen. Edge will auto-update to the latest version. Now, let's take a closer look at Edge Copilot, what it does, and what it can do for you.
What is Microsoft Edge Copilot?
You're not going to see Edge Copilot right away — and maybe not at all. Edge Copilot is powered by Bing Chat, and there's still a waitlist as of this writing. If you don't have access, you won't see any of the new features shown below.
In any event, Edge Copilot is hidden by what appears to be the new Bing Chat logo: the Bing "b" contained within a speech bubble. Click it, and the Edge sidebar will open up.
You'll need to decide on two settings before you get started. First, whether to configure Bing Chat as "precise," "creative," or "balanced" — though asking for creativity will hurt Bing's precision, for now. You'll also need to agree (or deny) whether to allow Bing to "read" the page in the browser you're viewing, so it can assimilate its content.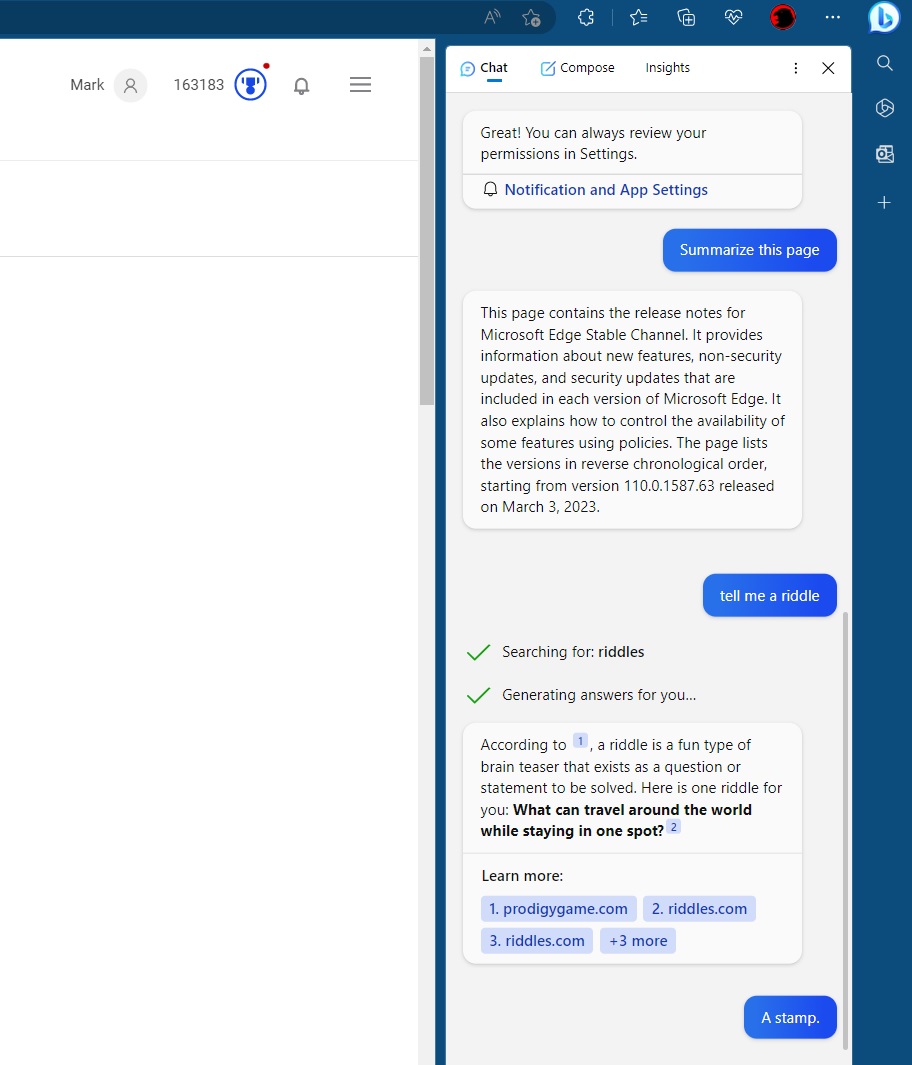 Mark Hachman / IDG
The simplest, most accessible tab is Chat. This is Bing Chat, where you can ask a question, request a riddle, or any of the topics and tasks Bing can do. Interestingly, Edge Copilot's Chat function has a different UI than Bing Chat. For one thing, there's no "stoplight" icon indicating how many questions or interactions you can have. (In Bing Chat, Microsoft limited the number of interactions you can have before you have to "start over," wiping Bing's knowledge of the prior conversation.) Just remember that Bing Chat can "hallucinate" ideas or facts that might not be true, so be slightly careful in how you use it.
The third tab, "Insights," should be where you'd find the other key feature Copilot offers: the ability to summarize the contents of a page, such as a long academic paper or blog post. Unfortunately, the Copilot Insights tab offers a grab bag of not particularly useful information, such as a link to the Wikipedia page describing it, the approximate traffic and page referrals, and so on. (You can ask Bing Copilot to summarize the page, but the easiest way I found is to do it from the "Chat" tab. Simply tell Edge Copilot to summarize the current page, and you'll receive a paragraph or two explaining it all.)
Mark Hachman / IDG
In some ways, the "Compose" tab is the most unique and interesting function that Edge Copilot offers. This is AI-generated content; at the top of the page, an input box invites you to enter the topic of what Edge Copilot will write about. The other options describe the tone (professional, funny, informative, and so on) and the format (email, blog post, generic paragraph, or list of ideas). You can then generate the relative length (short, medium, or long — a long answer produced copy of 370 words) and then ask it to generate a draft.
Don't expect the next great novel or poem. Bing's copy is serviceable, what you might expect from a copywriter or student — and that's not really a criticism, either. Professional writers probably don't have anything to worry about. But Bing is concise, mostly accurate, and most of all, virtually instantaneous, requiring just a few seconds to generate a response. While I wouldn't ask it to write a story under my byline, it doesn't hurt to ask it for a list of ideas on a given topic. At the very least, a poor idea that Bing generates might spark a good, original thought.
Use it enough, and you begin to see the sort of things that Bing (or a competing product, such as Canva's Magic Write) might be good for: a cover letter that summarizes your resume? A conciliatory email from a service agent to a customer? An executive summary of a complicated proposal? You might raise objections to each of these, but there's arguably more and more content that's both necessary, largely ignored, skimmed through, or even filtered by another AI or algorithm. That's where you'll find value in Bing, Edge Copilot, and other AI services.