The Intel Arc GPUs have been an interesting new release in the GPU market for one big reason: It's a third player in a market that sorely needs competition for prices to stay sane. Nvidia and AMD currently have a strong grasp on the market, with Nvidia maintaining a dominating lead.
Here comes Intel, a behemoth company in its own right. There's a problem, though. The Arc GPUs such as the A750 and A770 are promising, but full of early teething issues. The hardware seems capable, but the driver software side is playing catchup.
Today we're going to answer whether daily driving an Intel Arc A770 is reasonable in 2023. Is it going to be too buggy to even consider? We'll take it through the basic driver installation, and the quality of that experience. We will then put it to work in some popular games and see if it's up to snuff in real-world use. Questions about performance metrics compared to the competition aside, our goal is to find a smooth, competent experience foremost.
Arc A770 Limited Edition
Price When Reviewed:
$329 (8GB) | $349 (16GB, reviewed)
In Brad Chacos's initial Arc A750/A770 review, he ran into several driver and game issues early on with the initial release. Intel is up against tough competition in the software world. Nvidia and AMD have had years to develop their drivers, so if Intel also wants your hard-earned dollars, it'll have to prove it's worthy.
Check out PCWorld's YouTube channel for Intel Arc updates as well as how the performance has improved with each driver update.
Intel Arc: The drivers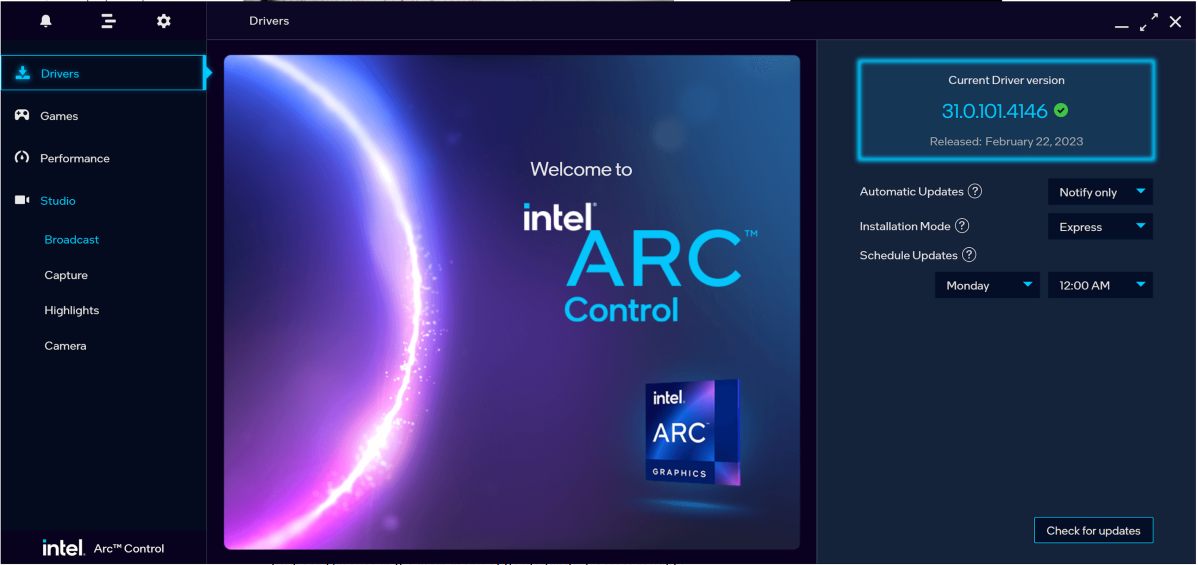 Thiago Trevisan
Our first order of business after installing the Arc A770 is to download drivers from the Intel website. You're presented with a choice of either the newest certified release, or if you're feeling frisky, beta drivers. We'll go with the standard stable release for our test.
While we'd usually recommend the stable release for most users, Intel Arc GPUs are a rapidly evolving breed. In some cases beta drivers may likely cover more recent game releases and squish more bugs. (In theory, your mileage may vary.)
The initial install process went smoothly, and Intel Arc Control performed well. Brad Chacos remarked how it felt "laggy" during his initial review, so it appears to be improved with the newest drivers. After you've become familiar with the layout, it's easy to navigate through and functions well. Brad had also noticed that Windows would constantly ask if you "allow" it to run Intel Arc Control, an issue that's also fixed.
The third-party software MSI Afterburner also seemed to work fine with the Intel Arc GPU, reporting the on-screen GPU temperatures and data as one would expect.
The test system:
Intel Arc A770 16GB
Intel Driver 31.01.101.4146 (Feburary 22, 2023)
Asus ROG Hero X670E motherboard
AMD Ryzen 9 7950X
32GB of DDR5
Samsung NVMe
Let's discuss some issues that may still pop up for some. The first concerns booting into BIOS. On the Asus X670E Hero motherboard, the Intel Arc seemed to not display an image through DisplayPort when attempting a BIOS boot. Using HDMI, it immediately worked. DisplayPort worked fine when in Windows and had also worked in the BIOS when an Nvidia GPU was present with the same settings.
This may vary and be dependent on the interaction between a specific motherboard or BIOS, so you may have a different experience. (We can confirm that the Arc GPU will boot into the BIOS with DisplayPort in a different system)
Another known issue some users may experience concerns Resizable BAR showing incorrectly in Intel Arc Control as "unsupported"—even when correct settings are applied, which can be confirmed as active in the free software GPU-Z. Device Manager can also confirm by selecting the Intel Arc GPU in Display adapters, selecting Resources, and checking that Large Memory Range is there.
Intel Arc A750 Limited Edition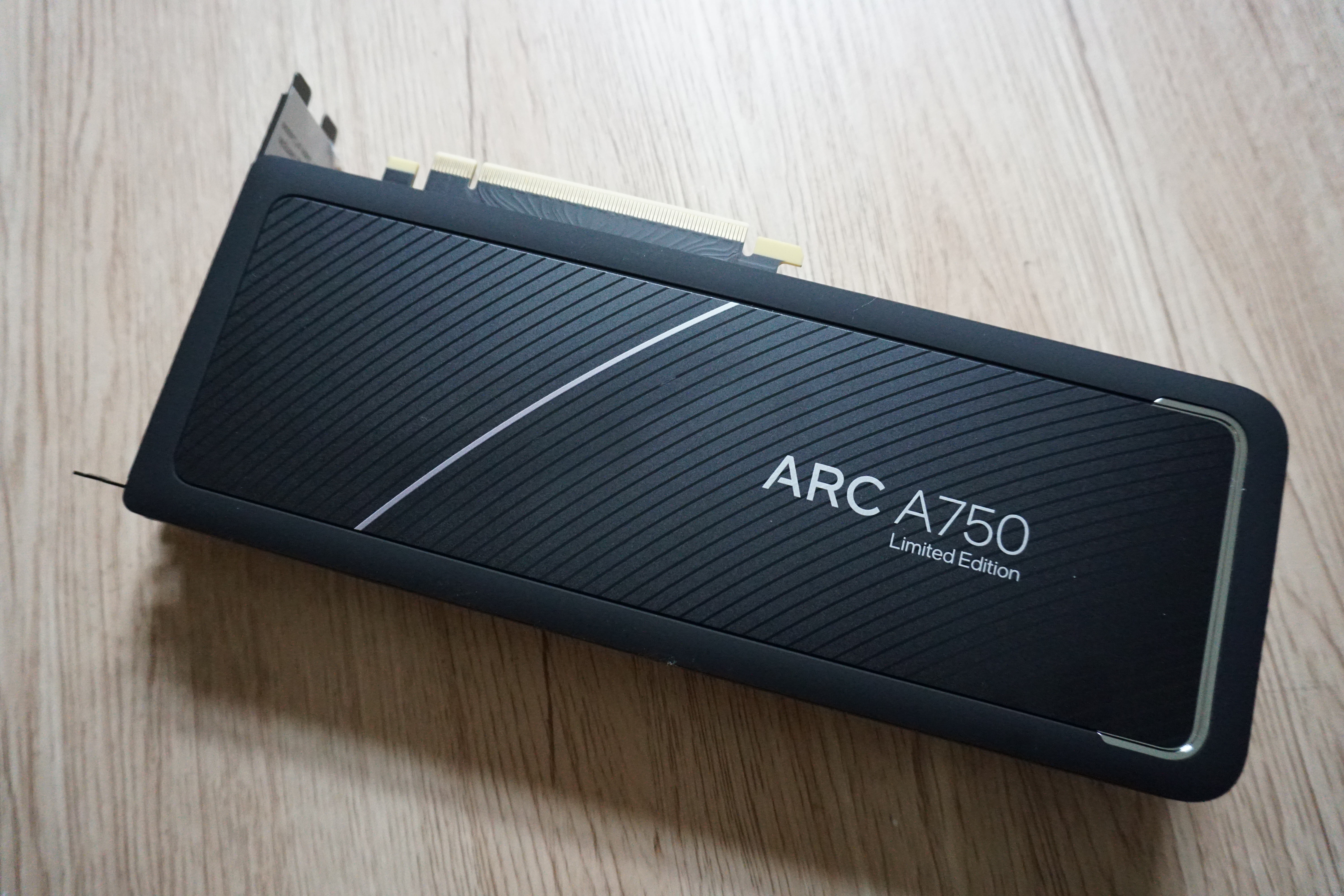 Price When Reviewed:
$249
(The issue was reportedly fixed in more recent Arc Control versions, but some users have still encountered this.)
As Resizable BAR, or "reBAR," support is very important for the performance of Intel Arc GPUs, this is certainly relevant to the experience. While it will be active, it's nice to see confirmed that it is working, or you'll have doubts about the performance of the GPU itself.
The above aren't complete deal breakers, but still show how buggy issues may crop up on occasion. In general, Arc is much less buggy with the newest drivers than the initial release, so it's certainly good progress.
Intel Arc A770 16GB: Game performance
Let's look at Intel Arc in some popular games. Keep in mind there may be some variation of bugs that may be hardware-specific, and some that may come down to DX9, DX11, and DX12 games. Intel Arc certainly has the best expected performance in DX12 games, but Intel has also recently made a big deal about how DX9 has been optimized in the latest drivers.
Intel Arc A770 16GB: Hogwarts Legacy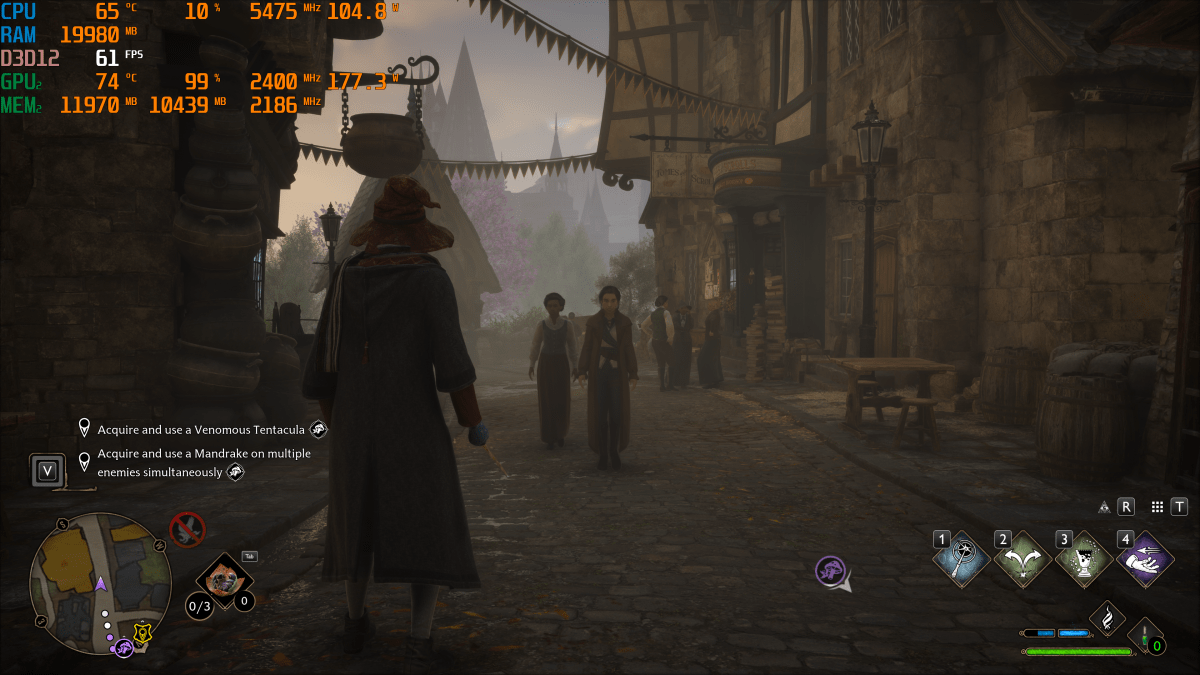 Thiago Trevisan
Hogwarts Legacy is one of the latest popular releases. It's also a graphically intensive game, with ray tracing included. These types of games absolutely love VRAM—making a good test subject for the Intel Arc A770 with 16GB of the good stuff. It's also a good test to see if ray tracing and Intel XeSS are functional and bug-free.
I wanted the first test to really push the Arc GPU and see if it would throw in the towel. Intel Arc A770 is certainly best suited to 1440p, but we'll start with 4K—for maximum effect.
I placed the settings on Ultra, turned off ray tracing, and set Intel's upscaler XeSS on balanced mode.
The Intel Arc A770 did very well. Even in the busy Hogsmeade town area, it maintained very playable frame rates, without any serious dips. Inside Hogwarts, FPS would be even higher.
What was most surprising was that it was all still very smooth—there were no aggressive FPS dips, stutters, or skipping about. The extra VRAM on this Arc A770 16GB really helps at these resolutions—it's also 256-bit bus width. Compare this to the 4070 Ti 12GB's 192-bit bus, which is quickly saturated and often results in poor performance at these resolutions.
Turning ray tracing on brings the FPS down below 30—but even then it was still consistently smooth. If you play at a more reasonable 1440p, the overall gaming experience is quite positive on Intel Arc for this game.
It's no surprise: Intel even had drivers at the ready for Hogwarts before AMD released its own recently—which is a good sign for Intel's software. Everything worked as you'd expect—menus loaded quickly, and there were no errant game crashes to report.
Our first real-world game experience resulted in various sessions of smooth gaming, with no real bugginess to speak of in this particular game. Ray tracing worked as it should, performance penalty aside. Intel XeSS also provided some good results, making an otherwise unplayable setting much more palatable.
Intel Arc A770 16GB: Cyberpunk 2077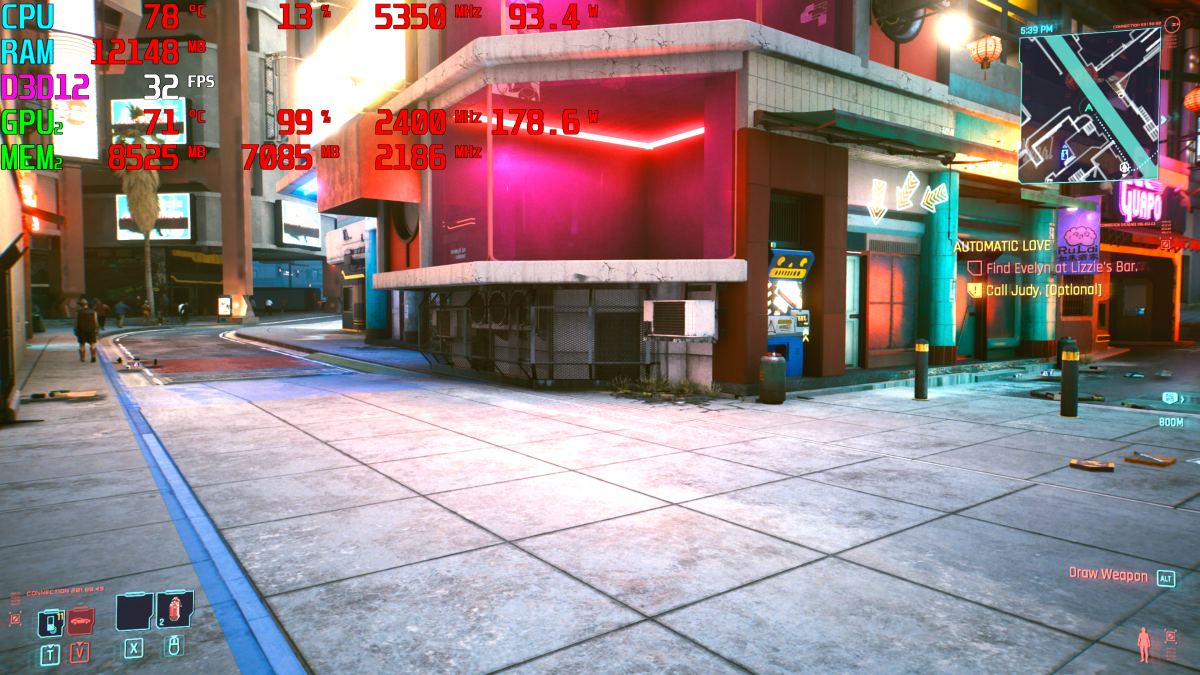 Thiago Trevisan
Jumping into Cyberpunk 2077 at 1440p, the Intel Arc continues to be fairly bug-free. At Ultra with FSR 2 on Balanced, we're not quite at 60 FPS, but the performance is smooth enough. Even though Intel Arc GPUs actually do ray tracing rather well, this is a heavy game that makes the RTX 4090 break a sweat. Regardless, even with a taxing workload on the GPU, it's still reasonably smooth and at least remains consistent.
Everything loaded and performed as it should, and any performance or lack thereof would just come down to the power of the GPU itself. This is great news and puts it on better ground versus the competition. Ideally, as Arc drivers improve, we can compare hardware to hardware without splitting hairs over buggy drivers.
AMD's FSR 2 also worked great on Balanced here, giving a much-needed FPS boost.
Intel Arc A770 16GB: Dead Space
Dead Space is a popular remake and can be graphically intensive. This is the first game where I faced some issues. At first, it was a less consistent frame-rate performance. Moving around would cause the frame rates to dip from playable to unplayable. Most other games seemed to at least remain consistent, but this could also be due to this game specifically—not a bug, per se, but it could be down to unoptimized drivers.
Another interesting note is that this game also caused some weird screen issues. First, it completely locked up the system when I tried to change the in-game resolution—resulting in a system reboot being needed. Secondly, it would sometimes have a hard time going into "full-screen" mode and remained in "windowed."
It could be behavior particular to this title, as most other games did not exhibit this. It can illustrate how you may still run into a buggy experience here or there with Intel Arc. (This game has worked mostly without similar bugs on the Nvidia GPU previously used here.)
Intel Arc A770 16GB: Returnal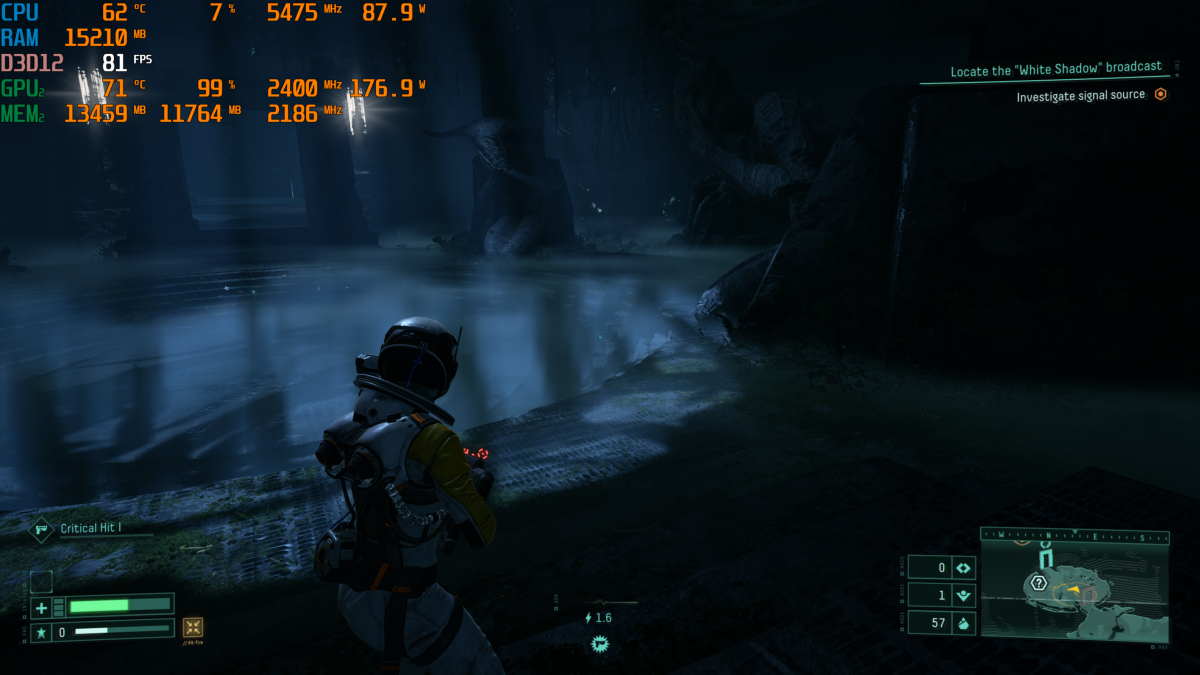 Thiago Trevisan
Returnal is another popular PlayStation port that's come to the PC—and we're going to run it at 1440p on the Intel Arc A770.
Epic settings, with ray tracing, give enjoyable performance. It's smooth with only an odd dip here or there depending on the scene. This game also supports Intel's XeSS, and we place it on Balanced. Performance jumps up, and the smoothness continues. The VRAM in the Arc is really helping, too—as this game likes VRAM, as well. Everything worked as it should, and it's good to see Intel XeSS in more titles.
Intel Arc A770 16GB: Spiderman Remastered
Spiderman Remastered presented some issues during Brad Chacos' review: It would crash when loading ray-traced reflections.
With the newest drivers, the game played very smoothly without the same crashing issue. Ray-traced reflections were turned on, and reflection resolution set to high. In both 1440p and 4K, it worked well and as intended. Combining this with AMD's FSR 2 upscaling provided some good results as well, without any issues to report.
With Intel staying on top of its game optimizations in drivers, the results have been good. Sometimes tweaks are needed on a "per-game" basis with more individual attention, but it's great to see many of the early issues no longer present.
Intel Arc A770 16GB: Hitman 3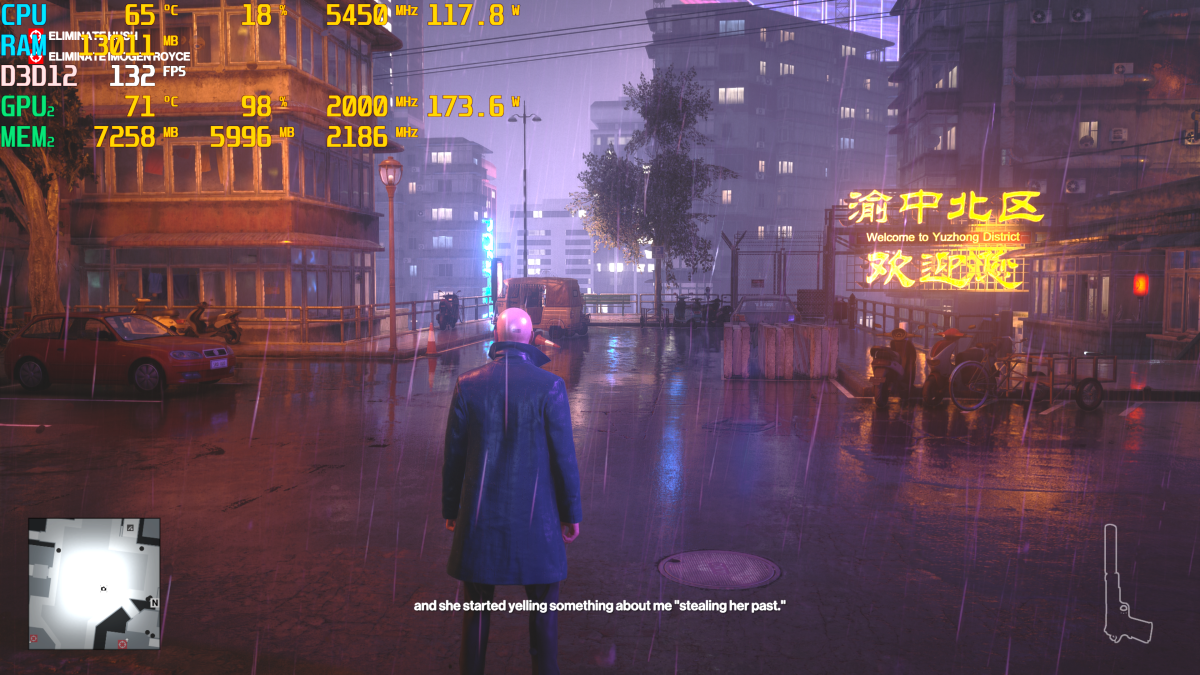 Thiago Trevisan
In Brad Chacos' initial Arc review, he ran into some issues with Hitman 3. After months of new drivers, I had a much smoother experience. The game loaded and played without issue, with very smooth performance across the board.
I also did not experience any corruption of files or other odd behavior, and overall the Intel Arc GPU performed as it should.
Intel Arc A770 16GB: DX9 and DX11 game optimizations
While DX12 has great games and is the latest, how does Intel deal with the thousands of older DX9 and DX11 titles out there? Counterstrike: Global Offensive is a tremendously popular title, even though it's been around for ages. Likewise, DX9 performance has been vastly improved in newer Intel Arc drivers. If you consider low performance a "bug," Intel's newer optimized drivers boost performance a great deal for these older games. Same game, new driver, higher performance—if you call it a bug or not, it's been squashed!
The same is true of other games like Starcraft 2, and Guild Wars 2. DX9 optimizations are a very good demonstration of Intel's ability to improve the product by significant amounts, which bodes well for future improvements.
DX11 performance will certainly be a lot more varied, and it's an area that Intel should focus on improving further. That's an important component as not every game will be simply DX12. Gamers want to play a variety of titles, both old and new.
Thiago Trevisan
The verdict: Is the Intel Arc still too buggy to recommend?
After taking the Intel Arc GPU through its paces on the newest available driver, there's a lot of good news. We're happy to see new game releases such as Hogwarts Legacy get fast driver releases accompanying them. This shows that Intel is on the ball, and really trying to improve. Intel Arc therefore can be recommended, with a few things to keep in mind.
Coupled with recent price drops of the A750 GPU to $249, Intel may find a much more willing buyer with these driver improvements. It seems like most of the big early issues with daily use of the drivers are mostly gone, resulting in a more seamless process.
Intel Arc A750 Limited Edition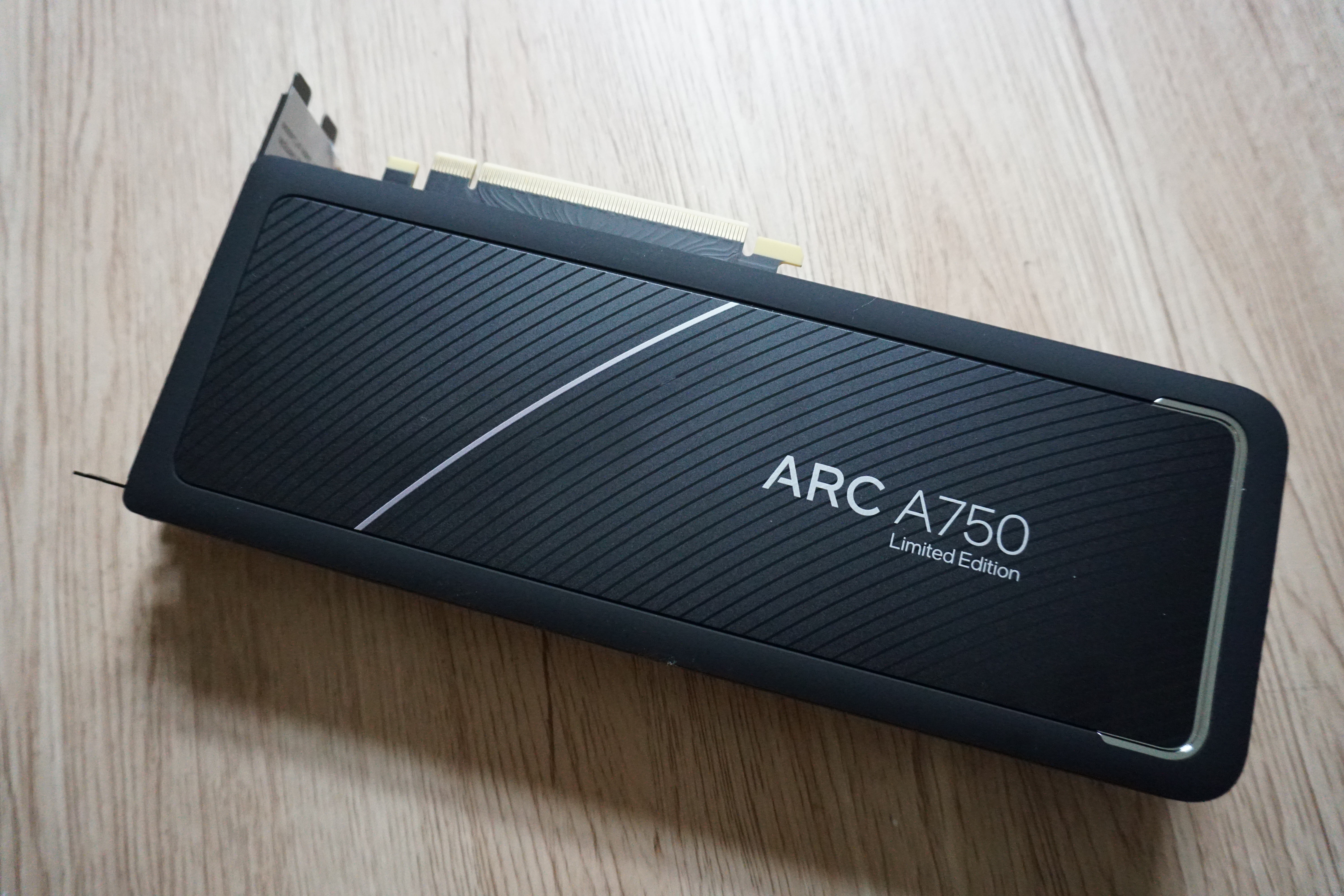 Price When Reviewed:
$249
Is Intel Arc still buggy? It's not all perfect—some minor issues persist and may still occur due to the new nature of the software. It seems to be stable enough that one can recommend it now, so that's good news. Brad Chacos included it in his recent 2023 GPU recommendations.
With some minor caveats, and if you're willing to work through some teething issues, Intel Arc is maturing nicely enough to be considered against the Nvidia and AMD competition. That's good news for everyone!