If you've never tried Epic's smash hit battle royale for yourself, you might have a few ideas about Fortnite. Such as "it's that game that all the kids played on their phones before it got kicked off the App Store," and "it's that game that has more crossovers than Funko Pops." Or maybe even "it's that free-to-play trash that's everything wrong with PC gaming."
You'd be right on two of these points. Fortnite is indeed so ubiquitous that it's shown up in everything from Avengers movies to congressional hearings. But if you've been avoiding it for that or any other reason, I'm here as an old and crusty PC gamer to say: give it a chance. You might be surprised at just how good it is, and how worthy of your attention.
Fortnite is a technical beast
First of all, Fortnite is a technical heavyweight that can push your custom-built gaming PC to the limit. Or at least, it can be. That might be a surprise to you — after all, Fortnite is a game so flexible that it runs on phones, and its cartoony graphical style isn't really what comes to mind when you think about hardware-intensive titles.
But keep in mind that Fortnite is developed and published by Epic. Epic, the creator and maintainer of the Unreal engine, which is the go-to tool for just about anyone who wants high-end graphics without coding everything by hand. And Fortnite, as the company's most popular user-facing product, is often the test bed for the latest and greatest in graphical fidelity.
Ray tracing? Fortnite does that. Temporal super resolution? Fortnite does that, too. Nanite virtualized geometry? I honestly don't know if that's game tech or something you can do in the engineering deck of the USS Enterprise, but Fortnite does it. Fortnite is also constantly updated with compatibility for Nvidia DLSS, so you can give all this eye candy a try even if you're not rocking the latest hardware.
Fortnite recently got a pretty massive Unreal 5-powered visual overhaul that made even some long-time players balk, as their framerates dipped before they had to make adjustments. Oh, and yes, if you're all about testing and tweaking, Fortnite will give you your framerate without needing an external tool. On my 1440p ultrawide, even with an RTX 3070, I have to push things firmly on the low side of medium to hit 120 frames per second.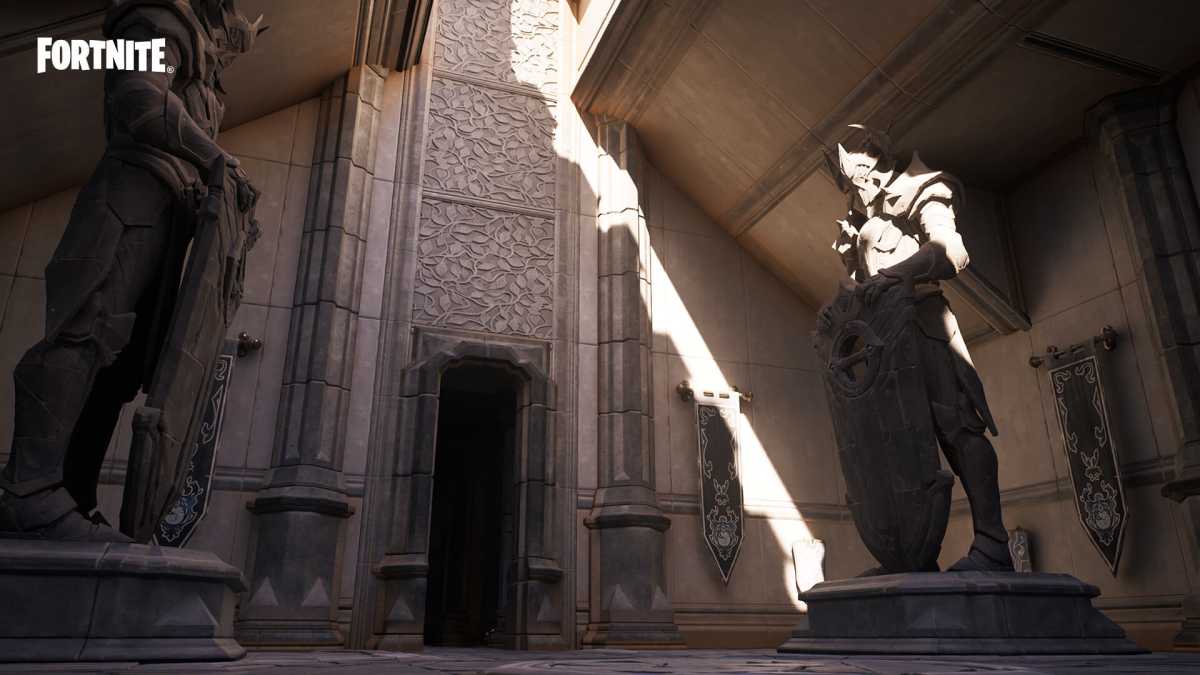 Epic
My PC can't handle the highest settings at full resolution, but when I scale it down mercifully to 1080p, it still dips into the teens. Rest assured, no matter how much money you've put into your gaming hardware, this free game can give it a workout.
Fortnite is always changing
As a live service game, Fortnite lives and dies on novelty. And Epic delivers it, to a slavish degree (possibly in a very literal sense). Every few weeks the battle royale map will get some kind of major shakeup, and the game's "Seasons" introduce whole new areas and game elements.
Take the latest season, which just started — and now's an excellent time to check it out, while everyone is adapting to all the new elements. Chapter 4, Season 2 dropped a clearly Cyberpunk-inspired near-future city on the map, complete with tweaker cars and Akira bikes, giant grind rails a la Sonic Adventure, and problematic Asian exoticism, just like a real cyberpunk game!
Big or small, each refresh brings different weapons and traversal tools into rotation. You might log in one day to find that everyone's firing kamehameha blasts from DragonBall Z, or zipping around the map with grappling hooks. The last season had a gun that shot holographic swords which exploded on impact, as well as a Clash of the Titans-style robot bird that you could manually fly around and scout for enemies.
It's not just tools for fighting other players. The map is littered with colorful NPCs, some of which will sell you rare items, some of which will join you as an AI mercenary. And each season usually has at least one big boss surprise, sometimes a licensed character like Darth Vader (who drops his lightsaber for you to use if you can beat him), and sometimes an original quest.
Previous seasons have featured James Bond-style supervillain hideouts and surprisingly deep stories, told in the form of achievement hunts that happen around and during the 100-person primary battle royale mode. Some of these merely advance the story of Fortnite itself (which is both shockingly complex and entirely forgettable), while others get you unique rewards, like a skin for Geralt of The Witcher fame.
The point is, there's always something new to try. Even if you're not a fan of whatever pop culture tie-in the game is pushing this month, odds are pretty good you'll find a weapon or a special item that really clicks with your playstyle. And then lament its loss when it disappears in a month or two…but by then you'll have a new one to play with, and so on.
Fortnite is how a live service game should be
"Live service" is fast becoming an obscene term in the gaming world. For example, when preview footage of the new Suicide Squad game resembled the loot and stat grind of live service games that have come before, like Square Enix's Avengers and Destiny, there was a collective groan heard through both the media and gamers alike. The market is saturated with games that want you to play them religiously to unlock every new bit of content, and we're sick of it.
Fortnite is, perhaps, the one exception. There's a reason it remains as popular today as when the battle royale mode that would define it was introduced six years ago. And that's because it's a live service done right. Not only is the content fresh and ever-evolving, but the free-to-play aspect is also handled with shocking tact and fairness.
In Fortnite, it's impossible to pay for a strategic advantage in the main game. Every player starts out every round with nothing, dropped onto a spot of the map of their choosing, and must find weapons, healing, and tools to get to the end of the round. You can't pay for any kind of edge, even if you drop a thousand bucks into the latest battle pass to zoom to the ending on the first day. In the parlance of online multiplayer, there is absolutely no pay to win.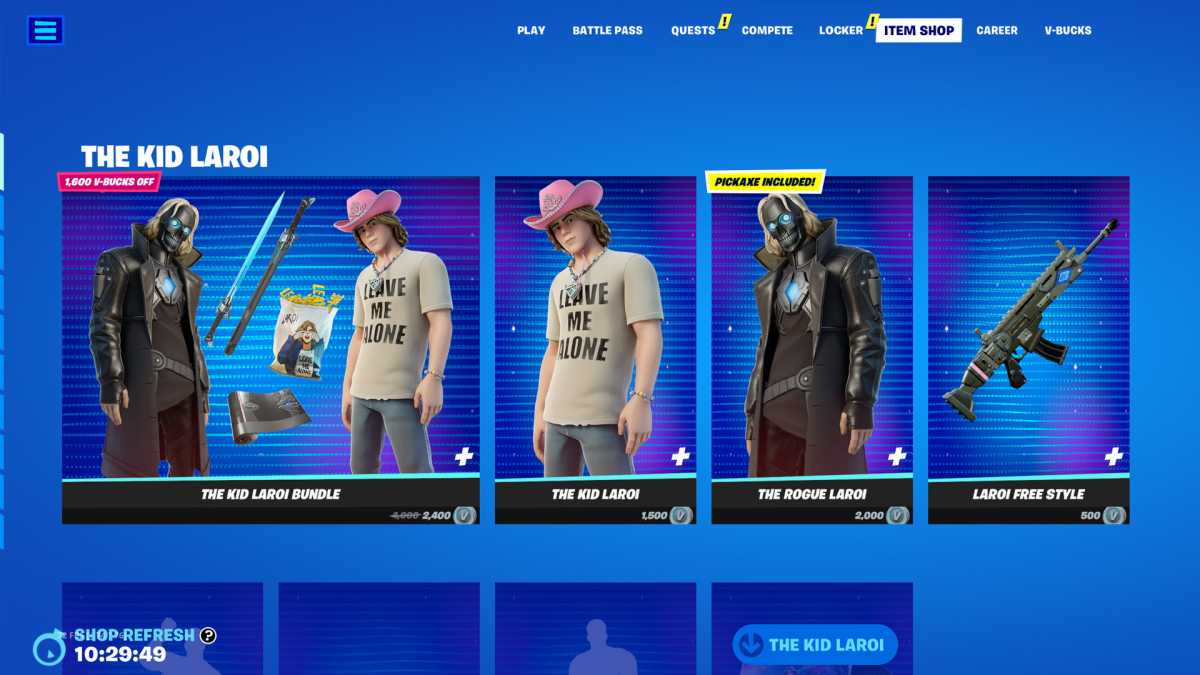 Epic
Which is not to say that Fortnite's free-to-play model doesn't have its fair share of BS. The skins are, frankly, ridiculously expensive. A basic outfit on top of one of the default models costs eight bucks, and you're looking at $15-25 if you want one of those really elaborate skins or a licensed character like Goku and all the trimmings. That's mentioning nothing about the frequent appearances of blatant marketing ploys — I don't know who "Kid Laroi" is, but I know Epic's getting a lot of money to put him in the Fortnite store so that kids can give Epic even more money to look like him.
But all that is, frankly, old man gamer talk. What's so well-implemented about Fortnite's free-to-play model is its Battle Pass. "Battle Pass" is another phrase that's been demonized as it's been overused in live service games, but Fortnite's is amazingly generous in context. For under $10 (translated into the game's proprietary V-Bucks currency) you get approximately 100 levels to unlock, each one coming with a cosmetic goodie. Each Battle Pass includes a handful of skins, some of which are pretty darn good in terms of design or fun factor, even if they do skew towards the game's teenage primary player base.
Epic
And here's the kicker: Going through the levels of the Battle Pass periodically gives you more V-Bucks. If you get to the end of the level progression, which is fairly easy over the course of a 10-12-week Season, you've earned enough digital currency to buy the next Season's Battle Pass.
So if you go through each Battle Pass as it's released, and resist the urge to blow your V-Bucks in the skin store, then you'll never have to pay any more money to get a shocking amount of cosmetic content for your Fortnite account. Alternately, if this Season's rewards don't look particularly enticing to you, you can skip it and wait for the next one — you've lost nothing in terms of competitive advantage and you can still get even more freebies via the side-quests.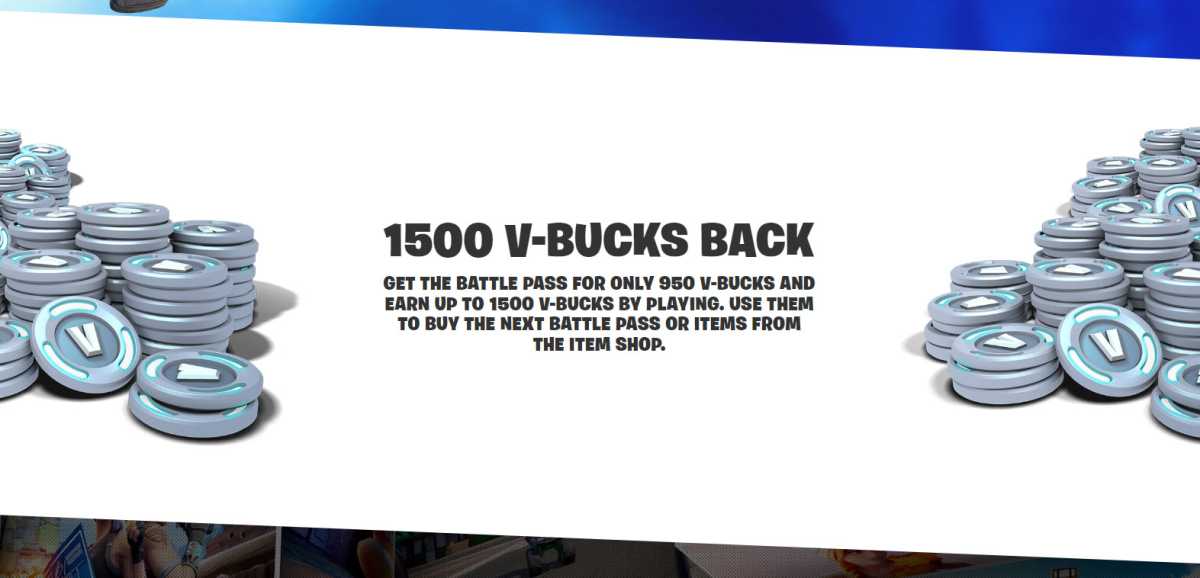 Epic
This is how live service games should be monetized: No gameplay pressure to spend money, tons of rewards when you do, and the ability to roll over your winnings into the next promotional period. Developers hoping to ape Fortnite's success — you poor, poor fools — take note.
Fortnite is a pretty damn good game
Okay, this is probably the most subjective point I'm going to make today. But Fortnite's core gameplay loop is, yes, a pretty good one. With the qualifier that the basic concept is blatantly stolen from PlayerUnknown's Battlegrounds (which itself is essentially a spruced-up version of the developer's custom game mod for DayZ, which is itself a game mod for Arma 2…to say nothing of the conceptual inspiration from Koushun Takami's original Battle Royale novel…wow this goes back a long way!), it's still a shockingly effective way to expand a multiplayer shooter to a huge scale.
The last player standing nature of battle royale, the huge map that gradually shrinks as players eliminate each other, the varied methods for crossing terrain and hiding, engaging, or retreating, it all works so stupendously well. It's a great way to make a multiplayer game feel big, without resorting to the constant die, respawn, die again chaos of, say, Battlefield's 40 vs. 40 mode.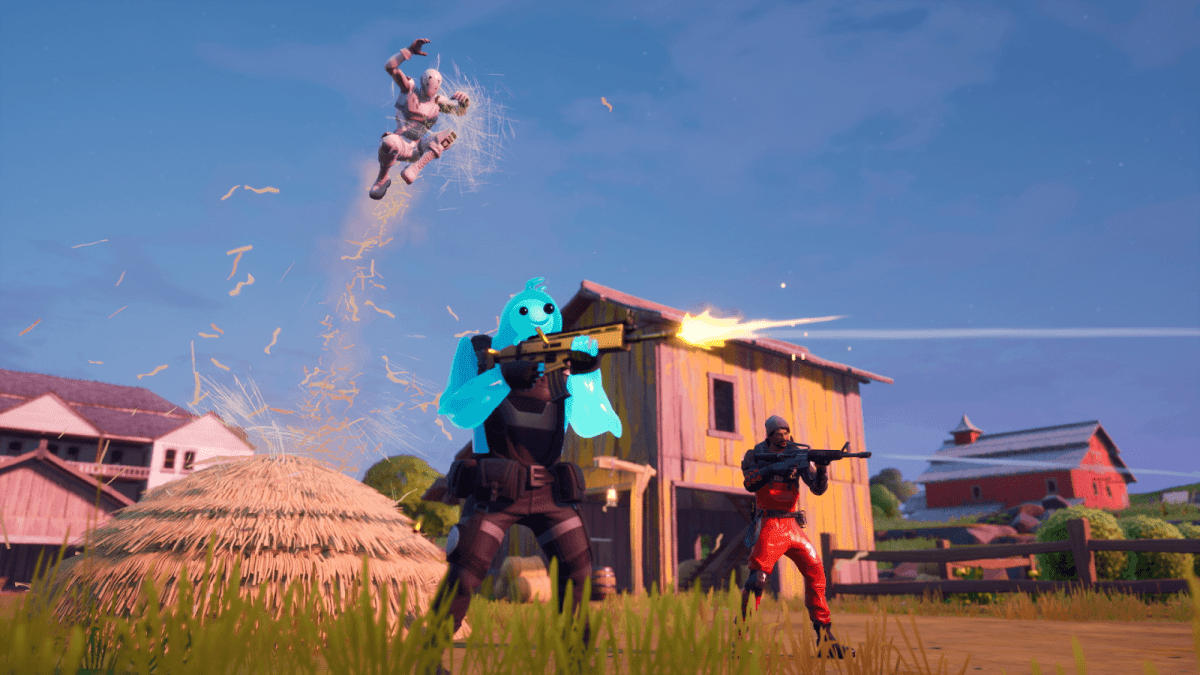 Epic
The combination of a huge map with varied terrain and a huge amount of weapons and tools means that there are almost always multiple ways to engage your enemies. Sneak around in hiding spots waiting for ambushes or long-range sniping. Load up on shotguns and SMGs and hire an AI companion to maximize your close-up offense. Go for exotic weapons and power-ups to get dramatic kills (and often blow yourself up by accident). Or simply stick to the classics, focusing on mobility and medium-range firepower to be an effective all-rounder.
The structure of the battle royale setup has some distinct advantages. Since there's only one "winner" each round out of 90-100 players, a loss — which will happen more often than not — doesn't sting as much. Surviving past the initial 50 players is fairly easy, unless you intentionally seek out hot zones immediately, and getting in the top 25 isn't that hard once you get a handle on the game's core mechanics like traversal and healing. And all the while you're building up experience for new unlocks, especially if you're focusing on quests and achievements, which are many and varied.
And Fortnite has become much more accessible in the last year, thanks to "Zero Build Mode." This much-requested version of the game is identical to the battle royale that's been running for years, but removes the instant building mechanics, which are a stumbling block for some new players. (That's especially true of old, creaky gamers like me, who can't wrap their head around both Minecraft-style building and PUBG-style shooting at the same time.) I've come to think of it as "old people mode," and I play it almost exclusively.
In short it's a damn good game, and only getting better as Epic continues to rely on it as the tentpole of the Epic Games Store. If you've been ignoring it, you have plenty of reasons to give the free shooter a try. After all, 350 million players can't be wrong, even if most of them can't buy their own beer.