At a glance
Expert's Rating
Pros
Six video inputs, including USB-C
Good range of image quality options
Very wide color gamut
Sharp, crisp 4K image
Cons
Stand is too wide
Contrast ratio could be better
Low dimming zone count has consequences
Our Verdict
Acer's Predator X32 FP is a good Mini-LED monitor for HDR, but pricing puts it out of contention as there are other options such as OLED and other capable Mini-LED monitors at the same or lower price point.
Price When Reviewed
$1,499.99
Best Prices Today: Acer Predator X32 FP
The Acer Predator X32 FP rides a wave of new Mini-LED monitors that reduce the number of dimming zones in order to lower pricing. It stands out from the pack for two reasons: It has gobs of connectivity and delivers 4K resolution at up to 160Hz. These features keep the X32 FP's price above $1,000, however—so, is it worth the cash?
Note: See our roundup of the best 4K monitors to learn about competing products, what to look for in a 4K monitor, and buying recommendations.
Acer Predator X32 FP: The specs
The Acer Predator X32 FP might appear similar to older 4K gaming monitors at a glance. However, its features are fairly unique: It has a 4K panel, an enhanced refresh rate, and a Mini-LED backlight, but it keeps the backlight restrained to 576 dimming zones instead of the 1,152 zones found on more expensive monitors like the Asus ROG Swift PG32UQX.
Display size: 32-inch
Native resolution: 3,840 x 2,160
Panel type: IPS LCD with Mini-LED backlight and 576 dimming zones
Refresh rate: Up to 160Hz
Adaptive-Sync: AMD FreeSync Premium Pro
HDR: Yes, VESA DIsplayHDR 1000 Certified
Ports: 1x USB-C with DisplayPort Alternate Mode and 90 watts Power Delivery, 4x HDMI 2.1, 1x DIsplayPort 1.4, 1x 3.5mm audio-out
Stand adjustment: Height, swivel, tilt
VESA mount: Yes, 100x100mm
Speakers: Yes, two 7-watt
Price: $1,499.99 MSRP
Acer throws a ton of connectivity at this monitor. It has numerous HDMI ports but also supports DisplayPort and USB-C. Many high-end monitors offer USB-C, but it's still somewhat uncommon in a gaming monitor.
The monitor's MSRP is $1,499.99. However, it sometimes retails below that price. It's currently around $1,275 on Amazon and $1,099.99 at Micro Center.
Acer Predator X32 FP: Design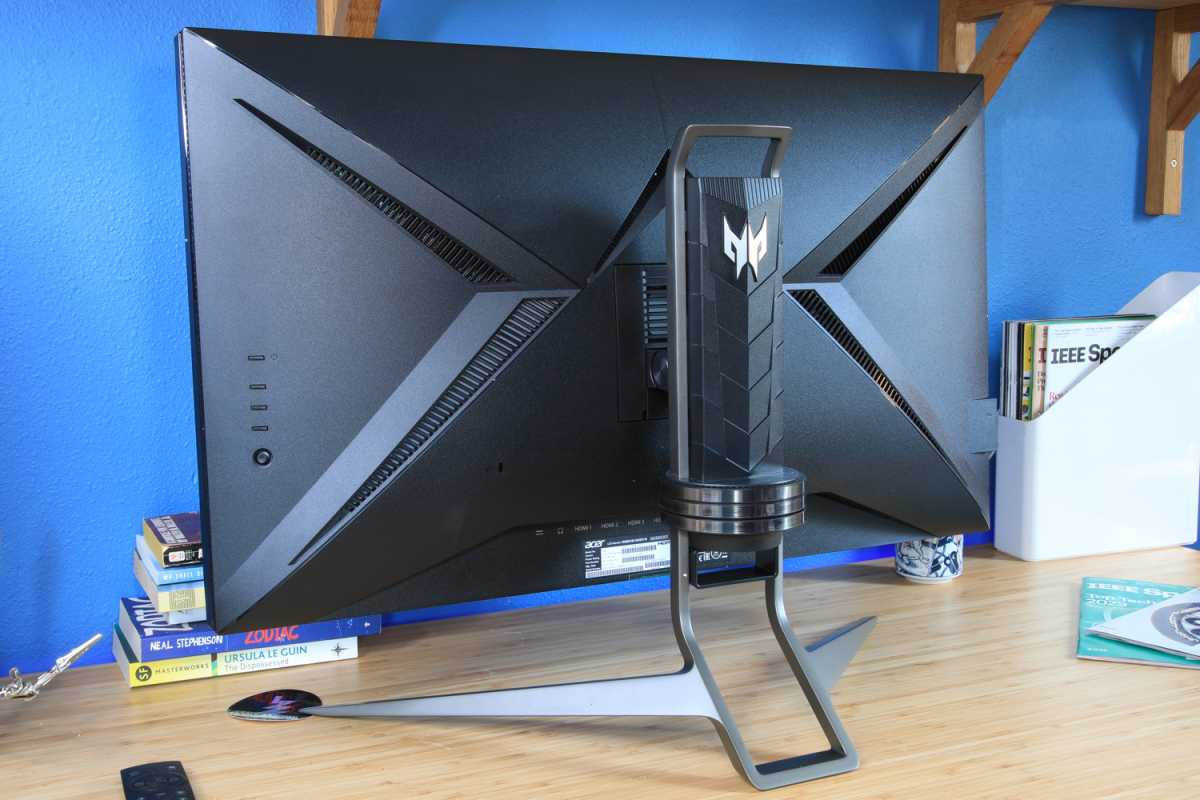 Matt Smith
The Acer Predator X32 FP's design feels like a blast from the past…if you, like me, remember what Acer was producing eight years ago. There was a time when Acer's Predator line went for a tank-like, armor-clad appearance. The X32 FP riffs on that with a tread-like pattern down the stand's neck and thick, beefy plastics that cross to form an X-shape along the back.
mentioned in this article
Asus ROG Swift PG32UQX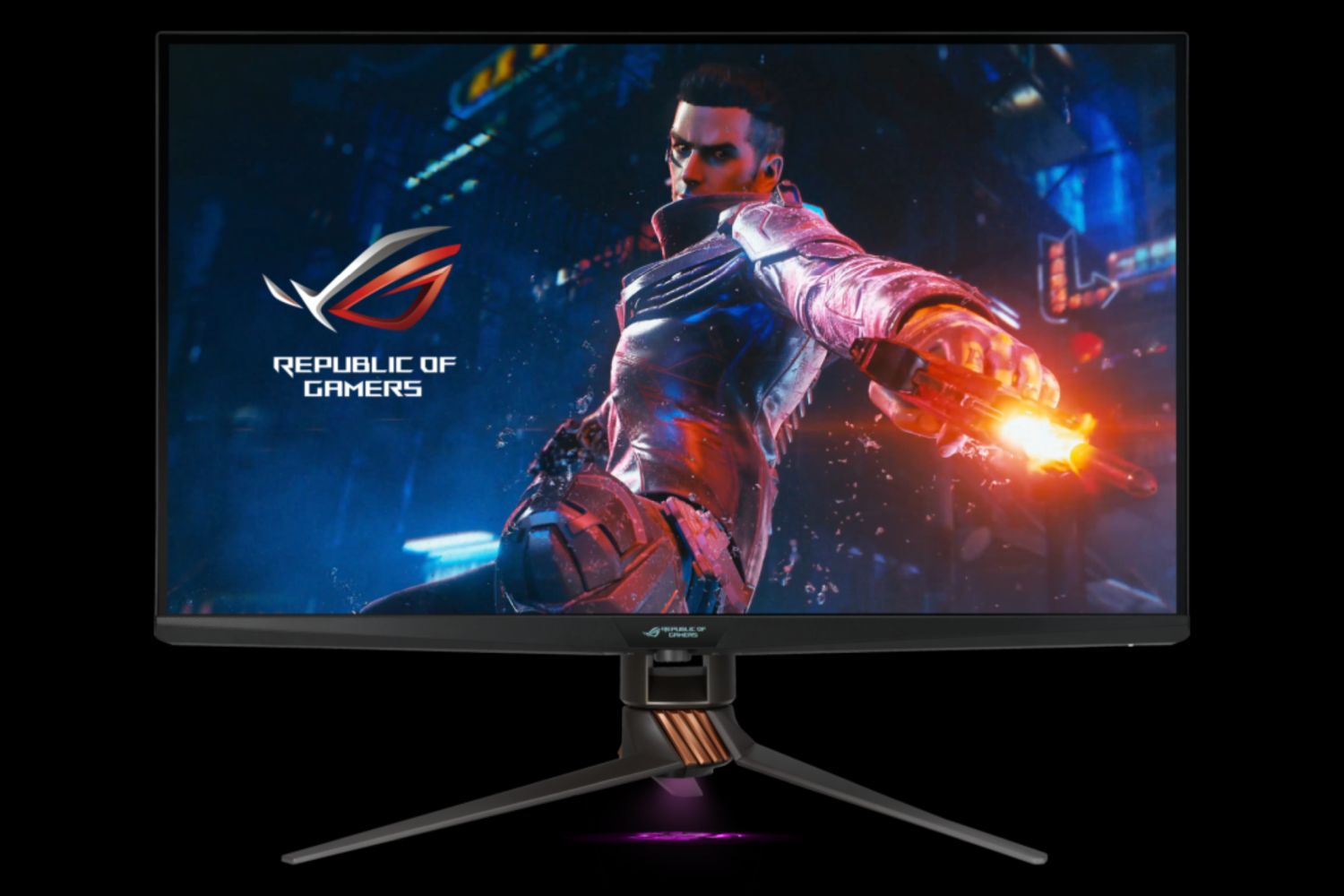 Price When Reviewed:
$2,999
It's an aggressive look, but one that doesn't hold up to much scrutiny. I'm particularly annoyed by the use of silver stickers around the puck-like element near the bass of the stand. It looks and feels unworthy of a monitor in this price range. To be clear, the X32 FP feels fine, even sturdy, at least by the standards of most monitors. However, it's no more impressive than AOC's Agon Pro AG274QZM, which sells for hundreds less.
Acer makes the common mistake of opting for a wide, aggressive stand. It feels hefty, and the legs seem to be made of solid metal, but the stand consumes more desk space than it should. On the plus side, the stand includes several elements that can be used as handles, which makes the monitor easy to adjust or move. A 100mm VESA mount is included for use with third-party monitor stands and arms.
Acer Predator X32 FP: Features and menus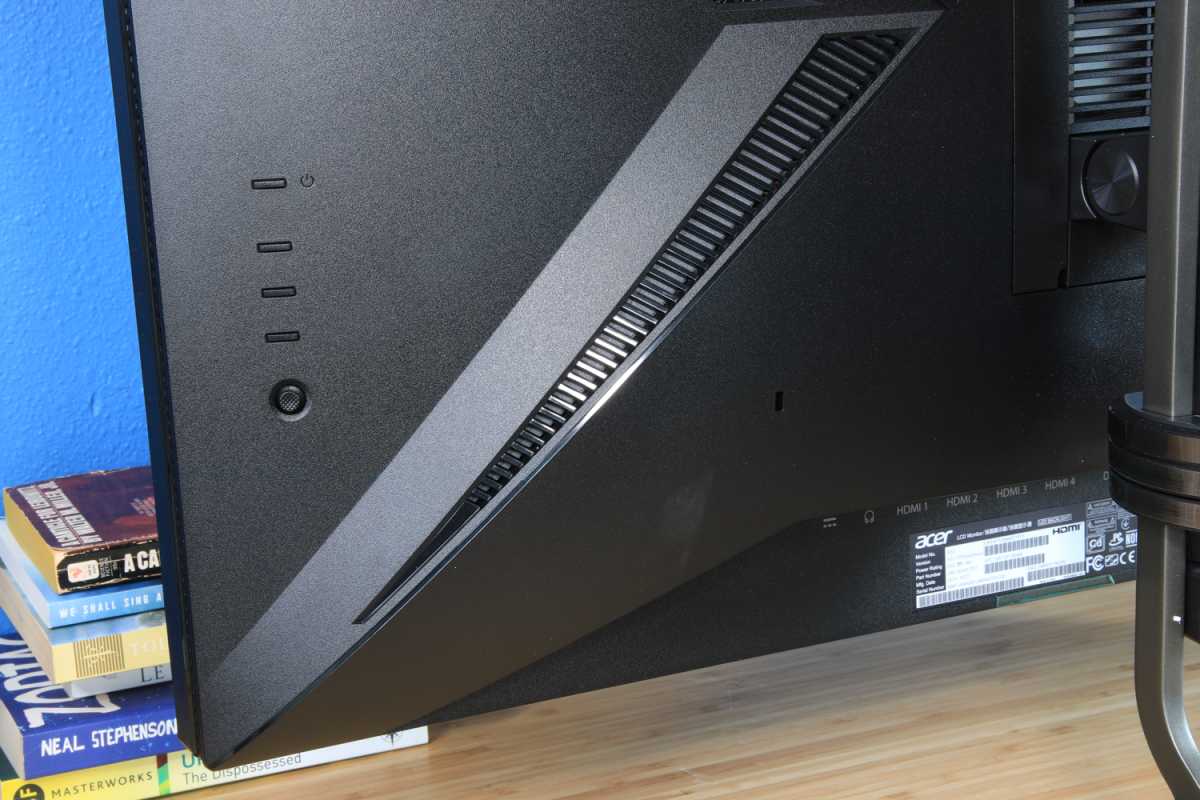 Matt Smith
The Acer Predator X32 FP sets itself apart from competitors with extensive connectivity. It includes a total of four HDMI 2.1 ports, plus one DisplayPort 1.4, and a USB-C port with DisplayPort Alternate Mode and up to 90 watts of power delivery.
That's a total of six video inputs. The DisplayPort 1.4 port is the only option to support the monitor's maximum refresh rate of 160Hz, but the rest can handle 144Hz, which is more than adequate for a 4K gaming monitor (remember, consoles only support up to 120Hz).
mentioned in this article
AOC Agon Pro AG274QZM
Price When Reviewed:
$1049.99
The USB-C port also extends to four physical USB-A ports, two on the back of the monitor and two on the left flank. This makes the X32 FP a useful USB-C to USB-A hub. The USB-A ports can also be driven by a USB-B connection if your computer doesn't support USB-C.
Acer's "whoops, all ports!" approach gives owners options. You can connect a desktop tower PC, a laptop, a PlayStation 5, a Xbox Series X|S, a Nintendo Switch, and a streaming box simultaneously. That's excellent news if you plan to use the Acer Predator X32 as your main display in a small entertainment room, gaming den, or studio apartment.
The on-screen menu is accessed through a joystick on the right flank. It works with several buttons that control features. This arrangement is quick and easy to understand, though I did find the power button a bit too close to the other menu buttons and, as a result, easy to hit on accident.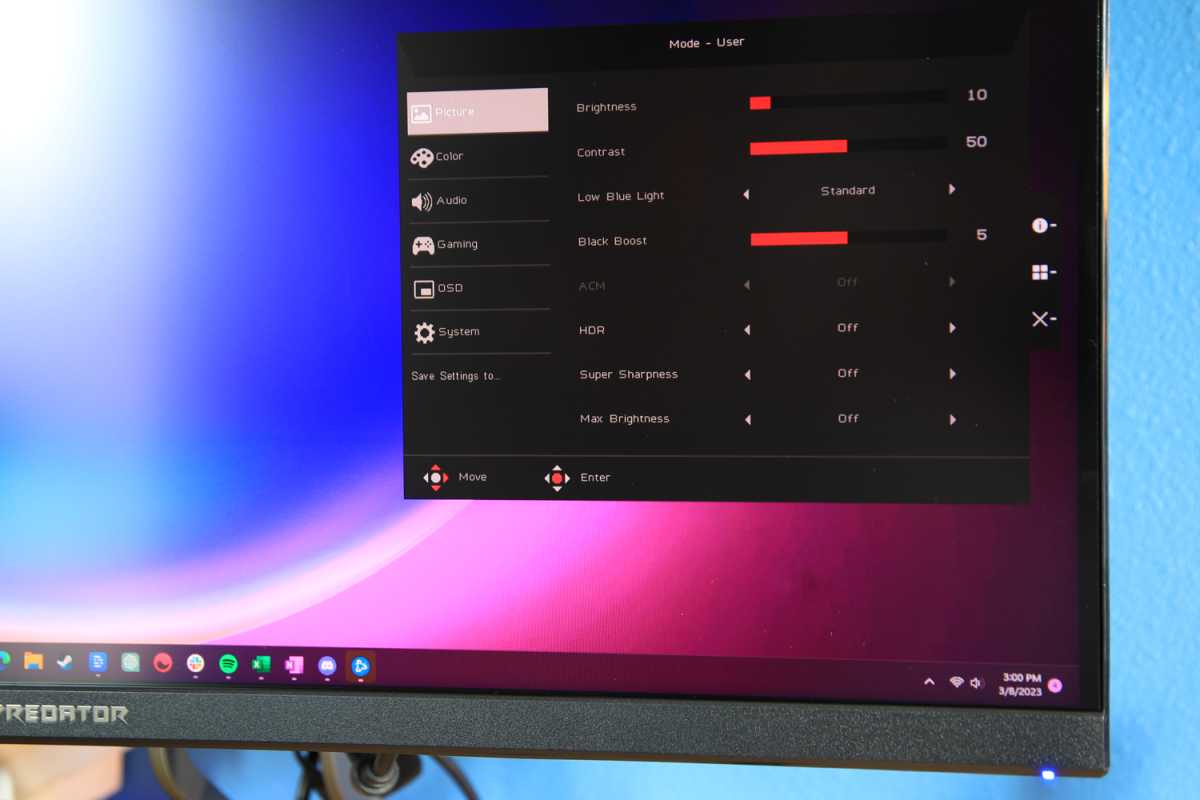 Matt Smith
Acer provides a healthy range of image-quality adjustments. This includes gamma and color temperature adjustments, six-axis color calibration, and support for several color gamut profiles including sRGB. The monitor also includes an uncommon "max brightness" option, which is turned off by default. This restrains the maximum brightness of the display to a more manageable level for SDR content. It's a useful toggle, as dialing in brightness on HDR monitors can be fussy due to their wide range of luminance.
Acer Predator X32 FP: SDR Image Quality
The Acer Predator XP32 FP is one of several new Mini-LED monitors rushing to market after CES 2023. It achieves a lower price by limiting the number of dimming zones to just 576 (some earlier models had 1,152), but it doesn't compromise in other aspects of image quality.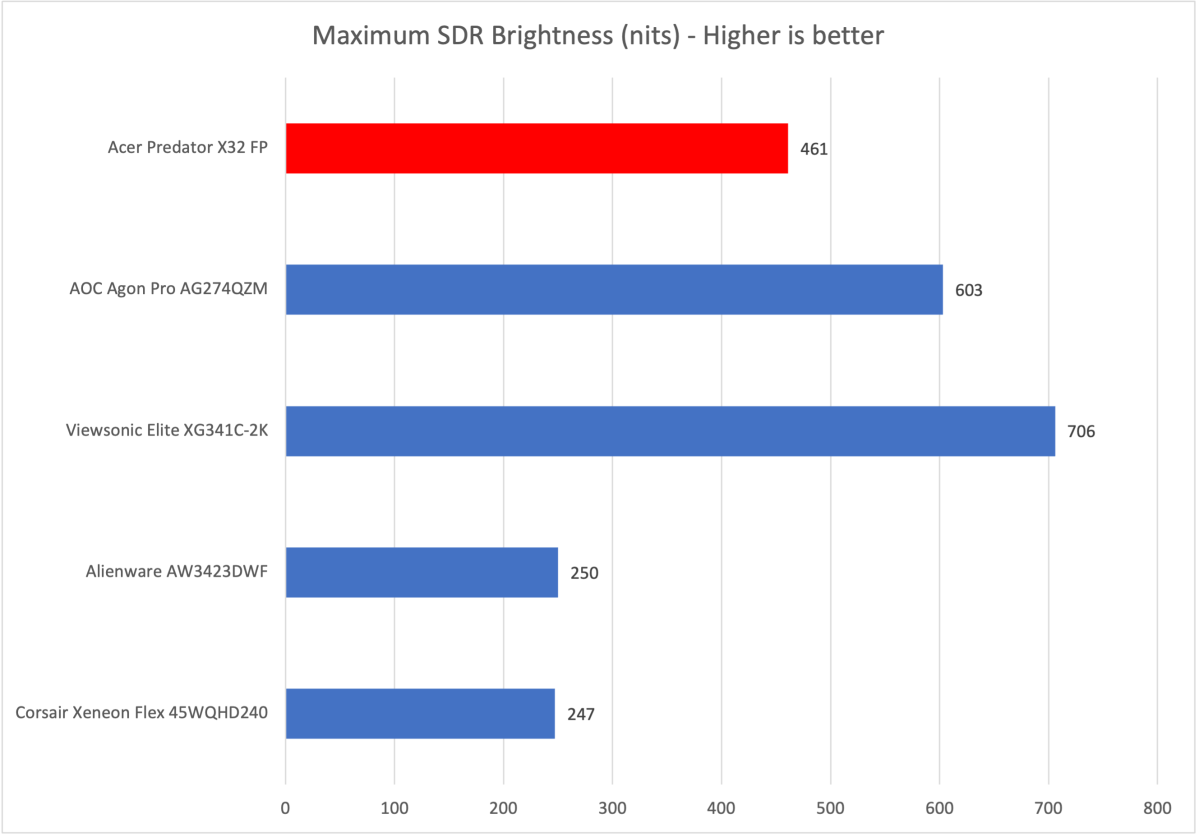 Matt Smith
Acer provides a maximum SDR brightness of 461 nits. This is quite a bit less than some competitors, and certainly not the highest the monitor can achieve, as I'll touch on when explaining its HDR performance. The Acer's SDR brightness falls behind some recent Mini-LED monitors including the Viewsonic Elite XG341C-2K and AOC Agon Pro AG274QZM.
Whether this matters is up for debate, as 461 nits should be more than enough for comfortable viewing in a bright, sunlit room. Still, I prefer to see monitors offer a higher level of brightness if the monitor is capable of achieving it.
Matt Smith
The monitor's maximum contrast ratio came in at 3230:1. That's a good result for an IPS monitor, and on par with the AOC Agon Pro AG274QZM, but less than some other monitors with a Mini-LED backlight such as the Viewsonic Elite XG341C-2K, which has more dimming zones. OLED also outperforms thanks to its ability to achieve an essentially perfect black level with zero luminance.
Still, the XP32 FP looks good in real-world conditions. Dark scenes generally appear deep and rich, with far less of the IPS glow found on standard IPS monitors. Vivid, bright scenes seem to leap out of the display thanks to its high maximum brightness.
Matt Smith
Acer knocks the color gamut out of the park, delivering a color gamut that spans 100 percent of sRGB and 96 percent of DCI-P3. This performance is on par with the very best monitors available today, including OLED alternatives, and should be suitable for high-end professional content creation. In real-world use, the wide color gamut offers an alluring and over-saturated look I suspect most owners will enjoy.
Matt Smith
The X32 FP doesn't knock color accuracy out of the park, but this level of color accuracy remains adequate in nearly any situation you'll throw at it. Still, it's worth mentioning that a trend is forming: new Mini-LED monitors aren't performing as well in color accuracy as OLED monitors and IPS monitors that lack a Mini-LED backlight.
I measured a default gamma curve of 2.2, right on my preferred target. The default color temperature was 6100K, a bit warmer than the target of 6500K, and much warmer than most monitors sold today. I prefer this look, personally, but it may look a bit off if you prefer a color temperature above 6500K. The monitor offers gamma and color temperature adjustments, so both can be adjusted.
Sharpness is a high point. The Acer Predator X32 FP has a 4K panel, which sets it apart from less expensive options like the AOC Agon Pro AG274QZM and Cooler Master Tempest GP27Q, both of which stick to 1440P resolution. The added pixels produce an extremely crisp, attractive experience no matter how the monitor is used, and makes the monitor better for content creators (especially video creators) who need to work at 4K resolution.
Acer Predator X32 FP: HDR Image Quality
The Acer Predator X32 FP is VESA DisplayHDR 1000 certified. I verified a maximum sustained brightness of 946 nits, which is excellent, and well-suited to HDR content on a PC. Highlights that should appear truly searing, like a bright noon sun, seem to burst from the screen. The monitor also provides good detail around bright highlights.
I was a bit disappointed by the monitor's contrast ratio, as it didn't budge in HDR content. This is different from the AOC Agon Pro AG274QZM, which offered an improved contrast ratio of 4190:1 in HDR. I noticed that dark scenes didn't look as deep and foreboding on the X32 FP.
This, however, should be kept in context. The X32 FP did not outperform other Mini-LED monitors, but it absolutely demolishes IPS LCD displays without a Mini-LED backlight. The Acer Predator XB273U F, for example, has a maximum contrast ratio of 980:1 and looks dreary in HDR by comparison.
Blooming, a problem that causes bright halos around bright objects, can be an issue. This occurs because the Mini-LED dimming zones are larger than small, bright objects that might need to be displayed. This doesn't impact most scenes, but it's obvious when bright objects move across an otherwise mostly dark performance (or vice versa). Mini-LED monitors with more dimming zones, like the Viewsonic Elite XG341C-2K, do better here.
What about OLED? It can't hope to compete with the X32 FP's peak brightness, but delivers better results in dark scenes. This makes them better suited to dark content. If you like to play Valheim more than Overwatch 2, for example, OLED is the better choice.
While the X32 FP wasn't a top-tier HDR performer, mostly due to its contrast ratio, it remains a good monitor for HDR. It has the brightness and color gamut needed to deliver oomph in HDR scenes.
Acer Predator X32 FP: Motion Performance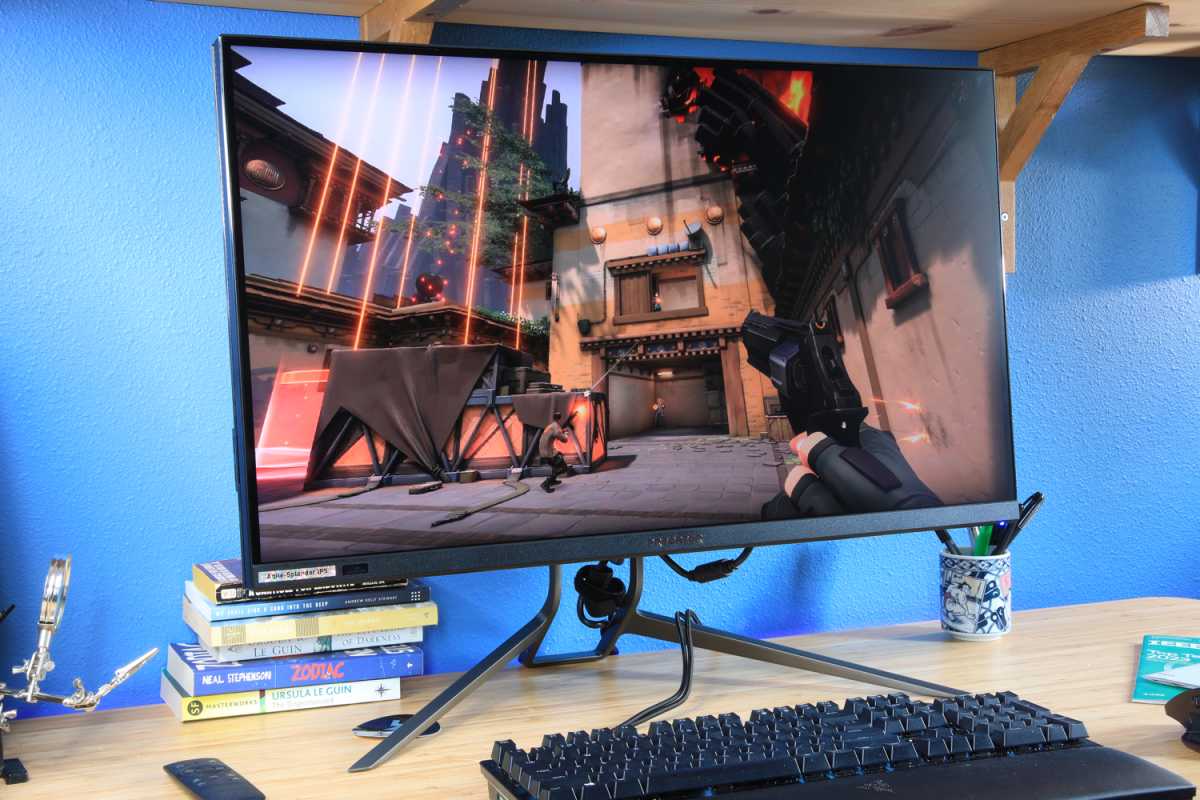 Matt Smith
The Acer Predator X32 FP supports refresh rates up to 160Hz. This is only available over DisplayPort, however—the other ports are restricted to 144Hz. I don't find this to be a problem, as I can't notice any difference between 144Hz and 160Hz.
Motion clarity is solid thanks to the refresh rate and the monitor's low pixel-response times. Test images of League of Legends and DOTA 2 show that character silhouettes and health bars are legible while scrolling across the map. Character names, however, are difficult to read. This is typical performance for a 144Hz monitor.
AMD FreeSync Premium Pro is supported. G-Sync support is unofficial, though it worked with an MSI Titan with RTX 4090. The monitor also offers an overdrive mode, which, in an odd decision, is forced on when FreeSync is in use. It slightly improves clarity at the expense of minor overshoot, a problem that causes the image to look a bit over-sharpened and noisy in motion. There's also an Extreme overdrive mode that further increases clarity at the expense of image quality. Some competitive gamers might want to use it, but I'd expect most gamers will avoid it.
The X32 FP's motion clarity doesn't stand out. A 240Hz or 360Hz monitor will certainly look better in motion. However, that doesn't mean it's disappointing. Motion is reasonably clear and crisp, with good detail and smooth frame pacing when AMD FreeSync is in use.
Should you buy the Acer Predator X32 FP?
The Acer Predator X32 FP is a good Mini-LED monitor, but its appeal depends on your priorities. Those who want the best image quality for their buck will be a bit underwhelmed. The X32 FP looks great in both SDR and HDR, but the monitor's nearly $1,500 MSRP puts it up against tough competitors including OLED monitors and Mini-LED monitors with more dimming zones.
Acer fights back with extensive connectivity that includes six video inputs, USB-C with DisplayPort Alternate Mode and 90 watts of power delivery, and four USB-A ports. That's ideal for multi-device users who want to connect a bunch of computers and game consoles to the same display. The X32 FP also has a very wide color gamut with a respectable range of calibration options. Though sold as a gaming monitor, the X32 FP is a smart choice for content creators who want one monitor to handle both high-end content creation and HDR games.
Best Prices Today: Acer Predator X32 FP