At a glance
Expert's Rating
Pros
Ultra light and quick off the mark
Perfectly chiseled to the contours of your hand
The 30,000 DPI sensor is very impressive
Cons
It'll cost you extra to upgrade to 4,000Hz hyper polling
Has fewer buttons than its predecessor
DPI button is located on the underside
Our Verdict
The Razer DeathAdder V3 is lightweight, quick, and extremely powerful, and its sensor includes bonus technologies that make it perfect for high performance in competitive games and esports matches.
Price When Reviewed
149.99
Best Prices Today: Razer DeathAdder V3 Pro
Meet the new monarch of quick competitive gaming—the $149.99 Razer DeathAdder V3 Pro. This mouse comes with everything you need to help you perform at your peak in closely contested FPS or esports matches: a design perfectly chiseled for a gamer athlete's hand, a quick and responsive 30,000 DPI optical sensor, and an ultra-lightweight frame that's no heavier than the box it comes in.
See our roundup of the best gaming mice to learn more about competing products.
Razer DeathAdder V3 Pro design
Weighing just 63 grams, the DeathAdder V3 Pro fits into the ultra-lightweight category, which makes it ideal for competitive FPS and esports gaming. It's a whopping 24 grams (25 percent) lighter than its predecessor the 88-gram Razer DeathAdder V2 Pro, which is quite a substantial weight change for any successor device.
Mind you, there are lighter mice out there; some of our recent review mice like the 61-gram HyperX Pulsefire Haste Wireless and the 60-gram Logitech G Pro X Superlight are a few grams loftier. But to me the V3 feels substantially more evenly weighted, which could just be the difference in any closely fought games.
mentioned in this article
HyperX Pulsefire Haste Wireless
Price When Reviewed:
59.99
As well as a slimmed-down weight, the V3 Pro has an entirely fresh new design. It measures 5 x 2.67 x 1.73 inches to the V2 Pro's 5 x 2.86 x 1.68, so it's comparatively taller and narrower, but still decently proportioned for a mid-sized mouse. This means you get a little extra pointer precision.
On balance the new improved shape is also eminently more comfortable and ergonomic. Razer says it has been designed with the help of esports players, and I'd have to agree that it looks perfectly tailored to the esports athlete's hand.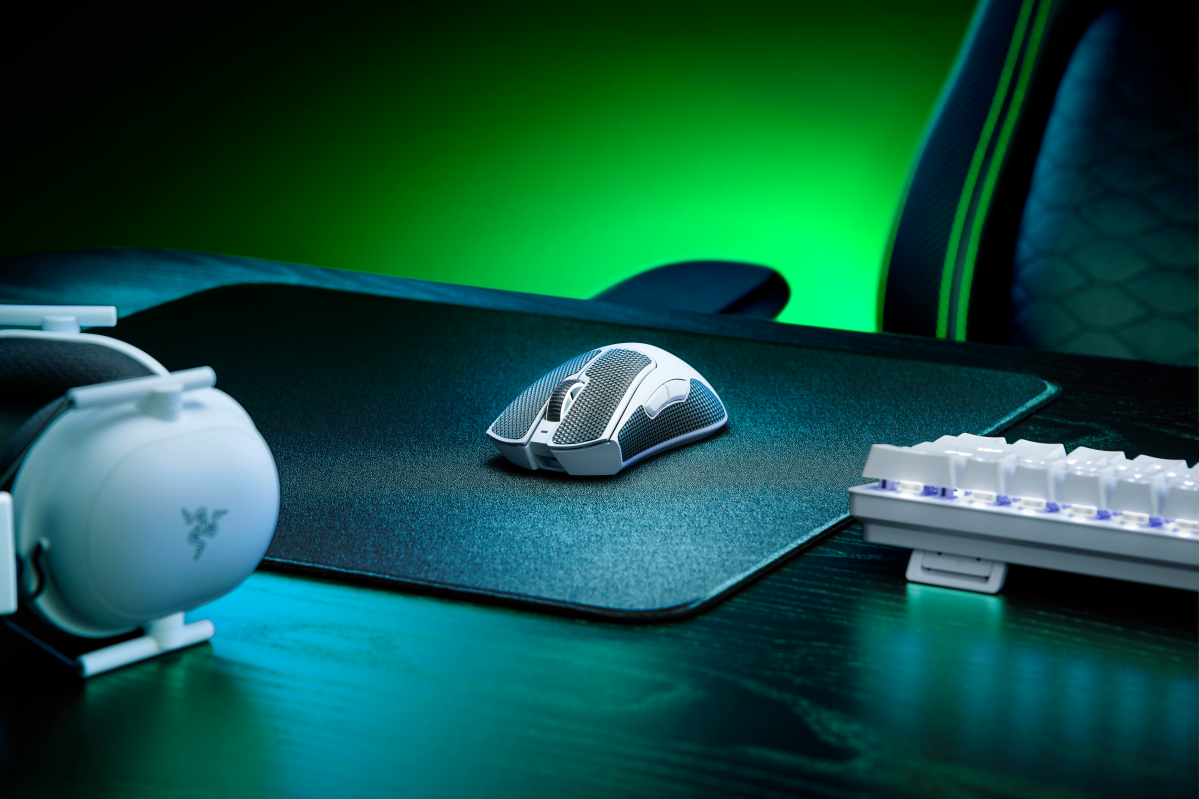 Razer
It features a tight, right-hand curve that meanders down the left-hand side, curling your palm into its fold. The top hump that was located centrally in the V2 Pro, is now taller for better palm support, and has been moved forward and more to the left, such that it now sits beneath the base of your index finger. A gentle gradient falls away from it to the right, ensuring your index finger is always at the highest point ready to fire.
Razer DeathAdder V3 Pro buttons
The V3 Pro's button selection is simpler than the V2's. All up you get five buttons instead of seven, including two main clicks, two buttons on the left-hand side and a single click for the mouse wheel. There's no DPI up/down buttons behind the mouse wheel, or storage alcove for the dongle on the underside like we saw in the V2 Pro. The unibody shell is now a split key cover. Is this a great loss? Not really!
In fact, elite gamers have been demanding lighter, simpler designs for some time now and this is exactly what Razer has given us here. It's the kind of simplicity we're seeing in near rivals too, like the Logitech G X Pro Superlight. Plus, without extra buttons on top to worry about, there's no reason to stress about incorporating commands into your game that you never get around to using anyway.
mentioned in this article
Logitech G Pro X Superlight Price When Reviewed:
159.99
If you're a little worried by that and thinking I do use my DPI button a lot right about now, that's all well and good—you still can. It's located on the underside, and doubles as a power button. It's very small but switches you through your five DPI settings with just soft presses.
A decent contingent of 100 percent PTFE feet also line the underside, including around the sensor, so the V3 Pro moves like an absolute ninja across your mouse mat or tabletop.
Dominic Bayley / IDG
Razer DeathAdder V3 Pro connectivity
Both wired and wireless connectivity options are available, so you can either tether the V3 Pro to a desktop or take it on the road for your next competitive match. Wireless connectivity comes courtesy of a tiny and unobtrusive USB adapter, which provides a low-latency 2.4GHz Wi-Fi connection.
The V3 also comes with a bunch of useful accessories, which for my white review unit, were also conveniently colored a matching white. They include: a handy USB dongle adapter and very flexible shoelace-like Razer Speedflex USB-A to USB-C cable, which doubles as both the wired adapter and a charger. The V3 Pro provides approximately 90 hours of battery life once fully charged and requires roughly four hours to charge to full capacity.
Razer DeathAdder V3 Pro performance
The Razer DeathAdder V3 Pro has a sensor worthy of serious respect. It's a Razer Focus Pro 30K Optical Sensor, which has a maximum resolution of 30,000 DPI, maximum speed of 750 IPS (inches per second) and acceleration of 70G.
That said, it didn't take me long to realize I was in the presence of sensor royalty[—it just felt so smooth, quick and responsive in my playtesting. In Counter Strike: Global Offensive, for example, panning my crosshairs while strafing was so effortless that I found I could hit targets with minimal concentration and in a relaxed state of mind—which had carry-on benefits to my overall performance.
Switching up DPIs didn't change that feeling, I found I could land my crosshairs on targets without over spinning or being too far off kilter—just faster than before, which is exactly what I was hoping for in a mouse of this caliber.
The sensor's default polling rate is 1,000Hz, and quite frankly to me this default setting hits a performance peak that's already pretty impressive. Imagine, then, my surprise to learn the V3 Pro is also capable of hyper polling up to whopping 4,000Hz.
For that you'll need to purchase a Razer HyperPolling dongle for an extra $29.99. While we would have preferred it to have been included in the box, the very fact this upgrade is available is a big win for anyone who purchases the V3 Pro and wants to take the plunge to fine-tune their mouse's performance even further.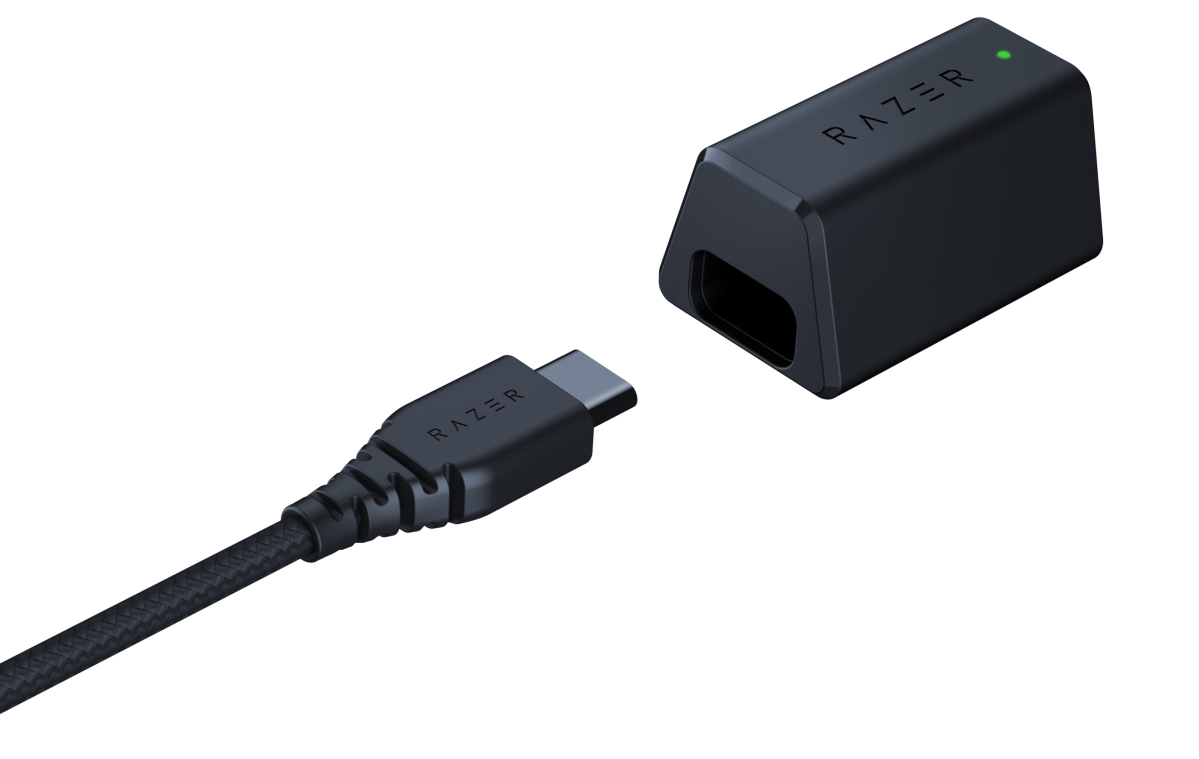 Razer
On to evaluating the buttons, and I was also well impressed by their speed. Razer has upgraded to Gen 3 Optical Switches, which in our review of the Razer Naga V2 Pro, felt a bit stiff and tight, but much to my delight, the same switches were perfectly soft and clicky in the V3 Pro.
They registered clicks cleanly even while jitter clicking—which was particularly noticeable when I was laying down rounds with the Counter Strike AUG, which is best used with a clicky finger.
Scoping with the AWP was also noticeably faster than I've experienced with other mice, allowing me to get the edge on foes in hard-to-see corner positions, and better still, when I was surprised at close range by players with more rapidly firing weapons and I had to react quickly.
As mentioned before, thanks to its ultra-lightweight body the V3 Pro is also incredibly quick off the mark. It felt so weightless that at times it was almost like I was moving a tiny cardboard box around. Consequently, I never experienced any hand or arm soreness. I was also delighted to see that my V3 Pro tracked flawlessly on my glass coffee table, which I made every use of for some laid-back couch gaming.
Razer DeathAdder V3 Pro software
Razer's Synapse software is a detailed app that lets you take advantage of every extra technology the V3 Pro's sensor has to offer. To that end, I had lots of fun tinkering with features like "Asymmetric Cut-off distance," which allowed me to set my lift-off and landing distance to one of 26 granular levels of adjustment—far more than the three I'm used to in rivals.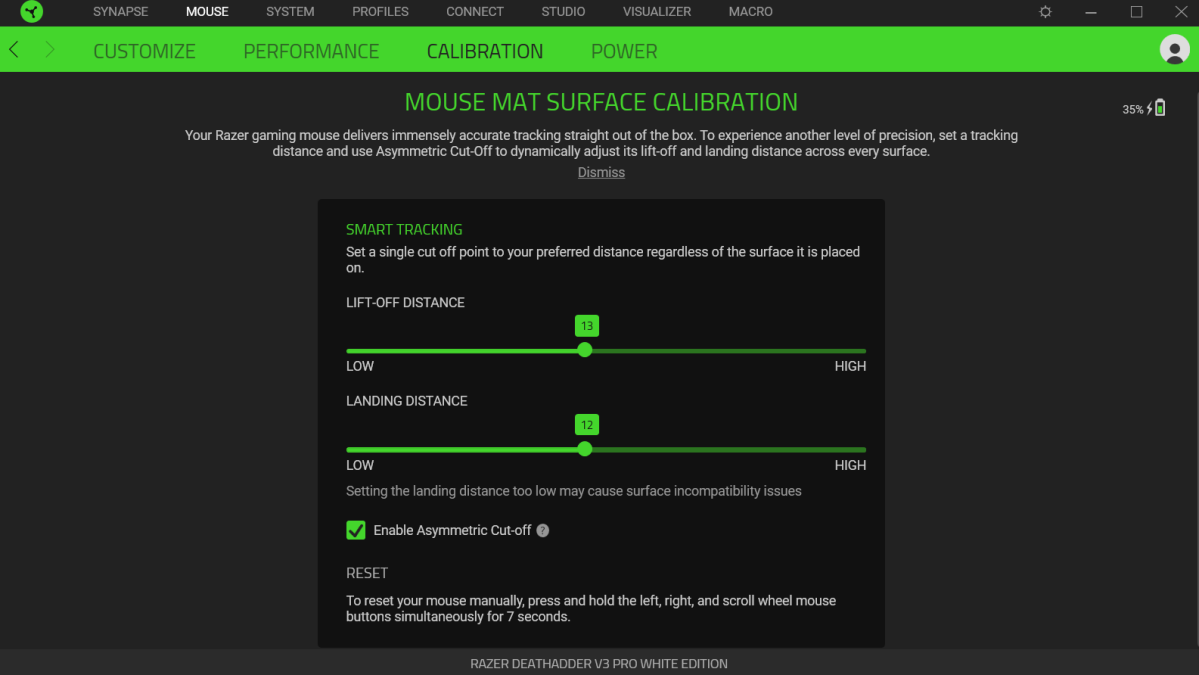 Dominic Bayley / IDG
You can also easily assign your buttons, set up your preferred DPI settings, and save your onboard memory profiles in the Razer Synapse app, which is very straightforward and easy to use.
Should you buy the Razer DeathAdder V3 Pro?
Summarizing my thoughts about the V3 isn't hard. In short, it's brilliant, living up to every bit of hype when it comes to speed and responsiveness. Its ultra-light weight makes it an absolute pleasure to use all day long, too. Admittedly, at $149,99 it's not cheap, but that's roughly what the best competitive mice cost these days. Near rival the Logitech G Pro X Superlight, for instance, is a little more expensive at $159.99. Even without the $29.99 HyperPolling dongle, with the V3 Pro you're getting a top-notch device that will serve you extremely well when the heat is on.