Already months behind, Google is slowly rolling out its AI-powered chatbot, Bard, today. But Google—once a powerhouse in search—looks like it's taking an extremely conservative approach to its new chatbot.
What is Bard? Google describes it as a "complementary experience to Google Search," in its blog post Tuesday. Google announced the Bard chatbot in February, noting that it uses a different language model, called LaMDA (or Language Model for Dialogue Applications), which it will use to power the chatbot.
But if you're wondering if Google is taking a mighty swing at chat-powered search? No, not right now. In fact, its blog post seems quite muted, as if it's simply trying to stand at the plate and not strike out.
For one, there's simply the approach: Complementing Google Search sounds rather conservative—since Google already controls roughly 90 percent of the search market, it's clearly not willing to swing for the fences quite yet. Bard looks like the first instances of Bing's AI chat: simple answers, idea generation, that sort of thing. We don't know, for example, how long answers can be, and whether Bard will allow for creative responses like Bing and ChatGPT generate. It will, however, allow you to select from various "drafts" of the response, where you can actually see a sentence or two. Um, cool?
Google
If you search within Bard, you'll have the option to "Google It" to receive even more responses—but without any attribution for you to see where Bard is pulling its answer from.
Bard is also limiting responses. Early versions of Bing Chat tended to get weird, or worse, when users engaged in long conversations with Bing. Bard isn't risking the same sort of interaction, either, and will limit responses as well. That's designed to keep responses on topic, according to Google.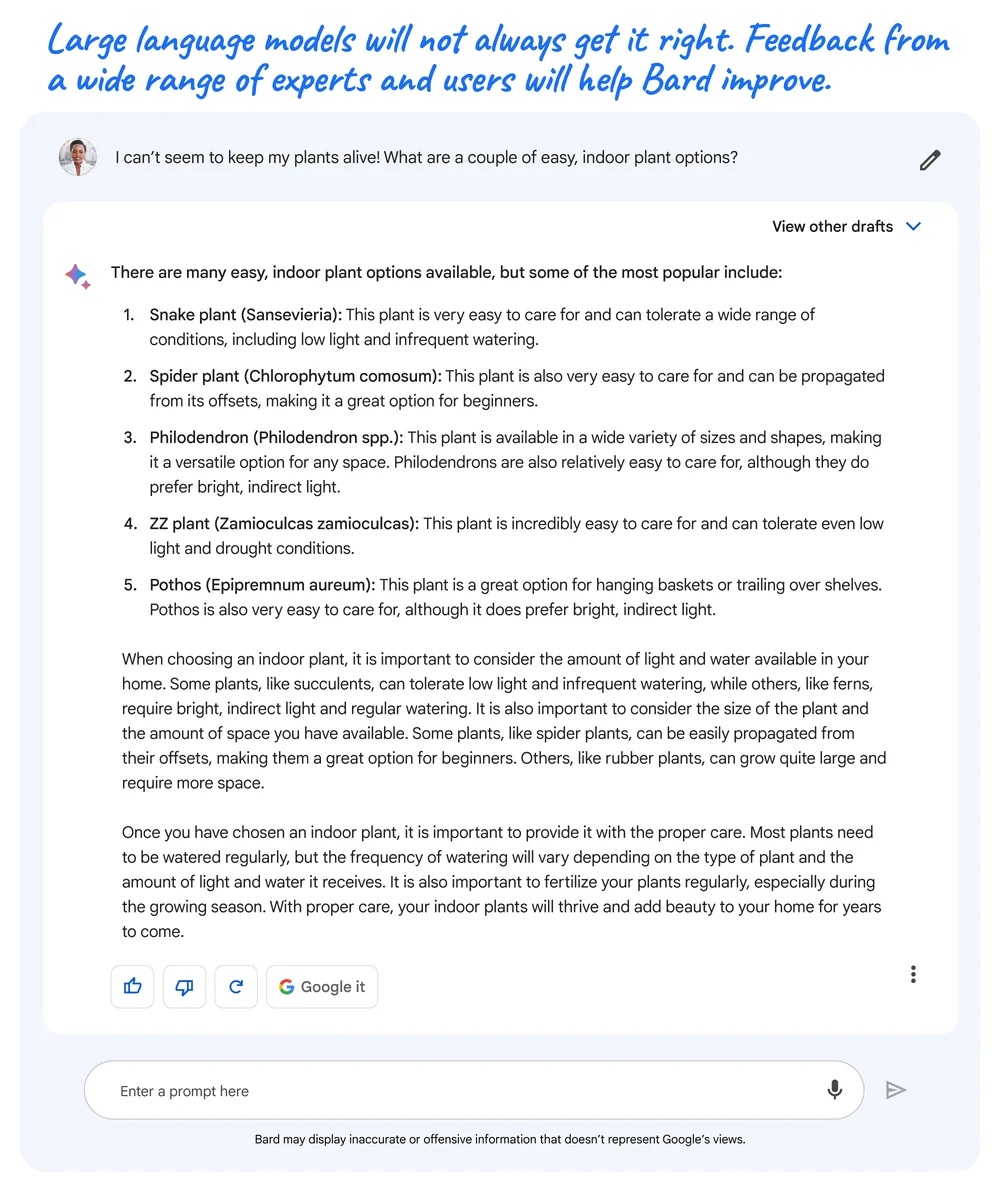 Google
Finally, Google seems very conscious of the fact that its first demonstration of Bard included a well-publicized factual error by misidentifying the James Webb Space Telescope as the first to take pictures of a planet outside of the solar system. In an example today, Google even highlighted a search result where Bard got it wrong.
But on a day when Microsoft added AI image generation to its Bing Chat, and shortly after Runway debuted AI text-to-video, you can forgive the world for just shrugging its shoulders at Bard.
Google, in fact, doesn't even characterize Bard as a product, but as an "experiment." It all leaves one with the distinct impression that Google, once the home-run king of search, may be more of a minor leaguer among a number of new AI star players.