Mechanical keyboards are great. But they're also pricey, at least most of the time. The average retail price of the last five keyboards I reviewed is 200 freakin' dollars, which would elicit justified scoffs from anyone who's never heard the phrase "N-key rollover."
So I purchased the Havit KB487L, the cheapest board I could find on Amazon from a brand I actually recognized, for just under 40 bucks. I wanted to see if I could find a keyboard that anyone on a budget would appreciate, and without having to sacrifice too much.
And I found it! Sort of. The Havit board is technically sound, with solid construction and a few surprising goodies, like real PBT keycaps. But it makes a few layout decisions that are just baffling. If you can live with a few of its quirks—and you don't actually need the 10-key area it provides—it's a good budget option.
At a glance
Expert's Rating
Pros
Excellent price
PBT keycaps
Good typing experience
Cons
Super-weird layout
No alternate programming
Fixed cable
Our Verdict
This keyboard is an absolutely amazing value thanks to upgraded PBT keycaps and a good typing experience, but its strange layout will drive many users away.
Price When Reviewed
$38.99
Best Prices Today: Havit KB487L keyboard
Havit KB487L: Design
At first glance, this looks like any other tenkeyless (TKL) board, with a color scheme that's a bit retro and inspired by the popular Carbon keycap set. But look a little closer at the right side of the board, and you'll spot a strange inclusion. This design crams a 10-key area into just three columns of keys. It's sort of like a "1800" layout, as seen on keyboards like Keychron's Q5, but even more compacted.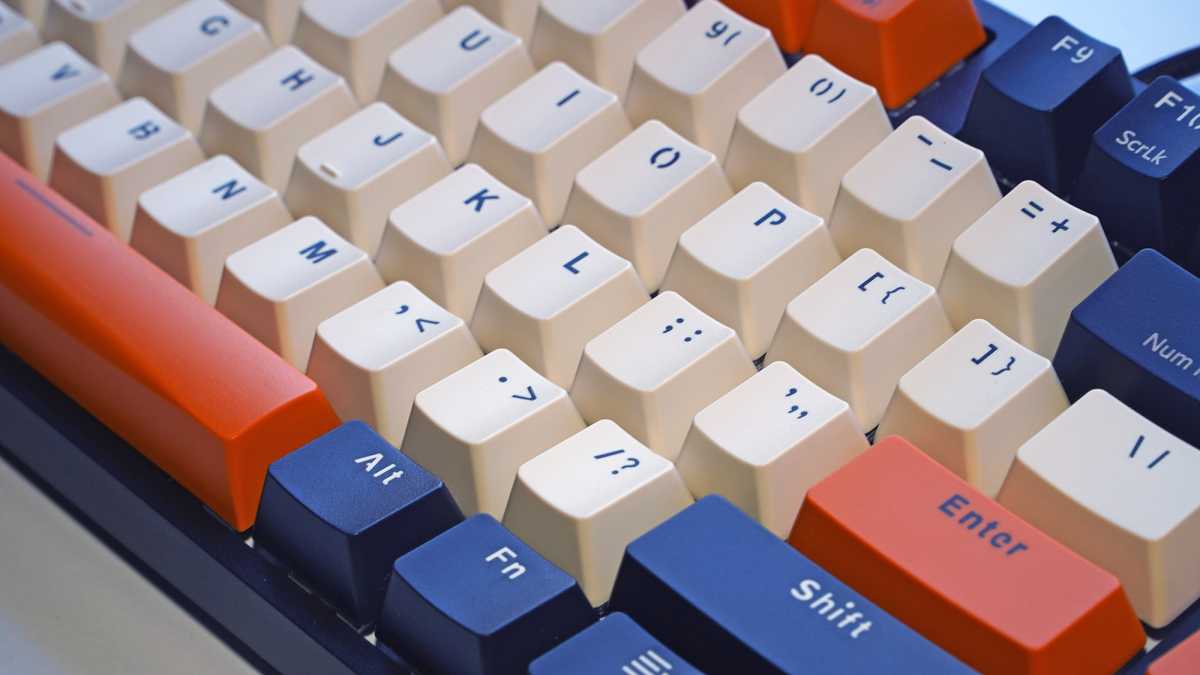 Michael Crider/IDG
We'll get to that odd layout later (because there's a lot to say about it). The other distinctive feature of the Havit board is the inclusion of PBT keycaps. PBT stands for polybutylene terephthalate, a more premium type of plastic than you usually get on budget keyboards. For example, Razer asks 30 bucks—most of the cost of this entire board!—just to upgrade from basic ABS keycaps to PBT. These are also doubleshot, which means that the legends are separate pieces of plastic and will never wear out.
Other than the unique layout and the surprising inclusion of high-end keycaps, this is your basic budget mechanical board. The only choices are Red linear switches, from a company called Jixian that I've never heard of. All parts are plastic, including the PCB deck, and the braided cable is fixed in place. The plastic case includes feet with just one alternate typing angle.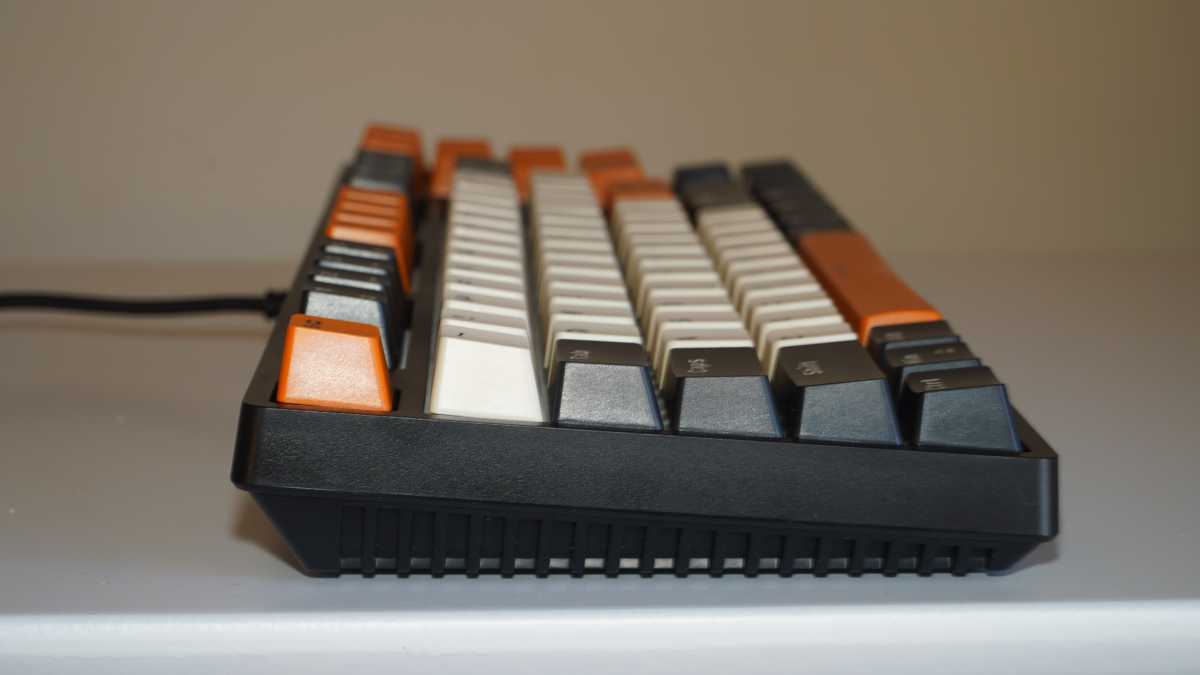 Michael Crider/IDG
The keyboard technically includes backlighting, but only for the 10-key area, Num Lock, and Caps Lock keys. This will come into play when you're using (or disabling) Num Lock. Otherwise, it's a simple, effective design. Those premium, high-profile keycaps give it a slightly retro look, with a color scheme that's unique, if not entirely original. If you want a keyboard that stands out without spending any extra money, this will do.
Havit KB487L: Typing experience
One of the more subjective advantages of PBT keycaps is a better, "rougher" texture to typing. These keycaps do get a bit of that, though they're more smooth and slippery than some premium sets. With a super-tall profile—shaped like Cherry or OEM, but almost as tall as SA—typing on these linear switches with long key travel feels kind of old-fashioned, like a keyboard you'd get with a Dell desktop in 1995.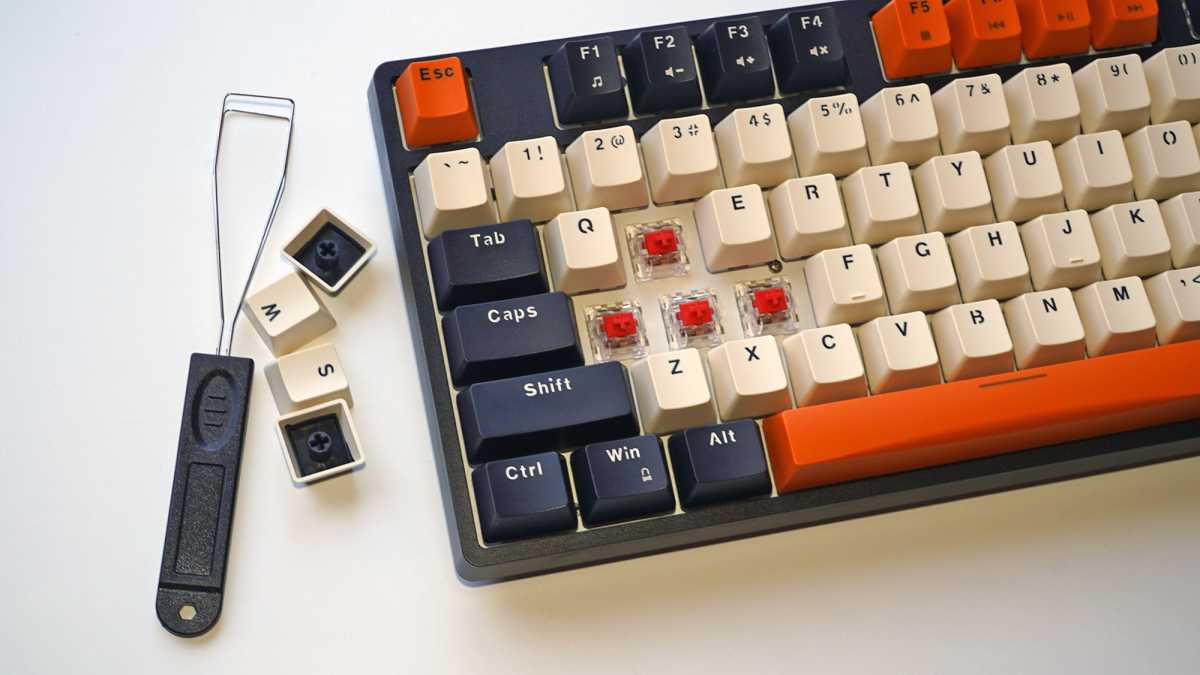 Michael Crider/IDG
It is, for want of a more definitive word, nice. You're not going to get the same "clonk" or springiness you'd feel from a more premium typing-focused board, or the smoothness and relative quiet you'd find from a gaming board. But even though it has rather cheap stabilizers and a lot of "ping" in its body, it achieves the satisfying typing that first-timers and budget buyers are probably looking for.
The PBT keycaps help make up for a lack of other goodies. There are not hot-swap switches, no RGB lighting, no programming options. And at this price point, that's fine…though I would have appreciated a non-fixed cable just for the sake of easier routing on a desktop setup.
And then you start with the layout. Oof.
Havit KB487L: Layout woes
Okay, so presumably the strange layout was designed with the idea of keeping a 10-key area available to the user in a much smaller size—again, reminiscent of the 1800 layout from decades ago. The problem is this: It's fairly clear that whoever designed and approved this layout doesn't actually use the 10-key area, which is so popular in accounting, data entry, and similar fields.
Because the 10-key is limited to just three columns, it omits the -, +, and Enter keys on the right side. And because it's crammed into the space of a TKL board, it also chops off / and * keys, and sticks the Num Lock in the Function layer, along with the Scroll Lock, Pause, and Print Screen keys. This is going to create pretty huge usability problems for anyone who's used to dedicated 10-key input, which immediately undermines the operational premise. (I asked several 10-key users, and they agree, they'd rather just use a separate gadget than try to input data on this board.)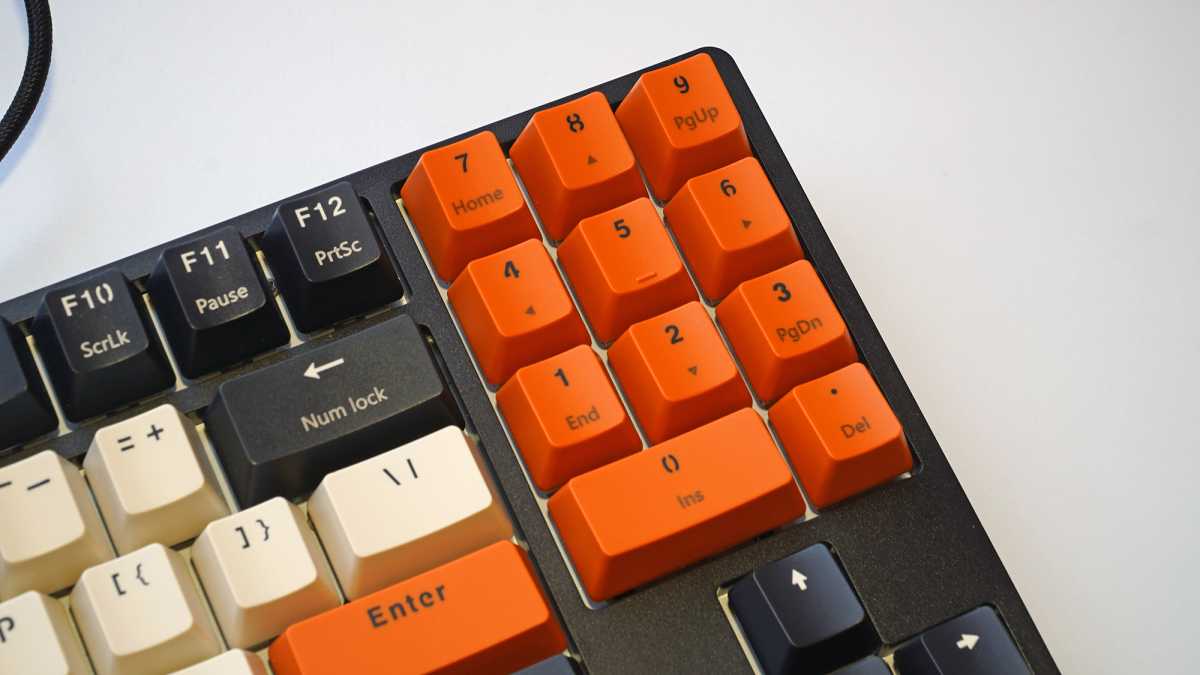 Michael Crider/IDG
But here's the kicker. Because the superfluous 10-key is taking up the space where Detele, Page Up, and Page Down would be, it also has to share space with those keys. So with Num Lock disabled, all six of those keys are now in the top layer…but with the exception of Page Down, they've all moved around. The Delete key in particular is two keys over and one down from where it should be, which plays hell with my muscle memory.
If it seems like I'm piling on, consider the following: In the name of adding functionality, this layout messes up both the usability of a full-sized board and that of a TKL board. It's a baffling design decision that I can't believe was tested very much at all.
Should you buy the Havit KB487L?
The Havit KB487L is an undeniably good value. It would be so even without the upgraded keycaps, but with them it's absolutely fantastic if you're on a shoestring budget. The typing experience, while far from premium, is punching way above its price tag. Without any other frills, it's a great and inexpensive entry into the mechanical keyboard space.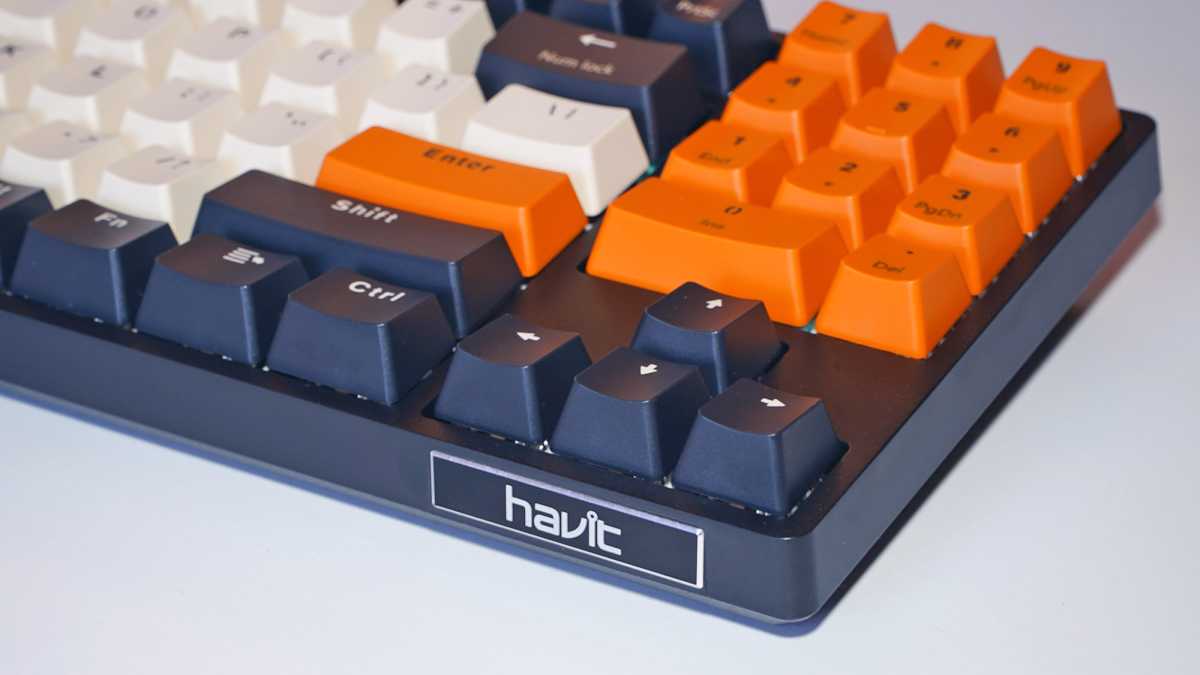 Michael Crider/IDG
That's assuming you can deal with the incredibly weird and unintuitive layout, of course. Anyone interested in the 10-key area for its own sake will be turned off anyway, but those who can't make adjustments for less-often-used keys like Delete or Print Screen will also find it hard to use.
If you can get over that quirk, and you're on the hunt for a great value, you've found it.
Best Prices Today: Havit KB487L keyboard