At a glance
Expert's Rating
Pros
Great set of features for Micro-ATX at $239
Two onboard M.2 slots, 20Gb/s USB, PCIe Gen 4
Solid networking and decent audio
Clean design looks great, includes integrated I/O shield
Cons
Users who need more M.2 NVMe slots will be limited
No PCIe Gen 5, so AM5 CPUs don't get full capabilities
Not as many Micro-ATX cases available, niche market
Our Verdict
The MSI MAG B650M Mortar WiFi delivers on its goal of offering a well-balanced Micro-ATX motherboard for a reasonable price. It lacks RGB and some of the flashier designs of other boards, but still manages to fit a good amount of features into a small package.
Price When Reviewed
$239.99
Best Prices Today: MSI MAG B650M Mortar WiFi
AMD now has a plethora of CPU options, ranging from the original Ryzen 7000 lineup to the new X3D variants. There's also a couple of non "x" variants such as the Ryzen 9 7900, too. That means you'll have plenty to choose from. This opens the possibilities for smaller, more efficient builds.
That's where the MSI MAG B650M Mortar WiFi comes in. As in "Goldilocks"—this one is just the right size. Micro-ATX sits in between the standard ATX size you're used to, and smaller Mini-ITX motherboards. (It's a bit shorter in length than ATX). It's a great compromise of size, features, and performance.
Coupled with the more affordable B650 chipset, it also takes aim at a more reasonable price. We'll go over the features, design, and performance. Are you missing out by going to a smaller motherboard? Or does the space savings mean that you can cram it into an even smaller case? Let's find out!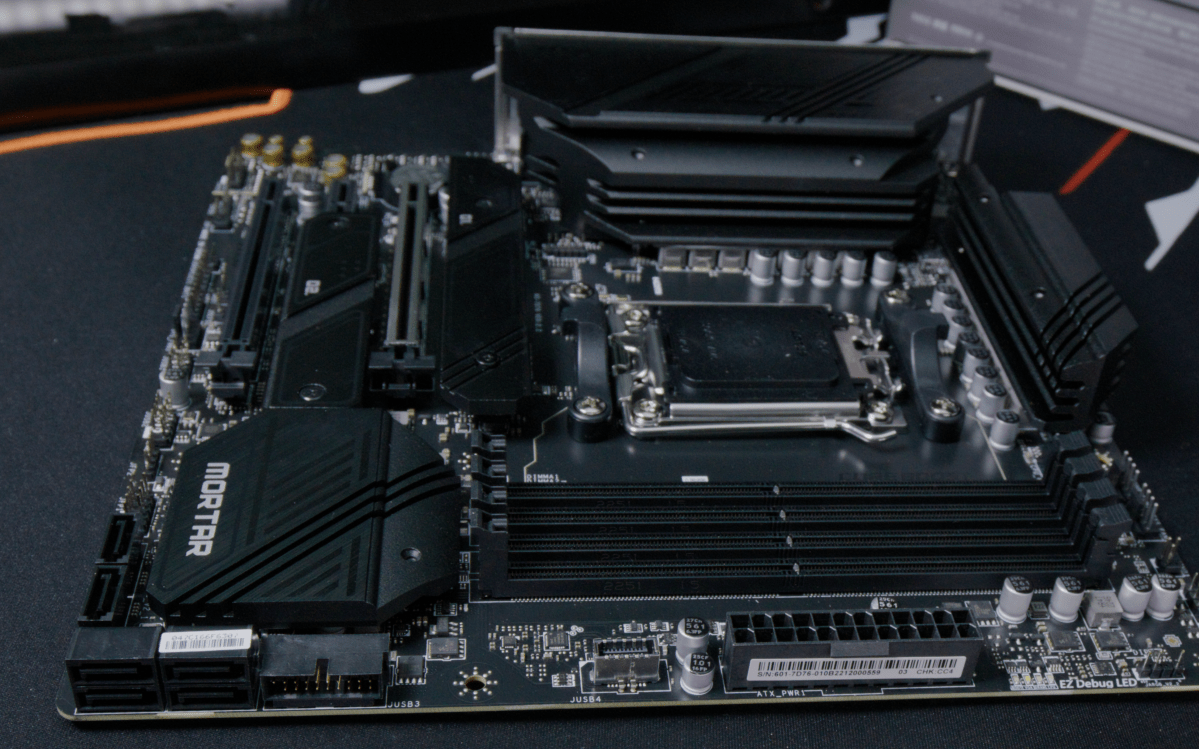 Thiago Trevisan
MSI MAG B650M Mortar WiFi: The Specs
Micro-ATX form factor (9.6×9.6 inches)
Supports AMD AM5 Ryzen 7000 CPUs
12+2+1 Duet Rail System with six-layer PCB
DDR5 RAM, dual channel up to 4 DIMMs (up to 128GB)
2x onboard M.2 slots (PCIe Gen 4)
2x PCIe 16x slot (PCIe Gen 4, 16x/4x)
1x PCIE X1 slot
HDMI 2.1 and DisplayPort out
8 USB ports on back (including 1x 20Gb/s)
Realtek 2.5Gbe LAN with Bluetooth 5.2
Wi-Fi 6E
RGB headers for Mystic Light
6 SATA 6Gb/s ports
5 PWM fan headers
BIOS Flashback button
Pre-installed I/O shield
Realtek 7.1 ALC 4080 audio
MSRP $239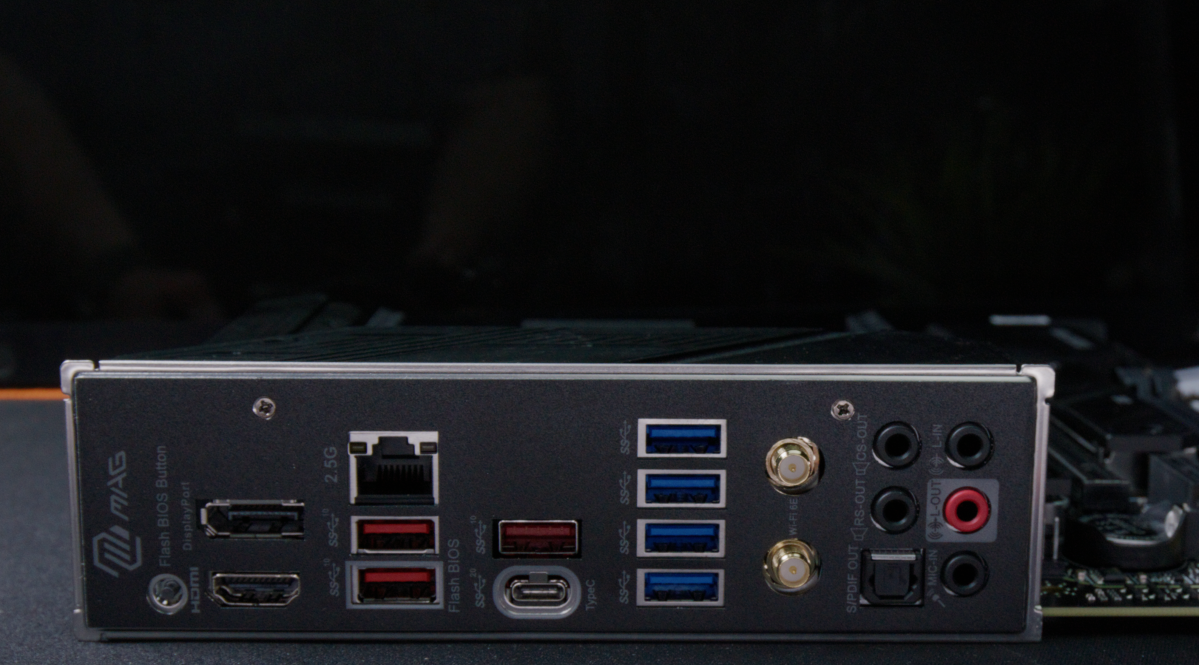 Thiago Trevisan
The MSI MAG B650M Mortar Wi-Fi will set you back a cool $239. While AMD's AM5 overall platform costs are initially higher, B650 chipsets help make it more affordable.
This B650 chipset is slightly trimmed down from B650E and X670E. It saves cost, but you'll also have to do with less: fewer USB options, SATA ports, and PCIe lanes. You still get PCIe Gen 4, and two M.2 NVMe slots. Keep in mind that Micro-ATX motherboards typically will have less I/O to begin with, due to size.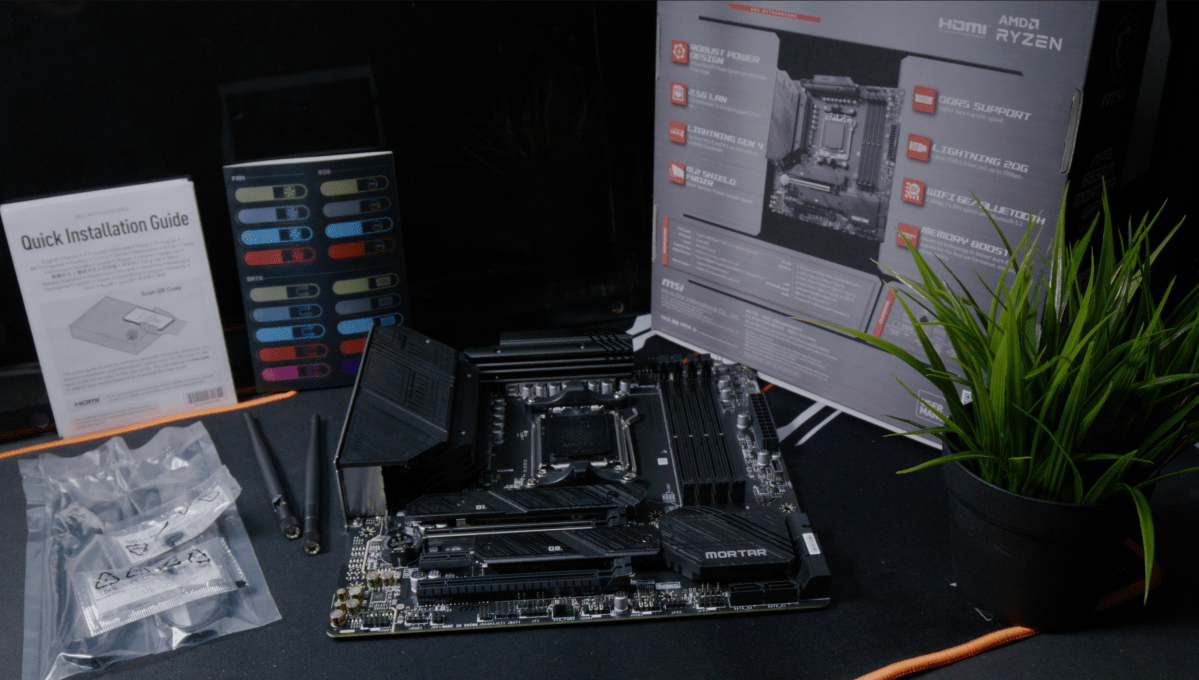 Thiago Trevisan
The unboxing experience is expectedly bare-bones. You get two Wi-Fi antennas for the 6E support, some stickers, Ez M.2 clips, and SATA cables.
CPU choice
AMD has tons of CPU options for Ryzen 7000 on the market now. Want the original 7700X? Sure! How about a more power-efficient, cooler-running 7900 for a smaller case? That will work too. Or if you're feeling adventurous, the new X3D CPUs such as the 7950X3D will also give you the fastest performance around. We'd likely recommend something sensible like the 7700X, or the upcoming 7800X3D for this class of motherboard. The 7600 will be a great option, too.
DDR5 RAM and PCIe Gen 4
AM5 is DDR5 RAM exclusively, but prices now make it more attainable than before. Performance on average will be great—and you can fit up to 128GB across four RAM sticks. That's one advantage of this Micro-ATX form factor over smaller Mini-ITX options, which typically only have two RAM slots.
You won't get PCIe Gen 5, but plenty of Gen 4 is on tap. Both 16x slots are Gen 4, and you also get a 1x slot. This is another reason why Micro-ATX is versatile for small builds, as smaller motherboards won't have this many slots. This makes it great for add-in cards and expansion, without needing full-size ATX. Just make sure your GPU will allow clearance for any extra cards.
Storage
NVMe slots are limited to two onboard. While we'd like to see three, it's understandable for this form factor to have some limits due to size. You do get six SATA ports for more storage options, however. Some motherboards come with an add-in NVMe PCIe card of some sort, but it's sensible that you would not have this included in this price class. You can still add one separately as an option, as you'll have the slot if your GPU isn't massive.
USB ports
With eight rear USB ports, including 1x USB C, I/O is great for the size. No USB 4 here—but it does pack 20Gb/s USB for those needing fast transfers. Small motherboards typically will have limited USB options, so it's great to see an almost ATX-level offering here.
DisplayPort and HDMI 2.1 also help augment Ryzen 7000 CPUs, which have built-in iGPUs. This comes in handy for troubleshooting without a discrete GPU when needed!
Networking
You'll get similar connectivity options to ATX motherboards. Wi-Fi 6E and 2.5GbE LAN are both standard, along with Bluetooth 5.2. Networking is complete and robust. Users needing more, like 10GbE, will need to step up to much more expensive (and often larger) motherboard options.
Audio
Audio is fine here, with a 7.1 ALC4080 codec. It also has enough inputs on the back for most users. If you need much better sound options, you'll have to do with external solutions or add-in cards.
Other features of note
We're happy to see an integrated I/O shield, it makes the experience of building much smoother. You also get "Ez clips" for the M.2 drives, which simplify access. A BIOS Flash button is also clutch when you just need that special-case BIOS upgrade. That's a lot of features that were traditionally relegated to expensive enthusiast motherboards of the past, so it's great to see them make their way here.
MSI MAG B650M Mortar WiFi: Design
Thiago Trevisan
The MSI MAG B650M Mortar WiFi immediately reveals its biggest design trick: its Micro-ATX form factor. This opens it up to fitting much smaller cases, expanding the possibilities for builds. It can even come in handy in a normal-sized case, like, say, the Lian Li O11 Dynamic. If you're water cooling and don't have much room on the bottom due to thick radiators, Micro-ATX can keep the motherboard clear of that space.
Aesthetically, it shares a lot with MSI's Tomahawk lineup, and that's great news. It has an exceptionally clean design, with robust-looking VRM heatsinks, and armor plating in the right places.
While this motherboard comes in at a cheaper price point, the design and build quality certainly do not indicate that. Materials and finish are great, with most important areas covered by heatsinks, or "Armor."
A standard ATX alternative
MSI MAG B650 Tomahawk WiFi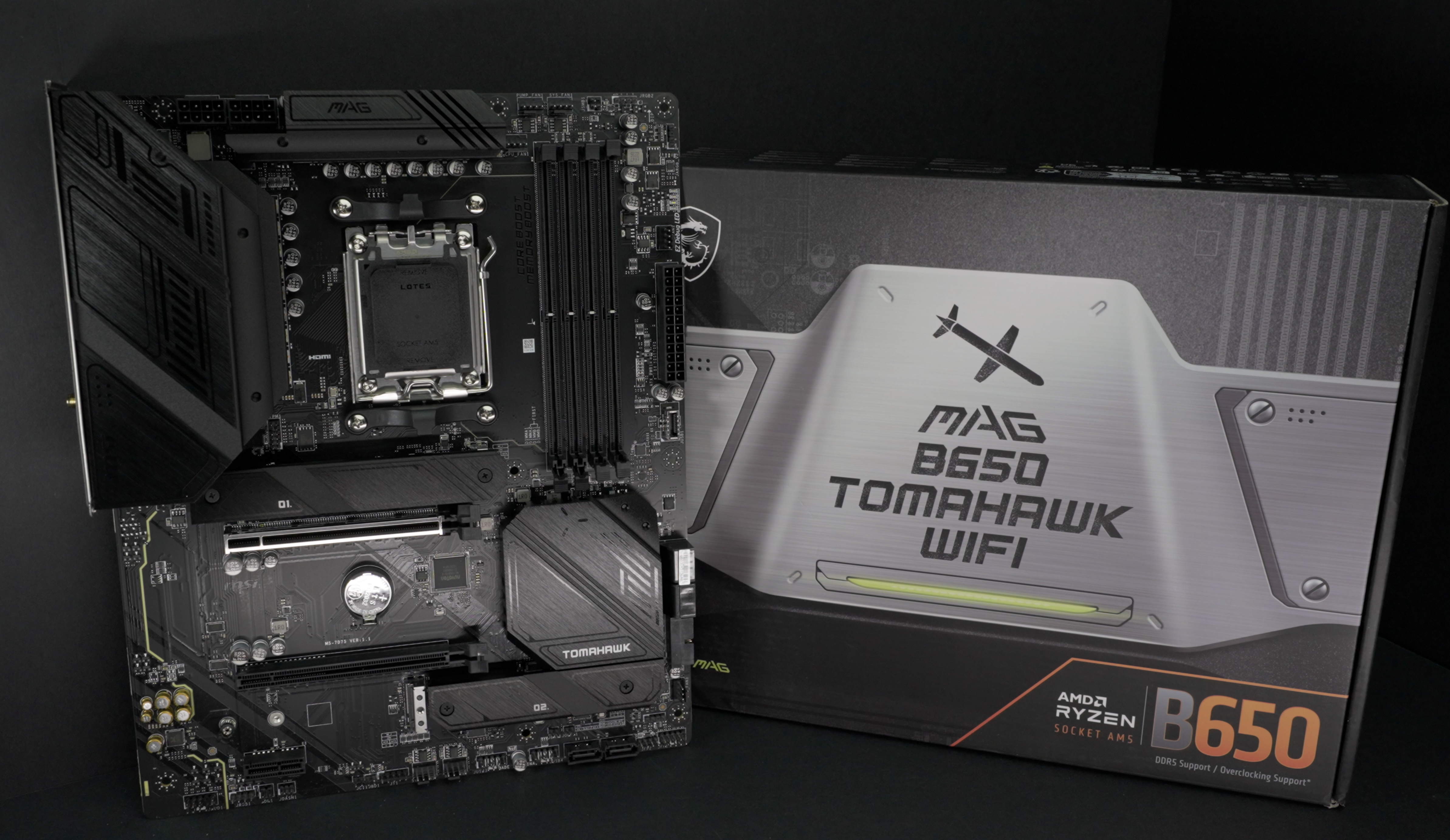 Price When Reviewed:
239.99
If you don't think you need the smaller form factor, you're often better off going with a larger ATX variant such as the MSI MAG B650 Tomahawk we recently reviewed.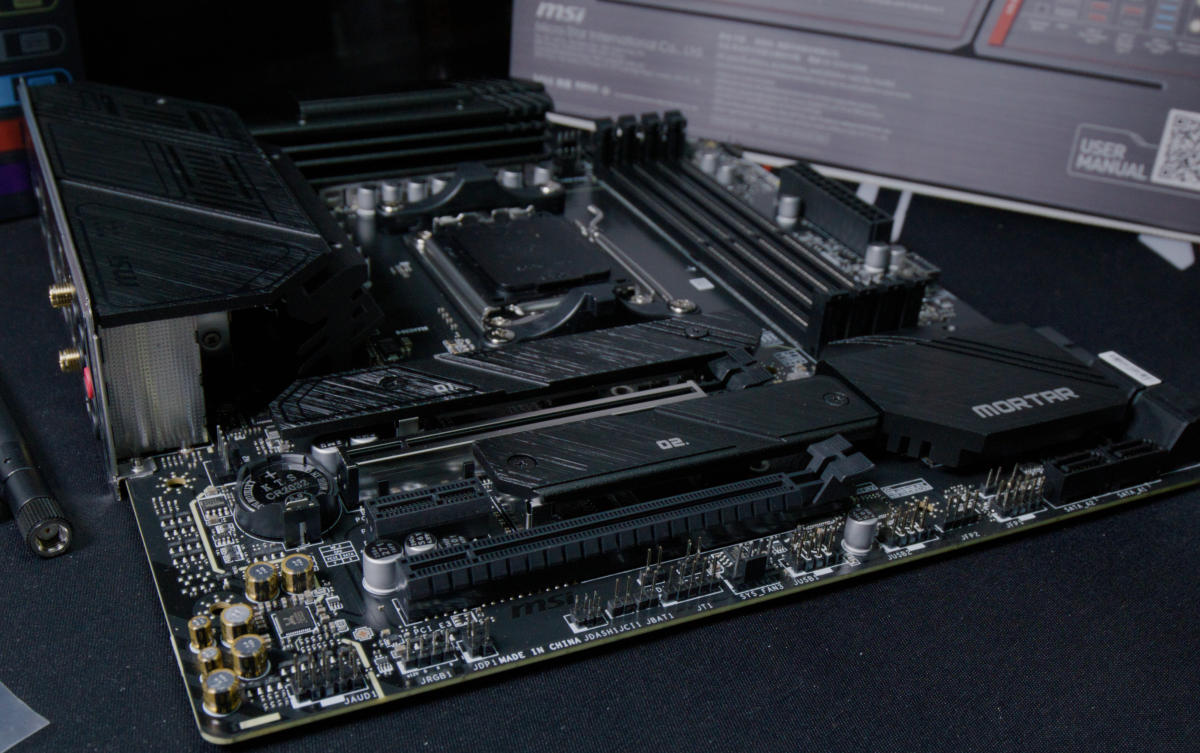 Thiago Trevisan
The M.2 "Frozr" shields protect the two NVMe drive slots. It adds an element of completeness to the design—many cheaper motherboards leave this area exposed.
You won't find any RGB effects, however. You can still add RGB via the headers to your liking. Part of the price savings comes from not having fancy screens or intricate motherboard effects.
Excellent news: The I/O shield is integrated, and the M.2 NVMe drives have retention clips! PC builders can rejoice at these simple, but highly vital quality-of-life inclusions.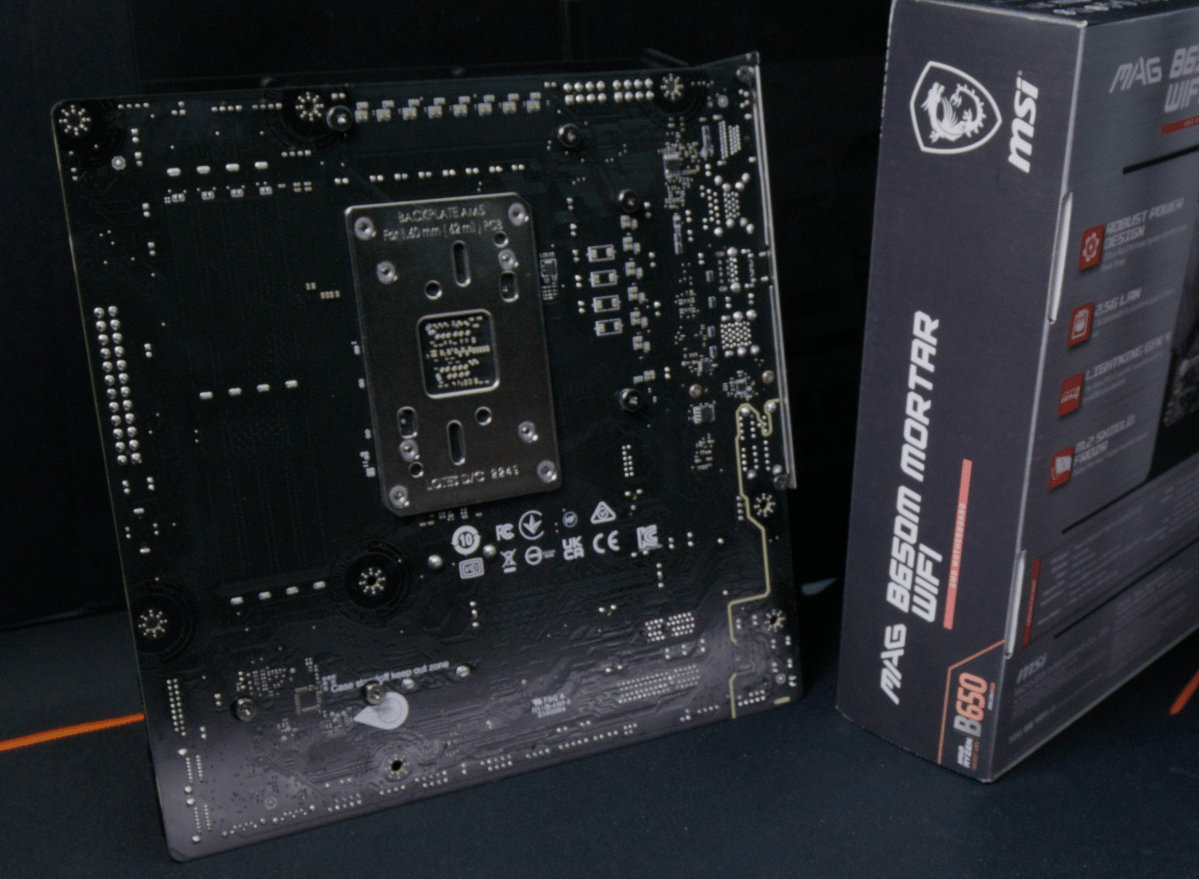 Thiago Trevisan
Sweeping around to the back, you'll find the typical bare design. Overall, this is a very attractive motherboard that makes tremendous sense for small builds where RGB is often harder to spot. Looks premium, for a less-than-premium price—great design!
MSI MAG B650M Mortar WiFi: Performance, software, and BIOS
The MSI MAG B650M Mortar WiFi has a 12+2+1 power stage and a six-layer PCB. If you compare this to some overkill motherboard VRM stages on hyper-expensive motherboards, it doesn't look impressive on paper. Once again, this is not an overkill motherboard, but the "Goldilocks" special!
The same holds true for performance—it will competently handle even the blistering Ryzen 9 7950X3D without issue. While you won't break any records, it's more than capable. Depending on your build, you'll still see great performance even from the more efficient "non-X" SKUs such as the Ryzen 9 7900. Lower watts and temperatures, meaning more consistent performance in small spaces.
DDR5 is also standard here—up to 128GB. The same caveat holds true: overclocking the fastest kits probably doesn't make sense. That's okay—it still can handle almost anything you throw at it with Expo profiles and super-fast performance.
Going further, while you're not getting PCIe Gen 5 performance, PCIe Gen 4 is more than sufficient for GPUs and most NVMe drives on the market. There's no need to incur that extra expense! You're technically not taking full advantage of AM5's PCIe Gen 5 potential, however. That makes the more expensive CPUs less of a good match for this board, but you'll have many other options that fit the bill.
Closing off motherboard performance, the USB ports are fast, with 20Gb/s speeds. That's the norm with even pricier ATX motherboards, with very few having the 40Gb/s speeds of USB4.
If you'd like to tweak your system, we have the MSI BIOS for that. Much like Asus, MSI has a marvelous BIOS that allows you to tune various elements. Ranging from CPU overclocking, to configuration of your hardware—it's all here.
Those that would rather leave the tinkering to science will also be happy: Automatic overclocking with AMD's Precision Boost Overdrive (PBO) is available, along with AMD's Expo profile for DDR5 RAM.
It's also simple to update the BIOS—something we'd recommend doing. While mature systems don't always need BIOS updates, B650 is still new and updates early on often fix many teething issues.
If you'd like to spend as little time in the BIOS as possible, MSI Center has a few options to keep you entertained. Of course, Mystic Light allows for RGB header control and symbiosis with other peripherals.
It also has some rudimentary hardware monitoring, although we'd recommend better third-party options for that. You can set PWM fan speeds, and even use "Live Update" to grab drivers. Overall, it works well—a big improvement from buggier motherboard software of the past.
Should you buy the MSI MAG B650M Mortar WiFi?
The MSI MAG B650M Mortar WiFi delivers on its goal: Micro-ATX versatility, without compromising on features. It does all this for $239.99, a very fair price in today's more expensive motherboard market.
Impressively, it does this without skimping on features that you'd get on even larger ATX motherboards. Networking is just as good, and audio and even PCIe slots are well represented. The board closes the gap even further with eight USB ports, and good overall performance.
Given its ability to pair with powerful CPUs and smaller cases, the B650M Mortar offers a potent combo for small form-factor enthusiasts. It certainly makes one consider Micro-ATX over Mini-ITX if more I/O is needed.
Of course, it isn't the flashiest design, and lacks the RGB flair some users may desire. It also won't break any records with its specs—but it doesn't have to. It's a very well-balanced effort that allows small form-factor builds to be more financially sensible.
Best Prices Today: MSI MAG B650M Mortar WiFi