There's a Holy Grail of laptop users, a Shangri-La of portability and power. A pure, platonic Theory of Everything, combining the go-anywhere nature of an ultraportable laptop with the raw, screaming power you can only get with a desktop that will give you a hernia if you try to move it. We can't get there yet — at the moment, the best we can do is plugging a pretty-good laptop into an external GPU, like the Asus ROG XG Mobile. The most recent version of this elegant little piece of hardware just got officially released, at least in Japan.
As WCCFTech reports, this is the 2023 update of the ROG XG external GPU, which packs an incredible GeForce RTX 4090 (the laptop card) into a portable dock that interfaces with select ROG laptops and tablets. It's the same basic setup that PCWorld reviewed one year ago, now with even more pixel-pushing power. At least one Japanese retailer has the GC33Y version of the XG Mobile ready to ship…for a whopping 399,800 yen. If you haven't checked your exchange rates yet, that's a hair over $3,000 USD. And that's just for the dock — you'll need to buy a compatible Asus ROG Flow laptop separately, unlike a standard, non-mobile eGPU that can work via USB-C or Thunderbolt.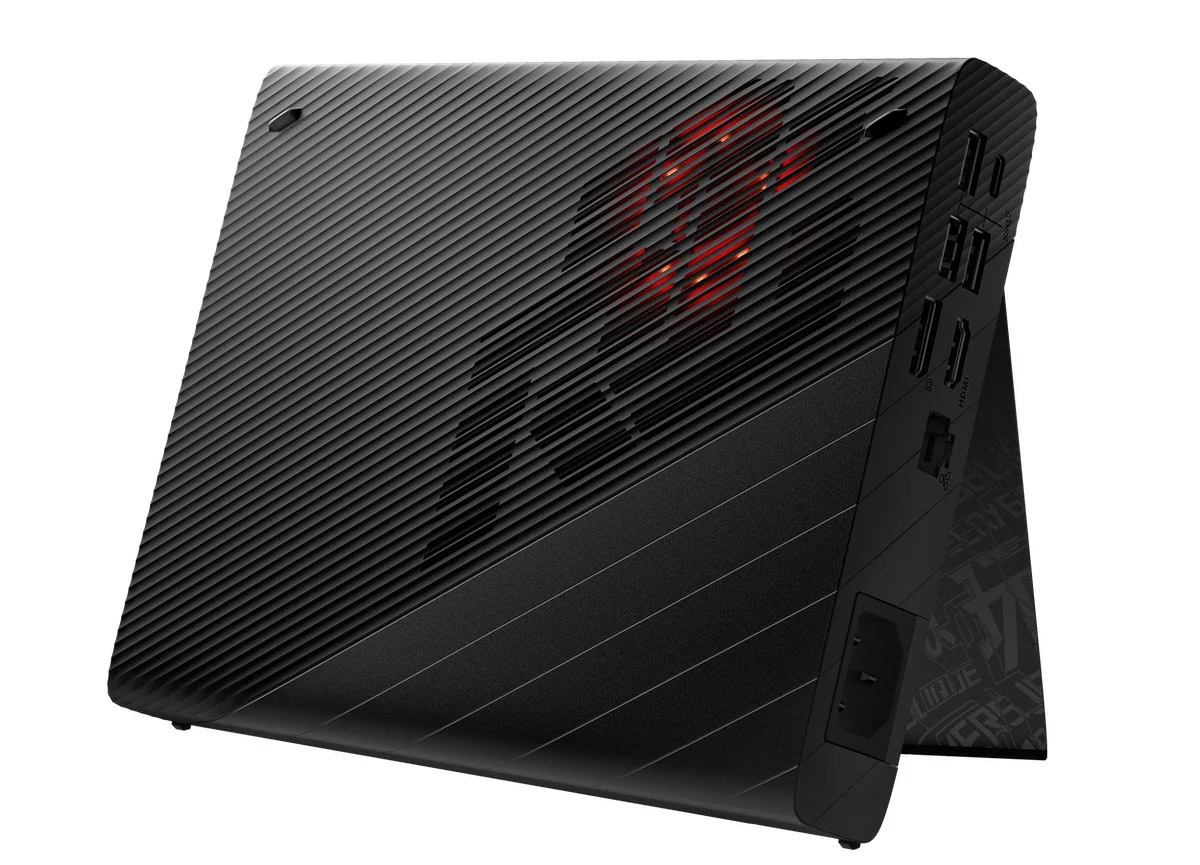 Asus
That's some serious sticker shock. The current model of the dock, packing a mobile RTX 3080, is $1,500 at Best Buy. But it might not be as bad as all that. For one, comparing US prices to international ones is less than fair thanks to generally higher sales tax rates, to say nothing of import taxes (Asus is a Taiwanese company). A Canadian listing for the same gadget shows it as $2,500, which is just $1,825 USD at the current exchange rate, so $1800 to $2,000 might be a more realistic price for the ROG XG Mobile dock when it arrives here.
And at $400 more than the (roughly) equivalent desktop card, for a device that adds some serious graphical oomph to an ultraportable laptop, it makes a lot more sense. The dock also doubles as a pretty great desktop station, giving a ROG Flow laptop instant full-sized DisplayPort and HDMI ports, three extra USB-A ports and a full Ethernet port. Granted, you're still looking at a total investment of at least $3200, and possibly quite a bit more…but a full gaming laptop with an RTX 4090 will cost around the same, and you can't pop off its GPU to cram it into an overnight bag. Just don't try to import it from Japan, I suppose.