At a glance
Expert's Rating
Pros
Great I/O features for Mini-ITX
Two onboard M.2 slots, 20Gb/s USB, PCIe 16x Gen 5
Good networking and decent audio
Colorful ROG Strix design, integrated I/O shield
Cons
B760 chipset means you can't take full advantage of Intel 13th-gen such as more PCIe lanes
Not for CPU tinkerers and overclockers
Our Verdict
Asus has worked some magic to make this packed Mini-ITX motherboard affordable. For the budget hobbyist it will more than suffice, but it comes with limitations that will leave power enthusiasts and maximizers underwhelmed.
Price When Reviewed
$219.99
Best Prices Today: Asus ROG Strix B760-I Gaming WiFi
Small form-factor motherboards have taken on an entirely new life over the last few years. The extraordinary power of modern hardware no longer needs a huge monolithic structure to house it. You also no longer need the treasure reserves of a medieval king to afford one!
Thanks to Mini-ITX motherboards such as the Asus ROG Strix B760-I Gaming WiFi, small builds are more widely accessible. Supporting a gamut of powerful Intel CPUs, both 12th- and 13th-gen, you'll have good choices across the board. (Pun intended.)
Part of the reduced cost is due to the B760 chipset, a scaled-back version of the Intel 13th-gen Z790. While you're getting better pricing, there are some compromises, too. We'll go over the features, design, and performance of this small form-factor motherboard. Does this board strike a satisfying balance of cost savings and access to powerful hardware? Are there caveats you should be aware of? Let's find out!
Asus ROG Strix B760-I Gaming WiFi: The specs
Mini-ITX form factor (170x170mm, or 6.7×6.7 inches)
Supports Intel 12th- and 13th-gen CPUs
8+1 Power Stages with 80A
DDR5 RAM, dual channel up to 2 DIMMs (up to 64GB)
2x onboard M.2 slots (PCIe Gen 4)
1x PCIe 16x slot (PCIe Gen 5)
HDMI 2.1 and DisplayPort out
8 rear USB ports on back (including 1x 20Gb/s)
Intel 2.5GbE LAN
Wi-Fi 6E With Bluetooth 5.3
Aura Sync header for RGB
4 SATA 6Gb/s ports
3 PWM fan headers
Clear CMOS
Pre-installed I/O shield
ROG SupremeFX 7.1 high-definition codec S1220A
MSRP $219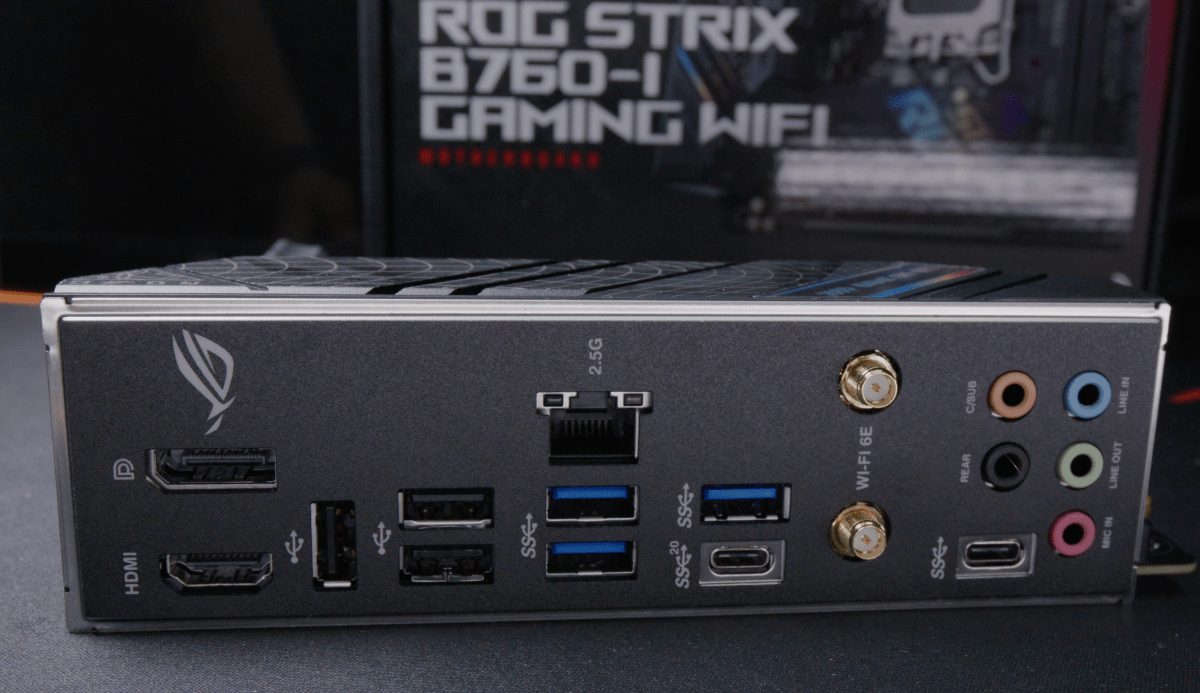 Thiago Trevisan
The Asus ROG Strix B760-I Gaming WiFi comes in with an MSRP of $219. In the past, Mini-ITX components have often been expensive—diminutive hardware often adds to the cost. Here we have a nicely featured small form-factor motherboard that still appeals to gamers, with some nice savings.
First thing to be aware of is that Mini-ITX motherboards automatically have fewer features and I/O compared to larger Micro-ATX and ATX motherboards. You'll typically have only a single PCIe 16x slot, and fewer NVMe slots, SATA ports, and USB ports.
How does the Intel B760 chipset do with those restrictions? Feature-wise, it certainly keeps up for most users. Just note that CPU overclocking and overkill VRMs will be for the Z790 realm. Most other users should be more than covered. Again, you'll typically get fewer PCIe lanes and things like SATA ports, but these won't matter as much as on larger motherboards.
Thiago Trevisan
The unboxing experience is pleasant and simple. You'll get a couple of important items such as the Wi-Fi antenna, SATA cables, and some ROG swag.
CPU choice
You'll have support for any of the Intel 12th- and 13th-generation CPUs, ranging from the meekest to the mightiest options. Given that overclocking is not a focus of this motherboard and its price class, you'll get better bang for buck with some of the more midrange CPUs such as the Intel i5-13600 or i7-13700. Those seeking overclocked beasts such as the i9-13900K will be better served by a Z790 motherboard such as the ROG Strix Z790-i.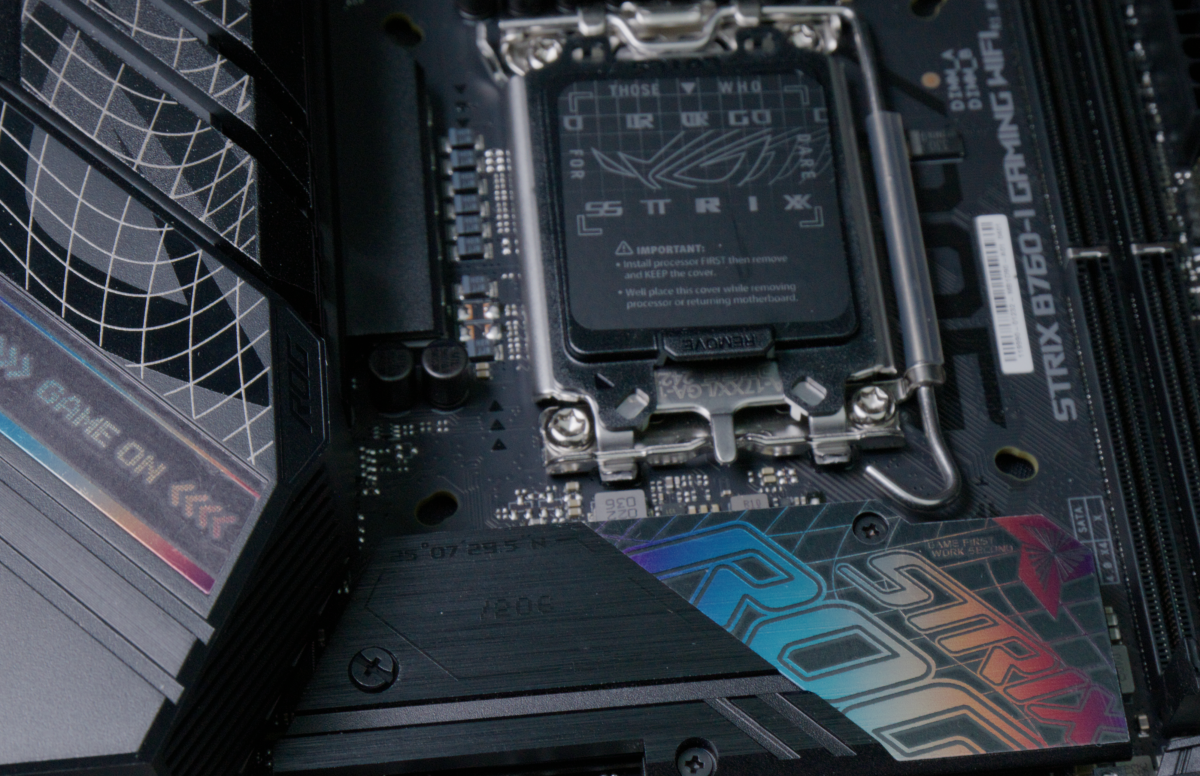 Thiago Trevisan
DDR5 RAM and PCIe Gen 5
DDR5 support is here and allows for 64GB of fast RAM. You'll notice Mini-ITX motherboards will only have two available DIMM slots, which is the norm for this size.
You will also get a single 16x PCIe Gen 5 slot, for your GPU. The NVMe slots will be limited to PCIe Gen 4. GPUs also only take advantage of PCIe Gen 4, so you're more than covered here. Gen 5 NVMe drives are just starting to be released, and Gen 4 offers more than enough performance still.
Storage
Two included NVMe slots are more than acceptable on a small form-factor motherboard such as this. Given that they're also PCIE Gen 4, you'll have more than enough storage and performance on hand for most gaming builds. You also get four SATA ports for hard drives, which should also be more than enough for small builds.
USB ports
With eight rear USB ports, and 1x USB C at 20Gb/s, you'll have fantastic options for almost any scenario here. This is almost on par with many ATX motherboards, so very little in the way of compromises here. If you're after even faster USB4 or Thunderbolt, you'll have to spend at least twice as much to find it.
DisplayPort and HDMI 2.1 are also here if your CPU supports integrated graphics, making it easy to diagnose without a discrete GPU.
Networking
You'll get the same connectivity options as most ATX motherboards. Wi-Fi 6E and Intel 2.5GbE LAN are both available, as well as Bluetooth 5.3. Certainly, very few would need more for this class of motherboard, so it's great to see how well-rounded these options have become.
Audio
Audio is good, with a ROG SupremeFX 7.1 codec. It also has a variety of audio inputs in the back, allowing headphone and speaker connections.
Other features of note
We always love the integrated I/O shield, as it makes the entire build process much more enjoyable. M.2 Q-latch for easy access to the M.2 slots is standard, too. You'll also have the same CPU cooler compatibility as LGA1700 Z690, so it's easy to transfer over your hardware. It's fantastic to see a smaller, more affordable motherboard having the same options as the bigger enthusiast motherboards do!
Asus ROG Strix B760-I Gaming WiFi: Design
Thiago Trevisan
The Asus ROG Strix B760-I Gaming WiFi wastes no time in letting you know that it means business. Or better yet, it means gaming! With a super-colorful PCIe and I/O shield area, it's a very attractive design.
The second impression you'll get is one of quality. The fully adorned design is not only on the surface, but in the choice of materials used, and the tactile feel is also top-notch. The board feels hefty and substantial, in spite of its miniscule size.
Every area is laden with either colorful and interesting design elements, or functional VRM and heatshield armor. The M.2 slots are nicely protected and cooled—no exposed areas here! This overall attention to detail adds to a feeling of quality and enthusiast-grade design.
You'll also have an Aura Sync RGB header onboard, for adding a dizzying array of lights if you want to. The motherboard itself, while colorful, is not adorned with much in the way of RGB or special screens. That's a given with this price class, you'd need a more expensive and larger motherboard for more pizazz. That's okay—the colorful design more than fulfills its duty for eye-candy goodness.
Other smart design elements are the integrated I/O shield, M.2 Q-latch, and well-labeled inputs. These small touches further showcase the attention to detail, and the fact that you don't need a super-expensive motherboard to be an enthusiast.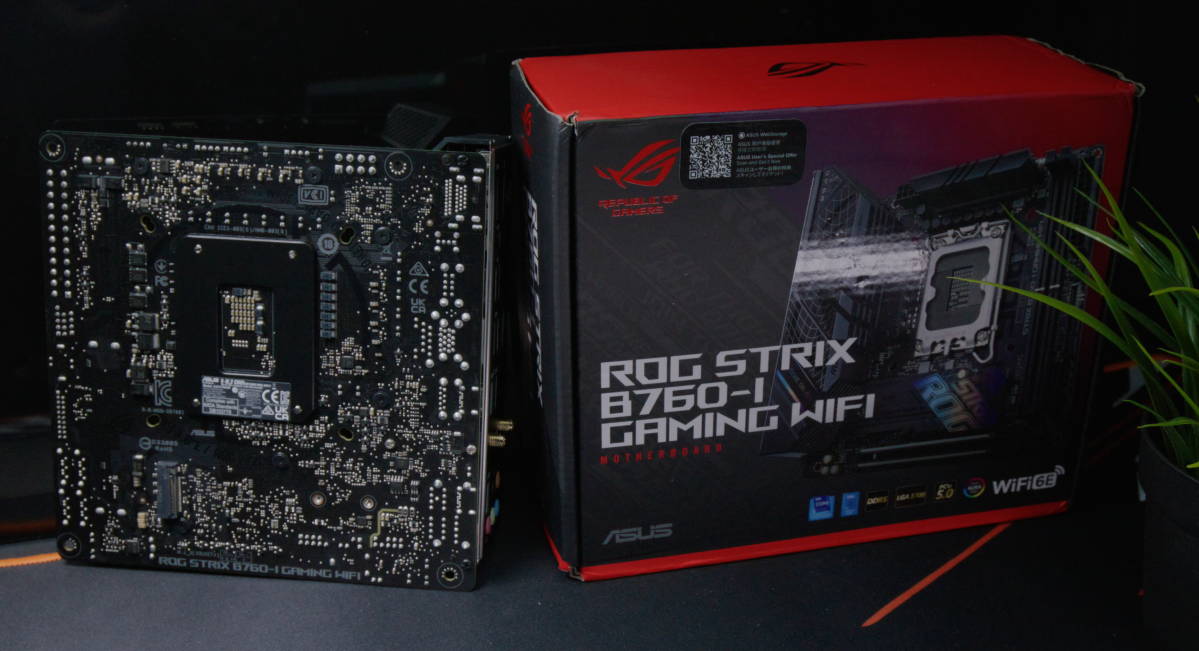 Thiago Trevisan
Asus ROG Strix B760-I Gaming WiFi: Performance, software, and BIOS
The Asus ROG Strix B760-I Gaming WiFi features an 8+1 VRM Power Stage with 80A. While this seems small compared to some beastly motherboards with 20+ Power Stages, it's more than enough for the types of CPUs you'll likely pair with this board.
Performance is expectedly less than with Z790 motherboards, even small form-factor ones such as the Asus ROG Strix Z790-I, which is a cousin to this board. We wouldn't go slapping an Intel i9-13900KS on here since you'll waste a lot of that performance. You'll do fine with a regular i9-13900, i7-13700, or even i5-13600, however. Those will still perform well and give you cooler and more controllable performance, which could be a big benefit in smaller ITX builds.
DDR5 is here, so you'll be experiencing more or less the same performance as with more expensive motherboards. You're limited to two slots and 64GB, but that is more than enough for gaming builds of this caliber.
PCIe Gen 5 is here for the GPU 16x slot, but only PCIe Gen 4 on the NVMe slots. This is far from an issue, and basically exactly what you'd want for a full-fledged small gaming build. Sure, you're not topping out all of the specs that are present in Intel's 13th-generation CPUs, but you're also saving money. (Both in price, and heat output!)
Even if you won't be overclocking on B760, it still has a pleasant BIOS to spend some time in. Of course, it won't be as fully featured as some of the bigger Asus ROG motherboards, but you'll have user-friendly options here for many other items.
With B760 being a fairly new chipset, it's always good to update your BIOS to catch updates with fixes quickly. It should mostly be a more mature platform compared to when B660 was new, however.
Exiting the BIOS, you'll also find that Asus has done a fine job with its Armoury Crate software. Gone are the days when you'd absolutely avoid any type of included motherboard software. This one is useful and functionally stable, with myriad options. You can set Aura Sync RGB profiles, fan curves, and even update drivers.
Should you buy the Asus ROG Strix B760-I Gaming WiFi?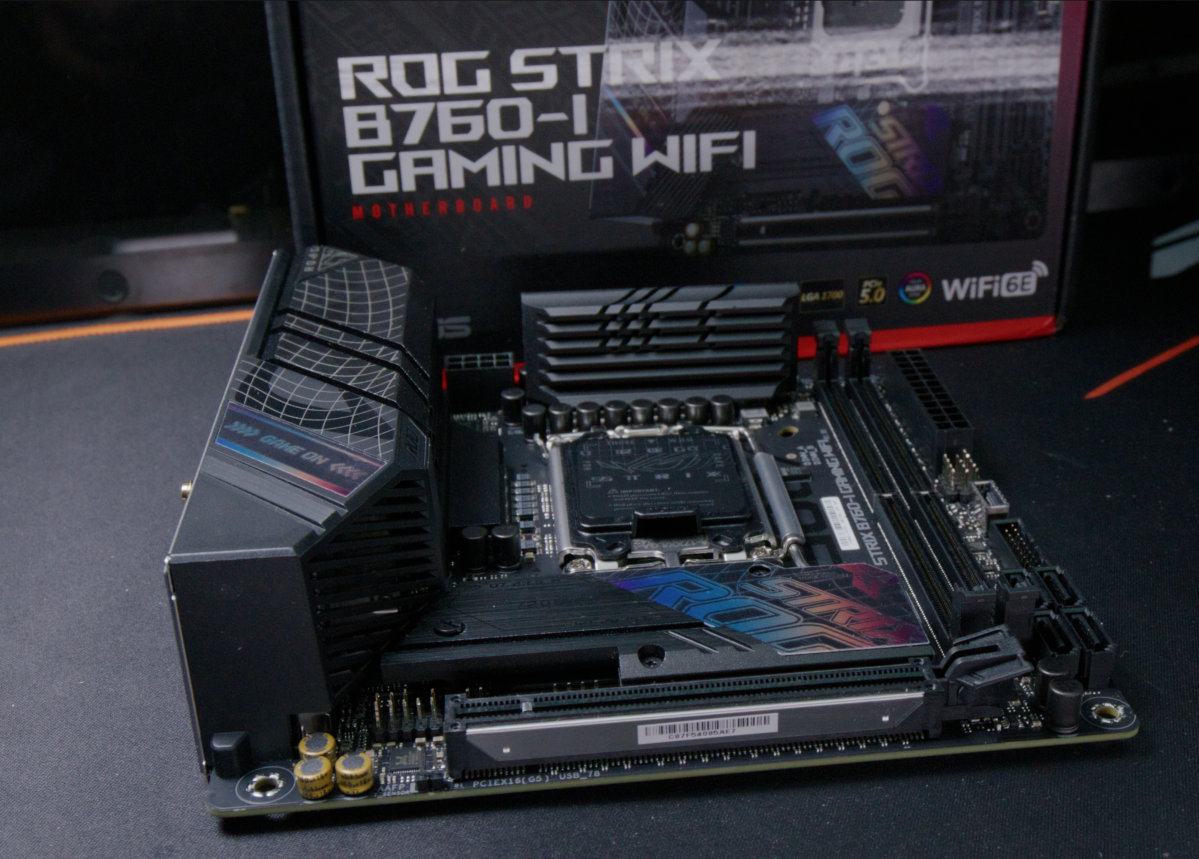 Thiago Trevisan
Can you have almost the same enthusiast-level Mini-ITX experience on the cheaper $219 Asus ROG Strix B760-I Gaming WiFi as on pricier options?
For many users, you can. You'll still get the same features such as DDR5, some PCIe Gen 5, and CPU choices. A $219 price is not particularly cheap, especially given the limits you'll have on CPU tinkering compared to Z790.
For enthusiast users who want to pair a powerful, overclockable CPU such as the i9-13900K with a cheaper motherboard, B760 may not be the best option. We'd recommend sticking to the less powerful and non-overclockable CPUs with this motherboard.
Those limitations aside, the ROG Strix design will make enthusiasts happy, with great attention to detail and many included features that rival even some ATX motherboards. If you never plan to overclock, there's not much compromise here for users who just want to game and have the appropriate supporting features. No need to pay more for features you won't need; and you'll still get respectable performance.
Best Prices Today: Asus ROG Strix B760-I Gaming WiFi