ChatGPT's AI has one big problem: It was only programmed with information up to a few years ago. By adding web-browsing capabilities with its partner, Microsoft, OpenAI has brought ChatGPT up to date.
OpenAI's major update to ChatGPT actually added three significant features: its newfound ability to browse the web, new plugin capabilities, and a sandbox in which it can execute and test code. The latter feature means that you'll actually see graphics in ChatGPT output, though what was shown was (for now) simple line graphs and charts, as well as some image manipulation. A fourth feature, a retrieval plugin, also means that developers can begin asking ChatGPT to incorporate documents of the developer's choosing, in the future.
The update means that ChatGPT is expanding on several fronts, potentially eliminating a competitor's advantage: Google's Bard may be boring, but it knows what's going on in the present, thanks to its integration with Google Search.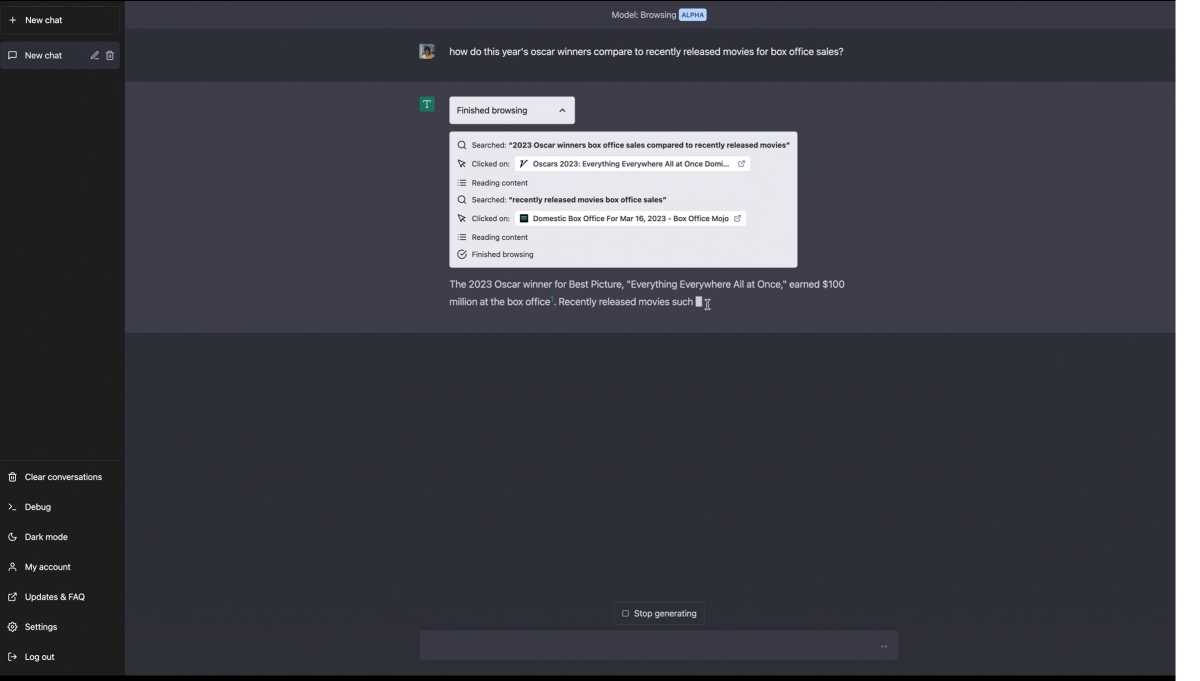 OpenAI
ChatGPT won't open a web browser, per se, but behind the scenes it's working with Microsoft's Bing (which has its own AI chatbot, of course) to browse the open web. In one example, ChatGPT was asked about the latest Oscar winners. The app indicated that it was browsing specific sites to learn the information, even "clicking on" specific sources of information. Previously, ChatGPT was current up until about 2021, with certain exceptions.
ChatGPT "knows" a lot of information, period, but via plugins, the AI chatbot will be able to access specific stores of information that it didn't have access to previously—for example, flight times and prices from kayak, sophisticated mathematical modelling via Wolfram Alpha, and more. For now, OpenAI has deployed plugins from Expedia, FiscalNote, Instacart, Kayak, Klarna, Milo, OpenTable, Shopify, Slack, Speak, Wolfram, and Zapier. Other plugins are on a waitlist for further development, OpenAI said.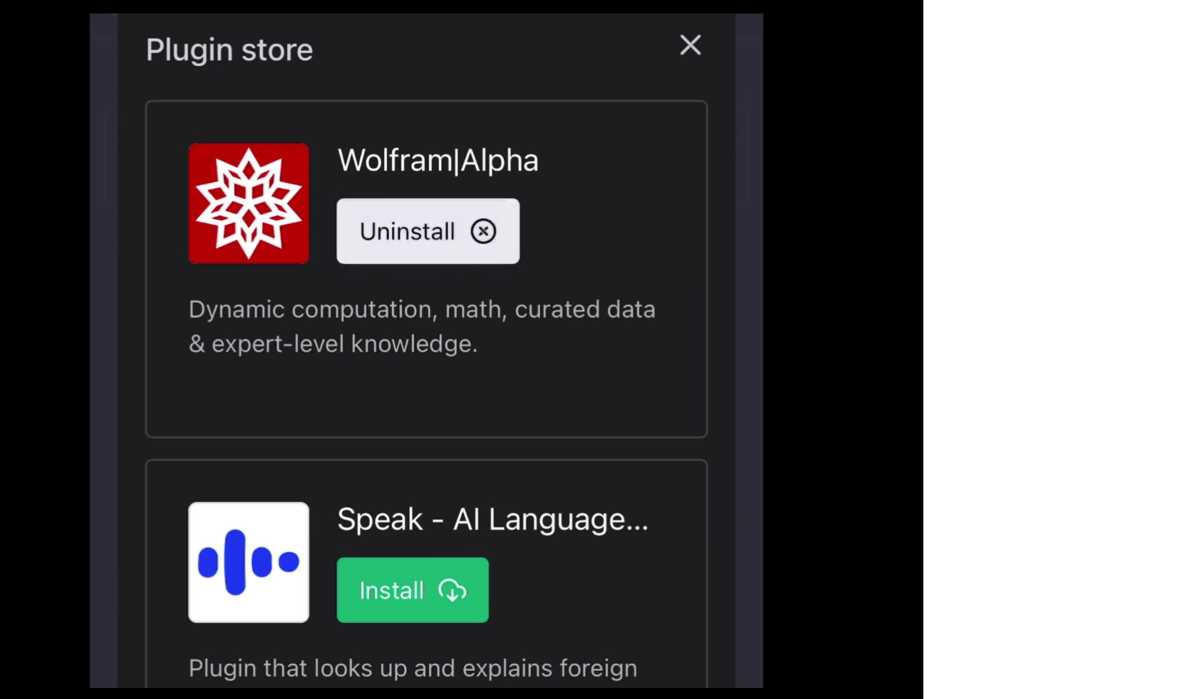 OpenAI
One function that CHatGPT has always specialized in is developing, writing, and checking code. Today, OpenAI said that it has added a small sandbox, along with disk space, for you to "write" and test code within ChatGPT. You can even upload files. "We provide our models with a working Python interpreter in a sandboxed, firewalled execution environment," OpenAI said.
That dovetails nicely with ChatGPT's final new feature: code interpretation and visualization. All that means is that you'll be able to use ChatGPT to begin solving visualization problems—which, interestingly, involves also converting files between formats.
OpenAI
Here, we start to see ChatGPT integrate what we'd call traditional graphics, for the first time, something the text-based chatbot hasn't done before. The AI took an uploaded image, resized it, and then changed the colors. It's a good sign that we could see more traditionally image-oriented activities within ChatGPTG—perhaps even AI art.
All in all, it appears that OpenAI sees ChatGPT as a platform—and that means… well, who knows what that means?