Microsoft Teams is about to get flipped on its head with a new version Microsoft will begin rolling out in June. The updated Teams will be significantly faster, but also feature some dramatic new changes like adding a new AI-powered Microsoft 365 Copilot plus a new interface that places the latest information right on top.
It's a significant change to Teams in both how it will feel to use as well as the user interface itself. You may not notice some of the performance improvements—launching twice as fast and joining meetings twice as fast, too—but your PC will definitely benefit from a redesign of the Teams code that cuts memory usage down to as little as half what it used to. Disk space will also decrease by about 70 percent, Microsoft said. Both will make your PC feel faster.
It's not clear what the addition of AI will mean to corporate culture nor has Microsoft said which apps will receive the new AI-powered Microsoft 365 Copilot first. But when the new version of Teams debuts, you'll be able to message Bing's chatbot to ask questions, summarize conversations, and more. If nothing else, Microsoft promises that you'll be able to use Teams' new AI to jump to relevant points in the discussion and pare down your windy CEO's lengthy explanations to stuff you actually need to do.
Microsoft is making more fundamental changes to the user interface, however, including one that apparently felt near and dear to the hearts of Teams users: where new content appears in a chat. Apps like Slack and Discord as well as the current Teams place the text entry box at the bottom of the chat. Once you type in a message to your coworkers, it appears at the bottom of the conversation.
Apparently this was a big deal to some Teams users. "Initially, we chose to follow a chat-like model for channels (open field at the bottom and a conversation that flows bottom-up) because threaded conversations were a unique differentiator for Teams," Microsoft Design's Thad Scott and Colin Day wrote in a blog post on Medium. "But this is where we needed to be humble and admit mistakes based on feedback; differentiator or not, the model confused people. Now, we've flipped things to adopt a post-and-reply experience at the top, which feels much more familiar."
Threads will also feature infinite scrolling instead of the current ten items at a time, Scott and Day wrote. Part of the code revamp also involved background loading, which should make loading threads quicker if not instantaneous. Finally, you'll be able to access Teams while logged into more than once account—a sneaky way to encourage users to use Teams for both work and play, perhaps.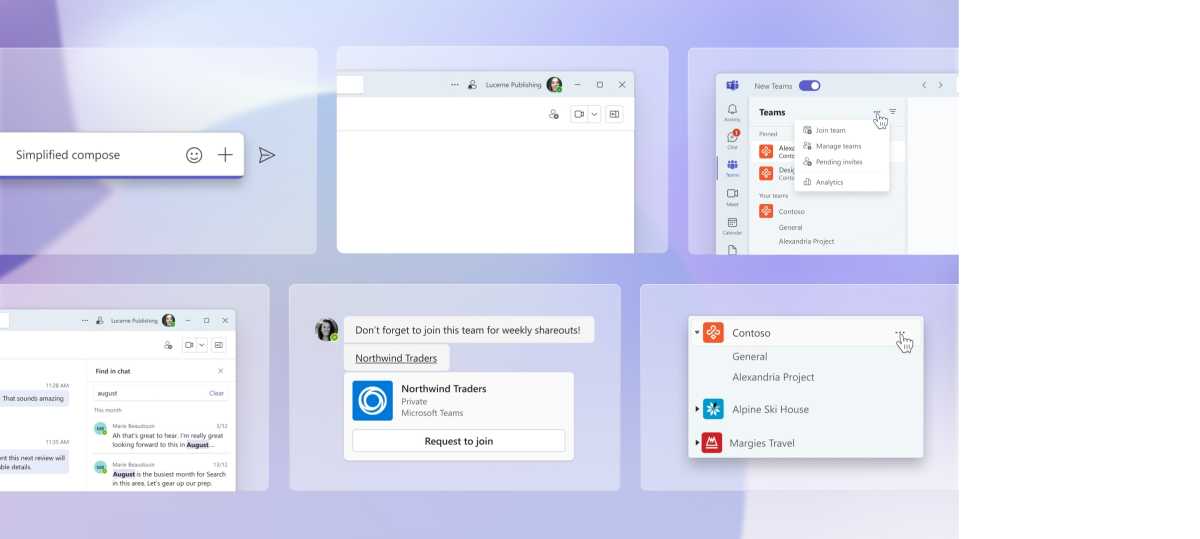 Microsoft
Microsoft said that the new Teams would roll out in June. If you're part of the Targeted Release program, however, your business may receive it in April.