AI art generators have moved from novelty to niche to even commodity in just months, with numerous services promising the ability to create generative AI art instantly using natural-language text prompts. The very best AI art services offer superb imagery and superior tools, either for free or for a low price.
Why use AI art? Many of us can appreciate a great painting, photograph, or drawing, without the ability to draw it ourselves. We may also be able to describe what we want to see, and that's where AI art comes in. Instead of searching for a piece of art that matches that description, the service actually generates it, matching what it knows of the scenes depicted in its image database and comparing them to the scene and style you specify.
All that complexity, however, demands intensive computing resources. AI art services tend to handle this in two ways: either limiting the generated images (either the number of images, or their resolution) or charging you "credits" or actual money to enable further subscriptions. We factor that in.
Finally, we can't ignore the legal and moral implications of AI art. Generative AI art was trained on a vast number of images — some public, some possibly private — and the services use that as a "seed" for the image they produce. Not all AI services are transparent about the source of their images. Companies like Getty Images feel that this is illegal, and have filed suit. The actual originality of AI art is in dispute, however, and AI proponents note that even human artists are typically trained or influenced by their exposure to existing art, whether public or private. Just know that you probably won't "own" a piece of AI art without some evidence that you yourself have altered it to make it an original work.
Confused? We'll talk more about how to get started with AI art and some of the specifics of AI art terminology you might like to know (like inpainting) at the end of this story.
The best AI art generators
Midjourney
Cost: free trial (on hold) /$10/$30/$60 per month
Images: 25 prompts for the free trial, then varies
Image license: Non-commercial use for the free trial, otherwise commercial use permitted except for large businesses
NSFW/Celebs: No/Yes
So far, Midjourney stands out as the unparalleled leader of AI art since its launch last year — though the magnificence of its images contrast rather ironically with the absolute clunkiness of its interface. Midjourney v5 (the current version as of press time) delivers the sort of hyperrealistic, fake images (the Pope in a puffy jacket, say) that generate news stories. "Reality" can now be artificially generated.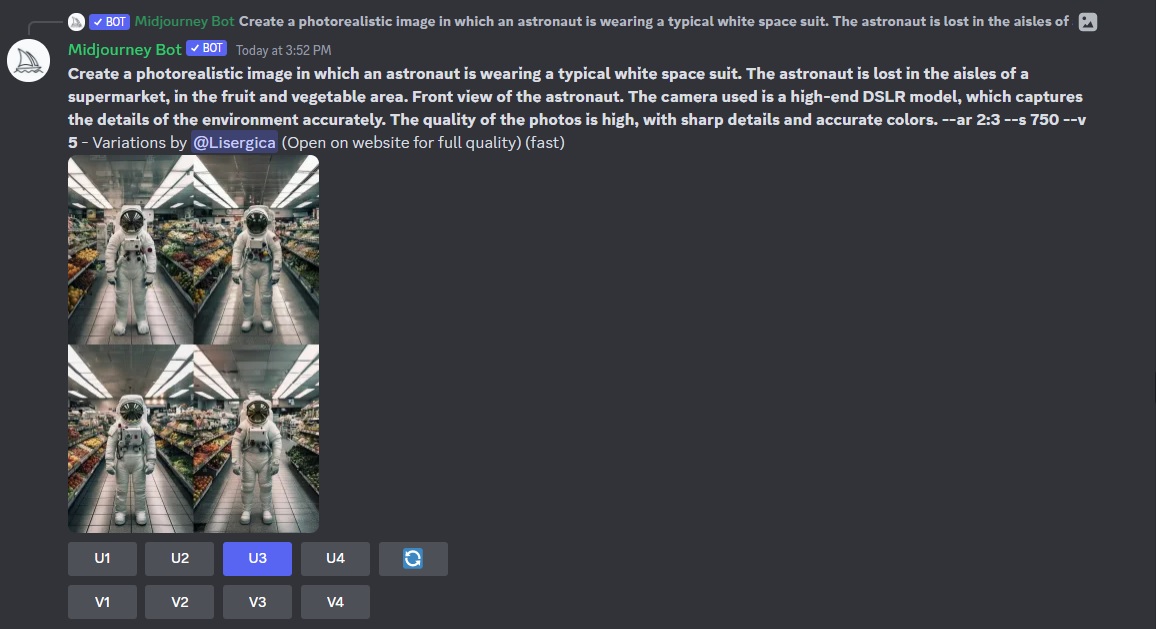 Midjourney uses Discord as its interface because the startup didn't want to invest in any infrastructure. You'll need to sign up for that app, then drop into one of the "newbie" Discord channels and use the /imagine command to prompt the service with your request for AI art. (Here's a guide to getting started with Discord if you need it.) Midjourney charges at least $10 per month for its basic plan, with additional tiers for $30/mo and $60/mo. Midjourney put a free trial on hold. There are ways to buy more a la carte time, to use a slower "relaxed" mode, and more.
Each prompt generates four images, any of which can be chosen for "variation," as well as upscaling. Inpainting is also possible. You can open the image either in Discord or a browser to download it. Midjourney says that you can use its generated images "in just about any way you want," which includes ownership of those images, subject to its terms of service.
Let's reiterate: Midjourney images are magnificent, and, since they're public, you can see other users generate images in real time as well as browse a gallery of historical images. The magic of Midjourney is how it typically delivers a good image routinely. But using it is a lot like a command-line version of Photoshop: there are tons of available tweaks, and they're not obvious at all.
Microsoft Bing Chat (Creative Mode)
Cost: Free with Microsoft account
Images: Apparently unlimited
Image license: Unclear
NSFW/Celebs: No/Some
Normally, we'd highlight Bing Image Creator as Microsoft's AI image contribution. The AI-powered Microsoft Designer, too, is excellent. But weirdly, we like Bing Chat (specifically, its Creative Mode) as a top AI art generator for one specific reason: iterations.
All three of Microsoft's AI art services are essentially free and apparently unlimited, provided that you have a Microsoft account and managed to get through the waitlist for Bing Chat and Image Creator. (Image Creator has an odd "boost' system which may or may not be in play here, but Microsoft doesn't seem to flag any limits on the number of images you can generate, which is a huge selling point.) Microsoft doesn't claim to own any of the images it generates, but it doesn't say that you own them, either.
Otherwise, all you need to do is go to Bing Chat and enter a prompt like "draw me a…" followed by a description of the image. Bing will then take a few moments and generate four 1,024×1,024 images that you can click on to see more clearly and download them. Bing won't draw celebrities like Bill Gates or Donald Trump, but Brad Pitt is just fine, apparently.
Microsoft uses a trained version of the DALL-E 2 model, and the results are, subjectively, just a step below Midjourney. Bing Chat doesn't seem to allow inpainting, you can do something that not all other AI art generators do: incrementally iterate on a scene. By that, we mean that we could prompt it to: "draw a basket of fruit" and then, in the next prompt, ask it to adjust a detail of the scene. (It won't edit the scene, however, just download another image.)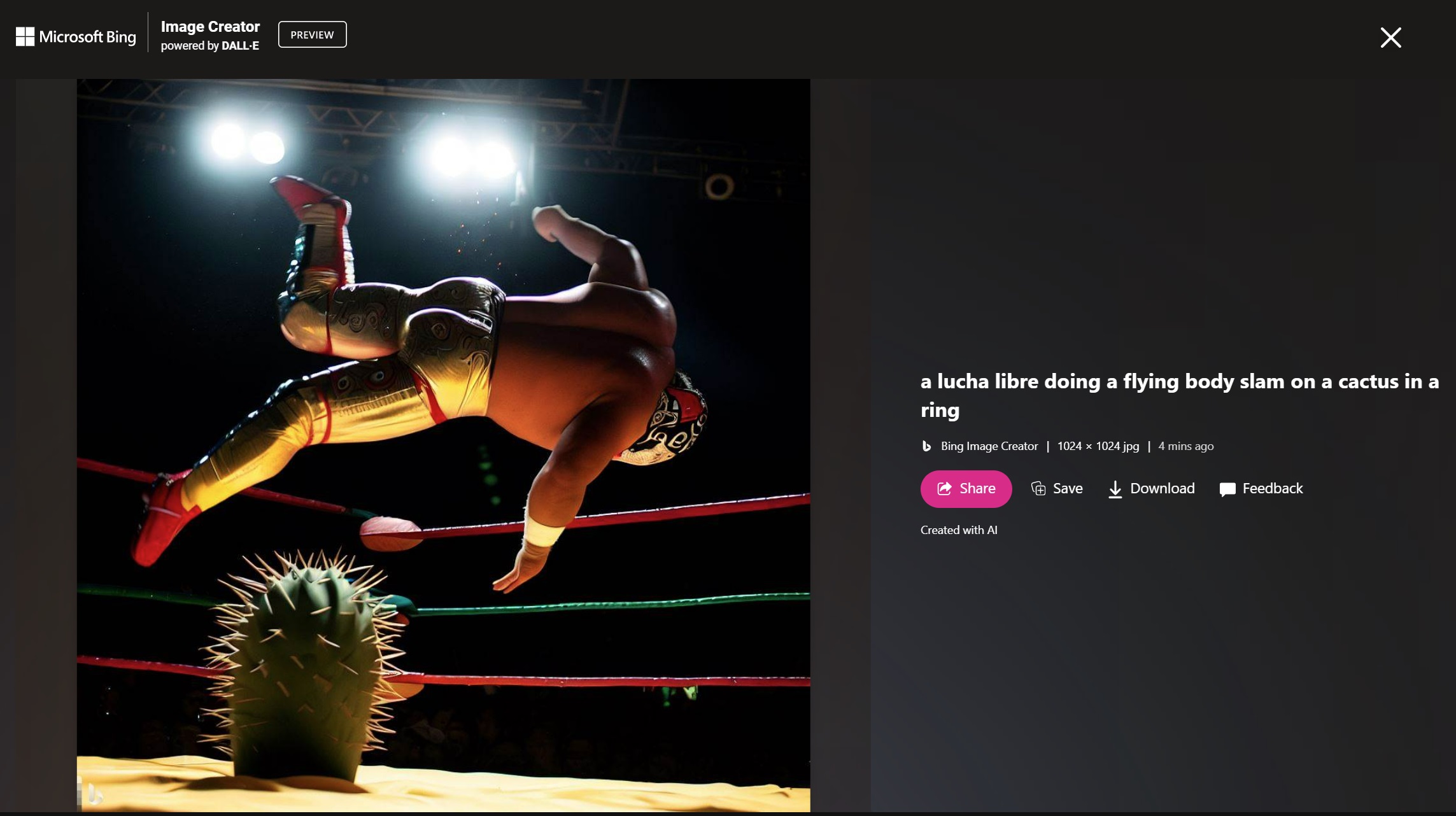 What Bing Chat doesn't seem to do itself, however, is archive images. You'll need to promptly (heh) download them or visit Bing Image Creator, where you'll find them hidden.
Playground AI
Cost: Free / $15 per mo.
Images: 1,000 per day (free) / 2,000 per day (paid)
Image license: You own them, even for commercial use
NSFW/Celebs: No/Yes
Though Microsoft Bing Chat probably wins out in terms of its absolute simplicity, Playground AI is probably the cheapest, simplest, yet most comprehensive way to sample AI art for yourself. With nothing more than a Google account, you can sign up for Playground and its 1,000 free images per day. (Some quality and size details are limited after 50 daily images.)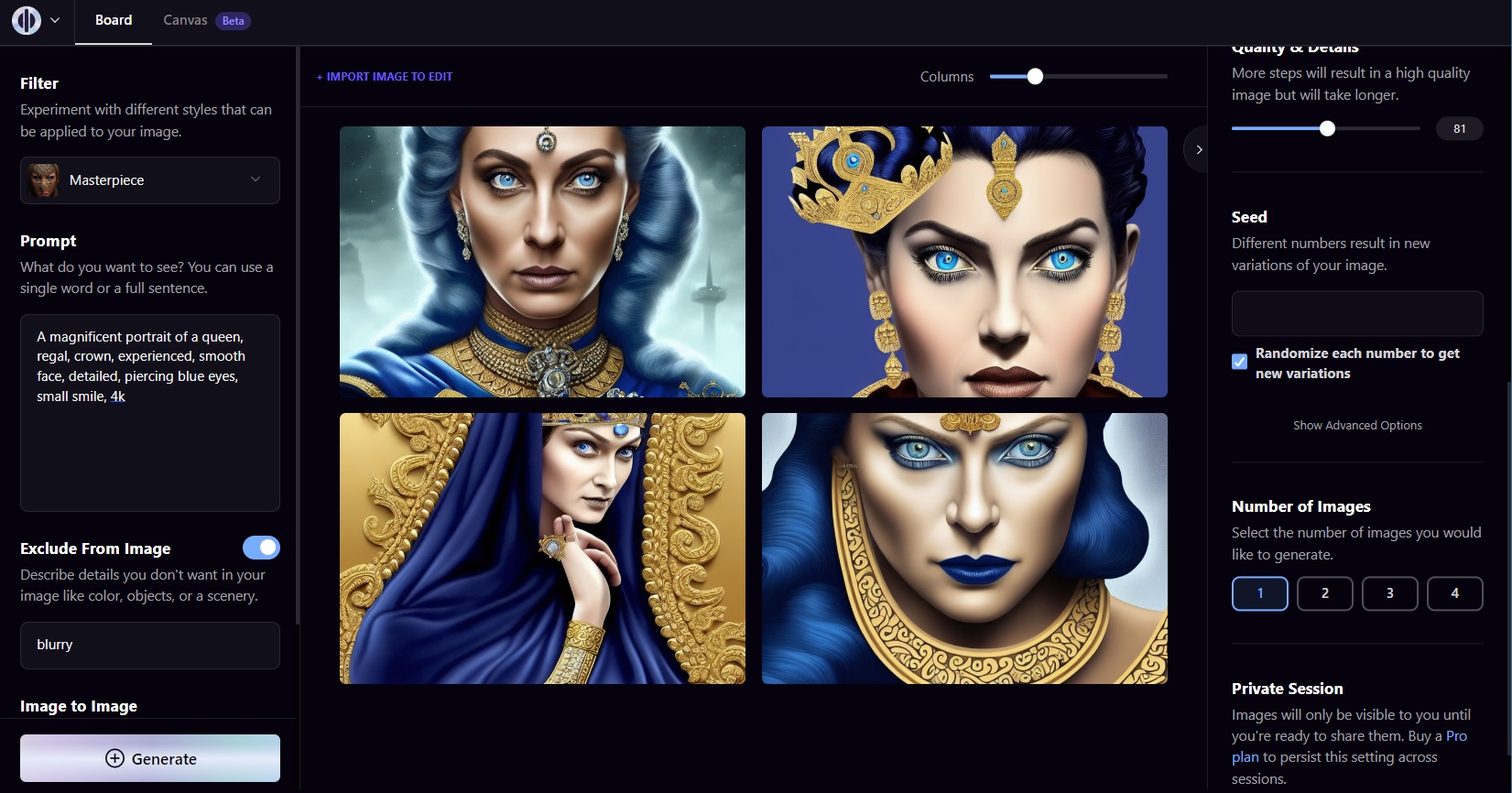 Playground's UI is very well designed, with prompt information and styles on the left rail, with adjustable sizing, weighting, and other tweaks to the right. The generated images aren't quite as good as Bing or Midjourney, but it's a very small step down, if that. About the only limitation are the available models: just Stable Diffusion 1.5 and 2.1, which will suffice for many people. (Access to DALL-E 2 costs an extra $10/mo.) You can play around with celebrity images if that's your thing, but NSFW images are a no-no.
Where Playground shines, though, is in editing. Like Bing, you can edit created images through additional prompts, whether it be the whole thing or just a portion (inpainting). Playground calls this the Canvas, a beta feature that needs some work — the transition from creation to editing (via prompt) to editing (via in- and out-painting) is rougher than it needs to be. Otherwise, this service really delivers.
Mark Hachman / IDG
Adobe Firefly
Cost: TBD
Images: Unlimited, at least in beta
Image license: Non-commercial usage only while in beta
NSFW/Celebs: No/No
Adobe is a major player in creative design, so it makes sense that all of its tools will incorporate AI to some extent. Adobe Firefly represents Adobe's first public steps in that direction. Currently in beta, Firefly is built upon copyright-free or openly-licensed images, or images it itself has owned. Maybe for that reason, Firefly images look professional — a self-fulfilling cycle, maybe, given that you've probably seen many images originally created from Adobe tools and Adobe stock.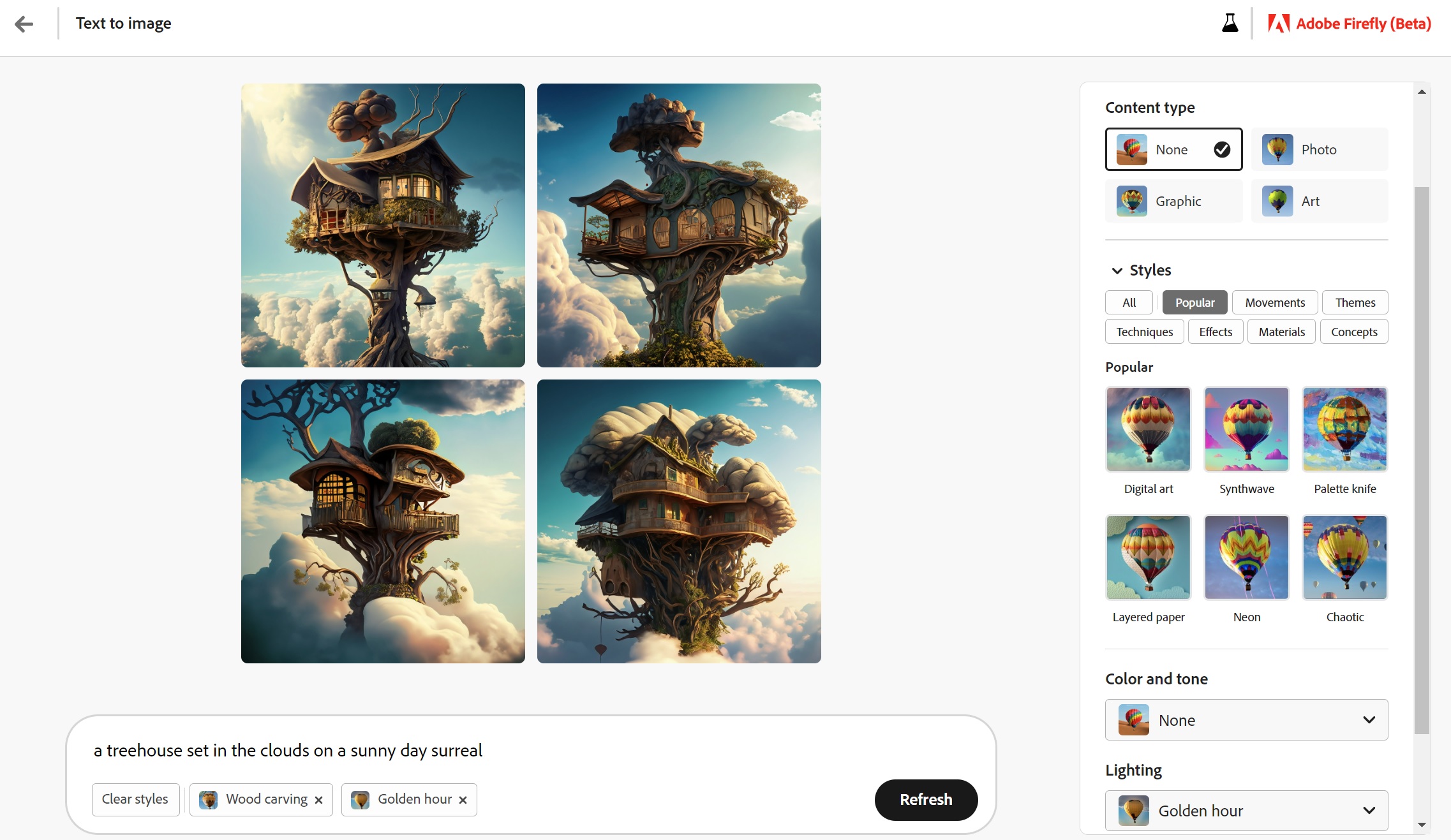 Right now, we don't know what Adobe will eventually charge for Firefly, or whether it will be a standalone product. We'd expect the Firefly engine, at least, to land in Photoshop and Adobe's other tools. The beta currently offers an unlimited amount of text-to-image generative art as well text effects, or AI-generated textures applied to text via a prompt. Adobe also says that it's "exploring" inpainting, outpainting, turning 3D models into images, personalized AI models, sketch-to-image, and more.
Adobe's model doesn't seem as creatively free as some others, but makes up for it with its slick, professional look. Each prompt generates four images, which you can adjust with easy-to-parse stylistic adjustments from content type (photo, graphic, art) to styles (layered paper, fur, neon, palette knife) to color, tone, and lighting. Adjusting the image format changes the image, too. Just forget anything NSFW or with celebrities inside of it.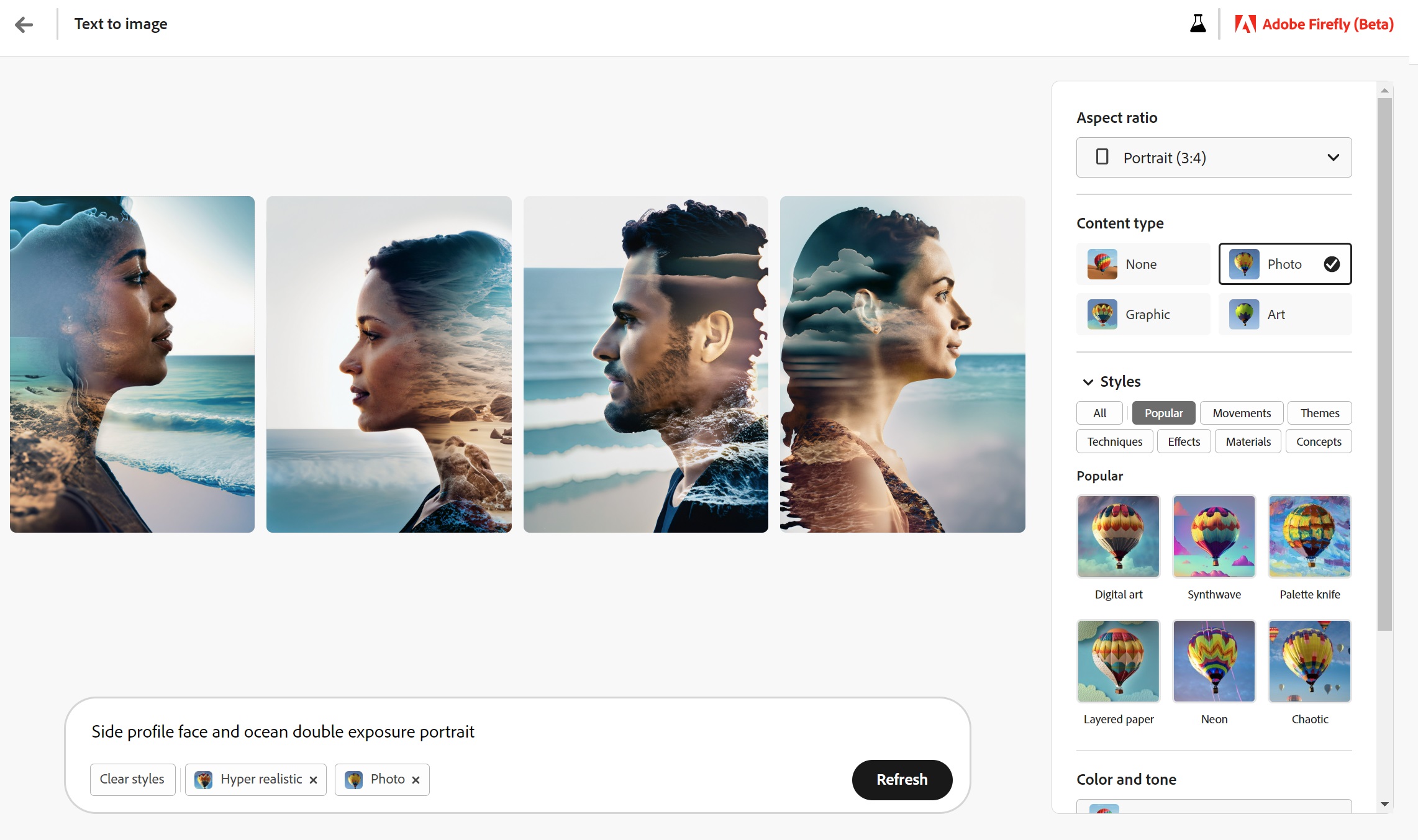 Adobe Firefly seems to do best with images that have some connection to the real world and its stock imagery. Odd connections ("a fly buzzing around a king's head") produce stunning visions of just one portion of the scene. Pros will love Firefly, which will undoubtedly be locked behind an expensive Creative Cloud subscription.
Stable Diffusion
Cost: Free
Images: Unlimited
Image license: Unclear
NSFW/Celebs: Yes/Yes
Unlike cloud-based AI art services, a key selling point of Stable Diffusion is that it runs locally, on your PC — not on a server! If you want to create dozens of images of bikini-clad elves frolicking in pools of jello on Midjourney, the world is going to be able to see. Otherwise, if you have a powerful gaming laptop or desktop, you can download the Stable Diffusion code and a variety of image models and training data and go to town on the privacy of your PC. And it's all free, provided that you have the time to download a multi-gigabyte software model, the hardware resources to run it, and the patience to set it all up.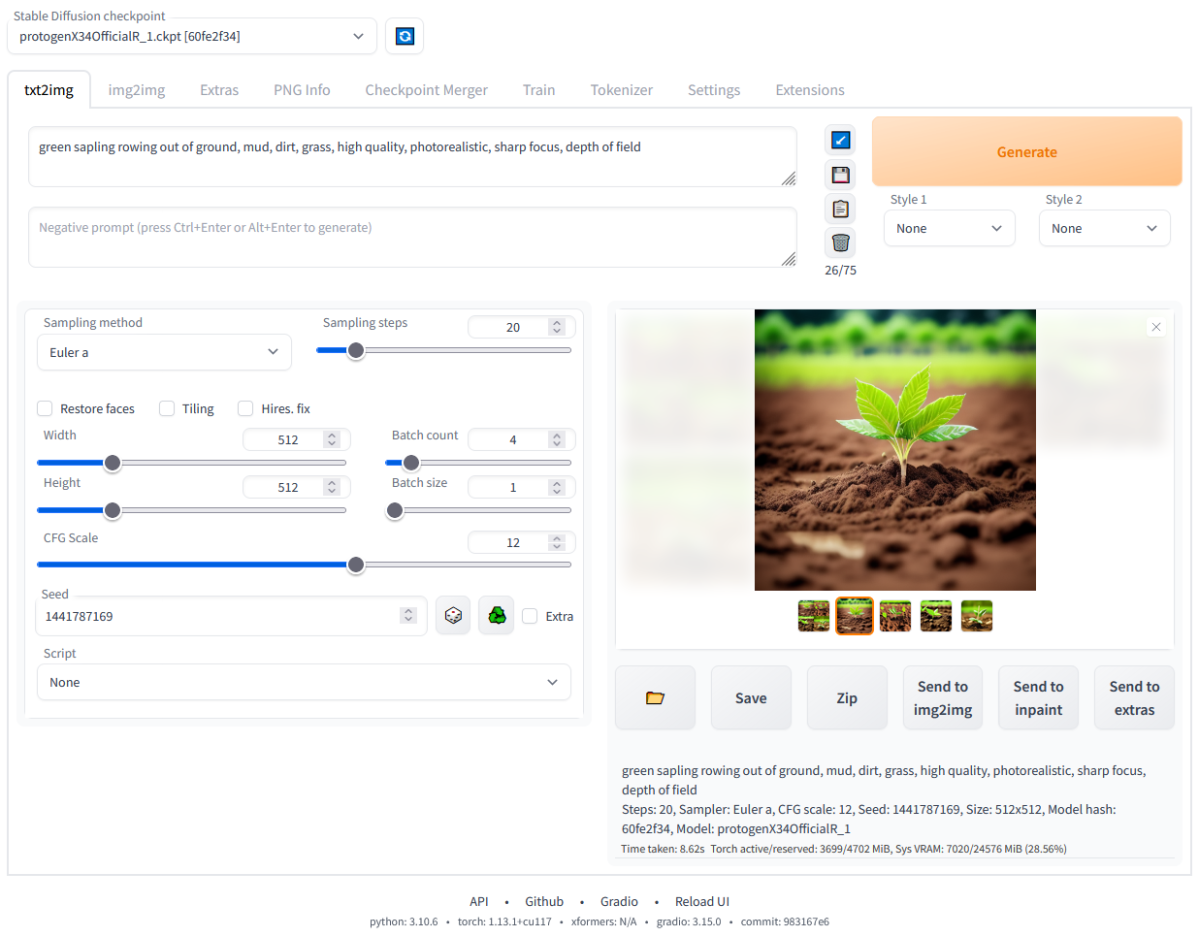 Github
Stable Diffusion can be a bit like running Linux. Its legacy is the command line, and there's just a ton of publicly available code on GitHub and so on to play with, if that's your thing. However, UI-driven implementations of Stable Diffusion are becoming more common, and the most popular at the moment seems to be AUTOMATIC1111.
Naturally, the more powerful hardware, the better — but it's not only your CPU or even your GPU that matters. Instead, the key component seems to be your GPU's available VRAM. There are models and toggles and other options to tweak Stable Diffusion in favor of your CPU or lower-tier GPUs, but the easiest way to run Stable Diffusion is with a powerful PC.
Stable Horde (Artbot)
Cost: Free
Images: Unlimited, though subject to queuing
Image license: Unclear
NSFW/Celebs: Yes/Yes
So what happens if you don't have a powerful enough PC to run Stable Diffusion? Stable Horde is one answer. Like the old-school (now defunct) SETI@Home, all you're doing is sending your prompt out to a cluster of connected PCs running Stable Diffusion. There are a few front-end interfaces, but we rely on Artbot.
Unlike Stable Diffusion's roots, Artbot uses a GUI that's somewhat navigable: prompt at the top, followed by a ton of available options and models. What Artbot offers are helpful tooltips that explain what those options do: how weighting the prompt affects it, negative prompting, and more. There's an extremely helpful list of the various models which you can use as a framework for your prompt, showing you visually how they'll affect the style of the output. The configurability is amazing.
Stable Horde isn't really free, however. It works on a "kudos" system, where you'll need to sign up with an API key — a hurdle to unfamiliar users. After that, you'll start with a balance of kudos, which are subtracted with each image you generate. The more complex the image is, the more kudos it consumes. The fewer the kudos, the further back in the queue you'll end up with other users. That's not always a problem — with 30 or so PCs all working together to churn out images, you may find that your image is generated immediately. (Images are saved in a library on the site until you clear your cookies.)
You can "buy" kudos, however, by rating images, training the model on which images humans (you) prefer or connecting your PC to the Horde itself. While you can go into "debt" by frequently generating images, there are certain actions you can't take without an actual kudos "balance" to fund it.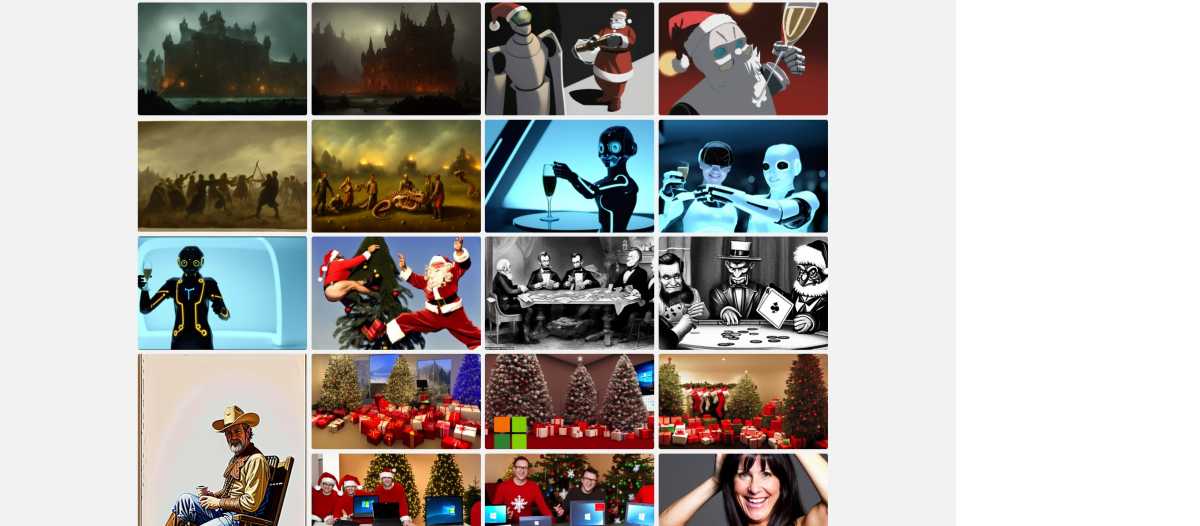 Artbot
Why use Artbot? The vast number of AI models, and the variance in style those images produce. Otherwise, generating images via Artbot can be a bit of a crapshoot, and you may expend a great number of kudos simply exploring all the options. Since there's no real setup besides figuring out the API key, Stable Horde (Artbot) can be worth a try.
Runners-up: DALL-E, Mage.Space, Getimg.ai and DreamStudio AI
Four AI art services stand out but don't make our list: OpenAI's own Dall-E, Mage.Space, DreamStudio, and Getimg.ai.
We wrote about DALL-E recently, and some of the photo-like art generations are excellent. It just feels like OpenAI isn't too serious about it, though, and the pricing model (115 images for $15) doesn't make sense. Bing Chat's free images are trained on DALL-E, too.
Mage.Space had a reputation for a very NSFW-like atmosphere, but the site phased all of that out recently. It has, however, left what it refers to as an absolutely unlimited amount of images, for free. (NSFW generations cost $4 per month, in part because credit cards can be a form of identification.) The site has what appears to over 40 very nice tuned generation models, but those are reserved for the $15/mo Pro plan.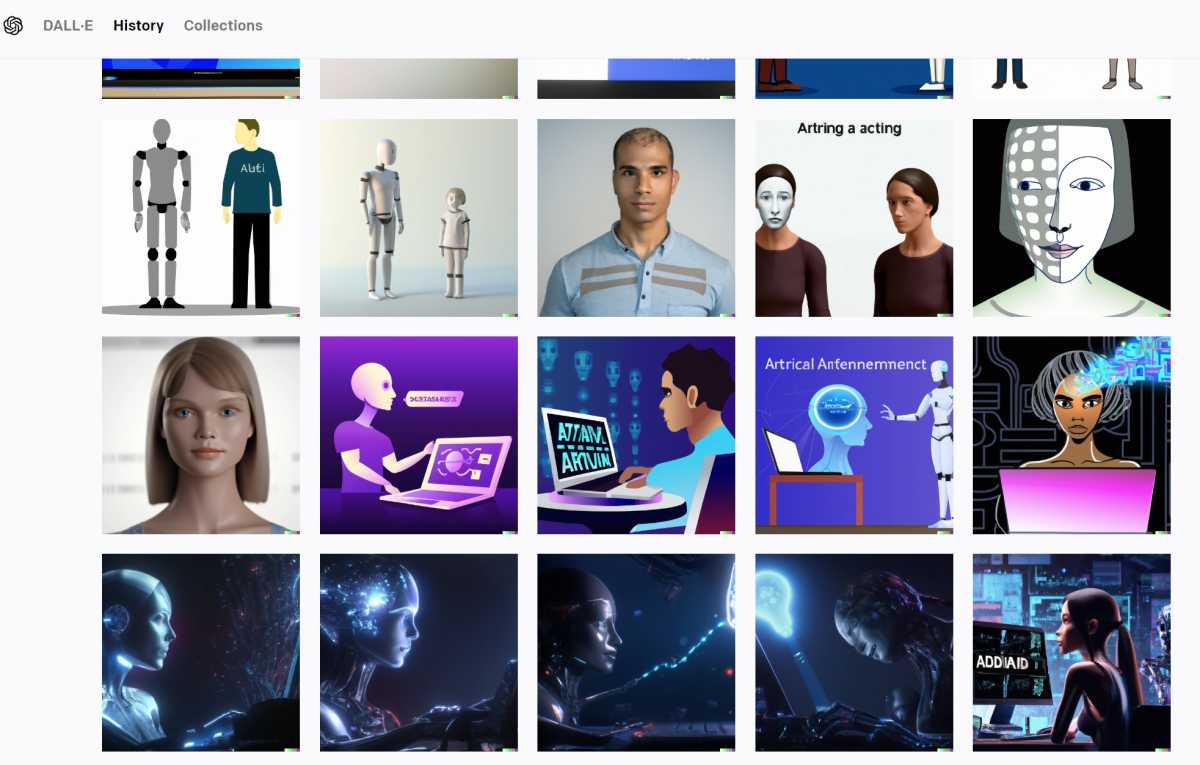 Mark Hachman / IDG
Getimg.ai also offers an excellent variety of models with which to generate images, prompt-based editing, and even DreamBooth, which allows you to train a model on your own photos. Getimg.ai also implements ControlNet for image-to-image generation, an algorithm that specifically preserves characteristics of the original image (such as a pose) in image-to-image generation. A limit of 100 free images per month feels a trifle skimpy, however, though a $12/mo subscription earns you 3,000 images per month, upscaling, and access to the imaging models.
I've spent a lot of time with DreamStudio AI (which provided credits for us to try) but it just feels too limited (and still a beta?) right now. A flat fee of $10 buys you enough credits for 5,000 images, but there are only a handful of models, no editing, and images that don't stand out.
For various reasons we ruled out Deep Dream Generator, Starry.ai, NightCafe, and Craiyon, which has devolved into a sea of ads.
How to get started with AI art: The basics
If you're interested in trying out AI art, remember that there are plenty of sites that will let you try out AI art for free — and you should. A Google account seems to be the default requirement, however, as many don't even offer the ability to choose a username and password.
Few AI art generations will look perfect on the first try. What sites like Midjourney do is help new users up. You can get a great result with just a very basic description.
But, like any hobby, AI art has its own nerds. Some sites will refer to (and even offer tutorials on) "prompt engineering," or tailoring your text prompt to get the result just so. What other sites offer as an alternative is a simple visual list of styles and models that you can choose from — and selecting those will add the proper text to the prompt itself. (It can be useful to understand just how synthwave differs from cyberpunk!) Some, unfortunately, lock these additional models behind a paywall.
If you're suddenly at a loss for what to create, think of tweaks to the real world: a dragon perched on the Brooklyn Bridge. The cute centaur at the end of the bar. You'll have even more fun with casting scenes in the styles of your favorite artists or photographers. Words matter, as does phrasing! Sometimes a phrase like "while skateboarding" may be misinterpreted, but "riding a skateboard" might not be.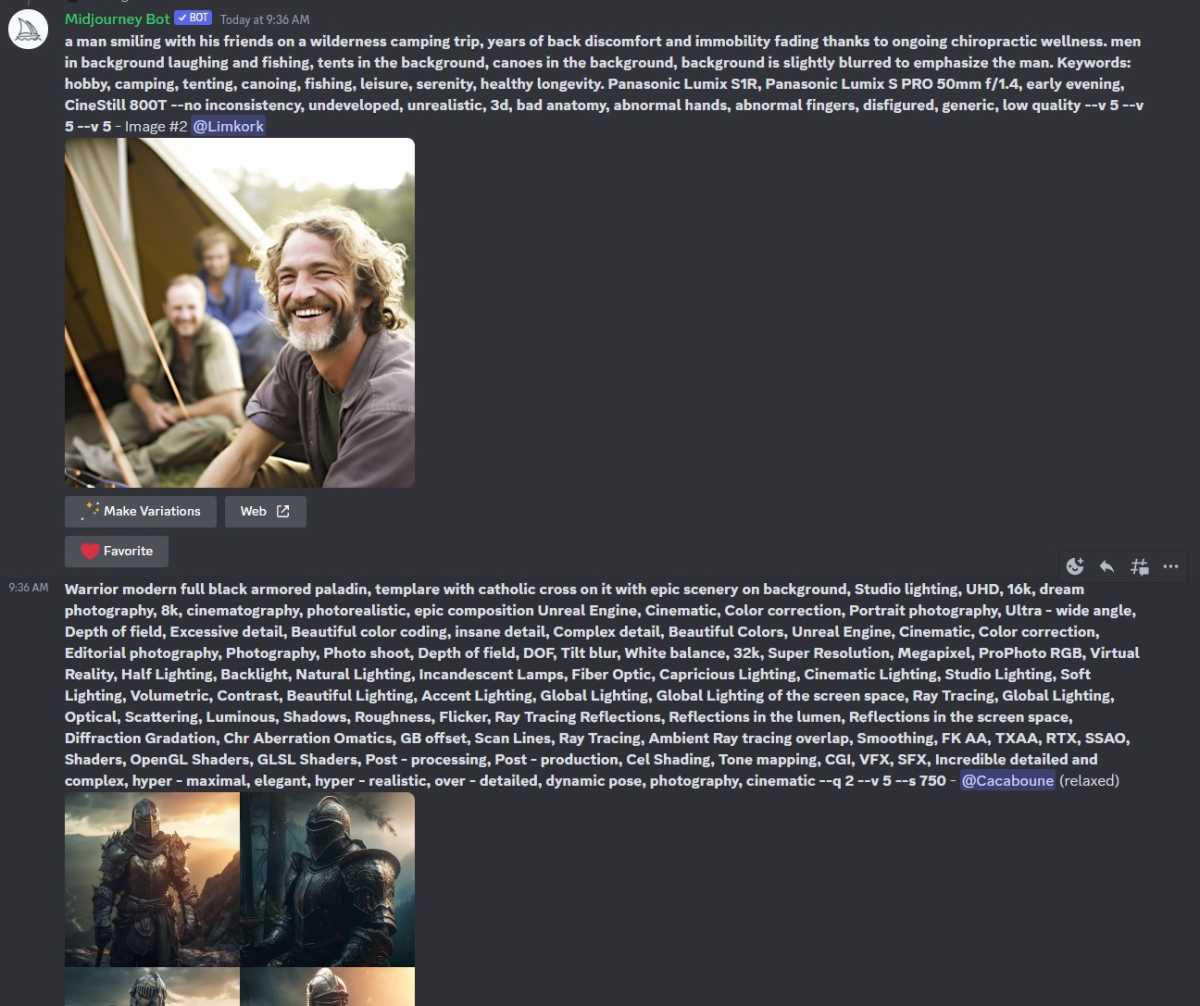 Mark Hachman / IDG
You can often generate more than one image at a time, though it will often cost you in terms of credits or whatever the site uses to limit generations. Larger images will often require more credits, but this varies by service.
Think of a prompt in this way: "a photo/comic/woodcut of a squirrel/Marilyn Monroe/a fairy in the style of Van Gogh/Ansel Adams/Salvador Dali," where you choose one of each. Then add whatever modifiers you can think of: is the scene viewed through the branches of a tree? Shot with a Canon DSLR with a long lens? AI can accommodate more than you'd think.
Well, almost everything. AI art also has one weakness: hands and fingers. Why? We're not sure, but it's such a common weakness that it's almost a meme! Some terms of service also allow NSFW images, while others don't — when you think about all of the awful things that people can imagine, this makes sense. Others don't care about allowing celebrity likenesses, such as former presidents.
Just like someone skilled in Photoshop or Lightroom can need time to edit a photo, so can you. You may need a few dozen efforts to get things just so — and that's why it's worth trying AI art on a site that allows multiple prompts, for cheap, to see if it's worth it. Try multiple sites, too! Additional editing tools like inpainting and outpainting can help fix errors.
Yes, inpainting. Don't know what that means? Neither did many of us until fairly recently. We've included a glossary, below, to provide additional AI art definitions to help get you started.
Prompt: A simple (or complex!) text description that describes that the image portrays. This is affected by the prompt weight (see below).
txt2img (text-to-image): This is basically what we think of in terms of AI art: input a text prompt, generate an image.
Negative prompt: Anything you don't want to see in the final image.
img2img: (image to image): Instead of generating a scene from scratch, you can upload an image and use that as inspiration for the output image. Want to turn your dog into a king? Upload the dog's photo, then apply the AI art generation to the scene.
Model: AI uses different generative models (Stable Diffusion 1.5 or 2.1 are the most common, though there are many others like DALL-E 2 and Midjourney's custom model) and each model will bring its own "look" to a scene. Experiment and see what works!
Prompt weight: How closely the model and image adheres to the prompt. This is one variable you may want to tweak on the sites that allow it. Simply put, a strong prompt weight won't allow for much creativity by the AI algorithm, while a weak weight will.
Sampler: Nothing you probably need to worry about, though different samplers also affect the look of an image.
Steps: How many iterations an AI art generator will take to construct an image, generally improving the output. While many services will allow you to adjust this, a general rule of thumb is that anything over 50 steps offers diminishing improvements. One user uploaded a visual comparison of how steps and samples affect the resulting image.
Face fixing: Some sites offer the ability to "fix" faces using algorithms like GFPGAN, which can make portraits look more lifelike.
ControlNet: A new algorithm, and not widely used. ControlNet is specifically designed for image-to-image generation, "locking" aspects of the original image so they can't be changed. If you have an image of a black cat and want to change it to a calico, ControlNet could be used to preserve the original pose, simply changing the color.
Upscaling: Default images are usually small, square, 1,024×1,024 images, though not always. Though upscaling often "costs" more in terms of time and computing resources, upscaling the image is one way to get a "big" image that you can use for other purposes besides just showing off to your friends on social media.
Inpainting: This is a rather interesting form of image editing. Inpainting is basically like Photoshop plus AI: you can take an image and highlight a specific area, and then alter that area using AI. (You can also edit everything but the highlighted area, alternatively.) Imagine uploading a photo of your father, "inpainting" the area where his hair is, and then adding a crown or a clown's wig with AI.
Outpainting: This uses AI to expand the bounds of the scene. Imagine you just have a small photo, shot on a beach in Italy. You could use outpainting to "expand" the shot, adding more of the (AI-generated) beach, perhaps a few birds or a distant building. It's not something you'd normally think of!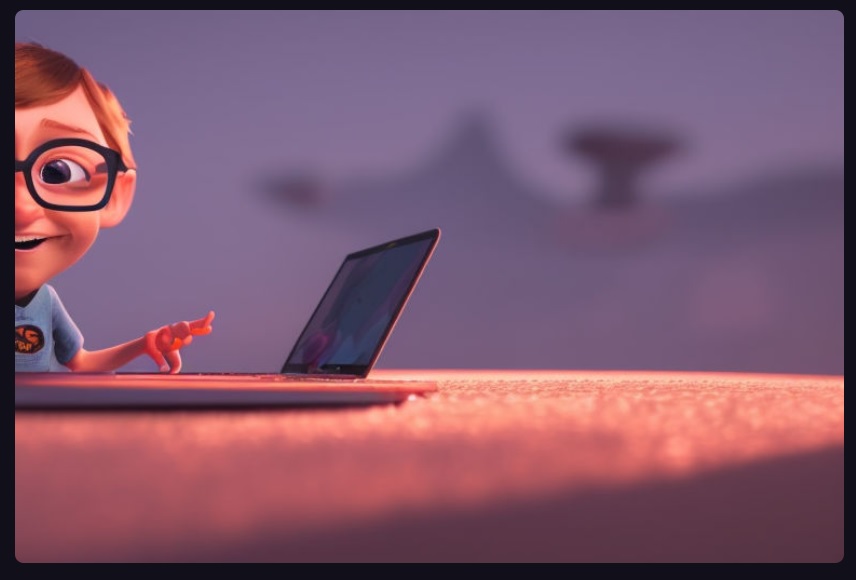 AI art can be scary to a generation of artists who may now have to, perhaps unfairly, compete with machine-generated AI art. (Imagine what it's like for a writer to test AI chatbots like ChatGPT, Bing, and Google Bard!)
However, we choose to look at AI art as its own, unique, creative outlet, encouraging you to think about and create your own pieces. After all, you can buy food at a restaurant, or follow a recipe and combine ingredients yourself. Each has its place. Encouraging more people to become part of the creative process is what AI art is all about.