At a glance
Expert's Rating
Pros
Excellent build quality
Good brightness, great contrast ratio
Wide color gamut
Cons
Case and kickstand feels flimsy
Display is extremely reflective
Mediocre sharpness
Our Verdict
The Innocn 15K1F isn't quite as good as high-end competitors, but still delivers the perks of OLED at a more affordable price point.
Price When Reviewed
$269.99
Best Prices Today: Innocn 15K1F
OLED monitors are all the rage in 2023—but, to the disappointment of everyday shoppers, they remain expensive. Even portable OLED monitors are typically priced above $300. But while the Innocn 15K1F's MSRP rings in at $399.99, it can be found for significantly less on Amazon ($269.99 at the time of this writing), offering consumers a budget alternative that scores just a hair behind more expensive competitors.
Further reading: See our roundup of the best monitors to learn about competing products.
What are the Innocn 15K1F specs?
The Innocn 15K1F has a 1080p OLED panel with a 60Hz refresh rate. It also has a variety of connectivity options, including two USB-C and one Mini-HDMI, which makes for easy connections with most PC laptops and desktops.
Display size: 15.6-inch widescreen
Native resolution: 1,920 x 1,080
Panel type: OLED
Refresh rate: 60Hz
Adaptive-Sync: None
HDR: HDR
Ports: 2x USB-C, 1x Mini-HDMI
Stand adjustment: Tilt
VESA mount: None
Speakers: 2x one-watt speakers
MSRP: $399.99
OLED is the star of the show, of course, but it shares the spotlight with Innocn's retail pricing, which on Amazon is the lowest price of any 15.6-inch OLED portable monitor available right now.
Innocn 15K1F design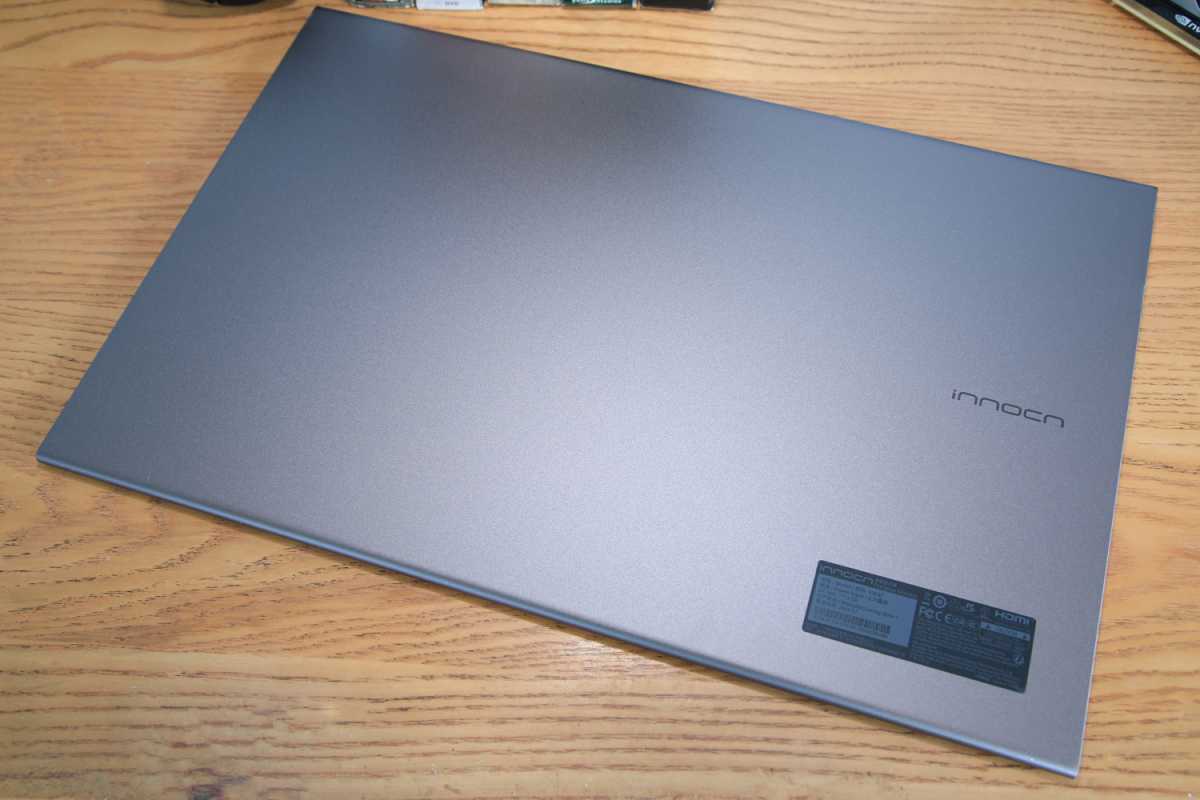 Matt Smith
The Innocn 15K1F's plain packaging doesn't make a great first impression, so I was surprised to find it housed a truly luxurious monitor. The 15K1F wedges its OLED panel between a layer of edge-to-edge glass and a brushed-aluminum chassis. It feels robust, rigid, and premium, traits that aren't common to most portable displays. It exceeds even the more expensive Viewsonic ColorPro VP16-OLED which, though also rigid, takes a more workmanlike approach to design.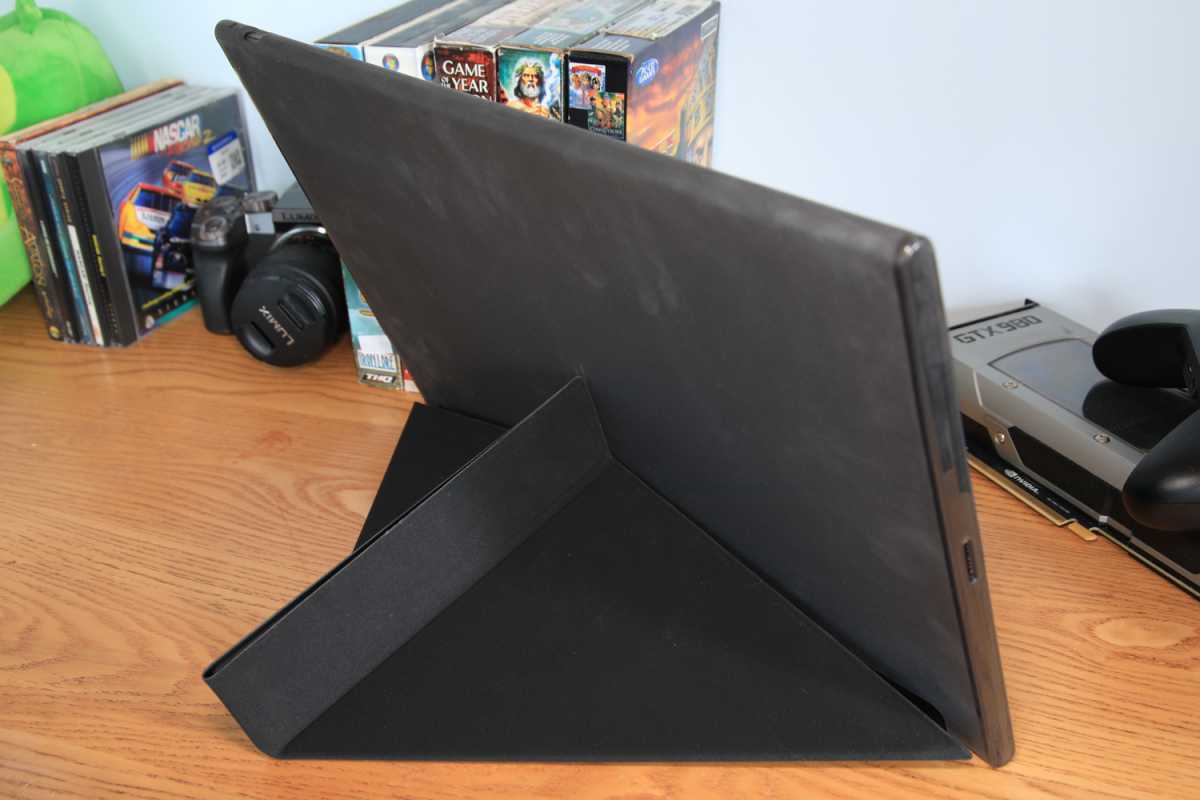 Matt Smith
I wish I could say the same for the stand. Innocn opts for a plastic and faux-leather kickstand case that snaps over and fully encases the display. It's stiff and difficult to attach out of the box. The case provides good protection against bumps and scrapes, but the material quality of both the plastic and fake leather leave a lot to be desired. Both feel inexpensive, thin, and unpleasant to the touch. This unfortunately undercuts the display's premium construction. The chassis is made of sturdy metal but, once encased in its kickstand case, you'll only see and touch a layer of cheap plastic.
The magnets used to keep the kickstand portion of the stand in place are weak, as well. They manage to keep the stand in place in normal use, but moving the monitor even a few inches can cause the kickstand to fall away. There's only minimal room to tilt the display, which makes a comfortable viewing angle more difficult to find.
Innocn 15K1F features and menus
Two USB-C ports and a single Mini-HDMI port line the Innocn 15K1F's right-hand flank. Both USB-C ports support Power Delivery and DisplayPort Alternate Mode, meaning both can be used to connect to a PC. The Mini-HDMI port provides a backup for use with devices that only have HDMI. Note, however, that the monitor needs a separate USB-C power source when HDMI is in use.
Innocn provides all the cables you'll need to use the monitor. This includes USB-C to USB-C, USB-A to USB-C, HDMI to Mini-HDMI, and a USB-C power brick. Most portable monitors include these accessories, but it's always great to see all required accessories in the box.
Matt Smith
The 15K1F's menu system is more elaborate than most of Innocn's competitors. It can be used to adjust not only brightness and contrast but also color temperature (between 6500K and 9300K), color saturation, and color hue. Three-axis RGB color calibration is available and the display has several preset display modes including an sRGB and AdobeRGB mode. The sRGB mode correctly restrained the color gamut, though it also slightly reduced color accuracy. The monitor's customization options are good for the category and should please content creators looking to tune image quality to their specific needs.
A premium alternative
Viewsonic ColorPro VP16-OLED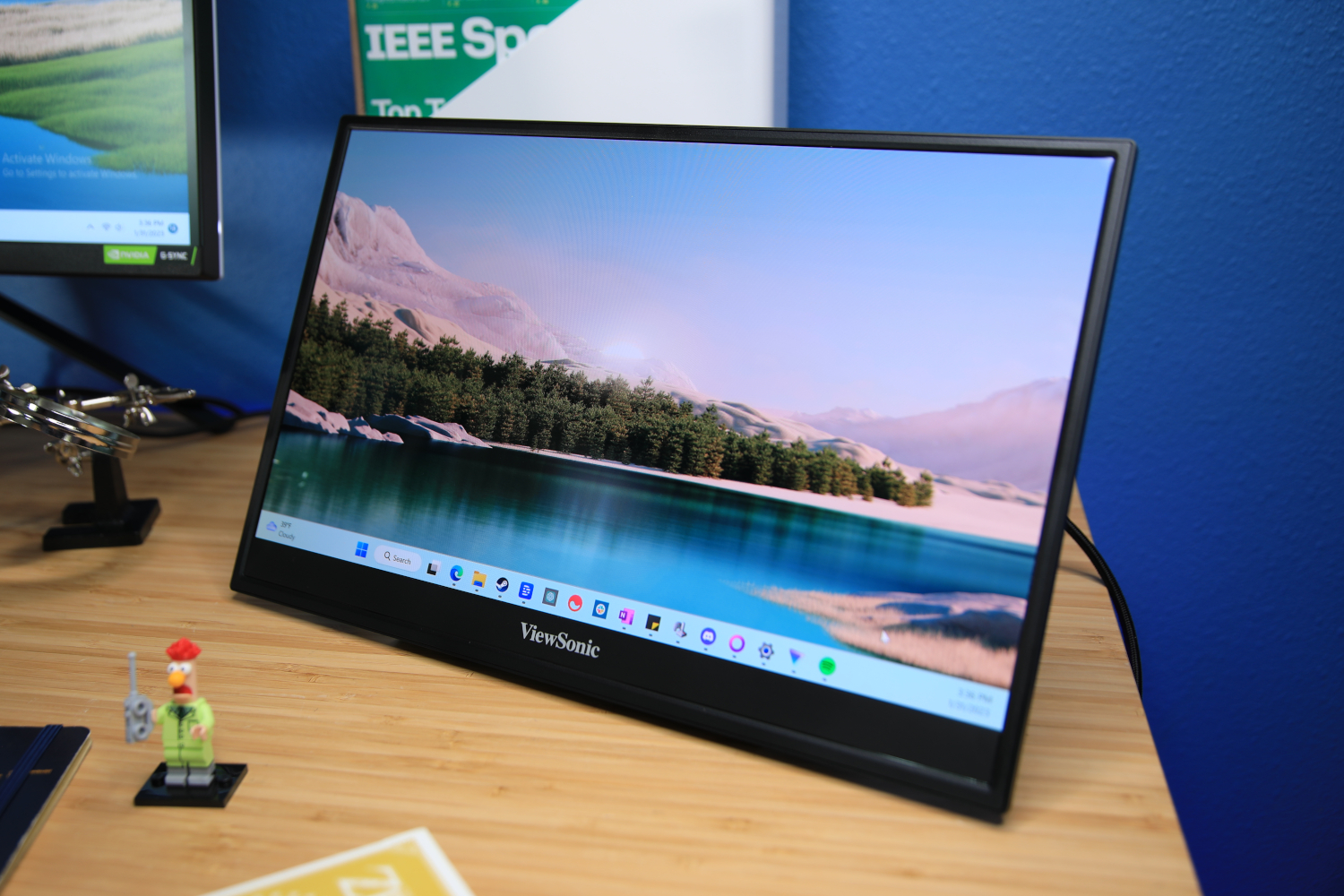 Price When Reviewed:
$399.99
A short tap of the power button opens the menu system, which you can then navigate with the volume buttons. It's a bit clumsy, but most portable monitors use a similar system. Viewsonic's ColorPro 16 is the only exception I've recently tested. It has several menu buttons built into its kickstand.
Speaking of volume, the 15K1F bundles a pair of one-watt speakers. They're hollow, tinny and, worst of all, fail to deliver a usable level of volume. I've yet to use a portable monitor with quality audio, however, so Innocn isn't meaningfully behind its competition here. The monitor also lacks a 3.5mm audio-out jack, so you'll have to rely on the audio jack your PC provides.
Innocn 15K1F SDR image quality
The Innocn 15K1F has a 15.6-inch OLED display with 1080p resolution. It's the least expensive portable monitor of its type available right now, but you wouldn't know that from its image quality.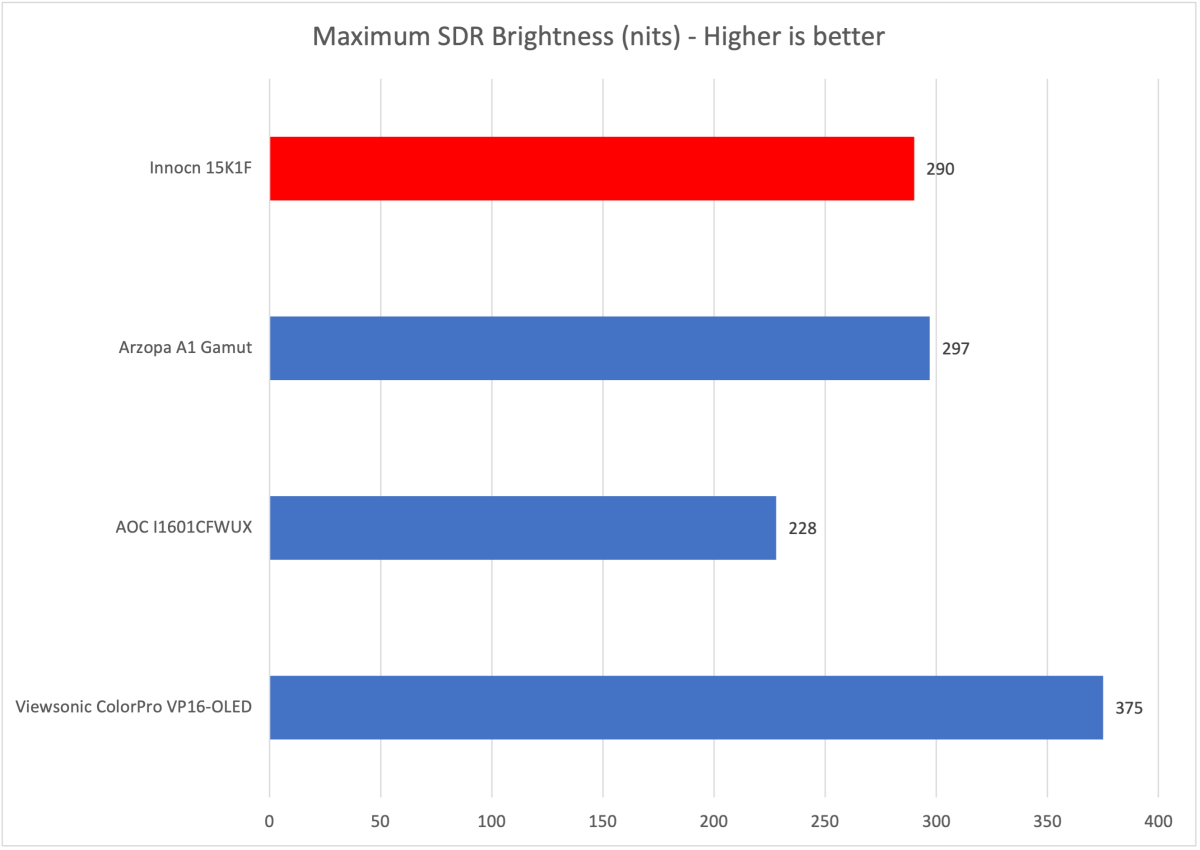 Matt Smith
Brightness comes in at a maximum of 290 nits. This is less than the Viewsonic ColorPro VP16-OLED—but, given the difference in price, that's not a big surprise. The 15K1F keeps pace with other portable monitors that have an IPS panel, such as the Azropa A1 Gamut and AOC I1601CF, and provides a level of brightness that's usable in most indoor settings.
Just be warned: This is a glossy display, and it will show reflections. It's best used in a room where you'll have some control over the position and intensity of lighting.
Matt Smith
The 15K1F reached a maximum contrast ratio of 18,600:1. This is very good, though not as high as the effectively infinite contrast ratio recorded from the Viewsonic. The difference? Viewsonic's monitor achieved a minimum luminance of zero nits, while Innocn's monitor only dipped to .02 nits.
Still, I feel this difference isn't meaningful. Both monitors have excellent contrast and are capable of displaying dark levels that subjectively seem perfect. That's good news if you want to watch movies or play games on a portable monitor.
Matt Smith
Color gamut is strong, spanning 100 percent of sRGB and 99 percent of DCI-P3. Viewsonic's more expensive OLED once again outperforms, but the difference remains small enough that only the most discerning users are likely to care. The Innocn 15K1F provides vivid, vibrant color that really pops.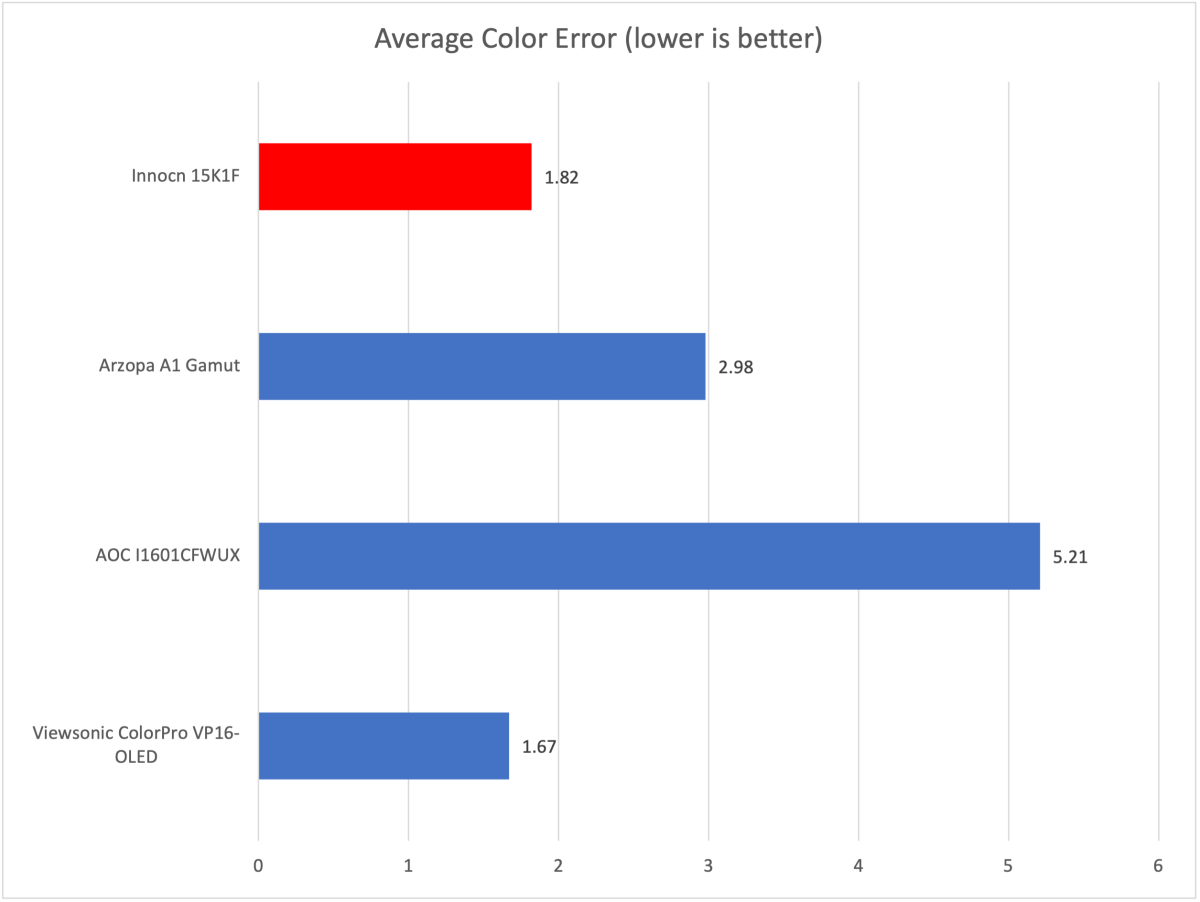 Matt Smith
Accuracy is again a hair behind the Viewsonic and ahead of less expensive portable monitors with an IPS LCD display. The 15K1F's color accuracy should be usable for nearly all content creators and offers a realistic, lifelike look. The monitor also provides an sRGB mode, as mentioned, which is useful if you want to create content only for the sRGB color gamut, or you're viewing content meant for sRGB and want a more accurate look.
The monitor hit a default gamma curve of 2.3, slightly off the target of 2.2. This indicates the display shows content slightly darker than it should, though I doubt most users will find it noticeable (I certainly didn't). Color temperature came in at 6600K, which is every-so-slightly cooler than the target of 6500K. Again, any problems introduced by this seemed imperceptible.
Sharpness is merely ok. The monitor's 15.6-inch panel with 1080p resolution packs 141 pixels per inch, which should be enough to deliver a sharp, crisp experience. However, I noticed the monitor suffers from fringing around fonts, a problem common to many OLED displays. Fonts and fine details look softer than expected. The issue is not as significant as on larger OLED monitors like the Alienware AW3423DWF, but shoppers sensitive to this should be wary, and the overall look is not as crisp as it could be.
The Innocn 15K1F's image quality isn't perfect—but, for $269.99, it's hard to complain. In fact, I think it's fair to say this is the best image quality you can expect on a budget just shy of $200. Viewsonic's ColorPro VP16-OLED is superior, and Asus' ZenScreen OLED models also perform well, but shoppers who aren't fussy about gamma curves or subpixel layouts will be more than happy with the 15K1F's vibrant, high-contrast image.
Innocn 15K1F HDR image quality
The Innocn 15K1F doesn't advertise HDR support and didn't accept an HDR signal when tested. This is for the best, as the monitor's maximum brightness of 290 nits isn't high enough to do HDR justice or provide a boost to luminance detail. HDR generally isn't viable on the current crop of portable monitors, and that's unlikely to change until new models arrive with high-end OLED and Mini-LED panels.
Innocn 15K1F motion performance
This is a standard 60Hz monitor, but Innocn makes a point to advertise the enhanced motion clarity inherent to OLED technology. Motion clarity is better than an IPS LCD screen at 60Hz, to be sure, but not up to par with a 120Hz or 144Hz IPS LCD monitor. The 15K1F also lacks adaptive sync, so gamers will need to use in-game V-Sync settings to prevent unsightly screen tearing.
Is the Innocn 15K1F worth it?
Innocn's 15K1F is a budget OLED monitor that delivers good image quality for the price. The monitor's image quality falls behind more expensive OLED portable monitors but still delivers a big upgrade over more common IPS LCD portable monitors. It's a great middle option for shoppers who want a better visual experience from a portable monitor but aren't willing to spend more than $300 to snag it.
Best Prices Today: Innocn 15K1F