At a glance
Expert's Rating
Pros
Colorful and cute
Fast device switching
Easy emoji programming
Cons
Expensive
No rechargeable battery
Emojis only work on Windows and Mac
Our Verdict
The Pop Keys is an exercise in style over substance. While it has adorable looks and switches between devices easily, it's asking a lot for rather cheap components.
Price When Reviewed
$100
Best Prices Today: Logitech Pop Keys Keyboard
At this point Logitech offers no fewer than 15 mechanical keyboards across its consumer and gaming divisions. So when I say that the Pop Keys is unique, that actually means something. You won't find anything else quite like it from such a mainstream brand. The combination of mechanical practicality and fun style is something that should have broad appeal, or at least be more visually interesting than the usual gray-and-black rectangles.
And that's the greatest strength of the Pop Keys—what we have here is a classic case of style over substance. While the board is perfectly adequate, in the same way that most of Logitech's consumer-focused keyboards are, the corners cut on the design combined with its high price make it hard to recommend. Unless, of course, you just love that bubbly, curvy look with its dedicated emoji keys.
Further reading: See our roundup of the best wireless keyboards to learn about competing products.
The Logitech Pop Keys design
The most striking thing about the Pop Keys is its visual design. With perfectly rounded keycaps and a soft plastic body that looks like a big, squishy pillow, it has more curves than Mulhollond Drive. It's also packing a column of five dedicated emoji keys along the left side, with four spare keycaps in case you want to switch them around. Our review unit came in a gray-on-white "Mist" color, but there are four other, far more vibrant options to choose from, including a wild combination of pastel yellow, purple, and green called "Daydream."
Michael Crider/IDG
But don't let the bubbly design fool you. Underneath those round keycaps are standard Cherry clone switches—brown ones, to be precise, for a slight tactile "bump" that's pretty loud with all that plastic. The keyboard is also wireless, with Logitech's standard combination of Bluetooth, RF (USB dongle in the box), and multi-device switching. The layout is the popular 75 percent size, as seen on such mechanical designs as the Keychron Q1, and the Logi Options+ software offers limited programmability. Legends that work for both Windows and Mac round out the feature set.
How does the Logitech Pop Keys cut costs?
At $100 retail, the Pop Keys is technically Logitech's least expensive mechanical keyboard. It's 50 bucks less expensive than the svelte MX Mechanical Mini, with the same number of keys, and $30 less than the gaming-focused G613. But spend a little time with the board, and you'll see where Logitech is cutting a few corners for this consumer-focused board.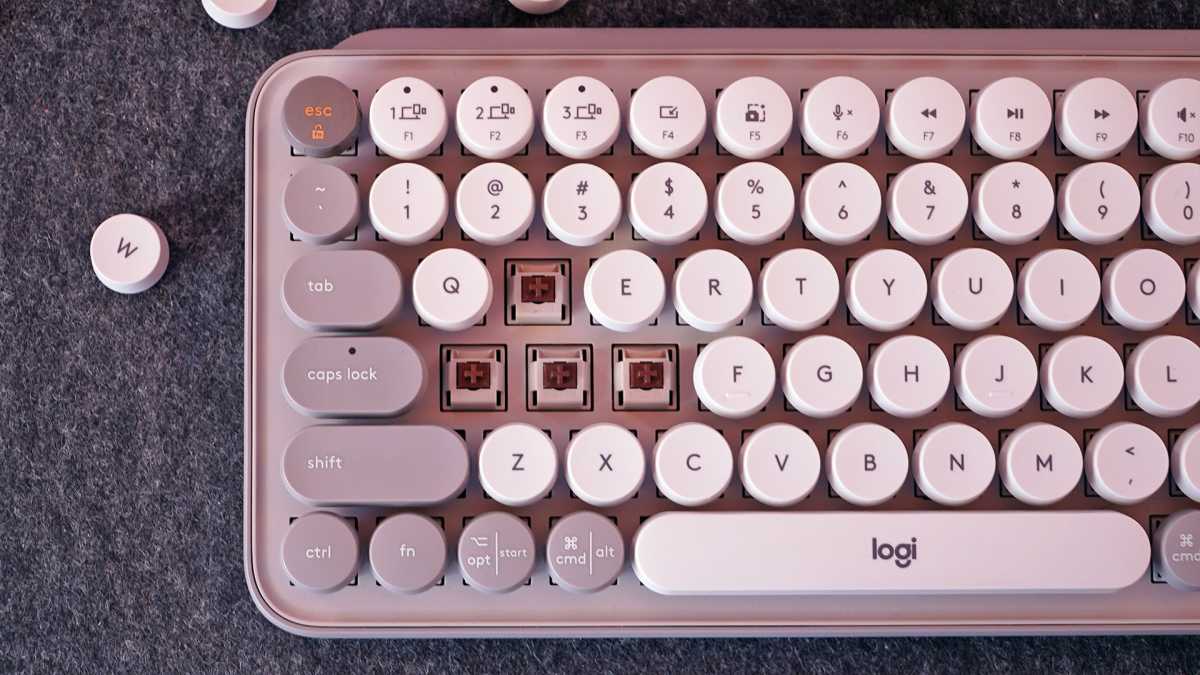 Michael Crider/IDG
First, the typing experience is, for lack of a more appropriate word, cheap. The shiny plastic keycaps are functional, and I got used to their circular shape after only a day or so. But the plastic is slippery, the legends are painted on (and will wear out much faster than doubleshot keycaps), and the switches are just about the cheapest you can find. Every keystroke on this board will rattle far more than even a basic mechanical board with a less splashy design. I wouldn't recommend it for a crowded office. Sure, you could swap out the funky keycaps, because the TTC switches use the standard cross stem. But then what's the point of buying this board?
Elsewhere, the keyboard is lacking illumination except for the Caps Lock and device indicators, and it offers neither a rechargeable battery or a USB port backup—I hope you've got a few AAAs for when this thing dies. Lastly, while I actually like the smooth, rounded body and the stylish little bar on the back, there are no deployable feet, so you'll have to make do with the board's single rather shallow typing angle.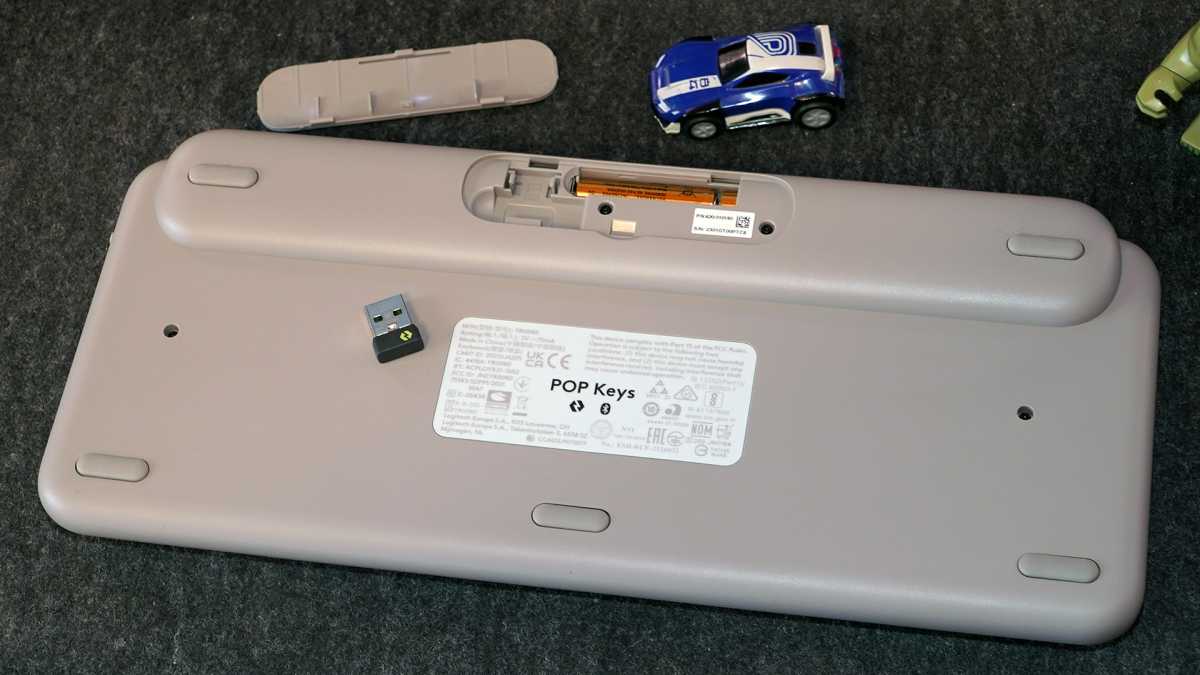 Michael Crider/IDG
True, Logitech is hardly aiming for the keyboard purist with this design. But even so, omitting such basic features as deployable feet is something I just can't overlook on a $100 board.
mentioned in this article
MX Mechanical Mini
Price When Reviewed:
$150
What does the Logitech Pop Keys do?
Which brings us to the signature functional feature of the Pop Keys, the ability to quickly input emoji. To its credit, the keyboard is very good at this. You can put in any emoji you want, so long as it's supported by Windows or MacOS, and change them out easily enough via the Logi Options+ programming tool. You're not limited to just the emoji included on the board or its spare keycaps, either, though you'll need to remember which ones you chose if you stray from the printed designs.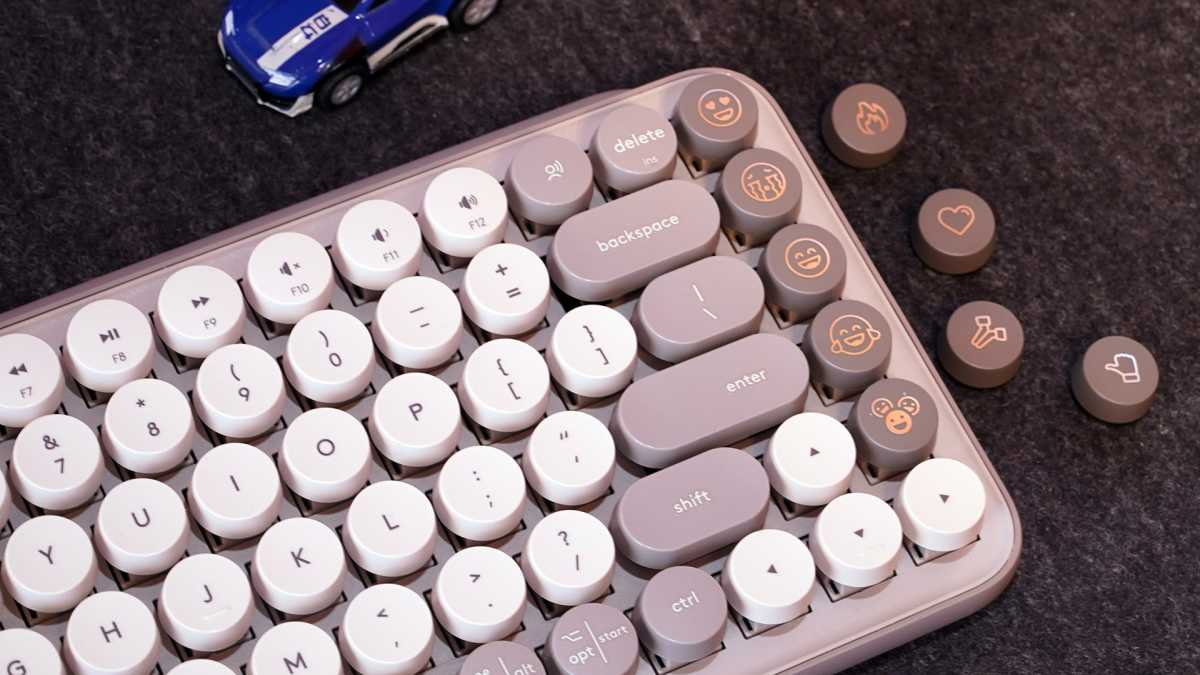 Michael Crider/IDG
For those who prefer their keyboards a little more functional, you can also program the five emoji keys (as well as F4 through F12 and the dedicated Mic key) using the Options+ tool. This allowed me to set up my preferred 75 percent layout, with dedicated volume, start/pause, and screenshot keys on the main layer. It's surprisingly flexible!
Logitech's device-swapping feature is also handled well, as I've come to expect from the company's wireless designs. Switching between my Windows desktop, iPad, and Android phone was near-instant with the F1 to F3 keys. However, custom emoji programming didn't carry over to the mobile devices. So if you want that effortless emoji input specifically for non-desktop or laptop hardware, you'll be a bit disappointed.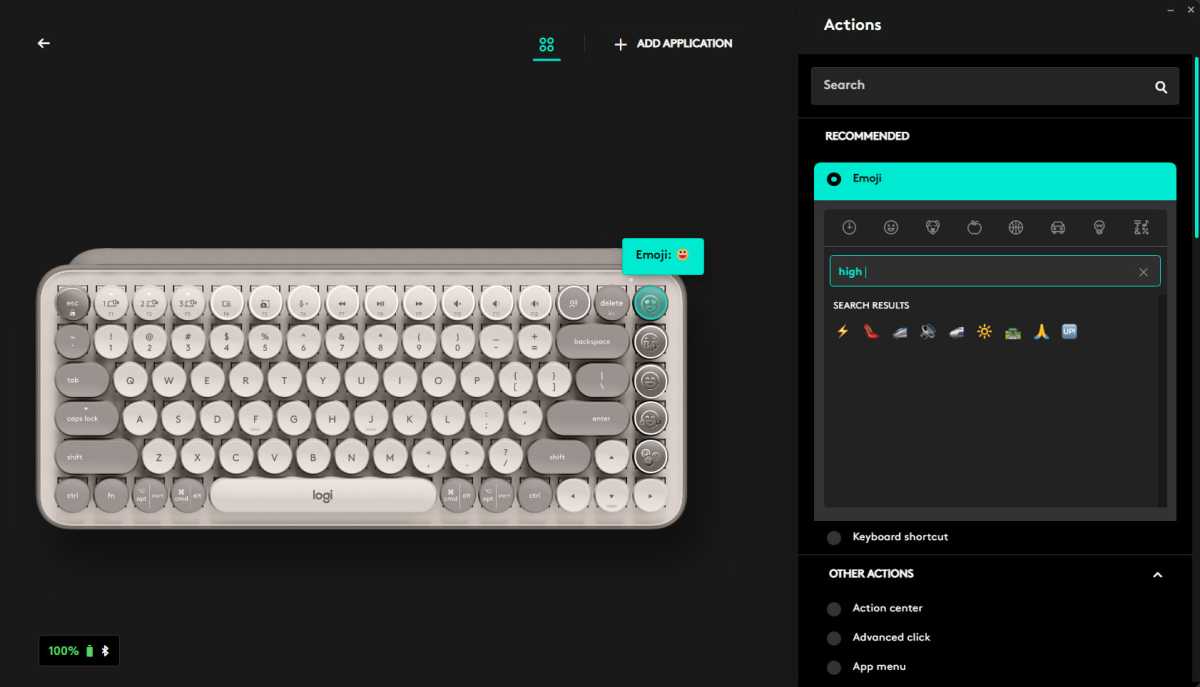 Michael Crider/IDG
I also have to point out that other Logitech keyboards that can be programmed with Logi Options+, like the MX Mechanical Mini, can also set specific keys to input emoji. But of course, those more buttoned-down boards lack the fanciful emoji keycaps.
A better value alternative
Keychron K3 Pro
Price When Reviewed:
$114
Is the Logitech Pop Keys worth it?
If you scraped off the Logitech branding and replaced the whimsical keycaps with more standard fare, I'd say that this keyboard is worth about half its $100 asking price. The lack of advanced features (aside from the very good multi-device wireless) and its low-end switches and keycaps, combined with a lack of deployable keyboard feet and rechargeable battery, means that it leaves a lot to be desired. At least on paper.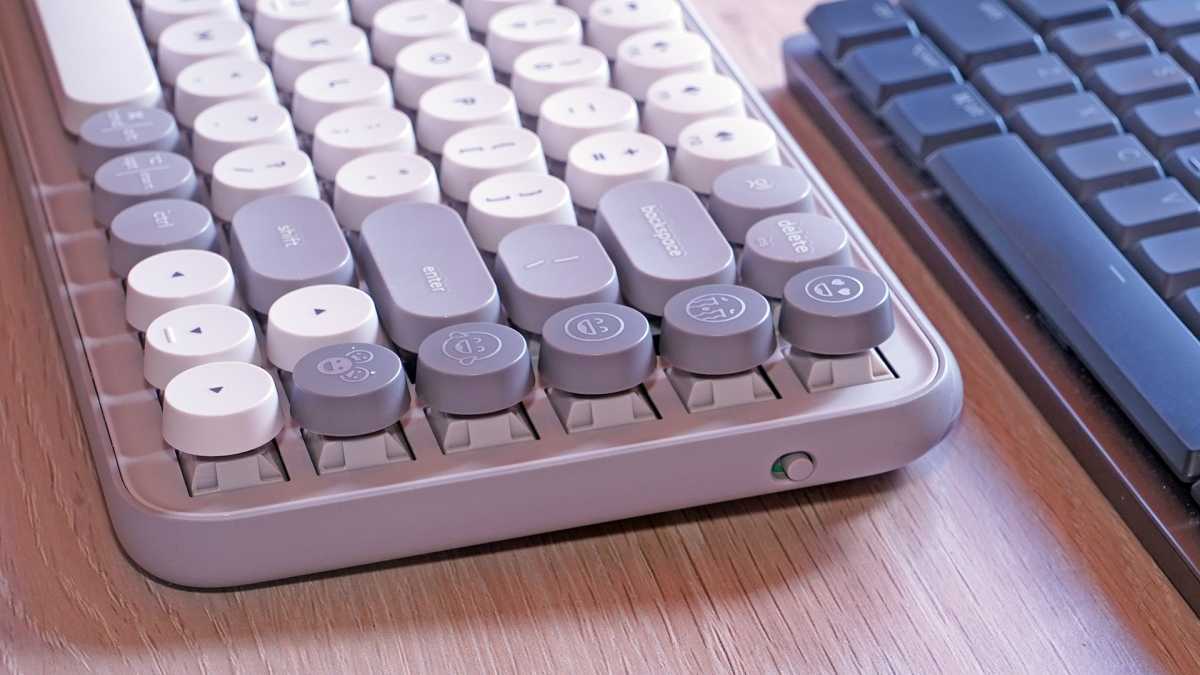 Michael Crider/IDG
In terms of value, I'd steer someone toward the Keychron K3 Pro for roughly the same price, with much better components, features, and programmability. Or heck, just save some money and go with one of Logitech's non-mechanical offerings, like the similarly whimsical K480. You could also just get a set of "retro" keycaps and throw them on any cheap mechanical board of your choosing.
Michael Crider/IDG
But I'm not made of stone. The Pop Keys is freakin' adorable, for all its cheap components, and it does deliver on its promise of effortless emoji input (at least on Mac and Windows). If that's what you're looking for, it might be worth the splurge…or perhaps better yet, might be worth waiting on a sale. The $79.99 it's going for on Amazon at the time of writing (for some colors) seems a little more appropriate.
Best Prices Today: Logitech Pop Keys Keyboard