At a glance
Expert's Rating
Pros
Large, bright 2560×1600 display
Ideal wireless and wired connectivity
Good display, strong speakers
Cons
Unimpressive design
Mediocre keyboard and touchpad
Lackluster webcam and microphone
Our Verdict
Google might've killed Stadia, but gaming Chromebooks are still a thing—and Lenovo's IdeaPad 5 Gaming Chromebook proves they're worth your time.
Price When Reviewed
$569.99
Best Prices Today: Lenovo IdeaPad 5 Gaming Chromebook
Google's decision to partner with laptop makers on gaming Chromebooks couldn't have happened at a worse time. The first models rolled out late last year—just months before Google killed Stadia, its in-house cloud gaming service. This suggests that gaming Chromebooks are dead in the water, but Lenovo's IdeaPad 5 Gaming Chromebook proves the idea still has merit. From the bright display to the punchy speakers, this device has a lot to offer. Read on to learn more.
Looking for more budget gaming laptops? Check out our roundup of the best gaming laptops under $1,000.
Lenovo IdeaPad 5 Gaming Chromebook: Specs and features
The IdeaPad 5 Gaming Chromebook's specifications are impressive for a modern Chromebook. It has an Intel Core i5 processor, 8GB of RAM, and a 256GB solid state drive. That's near the top of what's available from Chromebooks right now—at least until models with Intel 13th-gen Core arrive on store shelves.
CPU: Intel Core i5-1235U
Memory: 8GB
Graphics/GPU: Intel Iris Xe
Display: 2560×1600
Storage: 256GB SSD
Webcam: 720p with IR
Connectivity: 2x USB-C with Power Delivery and DisplayPort 1.4, 2x USB-A, 1x microSD card reader, 1x combo 3.5mm audio jack
Networking: Wi-Fi 6E, Bluetooth 5.1
Biometrics: None
Battery capacity: 71 watt-hours
Dimensions: 14.04 x 9.96 x 0.78 inches
Weight: 4.01 pounds
MSRP: $569.99
Lenovo also packs in a 16-inch, 2560×1600 display, Wi-Fi 6E, two USB-C ports, and a large 71 watt-hour battery. It all looks great on paper–but can a Chromebook really handle modern games?
Lenovo IdeaPad 5 Gaming Chromebook: Design and build quality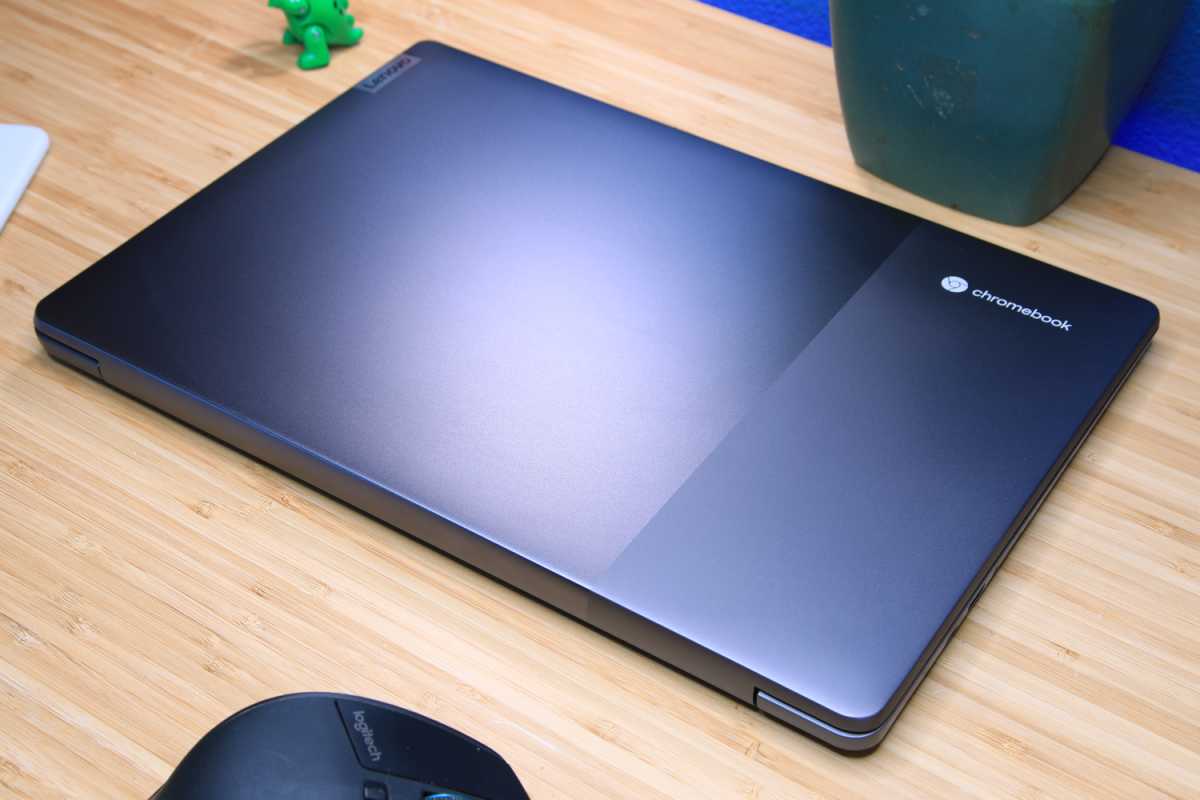 IDG / Matthew Smith
You wouldn't know the IdeaPad 5 Gaming Chromebook is built for gaming by looking at it. The laptop relies on simple gray exterior plastics with a contrasting strip of matte gray to liven up the look. I think it's handsome, but it won't cause anyone to do a double-take. Lenovo could've labeled this a business or education model without a change to the design.
Looks aside, the IdeaPad 5 Gaming Chromebook offers modern conveniences. It has extremely slim display bezels that keep the laptop's footprint restrained despite its 16-inch, 16:10 aspect ratio display. The laptop measures just a smidge over 14 inches wide, less than 10 inches deep, and about .8 inches thick. It's not small, to be sure, but smaller than many 15.6-inch laptops sold a few years ago.
Material quality isn't impressive, however. All laptop surfaces are plastic (though the lid at least looks like metal) and flex can be found across both the display lid and lower chassis. None of this is a surprise given the laptop's price point, but Lenovo's competitors can do better. The Acer Chromebook 516 GE, for example, offers a partially aluminum chassis that feels more luxurious.
Lenovo IdeaPad 5 Gaming Chromebook: Keyboard and trackpad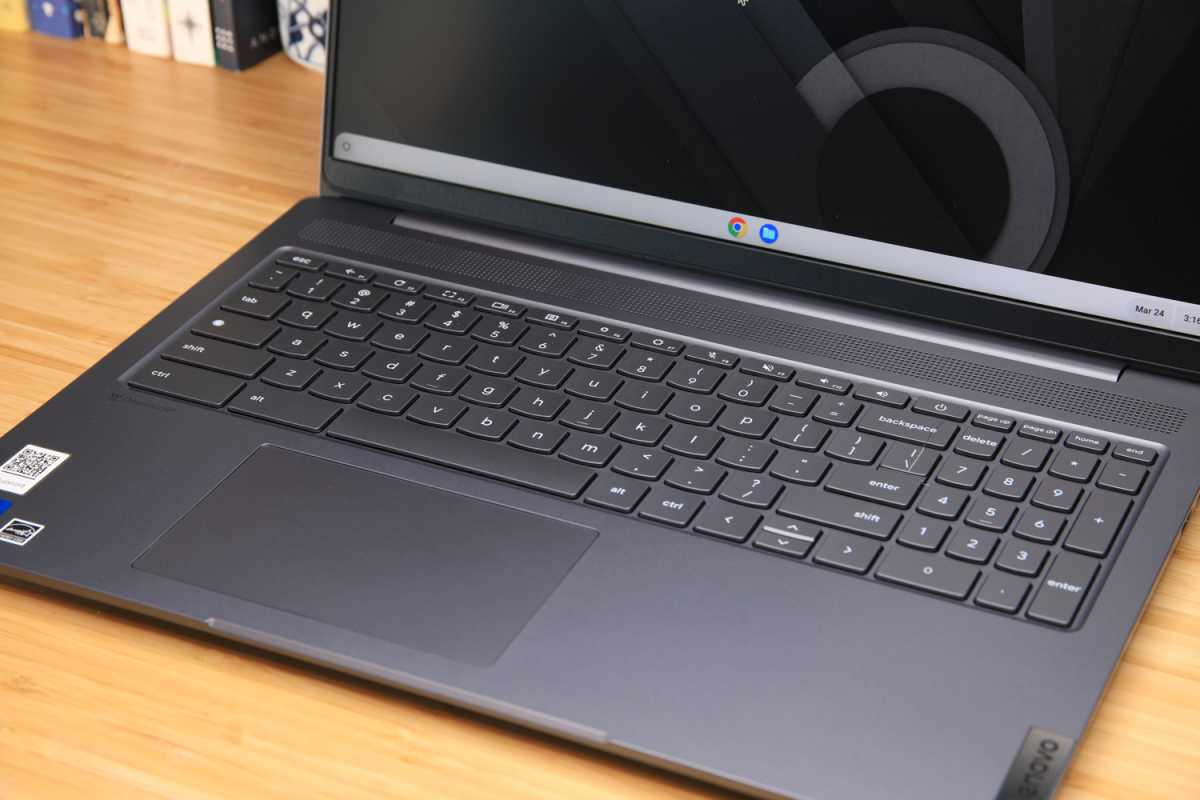 IDG / Matthew Smith
Lenovo puts the IdeaPad 5 Gaming Chromebook's girth to good use with a spacious keyboard layout. A numpad with half-sized keys is squeezed into the right-hand side.
Key travel is long and the layout provides plenty of room to stretch, but key action is a bit mushy and tactile feel is minimal. This being a Chromebook, the laptop includes Google's special row of function keys, which provide easy access to functions like volume, brightness, and browser refresh.
Keyboard backlighting comes standard. The color of the backlight can be customized directly through Chrome OS's settings, but the range of customization is limited to a handful of colors and a predefined rainbow option. Still, this is a great option given the laptop's price. Most in this bracket stick with a white keyboard backlight with zero customization.
A modest touchpad lurks below the keyboard. It measures four and a half inches wide by two and a half inches deep. It feels responsive and never seems cramped, but a little extra space would be appreciated (there's certainly room for it).
I also noticed the touchpad is significantly offset towards the left in an effort to keep it centered below the spacebar. Users with large hands should be wary, as this may cause your left hand to dangle a tad off the side of the palmrest. Personally, I prefer the Acer Chromebook 516 GE's approach. It ditches the numpad entirely to focus on a centered touchpad and keyboard. Your mileage will vary depending on how much you value the numpad's presence.
Lenovo IdeaPad 5 Gaming Chromebook: Display, audio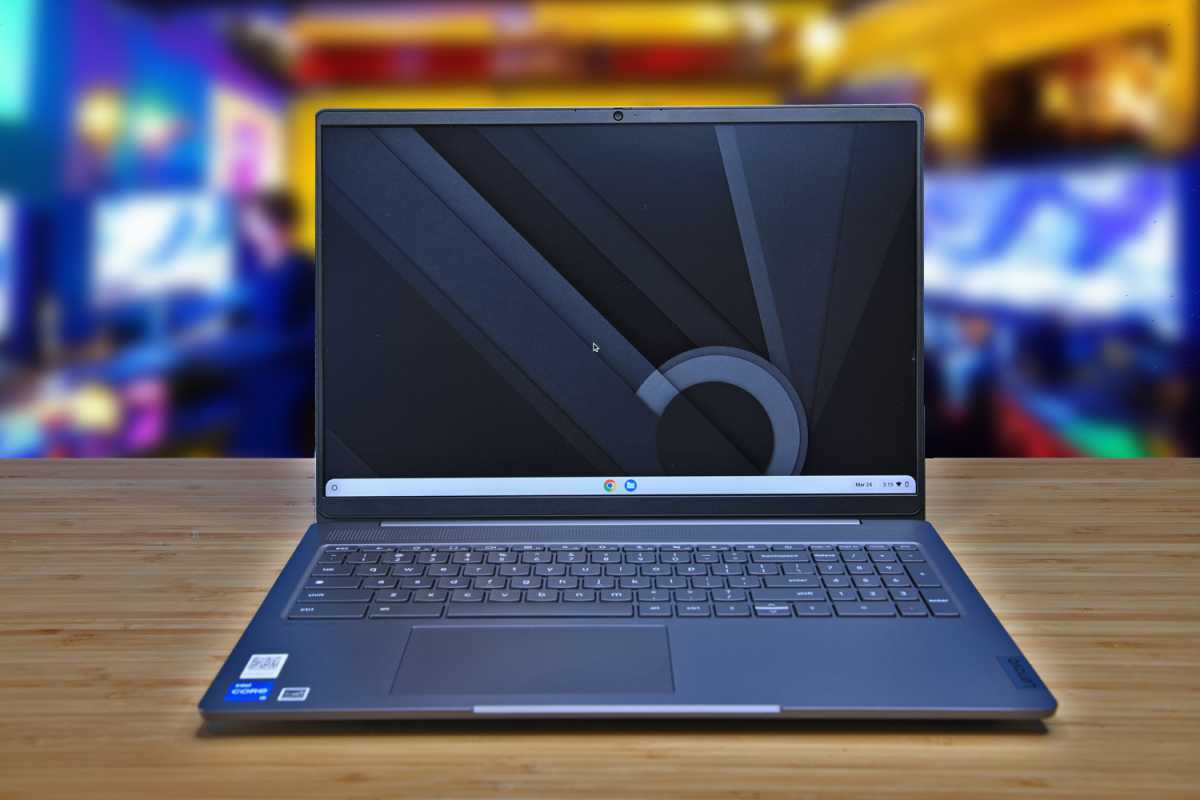 IDG / Matthew Smith
The IdeaPad 5 Gaming Chromebook I tested had a huge 16-inch 2560×1600 display with a 16:10 aspect ratio and a 120Hz refresh rate. This is an upgrade from the entry-level mode, which instead offers a 16-inch 1920×1200 screen with a 60Hz refresh rate. Both displays use IPS LCD technology and have an anti-glare, non-gloss finish.
Image quality is mediocre. The IPS LCD display offers attractive color and a reasonable maximum brightness of up to 350 nits, but the display's unimpressive contrast ratio saps depth and drama from the image. Dark scenes often look hazy and shadows lack detail.
Despite these flaws, the IdeaPad 5 Gaming Chromebook's display is an improvement over most budget gaming laptops, such as entry-level Acer Nitro 5 and Asus TUF gaming laptops. Windows gaming laptops in this price range tend to have a narrow, dull color gamut and an even lower contrast ratio.
The Lenovo's 120Hz refresh rate is another advantage. It looks extremely smooth in games, but also enhances the day-to-day visual experience. Scrolling feels slick and animated transitions between apps or web pages look responsive.
While the display is a perk, there is one big catch: not all cloud gaming services support 2,560 x 1,600 resolution at up to 120Hz. As far as I'm aware, Nvidia GeForce Now and Shadow Blade are the only widely available services that support this resolution and refresh rate. You can use other services, of course, but the image may appear softer than you'd expect.
Gaming aside, the display looks great when browsing the web or writing in Google Docs. The display's sharp, bright image renders fine fonts with outstanding clarity, and the anti-glare coat takes the edge of harsh lighting. The 16-inch, 16:10 aspect ratio provides plenty of screen space for multi-tasking, too.
The laptop's built-in speakers are great for the price. They're upward-firing, which means the sound won't be muffled by your laptop, and provide good stereo stage separation along with a hint of loud-end oomph in music and movies. The mid-range can still be muddy at times and volume is merely adequate, but the speakers are a cut above most Chromebooks and similarly priced Windows laptops.
Lenovo IdeaPad 5 Gaming Chromebook: Webcam, microphone, biometrics
Lenovo serves up a basic 720p webcam for the IdeaPad 5 Gaming Chromebook. Brightness and color reproduction are acceptable, but video looks soft and imprecise. Those concerned about privacy will be happy to see the inclusion of a physical privacy shutter that can completely block the camera.
Microphone quality is good, with strong volume and clarity. Background noises can intrude depending on their volume and consistency, but minor hums (like a space heater) are not a problem. The privacy shutter doesn't disable the microphone.
Biometric login isn't an option on this Chromebook. That's not a surprise, as very few Chromebooks choose to include this feature.
Lenovo IdeaPad 5 Gaming Chromebook: Connectivity
IDG / Matthew Smith
This Chromebook leans into USB-C with two ports that support USB Power Delivery and DisplayPort Alternate Mode. Both USB-C ports can charge the laptop and provide video input to a USB-C monitor. A USB-C power brick is bundled with the laptop.
A pair of USB-A ports are included, too, for use with older wired devices. A MicroSD card reader and 3.5mm combo audio jack round out the options.
I'm happy to report the laptop supports Bluetooth 5.1 and Wi-Fi 6E, which is the latest Wi-Fi standard. That's important for a gaming Chromebook. Wi-Fi 6 is more than capable of handling cloud gaming, but extra bandwidth is never a bad thing. Wi-Fi 6E also has an additional 6GHz band that may improve network reliability if you have numerous devices connected. You'll need a Wi-Fi 6E router to take advantage of this, however.
Lenovo IdeaPad 5 Gaming Chromebook: Performance
The IdeaPad 5 Gaming Chromebook is equipped with Intel's Core i5-1235U, a 10-core processor with two performance cores and eight efficient cores. It's a modest processor compared to Windows gaming laptops but extremely powerful for a Chromebook. That's good news for the laptop's benchmark results.
Lenovo doesn't skimp on the extra, providing 8GB of RAM and 256GB of solid state storage. That's excellent for a Chromebook and offers plenty of room for owners to work with. In my experience, a 256GB SSD on a Chromebook feels similar to a 1TB drive on a Windows laptop, as the reduced storage space is offset by the fact most apps (including games) run in the cloud.
Here's how the Lenovo IdeaPad 5 Gaming Chromebook fared in five browser-based benchmarks.
These are strong scores that go toe-to-toe with other recent Chromebooks with Intel Core i5 processors, such as the Acer Chromebook Vero 514 and the Framework Laptop Chromebook. The Intel-powered Lenovo is a tad ahead of the Acer Chromebook Spin 514 with AMD Ryzen processor in most tests, though the benchmark results are close overall.
What about gaming? Games installed to the Chromebook don't run well—or at all. Android games are technically available through the Google Play Store and Android emulation, but demanding titles are out of the question. Call of Duty: Mobile crashes to desktop. Genshin Impact will launch and is vaguely playable, but looks terrible and suffers several hitching. Asphalt 8 is smooth enough to play but struggles with infrequent stutters that sour the experience.
Cloud gaming, on the other hand, is an excellent experience. The IdeaPad 5 Gaming Chromebook can stream a cloud gaming service at up to 2,560 x 1,600 resolution and 120Hz. Using Nvidia's GeForce Now with an Ultimate Membership, which provides access to RTX 4080-class hardware, I ran Cyberpunk 2077 at 136 FPS with Ultra detail and Ultra ray-tracing on (with DLSS 3 enabled). And here's the kicker: I was on Wi-Fi 6 in a detached shed that's 50 feet and several walls away from my home router.
That's an amazing result. You'd have to spend thousands for similar performance from a Windows laptop rendering the game locally. I was equally surprised by how solid the IdeaPad 5 Gaming Chromebook's Wi-Fi adapter performed in this situation. It's a tough scenario, as the range between the router and the Chromebook results in just 90 Mbps of bandwidth and spotty latency, but the game felt smooth.
The catch? You'll need to pay a monthly fee for access to the GeForce Now service (or any other that you choose to use). You'll also be limited to games supported by cloud services. If you can deal with those constraints, however, cloud gaming on a Chromebook is a fantastic experience.
Lenovo IdeaPad 5 Gaming Chromebook: Battery life
The Lenovo IdeaPad 5 Gaming Chromebook packs a large 71 watt-hour battery into its ample chassis. It's a beefy battery for a Chromebook and it pays off when you're on the road. I recorded 15 hours and 56 minutes of battery life in the CrXPT 2 battery life test.
That's healthy endurance, beating out the Acer Chromebook Vero 514, Acer Chromebook Spin 514, and Framework Chromebook Laptop, among others we've recently reviewed. It's also a huge leap over Windows gaming laptops, which often struggle to hit five hours of battery life on a charge.
Lenovo IdeaPad 5 Gaming Chromebook: Conclusion
The IdeaPad 5 Gaming Chromebook is a solid entry into the Chromebook arena for both cloud and day-to-day productivity. It has a bright, sharp display, good performance, great network connectivity, tons of ports, and long battery life.
Lenovo's design is a whiff, though, and that's a wrinkle. The Acer Chromebook 516 GE, an alternative gaming-focused Chromebook with a 16-inch display, offers everything found in the Lenovo alongside a more attractive and luxurious chassis. Acer also provides a slightly quicker Intel Core i5-1240P processor.
That makes the Lenovo tough to recommend, especially when the Acer is on sale (it's currently available for $549.99 at Best Buy). I recommend the Acer if it's the same price as the Lenovo, or less—but the IdeaPad 5 Gaming Chromebook is a fine second choice.