At a glance
Expert's Rating
Pros
Attractive, thin design
Excellent OLED display
All USB-C ports support display, power
Touchscreen with bundled active pen
Cons
Underwhelming graphics performance
Only one USB-A port
More expensive than 2022 model
Our Verdict
The Lenovo Yoga 9i is a top-tier Windows 2-in-1 that pairs attractive design with competent performance and a superb OLED display.
Price When Reviewed
$1,700.00
Best Prices Today: Lenovo Yoga 9i Gen 8
Lenovo's Yoga 9i, the company's consumer laptop flagship, is mostly unchanged for 2023 but receives a few notable upgrades including Intel Core 13th-gen processors and a standard OLED display (which was an option before). These improvements keep pace with the competition, though they also lead to a higher price tag.
Looking for more 2-in-1 options? Check out our roundup of the best 2-in-1 laptops available today.
Lenovo Yoga 9i: Specs and features
The Lenovo Yoga 9i is powered by Intel's new Core i7-1360P processor accompanied by 16GB of LPDDR5 memory and Intel Iris Xe graphics. This is one of the first Intel Core i7-1360P laptops to arrive for review, so I'm eager to see how it performs.
CPU: Intel Core i7-1360P
Memory: 16GB LPDDR5
Graphics/GPU: Intel Iris Xe (96 EUs)
Display: 2880×1880 OLED 16:10 90Hz
Storage: 512GB PCIe Gen4 SSD
Webcam: 1080 with IR
Connectivity: 2x Thunderbolt 4 / USB-C 3.2 with DisplayPort Alternate Mode and Power Delivery, 1x USB-C 3.2 with DisplayPort Alternate Mode and Power Delivery, 1x 3.5mm audio
Networking: WiFi 6E, Bluetooth 5.1
Biometrics: Windows Hello Facial Recognition, Fingerprint Reader
Battery capacity: 75 watt-hours
Dimensions: 12.52 inches x 9.06 inches x 0.6 inches
Weight: 3.09 pounds
MSRP: $1,700
Lenovo also improves the base display to a 2880×1880 OLED, which was an optional upgrade on the prior model. A 3840×2400 OLED is available as an upgrade. That's nice to see, but making the OLED display standard increases the base MSRP: the previous model was available starting at just $1,230.
Lenovo Yoga 9i: Design and build quality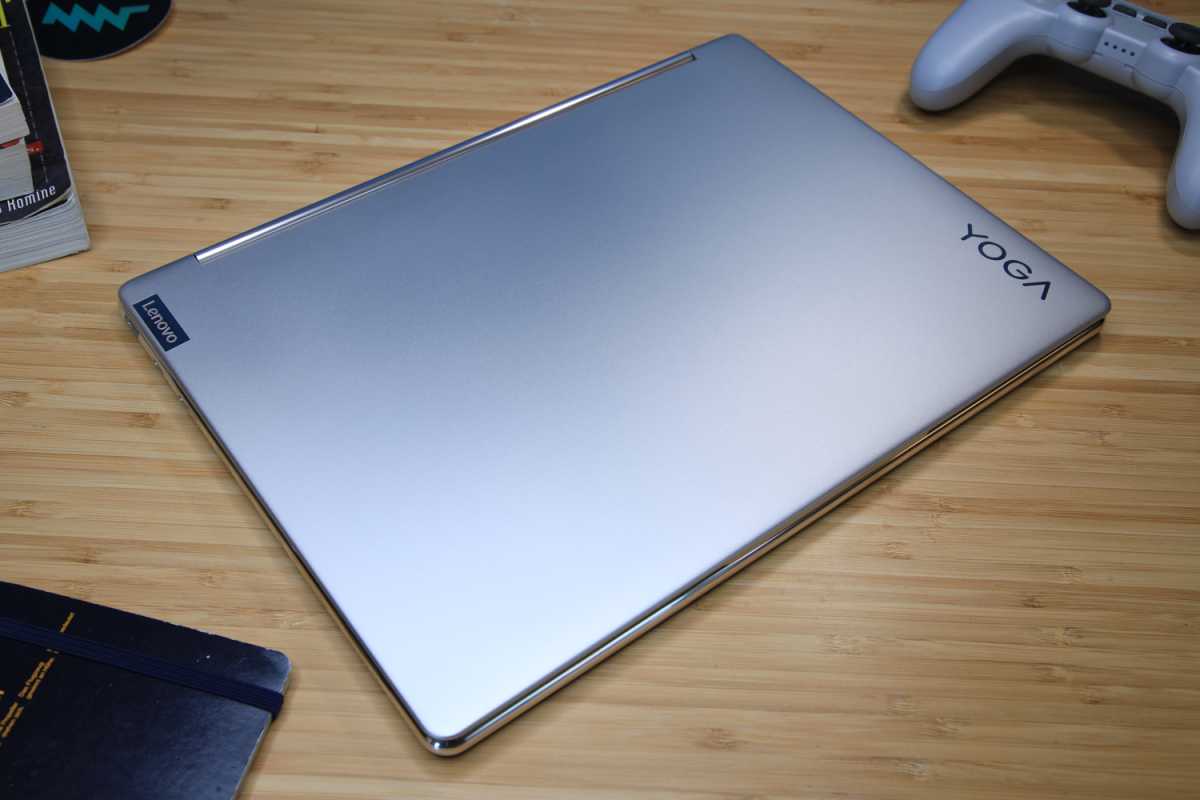 IDG / Matthew Smith
I had high praise for 2022's Lenovo Yoga 9i, which I called "the pinnacle of design," and this extends to the nearly identical 2023 model. Lenovo's specifications suggest the new Yoga 9i is slightly thinner and smaller than its predecessor, as well as a tad heavier, but I couldn't notice a difference.
What I did notice is the 2-in-1's sleek, svelte, and classy exterior. The Yoga 9i pairs an attractive silver exterior with a chrome finish that lines the sides of the device. This provides a touch of class and luxury, yet doesn't look gaudy. Lenovo's design choices are practical, too, with curved surfaces and edges that prove pleasant to handle.
The Yoga 9i is a 2-in-1 with 360-degree hinge, which means the laptop's display can fold back until it converts into a tablet. Lenovo opts for a sturdy, smooth hinge that extends nearly the entire width of the display. It's easy to maneuver into tablet mode and can also support the laptop in "tent" mode, which uses the keyboard as a kickstand.
The device is too heavy to use as a true iPad alternative (it's roughly three times heavier than the base iPad), but it's an acceptable substitute in short bursts. It helps that Lenovo bundles an active stylus, giving every owner access to Windows' surprisingly good handwriting recognition.
Lenovo Yoga 9i: Keyboard, trackpad, pen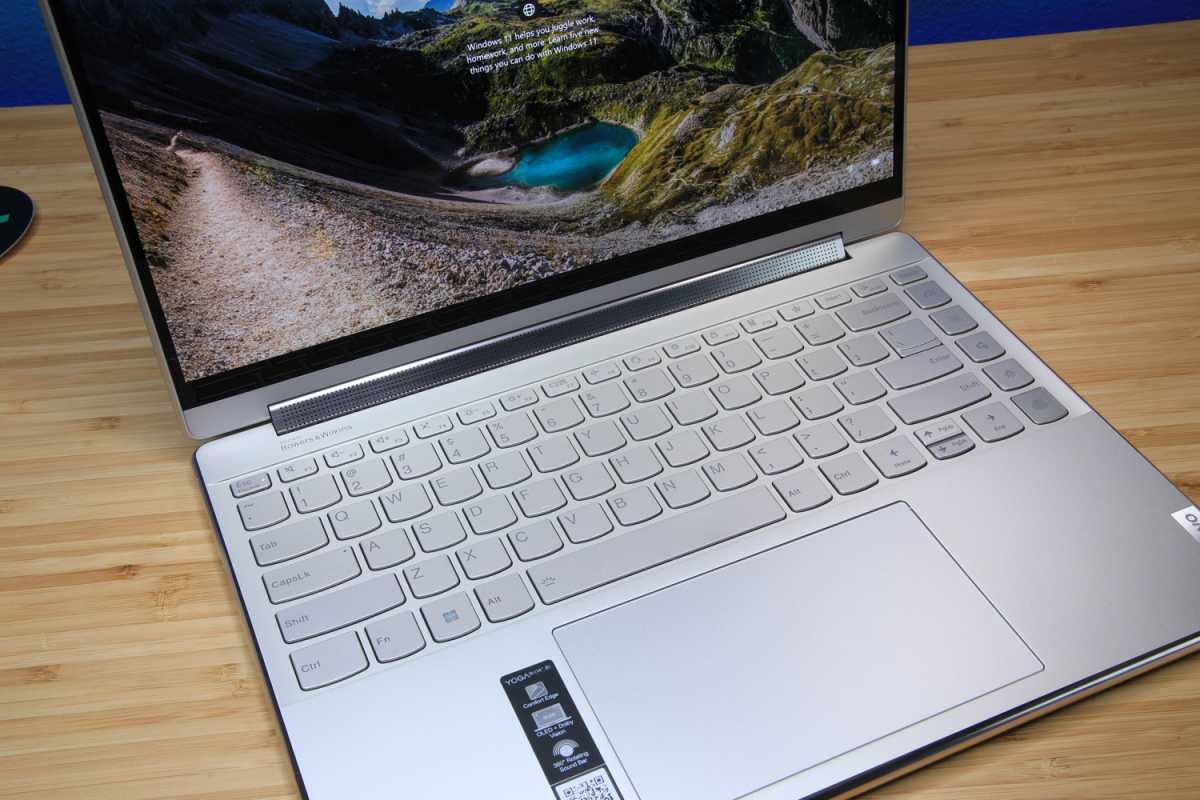 IDG / Matthew Smith
The Yoga 9i has an excellent set of keys with good key travel, taut key action, and subtle but noticeable tactile feedback as keys reach their activation point. The layout is spacious, too, as the keys span nearly the entire width of the keyboard. Lenovo puts the extra space to work with an additional row of function keys, which includes a fingerprint reader, on the keyboard's right flank.
The touchpad is superb. It measures about five inches wide and three inches deep. That's huge for a 14-inch Windows laptop and equal to Apple's MacBook Pro 14. The touchpad's surface is smooth, responsive, and provides plenty of room for using Windows' excellent multi-touch gestures. It's definitely among the best touchpads currently available on a 14-inch laptop.
Lenovo bundles the Yoga 9i with an active stylus that supports 4,096 levels of pressure sensitivity, tilt detection, and the WGP, AES 2.0, and MPP 2.0 protocols. It also has a built-in rechargeable battery. The pen felt great when writing notes and seemed acceptable for digital art and illustration (though my artistic skills are lacking). The Yoga 9i doesn't include a place to store the pen, however, so it may prove easy to lose. A replacement will set you back $59.99.
Lenovo Yoga 9i: Display, audio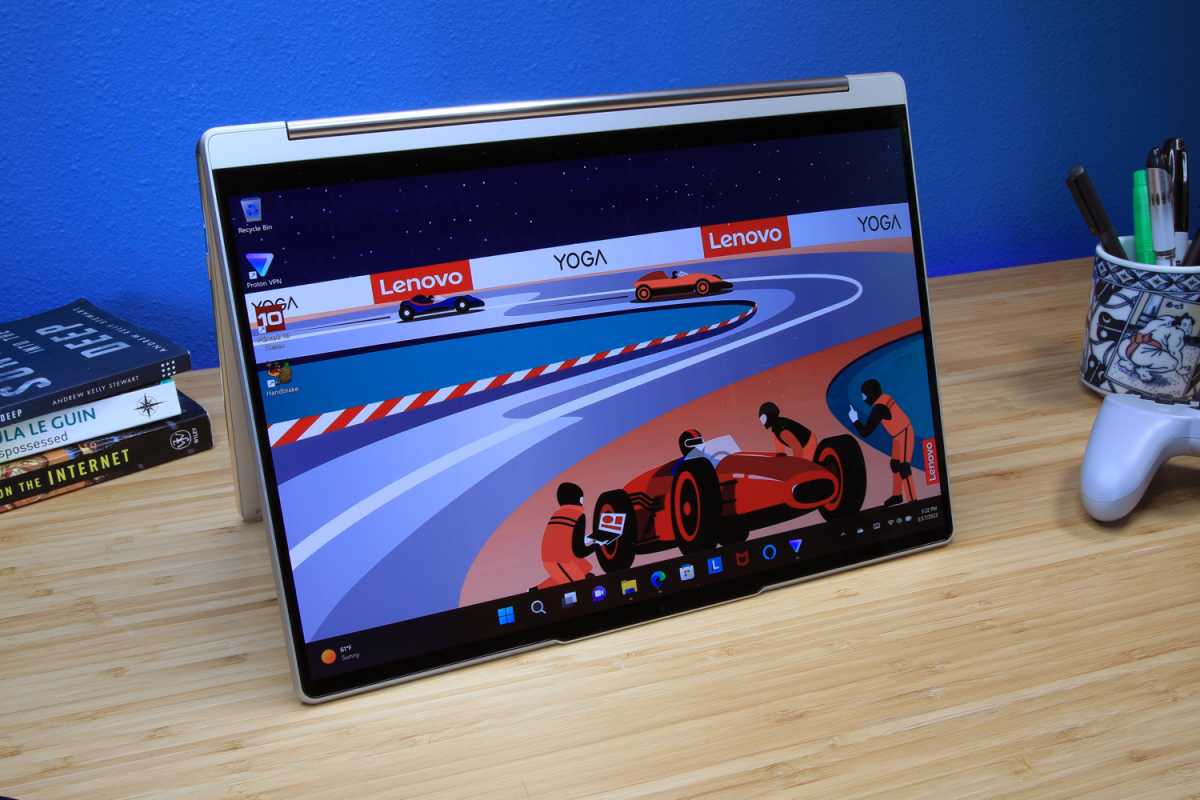 IDG / Matthew Smith
The 2023 Yoga 9i upgrades the base display option from a 1920 x 1200 IPS LCD touchscreen to a 2800 x 1800 OLED display. This is the display that arrived in my review unit. Lenovo also offers a 3840×2400 OLED for just $100.
Image quality is excellent. The OLED screen provides amazing contrast, superb luminance uniformity, and vivid color across a wide range of content. Everyone will enjoy its performance when streaming shows, playing games, or watching movies. Content creators will appreciate the display's wide color gamut, which spans 99 percent of DCI-P3, and precise color accuracy.
Sharpness is great, too, with a pixel density of 323 pixels per inch. Fine text looks crisp and refined with no sign of pixelation. The optional 3840×2400 OLED's meager price tag makes it a tempting upgrade for content creators who want to view and edit 4K content at native resolution.
The display has a 16:10 aspect ratio, which is a bit taller than a 16:9 widescreen. This provides more vertical display space and makes multitasking easier. Snapping documents to each edge of the display provides a usable view of each. Nearly all laptops and 2-in-1s in the Yoga 9i's price bracket have moved to a 16:10 aspect ratio, so this isn't an advantage over the competition—but it remains a perk.
HDR is supported and works reasonably well, but the Yoga 9i's OLED screen maxes out around 410 nits fullscreen. That's not enough to reveal the full range of luminance detail that HDR can provide. It's a decent experience, though, and I'd generally recommend using HDR when it's available from streaming shows, movies, and games (though not on the Windows desktop). The Yoga 9's brightness can also be an issue when traveling. 410 nits isn't bad, but the OLED display is highly reflective and a bright light source can overpower its luminance.
Interestingly, the 2880×1800 OLED display has a 90Hz refresh rate, which is quicker than most OLED laptops (the optional 3840×2400 OLED is only 60Hz). This offers a smoother experience even on the Windows desktop, where scrolling through web pages and moving windows feels a tad more responsive. It's a minor difference, but I found it noticeable.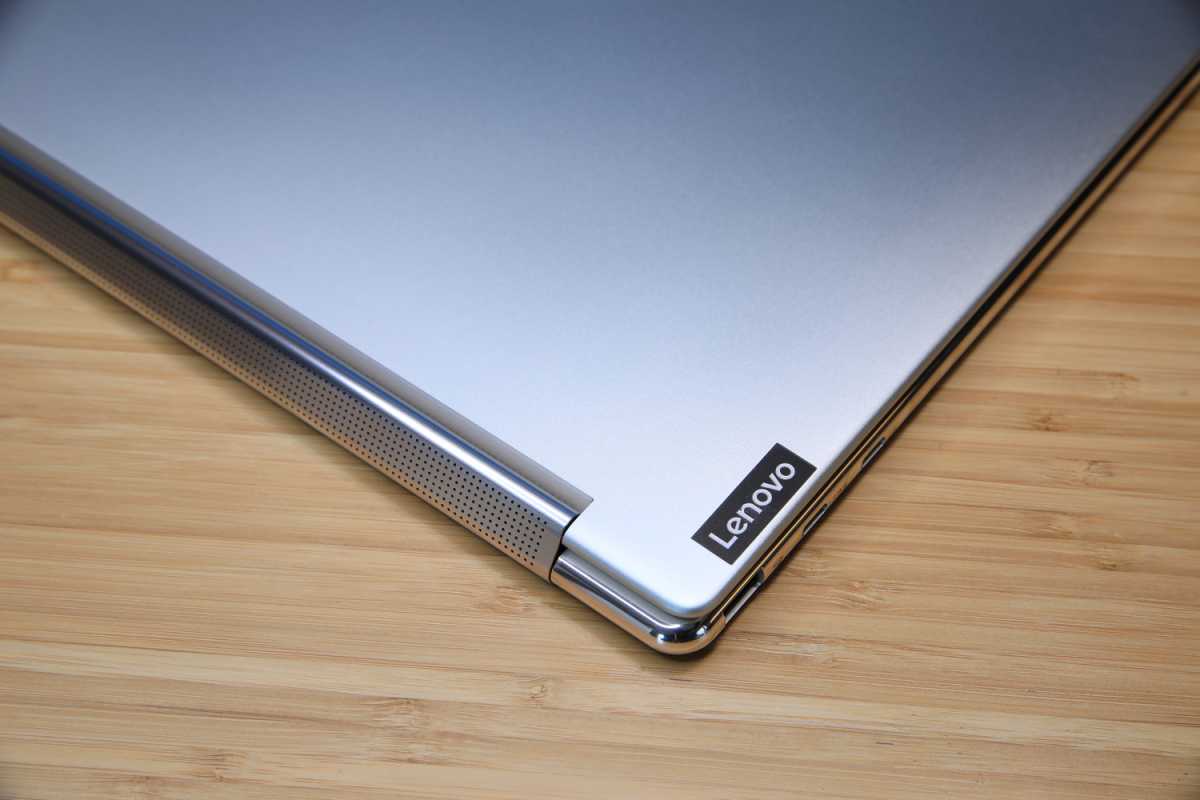 IDG / Matthew Smith
Lenovo delivers a top-notch audio experience with a miniature soundbar built into the hinge. It packs a pair of two-watt tweets and a pair of three-watt woofers. The result is loud, voluminous sound with body and heft normally unavailable from a laptop. It's so loud, in fact, that using it at maximum volume can become a bit odd—you'll feel the bass pumping through your palms! It's easily the best audio I've ever heard from a 13-inch to 15-inch class laptop.
Lenovo Yoga 9i: Webcam, microphone, biometrics
The Yoga 9i has a solid 1080p webcam. Video quality is good with crisp presentation and attractive color. Exposure remains an issue, as any mixed lighting will confuse the camera, and the image can still appear grainy in low light. Lenovo offers a built-in background blurring utility that can be turned on with a keyboard shortcut. It's a handy way to quickly blur your background in video calls.
Lenovo also delivers on microphone quality with a great dual-microphone array. It provides plenty of volume and crisp dialogue. Repetitive background noises are nicely subdued, as well, allowing only the loudest and most irregular noise through. The microphone quality is great for a laptop and better than most standalone webcams below $100.
Biometric login is available through both Windows Hello and a fingerprint reader on the right side of the keyboard. Windows Hello is quicker and reliable in most situations, but both biometric login methods work well.
Lenovo Yoga 9i: Connectivity
The Lenovo Yoga 9i goes all-in on forward-thinking connectivity. It has three USB-C ports, all of which support Power Delivery and DisplayPort Alternate Mode. The two USB-C ports on the left side also support Thunderbolt 4. These are joined by a single USB-A port and a 3.5mm combo audio jack.
Leaning heavily on USB-C has its problems. Those hoping to connect to older USB-A devices, or to an HDMI device (like a TV or projector) will need to buy an adapter or, more likely, a USB-C hub or dock.
On the plus side, all three USB-C ports can power the laptop, and all three can handle DisplayPort Alternate Mode. This is the best way to approach USB-C. Users shouldn't have to worry about whether they're using the correct USB-C port.
Lenovo provides great wireless connectivity with support for Bluetooth 5.1 and Wi-Fi 6E, the latest Wi-Fi standard. Most homes don't yet have a Wi-Fi 6E router, but those that do should experience excellent Wi-Fi performance. Wi-Fi 6 performance is also healthy, with good connectivity and the ability to reach gigabit speeds when used in close proximity to a router.
Lenovo Yoga 9i: Performance
All current Lenovo Yoga 9i variants come with Intel's Core i7-1360P processor, a 12-core CPU with four performance cores and eight efficient cores. My review unit paired that with 16GB of RAM, a 512GB PCIe Gen4 solid state drive, and Intel Iris Xe graphics. This is a typical setup for a high-end Windows 2-in-1 and it delivered strong yet unsurprising results.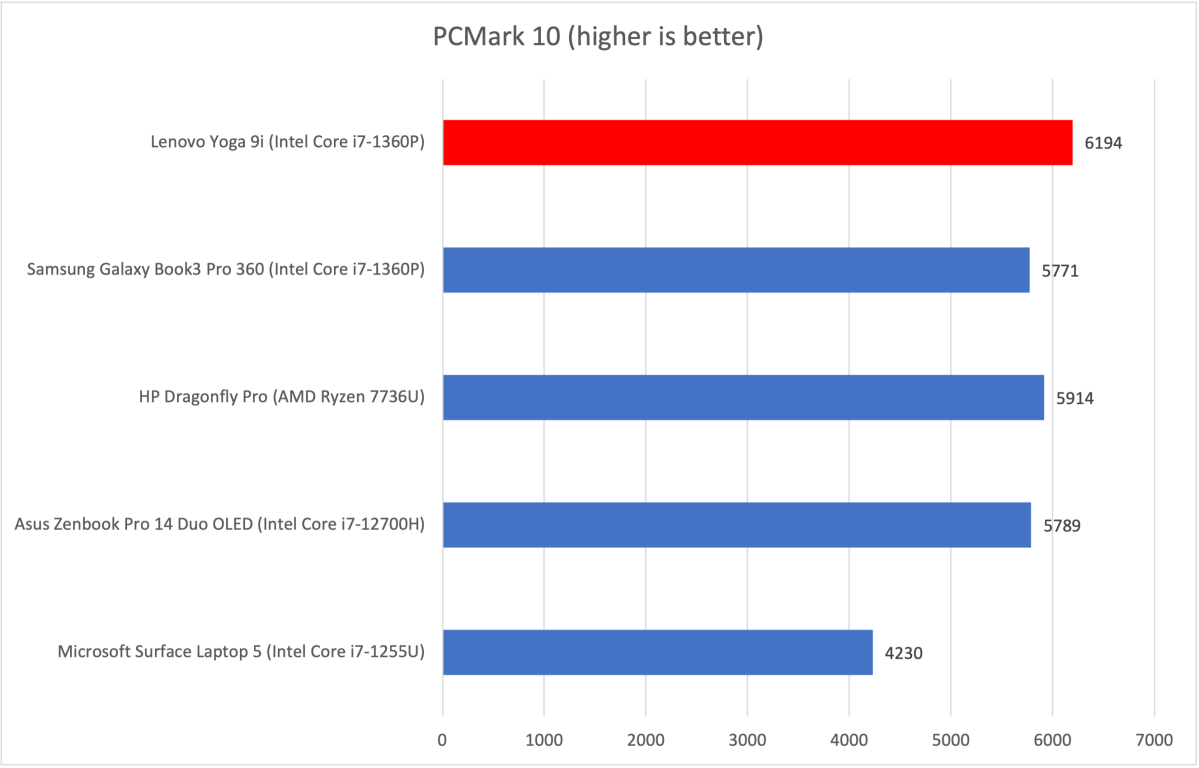 IDG / Matthew Smith
PCMark 10, a full-system benchmark that leans heavily on CPU performance, reported a very strong score of 6194. That's the best score of all the laptops included for comparison, though the HP Dragonfly Pro comes rather close. This result shows the Core i7-1360P is a good choice for general use, and that the Yoga 9's RAM and SSD choices don't let the laptop down.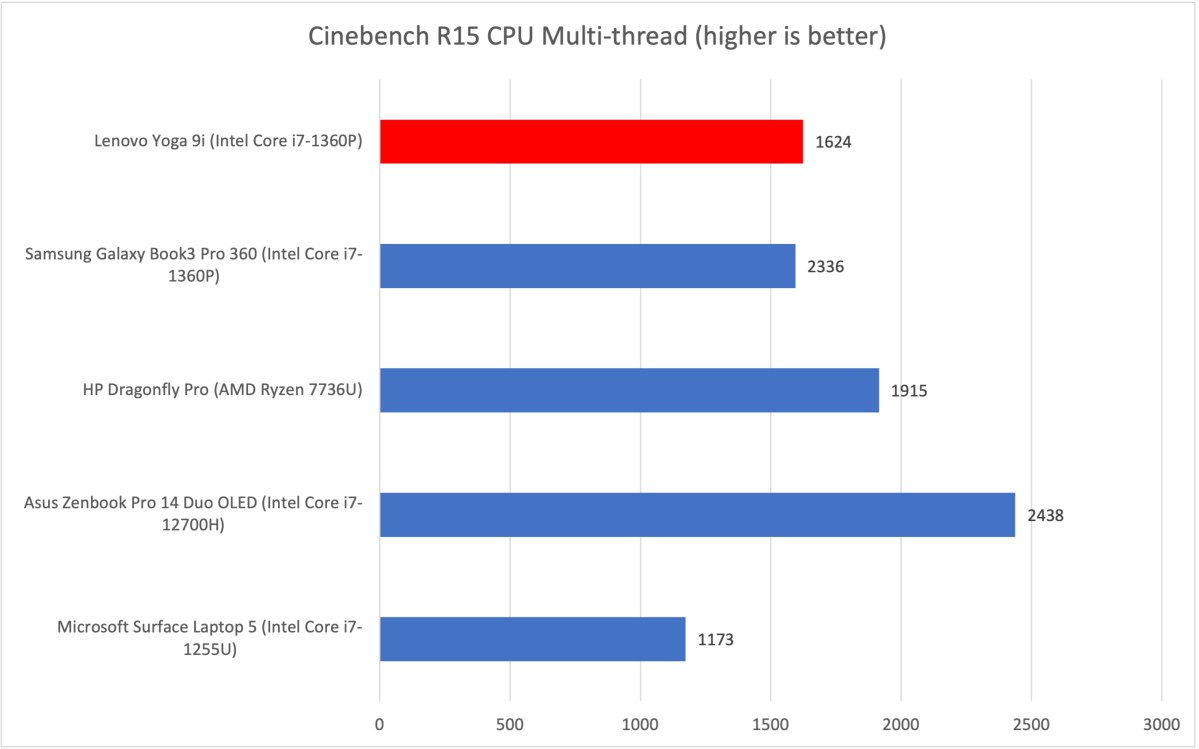 IDG / Matthew Smith
Next up is Cinebench R15, a heavily multithreaded benchmark that scales well as more cores are added. The Yoga 9i does well but doesn't excel.
The HP Dragonfly Pro, powered by AMD's Ryzen 7 7736U, scores a confident win over both the Yoga 9i and Samsung Galaxy Book3, both of which are Intel Core i7-1360P laptops. The Ryzen 7 7736U has fewer cores but doesn't use less capable "efficient" cores.
Asus' Zenbook Pro 14 Duo OLED, powered by an Intel Core i7-12700H, accelerates past the pack. This is to be expected, as the Core i7-12700H has two additional "performance" cores (six performance and eight efficient cores). It also draws more power.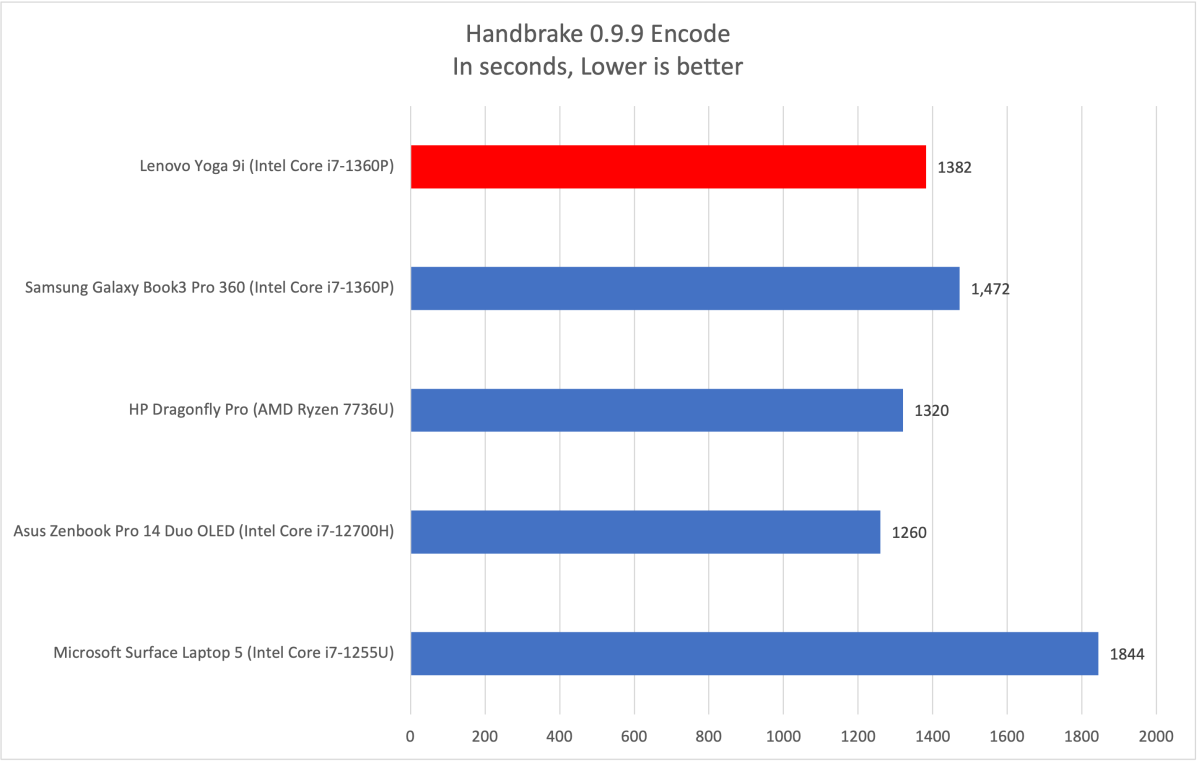 IDG / Matthew Smith
The Handbrake video encoding test tells a similar story. The HP Dragonfly Pro and Asus Zenbook Pro 14 Duo OLED retain an advantage over Yoga 9i, but by a much smaller margin. The Yoga 9i's result remains strong, though, as evidenced by the far slower Microsoft Surface Laptop 5.
IDG / Matthew Smith
3D graphics performance is a weakness. The Yoga 9i scored just 1,917 in 3DMark Time Spy. That's about equal to the Samsung Galaxy Book3 Pro 360, which also has an Intel Core i7-1360P processor with Intel Iris Xe graphics. The HP Dragonfly Pro squeezes out a victory, however, thanks to its Radeon 680M integrated graphics. Asus' Zenbook Pro 14 Duo OLED with Nvidia RTX 3050 Ti discrete graphics is in another league entirely.
I also tried the Lenovo Yoga 9i in Shadow of the Tomb Raider at 1080p resolution and Highest detail settings. The game ran at an unplayable 19 frames per second. To be fair, Highest is a demanding setting, and the game becomes playable at Medium detail. The Yoga 9i also scored 4,655 in the Final Fantasy XIV: Endwalker benchmark. That indicates playable performance (roughly 30 FPS, though this game varies significantly depending on the scene), but only at 1080p and medium to low settings.
The Lenovo Yoga 9i's overall performance is typical for a premium Windows 2-in-1 with a 14-inch display. Better performance can be found from laptops of this size, like the Asus Zenbook Pro 14 Duo OLED, but laptops that thump the Yoga 9i are generally larger, heavier, and don't last as long on a charge.
The HP Dragonfly Pro should give Intel reason to worry, though. This AMD-powered alternative beat the Yoga 9i in multiple benchmarks, yet it's similar to the Yoga 9i in size and weight. AMD's Ryzen 7000 series could prove a serious threat to Intel's 13th-gen Core.
Lenovo Yoga 9i: Battery life
The Lenovo Yoga 9i has a 75 watt-hour battery which powered the laptop for 10 hours and 39 minutes in our standard battery test, which loops a 4K file of the short film Tears of Steel. This is a respectable result for a 2-in-1 laptop. It can handle a full day of light to moderate use (like writing in Microsoft Word or browsing the web).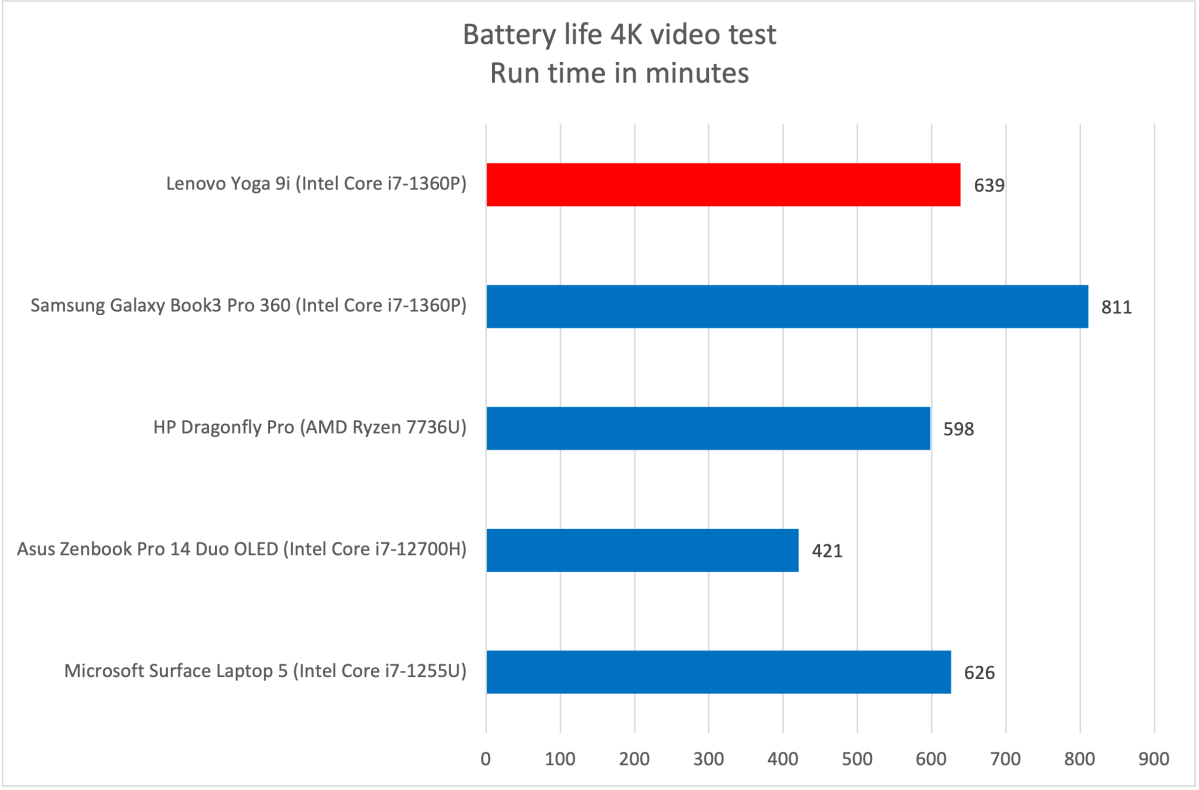 IDG / Matthew Smith
The Yoga 9i's battery life is in line with the alternatives. It's outperformed by the Samsung Galaxy Book 3 Pro 360, which has a larger screen, but squeezes out a win against the Microsoft Surface Laptop 5. The Yoga 9i also defeats the Asus Zenbook Pro 14 Duo OLED.
Lenovo Yoga 9i: Should you buy it?
The Lenovo Yoga 9i maintains its position as a top-tier 2-in-1 laptop. It boasts sleek design, excellent OLED display, and top-notch audio. The Yoga 9i also provides solid performance respectable battery life for its class.
Available starting at $1,700, the Yoga 9i is somewhat expensive but delivers good value for money. Lenovo even bundles a laptop sleeve and active stylus. Anyone looking for a Windows 2-in-1 in 2023 should place the latest Yoga 9i at the top of their list.