At a glance
Expert's Rating
Pros
Overall one of the best available Mini-ITX motherboards
Two onboard M.2 slots, Thunderbolt 4, PCIe 16x Gen 5
Solid networking and great audio options with included Strix Hive
Enthusiast-approved ROG aesthetics and functional design elements such as Q-Latch for M.2 drives
Cons
$469 MSRP will deter some shoppers
Mini-ITX has some inherent limitations due to its size
Gamers might find some features unnecessary, such as Thunderbolt 4
Our Verdict
If you're looking to build the absolute best Mini-ITX system possible, then the Asus ROG Strix Z790-I Gaming WiFi is surely the motherboard you'd choose. It's expensive and some of its features will seem superfluous to those who don't need them, but for the builder who wants it all in a compact package, this small form-factor beauty has it.
Price When Reviewed
$469
Best Prices Today: Asus ROG Strix Z790-I Gaming WiFi
Mini-ITX, or small form-factor, has been all the rage the last few years in PC builds. Who doesn't want to pack a ridiculous amount of power in a small PC case? One could even argue that part of the appeal is the challenge of maximizing performance within those constraints. Plus, these motherboards are so damn cute!
If that sounds like your cup of tea, you'll be interested in what the Asus ROG Strix Z790-I Gaming WiFi brings to the table. Featuring support for Intel's 13th-generation CPUs, it offers a stepped-up level of "mini" performance. It tips the scales on pricing, too—but in return you get a rich feature set and enthusiast-grade chops.
We'll look at this motherboard's features, design, and performance. Mini-ITX has a few drawbacks that don't affect larger ATX boards, but does this unit make up for that with its generous offerings? Let's find out!
Further reading: See our roundup of the best gaming motherboards to learn about competing products.
Thiago Trevisan
What are the Asus ROG Strix Z790-I Gaming WiFi specs?
Mini-ITX form factor (170x170mm or 6.7×6.7 inches)
Supports Intel 12th- and 13th-gen CPUs
10+1 Power Stage with 105 amp
DDR5 RAM, dual channel up to 2 DIMM (up to 64GB)
2x onboard M.2 slots (1x PCIe Gen 5 and 1x PCIe Gen 4)
1x PCIe 16x slot (PCIe Gen 5)
HDMI port
2x Thunderbolt 4 USB-C ports (supports DisplayPort)
7x additional rear USB ports
Intel 2.5GbE LAN
Wi-Fi 6E with Bluetooth 5.3
Aura Sync header for RGB
2 SATA 6Gb/s ports
3 PWM fan headers
Clear CMOS
Preinstalled I/O shield
ROG Strix Hive audio external device
ROG High Definition ALC4050 codec
ROG FPS II Card
MSRP $469
The Asus ROG Strix Z790-I Gaming WiFi carries with it an MSRP of $469. This is encroaching on high-end ATX motherboard territory, so it should pack a punch for its size. You can't expect to get the same amount of I/O or PCIe slots as with the bigger brethren, but there are plenty of features you do get. In other words, you're going to pay a premium to have so many features squeezed into a small design. But this board offers everything you'll need for a monster (err, Mini-monster) gaming PC build!
Starting with the unboxing, you'll discover a rich treasure-trove of bundled accessories. You'll get the standard SATA cables, NVMe trinkets, and even ROG-branded swag.
Thiago Trevisan
What you don't usually see with any motherboard is a bundled external sound device/USB combo. The ROG Strix Hive attempts to solve the small form-factor space issue by offering functionality outside of the case. It has everything from an audio codec to a volume input dial, and even extra USB. It even includes some nifty diagnostic features. We applaud this effort to offer add-on functionality while leaving the board free to maximize performance features. The device pairs well with this enthusiast motherboard.
Going further, you also get a "ROG FPS II" card. This plugs in directly to the motherboard, and extends its capabilities to include two SATA ports, and a collection of headers. Another smart way to keep the main motherboard focused on providing vital performance, and augmented by such add-on elements.
What CPUs are supported?
The Z790 chipset allows you to use both Intel 12th- and 13th-generation, giving you flexibility in your CPU. This particular motherboard is a mini-enthusiast powerhouse, so there's a good chance you want to pair it with a door-busting Intel i7 or i9 such as the 13900K. Even the mighty 13900KS with its 6Ghz speeds should do fine here if your cooling solution can keep up.
Does it support DDR5 RAM and PCIe Gen 5?
DDR5 support is here, and you're able to use some mighty fast kits, surpassing even what AMD currently offers on AM5. You'll be limited to only 64GB of RAM and two separate slots, however. This is due to the board's diminutive size. We figure that's more than fine for a gaming build, and technically two RAM slots often offer more stability and performance compared to four.
How about PCIe Gen 5? Does a small motherboard like this mean you're not fully covered here? Not at all! Being Z790, you're given a PCIe Gen 5 16x slot—only one due to the space constraints. That's for your GPU, which will have more than enough headroom for even future releases compared to PCIe Gen 4.
Storage support
The NVMe slot is also PCIe Gen 5. In this regard, the motherboard stands out from the many others that cap the NVMe slots at PCIe Gen 4 even if the board supports Gen 5. This will be a nice-to-have feature going forward as more PCIe Gen 5 NVMe drives are released, letting you take full advantage of the 13th-gen Z790 platform with all of the bells and whistles.
You will also have a second onboard NVMe slot, but this one is PCIe Gen 4. Given that most drives barely saturate even this, you'll be ahead of the game here.
As mentioned, the ROG FPS II card features two SATA ports, which while modest compared to ATX offerings, should fit the needs of small builds.
Thiago Trevisan
USB ports
Continuing with the surprising level of features, you're getting nine total rear USB ports. That alone is as good, if not better than, many ATX motherboards.
Adding to that is another enthusiast-grade feature—two of those ports are Thunderbolt 4. With super-speedy 40Gb/s, Thunderbolt is arguably one of the most flexible I/O offerings. You can use it to connect displays since it supports video over DisplayPort, or connect a gamut of available Thunderbolt peripherals and storage drives. Of course, you still have a standard HDMI-out as well if your CPU supports the iGPU functionality.
Networking
WiFi 6E and Intel 2.5GbE LAN are both here along with Bluetooth 5.3. That's about as fully featured as they come—save for some 10GbE LAN hyper-enthusiast motherboards.
Audio
Audio is great, especially considering the included Strix Hive external unit. This will give you great connections that are at arm's length instead of only in the rear I/O of the motherboard. The handy volume wheel lets you quickly adjust audio levels even if you're in the middle of a gaming session.
Other features of note
It's always commendable to see an integrated I/O shield on a motherboard, so kudos. You also get Asus' suite of "Q-Design" features that include Q-DIMM, Q-Release for easy GPU access, and Q-Latch for M.2 screwless installs.
Asus ROG Strix Z790-I Gaming WiFi design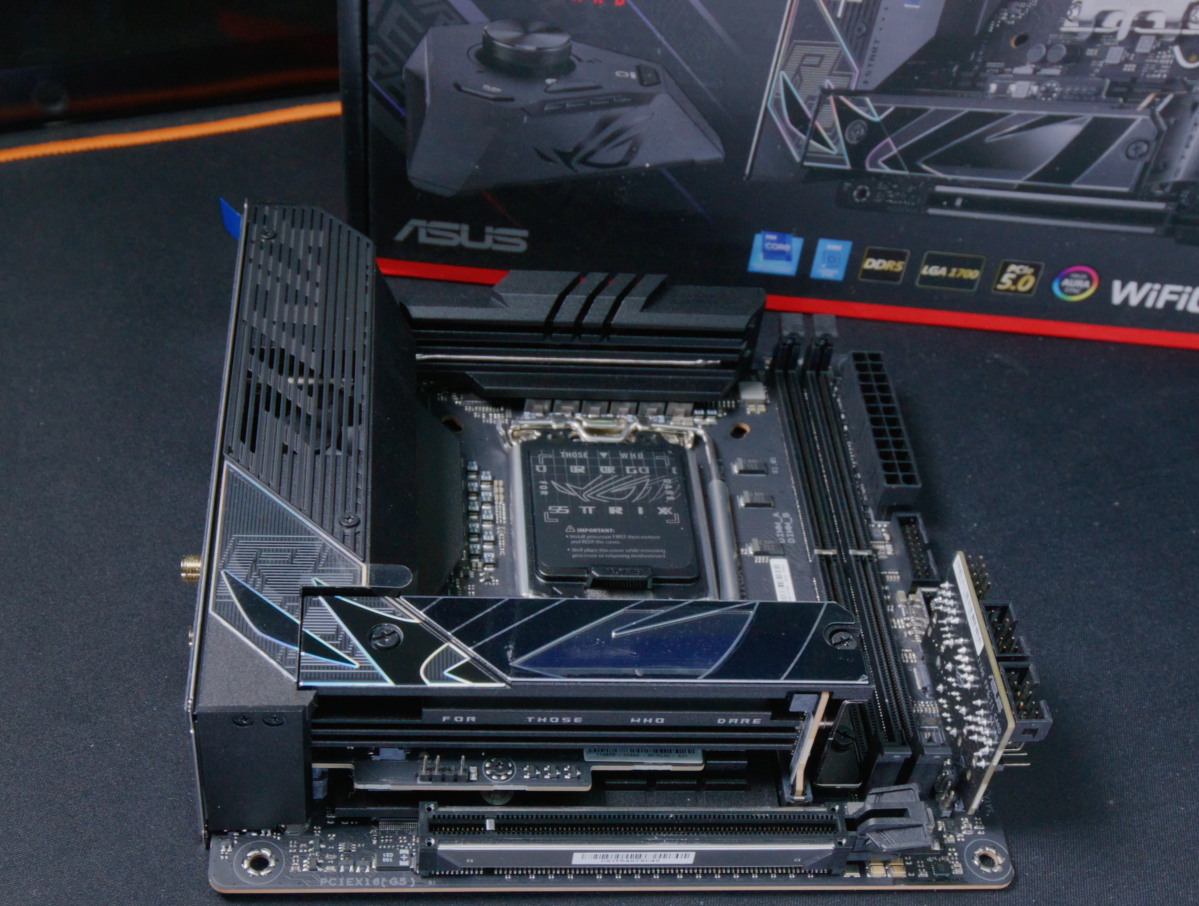 Thiago Trevisan
The Asus ROG Strix Z790-I Gaming WiFi will impress right off the bat. Its small size already draws attention. When you start to look at how detailed the design is here, it's impressive how the compact size has been maximized. It's sad that this beauty will likely be buried within a smaller, cramped Mini-ITX case that has minimal, if any, window space.
Every iota of the board's surface sports functional and aesthetically pleasing touches. Starting in the I/O shield area, you're presented with Strix branding in a monochromatic theme. To accentuate that, you have a very tasteful "pop of color" with some elegant RGB design that almost seems to reflect off of the different surfaces. The PCIe slot area continues in the same vein, with functional M.2 armor looking dapper.
If you need more RGB, you're able to add it through the Aura Sync 3-pin or 4-pin headers. This external functionality add-on, while not as useful as the neat Strix Hive and FPS II cards, is still nice to have. While small form-factor cases don't offer the same opportunities for RGB goodness as larger cases, you're still likely to need the headers to power things like CPU and GPU water blocks, or even RGB fans.
You're also getting great quality-of-life design inclusions—with the M.2 Q-Latch, GPU Q-Release, etc. These make the build and maintenance experience second to none. It's even more important in small form-factor builds, where access can be much tighter for internal changes later on.
Asus ROG Strix Z790-I Gaming WiFi performance, software, and BIOS
Mentioned in this article
Asus ROG Maximus Z790 Hero
Price When Reviewed:
629.99
The Asus ROG Strix Z790-i Gaming WiFi has a 10+1 VRM Power Stage with 105 amps. That means it can handily take care of even the mighty Intel i9 13900KS, if your CPU cooling solution is up to the task. You might not be getting the same theoretical level of VRM cooling as with some ATX motherboards like the Asus ROG Maximus Z790 Hero. But in practice, this board offers top-notch CPU performance in a small form-factor, and comes very close to many larger enthusiast motherboards.
The motherboard will keep cool with its imposing VRM solution. Your bigger challenge will be properly cooling some of the i9 CPUs in a small enclosure, as many of them prefer 360mm AIO liquid coolers, which can only be a "custom fit" in most small PC cases.
To add to your fast CPU, you'll be able to take advantage of the fast performance of DDR5 RAM, with an excellent memory controller onboard.
PCIe Gen 5 is for the GPU 16x slot, and for the NVMe M.2 slot. Hyper-fast Gen 5 drives are just hitting the market, meaning this small motherboard will be among the tiniest to wield such speeds. While you'll also be fine with the second Gen 4 onboard slot, it's nice to know that this premium motherboard takes advantage of what the platform has to offer. You'll cool those drives with the M.2 stacked armor cover and thermal pads.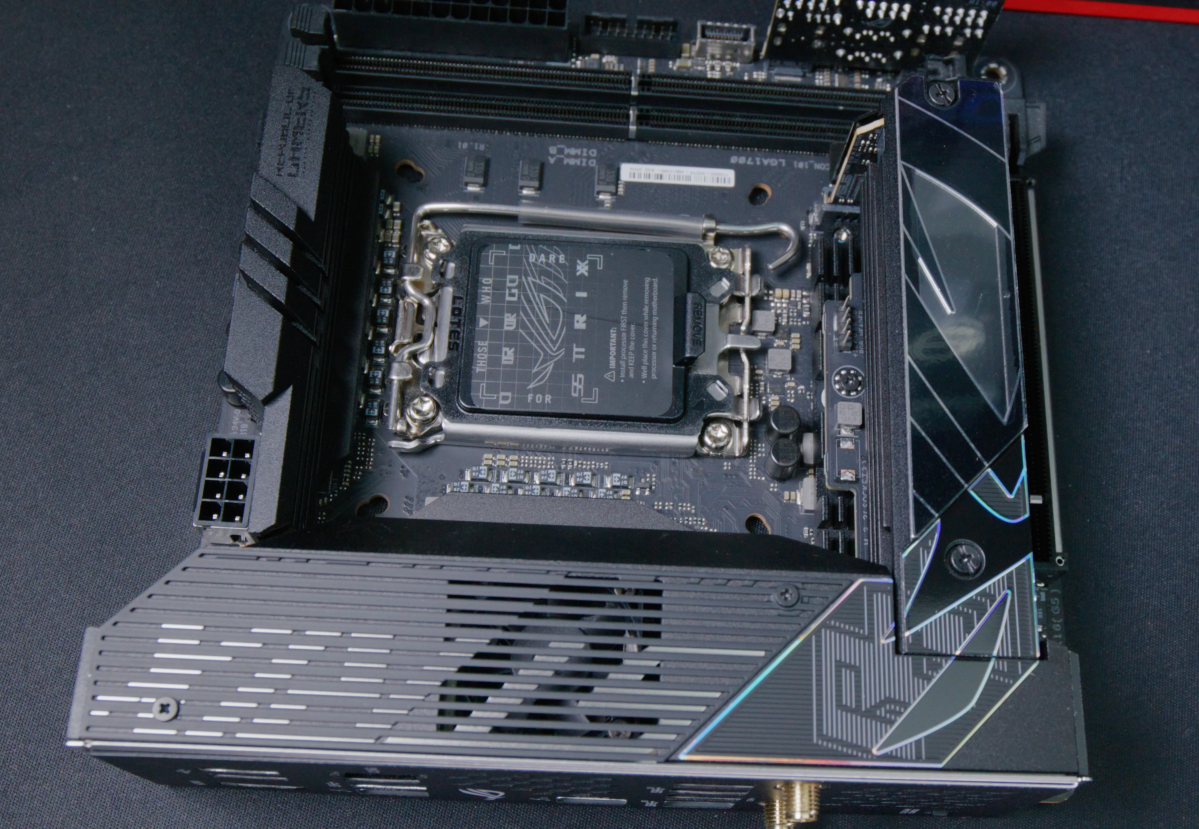 Thiago Trevisan
Since this is an enthusiast-grade motherboard, you'll find the BIOS is a great experience. The Asus BIOS continues to be one of the best in the industry, with clear navigation and plenty of tinker-points for you to meddle with.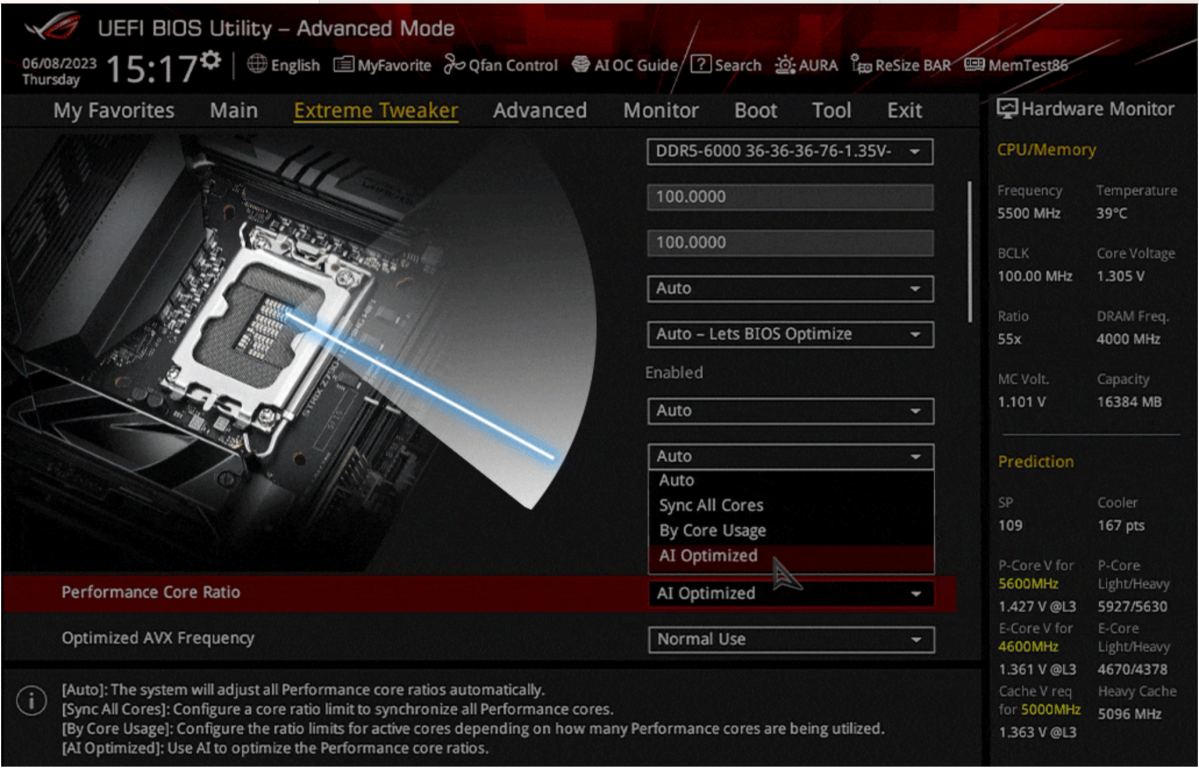 Asus
BIOS updates can be done via the BIOS itself, making it fairly simple. It's also packed with "AI," or automatic overclocking tools for the CPU, and the usual XMP profiles. The AI overclocking tools can even get a read on the cooling performance of your CPU cooler and adjust the optimal overclock accordingly.
Users be cautious, however: It's always best to know exactly what your settings are doing, and diligently monitor CPU temperatures for abnormalities. Even "AI" tools, as good as they've become, can still sometimes fall short of setting everything ideally. For everyone else, you can just leave it on "Auto" and it will do the rest.
If you'd prefer to stick to Windows for most other tasks after setting the basic XMP settings, you have the Asus Armoury Crate software.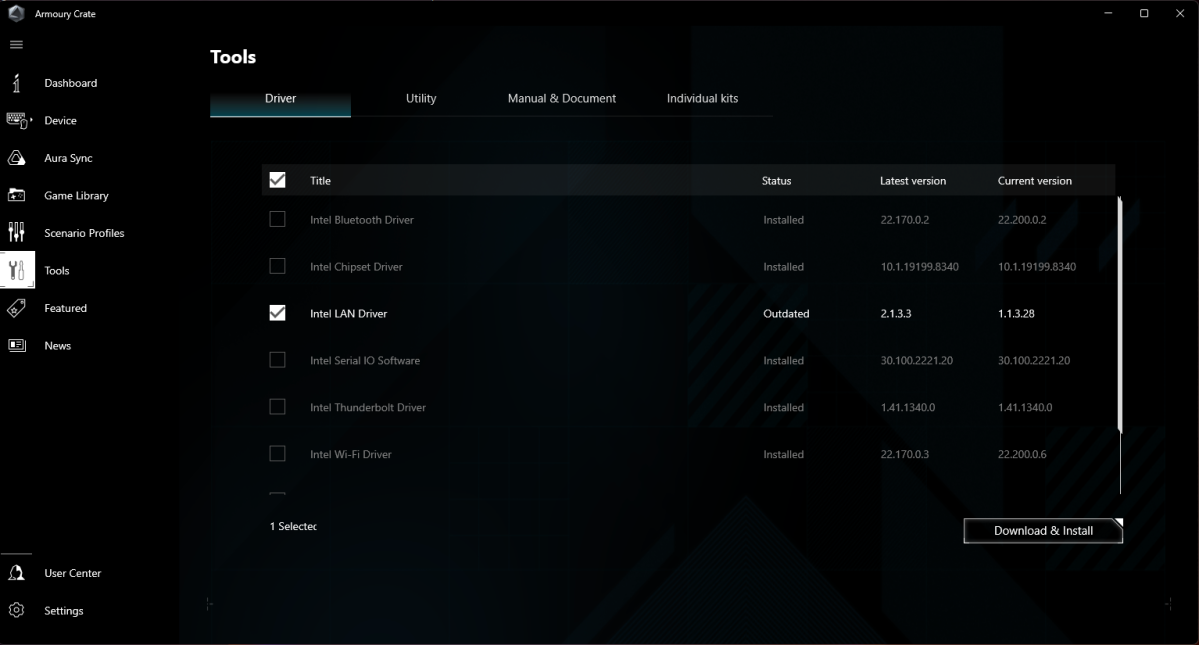 Asus
Motherboard software has been much more stable and feature-rich the last few generations, and this one is no exception. It has a bevy of feature-rich options to engage with. Some of them include "Fan Xpert" for fan profiles, "Aura Sync" for RGB customization, and even driver updates.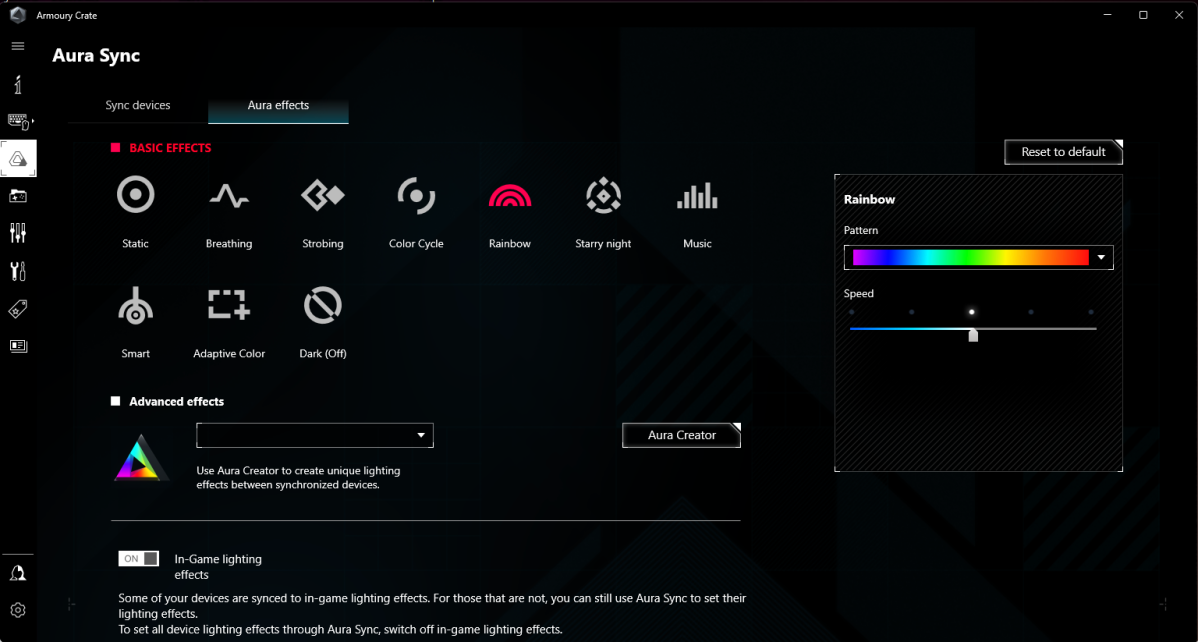 Thiago Trevisan
The brute force performance of the motherboard is covered, how about I/O speeds? Thunderbolt 4, a rarity on any motherboard is here with two slots. This is a great boon for users who need peripherals connected or just super-fast storage. 40Gb/s is fast—in fact the fastest you can get at the moment for USB level transfers.
Are there drawbacks for performance? While Asus has done a stellar job packing in as much as possible, it's still a small form-factor unit. This has inherent physical limitations, all while still commanding a premium price. You'll find beefier VRMs and more DDR5 slots, for example, on comparable ATX motherboards.
If you're willing to live with a few small compromises, the performance offered here is absolutely top-shelf with very little downside.
Is the Asus ROG Strix Z790-I Gaming WiFi worth it?
So you've fallen in love with small form-factor builds, and want to build the absolute best system that you can? Lucky for you – the Asus ROG Strix Z790-I Gaming WiFi is the best, most fully featured Mini-ITX motherboard you can buy.
It offers a dizzying array of features such as Thunderbolt 4, PCIe Gen 5 NVMe slot, and cool extras such as the Strix Hive external card. It also offers great performance in terms of VRMs and DDR5 for its size, allowing you to pair it with an i9 CPU.
A cheaper alternative
Asus ROG Strix B760-I Gaming WiFi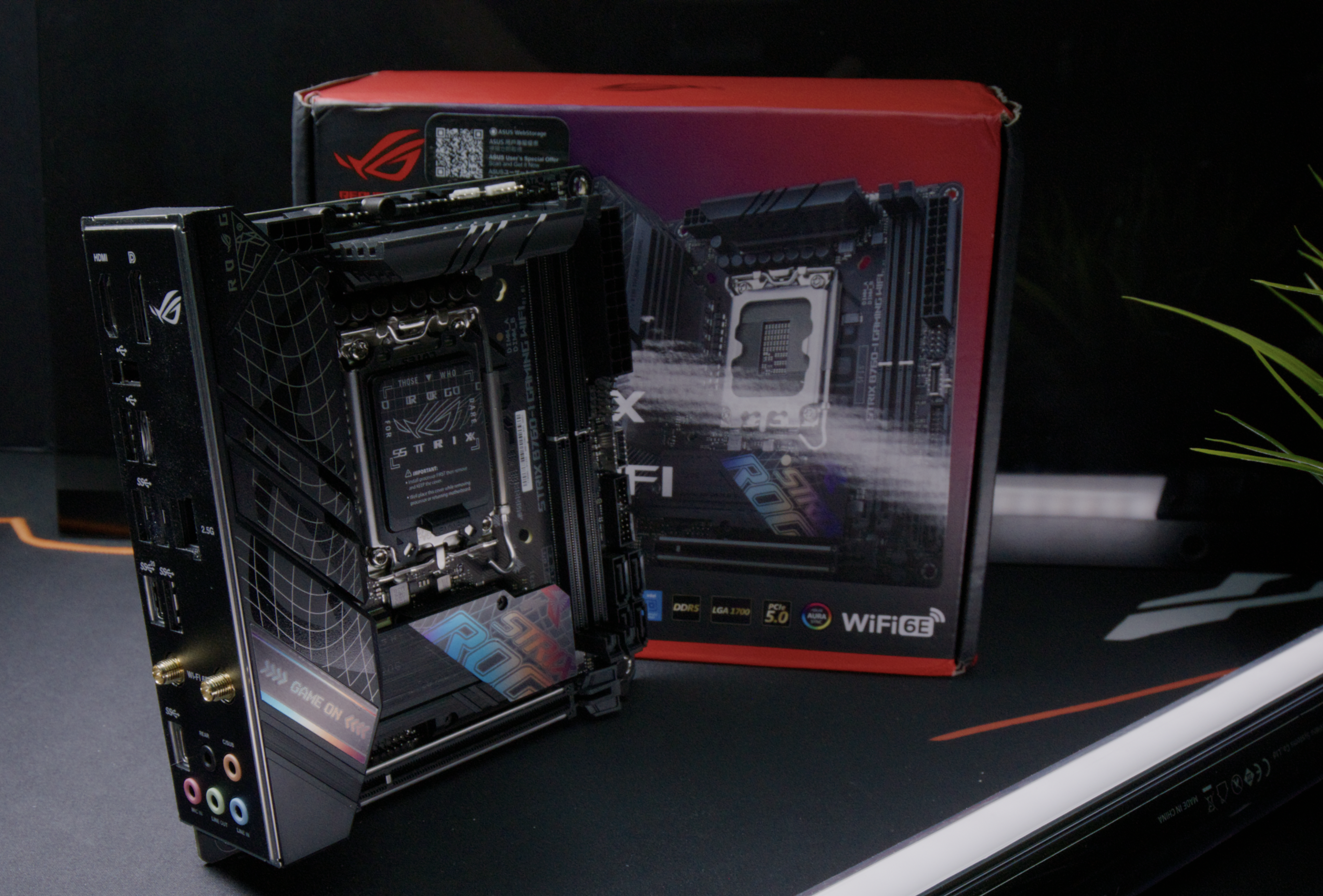 Price When Reviewed:
$219.99
It's pricey at $469, however. Even though it's technically the best, there are some users who can do with a less feature-rich Mini-ITX motherboard and save some bucks. For example, not everyone needs Thunderbolt 4, or the blistering performance of an i9 CPU. (The Asus ROG Strix B760-I Gaming WiFi would be one such example of a $219 MSRP alternative for those who don't need to overclock or have those extra features.)

If you want the best money can buy in the Mini-ITX realm, the Asus ROG Strix Z790-I Gaming WiFi is an excellent choice.
Best Prices Today: Asus ROG Strix Z790-I Gaming WiFi