At a glance
Expert's Rating
Pros
Online storage, sync, and backup
Fantastically affordable lifetime plans
Extremely secure and private
Free 2TB account
Cons
Could use better help and task feedback
Occasional connection errors
Our Verdict
Internxt's intuitively blended web access, file sync, and true backup services are impressive. However, the incredibly affordable lifetime plans are currently the most outstanding feature. The docs and backup feedback could be better, but by Grapthor's hammer—what a savings!
Price When Reviewed
Free for 2GB, $108 per year for 2TB
Best Prices Today: Internxt Drive online backup
Though Internxt Drive rightfully touts its 256-bit encryption and dedication to privacy, there's no function in particular that sets it apart from the crowd. As with services such as Dropbox, Sync.com, OneDrive, iDrive, etc. there's sync and storage. And like the latter, true backup as well.
That said, Internxt segments its services in a very intuitive way and what does distinguish it from the crowd are its incredibly affordable lifetimes plans. Internxt is a relatively new venture, so you might want to hop on these deals right now before they come to their senses.
Further reading: See our roundup of the best online backup services to learn about competing products.
Internxt Drive sign-up and plans
I've never seen an easier sign-up than Internxt. Provide your email, enter a password a single time, and you're online with two sync folders (Family, Personal) ready to go. There's an email verification to remove the yellow exclamation point next to your account level, but…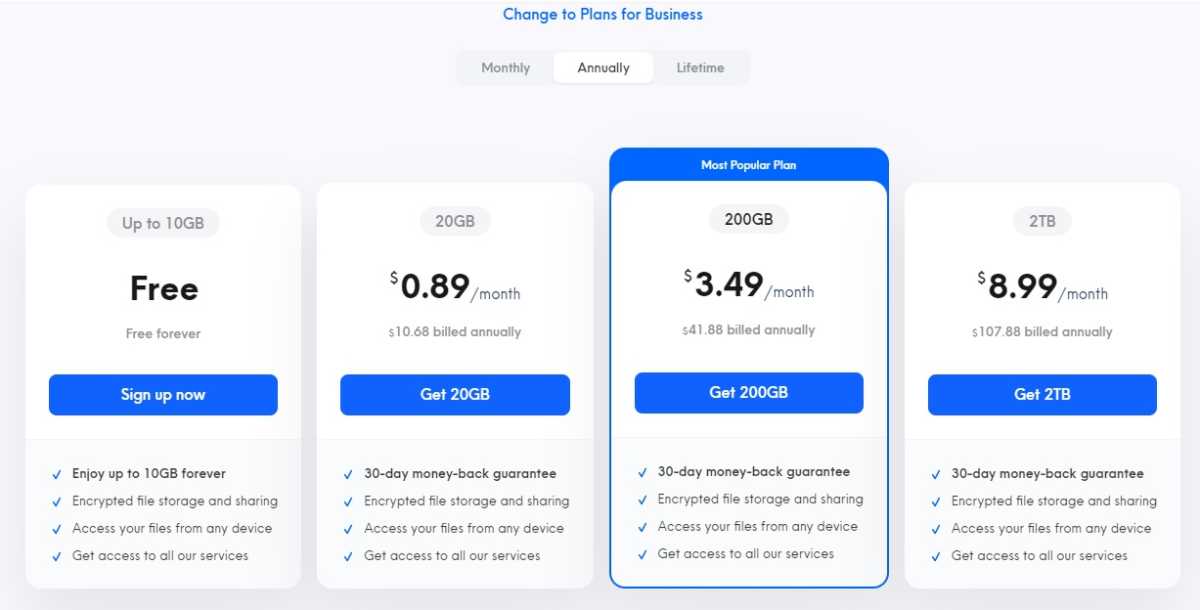 Jon Jacobi / Foundry
I first tried the free plan, which starts at 2GB (but which said I had 3GB). The free plan can reach as high as 10GB through various actions such as inviting friends to the service. If you need more than that, there's a $0.89-per-month 20GB plan, a $3.49-per-month 200GB plan, and a $8.99-per-month 2TB plan. Those prices are approximate and subject to change as they reflect conversion to dollars from Euros.
Those rates should drive home the idea that Internxt is competitive price-wise on a monthly basis. At first I was wishing for a 1TB plan, similar to the $70 yearly I pay for OneDrive. Then I discovered Internxt's lifetime plans, as shown below. Yowser!!!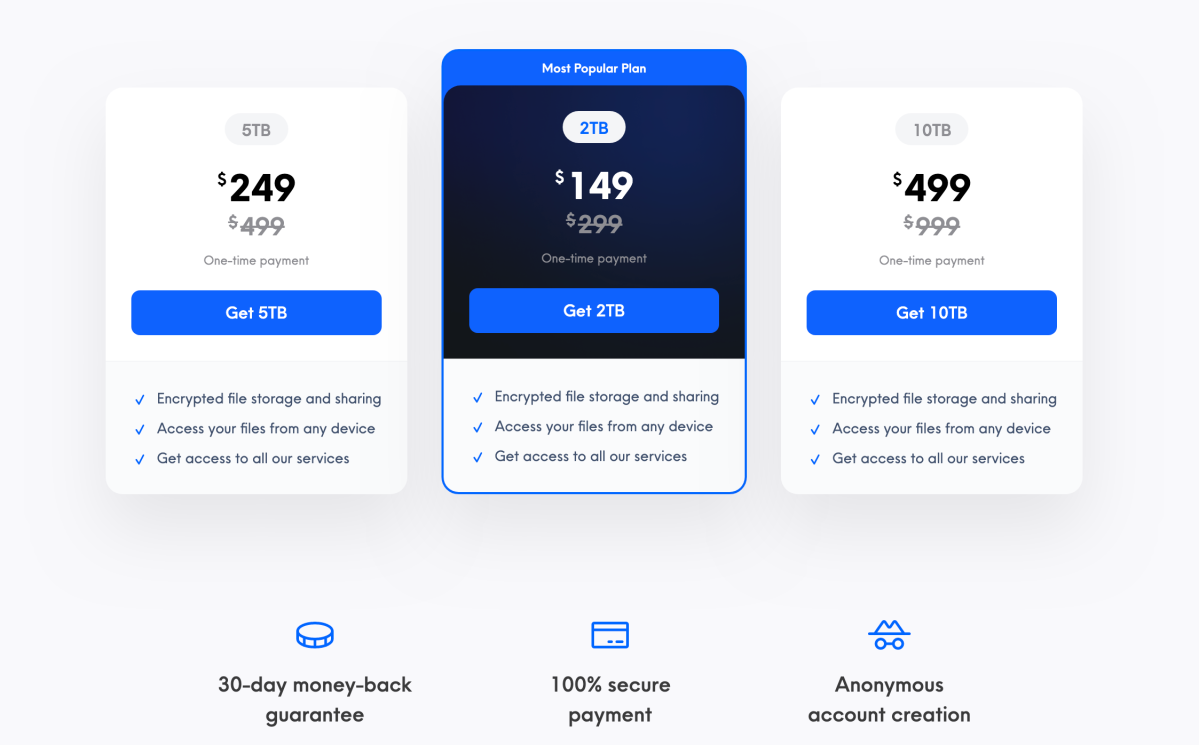 If you've priced out online storage, these are eye-popping. As mentioned, the 2TB forever plan (assuming the company lasts) is only a bit more per-gigabyte than I pay for 1TB with OneDrive… for one year.
As to the company lasting, while I hate to be that guy, my job description requires that I point out that Internxt is only three years old and online storage is a very competitive landscape.
That said, the company employs the well-known OVH storage infrastructure, so worst case, your data should still be available and the lifetime pricing is more than worth a roll of the dice in my book. If you knew my tendency towards being risk-averse, you might be inclined to treat that as gospel.
Note that all of Internxt's plans, regardless of cost, offer the same exact features, so no matter how much coin you're willing to part with, you get the full feature set. Kudos to Internxt there. Most companies use features to incentivize stepping up tiers.
Internxt Drive setup and usage
The layout and overall structure of the website make it very easy to set up and use Internxt via a web browser. As easy, or easier than any I've experienced. It's got a clean look as well.
One minor gripe is that it was difficult to find the help. I actually gave up perusing the site (after not too long) and did a web search to find it, only to eventually discover the Support menu item on the local app.
Setup for the sync folder wasn't quite as breezy. Downloading the local app is easy enough, but the splash screens could provide a bit more info on where the sync folder is created, and what it's named (Internxt).
Open the app after it's installed, and there's an icon to take you to the sync folder. That said, I found the location needlessly arcane. Fortunately, you can change it to a more prominent area such as the desktop, where you can access it without the app.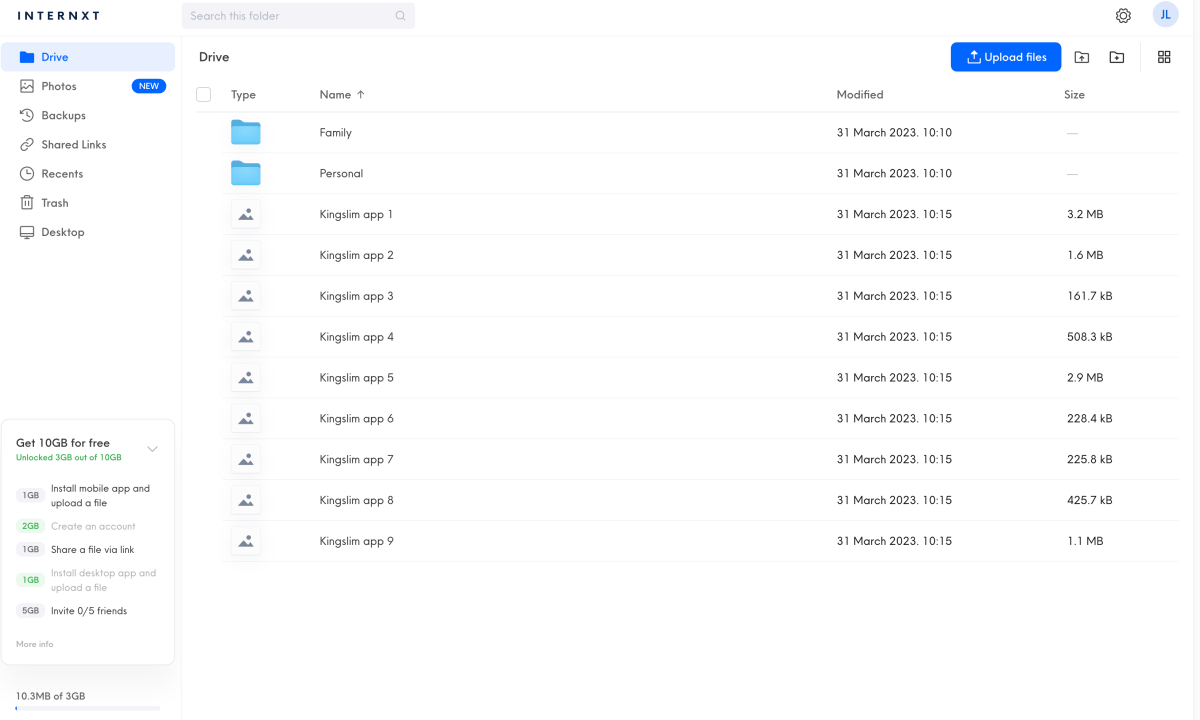 One macOS bug: When adding the folder "1. Midi files" the folder showed up in the list as "1" and wouldn't back up for obvious reasons. You can be careful with your naming, but Internxt should and probably will fix this. Another mild gripe—the entire path to the sync folder is not shown in the app, only its parent folder.
Glitches aside, none of Internxt is rocket science, a couple or 20 minutes with it should be all you need. Hint: A lot of stuff is hidden in the local app's preferences dialog.
Internxt Drive features
Internxt's features are basically four-fold: sync, backup, photo backup, and sharing. These are all located in different areas of the onscreen interface that you access via a menu tree to the left.
Syncing (to the Drive folder online) works like most services, you drag or add files to the Internxt folder and they're synced between the devices you have Internxt installed on. There are apps for iOS and Android.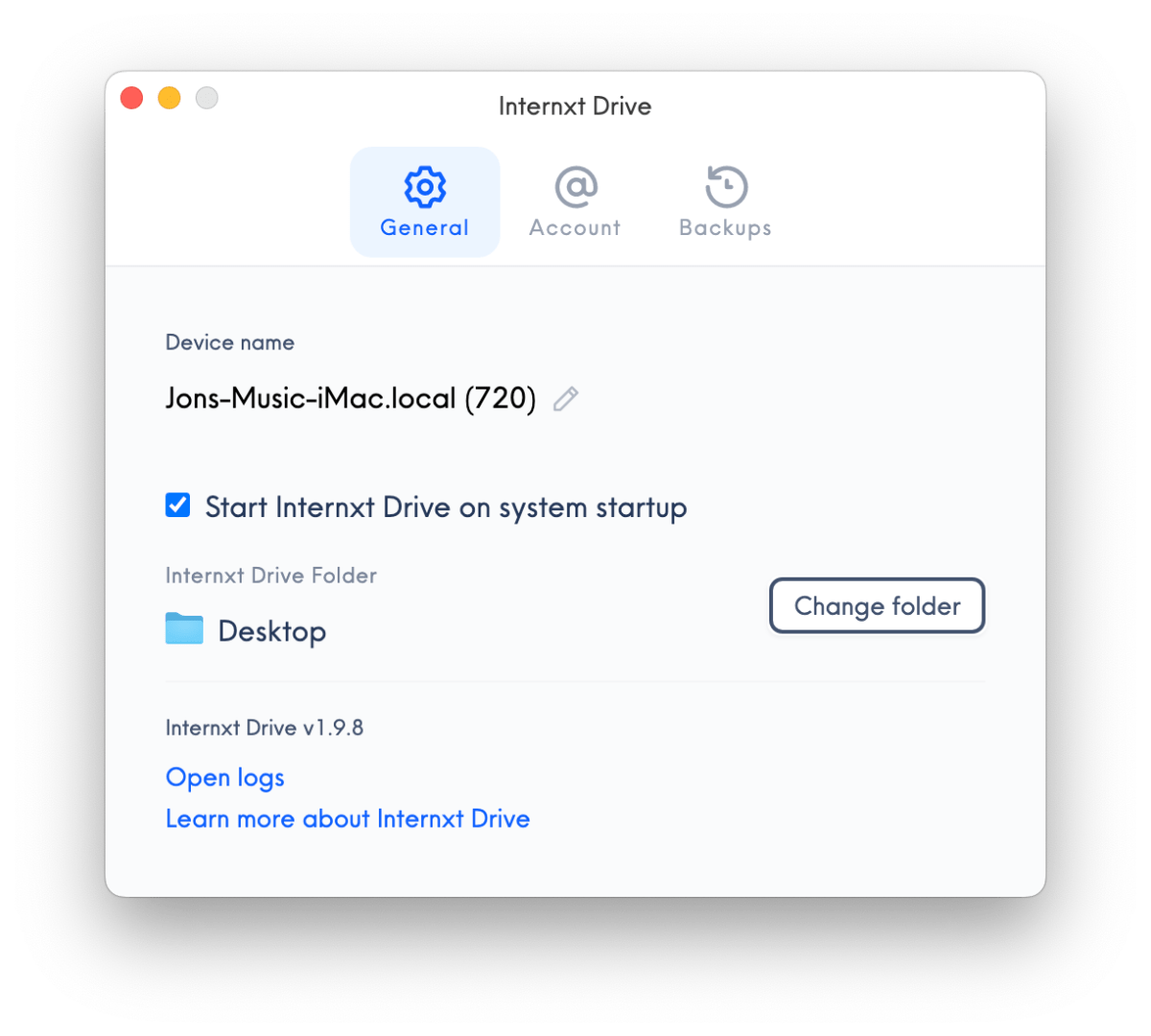 Backup should never be confused with sync, which is normally a two-way operation where any changes made on any device are duplicated on the other devices. Backups are copied from one device to the cloud and are only altered remotely when files change on the originating device.
You may schedule backups for every six hours, 12 hours, or once a day. Newer files overwrite older ones, which Internxt confirmed—i.e, there's no versioning. If you're looking for that, and it can be handy in certain situations—look elsewhere. I've never needed it, and for most users, current-state backup will be fine.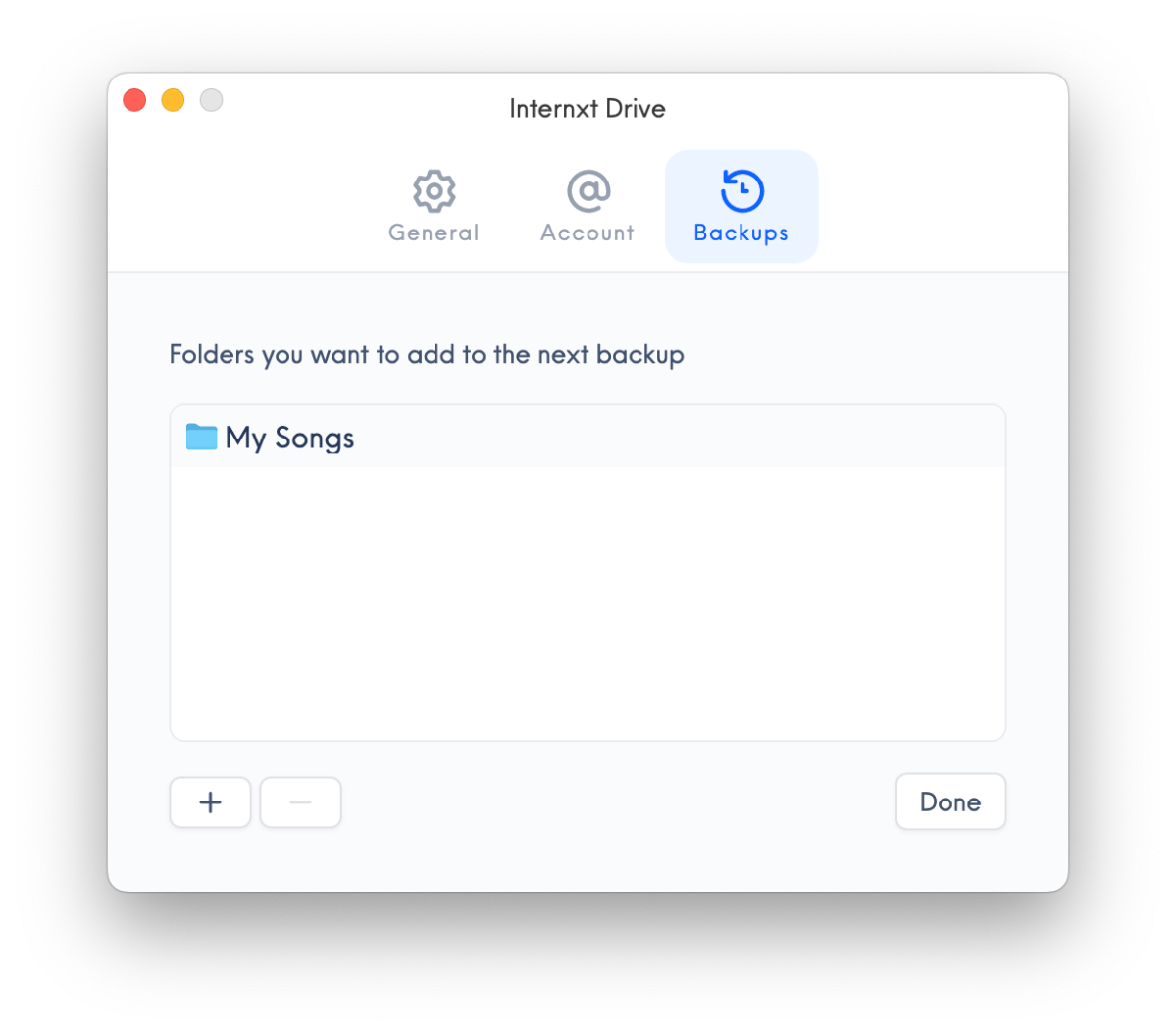 Photo backup simply backs up the photos on your phone as do Google Drive and iCloud (when enabled). These are not synced, but as with backups, simply copied to the photos folder.
There's also a separate section where shared files are kept—i.e., files shared with others, not among the Internxt sections. The separation reduces user confusion, even if it might waste a bit of space due to duplication.
How does Internxt Drive perform?
Sync was generally fine performance-wise, though I didn't go much beyond 1GB of files. One issue I did notice was when I deleted the files online, they repopulated online from the local folders rather than being deleted from local folders. I had expected the changes to be logged and reflected on other devices. I can understand this, but it's not complete two-way sync.
While both my 50GB and 400GB backups eventually completed, it wasn't without travail. Both quit intermittently due to connection errors. A couple were caused by my failure to turn off Windows sleep, but others were listed as "can't contact server" errors with a live connection. The backups resumed automatically, but it was a bit puzzling.
Another mild issue is the "An unknown error has occurred" message seen in the screen capture below. This could give one the impression that the backup isn't transpiring, when it actually is. Far less disturbing would be something like "Click here to see the error log".
Speaking of logs, Internxt keeps them and provides a link, but they contain every operation. There should be a separate log for errors so you don't have to search through 10MB of text to find them.
One thing Internxt should also implement is bandwidth throttling. Backups came too close to maxing out the upstream traffic for my taste, slowing or creating issues for other tasks on occasion. The backup function could also use better feedback. Knowing I'm 8 percent through a backup of unstated size (see above) is relatively useless. To be fair, Internxt is not alone in this.
One thing I did like was being warned about zero-byte files. It turns out my DAW (Ableton Live) creates lots of these. Or, they were damaged in copying—I don't know which.
Success is always the bottom line, so good on ya', Internxt. But please make the process a bit less paranoia-inducing for those who've seen too many backups fail.
Is Internxt Drive worth it?
I find Internxt exceptionally easy to understand and use simply because it segregates tasks the way our minds do. The fact that the lifetime plans are currently a flat-out steal for the user doesn't hurt my opinion either.
The hand-holding could be better, as well as the feedback during jobs, but geez Louise, Internxt can save you a ton of money.
Best Prices Today: Internxt Drive online backup