Thunderbolt displays may be the future of PC I/O expansion for one very simple reason: They could save you money as well as space.
The very nice people at BenQ sent over the PD3220U display months ago (apologies, BenQ PR) and it sat next to my workspace while I added to our ongoing list of the best Thunderbolt docks. As anyone who owns a Thunderbolt dock understands, they add valuable port expansion slots to your laptop, but with two critical downsides: more snaking cords, and the dock itself takes up desk space.
So what does this have to do with a Thunderbolt display? It's our belief that a well-designed Thunderbolt display like the PD3220U eliminates the need for a discrete Thunderbolt dock! Honestly, it's debatable whether this will save you that much money—on one hand, the dock logic is built into the display, meaning you're paying for it. On the other hand, you're buying a single device, eliminating cost overhead and saving valuable space on your desk, too.
BenQ's PD3220U is a 4K, 60Hz Thunderbolt 3 dock, designed for content creators, and covering almost 100 percent of the DCI-P3 and RGB color gamuts. BenQ sent us the 31.5-inch TFT model for our impressions. The port selection is fairly solid: a pair of HDMI 2.0 inputs, one DisplayPort 1.4 input, one 10Mb/s USB-C port, and three 10Mb/s USB-A ports, too, plus a headphone jack. BenQ even throws in a small Microsoft Dial-like hockey-puck controller that can be used to adjust color, sound, and inputs, and takes its own USB-B (yes, Type B) input.
Diplay, Meet thunderbolt dock
BenQ PD3220U 32″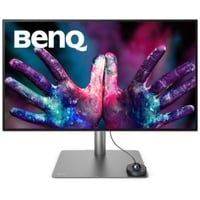 Price When Reviewed:
$1,099.99
What makes this monitor special, though, is its pair of Thunderbolt 3 ports. I set my review docks to the side and simply plugged in my laptop from the display's included Thunderbolt 3 dock—and just like that, I was up and running on the PD3220U and a second 4K display.
But wait—there is one major shortcoming that the BenQ PD3220U (and, we imagine, most other Thunderbolt displays) offers. With a Thunderbolt dock, all of the ports are readily accessible. With the PD3220U, all of the ports are aesthetically hidden behind the display. Even with a full 60 degrees of swivel adjustment (or rotating the display 90 degrees, which is recommended), it's just not that simple to connect a mouse, USB key, SSD, or other peripheral, and repeatedly manhandling the 23.6-pound PD3220U to do so, adds to your monitor's wear and tear.
While the display does have a side-mounted I/O pod (one USB-C port, one USB-A port, and the headphone jack), it's also somewhat awkward. Display makers may have to rethink favoring aesthetics over ease of use.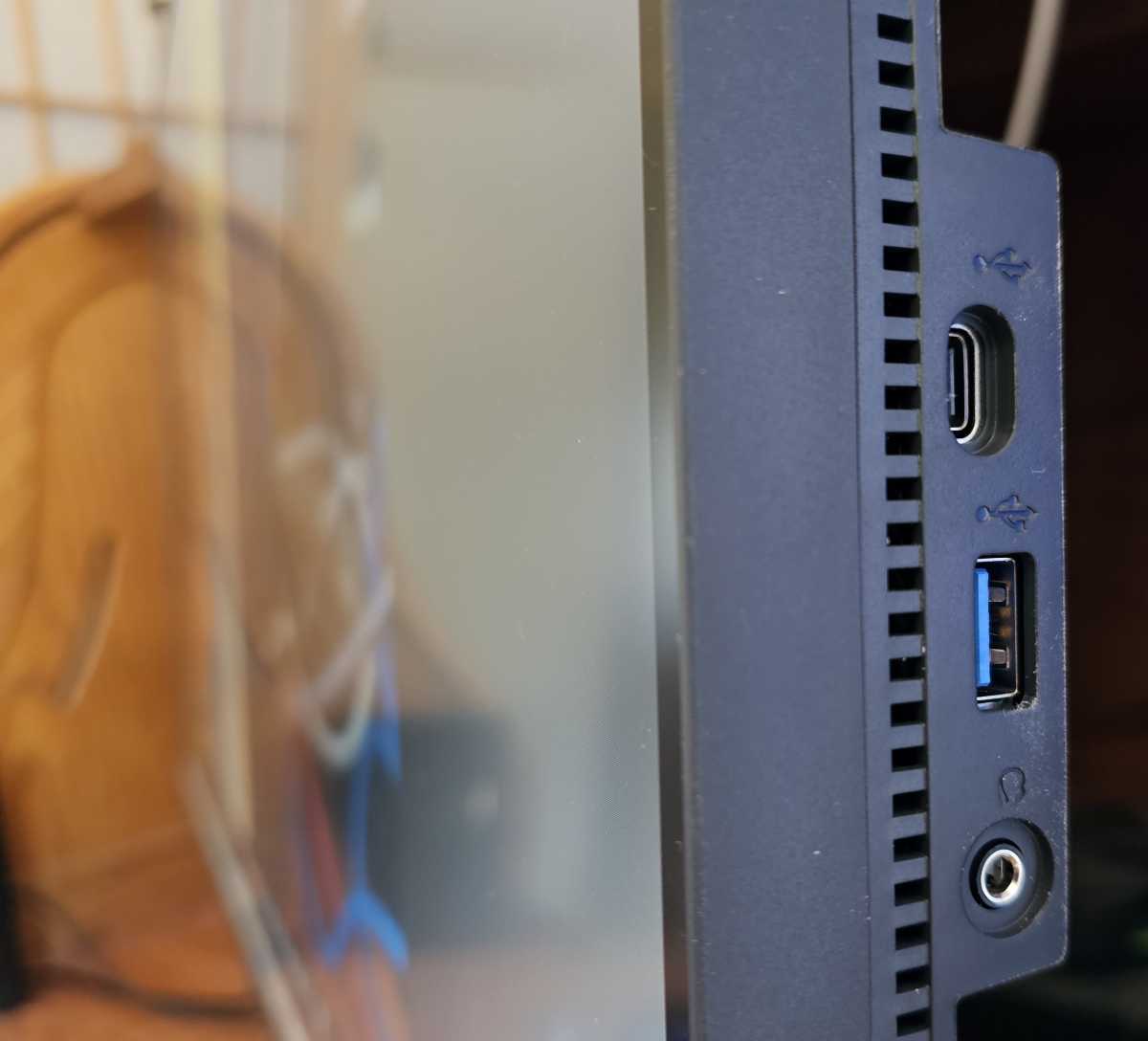 Mark Hachman / IDG
On the other hand, the PD3220U supplies 85W of charging power, and the second Thunderbolt port allows you to daisy-chain displays. While this is an appeal to a Mac audience, Windows users shouldn't despair: just buy a Thunderbolt-to-DisplayPort cable if your second display supports Thunderbolt. Connect that cable from the second Thunderbolt output from the BenQ PD3220U to the other display, and you've solved that problem.
Daisy-Chain Displays with this cable
Warrky USB-C to DisplayPort cable (6 feet)
Price When Reviewed:
14.99
I'm left thinking several things: first, I'm an idiot for not testing this sooner. Second, the heck with aesthetics. I can still remember when display makers slipped the ports underneath the front of the display, rather than hiding them at the back. I've always been a fan of function over form, and I'd much rather see a cable than have to wrestle a big awkward display around just to connect a USB key. Also, imagine fumbling around by feel in order to plug in your USB-A mouse.
As much as I might presently favor the flexibility of Thunderbolt docks and our related list of the best USB-C hubs and dongles, I can't help but think that this approach might eventually be the way forward. If manufacturers can get the cost down (and somehow convince consumers that they're actually saving money by buying a more expensive monitor), a central docking station, done right, makes a lot of sense. Desktops are chock-full of I/O options, and svelte, elegant laptops always feel a little cheated in that regard.
A quick test of the BenQ PD3220U
The BenQ PD3220U put out just 180 nits at maximum brightness, which differed fairly significantly from other reviews. It's possible I misconfigured a setting. Otherwise, this is a display designed for dimly lit rooms.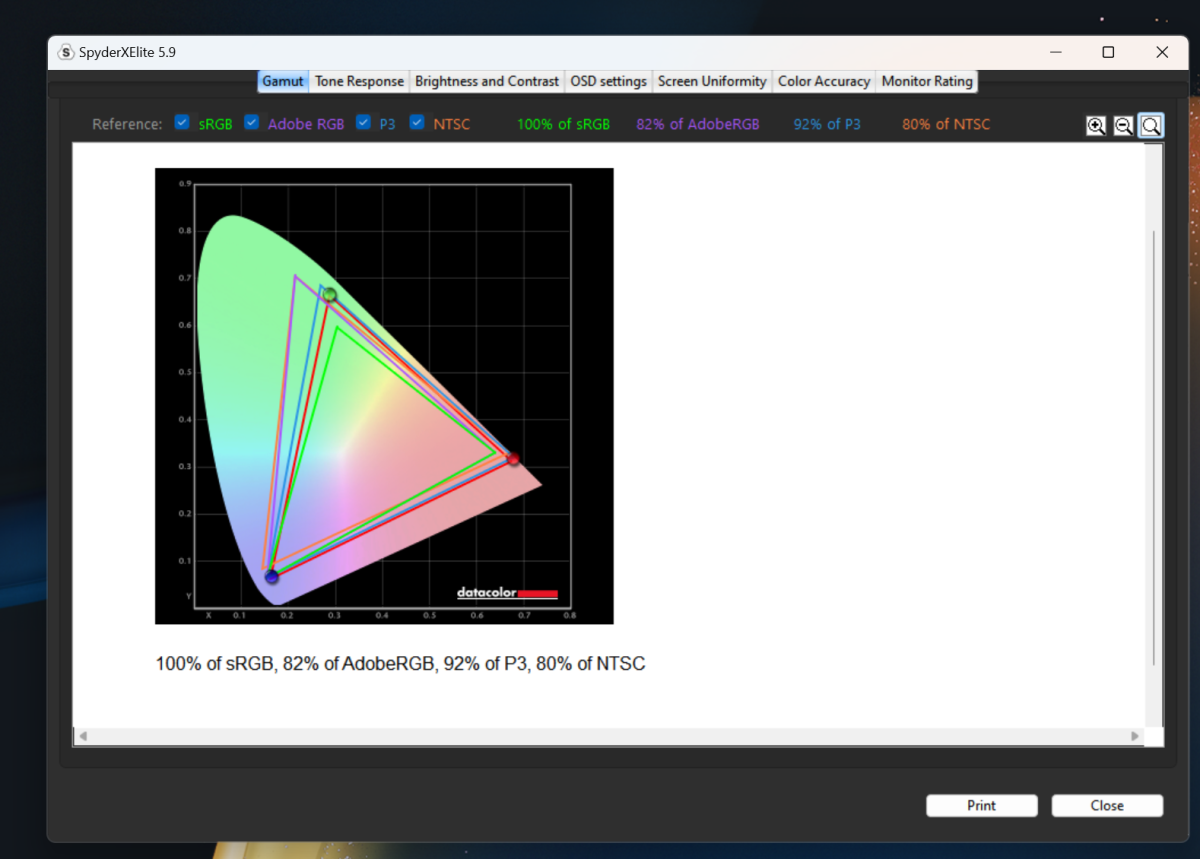 Mark Hachman / IDG
I didn't extensively test the Color Profile Switch or BenQ's Display Pilot software, both of which are designed to load preconfigured color profiles onto your laptop for color matching and configuration purposes. The HotKey Puck reminds me of the Surface Dial, just wired. The PD3220U also ships with KVM functionality built in, allowing you to easily switch between a home and work PC.
BenQ PD3220U: Final thoughts
There's really only one other thing I don't like about the BenQ PD3220U, and that's not BenQ's fault. Thunderbolt 3 hardware can sometimes suffer from a bug where the Thunderbolt connection doesn't immediately re-establish itself after a laptop wakes from hibernation, and prematurely removing the Thunderbolt cable can lock up the laptop. I also encountered a glitch where my cabled USB mouse (plugged into the display) stopped working.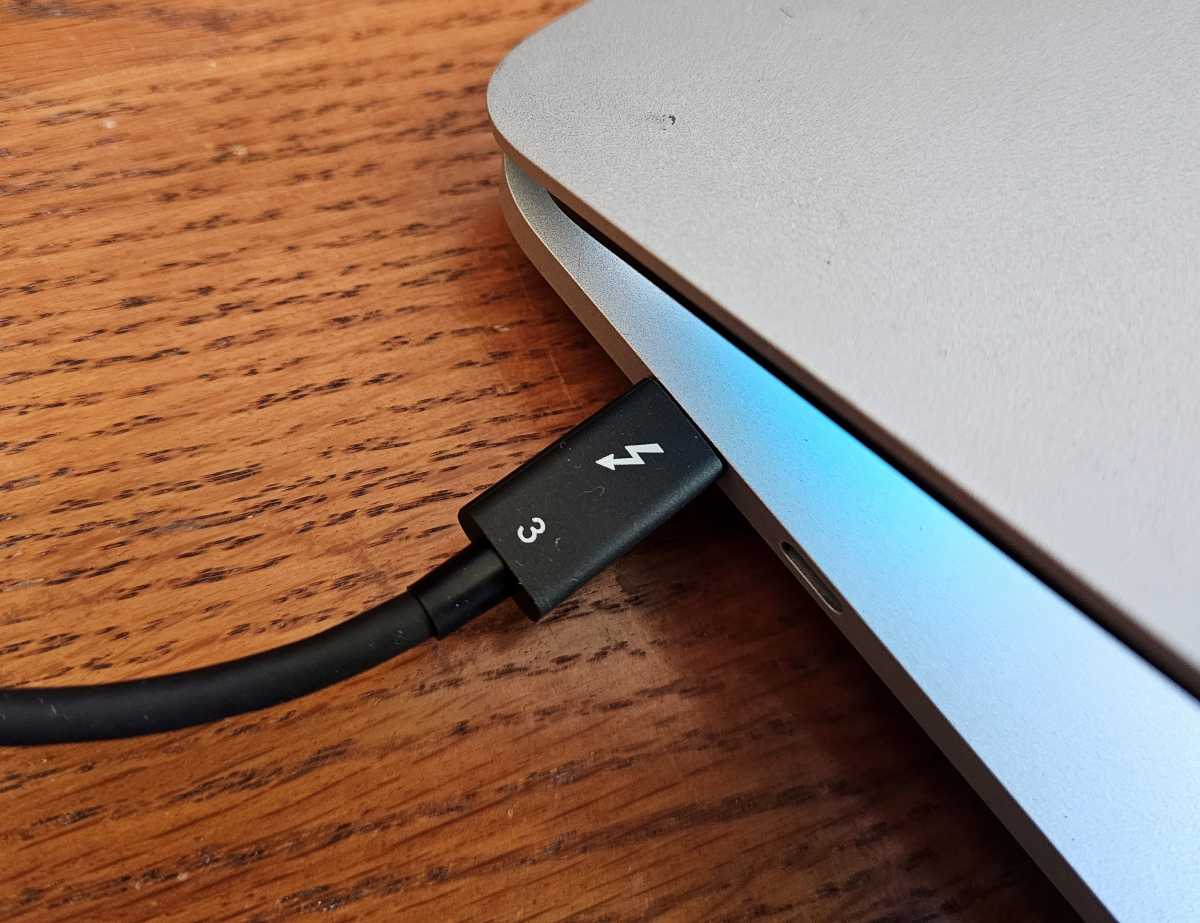 Mark Hachman / IDG
A system lockup can be a major annoyance; but my other testing has shown me that this glitch occasionally occurs with Thunderbolt 3 docks and at least one of my test laptops. (The newer, improved Thunderbolt 4 specification and hardware can solve this problem, though the PD3220U doesn't use it.) Auto-saving one's work and a speedy SSD can make a reboot in this event less of a hassle.
Ignore, for now, the PD320U's price, at over $1,000. The display is still being marketed at professionals. Just remember, as you read reviews of the best monitors, that the addition of Thunderbolt capabilities isn't just an item that the manufacturer checked off in the specs. Thunderbolt capabilities in a display are a really big deal, and will become increasingly valuable going forward.