At a glance
Expert's Rating
Pros
Wicked fast 240Hz QHD OLED display
Sleek aluminum chassis
Firm, responsive backlit keyboard
IR Windows Hello webcam
Cons
Poor video rendering performance
Matte black case fingerprints badly
Screen picks up glare easily
Our Verdict
The Blade 15's absolutely stunning fast OLED display is next-level gorgeous, but the overall system performance is lacking relative to others at the price. Buy this is you're obsessed with Apple-style design and want the best laptop display you can get right now.
Price When Reviewed
$3,299
Best Prices Today: Razer Blade 15 OLED
Performance-minded gamers looking for sleek, understated design with a beautiful screen will find a worthy specimen in the Razer Blade 15 OLED. This smartly appointed machine boasts a 12th-Gen Intel i9 CPU and Nvidia RTX 3070 Ti GPU, generating impressive views on demanding gaming titles while looking clean and simple enough to carry to the office any day of the week.
While lovers of bombastic design aesthetics with aggressively styled air vents and sweeping angles may find the simplicity of the Blade 15 a bit mild for their taste, this laptop sports a beautifully flush RGB keyboard and ample ports for those focused on functionality over a flashy case. At $3,299, this is no entry-level machine, and it's bound to appeal more to mature gamers who prefer to distinguish themselves through their in-game action than their laptop's looks.
For more options, check out our roundup of the best gaming laptops available right now.
Razer Blade 15 OLED: Specs and features
The machine we tested came configured with high-end, but not extreme, components:
CPU: Intel Core 9i-12900H
GPU: Nvidia RTX 3070 Ti with 8GB VRAM
Memory: 16GB DDR5
Storage: 1TB PCIe SSD
Webcam: 1080p IR Hello camera with IR facial recognition
Display: 15.6-inch 2560 x 1440 QHD 240Hz OLED
Connectivity: 1 x Thunderbolt 4 (USB-C), 2 x USB-C 3.2 (15W), 3 x USB-A 3.2 Gen 2, 3.5mm combo audio jack
Networking: Killer Wireless Wi-Fi 6E AX1690 (IEEE 802.11a/b/g/n/ac/ax/az), Bluetooth 5.2
Battery capacity: 80 Watt-hour
Dimensions: 0.67 inches x 9.25 inches x 13.98 inches
Weight: 4.4 pounds
Price: $3,299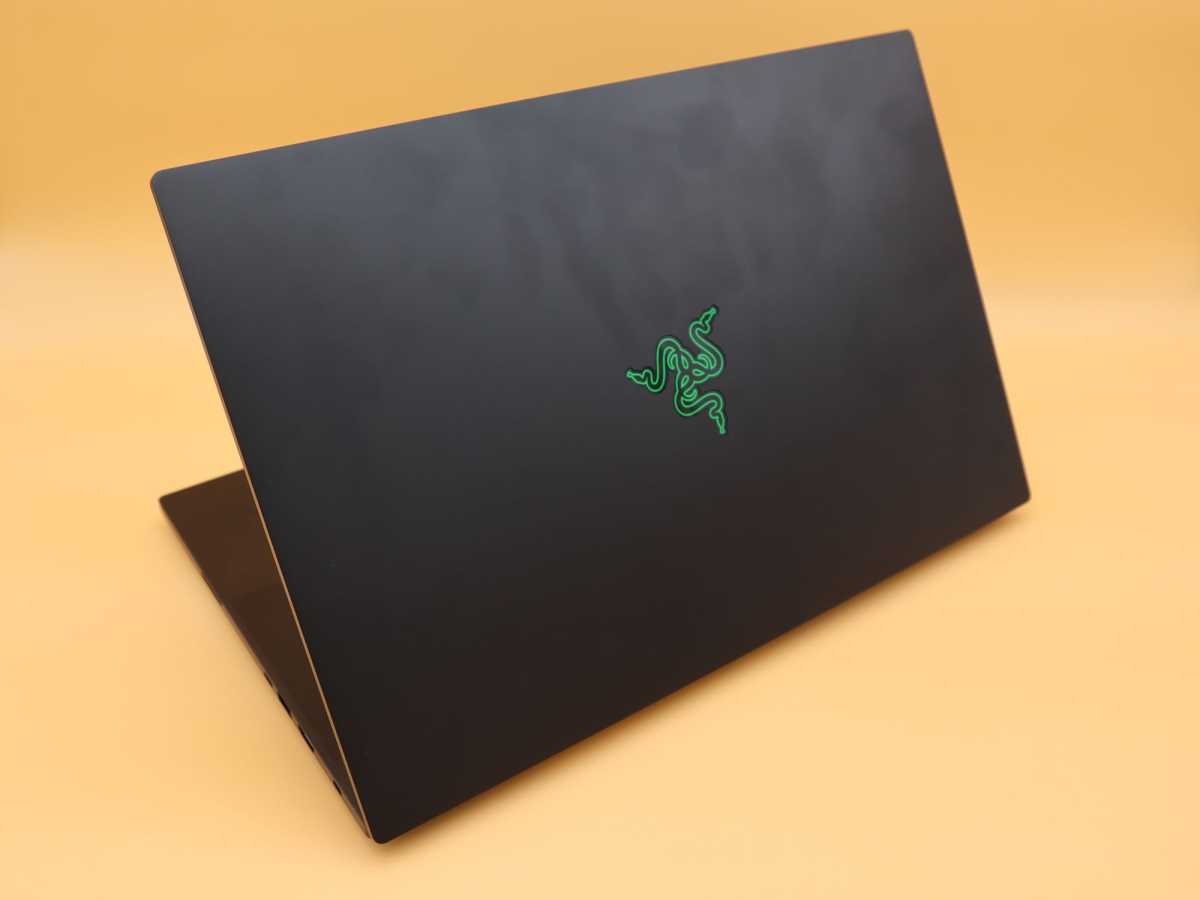 Foundry / Robert Strohmeyer
Razer Blade 15 OLED: Design and build quality
Built for image-conscious gamers and content creators, the Razer Blade 15 OLED is a solidly built machine that delivers a substantial feel under the hands while showing nicely on your desk. Its matte-black T6 anodized aluminum case is beautiful when clean, but the black picks up smudges easily, even from clean hands, so keeping it looking new requires regular wipe-downs. The Venn diagram of people who will spend three grand on this machine and people who will be infuriated by how easily its surface picks up fingerprints has a great deal of overlap.
Razer's design aesthetic yields square corners and straight lines, letting the machine's actual performance speak to its gaming cred, rather than pretending at performance through overwrought, swoopy design gimmicks. Apple comparisons abound with the Razer Blade, and for good reason. In design and price, this machine is obviously built to appeal to the MacBook Pro crowd, and won't win over anyone looking for top performance at a bargain price.
The Blade 15 OLED is heavier than it looks, and every time I picked it up I was somehow surprised by its heft. This is largely an optical illusion at play, as this machine looks so similar in construction to an aluminum Apple laptop, I found myself unconsciously expecting it to weigh about as much as my 16-inch Macbook Pro, though in reality it's almost a full pound heavier. Compared with similarly equipped laptops in the 16-inch range, however, 4.4 pounds is a modest weight. If anything, gamers will find this machine and its accompanying power brick fairly svelte relative to other machines in the field.
Foundry / Robert Strohmeyer
Razer Blade 15 OLED: Display
The centerpiece of the Blade 15 OLED's design is its 240Hz 15.6-inch QHD OLED display, which delivers absolutely beautiful graphics at 2560×1440 resolution, making it the single most gorgeous laptop display. That crazy fast refresh rate makes for smooth, rich visuals on high-end games, with simply the best-looking HDR contrasts I've seen on any laptop, ever. Blacks are deep and dark. Transitions are smooth and clean.
It's nice and bright at roughly 400 nits, rivaling high-end desktop monitors for overall quality. The glossy surface, however, produced annoying glare when I tested it near windows or under bright lights.
Powering that outlandishly superior display, on our test unit, is a comparatively decent Nvidia RTX 3070 Ti GPU. Its gaming graphics performance is very good, but not unbelievable, which feels a little disappointing. At nearly $2,900 MSRP, it's hard not to want to take the GPU up a notch to match the capabilities of the display.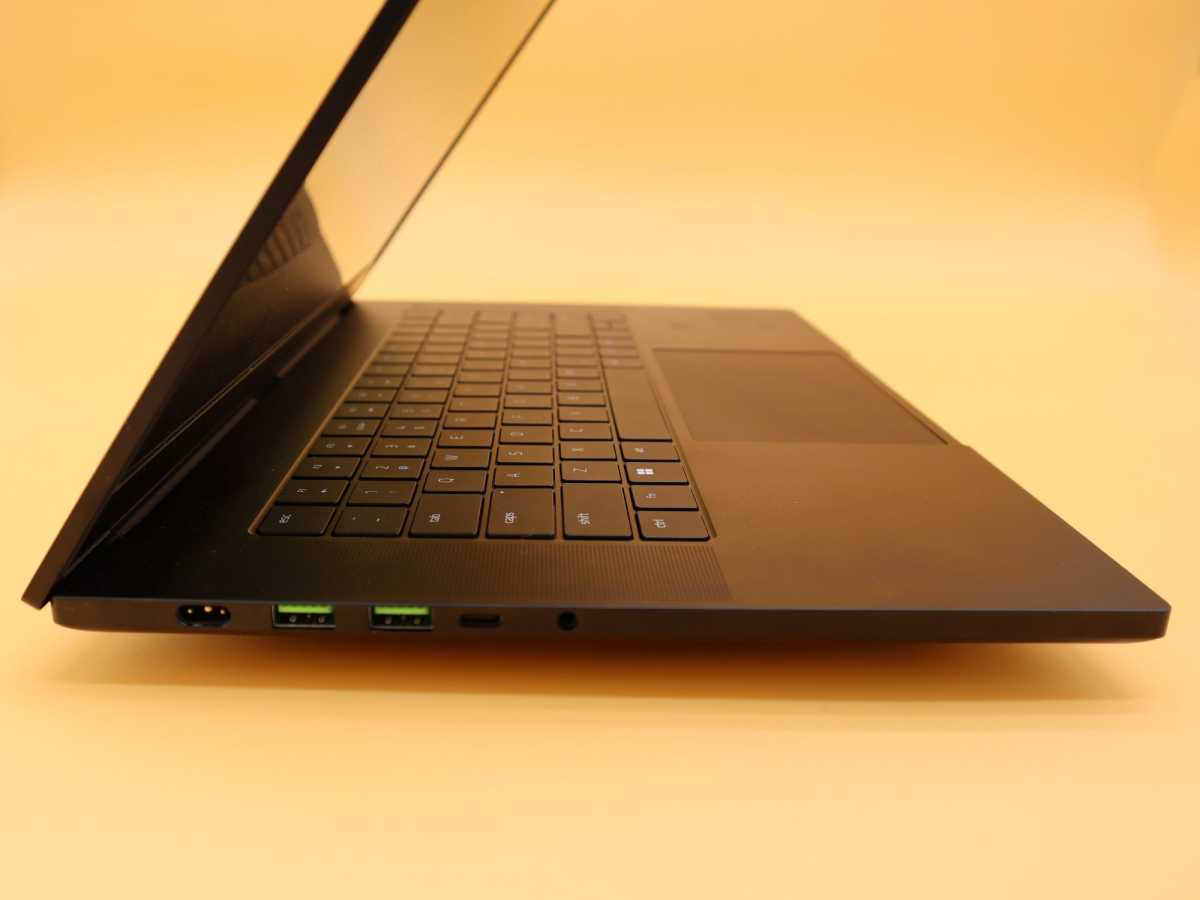 Foundry / Robert Strohmeyer
Razer Blade 15 OLED: Inputs and outputs
In line with the robust feel of the aluminum chassis, the Blade 15's RGB-backlit keyboard and trackpad feel substantial and solid under the fingers. Keyboard flex is minimal, even in heavy typing, and the precision glass trackpad feels firm to the touch, with a decisive clicking action, and highly responsive to Windows touch gestures.
On the left side of the machine you have power input, a USB-C port, two USB-A 3.2 ports, and a headphone jack. On the right you have an SD card slot, USB-C, another USB-A, HDMI, and a security lock port. The underside sports two fans with adequate air flow to blow out the heat this bad boy builds up.
The choice of both HDMI and Thunderbolt 4 (via USB-C) means plenty of options for driving high-end external displays.
Signing in is simple and secure with the 1080p Windows Hello-enabled IR webcam, and the camera produces rich HD video for all your Zooms and streams.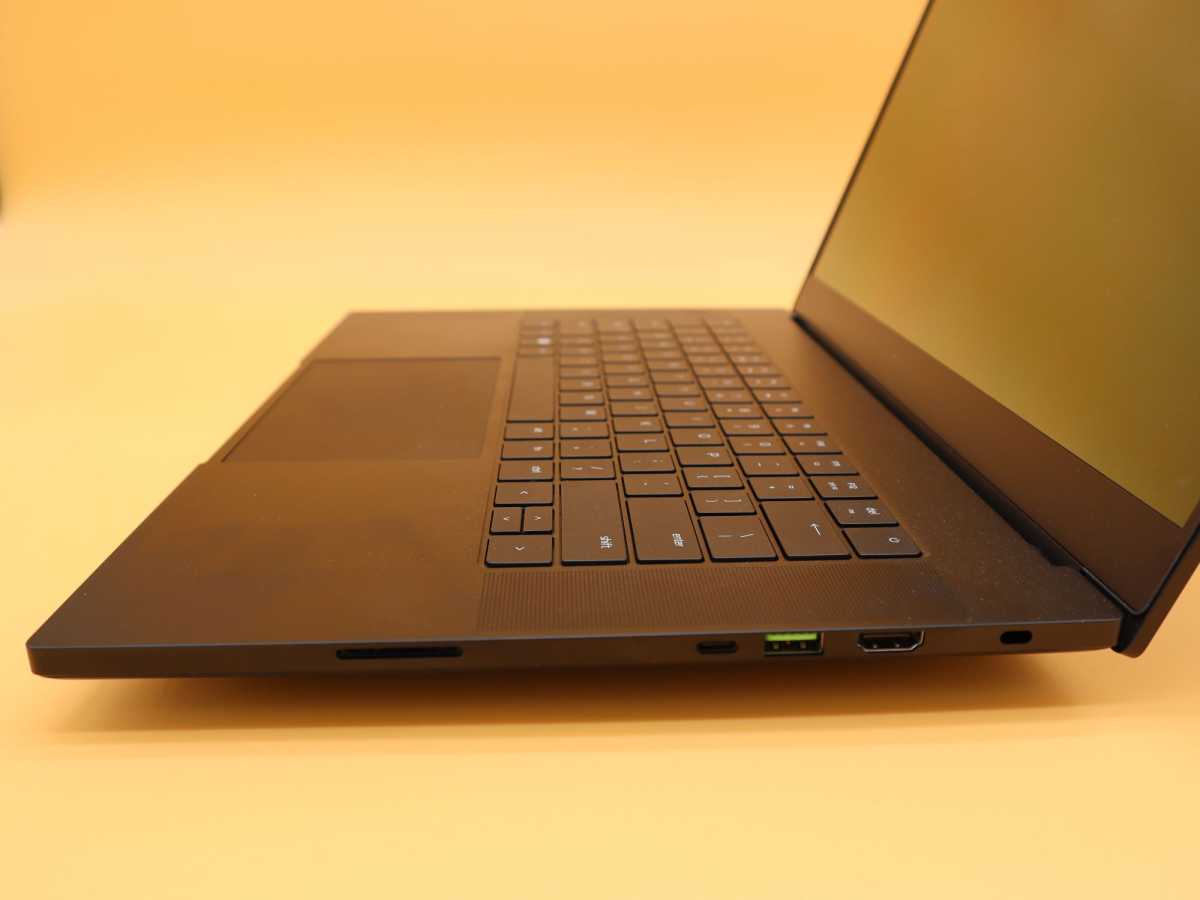 Foundry / Robert Strohmeyer
Razer Blade 15 OLED: Performance
While its super-fast OLED display is truly astounding to behold, the overall performance of the Blade 15 OLED is surprisingly middling relative to other machines in its class. It performed well in gaming and productivity tests, but fell short on video rendering tests.
In Rise of the Tomb Raider, the Blade 15 OLED came in second with a score of 146.5 frames-per-second, behind the MSI GE76 Raider's killer score of 180 fps. That performance difference is pretty acceptable, given how much richer the darks and contrasts look, and how smooth the transitions are, on the Blade's high-refresh display.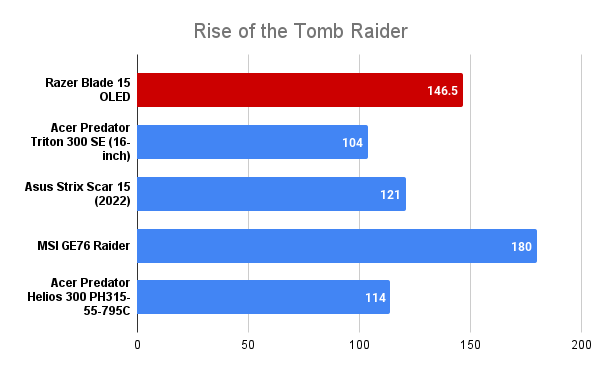 Foundry / Robert Strohmeyer
On our Metro Exodus average frame rate test, the Blade 15 came in center of the pack with an average frame rate of 51.5. These numbers are solid, but not great, and highlight how settling for a second-tier GPU on such an otherwise high-end machine leads to disappointing results.
Foundry / Robert Strohmeyer
Razer Blade 15 OLED: Productivity performance
On PCMark 10, the Blade 15 again fell short of the MSI GE76 Raider, but just barely beat the other machines in the pack. With an overall score of 7,100, the Blade demonstrates very strong, but by no means best-in-class, productivity performance. Still, it's more than anyone needs for day to day business apps and video conferencing. Frankly, if I was looking at a laptop that could pull double duty at the office and the LAN party, I don't care much about sacrificing some productivity-app performance along the way.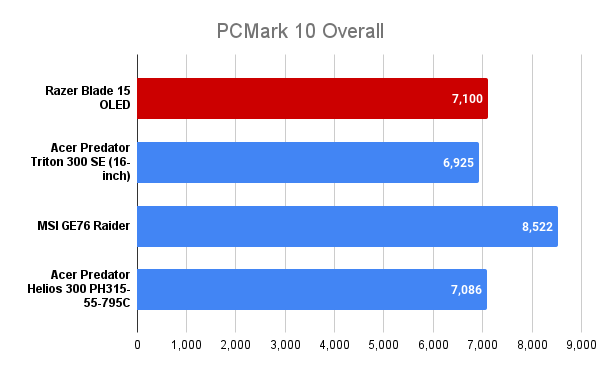 Foundry / Robert Strohmeyer
Razer Blade 15 OLED: Video performance
While the Blade 15 is generally strong on gaming and productivity performance, it really fell short across all our video performance tests. In our Handbrake 0.9.9 test, rendering a 30GB 1080p MKV file to MP4 to see how it can cool down before it needs to throttle performance, this Razer came in dead last, taking almost twice as long as every other laptop in the field to render the file. We were so surprised we went back to Razer to verify the results, and their technicians reported that this is normal.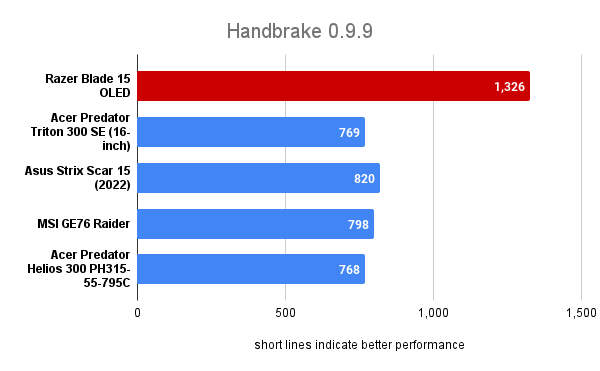 Foundry / Robert Strohmeyer
In our Cinebench R20 multi-threaded test, which tests the performance of all the cores on the CPU working together, the Blade 15 came in last dead last with a score of 4,419 where the rest of the field scored above 6,000.
Foundry / Robert Strohmeyer
The Blade 15 OLED fared only slightly better on the single-thread Cinebench test, just barely edging out the Acer Predator Helios 300 with a score of 638 to the Acer's 609. Other machines in the lineup scored above 650, and the MSI GE76 Raider again topped the field with a score of 735.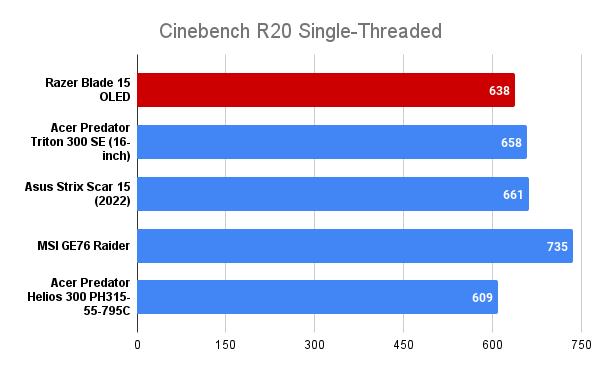 Foundry / Robert Strohmeyer
Razer Blade 15 OLED: Battery life
Unlike its larger counterpart, the Razer Blade 17, the Blade 15 OLED performed well in our battery test. Playing a 4K movie on repeat until the battery runs out and the machine shuts down, the Blade 15 OLED gave us five hours and 48 minutes of life, which is about average for similar machines we've tested.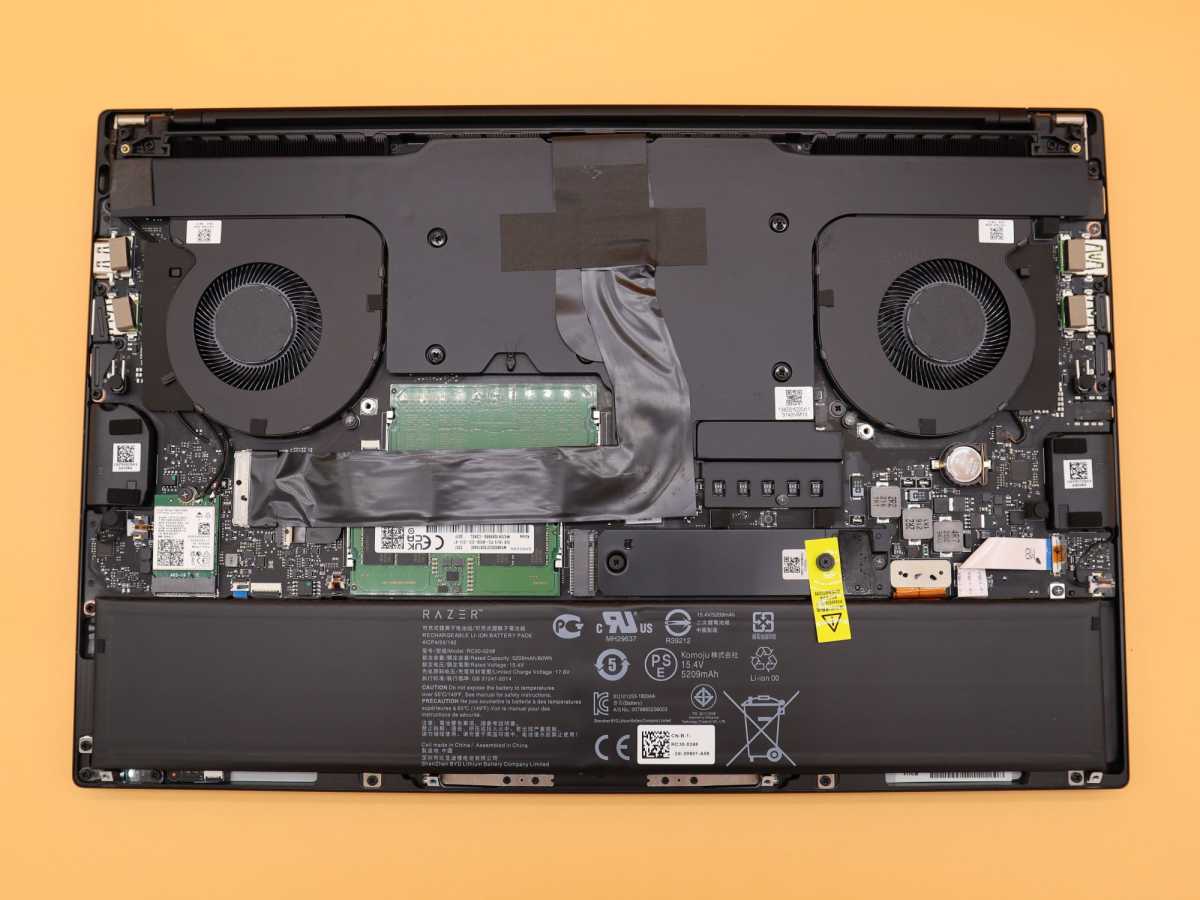 Foundry / Robert Strohmeyer
Razer Blade 15 OLED: Bottom line
At nearly three thousand bucks, the Blade 15 OLED sets high expectations, and at least where its killer display is concerned, it's worth the investment if you really want luxury design and the best display on any 15-inch laptop today. But the market moves fast and this Razer won't be the only system with this screen for long. If you're a sucker for understated design and a beautiful screen at any cost, and you can't wait for the next wave of gaming laptops to come out with similar display tech, this Blade 15 is a very worthy machine. If you want top performance, on the other hand, look elsewhere.