At a glance
Expert's Rating
Pros
Manages login credentials
Hides email addresses and credit card numbers
Blocks trackers
Cons
Requires paid subscription to unlock advanced features
Some features still in beta
Our Verdict
IronVest's privacy service is a great option for shopping more securely in an increasingly risky online environment.
Price When Reviewed
Essentail: Free I Plus:$5.95/mo I Ultimate: $14.95
Best Prices Today: IronVest
A simple scroll through your social media feed will reveal how willingly people give away intimate information. Oversharing can result in more than cringe-inducing posts—it can have significant security implications when enterprising advertisers, scammers, and cybercriminals can analyze that information for personal details. But you can curb your impulse to overshare in a social media setting. When you shop at an online retailer, however, you have no choice but to share your credit card number, email, home address, and a raft of other identifying data. Unless you use IronVest, that is.
Further reading: See our roundup of the best password managers to learn about competing products.
What is IronVest?
IronVest is a privacy service that goes beyond password management to provide features such as email and credit-card masking and tracking prevention. A free account lets you manage passwords for all your accounts, autofill identity profiles and credit cards, block trackers, and mask three email addresses. IronVest's Plus plan syncs across devices, and adds masked credit cards, masked phone numbers, and enhanced biometric 2FA protection for $5.95 a month or $39 a year. Note that each masked credit-card use costs an additional $2 to cover transaction-handling costs. The Ultimate plan adds unlimited masked email addresses and gives you the first two masked credit cards fee-free for $14.95 per month or $99 a year. There's a 30-day free trial for the premium plans.
IronVest features
To get started with IronVest, you just need to sign up online and create a master password. This password provides access to your account and protects all your saved login credentials and other personal data, so it should be longer and stronger than what you might typically create for an online service. Once you verify your account with an emailed code, IronVest provides you with a backup passphrase. This is a string of 12 random words you can use to recover all your saved passwords if you forget your master password. IronVest doesn't store your backup passphrase with your other credentials but rather tells you to write it down and store it in a safe place. IronVest also gives you the option at this point to enable facial biometric authentication.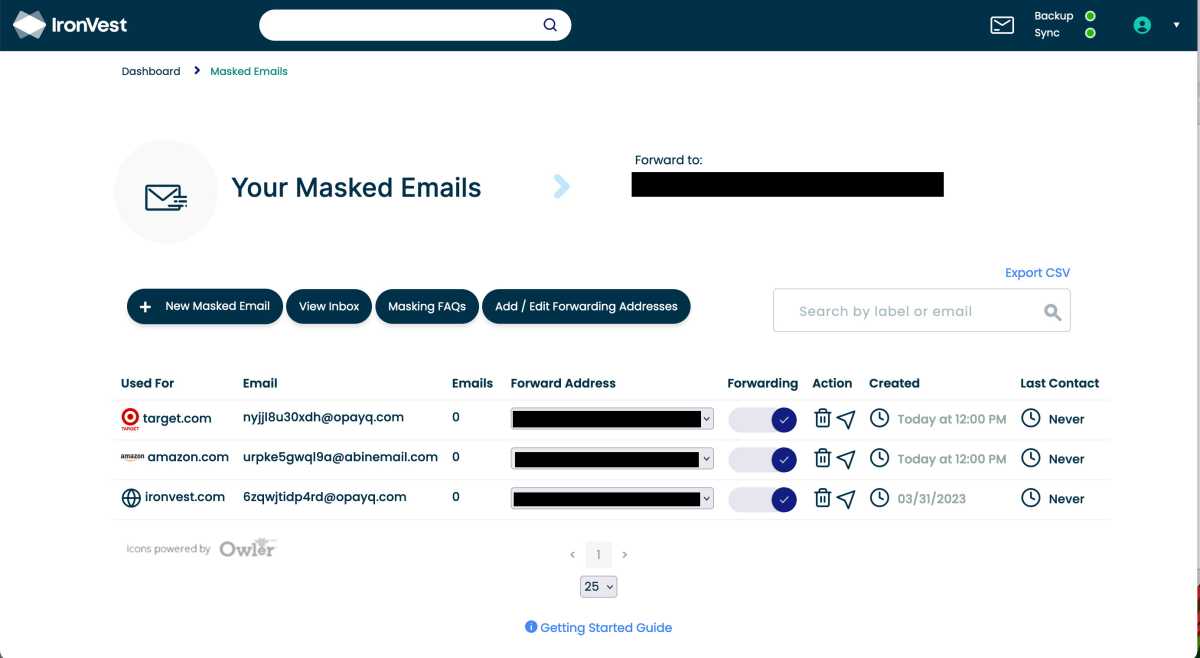 Michael Ansaldo/Foundry
After completing this setup, the IronVest dashboard loads and immediately prompts you to install the IronVest browser extension. Like other popular password managers, the extension puts a small button on your browser's toolbar. Pressing it opens a small panel that allows you to perform various functions on the current website, including creating a new masked account or auto-filling existing masked addresses, credit card numbers, and so on. You can access your full dashboard by clicking the IronVest icon in the upper left of the panel.
The dashboard includes tiles for seven areas: Access Guard, Identity, Privacy, Pay, Tracking Crypto, and Phishing. Each tile includes one or two buttons that provide access to information in that area. Access Guard, for example, is where you manage your login credentials and passcodes, and Identity is where you manage your snail-mail addresses and identity profiles. The layout is fairly intuitive, but IronVest includes a quick start guide on the dashboard that you can use at any time to get some some wizard-style instruction on masking credit cards, protecting passwords, and other features.
Password management in IronVest is similar to other products. You can import login credentials from 1Password, Bitwarden, Dashlane, LastPass, KeePass, Nord Pass, RoboForm, and True Key, as well as from the Chrome, Firefox, Edge, Safari, Opera, and Brave browsers. You can also import from a CSV file from a service not listed here, but you'll have to manually match columns with the proper fields.
Michael Ansaldo/Foundry
Capture and replay work as expected. When you access a secure website for the first time, IronVest captures your credentials and offers to fill them in each time you revisit it. You can view, edit, and delete saved passwords from your dashboard. IronVest also provides audit info for each password entry, highlighting unique passwords with a bright green label and repeated passwords with a yellow label showing how many times it's been used. Each password is also linked to related masked emails or credit cards, which you can access from a small icon next to the entry.
IronVest includes a password generator you can use to create a new password or update an existing one. Password length ranges from 10 to 30 characters, with the default set at 20, using both numbers and special characters. You can disable either of the latter two for sites that don't accept them.
IronVest masking
Protecting your passwords is only one part of securing your online shopping experience. Every time you submit your phone number, email address, or credit card number to a website, there's a risk it will be sold, leaked, or stolen. IronVest mitigates the problem with masking. The feature works similarly for email addresses and credit cards. In either case, you enter your actual information and IronVest creates and submits a masked version so that the vendor never sees your actual email address or credit card number. Your real email address will still receive any messages from the vendor and your real credit card will be billed. IronVest's mobile edition for Android and iOS extends this masking feature to your phone number. In this case, however, it creates a new phone number that forwards calls, texts, and voicemail messages to your real number.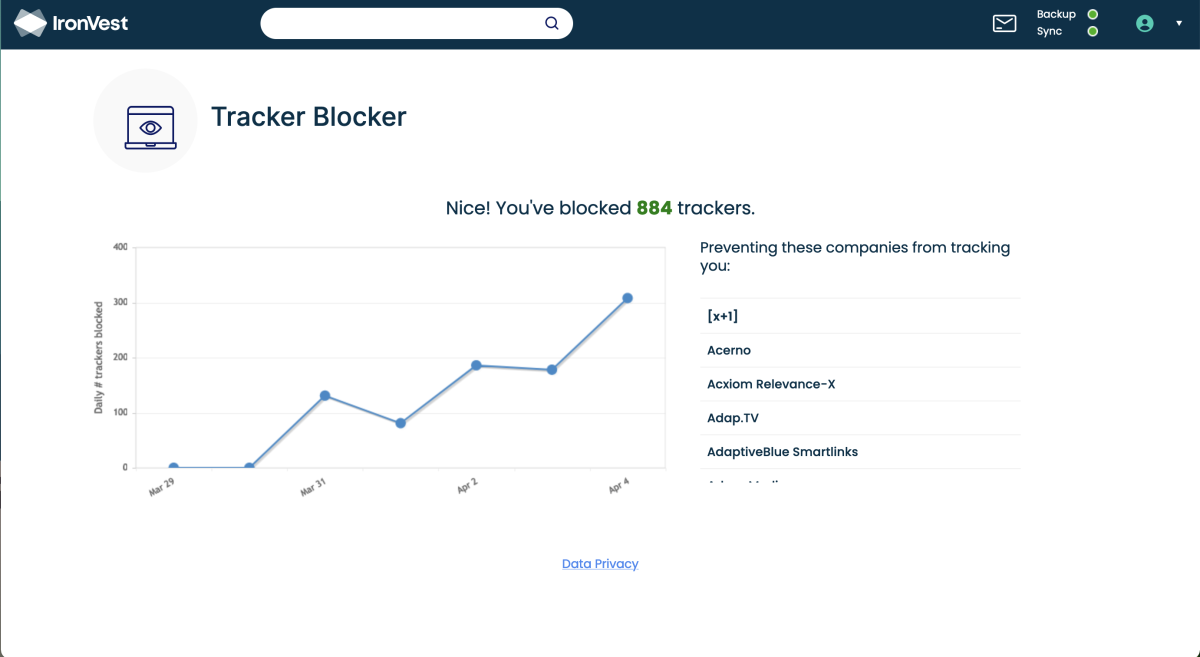 Michael Ansaldo/Foundry
Anti-tracking prevents advertisers, social media sites, and other online entities from shadowing your web surfing. You can see how many trackers IronVest has blocked and who they are from your dashboard, but you get finer control over this feature in the browser extension where you can enable or disable the feature on specific sites.
Is IronVest worth it?
With so much more of our lives moving online in the wake of Covid-19, cybercriminals and scammers have gotten more brazen in their attempts to get ahold of our data. It makes sense, then, to take better care with all your personal information. IronVest offers an intuitive and straightforward way to protect your identity, passwords, credit cards, email addresses, and other sensitive information while ensuring you can still shop and communicate online easily. It's early days for IronVest, and some features were still only available to beta testers at the time of this review, but based on my experience with it, the service is well worth using to secure your online activities. It's free to test it out.
Editor's note: Because online services are often iterative, gaining new features and performance improvements over time, our reviews are subject to change in order to accurately reflect the current state of the services.
Best Prices Today: IronVest