AMD's naming scheme for Ryzen mobile processors used to be a little confusing, with Ryzen X000 indicating design generations and Ryzen 3/5/7/9 indicating tiers of performance within a generation. But that's at least analogous to Intel's setup Core iX-XX00 naming scheme. With the Ryzen 7000 series, things are getting "ridiculously complex" and a bit misleading, as AMD has slipped low-end chips into the Ryzen 7000 family that are running on older Zen 2, Zen 3, and Zen 3+ APU architecture, rather than the newer and much more powerful Zen 4.
We were already aware of some of these naming issues for the new laptop chips. Today AMD has shown off how these differences will look in its livery — which is a fancy way of saying the little AMD stickers on laptops will be different. VideoCardz reports, based on official AMD partner materials, that Ryzen 7000-based laptops with Zen 4 APUs will get a newer sticker with logos on an orange background, while APUs based on older processor generations will be sticking with the same mostly grey Ryzen stickers we've been seeing for the last few years. They'll come in Ryzen 5/7/9 logos, as applicable.
Further reading: The best laptops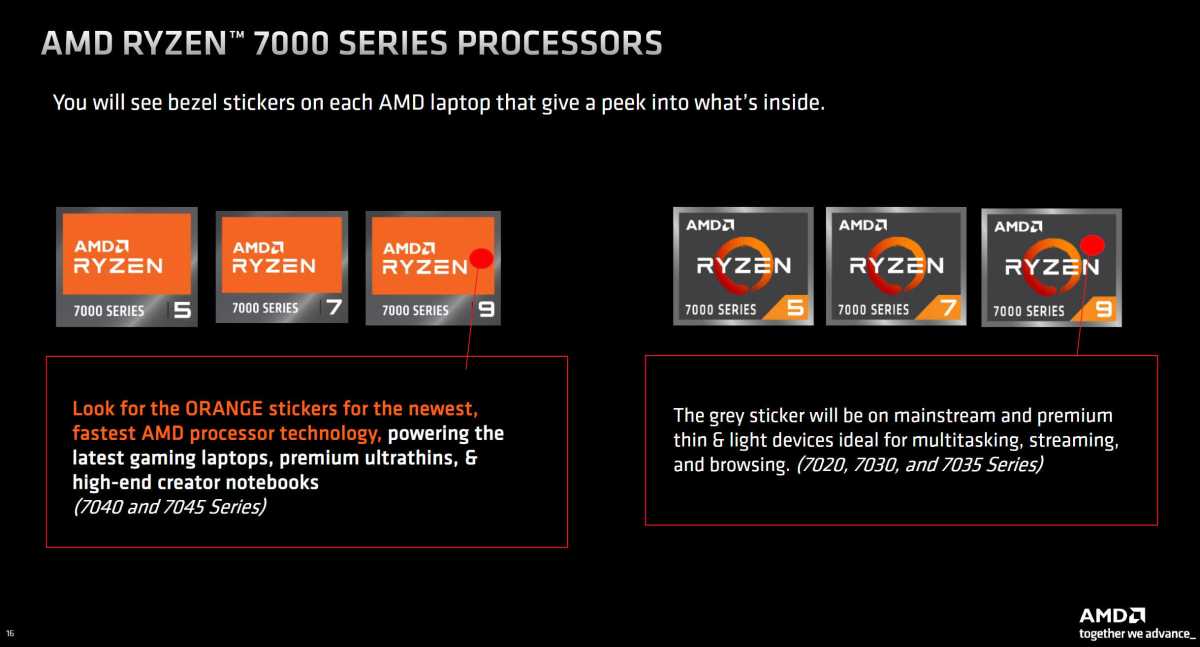 AMD
To make it as straightforward as possible, here's the sort of thing you'll be seeing. Note that the third digit in the model number indicates the Zen generation:
Ryzen 7 7045 — Zen 4, 16 cores, Orange sticker
Ryzen 7 7040 — Zen 4, 8 cores, Orange sticker
Ryzen 7 7035 — Zen 3+, 8 cores, Grey sticker
Ryzen 7 7030 — Zen 3, 8 cores, Grey sticker
Ryzen 7 7020 — Zen 2, 4 cores Grey sticker
…And that doesn't even get into further distinctions between the processor's size and power draw: U for low-end or ultra-portable (15-28 watts), HS for mid-range (35-54 watts), and HX for high-end (55 watts or more). It is, to use a somewhat mild term, a headache.
Considering that the differences above can stretch from brand-new Zen 4 APUs that can run even some of the latest high-end PC games, to Zen 2 APU architecture using graphics tech that's now six years old, it's a crucial distinction who wants power and longevity out of their laptop purchase. We don't know exactly what that performance gap looks like before these laptops hit retail shelves, but it's bound to be fairly significant.