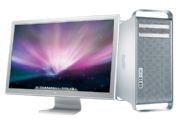 Update: It looks like this was done by a processor update ... but it doesn't explain the BIOS change.
Unless Geekbench is reading results incorrectly, someone is testing a Mac Pro that doesn't exist yet ... outside of Cupertino anyway.
The tester's name is Tutor and he's running a 3.19GHz Mac Pro with 32GB of RAM. The processor used is an Intel Xeon W5580 and the BIOS reads "Apple Inc. MP41.88Z.0081.B04.0903051113".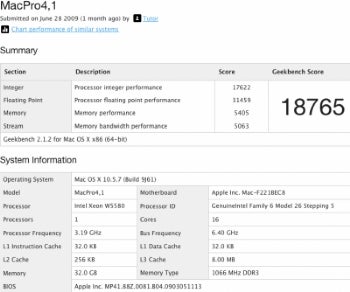 The current Mac Pros top out at 2.93GHz and uses Intel Xeon X5570 on a BIOS marked Apple Inc. MP41.88Z.0081.B03.0902231259.
I had a friend run Geekbench on his top-of-the-line 2.93GHz Mac Pro. He scored significantly below Mr. Tutor, so the machine seems to be legitimately faster than any Mac you can buy, today.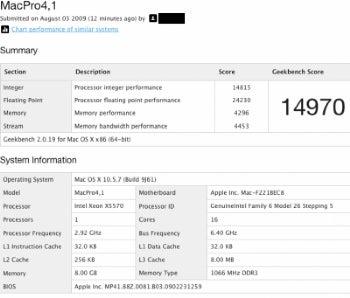 Now, there could be some other reasons for this special test result. Perhaps Mr. Tutor is an overclocker or he pulled the Intel CPU himself and added a newer, quicker one. It doesn't explain the BIOS update however.
Also, Apple could be doing some of their famous silent updates which get announced at a later time. Though, this would be strange as the tests were run over a month ago in June.
Interestingly, Mr. Tutor also has been testing another Macintosh running Windows Vista Ultimate on a CPU that registers as 3.3GHz?
Also, of note, the new Macintosh registered the 4th fastest computer checked with Geekbench behind some 24 nd 32 core behemoths.
This story, "Who's Testing a Mac Pro That Doesn't Exist Yet?" was originally published by Computerworld.