At a glance
Expert's Rating
Pros
Sturdy, functional stand
Provides USB-C with Power Delivery
Useful on-screen menu options
Cons
Uninspired design
Mediocre image quality
Motion clarity won't impress
Our Verdict
The BenQ GW2785TC isn't much to look at but delivers practical features for your home office setup.
Price When Reviewed
$269.99
Best Prices Today: BenQ GW2785TC
There's no shortage of budget 27-inch monitors with 1080p resolution, which makes separating the best from the worst difficult. The differences often come down to very specific, minor features. BenQ's GW2785TC is an example of this in action. It's a mundane 1080p monitor in many respects, but a sturdy ergonomic stand and USB-C port make it a practical choice.
Further reading: See our roundup of the best home office monitors to learn about competing products.
What are the BenQ GW2785TC specs?
The BenQ GW2785TC is an entry-level home and office productivity monitor, and its specifications reflect that. It has an IPS LCD display with 1080p resolution and a refresh rate of 75Hz. There's no adaptive sync, HDR, or fancy backlight technology.
Display size: 27-inch
Native resolution: 1,920 x 1,080
Panel type: IPS LCD
Refresh rate: 75Hz
Adaptive-Sync: None
HDR: No
Ports: 1x HDMI 1.4, 1x DisplayPort 1.2, 1x DisplayPort-out (MST), 1x USB-C with 60 watts Power Delivery and DisplayPort Alternate Mode
Stand adjustment: Height, swivel, tilt, pivot
VESA mount: Yes, 100x100mm
Speakers: 2x two-watt speakers
Price: $269.99
Connectivity does stand out, however, as the monitor provides USB-C with Power Delivery and a rare DisplayPort-out port. These modest but useful extras are key to the monitor's appeal.
BenQ GW2785TC design
The BenQ GW2785TC is among the most least-attractive monitors that I've recently tested. It pairs simple, matte-black front bezel plastics with a similarly basic rear panel adorned with just a subtle BenQ logo.
Matt Smith
What it lacks in flair, it makes up in function. Build quality is great for a budget monitor, with solid plastic panels, no obvious flex, and a good sense of heft. I particularly appreciate the textured matte plastic on the rear panel. It obscures wear and provides some friction, which makes the monitor a tad easier to move and adjust.
Matt Smith
BenQ includes an ergonomic stand that provides height, tilt, and swivel. It can also rotate 90 degrees into portrait orientation, which is helpful if you plan to use the monitor as a second display. The stand has a small, flat base, which minimizes the monitor's footprint on your desk. There's also a built-in handle, which is useful if you need to move the monitor.
While the bundled stand is excellent, a 100x100mm VESA mount is available for adding a third-party monitor stand or arm.
BenQ GW2785TC features and menus
The GW2785TC is built for basic home productivity but offers several features you won't find in less expensive office monitors.
USB-C is the headliner. The monitor has USB-C power with 60 watts of Power Delivery and DIsplayPort Alternate Mode. This allows a single-cable connection with a USB-C compatible laptop or tablet. The USB-C cable will handle video and also charge the device. It's a great feature to have in a budget display. This isn't a USB-C hub monitor, however, as it lacks USB-A ports for connecting a USB-A keyboard, mouse, or hard drive.
You will find a DisplayPort-out port, however, which is extremely unusual for a monitor in this price bracket. DisplayPort-out enables "daisy-chain" video connections. You can connect a video input to the BenQ GW2785TC and then connect a second monitor to the GW2785TC's DIsplayPort-out. It's a handy feature if your laptop or desktop lacks multiple video outputs.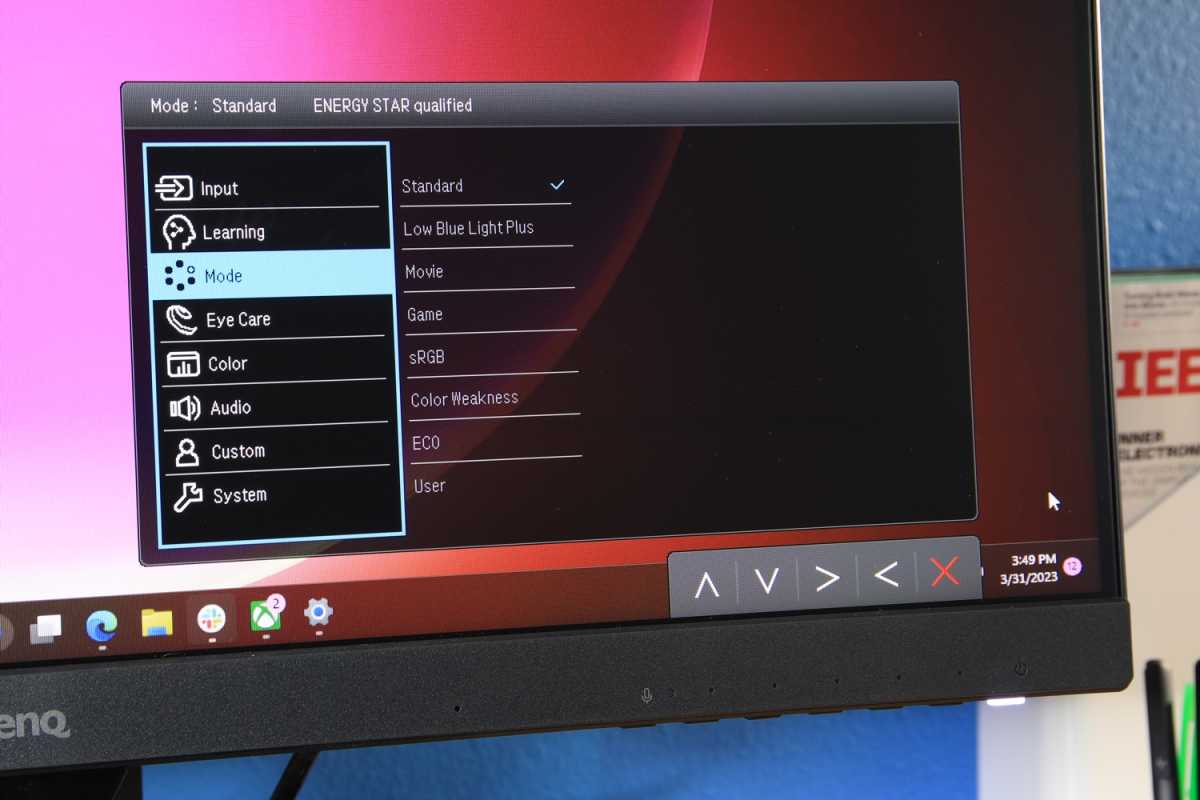 Matt Smith
The monitor's on-screen menu is fast, responsive, and easy to use. BenQ offers a few image-quality features, including multiple color temperature and gamma options, but customization is otherwise limited. However, the monitor does offer a wide range of use modes that might be useful for people who find it difficult to use a monitor for long periods of time. This includes a Color Weakness mode meant to improve image quality for those with color blindness.
Strangely, the monitor also includes a microphone. I'm a bit puzzled as to why this is included: BenQ advertises it as a productivity feature for video conferences, but nearly all webcams have a built-in microphone of equal quality, so it feels a bit pointless. Speakers are bundled as well, and as true of most budget monitors, audio quality is unimpressive. They're fine if you want to listen to a podcast but sound scuffed when listening to music.
BenQ GW2785TC SDR image quality
The GW2785TC is a basic monitor, and BenQ sets basic expectations about image quality. Its marketing makes next to no claims about the display's image quality, instead focusing more on its added features, ergonomics, and design. It's not a shock, then, to see the GW2785TC deliver modest scores in image quality tests.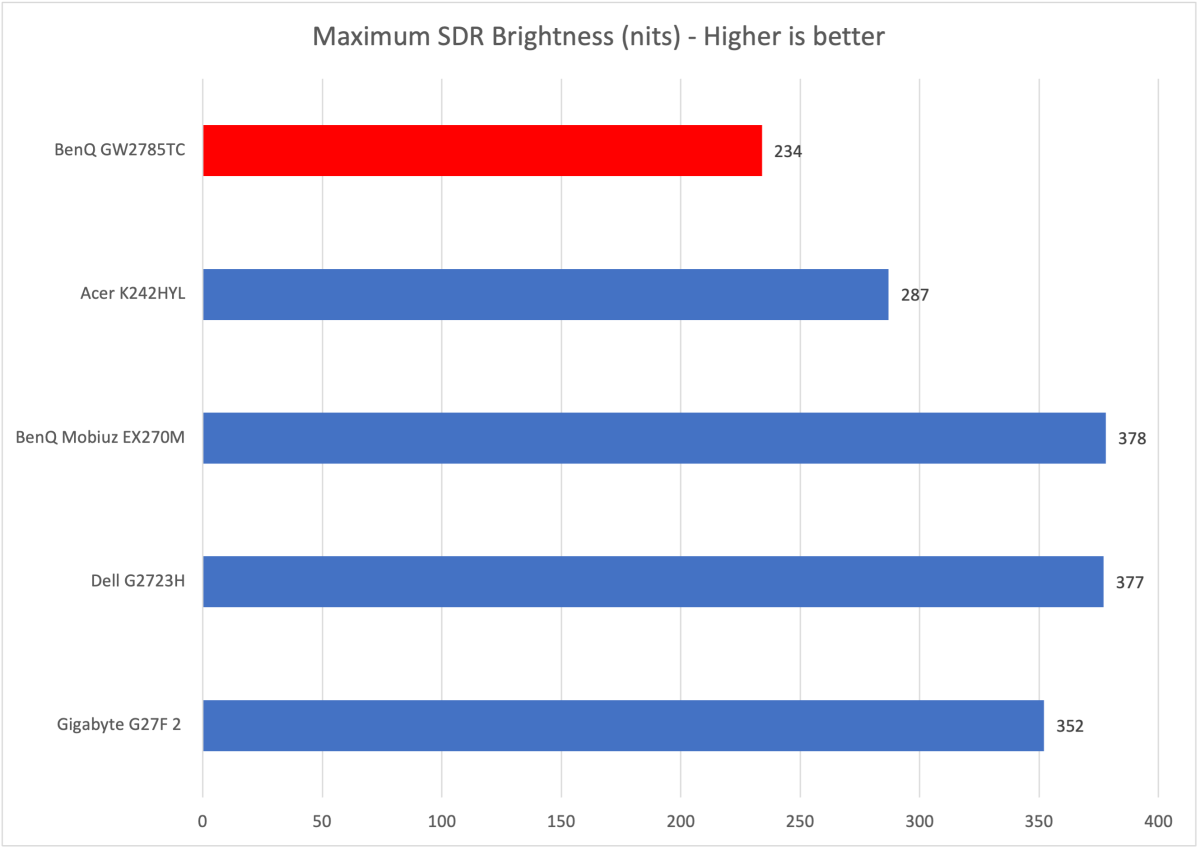 Matt Smith
We start with brightness which, I think, is the monitor's worst result. BenQ claims a maximum of 250 nits, but I saw only 234 nits sustained. That's not much even for an inexpensive monitor, and the monitor will not appear bright or vivid if used in a bright room. In short, it's best to use the monitor in a room where you can close the shades and turn down the lights.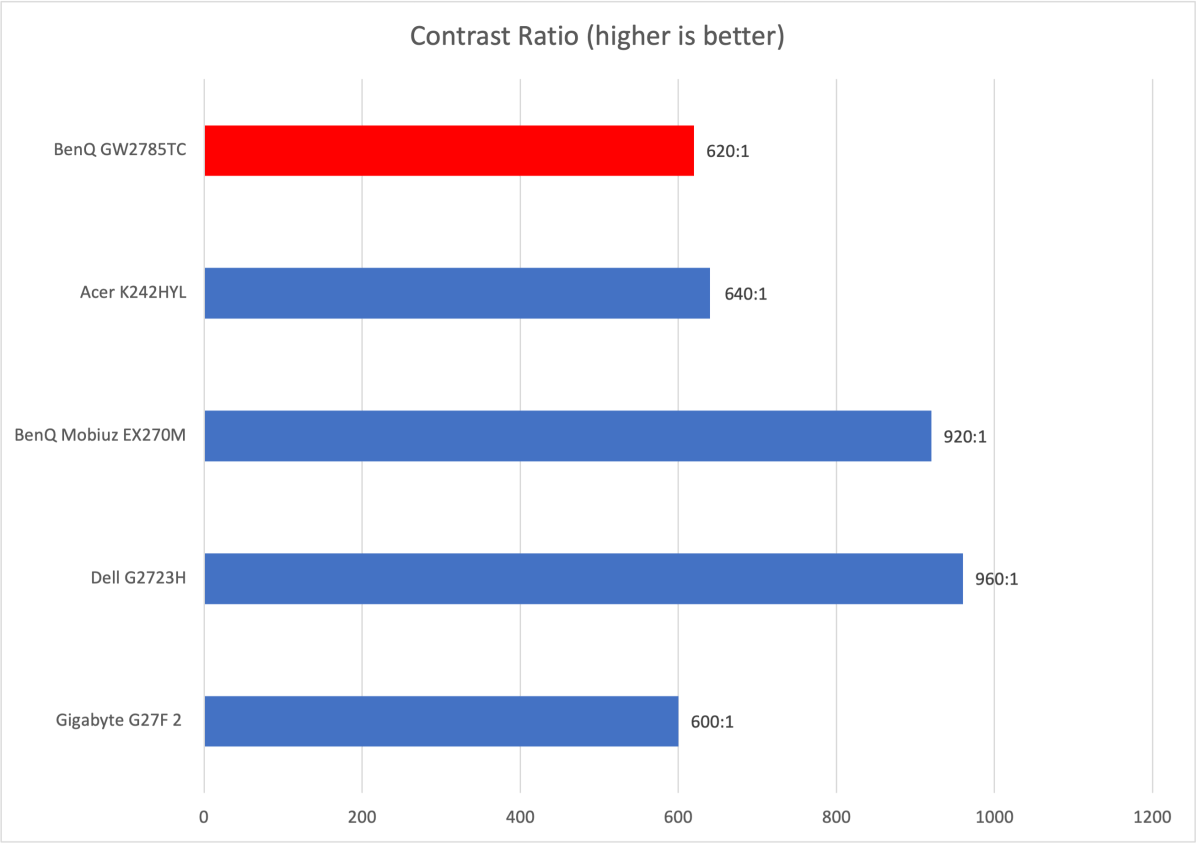 Matt Smith
Mentioned in this article
Acer K242HYL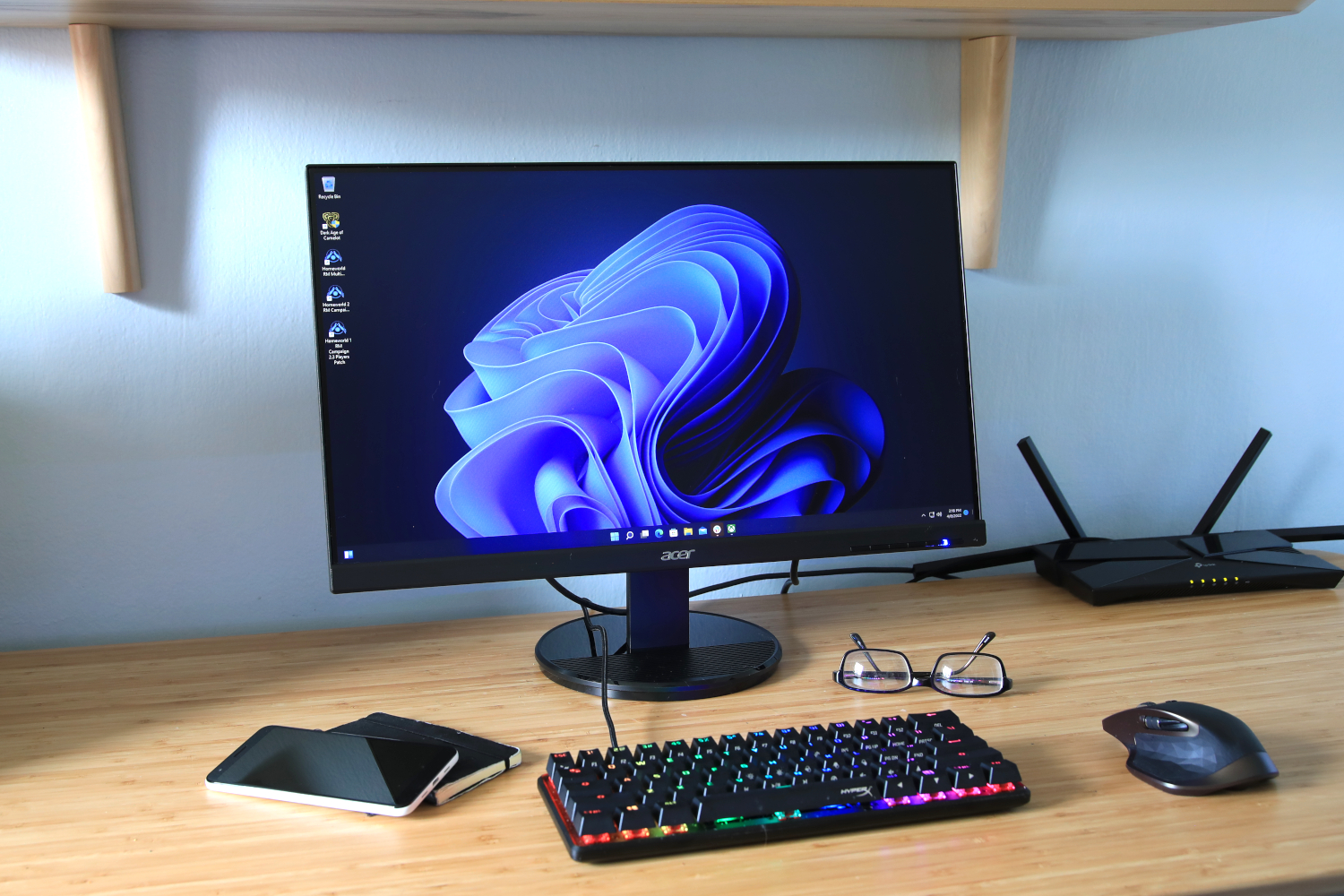 Price When Reviewed:
$149
The monitor's contrast ratio is also limited, though it scores similarly to other entry-level IPS displays such as the Acer K242HYL. A contrast ratio of 620:1 is extremely limited and indicates the monitor will appear a bit flat and shallow in complex content, like streaming TV, games, or high-quality photographs. It's most noticeable in a very dark room, as this reveals the common "IPS glow," a hazy look casts a fog across dark scenes.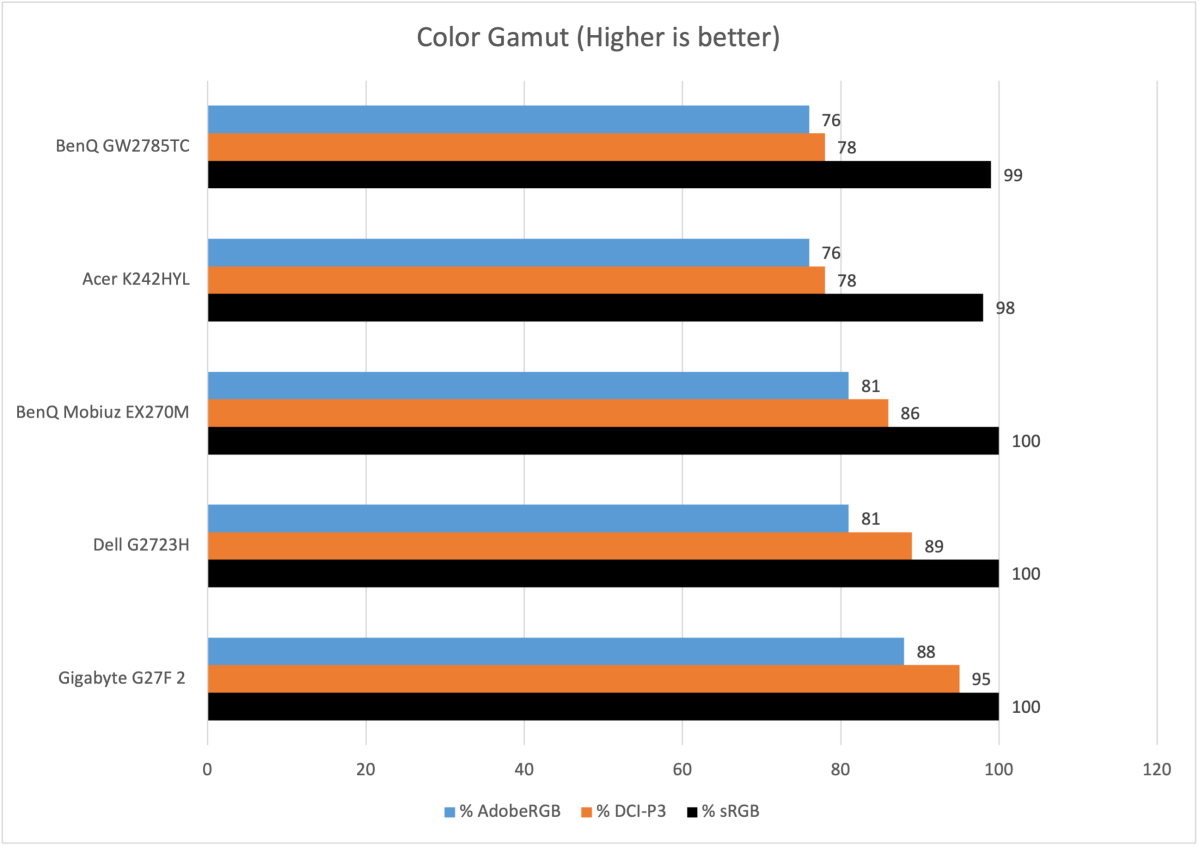 Matt Smith
Color gamut is typical for a budget monitor, spanning 99 percent of the sRGB gamut but only 76 percent of DCI-P3. This is not a "wide gamut" monitor, which means it can't display as many colors as more expensive alternatives. However, given its price, the GW2785TC's performance is reasonable, and it can deliver attractive color in most content.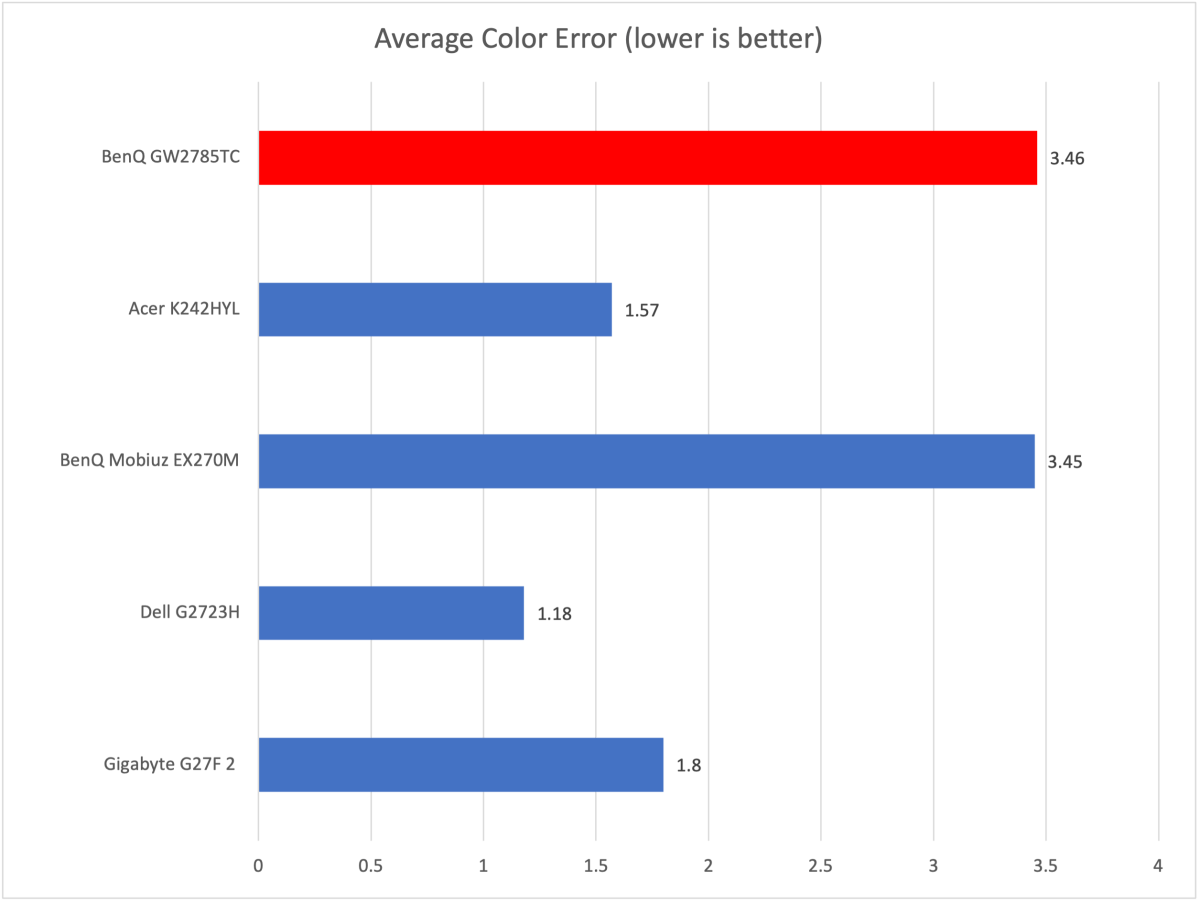 Matt Smith
The monitor's color accuracy isn't top-notch. This is a trait I've observed with many BenQ monitors as of late, and something I think the company should look into. On the other hand, this level of color accuracy is more than enough for the kind of day-to-day office productivity this monitor targets. Images appear correct and lifelike.
I recorded a gamma curve of 2.1 and a color temperature of 6600K, which is compared to a target gamma of 2.2 and color temperature of 6500K. The GW2785TC is very close to the ideal in most situations, which means the image doesn't appear too cool or too warm. That's actually rather important for an office monitor—an incorrect color temperature can be obvious if you're staring at Word or Excel all day.
What about sharpness? This is a 27-inch 1080p monitor, which translates to a pixel density of roughly 82 pixels per inch. That's pretty low by modern standards: a 24-inch 1080p monitor will have about 90 pixels per inch, and a 27-inch 1440p packs about 109 pixels per inch. The GW2785TC's can look a bit soft when viewing streaming content, and pixelation can be obvious around fine fonts. These issues aren't overly distracting, however, and only leap out when compared directly to a 1440p display.
On balance, the BenQ GW2785TC delivers what I'd expect from an inexpensive productivity monitor: a usable but unimpressive image. It's far from top-notch in most respects but also avoids serious flaws that might hold it back in real-world use. It's fine. And, at this price, that's about what I expect.
Does the BenQ GW2785TC support HDR?
The GW2785TC doesn't support HDR, which may seem disappointing on paper, as some competitors do claim HDR support. However, budget monitors like the GW2785TC lack the brightness and color gamut required to make HDR appear superior to SDR. BenQ's decision to keep HDR off the box is an honest representation of what the monitor can handle.
How is the BenQ GW2785TC motion performance?
Motion clarity is not a focus of the BenW GW2785TC. It lacks adaptive-sync compatibility, including AMD FreeSync and Nvidia G-Sync. It does offer a 75Hz refresh rate, which is a bit higher than the standard 60Hz, but the difference can be difficult to notice. Motion doesn't always appear smooth and significant blur occurs whenever an object moves quickly across the screen, but no different from other 60- to 75Hz monitors in this price range.
Is the BenQ GW2785TC worth it?
Matt Smith
It's easy to feel disappointed while browsing the BenQ GW2785TC's image-quality results. The monitor delivers merely passable scores across most areas. It avoids major pitfalls but also fails to achieve any victories.
If you just want a great productivity monitor, however, its mediocre image quality is less relevant than its excellent feature set. BenQ provides a solid ergonomic stand, USB-C, DisplayPort-out, and solid build quality at a reasonable price. It's a versatile, easy-to-use monitor—traits that count for a lot when your budget is around $250.
Best Prices Today: BenQ GW2785TC