Does The Last of Us send your gaming PC into a zombie-like shuffle? Do the advanced Unreal options in Fortnite make you search for the nearest lovingly-rendered bush to hide in? Do you watch videos of the new Overdrive Mode in Cyberpunk on YouTube at 4K/60, because you know actually trying to run it on your hardware would be a violation of your home's fire insurance policy? If so, then AMD would like a word: It thinks the solution is a new graphics card, with a lot more video memory than the competition.
In a post cheekily titled "are YOU an enthusiast?", AMD points out that the latest PC games frequently require 8GB of VRAM to meet the recommended specs for 1080p gaming, and 12GB of 16GB to run at 1440p or 4K, respectively. And wouldn't you know it, AMD's Radeon graphics cards tend to beat Nvidia's GeForce cards at the same price, at least when you narrow the scope of comparison to onboard VRAM alone.
A handful of comparisons show the advantages in Radeon cards at approximately the same price level: The $580 Radeon RX 6800 XT has 16GB of RAM versus the $640 GeForce RTX 3070 Ti's 8GB, the $1000 Radeon RX 7900 XTX has 24GB of RAM versus the $1200 GeForce RTX 4080's 16GB, and so on. A selection of benchmarks in popular games shows a generous tilt towards AMD hardware.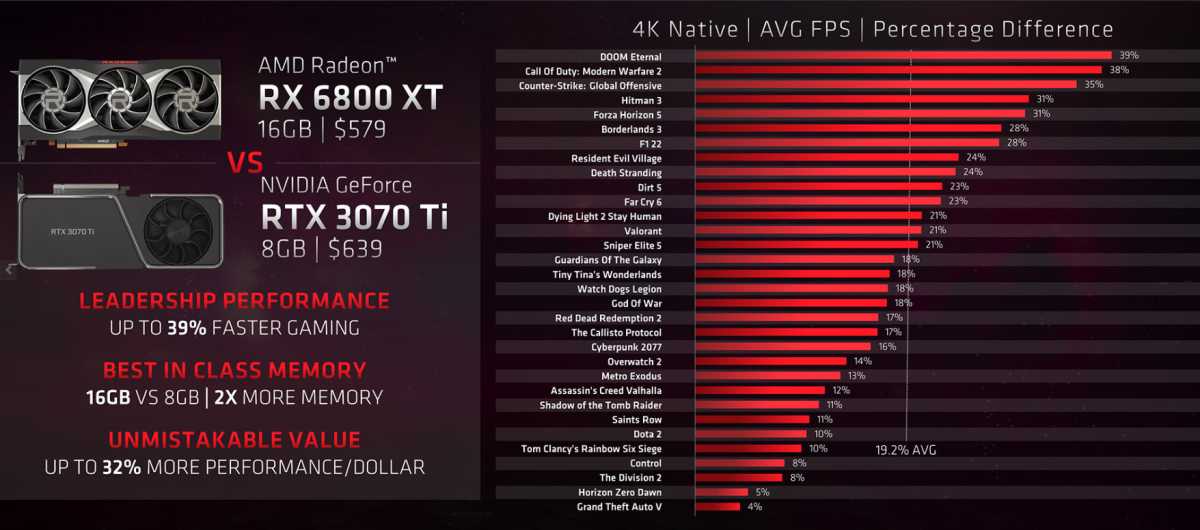 AMD
AMD's promotional post comes out on the day that Nvidia's RTX 4070 officially launches. While the post doesn't offer any direct comparisons, Nvidia's new $600, 12GB card is positioned to compete performance-wise with either the RX 6800 or the RX 6800 XT, both of which offer the same 12GB of video memory. However, those cards are 2.5 years old — AMD doesn't have a 7000-series card going for anywhere near that price level, at least officially. We'll have to wait for AMD to round out its newest offerings for a more direct comparison.
And speaking of direct comparisons, it's telling that AMD is making an appeal to gamers' sense of value…but hasn't mentioned the dark horse in this race. Intel's Arc series of discrete GPUs is still fresh, in its very first generation, and leaving a lot to be desired in terms of software extras. But what it's absolutely nailing is value, offering the 8GB Arc A770 for high-end 1080p games at about the same price as a new RX 6650 XT or RTX 3060. Glass houses, AMD.
We recently dug deep into whether 8GB of VRAM is enough in 2023 on PCWorld's Full Nerd podcast. Grab a beverage and check out the discussion below!