The company that probably makes your laptop's processor will now manufacture the chip that's probably inside your smartphone, too.
Intel has signed an agreement with Arm to manufacture Arm processors across several generations of products. According to the agreement, announced Wednesday by both companies, the deal will first focus on mobile SoCs for smartphones and tablets, and then expand into automotive, embedded products for the so-called Internet of Things, then data centers, aerospace, and government. Exact terms were not announced.
The Intel-Arm deal doesn't involve Intel's Client Computing Group (CCG), which designs the Core processors used in PCs and desktops. Instead, it's an extension of Intel's new foundry business, established in 2021 as a way to spur Intel's development of manufacturing technology but also provide an important new revenue stream. Intel essentially "walls off" its foundry services from the rest of its business, protecting the intellectual property of its customers. While Intel will also license and sell its own X86 chip designs to those customers, a company like Arm can also choose to simply treat Intel as a manufacturing line like TSMC.
Outsourcing chip production to an outside company is typical in today's chip world, with Intel being a notable exception. Nvidia, like Arm, also uses foundries to manufacture its chips. The difference is that Arm adds another layer: customers like Qualcomm and Samsung who can opt to use a chip foundry if they choose. It is those companies that will have additional freedom to do just that, according to the deal; instead of relying on a company like TSMC, the Intel-Arm agreement allows them to manufacture an Arm processor on Intel's own manufacturing lines.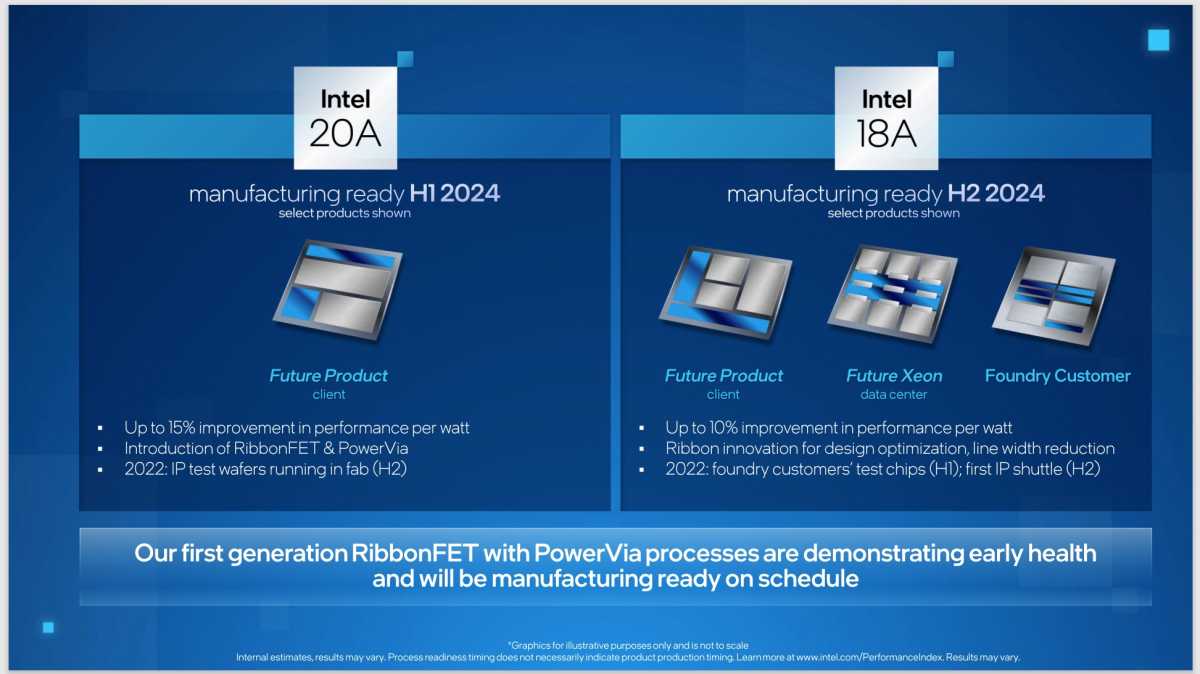 Intel
Specifically, Arm customers will have access to Intel's 18A process technology, which Intel said last year is scheduled to come on line in 2024 for Intel's own PC processors, its Xeon line, and foundry customers as well. Intel has highlighted two technologies as critical for its 18A process: PowerVia power delivery and RibbonFET, a gate-all-around technology. (Both were originally slated for Intel's earlier 20A technology.) The importance of RibbonFET, or gate-all-around technology, is that it allows chip designers to start building up, in three dimensions, rather than just a flat two-dimensional chip. PowerVia complements that by shifting how Intel routes power throughout the chip.
Intel can also hypothetically provide an Arm customer with additional innovations in packaging and chiplets. The latter is considered to be significant, as it allows designers to package together smaller chip logic on individual dice inside a larger package. Traditionally, all of that logic would be manufactured on the same process technology.
Chiplets allow a chip designer to mix and match, so that they can ask different companies to fabricate logic, connecting them and packaging them all together at the final stage. Hypothetically, this would allow an Arm licensee to more quickly tweak, manufacture, and ship Arm processors. Arm and Intel will work together to co-optimize Arm's designs for Intel's own chip design and process methodology.
"There is growing demand for computing power driven by the digitization of everything, but until now fabless customers have had limited options for designing around the most advanced mobile technology," said Pat Gelsinger, Intel's chief executive, in a statement. "Intel's collaboration with Arm will expand the market opportunity for IFS and open up new options and approaches for any fabless company that wants to access best-in-class CPU IP and the power of an open system foundry with leading-edge process technology."