At a glance
Expert's Rating
Pros
Great sound quality, especially in the mids
A lot of metal makes it very solid and robust
A very comfortable design
Cons
Passive noise cancellation isn't great
It's more expensive than some rivals
The mushroom shaped dongle can be finnicky
Our Verdict
The SteelSeries Nova 7X joins a new generation of wireless gaming headsets that cater to just about all your gaming needs. It sounds great, is highly comfortable and has excellent cross compatibility. To top that off, simultaneous Bluetooth functionality lets you stream audio from your phone while you play.
Price When Reviewed
199.99
Best Prices Today: SteelSeries Arctis Nova 7X
The SteelSeries Arctis Nova 7X is the Xbox variant in SteelSeries Nova 7 gaming headset lineup. Despite not being designed specifically for PC, the 7X is a top-notch option for PC gamers thanks to its excellent cross-platform compatibility, dual 2.4GHz wireless and simultaneous Bluetooth functionality. It also has a stylish, metal-clad build that feels so tough it could potentially survive a meteor shower.
Although it's more modestly priced than its premium sibling the Arctis Nova Pro Wireless, the 7X is arguably a lot easier to use. It sports a good smattering of on-ear controls, which are nicely split between earcups and easy to remember so that you never need find yourself pressing mute in the throes of victory ever again.
SteelSeries Arctis Nova 7X Wireless design and build
In recent years SteelSeries has done a commendable job convincing us its headsets are some of the finest—and toughest—you can get. The Arctis Nova Pro Wireless, for instance, jumped straight to a top spot in our roundup of the best wireless gaming headsets, so impressed were we with its build quality, design, and sound.
mentioned in this article
SteelSeries Arctis Nova Pro Wireless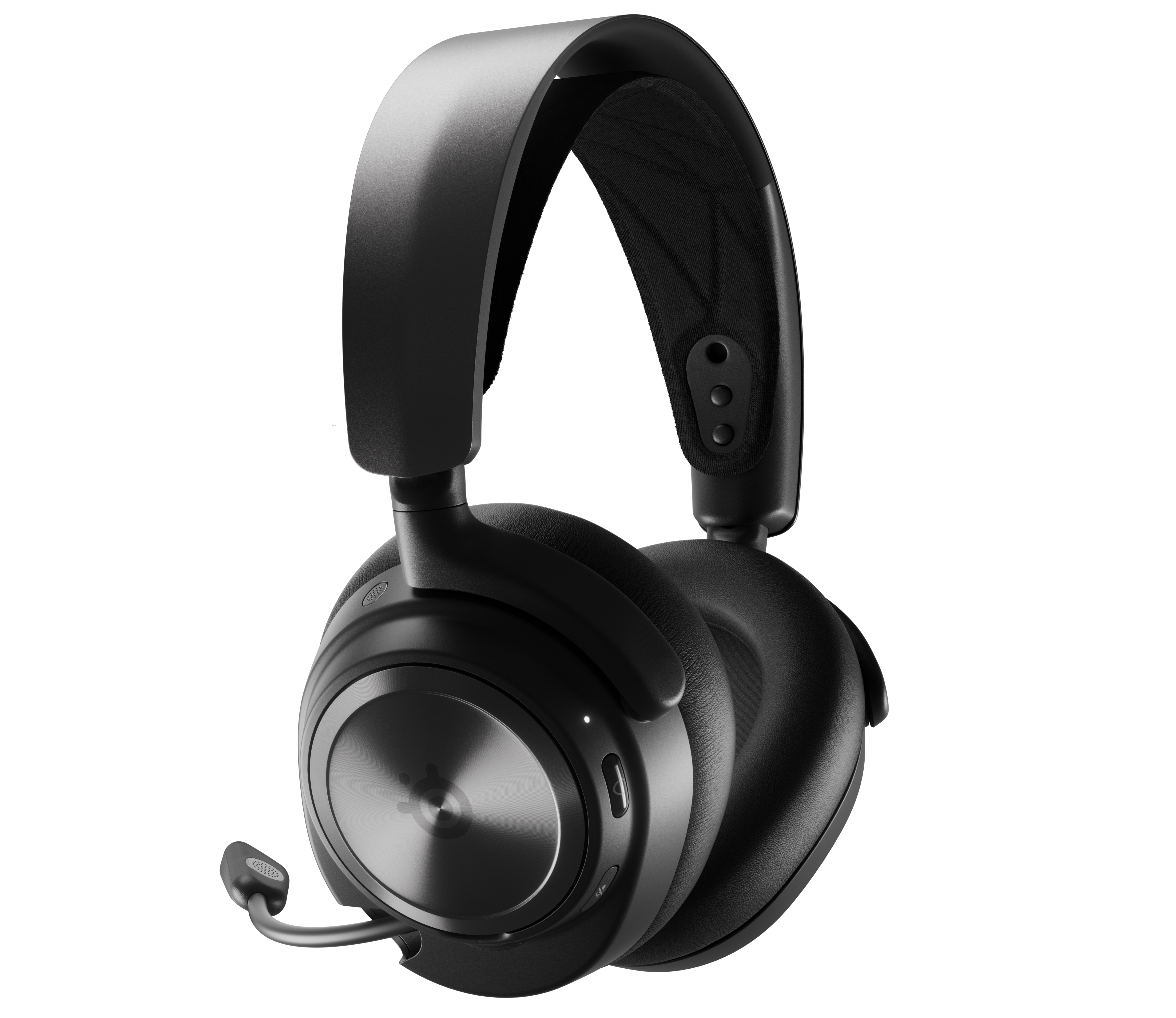 Price When Reviewed:
$349.99
By comparison, the Arctis Nova 7X is a less pretentious beast. It skimps on some of the Nova Pro's more premium features—like the base station—that, to be honest, we can live without. Instead, it shares more practical features like its flexible metal frame, metal cups, and magnetic earcup covers that you can slide off for a discrete headphone-like look.
Dominic Bayley / IDG
That means it's both stylish and as solid as a tank; drop resistant, and better at avoiding scratches than all-plastic headsets. And, just like the Nova Pro, it's made to move naturally with your head's natural movements, thanks to earcups that swivel and tilt.
Comparing my 7X review unit against the Nova Pro for comfort, I have to say the 7X wins hands-down. Many midrange headsets do in fact, and it's one of the biggest things I'd really like people to know when deciding between budget and premium gaming headsets.
If I got your attention with that last point, I'm glad, because the 7X really got mine with its snug-fitting stretchy fabric headband and squishy AirWeave cushioning that felt lighter and more breathable than the Nova Pro's leatherette ones. The whole headset is also quite compact and reasonably light—it weighs just 323 grams (11.4 ounces).
The clamp force is much softer than the Nova Pro's, which I discovered was both good and bad. It's good in that there's an absence of any kind of tension or pressure. However, there is less passive noise isolation on offer, so you will occasionally cop an earful of lawn mower, but not often enough to be annoying.
For styling, the Arctis Nova 7X is a muted black color with matching SteelSeries logos on each can. My review unit also came with a splash of green in the headband to signify its Xbox compatibility. It looked perfectly at home next to my gaming rig. Although, at times I did wish I had some RGB to play with.
As for the controls, they're everything I was hoping for—simple, assessable, and plentiful. On the left you get a mute mic button and volume wheel, while over on the right there's a ChatMix Dial, on/off button, and Bluetooth button. These are all easy to locate—just a hand's reach away.
SteelSeries Arctis Nova 7X connectivity and battery
As the 7X's green headband indicates, you get cross compatibility with Xbox One, Xbox X/S, and PC via a 2.4GHz low-latency Wi-Fi connection. However, the 7X is even more versatile than that, connecting to just about anything with a USB-C port—Nintendo Switch, Steam Deck, Quest 2, and smartphone included. Plus, there's Bluetooth (more on that soon), and in the box you get a 3.55mm cable, so there are connectivity options galore.
Mentioned in this article
Logitech G733 Lightspeed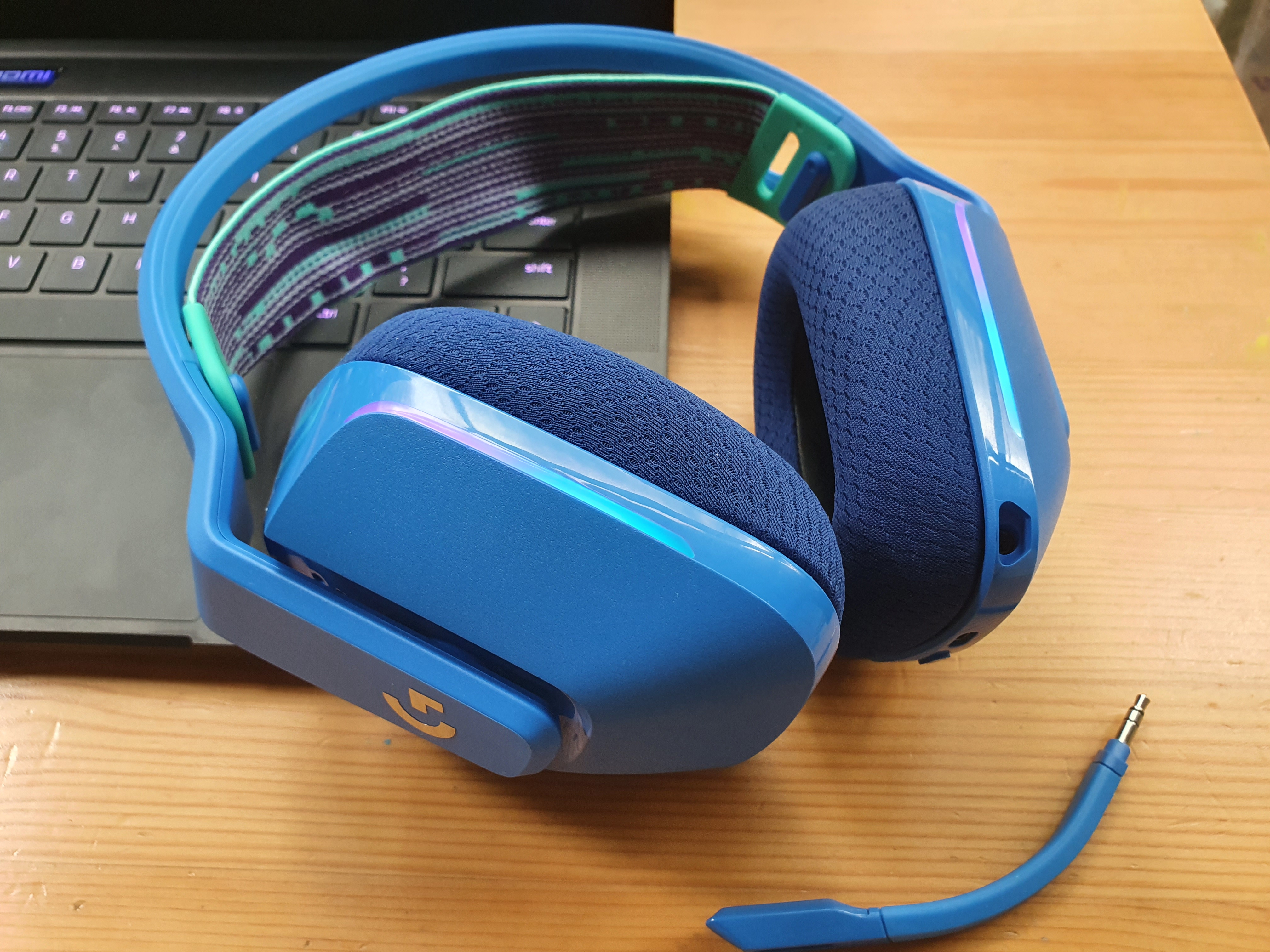 Price When Reviewed:
139.99
Switching between USB and Xbox is as simple as flicking a switch on the USB-C dongle, so you can be up and running at the drop of a hat. The dongle is shaped like a mushroom instead of a stick, so if you're using it on a laptop, you'll want to attach it to the adapter supplied, otherwise some of your other ports may become blocked.
A gem in the Arctis Nova 7X's crown is the simultaneous Bluetooth functionality that lets you stream audio from your phone while also hearing every squeak of your gaming audio. I can't speak highly enough of this feature, which I prefer over less practical features like RGB lighting.
There must be a handful of reasons I used it when testing the 7X – taking work calls or calls from my spouse asking me to pick up milk etc etc… on my way home from the office being just two good ones. But by far the most fun was streaming my favorite blues album while playing a few rounds of Insurgency, which was a real hoot.
The 7X's battery life is also very decent. SteelSeries claims you get up to 38 hours of audio playback using the 2.4GHz wireless connection, or a respectable 26 hours of audio using simultaneous Bluetooth. When you do go flat, the cans can be juiced back up very quickly; 15 minutes fast charging with the USB-C to USB-A cable is all you need for an extra six hours audio.
SteelSeries Arctis Nova 7X audio performance
In a nutshell, the Arctis Nova 7X sounded great for gaming and listening to music on PC, where it conjured a rich and varied audio profile. I never noticed any distortion either – in fact, the 40 mm drivers were so consistently clear I found myself choosing it over a ton of other devices.
I tested the PC games Metro Exodus, Insurgency and Gloria Victis, and, after sinking a few hours into these titles the headset's strongest asset is definitely its mid-range tonal coverage, which sounds precise, full and vibrant. The bass and treble by comparison won't have you calling home to mama but won't disappoint either – they nicely accentuate the mids without dominating them.
Granted all that, I had a field day savoring mid-range sounds that usually fall by the wayside. In Metro Exodus the slithering of worms in the tunnels was even more of an ominous warning for what's up ahead than usual, while the clunking and grinding of the mechanisms were a satisfying reminder that I was heading in the right direction.
In Metro Exodus I also got a taste of the headset's 360 Degree Spatial Audio, which is fully compatible with Microsoft spatial audio. It worked a dream, wringing in sounds through all the directions of a compass wheel. I also enjoyed using the Parametric EQ tool in Sonar, part of the SteelSeries GG software app to highlight specific sounds. Accentuating the EQ parameters for voices allowed me to better eavesdrop on enemy conversations, which in turn helped me find my objectives more easily.
Dominic Bayley / IDG
The clap of gunfire and the thud of explosions sounded precise and unmuffled in Insurgency. I could hear individual explosions as distinct ''kabooms'' and this really drew me further into the action. On the whole, the sound hitting my cups had a cinematic quality to it that made for a really immersive FPS experience. Reassuringly too, I never experienced any sudden amplitude drops or jumps.
Switching to Gloria Victis and I was very impressed by the clear, emotive strings in the orchestral launch music which had me rearing to get going on some raiding. Similarly, the 7X worked a charm playing smooth and melodious music like rock ballads, as judging by the warm acoustic guitar and soothing vocals in a few tracks by Aussie singer Pete Murray.
How does the SteelSereis Arctis Nova 7X compare to rivals
The Artcis Nova 7X sits in a similar category for functionality as wireless gaming headsets like the Nacon Rig Pro HX and the Logitech G733 Lightspeed. These are both great headsets in their own right, with decent sound and cross-compatibility. But put simply, the 7X is the more complete package, squirreling a few enticing bonuses away like its robust metal band and earcups and lengthy retractable noise cancelling microphone.
Mentioned in this article
Nacon RIG 800 Pro HX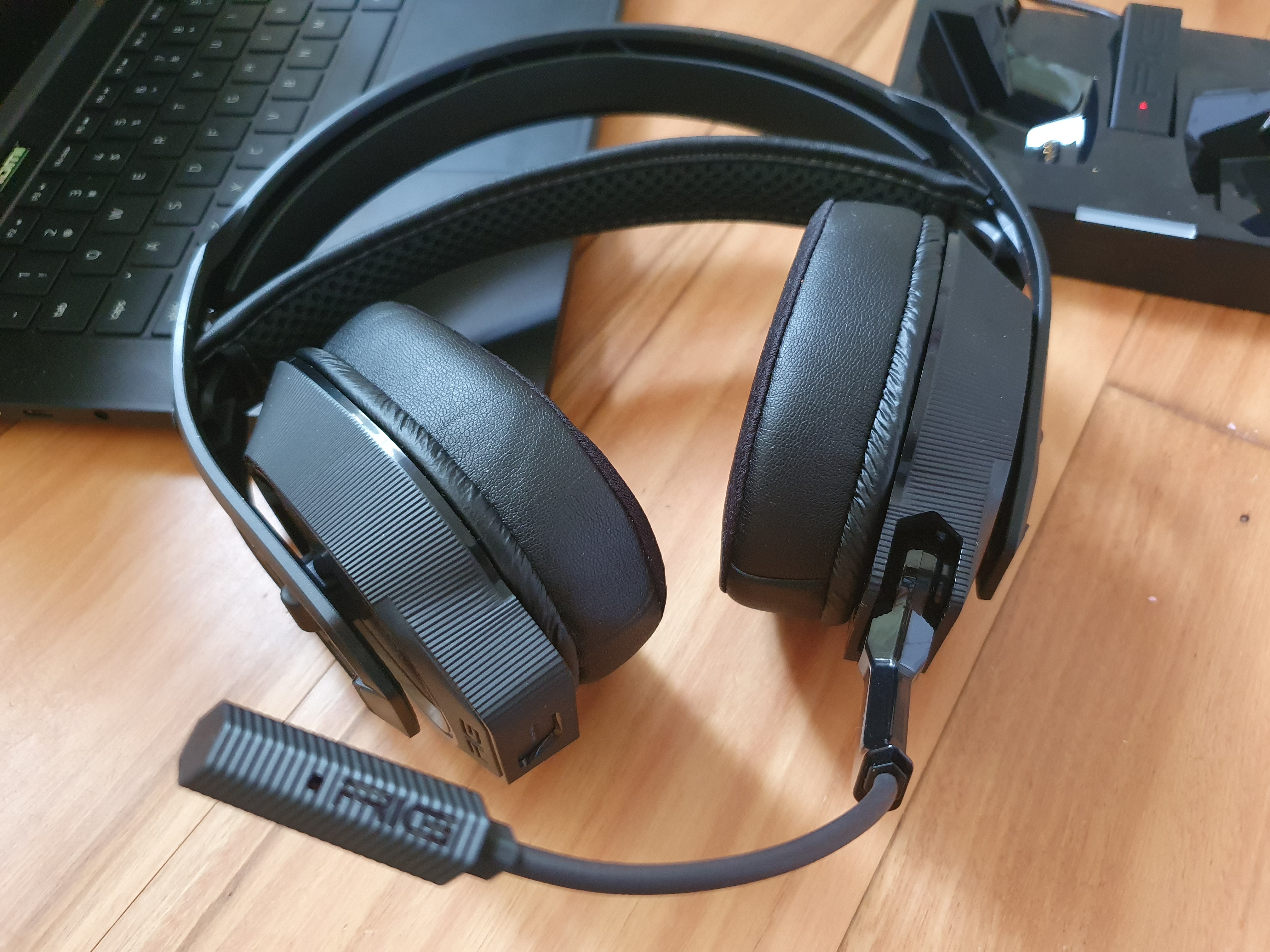 Price When Reviewed:
149.99
But the real sweetener is the simultaneous Bluetooth which neither of these two rivals can claim to have and which is an attribute I really go for in gaming headsets these days. The Arctis 7X has a retail price of $199.99 on the SteelSeries website, which admittedly is a little dearer than both of these rivals that each cost approximately $150 USD, but it's worth every dime for the extra functionality in my opinion.
Should I buy the SteelSeries Arctis Nova 7X?
The leap between the Arctis Nova 7X and its big sibling, the Arctis Nova Pro, is a whopping $180—a gulf that made me wonder for a minute what I'm getting and/or missing out on. My conclusion? I'm not really missing much with the Nova 7X.
No, I won't get plush leatherette cups or a fancy base station, but I'm still getting excellent sound, a tough and sturdy frame, gaming-friendly controls, respectable cross-compatibility and simultaneous Wi-Fi and Bluetooth functionality—all features that I want and will use. What's more, the Nova 7X is the more comfortable option in my opinion, which at the end of the day makes it a much more practical buy.
Best Prices Today: SteelSeries Arctis Nova 7X