At a glance
Expert's Rating
Pros
Amazing typing experience
High-quality parts
Bluetooth and 2.4GHz wireless
Long battery life
Cons
Clunky software
Plastic case
A bit heavy
Our Verdict
Under its unassuming "sleeper" looks, the Keydous NJ80-AP hides flexible wireless, high-quality parts, and an absolutely incredible typing feel, all for a surprisingly low price. The only downside is its janky software.
Price When Reviewed
$150
Best Prices Today: Keydous NJ80-AP wireless mechanical keyboard
There are a lot of variables that go into evaluating a mechanical keyboard. One of the most coveted, and the hardest to quantify, is the "feel." Arguably the feeling of tactile typing, and how much better it is than keyboards that use cheaper membranes or other builds, is the reason mechanical boards are now the standard. If a quality feel is what you're after, then you owe it to yourself to check out this entry from Keydous.
There are a lot of little things that bring down the NJ80-AP's experience: a somewhat retro look, a plastic case, and software that's just plain bad. But with a shocking amount of attention and care given to the typing experience, plus "under the hood" components that are swinging way out of this thing's price range, it's a compelling alternative to semi-custom offerings from the likes of Keychron or Glorious.
Further reading: See our roundup of the best wireless keyboards to learn about competing products.
Keydous NJ80-AP design
In the car community there's a concept called a "sleeper." It's a vehicle that looks unassuming on the outside, something that avoids attention and blends into traffic, but hides a roaring engine and other zoom-zoom parts under the hood. In that sense, the NJ80-AP might be called a sleeper keyboard. Its plain white plastic case and 75% layout could be mistaken for something from the '90s at a glance, especially if you remove the splashes of color on the space bar, Enter, and Escape keys and go with the white replacements that come in the box.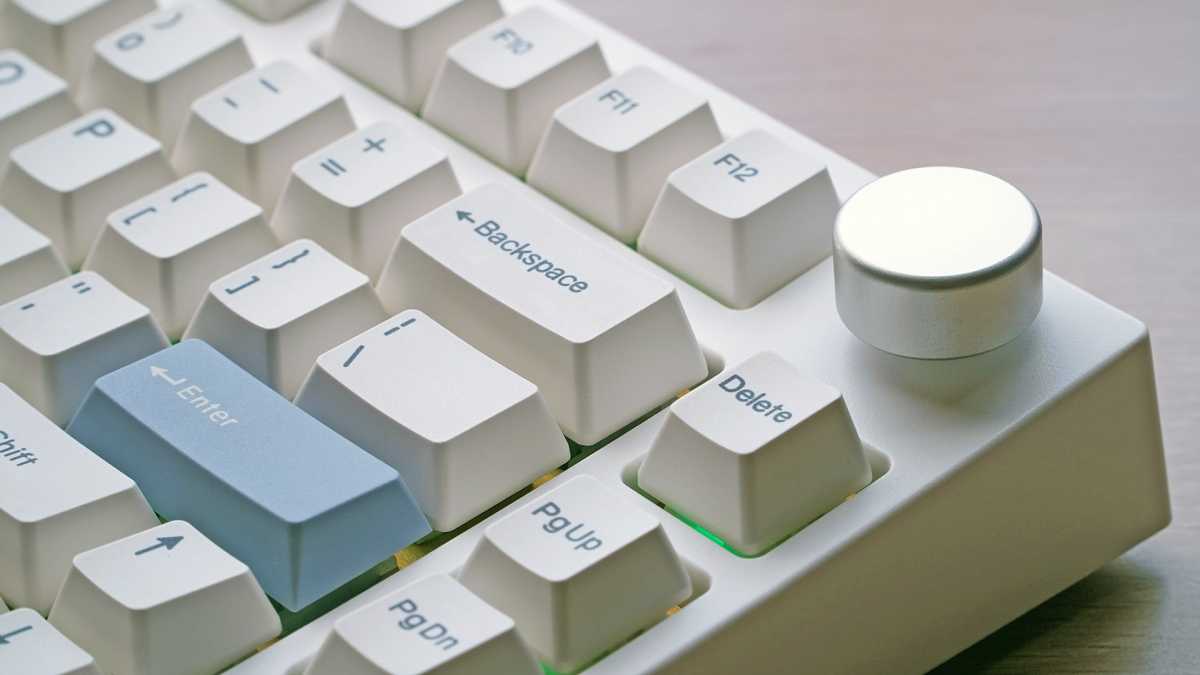 Michael Crider/IDG
Not that there's anything wrong with the 75% layout. It's incredibly functional and efficient, combining the full capability of a TKL keyboard (minus a few rarely used keys like Insert) into a board that's barely wider than a 60%, and the only non-standard keycap is the right Shift key. I also like the way the Delete, Page Up, and Page Down keys get a little separation, the better to avoid errant presses in furious typing sessions. The volume dial is a bit dull, plastic where most boards in this price range go for metal, but it serves its purpose and can "click" in (assigned to mute by default).
The keycaps are high-quality PBT plastic, as seen on the best keyboards (and withheld from some of the stingier designs…Razer). In comparison, the case is a little underwhelming. It's ABS plastic through and through, a rather dull white, and held in place with clips and very difficult to open. You could argue that it's saving weight versus a more premium aluminum build, but this is already a pretty hefty board thanks to its premium interior components and a beefy battery.
The other big feature for this keyboard is wireless. Keydous was ambitious in this area, boasting both Bluetooth and 2.4GHz wireless options, with a tiny USB dongle that slides out of a dedicated slot in the case. Dual wireless support elevates the NJ80's offerings over more niche contemporaries like Keychron's Bluetooth-only boards, and equals (at least in purely technical terms) the multi-mode wireless keyboards from Logitech and other mainstream brands.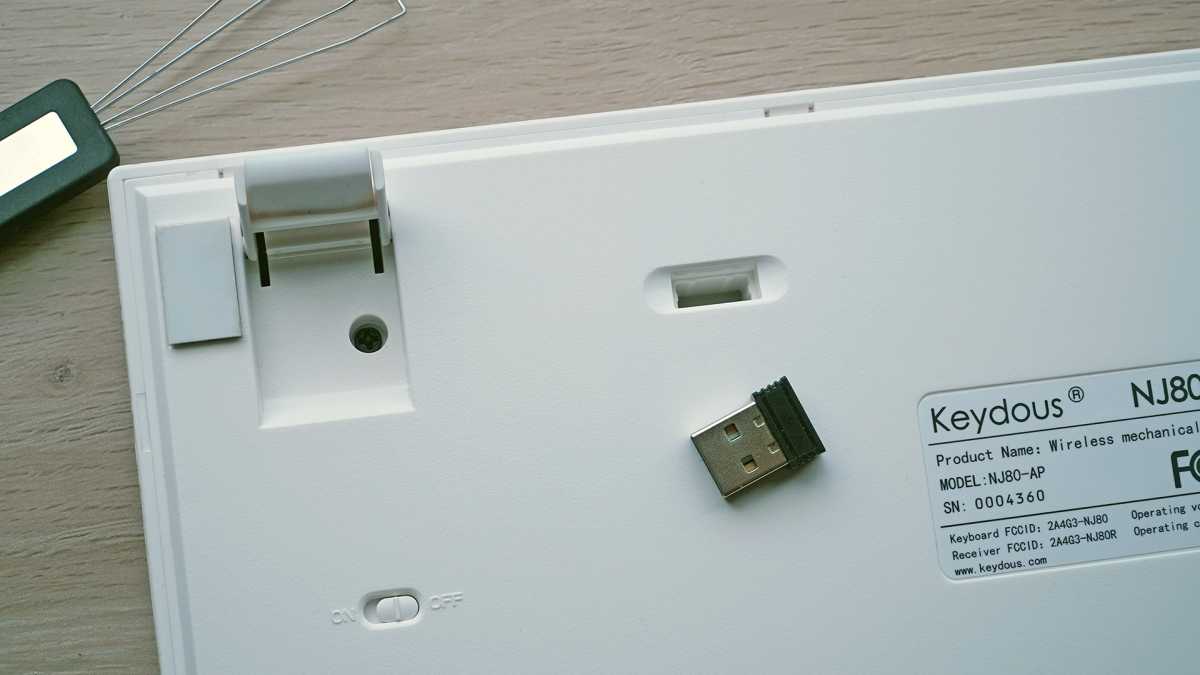 Michael Crider/IDG
It also means that the board is a decent (if not ideal) option for PC gaming, something that Bluetooth-only boards can't boast. Combined with an absolutely massive 4,800mAh battery, it should last for months with the RGB lights turned off—I couldn't drain the battery completely during my testing period.
On the bottom of the case you'll find the plastic fold-out feet—just one stage—and a dedicated on-off switch which, while certainly appreciated, would have been better placed on the side. The keyboard is pretty aggressive with its battery-saving, taking a second or two to wake up if you haven't been around. Of course, if you prefer not to think about it, you can plug in the included USB-C cable to go full wired.
How's the typing on the Keydous NJ80-AP?
At this point I've reviewed dozens of mechanical keyboards, bought another couple dozen for my personal collection, and hand-built another half-dozen on my own. So when I say that the Keydous NJ80 has the best typing experience I've ever had from a pre-built keyboard, it's no feint praise. This thing feels marvelous to use.
Michael Crider/IDG
Why? It's all down to the parts. High-quality keycaps, which I've already mentioned, are the start. They're a bit slicker than normal PBT plastic, but pleasantly thick and heavy. Underneath them Keydous offers a surprisingly "exotic" selection of switches with strange-sounding names. For review they offered me a choice of "BOX Blueberry Ice Cream Pro" and "BOX Strawberry Ice Cream" switches from Kailh, and I went with the former.
What makes these switches special, and considerably more desirable and expensive than your garden variety Cherrys, is a mix of techniques. The linear switches (smooth, no click) are built out of yet another type of plastic, the expensive and high-quality POM (polyoxymethylene) usually seen in precision machining and gears. The switches are also pre-lubed from the factory, with ever-so-slightly lighter springs and shorter travel than standard Reds. Add on top of that the excellent stability and smoothness of Kailh's BOX stems, with their hall effect (the little circle around the cross) that also makes them resistant to water and dust.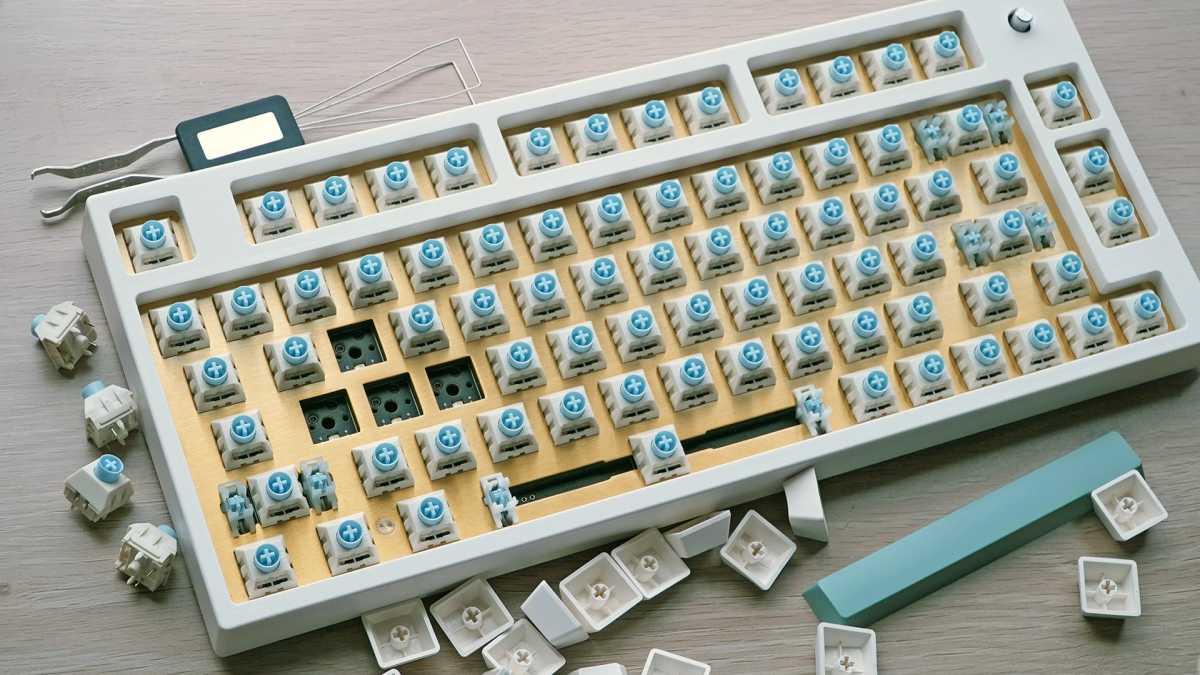 Michael Crider/IDG
On top of that, this keyboard uses premium stabilizers that are also pre-lubed from the factory, which eliminates the typical "rattle" you get when pressing larger keys. (Yes, even the space bar!). Directly under the switches is a full brass plate, offering extra weight and stiffness, with a layer of sound- and vibration-damping foam between the plate and the circuit board. Under the circuit board is a second layer of foam, further insulating the sound and vibration from the case itself.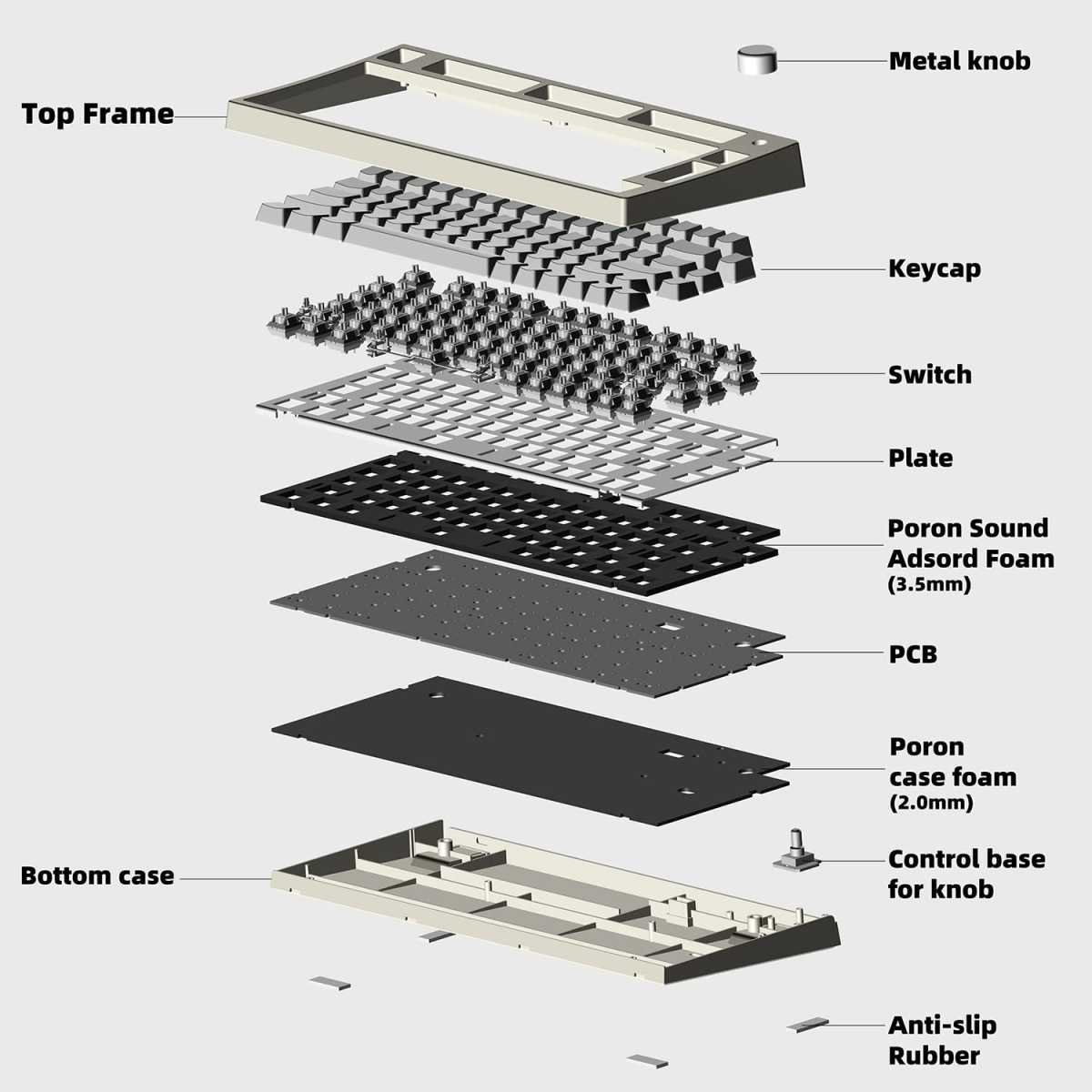 Keydous
That's a lot of really dense, keyboard-nut jargon. But it all boils down to this: The keyboard feels fantastic while you're typing. The high-quality switches and stabilizers make it buttery-smooth, and the plate and layers of foam give it a satisfying "thock" feel if you're a heavy typer who bottoms out each keypress, like me. I'm not exaggerating when I say it's the best-feeling pre-built keyboard I've ever used, despite lacking more fancy elements like a gasket mount. It's even better than anything I've been able to build for myself, with a similar (or higher!) level of high-quality, custom parts.
Keydous offers a wide selection of exotic switches with the NJ80, with weirder names like "Gateron Pro Milky Yellow." Whichever you choose, you can try something else, or go with a "barebone" build without switches or keycaps, because the switch sockets are hot-swappable. As all premium keyboards should be.
How is the Keydous NJ80-AP's software?
The typing experience on the NJ80 is its high point, and what a high. Unfortunately it has a matching low point, and that's the software. Instead of the much more standardized and desirable QMK or VIA firmware, Keydous went with a custom driver and layout program available for Windows or Mac, which downloads from a somewhat worrying Google Drive folder on its website. It's actually gone through several revisions during my review period, with only a little improvement—the first version was entirely in Chinese with no obvious language option.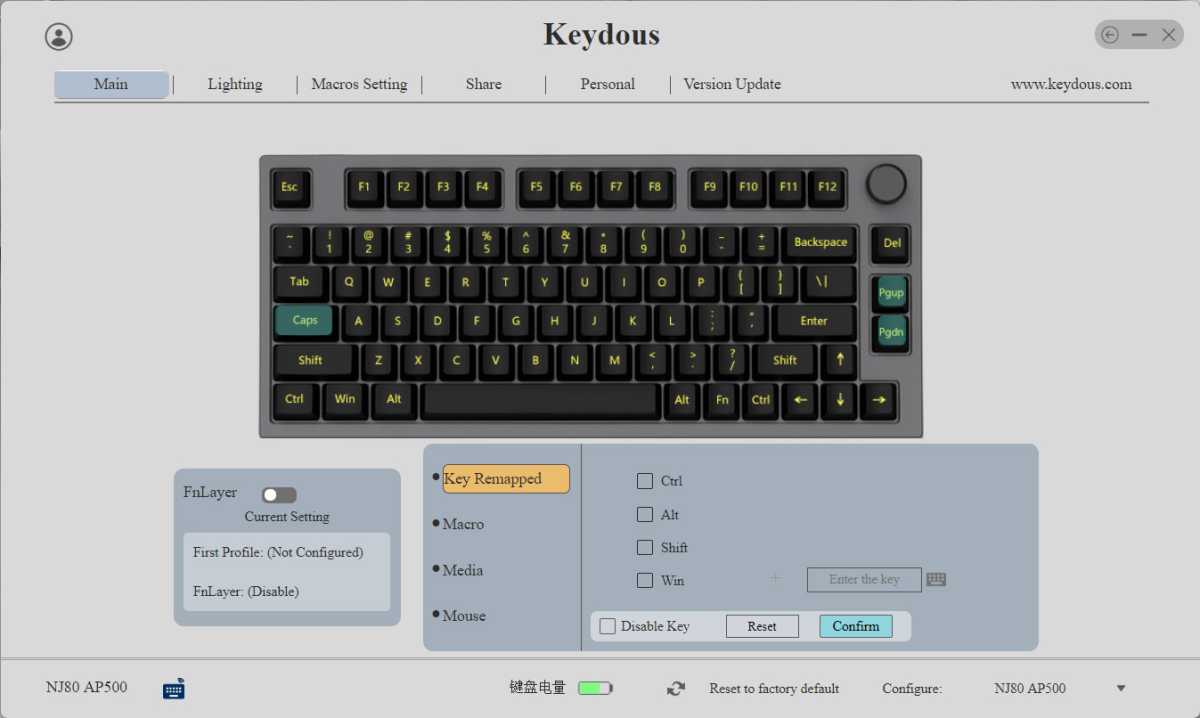 Michael Crider/IDG
The software boots up slowly, and takes even longer to detect the keyboard. There's still a bit of Chinese text floating around, but it seems to have successfully detected the English system setting in Windows, so at least it's fairly obvious where to go. Remapping is a painfully slow process, so it's a good thing that most people won't need much beyond the 75% layout. I remapped Page Up and Page Down to Print Screen and Play/Pause, respectively, which was far less than straightforward. Each change needs to be "confirmed," which appears to be a full flash to the keyboard, and clicking on another key will try to apply that setting there.
You can go into the Function layer and laboriously see which functions are assigned to the function row. But more complex keyboard operations, like switching Bluetooth devices (Fn+1/2/3, 4 for the 2.4GHz dongle) appears to be locked. Ditto for the RGB lighting controls, which are accomplished with a mix of the Escape, Backspace, and Arrow keys. You can adjust custom lighting in the driver program with the usual mix of distracting "gamer" lights, but I didn't find any particularly appealing. Your mileage may vary, but even if you're a fan, you'll need to keep the manual handy to learn the controls.
Michael Crider/IDG
There appears to be an option to upload and download custom profiles via the "share" menu. These are slow, and frankly, not really worth it. There's nothing so interesting or complex that you can't do it yourself, though I guess if you really want to make your keyboard flash in a pink heart pattern, this is a faster way to manage it. All in all, I wish Keydous had saved a lot of time and effort and just gone with QMK or VIA software. The tool isn't so bad that it tanks the whole experience—I managed what few changes I wanted and didn't need to open it again until review time. But I'd much rather have something standardized.
Should you buy the Keydous NJ80-AP?
The closest thing to the Keydous NJ-80, with a 75% wireless build and a focus on quality parts, is the excellent Keychron Q1 Pro. And that keyboard has a few distinct advantages over this one: a full metal body, better customization options, and far better software (again, standard QMK/VIA).
But the Keydous has its own pros, namely the option for less laggy 2.4GHz wireless, an insanely long battery life, and that wonderful, wonderful typing feel from super-high-quality switches and pre-lubed stabilizers. Which one you prefer will come down to which aspects of a keyboard you value.
And speaking of value: The Keydous NJ-80 costs anywhere from $100-200, depending on where you buy it and whether you get it with keycaps and switches included. But on Amazon this particular model, complete with spare keycaps and premium BOX Blueberry Ice Cream Pro switches, is $150 (with a discount down to $135 at the time of writing). That's a considerable savings over similar premium designs, even factoring in the plastic case.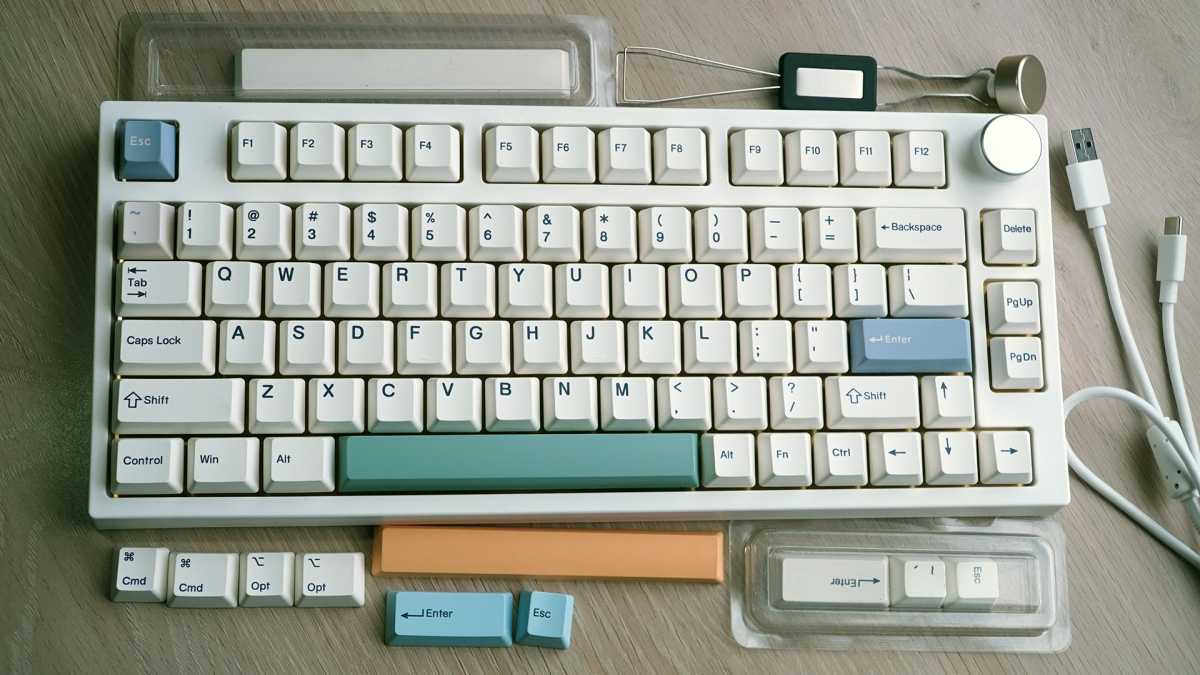 Michael Crider/IDG
So if you can live with a somewhat janky programming tool, and you don't want an aluminum-cased keyboard that can double as a bludgeoning weapon, the NJ-80's fantastic typing experience and more flexible wireless options give it a definite edge.
Best Prices Today: Keydous NJ80-AP wireless mechanical keyboard