At a glance
Expert's Rating
Pros
Fast everyday performance
Available in up to 8TB (eventually) capacity
Attractively styled
Cons
No TBW rating
Company will change components if shortages demand
Writes slow to 200MBps off cache
Our Verdict
Teamgroup continues its habit of providing excellent bang for the buck; 4TB of fast, attractive 20Gbps USB storage for $300 is something we can't help but appreciate.
Price When Reviewed
$40 for 256GB | $58 for 512GB | $260 for 2TB | $300 for 4TB
Best Prices Today: Teamgroup T-Force M200 20Gbps USB SSD
Some folks, like gamers and toters, will appreciate that the T-Force M200 20Gbps SSD is styled after the CheyTac M200 (aka Intervention) anti-material rifle—or as Teamgroup says "a M200 sniper rifle."
On the other hand, there will be those who don't love that fact. In truth, however, it's unlikely most people would see a resemblance without being told. In overall terms, it's light, handsome, and fast—just like I once was.
Further reading: See our roundups of the best external drives and best SSDs to learn about competing products.
Teamgroup M200 design and features
Measuring 4.13-inches long, by 2.18-inches wide, by 0.43-inches thick, and weighing a shade under 3 ounces, the M200 is black and banded with alternating rough and semi-glossy surfaces.
It sports a military-style anchor point for lanyards, clips, etc. if for some reason you'd actually like to hang it from a utility belt. Teamgroup made no claims that I saw about IP ratings, but did say the drive has survived a 2-meter drop test. From my hands-on, that seems plausible. Then again, most SSDs will survive such a fall.
The T-Force M200 is currently available in $40/250GB, $58/500GB, $260/2TB, and the $300/4TB version we tested. The $90/1TB and 8TB versions should be available at some point—if I had to guess, I'd say $700 for the 8TB simply because super-capacious drives generally carry a premium. I could be wrong and Teamgroup will price it in line with the others.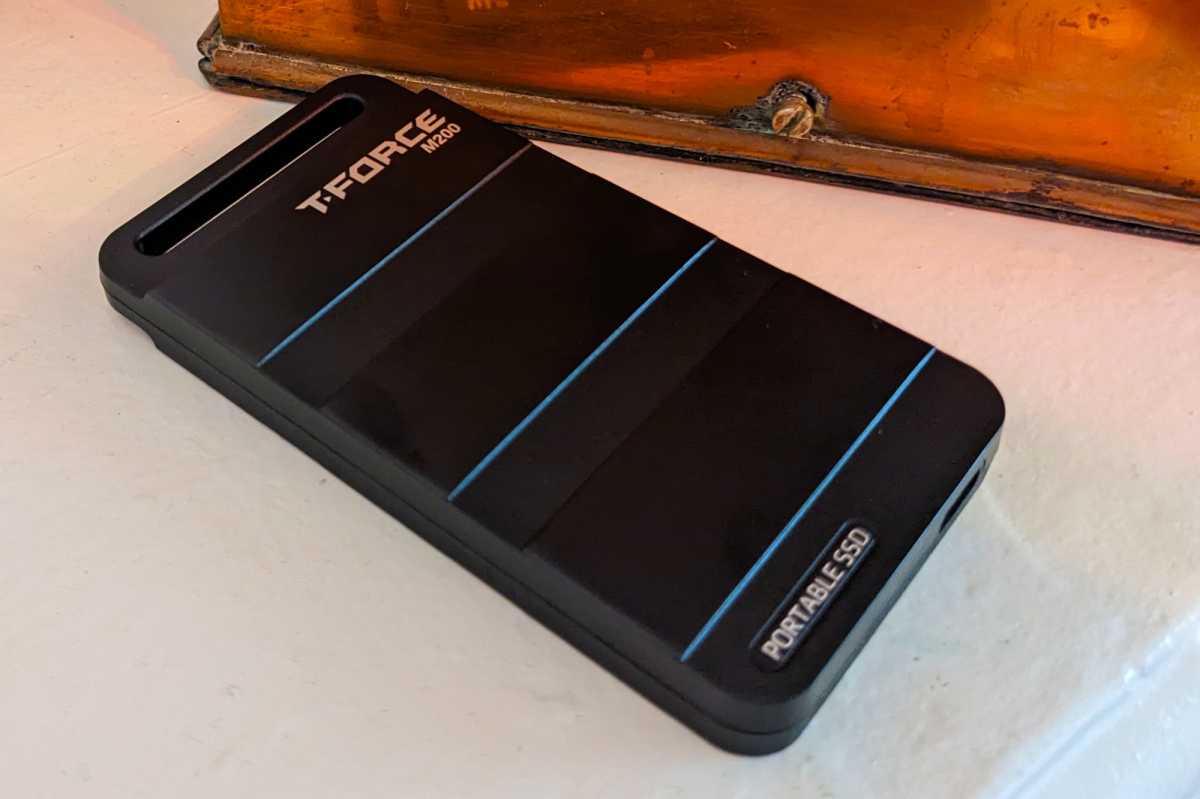 The internal SSD is NVMe (it needs to be to attain 20Gbps speeds) and uses either TLC or QLC, according to the fact-check sheet the company returned. They would not, however, specify which capacities used which. The company told me they reserve the right to change components if shortages arise. Hopefully, they are not swapping TLC and QLC in the same models and capacities.
As you'll read below, benchmark and bare drive everyday performance of the 4TB model was indeed that of a 20Gbps SSD, but that was while caching data (writing it as SLC, or one cell/bit at a time) was fully engaged. Data is later transferred to the native format as time allows.
Where you generally see a difference in TLC versus QLC performance is when the NAND is written off cache, natively as 3-bit or 4-bit. TLC can often still maintain 450MBps or better, while QLC can drop all the way down to 90MBps to 200MBps.
After filling the drive, the M200's ultimate low speed was around 150MBps, so I'm calling the NAND in our 4TB test unit: QLC.
The M200 is warrantied for five years; however, Teamgroup didn't provide the TBW (terabytes that may be written) numbers that might cut that short. As external SSDs are rarely written to enough to wear out NAND in five years, I'm thinking you're safe in this instance.
How does the Teamgroup M200 perform?
The M200 wasn't the fastest 20Gbps drive we've tested—however, it was close and certainly fast enough for the average user. We're talking a one percent disadvantage overall to the WD Black Game Drive P50.
The M200 was a bit slower under CrystalDiskMark 8, but dominated the 450GB write test. Most likely, the M200 having 4TB of NAND compared to the WD's 2TB influenced the latter result to some degree.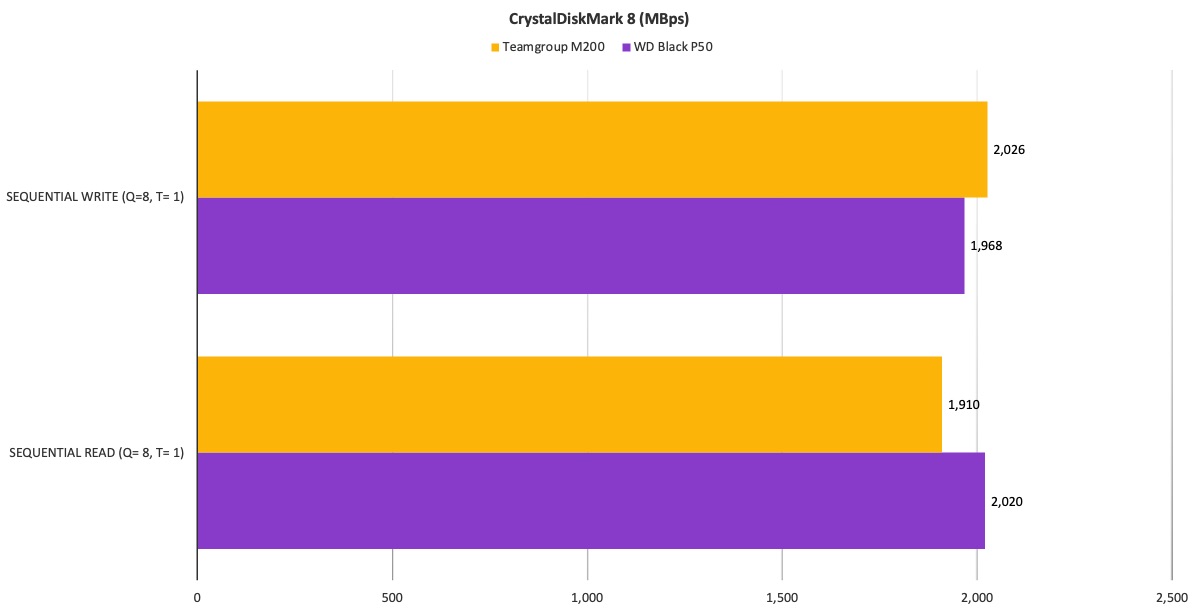 Note that our new test bed using the latest version of Windows 11 has shown some lower numbers, especially when it comes to sequential tests with fewer threads and queues. However, any drives compared have been re-tested on the new system and will share in the phenomenon.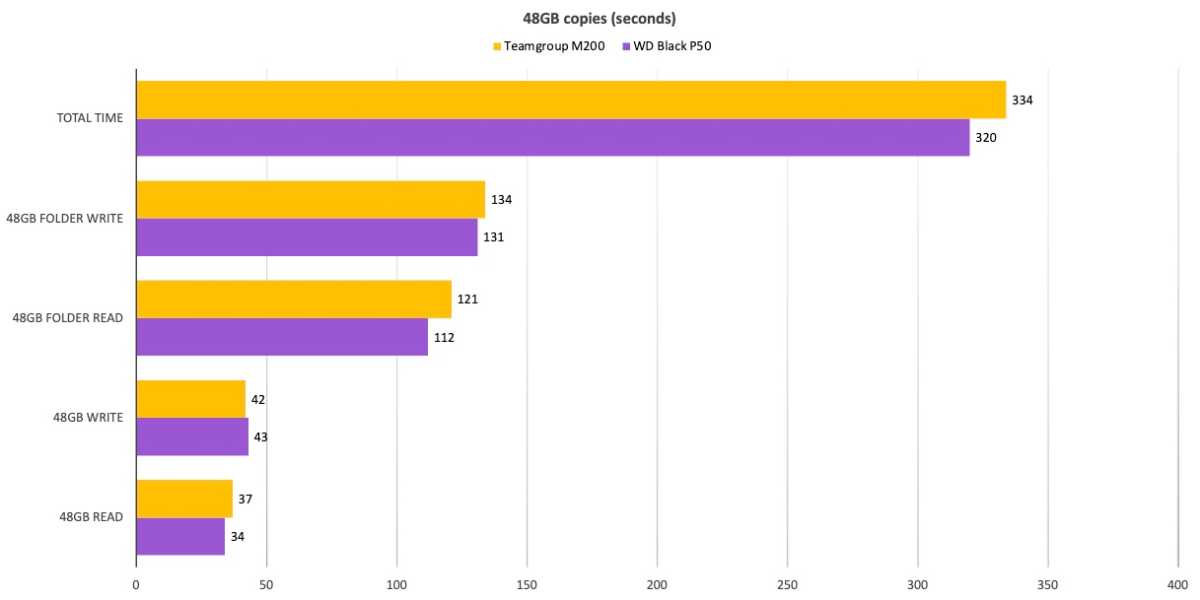 Once again, the M200 is a 20Gbps USB (USB 3.2×2) SSD and USB 20Gbps ports aren't nearly as common as 5/10Gbps (USB 3.x) ports. But the M200, as with all the external 20Gbps drives we've tested, is backwards compatible. You'll get roughly 1Gbps sustained throughput over the far more common 10Gbps ports, and somewhere north of 500MBps with 5Gbps USB.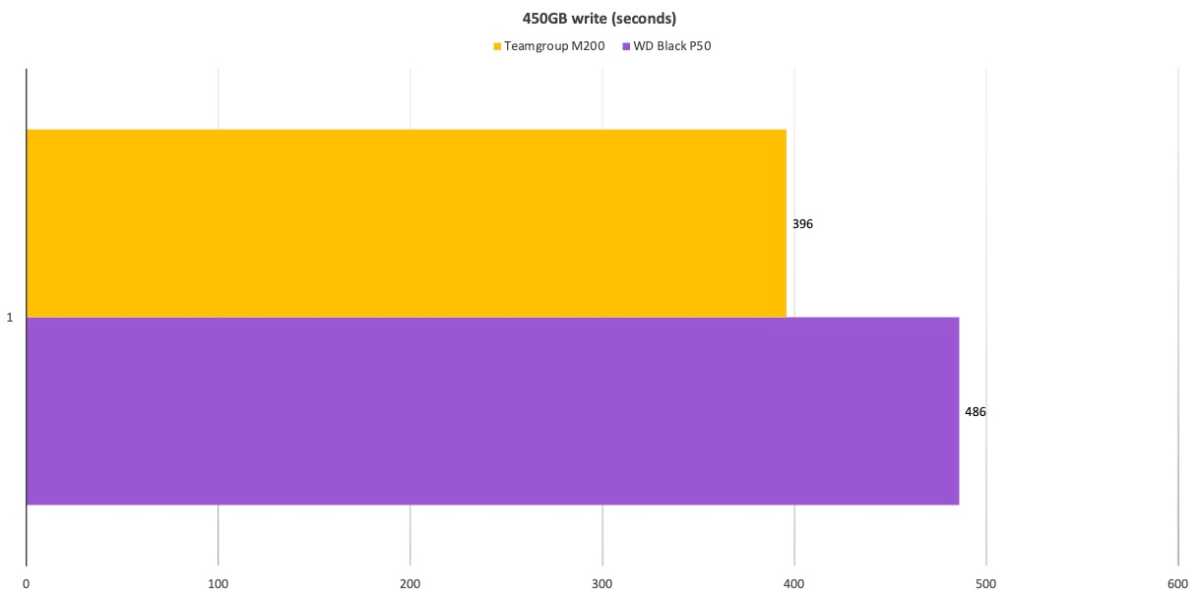 You may have noticed that you can divide USB's speed rating by 10 to get the actual expected throughput. Normally (and logically), you divide bits by 8 to get MB or GB. However, USB protocol overhead is roughly 20 percent of available bandwidth so the rule of thumb is divvy by 10.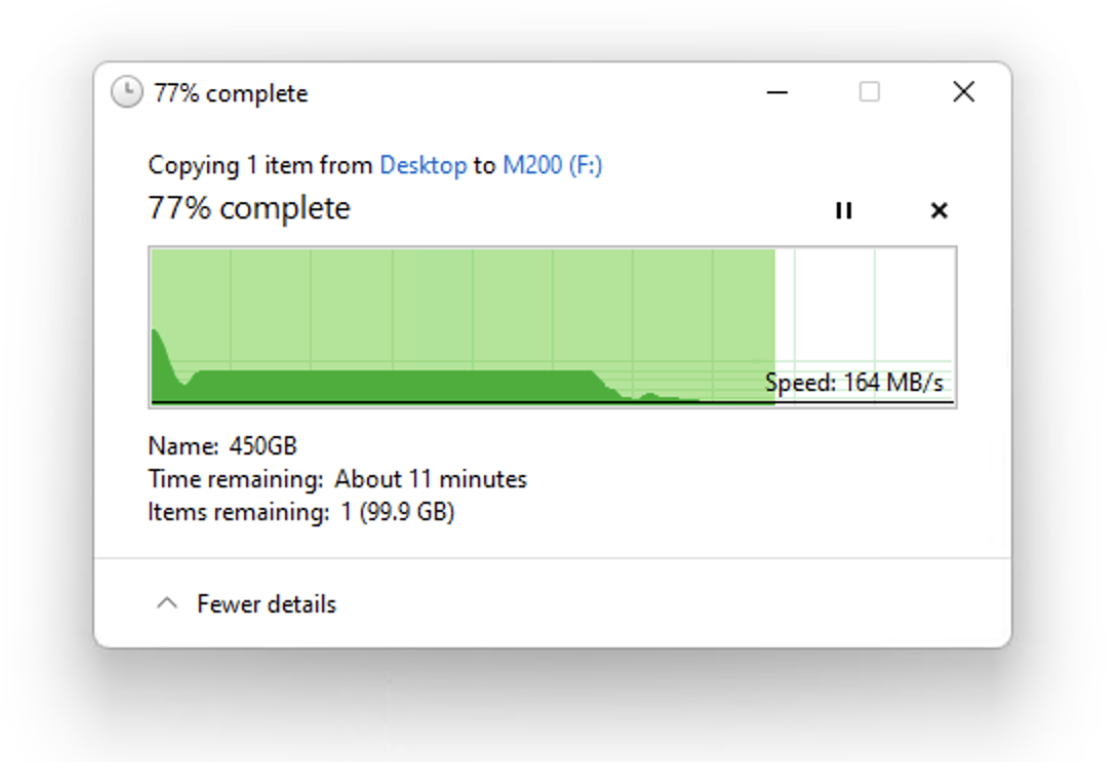 As stated earlier, once off cache, write performance slows to a snails pace as shown in the screen capture above.
How we test
External drive tests currently utilize Windows 11 (22H2) 64-bit running on an X790 (PCIe 5.0) motherboard/i5-12400 CPU combo with two Kingston Fury 32GB DDR5 modules (64GB of memory total). Intel integrated graphics are used. The 48GB transfer tests utilize an ImDisk RAM disk taking up 58GB of the 64GB total memory. The 450GB file is transferred from a Samsung 990 Pro 2TB, which also contains the operating system.

Each test is performed on a newly formatted and TRIM'd drive so the results are optimal. Note that in normal use, as any drive fills up, performance will decrease due to less NAND for caching, and other factors. The policy for all drives is set to "Better performance" with write caching enabled.

The performance numbers shown apply only to the drive we were shipped as well as the capacity tested. SSD performance can vary by capacity due to more or fewer chips to read/write across and the amount of NAND available for secondary caching (writing TLC/QLC as SLC). Vendors also occasionally swap components and Teamgroup reserves this right. If you ever notice a large discrepancy between the performance you experience and that which we report (systems being roughly equal), by all means—let us know.
Should you buy the Teamgroup M200?
The Teamgroup M200 is fast, extremely reasonably priced, and fits the gaming niche nicely style-wise. I like it. You will too.