You can run Windows on the Steam Deck. And you really, really shouldn't. Valve's portable machine has singularly carved out a new hardware niche for PC gamers, but it did so with a system built around the Linux-based SteamOS from the ground up. Such competitors that have arrived in the last year come from smaller companies without the resources to either sell games or make software, and have thus had to settle for more expensive machines with roughly the same specs, running Windows. And frankly, they don't measure up.
Want to know more about the Steam Deck? Here's everything you ever wanted to know about the portable gaming machine.
The Asus ROG Ally might just be the first competitor that can. It's a familiar form factor, with more power thanks to a brand new AMD Z1 chip based on Zen 4. And it was made from day one with Windows gaming in mind, to the same degree that the Steam Deck was built around its operating system. And thanks to compatibility with the same proprietary external graphics cards as the ROG Flow laptops and tablets, it might—might—be able to fully replace a gaming laptop or desktop. Hell, it might just be able to replace a full desktop PC, period.
Will that extra capability be worth the inevitably higher price of the ROG Ally versus the Steam Deck, especially since the ROG XG Mobile eGPU is another thousand bucks (at least) on top of that? Who knows. But it's certainly shaping up to be an interesting alternative for those who demand more power and options.
How does the ROG Ally feel to play?
Picking up the Ally reminded me of a larger, more angular Nintendo Switch. That's probably not surprising—that's what the thing looks like, after all. But what shocked me is that it's also about as light. Seeing this incredibly compact hunk of plastic and electronics, ostensibly with full PC power, you'd assume it would feel heavy in your hands like an oversized smartphone. Not so! While it's large and only "pocketable" if you're still rocking vintage JNCOs, it should be light enough to toss it in almost any bag and forget it's there. I didn't have a kitchen scale handy, but specs say that it's a little over half a kilogram (1.34 pounds). That's a bit heavier than an iPad, but feels lighter thanks to those comfy grips.
Michael Crider/Foundry
And the Ally is comfy, for lack of a more precise word. Though the slanted lines and angled plastic make it look "sharper" than the curvy Steam Deck, this is deceptive. The gadget is rounded in all the right places, and your hands don't touch any of the angular bits while in play. I can see this thing going for hours of gaming sessions… or at least one to two hours, when your battery will need a recharge. During our brief demonstration time, the Ally managed to stay cool even while playing Ghostrunner and Forza, a testament to its dual interior fans, which were hard to hear spin up.
The other big difference versus the Steam Deck is the screen. The Deck's 7-inch, 800p screen maxes out at 400 nits, which is fine for what it is—again, about the same as the original Nintendo Switch. But the Ally beats it in almost every way. It's the same size, but with full 1080p resolution, 500 nits of brightness, and a doubled 120Hz refresh rate, making it match a mid-range gaming monitor. At 7ms of response time, it's not incredibly quick, but standard FreeSync compatibility, which most gaming laptops have (and the Steam Deck's internal screen does not) should help fix that. Asus was also quick to point out that it has a smartphone-style Gorilla Glass Victus cover with a Corning DXC coating for better visibility in sunlight.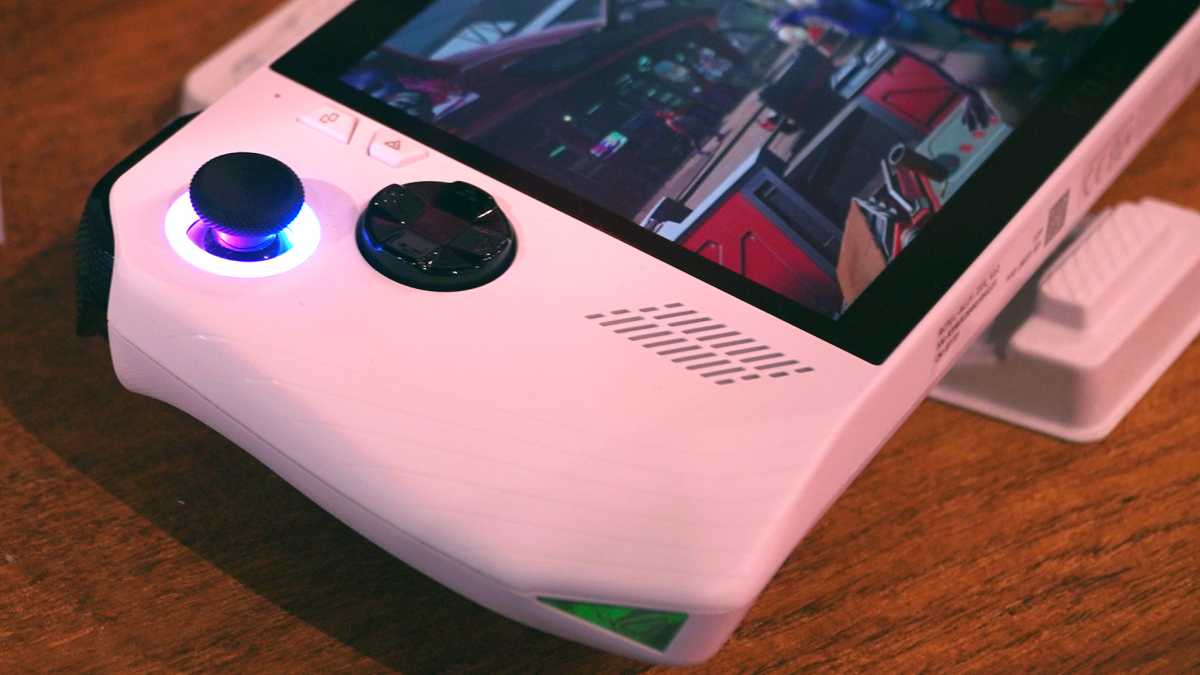 Michael Crider/Foundry
The big omission? Touch pads. An iconic part of Valve's hardware design since the original Steam controller, Asus opted to go for larger, Dolby Atmos-compatible front-facing speakers instead. That might limit your options with less controller-friendly Windows games on the go. The Ally also has RGB lighting, if you really must show off this eye-catching design even more, with rings around both thumbsticks and a small bar on the back. I'll note that some gamers, particularly fighter fans, might take issue with the Genesis-style circular D-pad.
What are the specs of the ROG Ally?
What about the insides of this thing? Asus has teamed up with AMD to make the Ally the debut device for the Ryzen Z1 series of processors, designed specifically for mobile PC gaming form factors like this one. With 4-nanometer Zen 4 architecture and an RDNA 3 graphics core, it's using at least some of the same silicon as the absolute cutting edge of Ryzen laptops. Combined with the dual fan system and liquid cooling "anti-gravity heat pipes," it should be a shockingly powerful little system.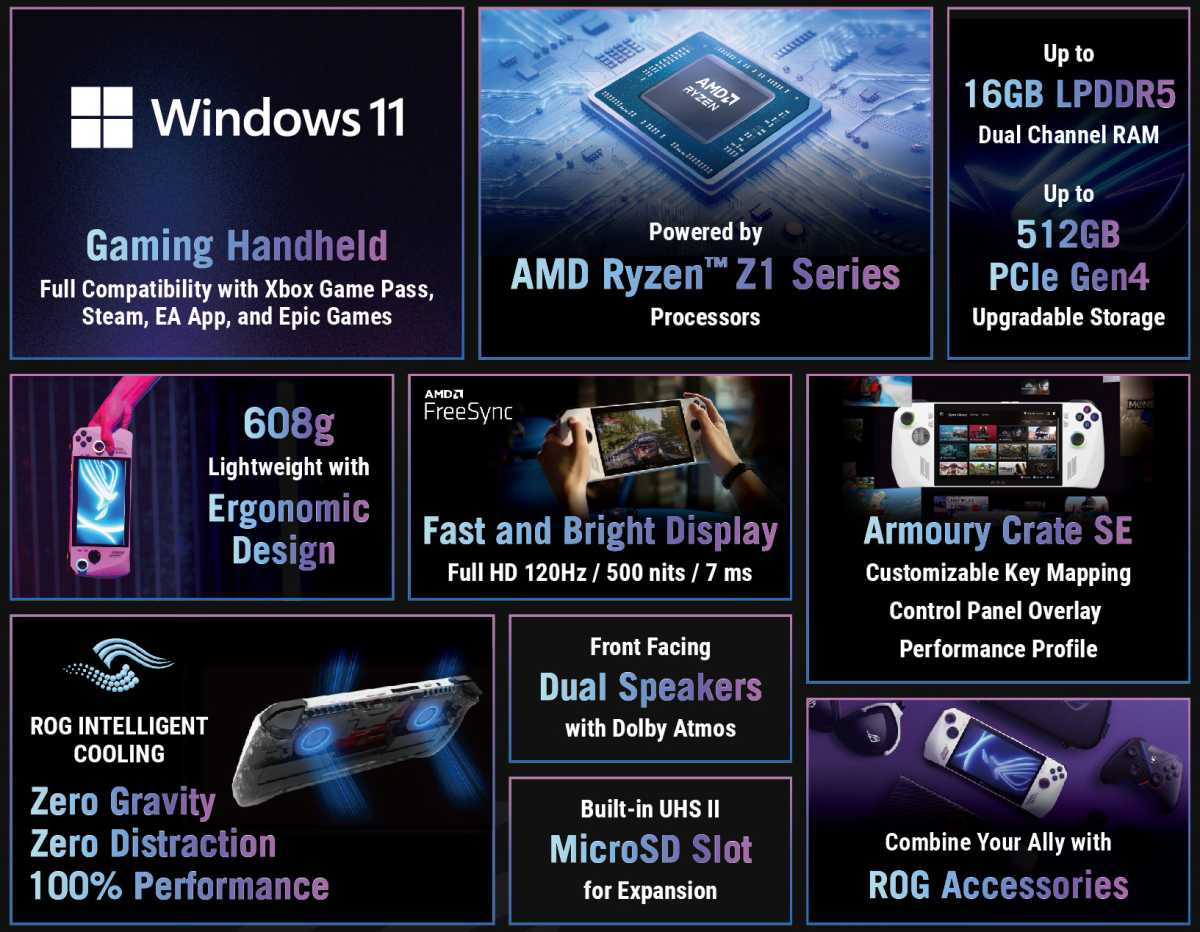 Asus
How powerful? Honestly, we don't know. More technical information and benchmarks weren't made available, and Asus didn't say precisely what GPU powers this new model of APU is rocking. It's certainly more powerful than the Steam Deck and most of its competitors that have arrived in the last year, all based on Zen 2. But playing some of the latest PC games on this thing, in full Windows 11, didn't seem to give it any trouble at all. (Update: AMD posted a series of benchmarks for the new Ryzen Z1 processors this morning.)
Other notable aspects of its Windows-powered hardware include a maximum of 16GB DDR5 RAM (lower capacities may or may not be sold, we don't know yet), a maximum of 512GB of M.2 2230 PCIe gen 4 storage (ditto), a MicroSD card slot with UHS-II speed for expansion, Wi-Fi 6E, and a smartphone-style fingerprint sensor in the power button, the better to log into Windows sans keyboard. All the expansion ports are on the top edge, including USB-C, dedicated headphone jack, and that proprietary port for the mobile dock.
Even more power, if you pay for it
Let's talk about that mobile dock for a moment. The ROG Ally is perfectly happy to plug into a monitor or TV with a standard USB-C hub, a la the Steam Deck or Switch, and play games off its own internal power. But one of its key differentiators is the ability to plug into an ROG XG external GPU. Asus has been making these laptop-GPUs-in-a-box for its Flow series for going on three years, allowing them to be ultraportable machines that can plug into hefty, power-hungry graphics when they need to.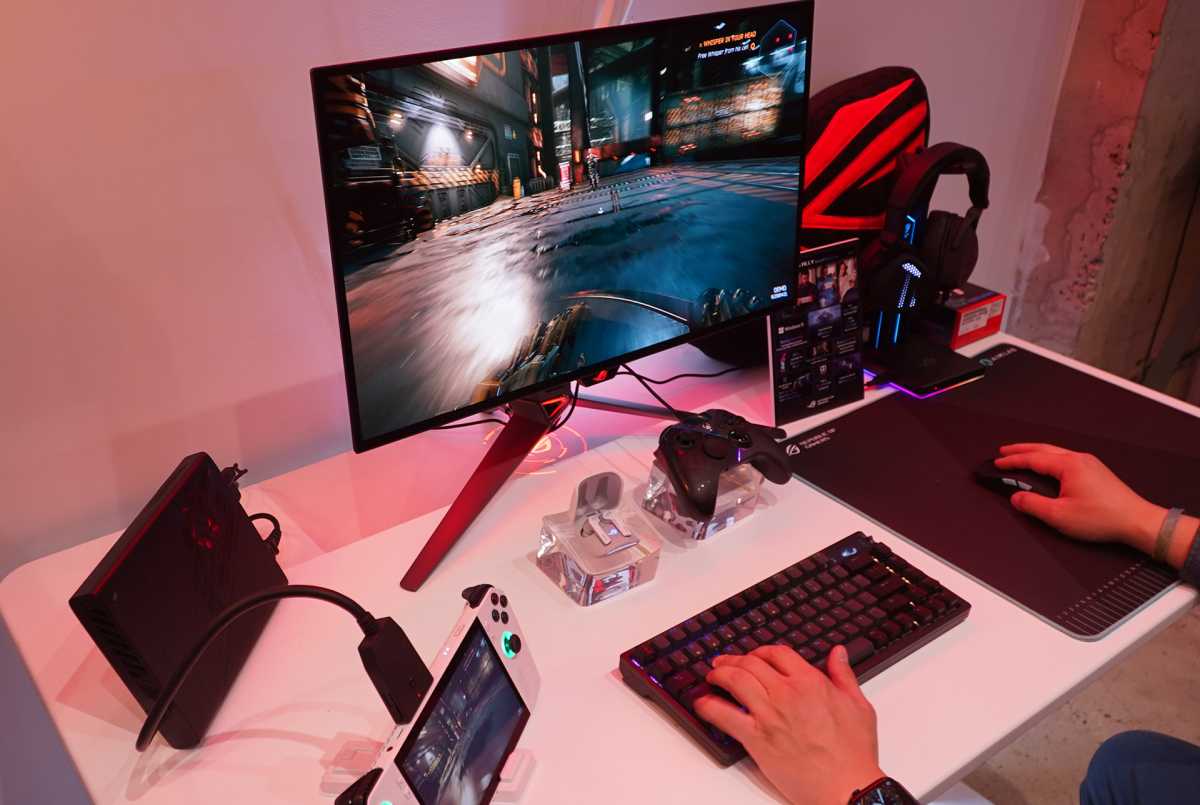 Michael Crider/Foundry
The Ally pulls the same trick. And when it's plugged into one of the XG docks, it's hard to tell that you're not using a full desktop gaming PC. Asus had a demonstration running at the event, playing Ghostrunner at 4K resolution on a 27-inch monitor and it was buttery smooth for that blink-and-you're-dead combat game. That was with the RTX 4090 version of the dock, mind you, and the little plastic hunk was basically a space heater as it drove video on the monitor and the Ally at the same time. The mobile docks also include wired Ethernet plus plenty of spare USB ports for your gaming gear and an extra USB-C Gen2 Type C.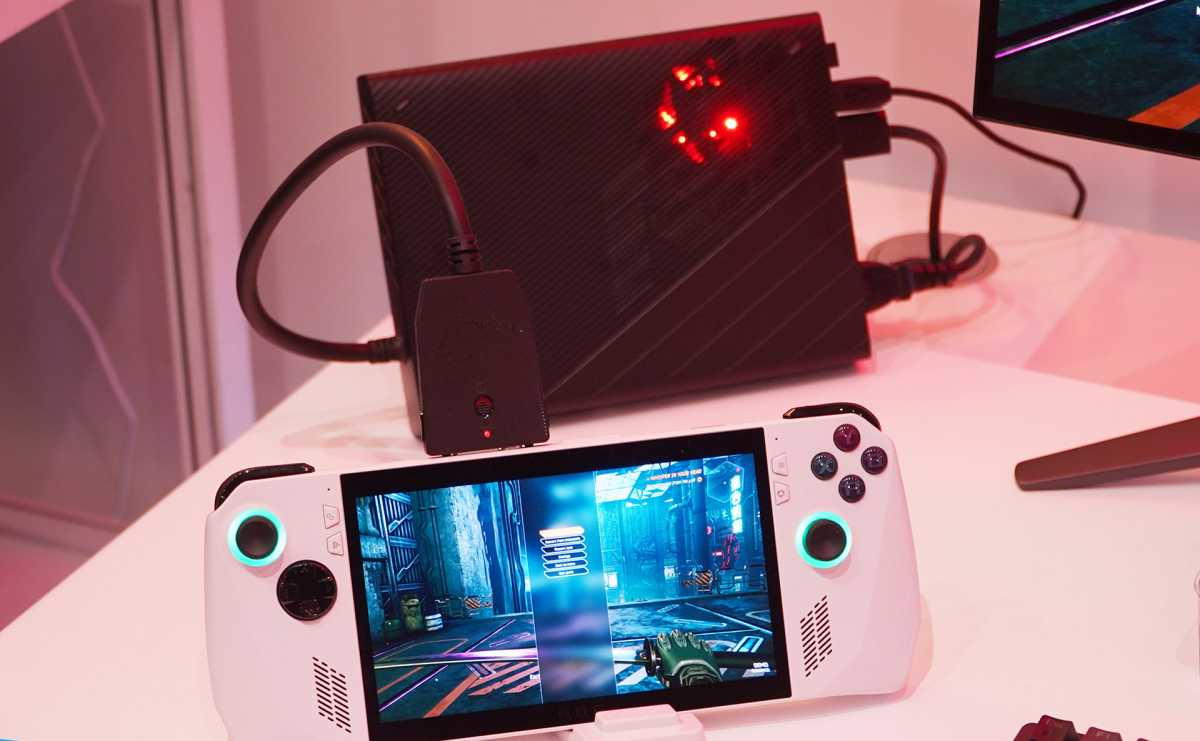 Michael Crider/Foundry
This is, frankly, super freakin' cool. Yes, the Ally could replace a full desktop, assuming you're willing to put that extra money in. And it's quite a bit of money: Asus is selling last year's model with a Radeon RX 6850 XT card for $1,000 while the 2023 RTX 4090 version at the demo event goes for two grand. $2,000, plus whatever you spend on the Ally itself, can buy a whole lot of gaming desktop or a pretty great gaming laptop. And, unlike other eGPU docks, these are mobile graphics cards that can't be upgraded independent of the PCIe-based chassis.
That's a lot of capability and a lot of money. Frankly, I'd be tempted to spend $1500 on a mid-range gaming PC and buy an Ally at the same time, assuming I had the disposable income for both. But this sort of whiz-bang tech always comes at a premium, at least at launch.
Windows gaming, outdoors
The technical capabilities of the Ally + XG dock are undeniable and even without it, it makes for a pretty solid desktop machine when you plug in a monitor, keyboard, mouse, and speakers. (Yeah, that's a lot of hardware to add on, now that I list it out). And you can get all that capability with Windows 11 installed out of the box. I'm less convinced of the Ally's ability to easily navigate Windows on the go, with its lack of touchpads and reliance on a touchscreen keyboard.
Of course Windows, and the nigh-unlimited games it offers across all PC-based game stores, is another one of the big draws for the Ally. "Every Game, Every Platform, All At Once" is the trendy Oscar-style tagline Asus goes with, since the gadget won't rely on Linux releases or an emulation layer. That also means that some of the games that still stubbornly refuse to run on the Steam Deck—like Fortnite, for example—can be confidently played without a "Certified" label.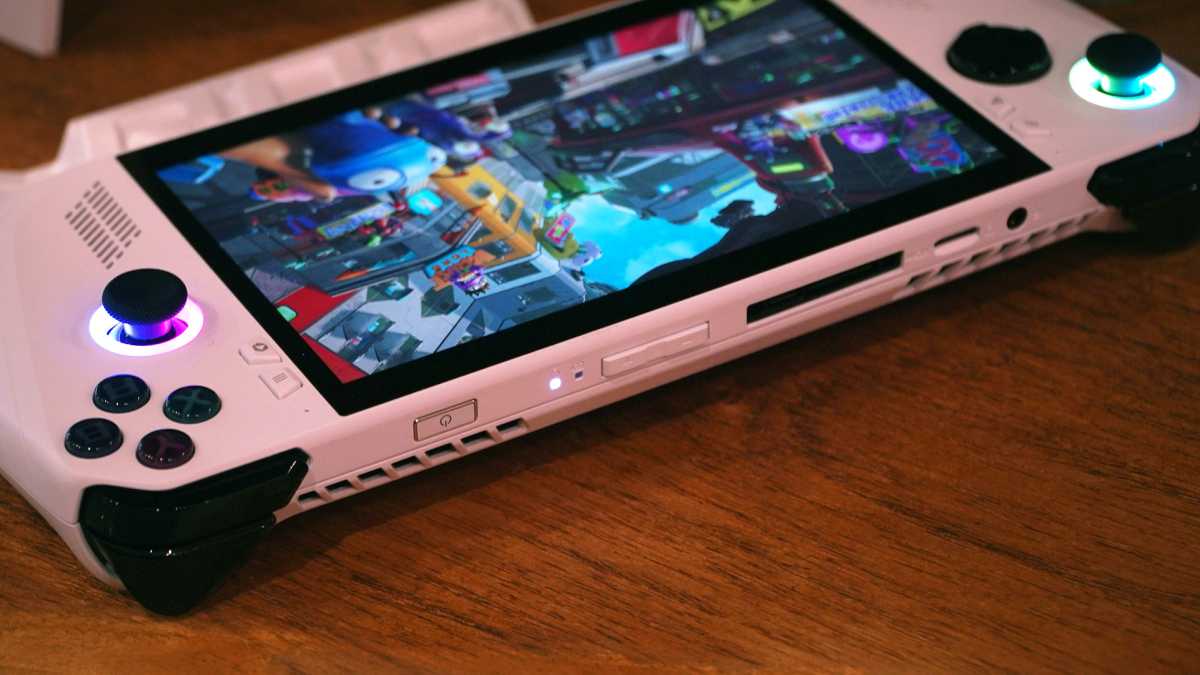 Michael Crider/Foundry
And speaking of non-Steam games, the included Armoury Crate SE app is the latest in a long line to claim to unify all your disparate gaming libraries. In my brief time with it, I found it finicky and disjointed. In addition to yet another interface for launching games, it's also where you adjust settings like the Ally's trigger sensitivity, lighting effects, et cetera. Frankly, I'd rather connect a full mouse and keyboard and just add external games to Steam's Big Picture Mode, which should work just as well on the Ally's Windows hardware as it does elsewhere.
Keep in mind that you're unlikely to go for any super-long gaming sessions on the road. An Asus representative told me that in testing they managed to get an average of about 90 minutes of game time, maybe two hours if they turned down the visual settings. The Ally can go further, if you opt for streaming games via Game Pass or GeForce Now, but that also requires a rock-solid connection. Whatever you're playing, you'll want to pack a charger in the bag, especially if you're on a long-haul flight or cross-country bus or car ride. That's about the same as the Steam Deck and its contemporaries. But battery life remains an Achilles heel of this form factor and doesn't seem likely to get better any time soon.
How much is the ROG Ally going to cost?
The Steam Deck starts at just $400, maxing out at $650 for the highest-end model with more storage and a slightly better screen. Popular wisdom says Valve is using old-fashioned game console loss leader tactics, losing money on every Steam Deck sale and hoping to make it back on software sales.
With newer AMD Z1 hardware and an improvement in just about every measurable technical capacity, and without literally millions of gamers giving a cut on every game sale, there's absolutely no chance the ROG Ally will be anywhere close to the Steam Deck's entry-level price. The Windows license alone would make that basically impossible. The question then becomes, how much more will the Ally cost and will it be worth it in terms of the added capability and value?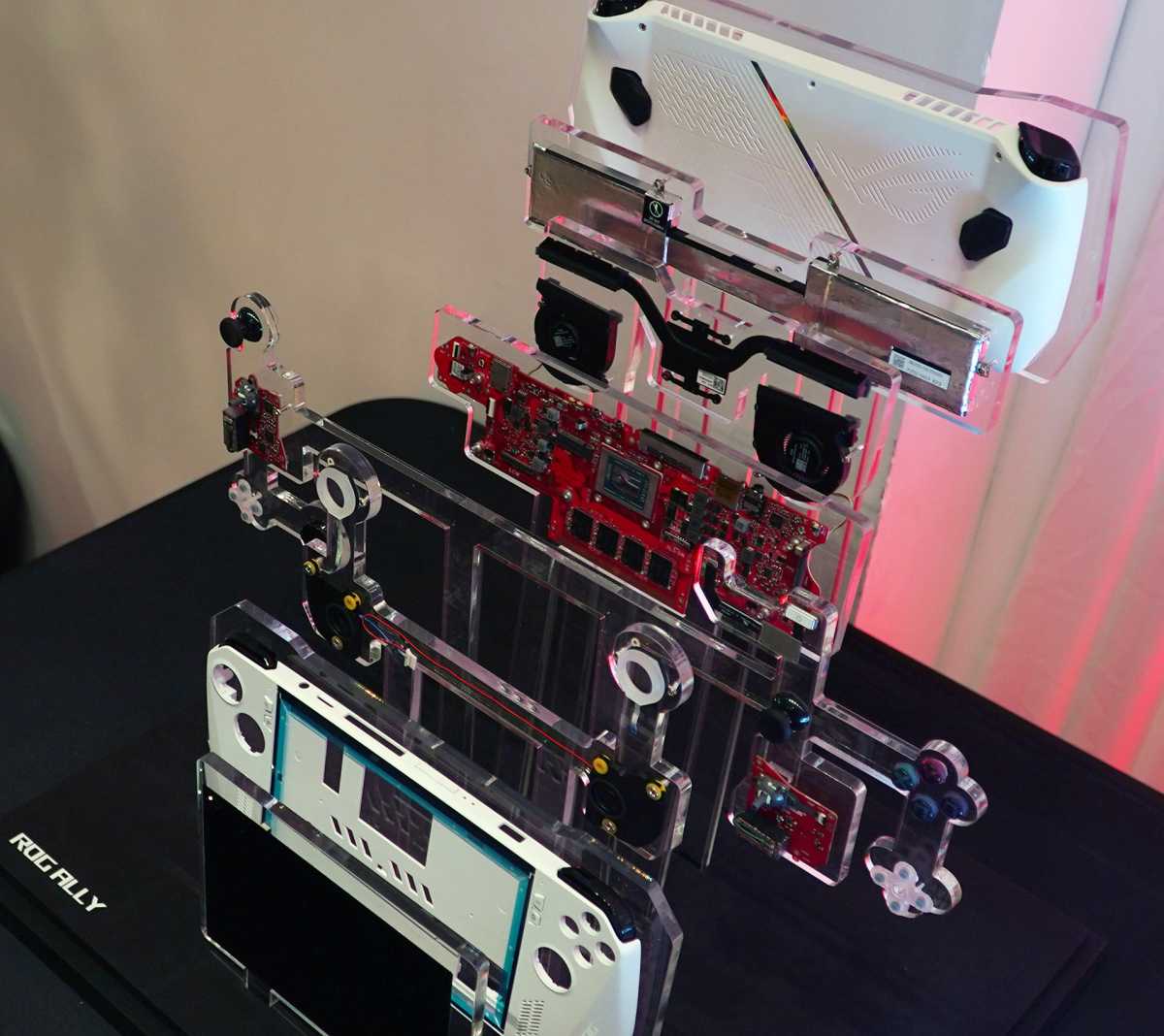 Michael Crider/Foundry
Asus is pricing the ROG Ally at $599.99 for the standard version — which won't be available at launch — and $699.99 for the upgraded Z1 Extreme version. Considering that almost all of the Windows-based Steam Deck competitors have come in at over a thousand bucks so far, and the Ally is beating it in several key components, the price is competitive bordering on aggressive. Of course the Ally doesn't have the same end-to-end synergy of hardware and software that the Steam Deck does…but you could argue that with the flexibility of Windows and its nigh-infinite game selection, it doesn't need it.
The Z1 Extreme version of the ROG Ally launches on June 13th, with Best Buy as the exclusive retail partner in the United States. It's available for pre-order now.