When you go for the thinnest, lightest laptop you can, you make certain sacrifices. Take the darling of the category, the Dell XPS 13, for example. If you buy one, you might as well buy a USB-C dock as well, because two C ports are all you're getting for I/O. The latest Asus Zenbook is trying to buck that trend. The S 13 (UX5304 for the 2023 model) combines high-end specs, including a gorgeous OLED screen and a distinctive design, with enough ports to make you leave your dongles behind.
On the left side of the laptop, you'll find two USB-C/Thunderbolt 4 ports, plus a full-sized HDMI 2.1 port, the latter of which is a hair's breadth from the bottom of the alloy chassis. On the other side, you get a standard USB-A 3.2 Gen 2 port (also scraping the side of the case) and a headphone jack. That might not sound like much if you're used to a more chunky model, but this laptop is just 10.9mm thin—thinner than my Pixel 7 phone. It's a surprising and very welcome mixture of practicality and appealing design.
Asus
Speaking of design, Asus was quick to highlight its new method of adorning the Zenbook with both color and texture. The magnesium-aluminum alloy body's lid has a rough but appealing stone-like texture on its graphic (which reminds me a bit of the Starfleet badge), created using what Asus calls "plasma ceramic aluminum." In an alternative to the usual anodizing process, this finish has increased wear resistance and hardness with far fewer byproducts going into the environment. It's hard to describe how nice the lid is based on photos alone, but as someone who's sick to death of rubbing fingerprints off of his ThinkPad, trust me when I say it's extremely appealing.
Every part of the Zenbook S 13 is designed to be thinner and more compact, but razor-thinness isn't the only benefit. Thanks to fewer motherboard component layers and a rearrangement of the screen panel, there's room for a thicker battery and a new IR camera for Windows Hello. The screen is a 16:10 OLED panel at 2880×1800 resolution, which Asus says that this panel covers 100% of the DCI-P3 color gamut. It's also rocking 550 nits, surprisingly high for an OLED screen. On the other side of the case is a 63-watt hour battery (again, very impressive for the form factor) that Asus clocks at 14 hours of streaming video. It can also charge up to 70% capacity in 49 minutes.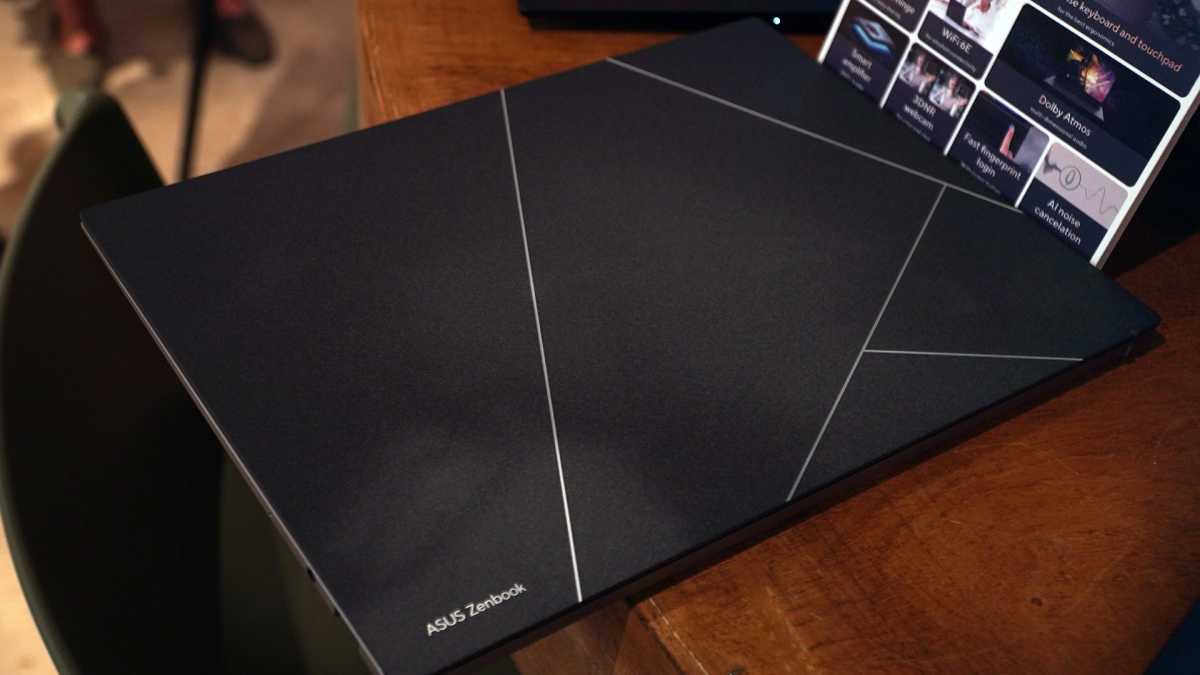 Michael Crider/Foundry
During my brief time using the laptop, the keyboard was a low point. Asus says that this, too, has been redesigned for more thinness and I could tell with very little key travel. It wasn't bad, just not as satisfying as other premium laptops I've used. The touchpad was another matter. It features excellent texture with plenty of room and response. The hinge forces the keyboard deck up slightly, but can still lay flat at 180 degrees, which Asus seems particularly proud of.
The guts of the Zenbook S 13 are predictably high-end. The sole configuration on the Asus store uses a Core i7-1355U processor with Xe integrated graphics, 32GB of DDR5 memory, and a terabyte of PCIe. 4.0 NVMe storage. It goes for $1,399.99, which is a fair bit more than some of the competition. The laptop is shipping now and other configurations may be available later.