At a glance
Expert's Rating
Pros
Attractive, slim design
Excellent keyboard and touchpad
Strong CPU and GPU performance
Respectable battery life
Cons
Mediocre display
No SDcard reader
Our Verdict
Lenovo's Slim Pro 7 is a versatile, affordable laptop that nails the fundamentals.
Price When Reviewed
$1,199.99
Best Prices Today: Lenovo Slim Pro 7
Most laptops are an exercise in compromise—but what if you need a laptop that can handle a bit of everything? The Lenovo Slim Pro 7 is an alluring option. It combines the latest AMD Ryzen processors with Nvidia graphics yet maintains a slim, portable profile and even scores respectable battery life.
For more options, check out our roundup of the best laptops available today.
Lenovo Slim Pro 7: Specs and features
The Lenovo Slim Pro 7 is powered by AMD's Ryzen 7735HS processor, an eight-core, sixteen-thread chip which uses the Zen 3+ architecture. It's paired with Nvidia RTX 3050 graphics, promising a one-two punch of CPU and GPU performance.
CPU: AMD Ryzen 7735HS
Memory: 16GB LPDDR5
Graphics/GPU: Nvidia RTX 3050 6GB
Display: 14.5-inch 2560 x 1600 IPS 90Hz
Storage: 512GB PCIe Gen4 SSD
Webcam: 1080 with IR
Connectivity: 1x USB4 40 Gbps with DisplayPort 1.4 and Power Delivery, 1x USB-C 3.2 Gen 2 with DisplayPort 1.4 and Power Delivery, 1x USB-A 3.2 Gen 1, 1x HDMI, 1x 3.5mm combo audio
Networking: WiFi 6E, Bluetooth 5.1
Biometrics: Windows Hello Facial Recognition
Battery capacity: 73 watt-hours
Dimensions: 12.81 inches x 8.92 inches x 0.71 inches
Weight: 3.5 pounds
MSRP: $1,199
Lenovo's pricing is competitive, slapping this configuration with a $1,199 MSRP (at Best Buy). It's among the least expensive laptops available with this hardware: some Dell Inspiron, Acer Swift, and MSI Sword models undercut it on price, but they have older AMD Ryzen 5000/6000 or 12th-gen Intel Core i7 processors.
Lenovo Slim Pro 7: Design and build quality
IDG / Matthew Smith
Lenovo has quietly established itself as a leader in modern laptop design over the past decade, and the Lenovo Slim Pro 7 benefits from this experience. It's a simple but elegant laptop that makes all the right decisions. Material quality is high, with metal panels across all touch points, and the "storm grey" colorway looks excellent.
The Slim Pro 7 lives up to its name with thin display bezels and a svelte chassis that measures just .71 inches thick and weighs only 3.5 pounds. It's just a shade larger than the Apple MacBook Pro 14, which is .61 inches thick and also weighs 3.5 pounds. The Lenovo has a slightly larger 14.5-inch display, so it's also a few tenths of an inch wider than the Mac.
What's the catch? Well…there isn't one. The laptop's only oddity is a lip on the top display bezel that's used to house the 1080p webcam. It might catch on objects when you slip the laptop in or out of a bag but also makes the laptop a tad easier to open. There's otherwise nothing to complain about. The Slim Pro 7 is a functional, attractive laptop that can go toe-to-toe with Dell's XPS and Apple's MacBook Pro.
Lenovo Slim Pro 7: Keyboard, trackpad, pen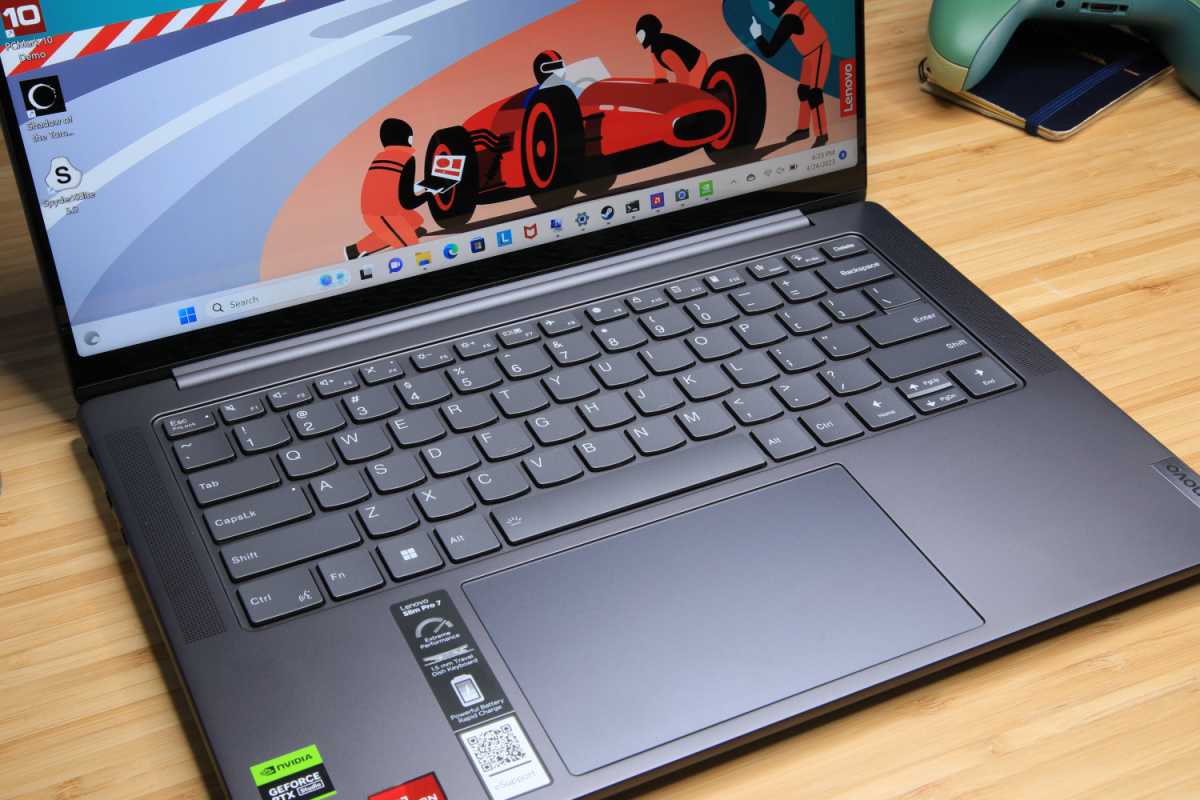 IDG / Matthew Smith
I suspect Lenovo has hired a few warlocks, as there's some black magic lurking in the company's keyboards. The Slim Pro 7's thin chassis offers little room for key travel, yet key feel is excellent thanks to a lengthy, crisp key action. It's an unquestionable improvement over current Dell XPS, Razer Blade, and Apple MacBook Pro laptops, and comparable to the redesigned keyboard found on the most recent MacBook Air.
A white keyboard backlight is included and offers three brightness settings: low, high, and automatic (which selectively turns on the backlight based on ambient light). The backlight does the job but is otherwise unremarkable, and I would like to see more brightness options. Low might seem too bright in a very dark room and high is too dim to see in brighter settings.
The touchpad is large, measuring nearly six inches wide and three inches deep. This is comparable to the Apple MacBook Pro 14, Razer Blade 14, and Dell XPS 15. The touchpad is smooth and Windows' multi-touch gestures are easy to use thanks to the touchpad's ample size and sensitivity.
Lenovo Slim Pro 7: Display, audio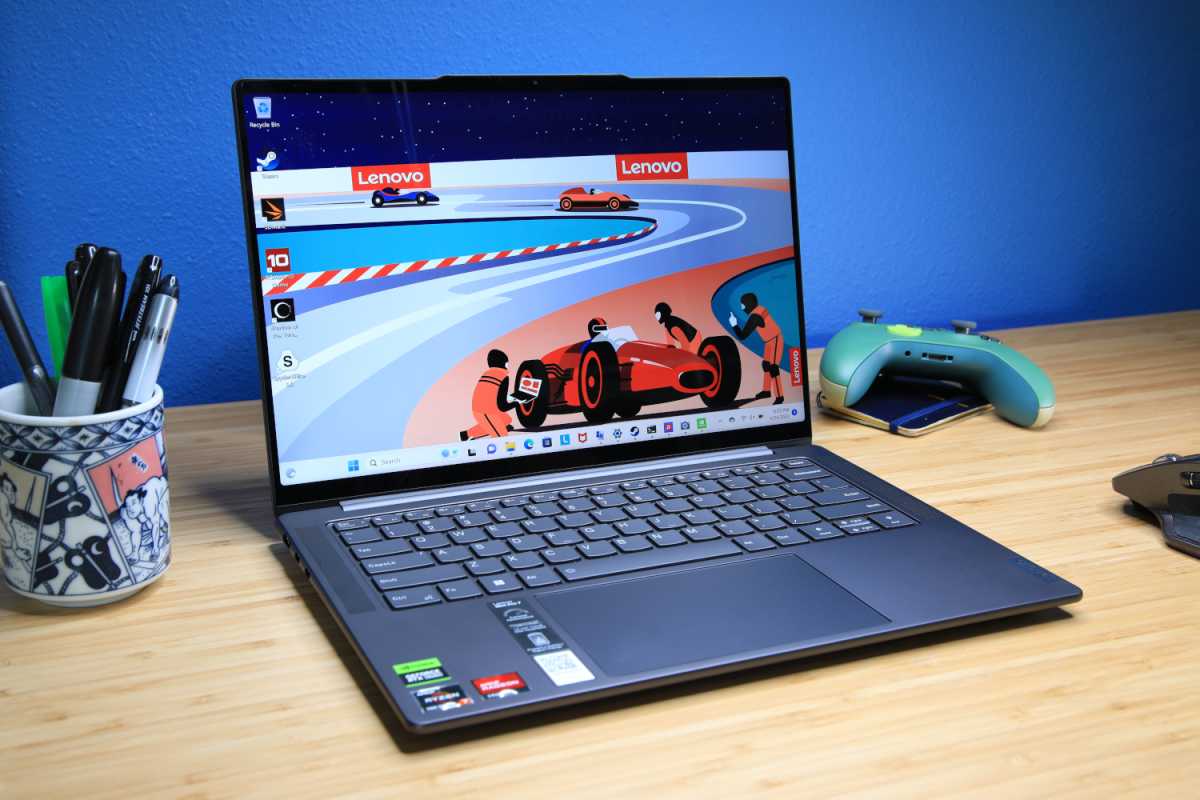 IDG / Matthew Smith
Lenovo provides a 14.5-inch IPS touchscreen with 2,560 x 1,600 resolution in most Slim Pro 7 models (a 3,072 x 1,920 IPS touchscreen is available as an upgrade). It offers passable performance but scores noticeably behind the Mini-LED in Apple's MacBook Pro 14 and Windows laptops with OLED displays such as the Acer Swift Edge, Samsung Galaxy Book3, and Lenovo Yoga 9i.
The display reached a mediocre maximum contrast ratio of 1140:1. That's acceptable but behind similarly priced alternatives like the Microsoft Surface Laptop 5. Apple's MacBook Pro 14 with Mini-LED display can hit a contrast ratio of 6680:1 and laptops with an OLED display, such as the Lenovo Yoga 9i, perform better still. The Slim Pro 7's low contrast ratio can lead to a washed-out and flat look, though I only found this noticeable when using the laptop in a dark room.
Brightness isn't great with a maximum luminance of 364 nits. That's about the same as the Microsoft Surface Laptop 5 but generally behind similarly priced laptops, which achieve 400 to 600 nits. Color gamut is also modest, reaching 99 percent of sRGB and 82 percent of DCI-P3. Alternatives with an OLED display, including the Yoga 9i, cover the entire sRGB color gamut and up to 99 percent of DCI-P3.
It's not all bad news. The 14.5-inch display's 2,560 x 1,600 resolution packs 208 pixels per inch, which is superior to a 27-inch 4K monitor. Text looks crisp and high-resolution content appears realistic and detailed. The refresh rate is boosted to 90Hz, as well, providing a slight boost to motion smoothness and clarity.
A pair of upward-firing speakers sit on either side of the keyboard and provide clear, crisp sound. Maximum volume is high enough to fill a small room with music and a hint of low end provides depth to music and movies. Better speakers can be found in a handful of laptops, including the Apple MacBook Pro 14, Microsoft Surface Laptop Studio, and Lenovo Yoga 9i, but the Slim Pro 7's audio is solid for a slim laptop.
Lenovo Slim Pro 7: Webcam, microphone, biometrics
A 1080p webcam is stuffed in a small camera hump on the Lenovo Slim Pro 7's top display bezel. Video quality is great for a laptop webcam with acceptable sharpness and color reproduction. Uneven lightning can cause issues with exposure and the image will appear grainy in low light, but this is true of any laptop webcam.
The webcam is paired with an IR camera that enables support for Windows Hello facial recognition login. It's fast, seamless, and easy to use. Lenovo offers an automatic user detection feature that, when enabled, will automatically bring the laptop out of sleep and use Windows Hello to log you in. It's a small but convenient addition.
Audio is captured with a quad-microphone array that provides strong volume and good clarity. The included noise canceling was extremely effective in my testing, removing the sound of a space heater and mostly obscuring soft music played from a nearby speaker.
Lenovo Slim Pro 7: Connectivity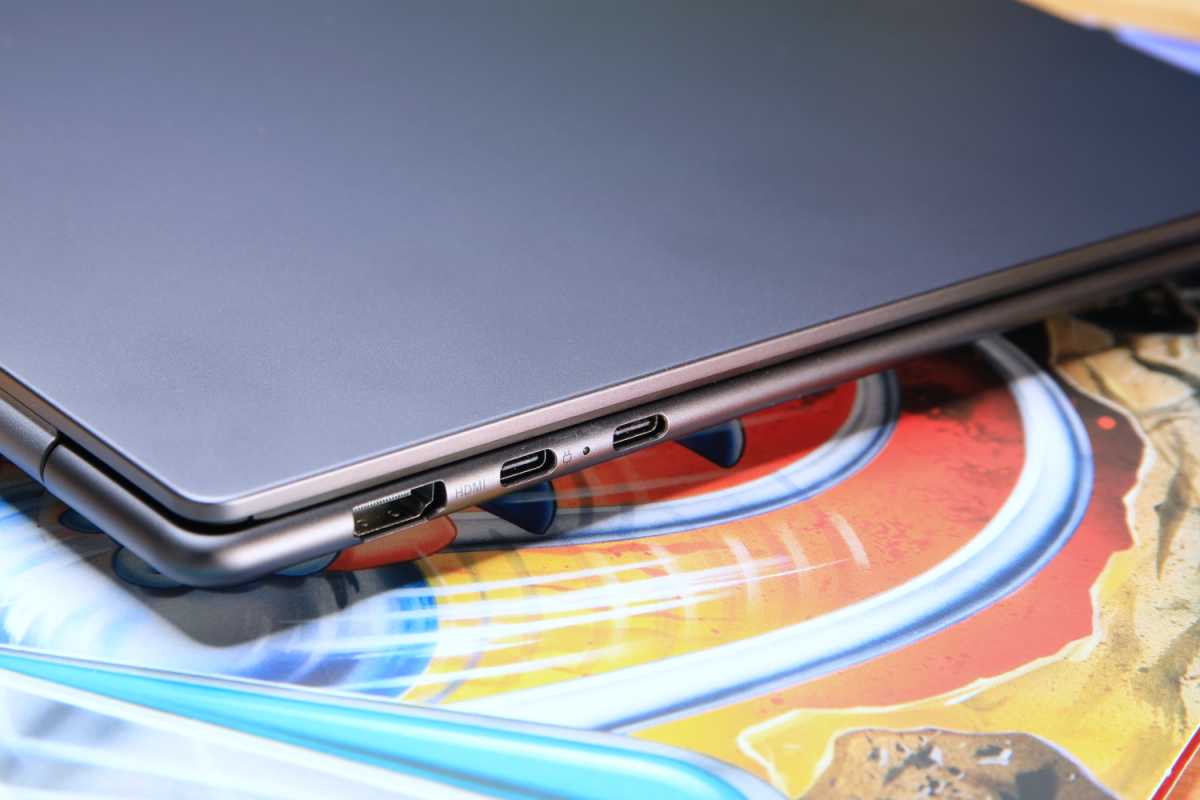 IDG / Matthew Smith
A healthy range of connectivity lines the Lenovo Slim Pro 7's flanks. It includes a USB4 port capable of up to 40 Gbps of data as well as Power Delivery and DisplayPort 1.4. This is joined by a second USB-C 3.2 Gen 2 port which also handles Power Delivery and DisplayPort 1.4. Both ports can be used to charge the laptop or connect a monitor.
The laptop also has a USB-A port, an HDMI port, and a 3.5mm combo audio port, providing a good range of connectivity for older devices. An SDcard reader is absent, however, and sorely missed.
Wireless connectivity is solid with support for Bluetooth 5.1 and the latest Wi-Fi 6E standard. A Wi-Fi 6E router is required to unlock the benefits of this new standard, but Wi-Fi 6 performance was also reliable, reaching 80 Mbps in a detached office several walls and fifty feet away from a router.
Lenovo Slim Pro 7: Performance
The Lenovo Slim Pro 7 packs AMD's Ryzen 7735HS, an eight-core, sixteen-thread processor with a maximum clock speed of 4.75GHz. This makes for an interesting comparison with Lenovo's own Yoga 9i Gen 8, which is similar in size and weight but packs Intel's Core i7-1360P.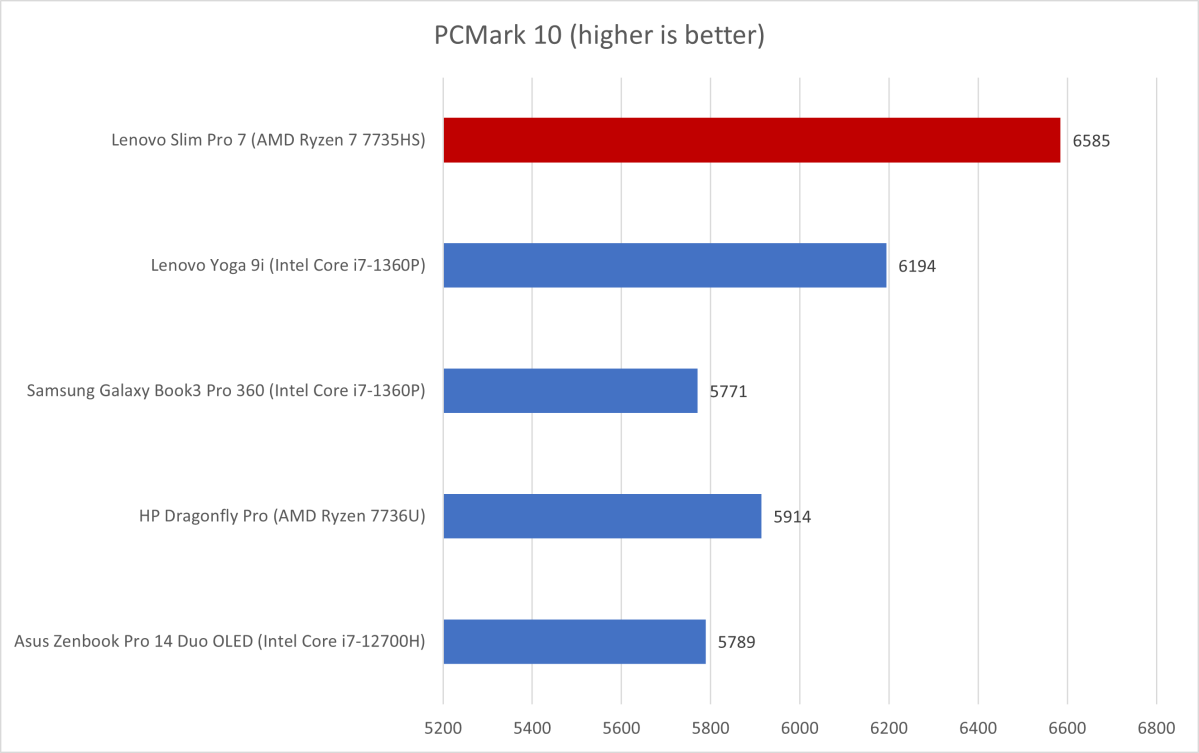 IDG / Matthew Smith
PCMark 10 produced a favorable score of 6,585. This places the Lenovo Slim Pro 7 ahead of not only the Yoga 9i Gen 8 but other comparable laptops such as the Galaxy Book3 Pro 360 and HP Dragonfly Pro. The Slim Pro 7's strong score in this benchmark indicates strong performance in a variety of situations, a result that's born out in other benchmark tests.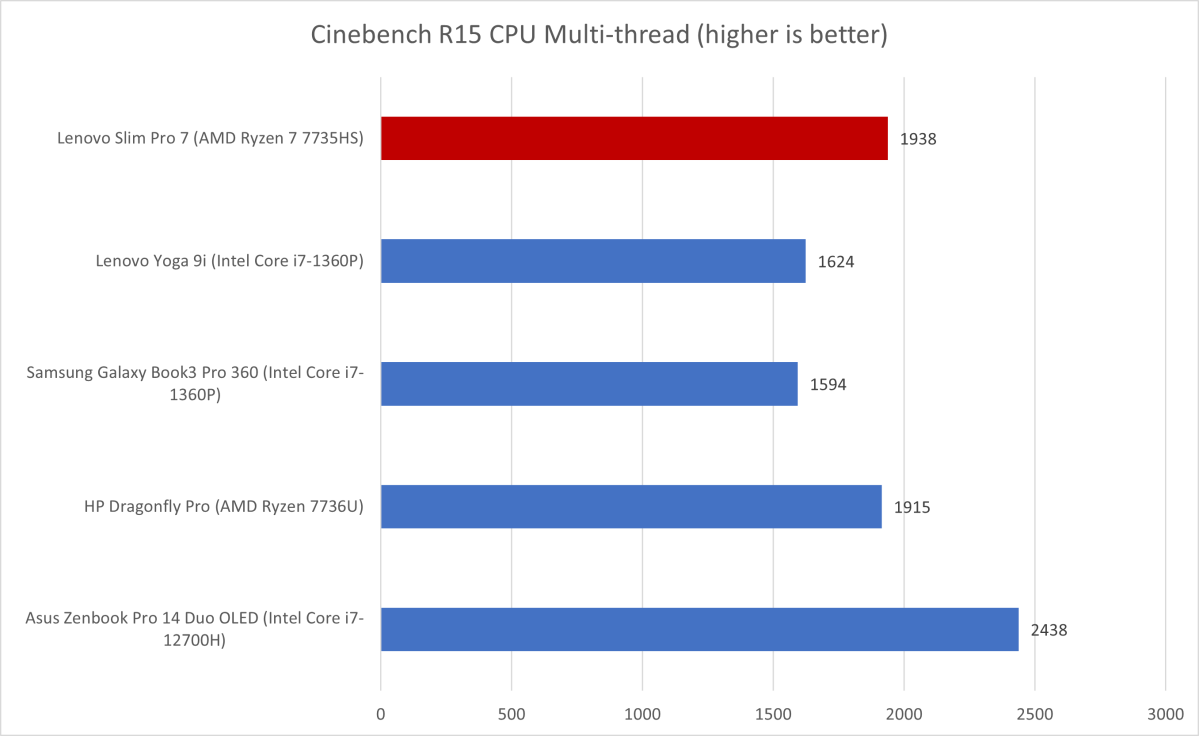 IDG / Matthew Smith
Cinebench R15, a heavily multithreaded processor benchmark with a short duration, notches a clear win for the Slim Pro 7 and AMD Ryzen 7735HS. The Ryzen screams past the Intel Core i7-1360P to a score of 1,938, a roughly 20 percent improvement over Intel's alternative.
IDG / Matthew Smith
Handbrake, another demanding multithreaded processor test, reinforces the strength of the Ryzen 7735HS. It buzzed through our video encoding test file in just 1,298 seconds, notching another win over the Intel Core i7-1360P.
The Lenovo Slim Pro 7 pairs AMD's capable Ryzen processor with Nvidia GeForce RTX 3050 6GB mobile graphics. Power usage is constrained to a mere 63 watts, but the discrete graphics chip provides a massive leap over integrated graphics.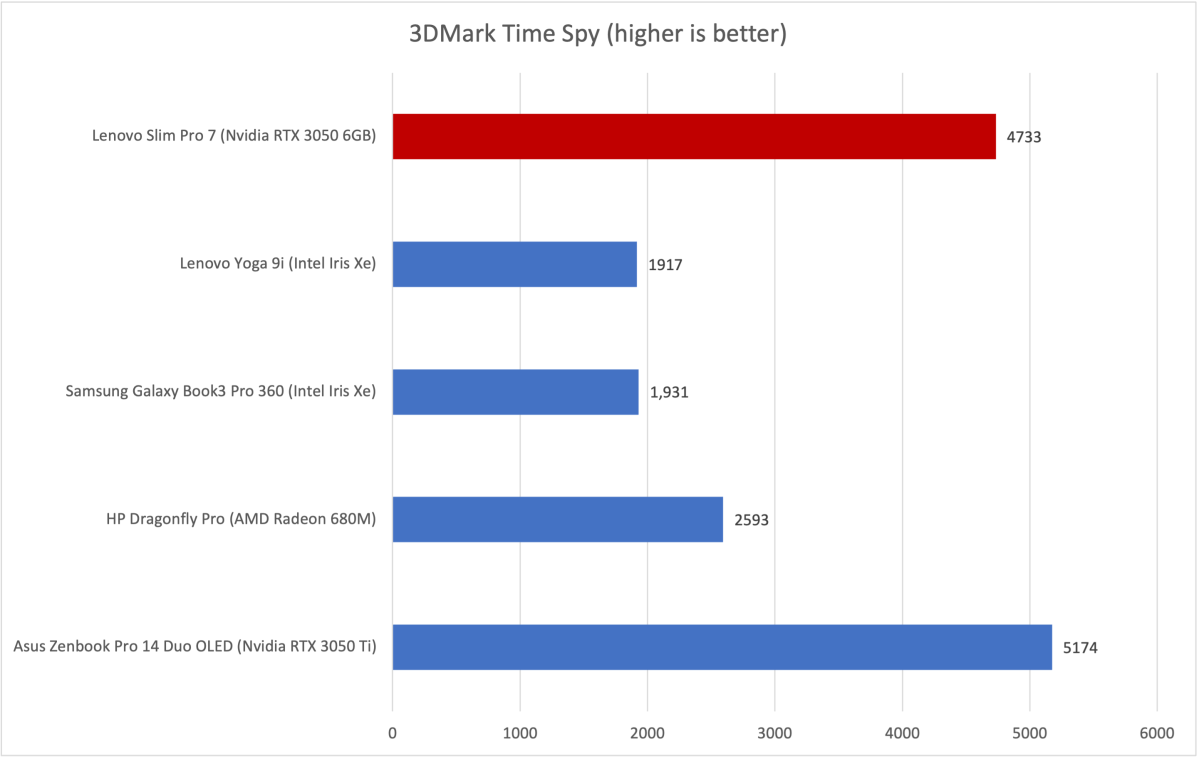 IDG / Matthew Smith
3DMark's Time Spy test turned in a result of 4,733, which is more than twice as quick as the Intel Iris Xe integrated graphics in the Samsung Galaxy Book3 Pro 360 and Lenovo Yoga 9i. It also handily beats the AMD Radeon 680M integrated graphics in the HP Dragonfly Pro.
I also fired up a couple games to see how this incarnation of the RTX 3050 handles popular titles. Shadow of the Tomb Raider averaged a solid 65 frames per second at 1080p resolution and Highest detail. That result is just a tad slower than the MSI Katana GF66, a budget gaming laptop with Nvidia RTX 3050 Ti mobile graphics. The Final Fantasy XIV: Endwalker benchmark reached a score of 10,884 and the game averaged between 60 and 90 frames per second in real-world gameplay at 1080p and High detail.
The Lenovo Slim Pro 7 delivers excellent performance across a wide range of tasks, which is impressive given its affordable price. This laptop is a good pick for most content creators, students, casual gamers, and anyone else seeking an affordable do-it-all laptop.
Lenovo Slim Pro 7: Battery life
Every Lenovo Slim Pro 7 ships with a 73 watt-hour battery. That's a modest size for a 14.5-inch laptop but delivered good battery life results in our testing. AMD's efficient Ryzen 7735HS led the laptop to 13 hours and 12 minutes of endurance in a standard video loop, scoring yet another win over the Intel Core i7-1360P in Lenovo's Yoga 9i.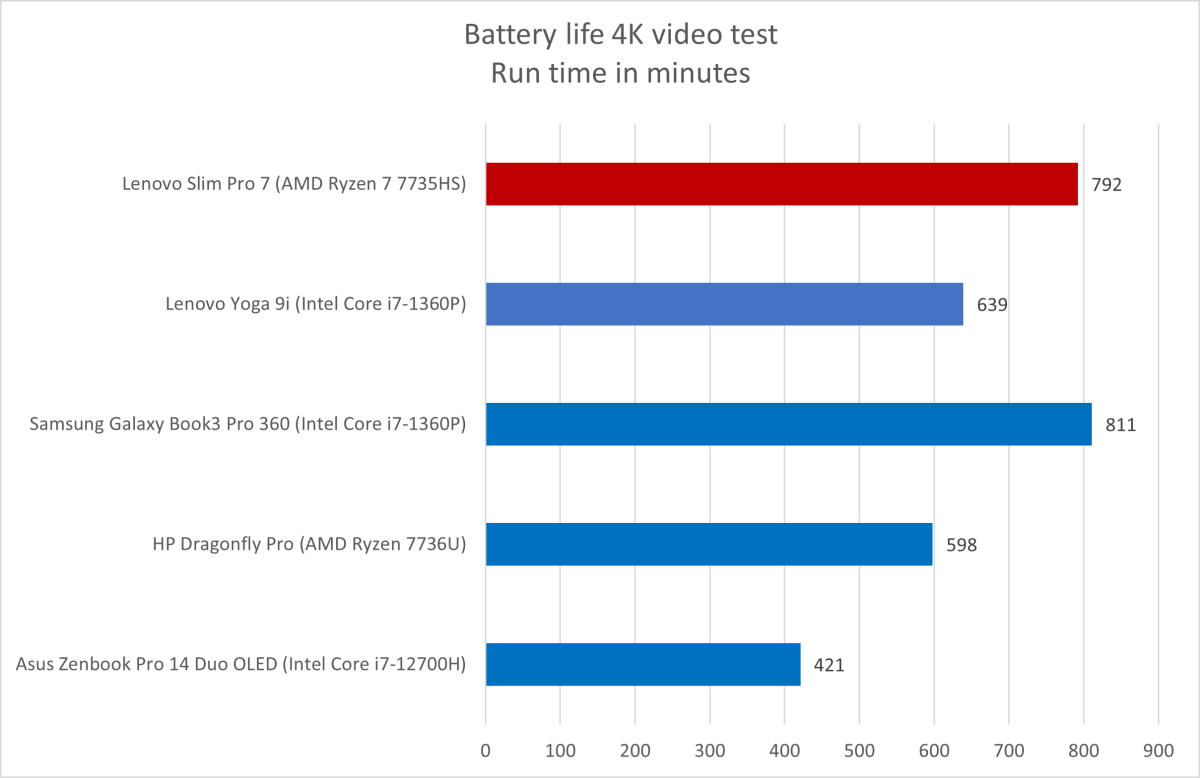 IDG / Matthew Smith
Lenovo achieves solid battery life through switchable graphics, a feature that deactivates the Nvidia GeForce RTX 3050 when its performance isn't required and falls back on the more efficient, integrated AMD Radeon 680M.
Be warned that the laptop's battery life may fall short of this test result if the Nvidia GeForce RTX 3050 is in use. Battery life could be reduced to just a couple hours in a demanding 3D game, and apps that sneakily activate the RTX 3050 can bring down battery life. Fortunately, the switchable graphics feature proved smart in my time with the laptop, and I didn't notice an excess drain on the battery in my day-to-day use.
Lenovo Slim Pro 7: Conclusion
The Lenovo Slim Pro 7 is an attractive, portable laptop that's ideal if you need a combination of CPU and GPU performance. It also nails the fundamentals with solid connectivity, an enjoyable keyboard, a large touchpad, and top-notch webcam. Display quality is a weakness, but it's an acceptable compromise for the laptop's extremely competitive $1,199 MSRP. The Slim Pro 7 is a versatile, affordable laptop and hard to beat for the price.
Best Prices Today: Lenovo Slim Pro 7