Razer is known for somewhat flashy and bombastic hardware designs. Even the company's PC headsets are adorned with RGB lights, presumably for the benefit of your Twitch stream. The BlackShark line is basically the antithesis of this idea: laser-focused on e-sports performance, packed with high-end hardware, and shod of all unnecessary adornments. No noise cancellation, no haptics, and indeed, no RGB lights. So it is with the new BlackShark V2 Pro, the most capable (and most expensive) headset in Razer's expansive PC gaming headset line.
The Razer BlackShark V2 Pro aims for function over form in almost every capacity, from its gaming-focused sound profiles to its new high-quality microphone to its lightweight yet long-lasting design. But the headset also adds some creature comforts in the form of a Bluetooth connection, which makes it compatible with everything from the PlayStation 5 to a 10-year-old iPhone. It's an impressive update to an already-good design, and though it's by no means cheap, it's a solid value compared to similar models from the competition.
Further reading: See our roundups of the best gaming headsets and best wireless gaming headsets to learn about competing products.
At a glance
Expert's Rating
Pros
Comfortable
Long battery life
Pre-loaded EQ profiles
Great microphone
Cons
No notches on volume wheel
Aggressive battery saving
Our Verdict
The BlackShark V2 Pro (2023) is Razer's most focused and most pricey e-sports headset, but its much-improved microphone, battery life, and dedicated EQ profiles make it worth consideration.
Price When Reviewed
$199.99
Best Prices Today: Razer BlackShark V2 Pro (2023) headset
What's new in the Pro V2 2023?
Before we go any further, let's address the name of this gadget. If you're doing some comparison shopping, you might notice that Razer already has a headset named the BlackShark V2 Pro. That's the previous model, which came out in 2020. This is the BlackShark V2 Pro (2023). Despite looking almost identical, the biggest technical upgrade is the addition of Bluetooth capability, and it's $20 more expensive with a suggested retail price of $200.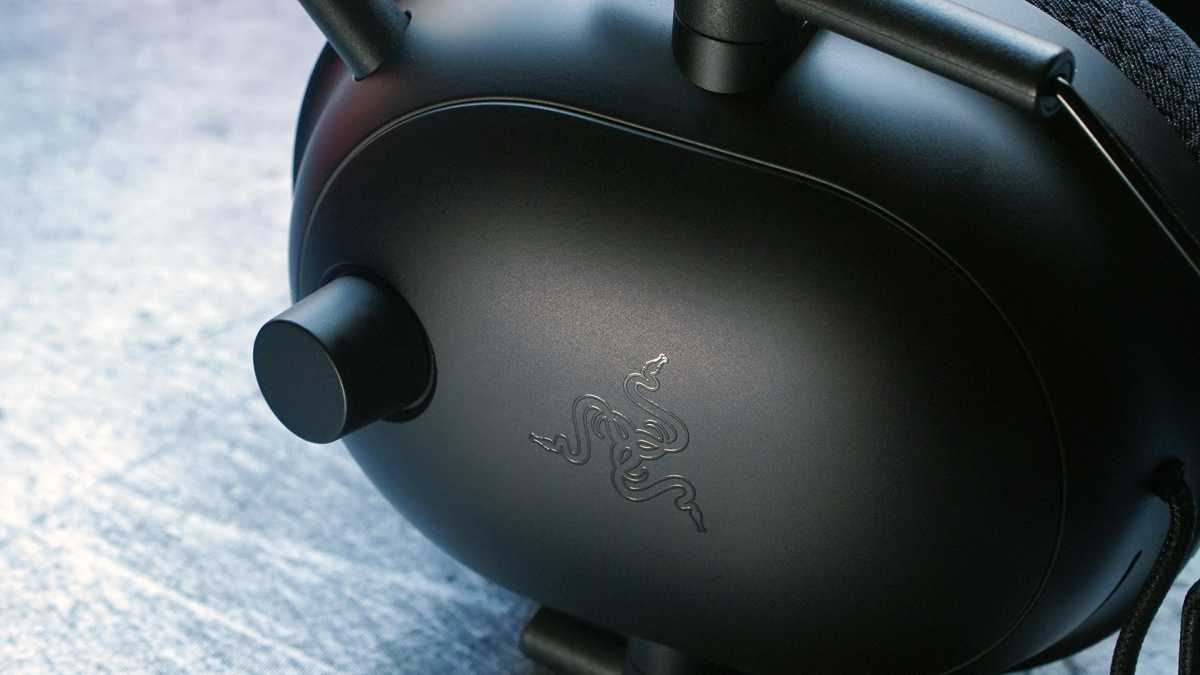 Michael Crider/Foundry
Why isn't this upgraded model called the BlackShark V3 Pro? Honestly, I have no idea. My condolences to the store clerks who will have to deal with both models on the shelf for at least a little while.
For the sake of comparison, here are the highlights of the headset's specs, with the changes made from the 2020 model in bold:
50mm titanium drivers
Memory foam earcups
THX Spatial virtual surround sound
2.4GHz Razer Hyperspeed wireless + Bluetooth 5.2
Detachable microphone
HyperClear Wideband Microphone with 32kHz sampling rate
USB Type-C charging
70 hours of battery life (15 minutes of charging for 6 hours)
On-headset pro-tuned FPS profiles
Razer representatives were also quick to highlight reinforced steel headband sliders, though I'll have to take their word for it, as I haven't used the original model.
How does the BlackShark V2 Pro feel to use?
Pairing and using the BlackShark V2 Pro for the first time, I was surprised at how comfy the earcups are. The foam cups are clad in cloth instead of leather, bringing to mind cheaper designs like the Logitech G435. But the cups are both super-comfy and breathable, for when online competition gets especially heated. And when that happens, the removable mic boom stays put and out of the way.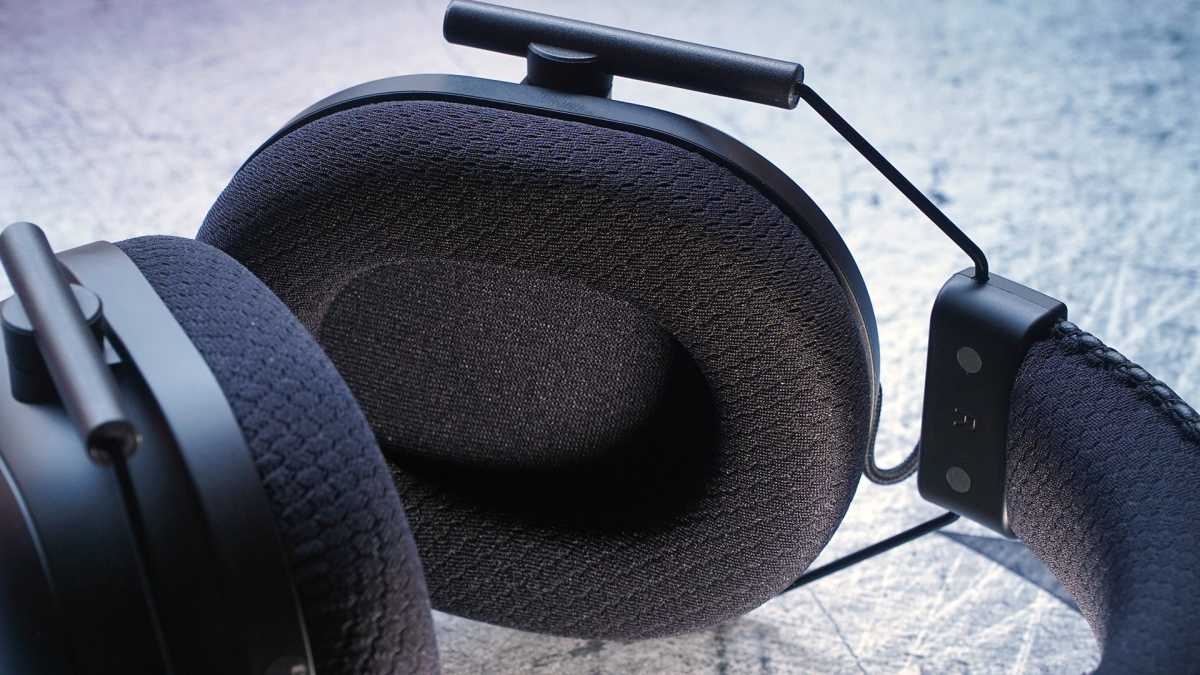 Michael Crider/Foundry
Other physical controls are similarly deceptive—and I mean that in a good way. The volume wheel seems a bit cumbersome at first, but it's extended out from the body so your fingers can find it immediately. (Though I would have appreciated some notches for a better grip.) I thought this gaming-focused design lacked media controls, but in fact, you can quickly tap the power button for play/pause—extremely handy when I get up from my desk to cook dinner and want to keep my podcast going.
The aforementioned volume and power controls (which also doubles as the pair button) are on the left cup, joined by a manual mute toggle for the microphone, if you don't feel like physically removing the boom. On the right side is a single button for switching between pre-defined equalizer profiles (more on those later in the review), and a double-tap will quickly switch between your Hyperspeed USB dongle and any Bluetooth devices you have paired. These combos are a bit daunting at first, especially if you're frequently adjusting the EQ, but I got the hang of them in a few days.
Michael Crider/Foundry
I found the headset comfy and easy to wear, even on my extra-large head, though it's about middle of the pack in terms of weight. I'll trade that weight for longevity, which the V2 Pro has in spades. Razer quotes 90 hours in Bluetooth mode and 70 hours in Hyperspeed mode, and since I was only able to drain the headset once in my testing, I believe it. It's not quite as jaw-dropping as the 300 hours of the HyperX Cloud Alpha Wireless, but that headset also lacks a lot of the more impressive bells and whistles of the Razer alternative. You'll get at least a week's worth of use out of the V2 Pro.
I did find one annoying little quirk: The V2 Pro will shut itself off after 10 minutes of inactivity. I assume this is an aggressive battery-saving meter, but I'll often pause videos or music for that long during a workday, and having to turn the headset back on multiple times a day got annoying. Sadly there doesn't appear to be a software option to adjust the timeout period.
How is the audio quality on the BlackShark V2 Pro?
Sound quality is always subjective, and I don't consider myself an audiophile. But with that qualifier out of the way, I found the V2 Pro tuned a little heavily in favor of mids and highs, which sounds odd coming from the big 50mm drivers. No doubt that's the "e-sports" focus of this set, the better to distinguish your teammates' comms over the internet.
No matter. A few taps of the EQ button can quickly adjust to a more mellow, full-ranged sound, better suited for movies or music. In that mode I found the V2 Pro more than capable, and if you're the kind of listener who wants the bass to beat your ears like a boxer, then this headset is certainly capable of doing so. The lack of active noise cancellation means that it's less suited for, say, a long bus ride than a more well-rounded, Bluetooth-only set of headphones, but that's not a point against this design. It's focused on PC gaming, after all.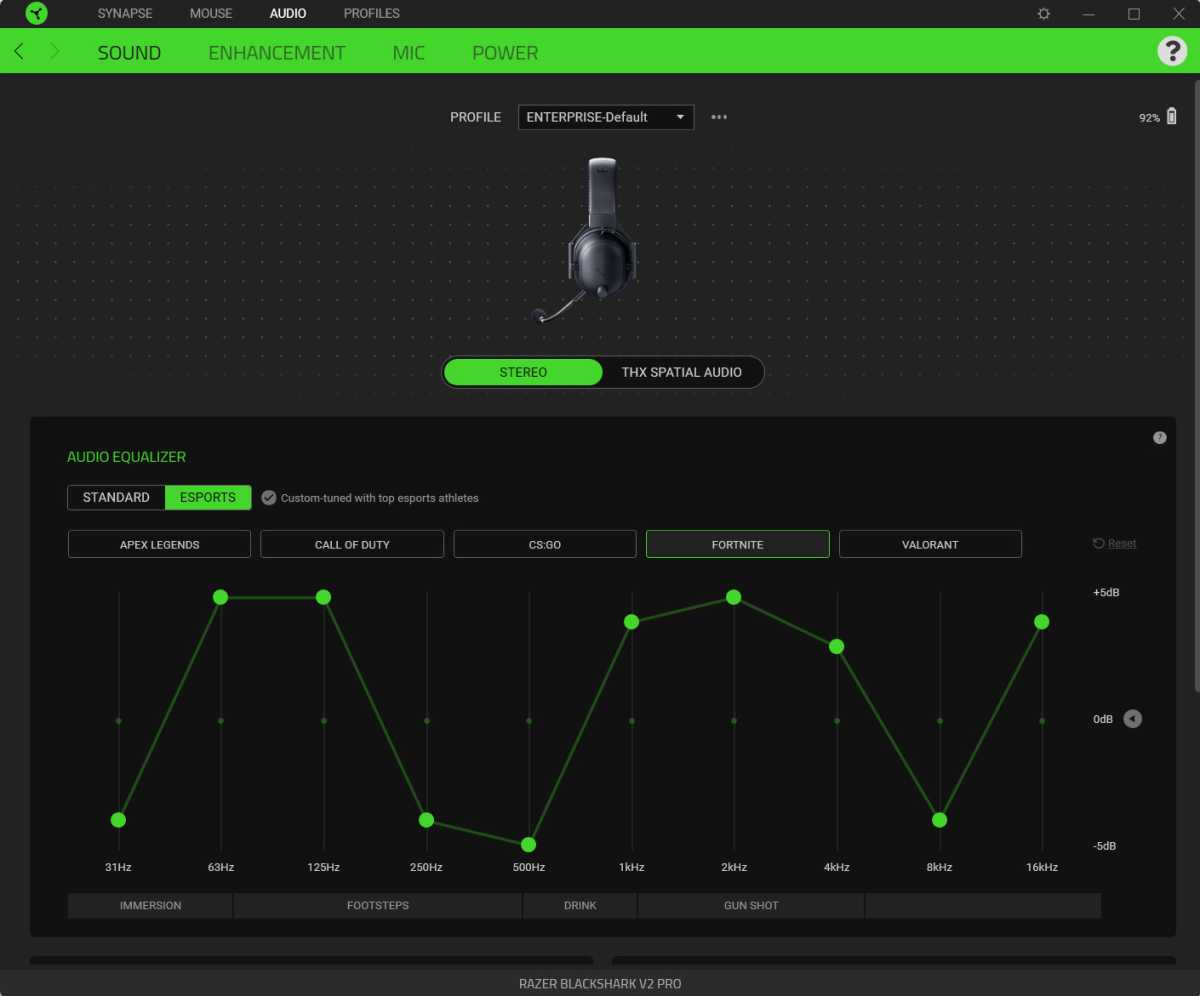 Razer
Speaking of which, the equalizer can be custom-tuned in Razer Synapse, of course. And you can set specific profiles to launch with specific programs or games, with or without virtual surround sound enabled. But there's a more interesting function to play with: pre-programmed settings for popular shooters, created in conjunction with big names in e-sports. These profiles are pre-loaded into the firmware of the headset itself—no need to dive into Synapse.
Hold down the EQ button for three seconds and you can switch to these hardcoded profiles, then tap once to switch between Valorant, Apex Legends, Call of Duty, Counter-Strike: GO, and Fortnite. These can be further customized in Synapse, but since you're paying a premium for profiles pre-set by "pros," you might as well try them out first.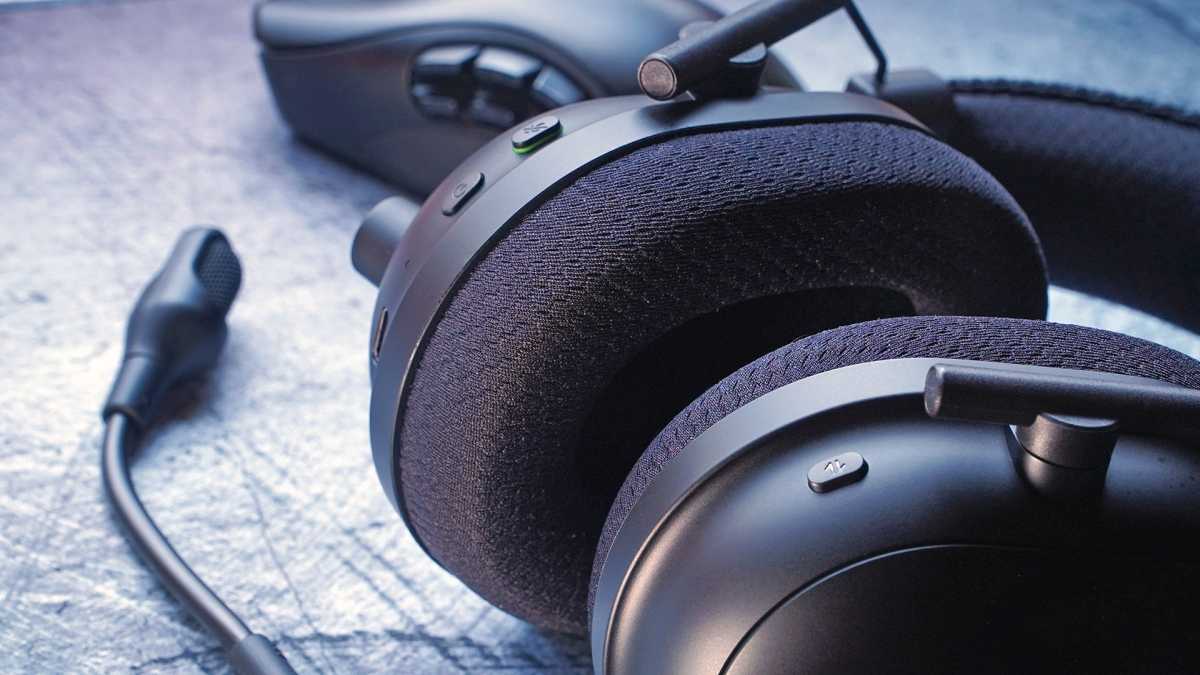 Michael Crider/Foundry
I did. I'm no pro gamer, but I've played enough Fortnite (in no build mode, because I'm a couple of decades older than the average player) to get a few victories in every season. And while the pre-made EQ setting was a little high on treble for my tastes, it did let me hear and zero-in on enemy footsteps and weapon-swapping noises, notably faster than with my own HyperX headset. So call that a win, and ask someone who knows how to count i-frames if you want a more technical breakdown of the headset's gaming merits.
The other major improvement to the hardware is the microphone. "Serious" gamers will use a dedicated USB mic for communication, but Razer wants to make a case for its headset mic instead. To that end it's powered up with a 32KHz sampling rate. If you're not familiar with audiophile specs, that's double the usual rate of less expensive microphones and headsets, but still less than the 48KHz of full-sized "pro" dedicated mics. Razer also added an additional "hard" pop filter underneath the foam protective filter that comes pre-installed.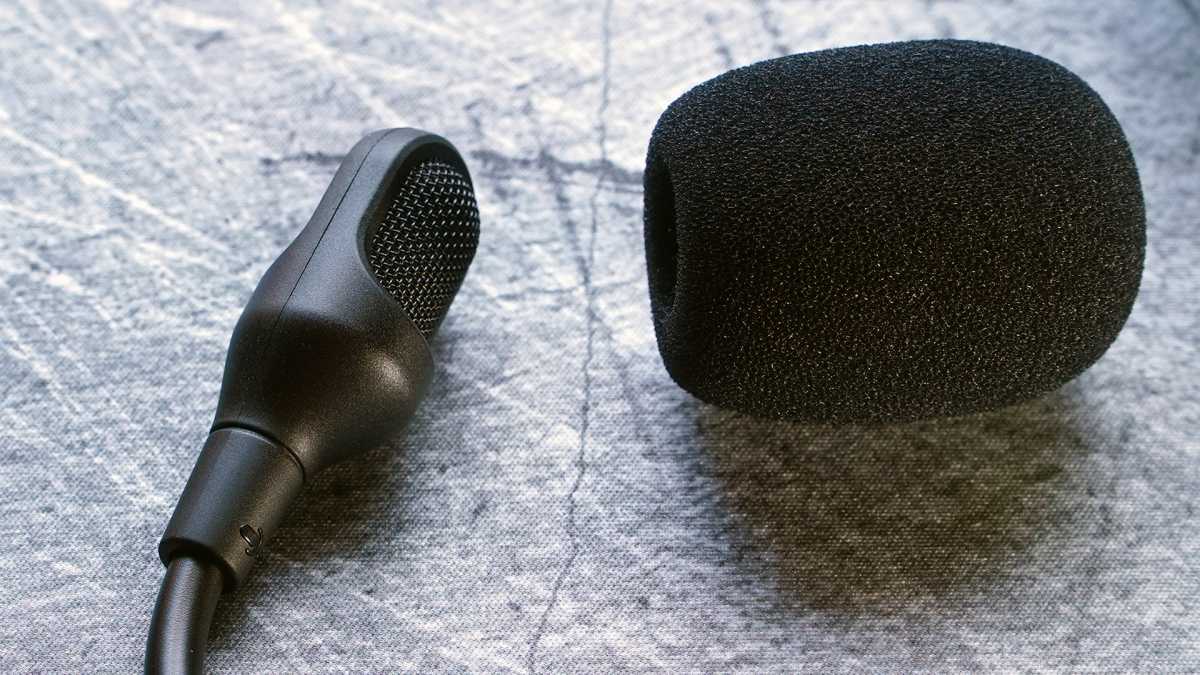 Michael Crider/Foundry
It works. Listeners on the other end of my meetings and audio calls said that my voice was clearer and crisper than with my usual headset, and due to a fixed proximity to my mouth, at least as intelligible as when I use my Blue Yeti. (Plugging in the mic boom is also a lot less of a hassle than dealing with the latter, which is still using an ancient mini-USB cable.) So yes, the BlackShark V2 Pro (2023—ugh, what a mouthful) is certainly serviceable for both gaming and meetings.
Should you buy the BlackShark V2 Pro (2023)?
Razer's asking a hefty 200 bucks for the V2 Pro. That's hardly unusual for Razer hardware, but it's still the most expensive PC gaming headset the company sells, tied with the Kraken V3 Pro and its arguably useful head-shaking haptics. But looking around at similarly equipped headsets from the competition, and you might be shocked to find that Razer is beating them on price. Similar 2.4GHz + Bluetooth setups from rivals like Logitech, Corsair, and HyperX are in the $230 to $270 range.
The closest match in terms of hardware and price is the SteelSeries Arctis 9, which features much of the same specs plus an attractive collapsible boom mic for $200 (around $180 on sale, at the time of writing). But Razer has this model beat with more than triple the battery life, and I'd also give it the edge for more finger-friendly volume controls, bigger drivers, a slightly lighter build, and USB-C charging versus MicroUSB.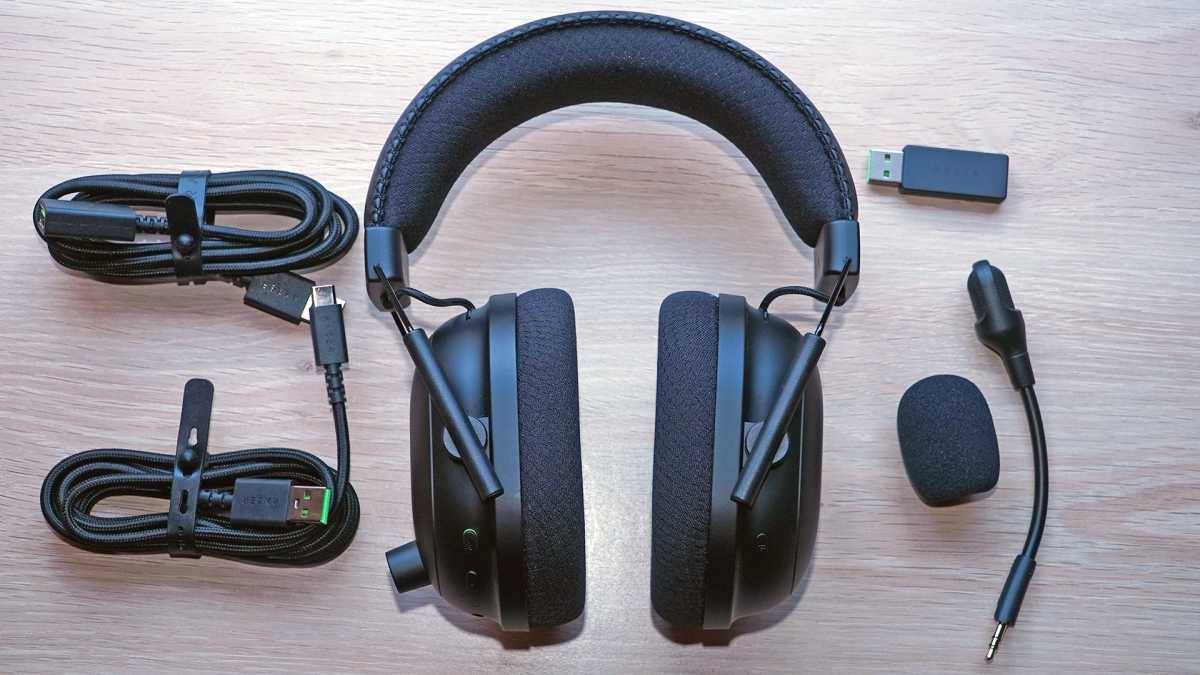 Michael Crider/Foundry
So yes, Razer finds itself in the rare position of being a value proposition, if not exactly an inexpensive one. That takes this product from a tentative recommendation to a definite one. If you're looking for a PC gaming headset that's great for immersion out of the box (especially for online shooters) and can handle some light Bluetooth duty for other devices, the BlackShark V2 Pro (2023) should be at the top of your list.
Even though it really should be called the V3. Really.