At a glance
Expert's Rating
Pros
Bundled webcam, microphone, and speakers
USB-C port with 90 watts power delivery
Sturdy and functional design
Cons
Mediocre image quality
No HDR
Bundled features add to the price
Our Verdict
The Viewsonic VG2756V-2K's built-in webcam, microphone, and USB-C hub make it a great fit in any home office setup.
Price When Reviewed
$399.99
Best Prices Today: Viewsonic VG2756V-2K
Video conferencing is an all-too-familiar part of every white-collar workday. Even individuals who frequently clock in at an office are likely to attend a majority of meetings through video calls. The VG2756V-2K adapts to this new reality with a built-in webcam, microphone, and speakers.
Further reading: See our roundup of the best home office monitors to learn about competing products.
Viewsonic VG2756V-2K specs and features
Viewsonic's VG2756V-2K is all about the extras. It has a 1080p webcam with integrated lightbar, a noise-canceling microphone, and a soundbar with two 5-watt speakers. These extras are accessible over both USB-C and USB-B.
Display size: 27-inch widescreen
Native resolution: 2560×1440
Panel type: IPS LCD
Refresh rate: 60Hz
Adaptive-Sync: None
HDR: None
Ports: 1x USB-C with DisplayPort Alternate Mode and 90 watts Power Delivery, 1x USB-B Upstream, 2x USB-A, 1x HDMI 1.4, 1x DisplayPort 1.2, 1x Ethernet (RJ45), 1x 3.5mm audio
Stand adjustment: Height, swivel, tilt, pivot
VESA mount: Yes, 100x100mm
Webcam: 1080p with lightbar
Microphone: Integrated noise-cancelling
Speakers: Yes, 2x 5W
Price: $399.99 MSRP
The VG2756V-2K's current retail price of $399.99 is expensive for a 27-inch 1440p monitor but justified by the bundled features. Viewsonic also offers a 24-inch 1080p version with the same features for $299.99.
Viewsonic VG2756V-2K design
The Viewsonic VG2756V-2K is clearly focused on home-office and corporate-office use, and that's reflected in its design. It's as barebones as can be with simple, unobjectionable matte-black plastics on both front and rear. Even the fabric covering the soundbar is matte black, seamlessly blending into the bezels.
It's a well-built monitor with thick plastic panels and good material quality across also surfaces. I'd even argue it looks upscale in its own, subtle way. The fabric over the speaker is an especially nice touch.
Viewsonic includes a versatile ergonomic stand that adjusts for height, tilt, swivel, and can pivot 90 degrees (in both directions) for use in portrait orientation. It has a simple, compact, yet sturdy stand with a flat base that minimizes its footprint on a desk. That's a good choice for any display but doubly important for a home office monitor. A 100x100mm VESA mount is available, as well, for adding a third-party monitor stand or arm.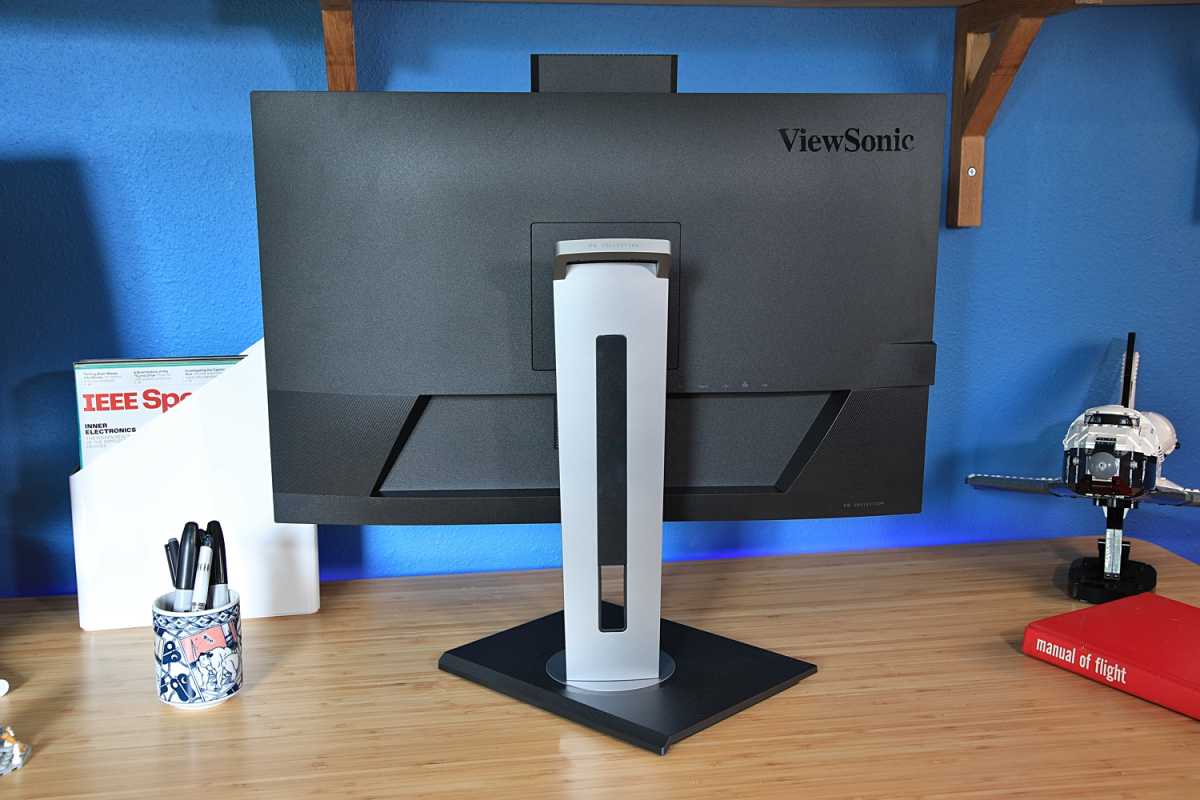 Matt Smith/Foundry
Viewsonic VG2756V-2K features and menus
The VG2756V-2K is a "video conferencing monitor" with a built-in webcam, microphone, and speakers. It even throws in a pair of LED lights to help brighten up your face during video calls.
Video quality is fine. The included webcam is capable of 1080p resolution but still suffers the grainy look common to webcams. It's a step up from most laptop webcams or a budget standalone webcam, but it won't beat a quality desktop webcam. The webcam snaps into the body of the monitor when not in use, which effectively works as a privacy shutter. This also disables the microphone.
The microphone's volume is a little low, but it handled background noise well and didn't echo when audio was produced from the speakers. The monitor even includes several settings to increase background noise reduction. Soft, humming background noise (such as a space heater) was eliminated.
A healthy range of connectivity can be found on the VG2756V-2K's rear panel including a USB-C port with DisplayPort Alternate Mode and 90 watts of Power Delivery. That's on the upper end of power that modern monitors can deliver and will keep many midrange laptops charged if connected over USB-C. It acts as a USB-C hub for two additional USB-A ports and even an Ethernet port, which is uncommon among USB-C monitors sold below $500.
The USB-C port is the best way to connect with the monitor, but a USB-B upstream port is available for connecting a laptop or desktop that lacks USB-C, and supports the monitor's full range of features including the webcam, microphone, and Ethernet port. Additional video connectivity is provided over HDMI and DisplayPort for a total of three video inputs.
Menu options are controlled with touch-sensitive buttons built into the touch bar instead of the rear-mounted joystick found on most competitors. Viewsonic offers a wide range of image quality options including multiple gamma and color temperature presets and six-axis color calibration.
The built-in soundbar includes two 5-watt speakers. They deliver good volume but are skewed towards video conferences, not entertainment. Dialogue sounds crisp, so podcasts and YouTube videos are enjoyable, but the lack of low-end oomph cramps the midrange. Still, they're much better than the 2-watt speakers found in most monitors and well suited to video or audio calls.
How is the Viewsonic VG2756V-2K image quality?
The Viewsonic VG2756V-2K's has many added features, but the display panel is basic. It's an IPS LCD with 2560×1440 resolution and a refresh rate of 60Hz. Image quality in SDR is fine, but it's clear that this monitor is designed for day-to-day office productivity, not content creation or entertainment.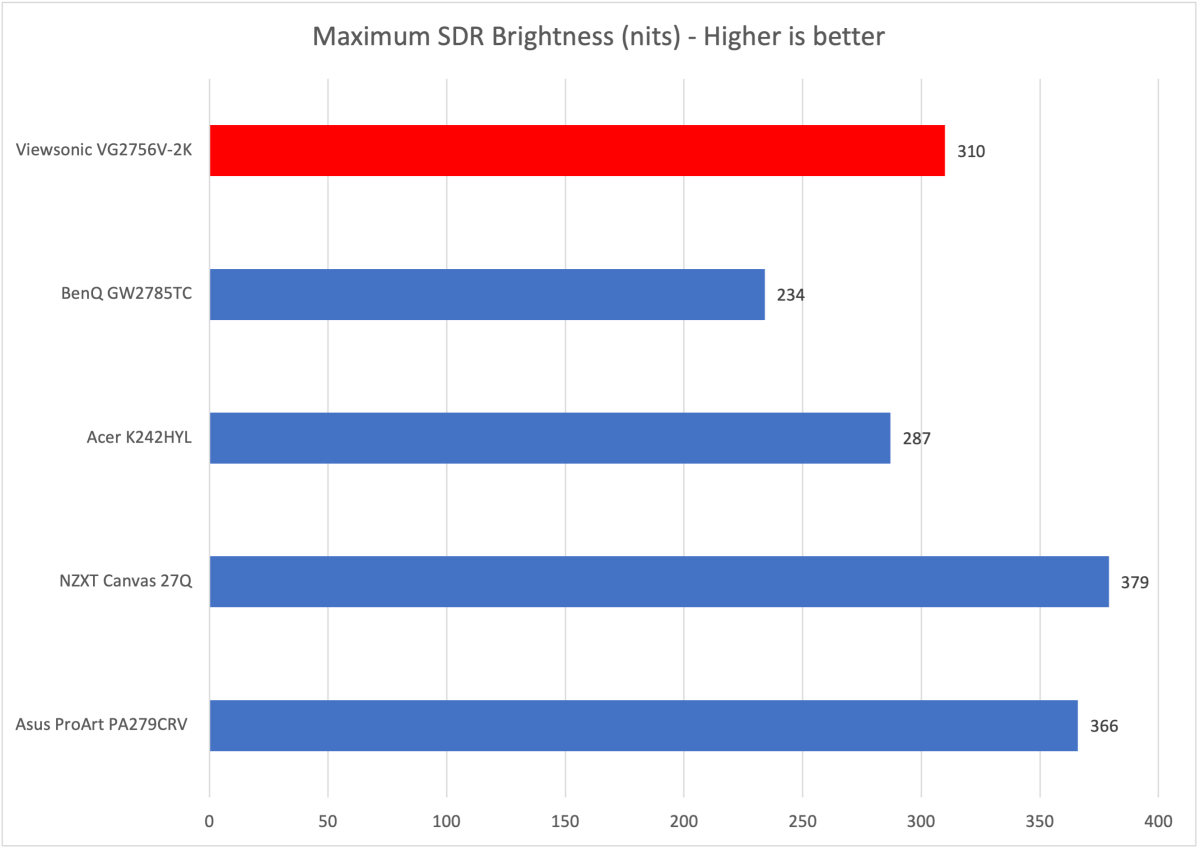 Matt Smith/Foundry
Maximum brightness comes in at a reasonable 310 nits. That's higher than most budget monitors but behind those that target a step up in image quality, such as the NZXT Canvas 27Q and Asus ProArt PA279CRV. Still, the VG2756V-2K's brightness is sufficient for most situations and will only seem dim in a room with large, sunlit windows.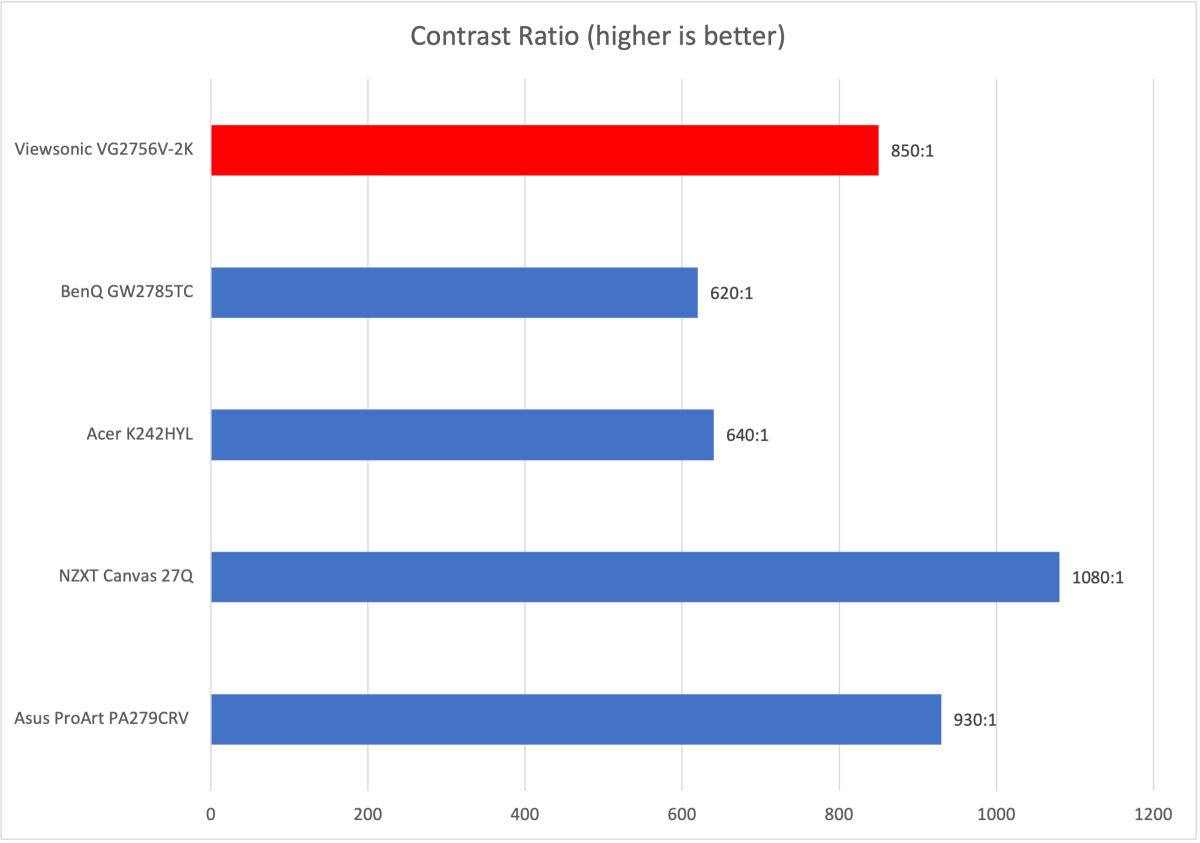 Matt Smith/Foundry
Contrast is average for a monitor in this category with a maximum contrast ratio of 850:1. That's low compared to the best monitors available today but mid-pack among monitors priced south of $500. The VG2756V-2K offers some sense of depth and dimension but can have trouble displaying detail in dark scenes, especially when viewed in a dark room.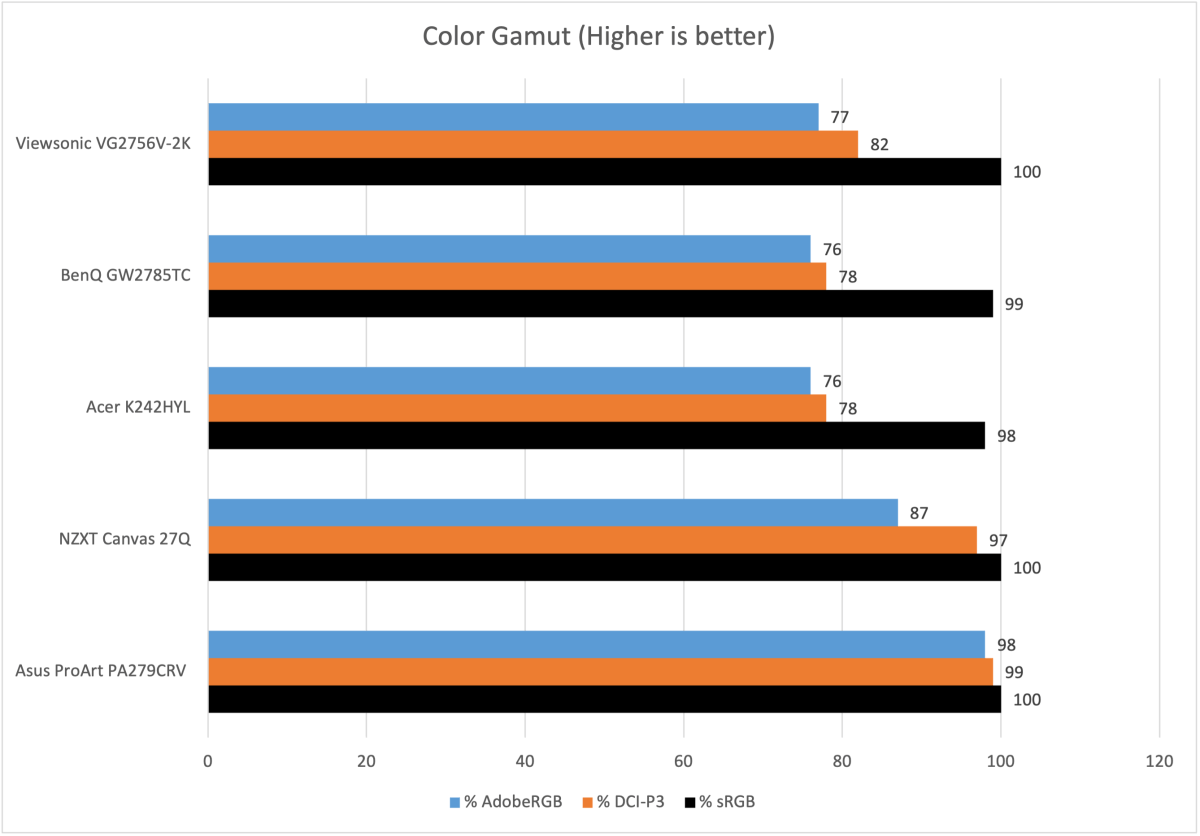 Matt Smith/Foundry
The color gamut is once again mid-pack, reaching 100 percent of sRGB but 82 percent of DCI-P3. It's an improvement over most inexpensive and midrange office monitors, which typically land around 77 or 78 percent of DCI-P3. Unfortunately, this small win feels a bit pointless, as 82 percent of DCI-P3 is not going to impress content creators who need to work in wider color gamuts. The gamut is great for day-to-day use, however, and it importantly manages to cover all of the sRGB color gamut, which is the color gamut most commonly targeted by computer software and games (in SDR, at least).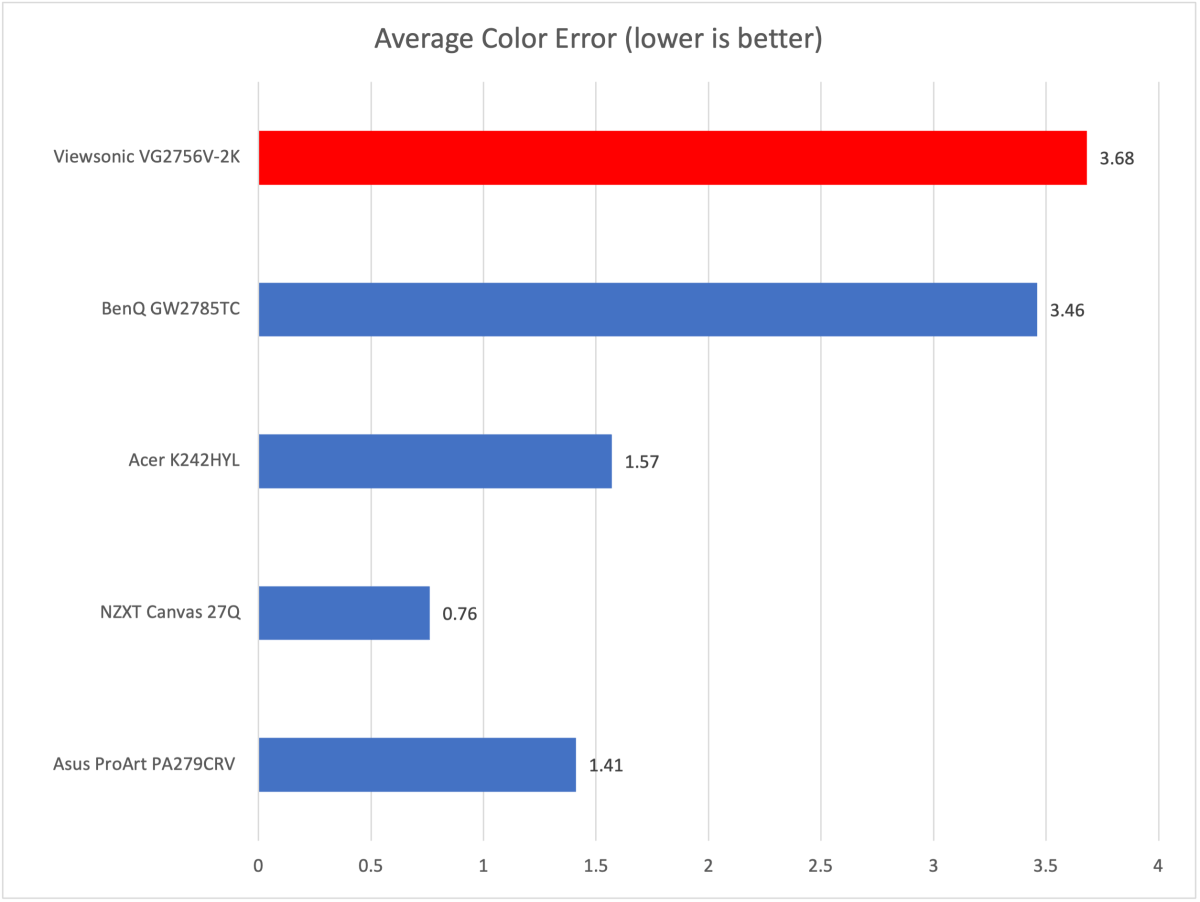 Matt Smith/Foundry
The average color error is a bit towards the high end, though not unusual for a monitor in this category. Image quality remains lifelike and realistic but some colors appear overly blue or green even when compared to other inexpensive monitors, such as the Acer K242HYL.
Color temperature and gamma results are mediocre, too, with a default gamma curve of 2.3 and color temperature of 7200K. These numbers mean the image appears slightly darker than it should and that whites have a noticeable shift towards blue. This can be corrected with the monitor's built-in preset options, though none were precisely ideal.
mentioned in this article
Acer K242HYL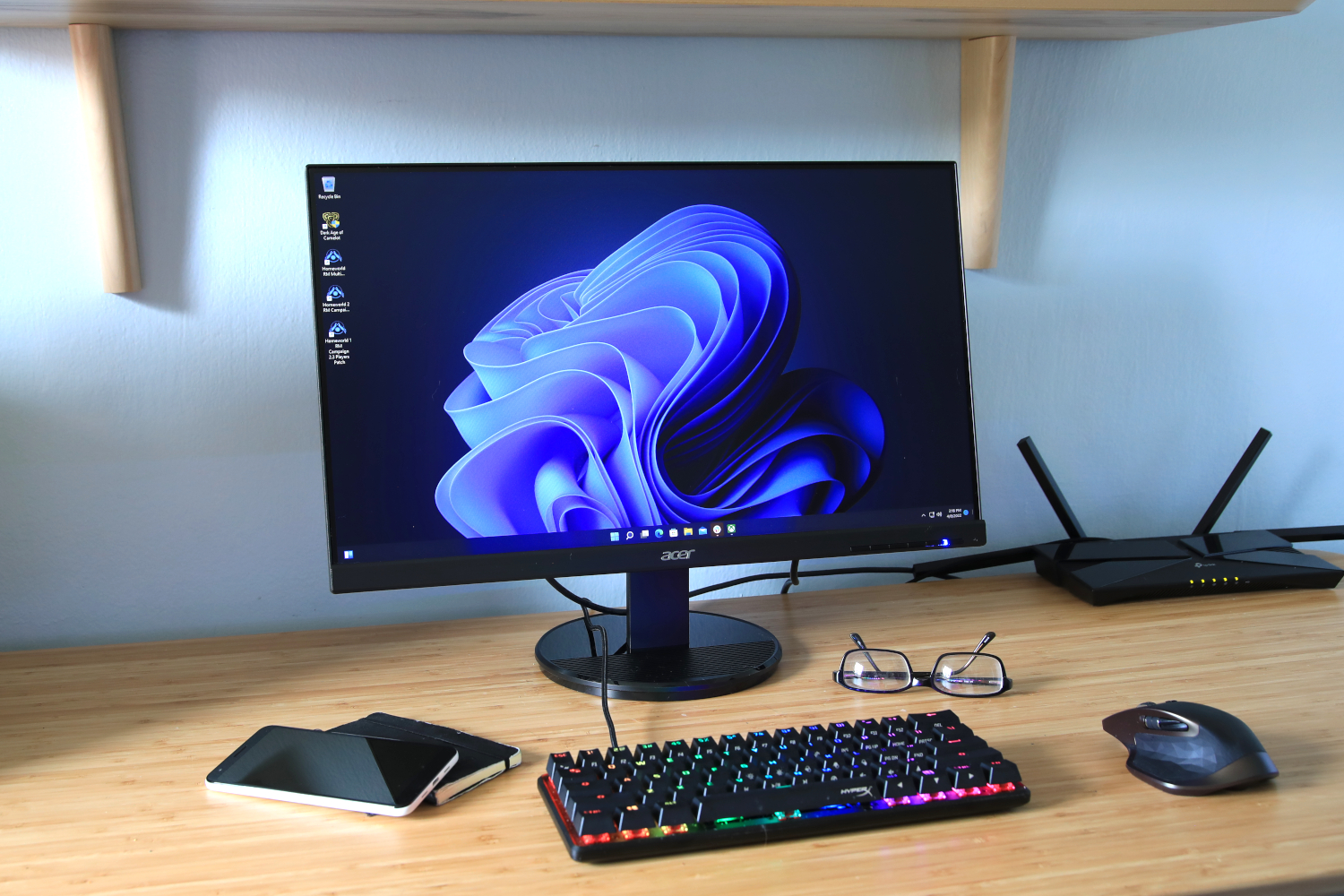 Price When Reviewed:
$149
Sharpness is a perk. The monitor's 2560×1440 resolution packs roughly 109 pixels per inch, a big upgrade over the roughly 81 pixels per inch you'll find in a 27-inch 1080p monitor. Small text appears crisp and small interface elements are well-defined, a major advantage when writing in Word or editing a spreadsheet in Excel. 4K monitors like the ProArt PA279CRV are even sharper, to be sure, but also more expensive.
The VG2756V-2K's overall image quality is a mix but well-suited for its intended use. It provides a sharp, bright image with good clarity in productivity apps. The monitor also manages to avoid serious problems that might limit its appeal, such as an overly narrow color gamut or terrible contrast ratio. It's a functional monitor that's comfortable to use day-to-day.
Viewsonic VG2756V-2K HDR image quality
HDR is not supported by the Viewsonic VG2756V-2K. That may seem disappointing, given its price tag, but most monitors sold below $500 don't perform well in HDR whether it's supported or not. The VG2756V-2K's focus on office use makes it a particularly poor choice for HDR support, making Viewsonic's decision to stick with SDR a sensible choice.
Viewsonic VG2756V-2K motion performance
The Viewsonic VG2756V-2K offers a refresh rate of 60Hz and doesn't include support for Adaptive Sync. That's not unusual for an office monitor but bad news for gamers. The monitor suffers significant motion blur that can obscure fast-moving objects and frame tearing may be visible if a game's V-Sync setting is off. An alternative like the NZXT Canvas 27Q is a much better choice for gaming (though you will need to bring your own webcam).
Should you buy the Viewsonic VG2756V-2K?
Viewsonic's VG2756V-2K is a good video conferencing monitor well suited for use in a home office, corporate office, or conference room. Video quality is not significantly better than other similar monitors but the built-in LED lights are an advantage in darker rooms. Microphone quality and speaker quality hold up well, too, and the monitor has a wide range of features.
Image quality is merely okay. The VG2756V-2K's picture looks fine, but its pricing is comparable to monitors with far better image quality like the NZXT Canvas 27Q, Gigabyte M27Q-X, and Asus ProArt PA279CRV. These don't offer a built-in webcam or microphone, however, so they're not a true alternative. The VG2756V-2K is built to make home office productivity easier and more comfortable—and, in that, it succeeds.
Best Prices Today: Viewsonic VG2756V-2K