At a glance
Expert's Rating
Pros
Incredible value
PBT "pudding" caps
Great layout
Hot-swap switch sockets
Our Verdict
The G.Skill KM250 has a ton of features and incredible value—it's absolutely unbeatable at this price. The only thing it's missing is programming.
Best Prices Today: G.Skill KM250 RGB Keyboard
If you've been following my keyboard reviews lately, you know I've been lamenting the ever-increasing price of mainstream "gaming" boards that don't seem to be in any way related to their actual function. I was looking around for good budget alternatives when all of a sudden G.Skill released a new mechanical keyboard, priced at just $55 on Amazon. How incredibly fortuitous!
Of course, with a budget keyboard you give up certain luxuries like a rotary dial—oh, wait, the KM250 has one. Well, you can't expect to pay so little and also get decent keycaps…huh, actually, the KM250 has PBT "pudding" keycaps that complement the RGB lighting rather nicely. But of course, with a budget board you get budget mechanical switches from [checks spec list] Kailh? What? Well there's no way that the board includes hot-swap switch sockets so you can swap them out for better ones…oh wait it does that too.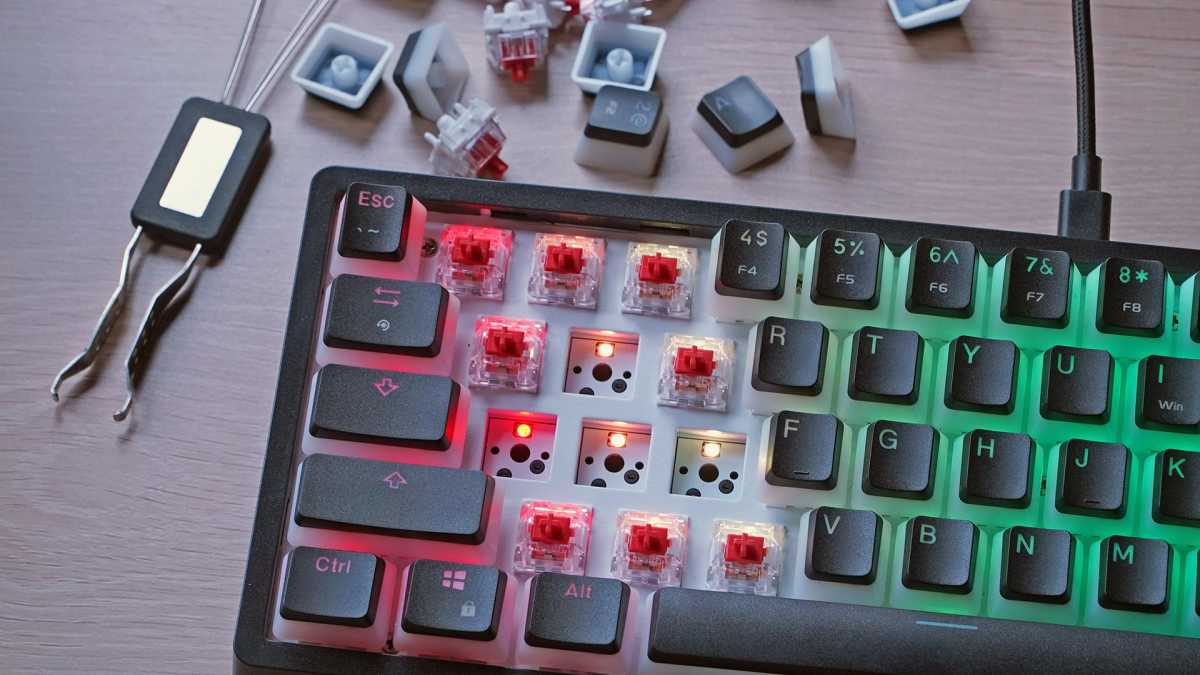 Michael Crider/Foundry
In fact, the G.Skill KM250 has a laundry list of features that are shocking to see on a board at this price range, omitting only a few that are fairly reasonable. As such, it gets an easy recommendation for anyone looking for a high-quality, entry-level board, especially if you think you might want to invest in some upgraded switches or keycaps.
What are the G.Skill KM250 specs?
The KM250 is a fairly standard wired mechanical keyboard in the increasingly popular, and somewhat nebulous, "65%" form factor. That means all of your primary typing keys and an arrow cluster, the absence of a function row, and a few more keys rounding it out: In this case, Delete, Page Up, and Page Down, plus a rotary dial.
That dial has become a mainstay of premium keyboards—if you don't have at least one dial, don't even bother coming to the meetup—so it's impressive and welcome to see it on this budget build. Though it's as plastic as the rest of the board, it does include a "click" button when you press down, so it's perfect for the standard volume + mute functionality.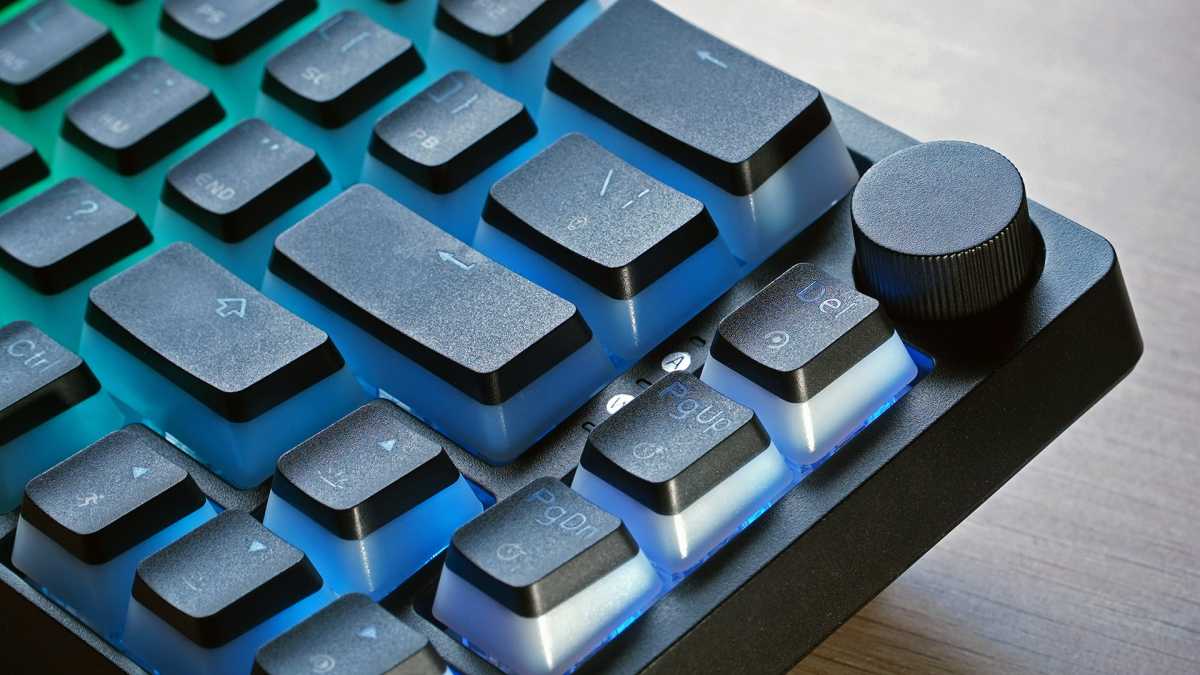 Michael Crider/Foundry
Elsewhere you get a functional, if chunky, case with double-sectioned feet for three typing angles, a 6-foot detachable braided USB-C cable, and a keycap/switch puller in the box. The keycaps are high-quality PBT, which some other companies make you pay extra for (Razer, I'll stop calling you out for this when you stop doing it). The caps are of the somewhat niche but appealing "pudding" style—that is to say, solid black tops with translucent sides to make the RGB lighting shine even brighter. It's not up to the dazzling standard of the Roccat Vulkan series, but it's pretty nice nonetheless.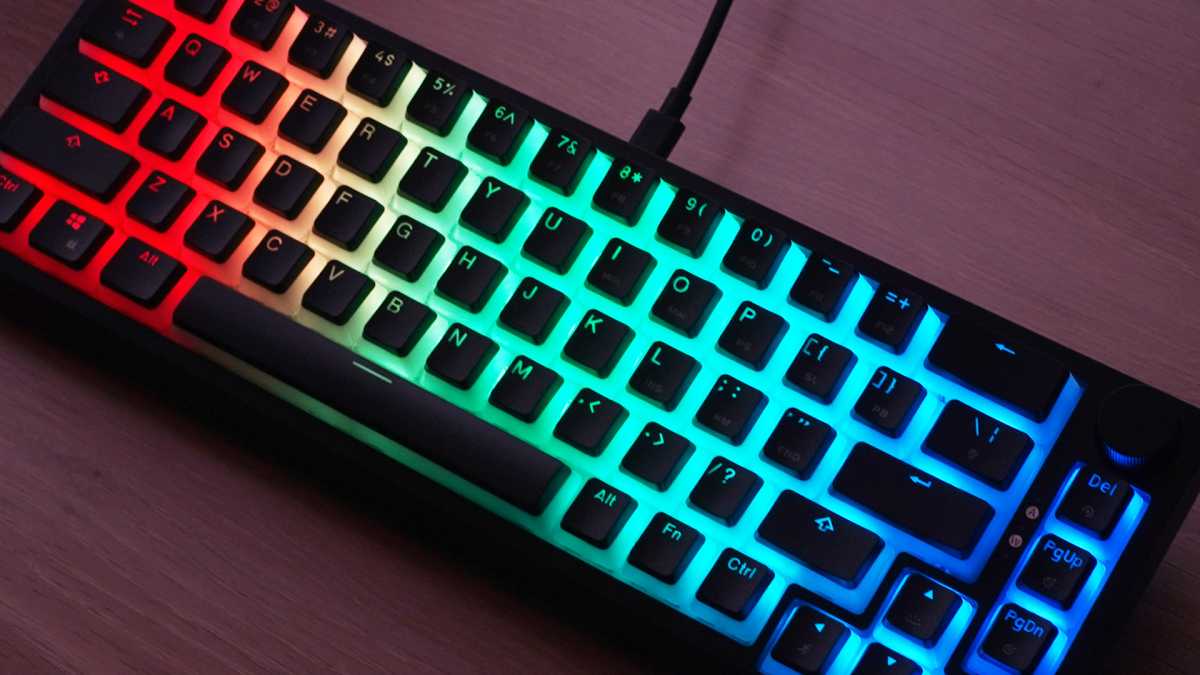 Michael Crider/Foundry
Underneath are linear Red switches for speedy, game-friendly key presses. As noted in the intro, the switches are from Kailh, a pretty huge supplier of switches both fancy (like the "Blueberry Ice Cream Pro" ones in the Keydous NJ80-AP) and basic. These are basic Red switches, without any reinforced BOX stems or pre-lubed springs, but I appreciate that G.Skill could have gone with a cheaper brand and didn't.
And finally, the switches can be taken out of the plastic plate and replaced with any MX-compatible alternative. Again, this is a standard of more expensive boards that by rights shouldn't be in one this cheap—it wasn't in the Havit KB487L, for example, and that board is only slightly cheaper. The KM250 is an absolute marvel of mechanical keyboard value.
Where is the G.Skill KM250 programmability?
G.Skill included pretty much everything in this board, unless you're looking for wireless options or exotic construction. But there is one thing on the basic laundry list that isn't here: programmability. The KM250 is locked to the layout you get out of the box, including the function layer and lighting controls—the only download you'll see on the support page is a digital copy of the quick start guide you get in the box.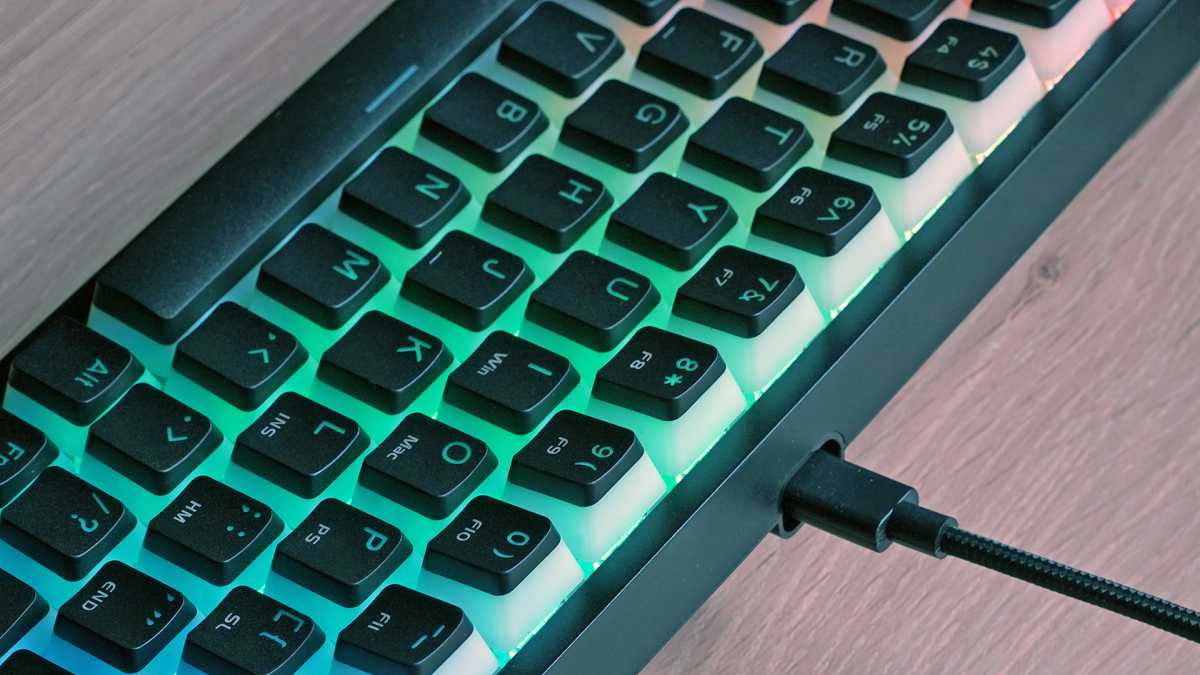 Michael Crider/Foundry
Not that the guide is really necessary. The sub-functions of each key are printed on the keycaps, and easy enough to figure out on their own. With no lighting programming options, you do get an admirable selection of light shows: 18 different animation options in various colors, for which you can adjust the speed and direction. I'm not really a fan of RGB, so I set it to the static rainbow and left it there.
This is where I'd put a screenshot of the programming tool. But there isn't one. Sorry about that.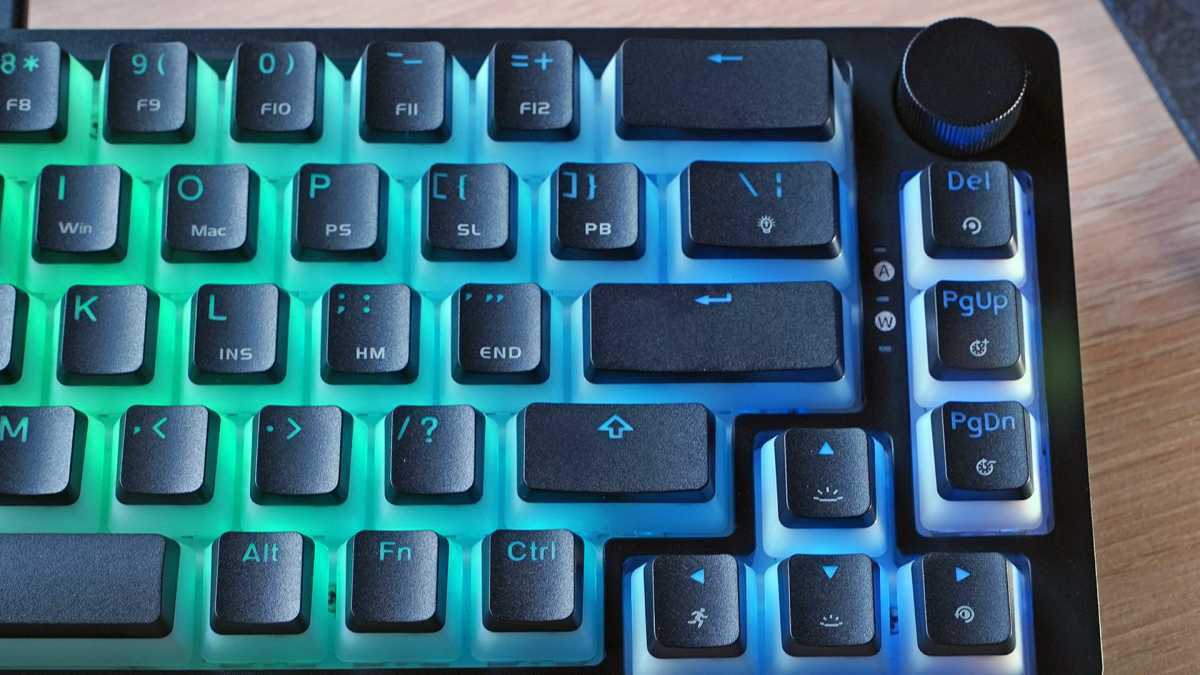 Michael Crider/Foundry
So yes, there's the KM250's one weakness, if it's fair to call it a weakness in a keyboard this cheap. That said, a lack of programmability doesn't really matter for the stated goal of PC gaming, since each game should allow you to re-bind key controls. Otherwise it's down to OS-level tools, like my go-to, SharpKeys.
Typing and gaming on the G.Skill KM250
So the only thing left to ask is, is it a good keyboard to use? Plainly, yes. You don't get the fancy feel that comes from more premium parts—everything here is plastic to one degree or another. But it's about as good as mass-produced plastic can get, and very much in line with G.Skill's reputation for functional, low-priced hardware. (Love your RAM DIMMs, by the way!)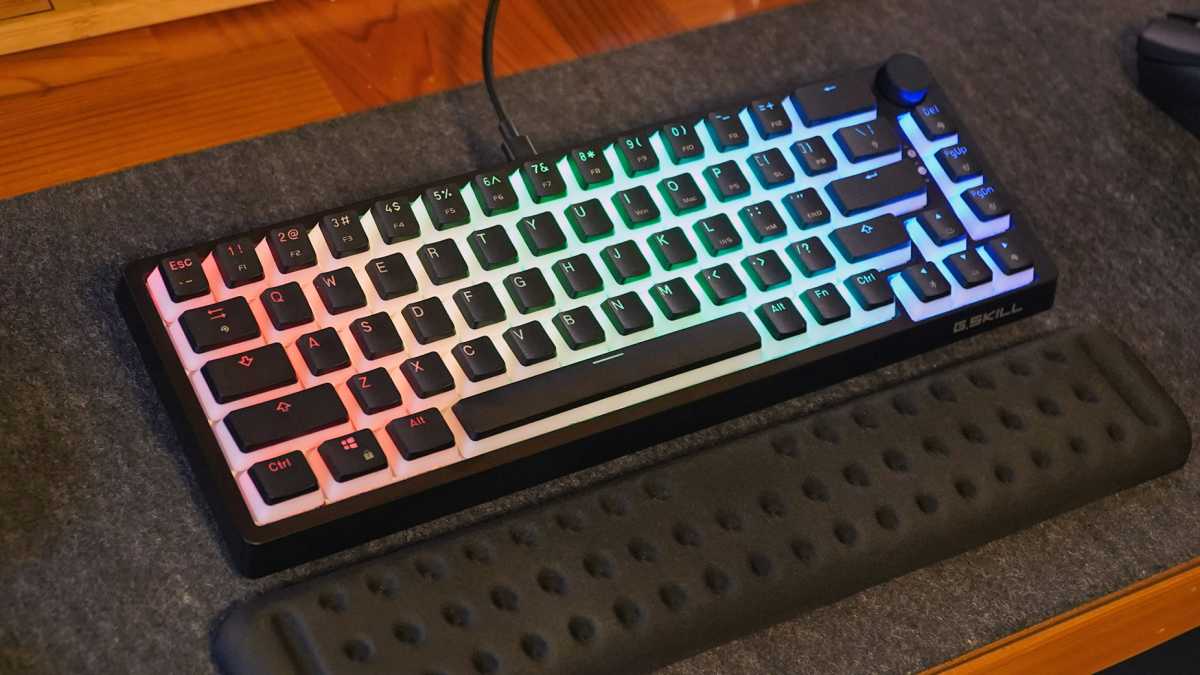 Michael Crider/Foundry
The KM250 works equally well as a full-time keyboard or as a secondary, more portable option, thanks to its lightweight build and full dedicated arrow cluster. If you want something to bring along to a LAN party (or perhaps more timely, just hanging out at your friend's place while you both play online), it'll do that, albeit not quite as stylishly as something low-profile like the Razer DeathStalker or Keychron K series.
mentioned in this article
Keychron K3 Pro
Price When Reviewed:
$114
And if you just want an inexpensive board to see what this mechanical craze is all about, it'll do that, too. Just for the hell of it, I took the excellent exotic switches from the Keydous NJ80 and my favorite "Galaxy Class" DSA keycaps. I wanted to simulate a bunch of money poured into this cheap board, and yes, a few premium parts goes much farther on this board than many others in its price range. For example, when I noticed that there's also sound-absorbing foam underneath the plastic plate, and even in the gap beneath the space bar, preventing the distinctive "space rattle." MAN this board goes so much harder than it has to!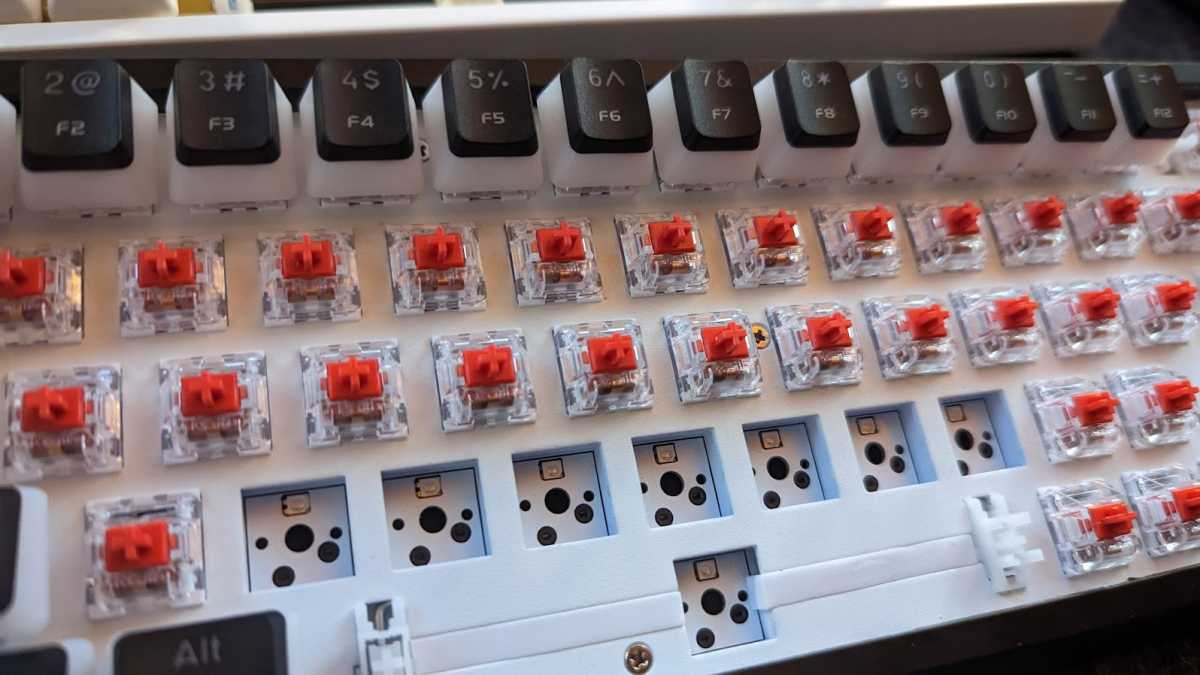 Michael Crider/Foundry
Should you buy the G.Skill KM250?
The KM250 is an astonishingly good value, and gets an easy recommendation unless you simply must have the ability to program your keys and lighting. For everyone else it's an absolute steal, setting a new gold standard for super-cheap, super-functional mechanical boards.