At a glance
Expert's Rating
Pros
Ridiculous 3D performance
Best-of-both-worlds dual-mode display
Gorgeous, understated design
Cons
Switching display modes requires rebooting
Case is fingerprint magnet
Our Verdict
With its mini-LED, dual-mode display, the Razer Blade 16 lets you rip through shooters at 240Hz and also play more detailed, slower strategy games at 4K.
Price When Reviewed
$4,299.99
Best Prices Today: Razer Blade 16
The Razer Blade 16 disguises an embarrassment of gaming riches inside an unassuming enclosure. It boasts the latest and greatest tech from Intel and Nvidia and is one of the most powerful laptops we've ever tested. It's also the first to feature a dual-mode, mini-LED display that acts as either a native 4K panel at 120Hz or a native 1080p panel at 240Hz, giving you the ability to play richly textured games at high detail while also running eSports titles and twitchy shooters at a blazing refresh rate. And you get all of this gaming goodness in Razer's typical solid, unibody chassis.
When you are not gaming, the 16-inch, 16:10 display at 4K provides a huge, high-res canvas for content creation. It looks and feels much larger than the previous Razer Blade 15 that has a 15.6-inch display with a wider 16:9 screen ratio. It's a pound heavier than its 15-inch predecessor, but it's still not a hulking gaming laptop. The sophisticated design and roomy display lets the Razer Blade 16 double as a primary work laptop for graphics pros in addition to being a ripping mobile gaming rig. If viewed as two laptops in one, perhaps then you can begin to stomach its sky-high price.
For more options, check out our roundup of the best gaming laptops available right now.
Razer Blade 16: Specs and features
Are you sitting down? We ask you to remain seated while we tell you the price of our Razer Blade 16 test system. Ready? It costs $4,299.99 from Razer and features the following specs.
CPU: Intel Core i9-13950HX
Memory: 32GB
Graphics: Nvidia GeForce RTX 4090
Storage: 2TB PCIe NVMe M.2 SSD
Display: 16-inch UHD+ (3840 x 2400) 120Hz / FHD+ (1920 x 1200) 240Hz
Webcam: 1080p with physical privacy shutter
Connectivity: Thunderbolt 4 USB Type-C, USB-C 3.2 Gen 2, 3 x USB 3.2 Gen 1 Type-A, HDMI 2.1, combo audio jack, SD card reader
Networking: Wi-Fi 6E, Bluetooth 5.3
Biometrics: IR webcam
Battery capacity: 95 Watt-hours
Dimensions: 9.61 x 13.98x 0.87 inches
Measured weight: 5.52 pounds (power brick weighs 2.0 pounds)
Price: $4,299.99
Our Razer Blade 16 test system is the flagship model, and there are less expensive models if your laptop budget doesn't extend past $4,000. The line starts at $2,700 for a system with RTX 4060 graphics and the same Core i9-13950HX CPU as our test system. It lacks the dual-mode, mini-LED display, however, but its panel offers the high resolution (2560 x 1600) and fast refresh rate (240Hz) that's split across both modes of our test model. In between these two models that bookend the line are three models that feature either RTX 4070 or RTX 4080 graphics, one of which boasts the dual-mode, mini-LED screen.
Razer Blade 16: Design, keyboard, trackpad
Razer has established its own minimalist design aesthetic, one that stands in stark contrast to many gaming laptops that use aggressive graphics, giant logos, and huge vents to draw attention. Razer's confident design approach doesn't seek your attention, but it's hard to ignore the Blade 16. It's a matte-black slab of beauty. The chassis is made from T6 anodized aluminum, and it feels rock solid. There is little to no flex on the keyboard deck and lid protecting the display.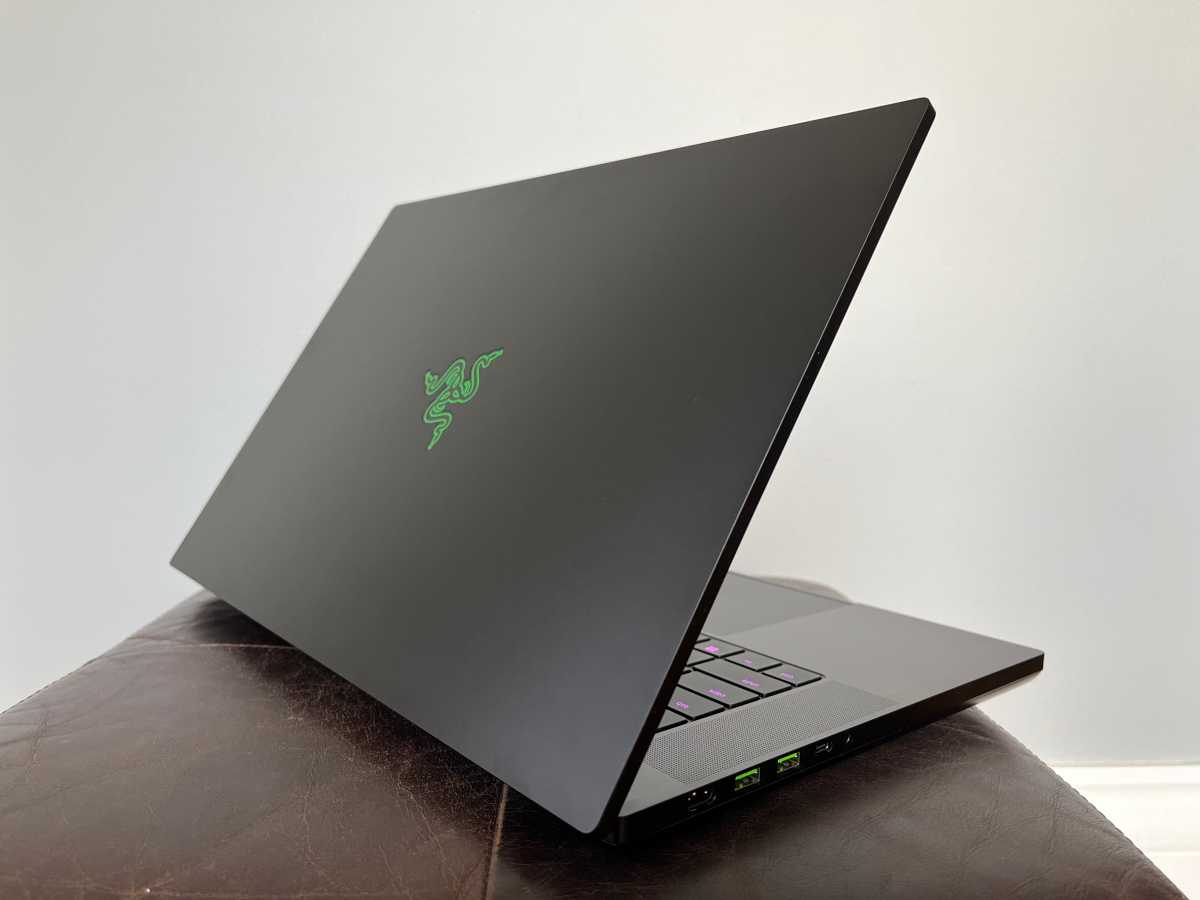 IDG / Matthew Elliott
The laptop weighs 5.52 pounds, which is about average for a 16-inch 16:10 laptop but 1.1 pounds heavier than the 15.6-inch 16:9 Blade 15. Two other 16-inch 16:10 models—the 5.29-pound Acer Predator Triton 500 SE and the 5.44-pound HP Victus 16—weigh a bit less.
The only logo you'll find on the entire enclosure is Razer's triple-snake badge on the center of the lid. When seated in front of the Blade 16, you wouldn't know which brand of laptop you are using. That's what I mean by a confident design approach. Only Razer does this, so you would almost assuredly say "Razer" if you were forced to hazard a guess as to the maker of this understated, minimalist, matte-black laptop. The only items that interrupt the sea of black are a pair of small stickers for THX Spatial Audio and Intel Core i9 on the front-right corner of the keyboard deck.
I have only two small issues with the Blade 16's chassis. For one, it's a fingerprint magnet. The matte finish attracts prints and oils and is hard to wipe clean. It's a bit of a bummer for such an expensive, otherwise exceedingly attractive laptop. For another, the cutout on the front edge of the keyboard deck is too narrow, which makes opening the lid a bit more difficult than it should be. More often than not, I needed to employ a fingernail to lift the lid.
IDG / Matthew Elliott
Mechanical keyboards have shown up on some premium gaming laptops recently, including the Alienware x17 R2 and MSI Titan GT77 HX 13V that have mechanical keyboards with Cherry MX switches. And while the Blade 16 definitely qualifies as "premium," it features a standard laptop membrane keyboard. The keys feel firm and responsive but lack the deep travel and tactile feedback of mechanical switches that many gamers appreciate. It is an anti-ghosting keyboard that supports six simultaneous key presses, however, so it should allow you to keep up with the action.
Following Razer's streamlined design approach, the Blade 16 lacks a number pad. I like having the keyboard centered below the display and don't miss the numpad. And with per-key RGB lighting, you can always highlight the keys needed for gaming if you find yourself losing your positioning on the keyboard. There is no other RGB lighting outside of the keyboard. At first glance, I thought the logo on the laptop's lid was illuminated, but it's just painted in green.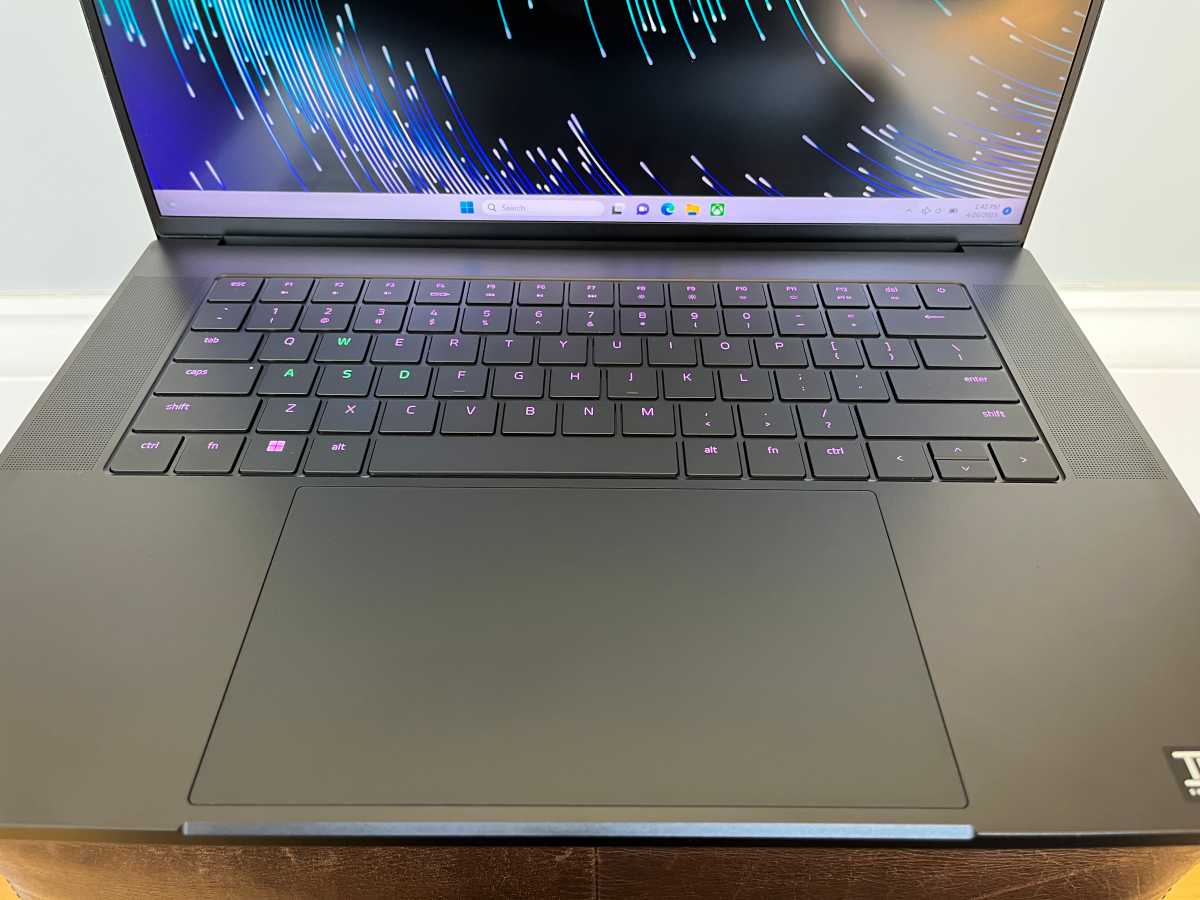 IDG / Matthew Elliott
The touchpad is enormous. I mean, it's absolutely huge. And a joy to use. It accurately recorded my swipes, pinches and other gestures and offers a soft click response with the perfect amount of travel. It also does an admirable job with palm rejection and never accidentally moved the cursor when I was typing even though it covers a vast swath of the wrist rest.
Razer Blade 16: Display, ports
The Blade 16 offers two mini-LED displays in one. You get a native 3840 x 2400 panel with a 120Hz refresh rate and a native 1920×1200 panel with a 240Hz refresh rate. This dual-mode arrangement lets you play twitchy shooters at a blazing 240Hz at a 1080p resolution and richly textured games in glorious 4K. You are able to change between the two modes with the Razer
Synapse app. Switching between the two modes, however, requires a reboot so you can't switch back and forth without stopping what you are doing, closing all your open apps, and restarting the machine.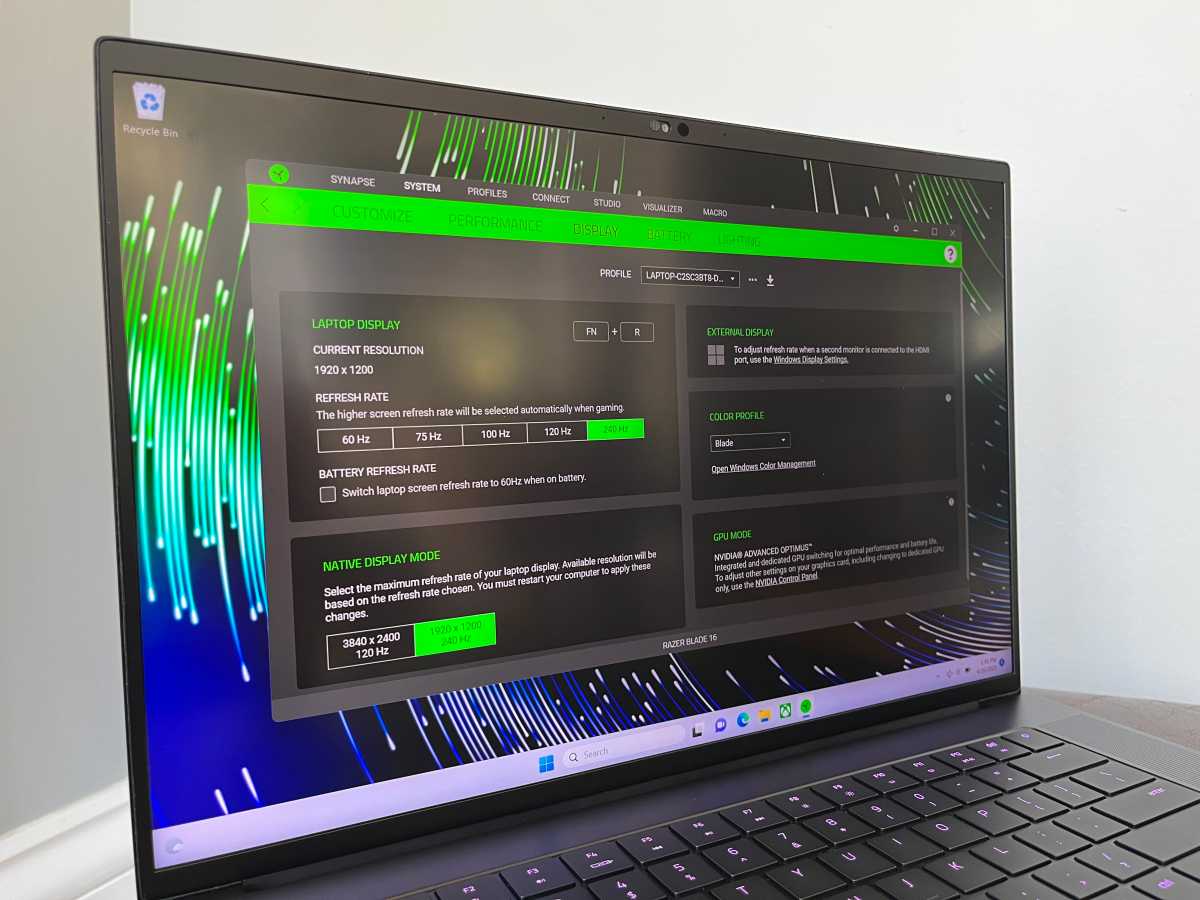 IDG / Matthew Elliott
Games look fabulous in either mode on the 16-inch 16:10 panel. And the extra vertical space compared with a widescreen 16:9 display offers added room for multitaskers to juggle multiple windows when not gaming. And in 4K mode, the panel offers graphics pros a large, high-res canvas on which to work. The display is rated for 1,000 nits and, thus, supports HDR1000. It also can display 100 percent of the DCI-P3 color gamut. The display is certainly bright, and colors appeared accurate and vibrant, but my own display testing with a lux meter resulted in readings a fair bit lower than the 1,000-nit rating. It hit a maximum of 630 nits in 4K mode and 540 nits at 1080p.
It would be laughable if a $4,000+ laptop served up a paltry 720p webcam, but that's not the case with the Blade 16. It features a modern 1080p camera that produces images and video that's worlds better than that of a 720p cam. It also features a physical privacy shutter so you can rest assured no one is peeping you when the webcam isn't in use.
The Blade 16 also boasts premium audio output. The large chassis allows room for not two but four speakers—two tweeters and two subs. The tweeters fire upward from behind speaker grills that flank the keyboard, while the subs fire downward from underneath each side of the system. Their sound is dynamic; I heard separation between the highs and mids, and the bass response is surprisingly full. The Blade 16 is the rare laptop where you don't need headphones or an external speaker to enjoy music playback. And there's enough oomph to fill a small room, and the sound remains free of distortion at maximum volume.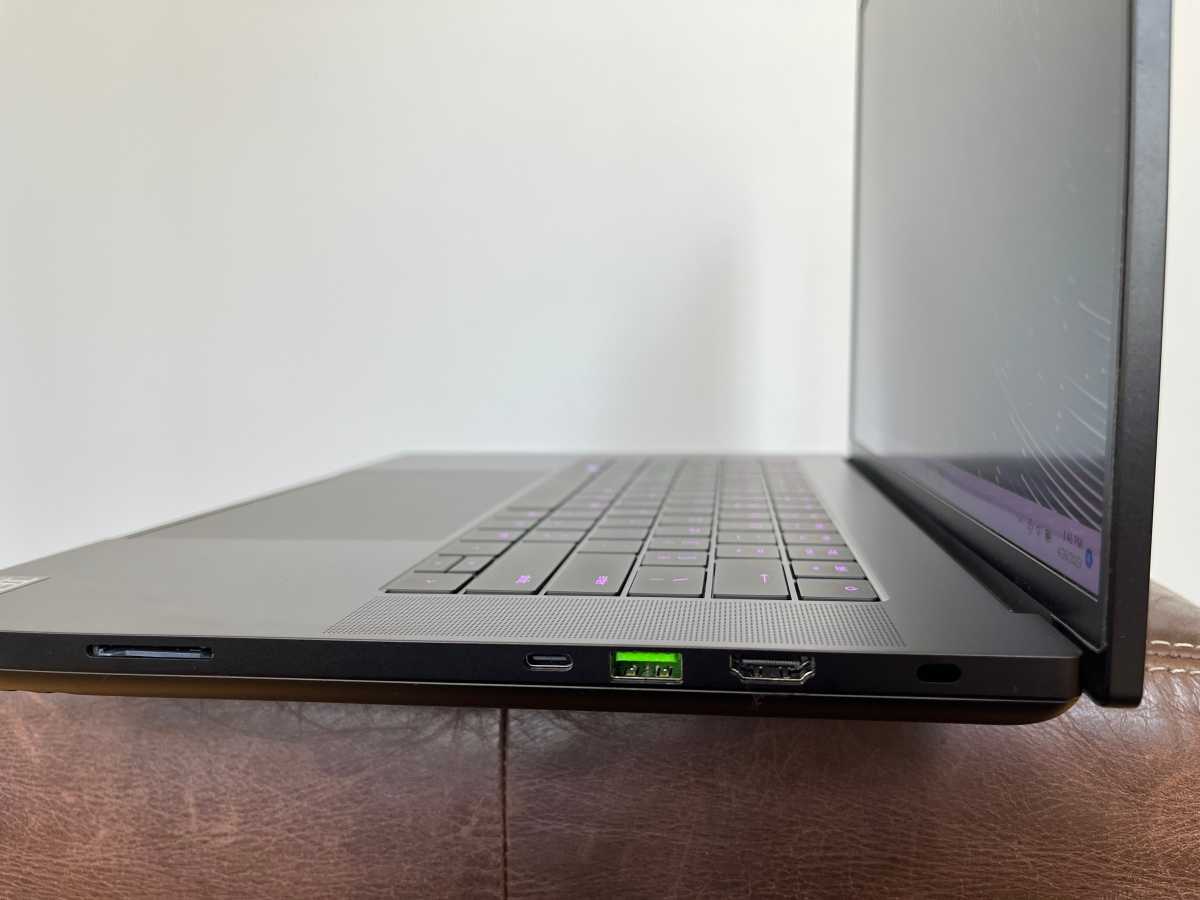 IDG / Matthew Elliott
The port selection covers both types of USB ports so you don't need to carry around an adapter, and one of the USB-C ports offers Thunderbolt 4 support. There's also an HDMI port, which makes for an easy connection to an external display if you find the Blade 16's screen isn't big enough for some games. And graphics pros will appreciate the inclusion of an SD card reader for easy data transfers. Lastly, the Blade 16 offers the latest wireless networking standards with Wi-Fi 6E and Bluetooth 5.3.
Razer Blade 16: Performance
Our Razer Blade 16 test system features a Core i9-13950HX CPU and GeForce RTX 4090 graphics. The 13th-gen Core i9-13950HX features Intel's hybrid architecture with performance and efficiency cores; it has eight performance cores, 16 efficiency cores, and a total of 32 processing threads. The RTX 4090 is Nvidia's current flagship mobile GPU. The laptop also supplies an ample 32GB of RAM and a roomy 2TB SSD.
The Blade 16 got off to a bit of a slow start with testing. On PCMark 10, it trailed other high-end gaming laptops with 12th- and 13th-gen Intel Core i7 and i9 processors. Still, with a PCMark 10 score north of 7,000, it will be able to handle productivity tasks without breaking a sweat.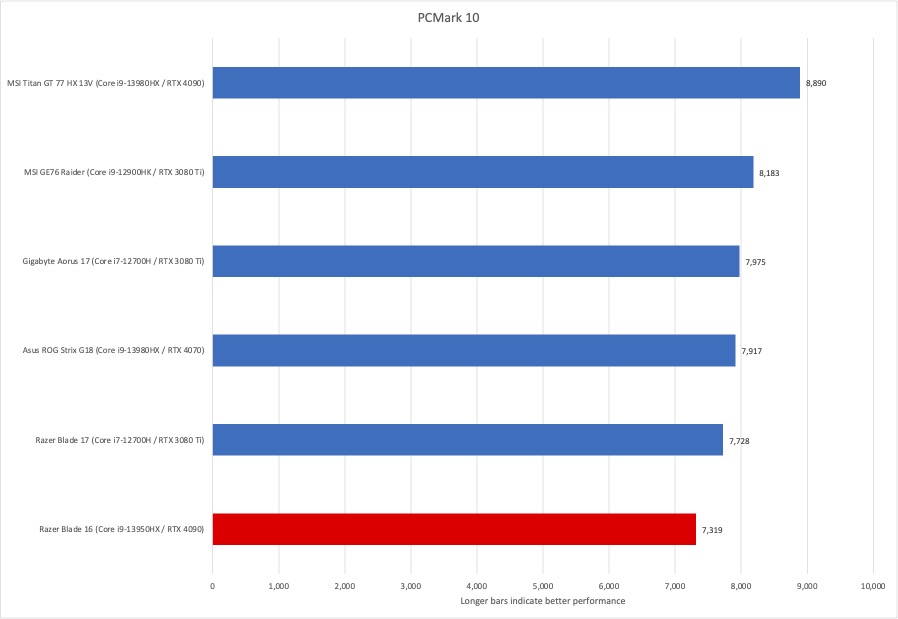 IDG / Matthew Elliott
Our HandBrake benchmark tests how a laptop is able to handle crushing CPU loads over a lengthy period—in this case, transcoding a 30GB MKV file to a format suitable for Android tablets using HandBrake, the free video encoding utility. The Blade 16 moved up the chart on HandBrake, besting both systems with 12th-gen Core i7 chips. It still was last among its 13th-gen Intel competition.
IDG / Matthew Elliott
Next up is Cinebench, another CPU-intensive test but one that renders a complex 2D scene over a short period of time. It's not surprising that the Blade 16 bested the three systems with 12th-gen Intel processors, but we were a bit shocked to see it trail the MSI Titan GT 77 HX 13V and Asus ROG Strix G that feature the nearly identical Core i9-13980HX CPU by as much as it did.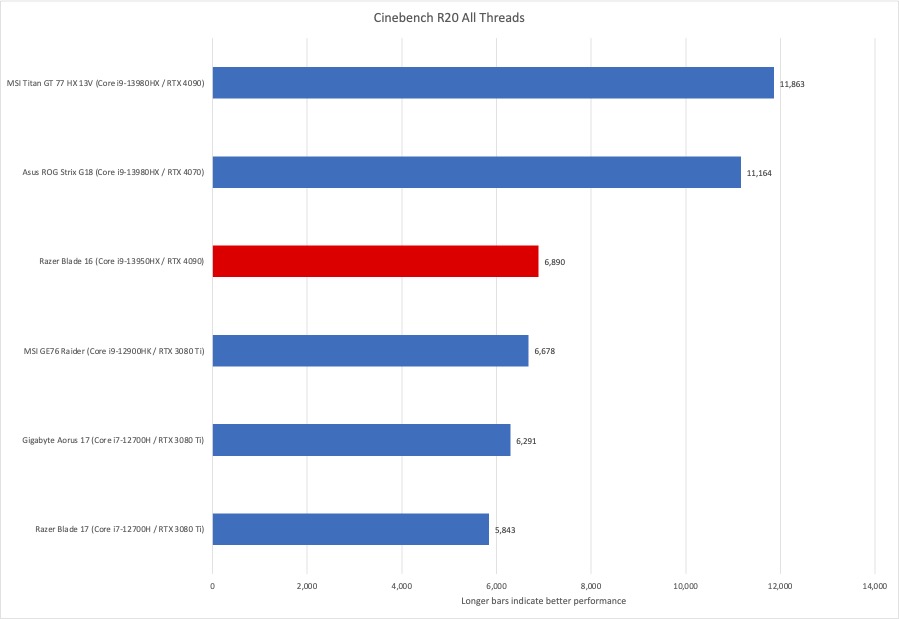 IDG / Matthew Elliott
Razer Blade 16: Graphics performance
We now get to the headlining tests that target the Blade 16's RTX 4090 GPU. On 3DMark's Time Spy and Port Royal tests, the Blade 16 posted insanely high scores, but it should be noted that both were a step or two behind the RTX 4090-based MSI Titan GT 77.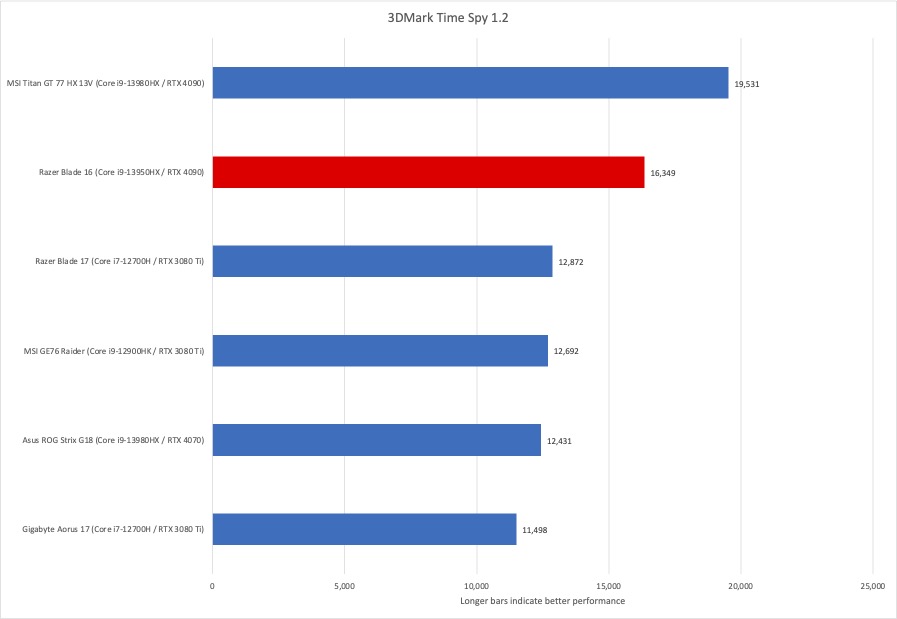 IDG / Matthew Elliott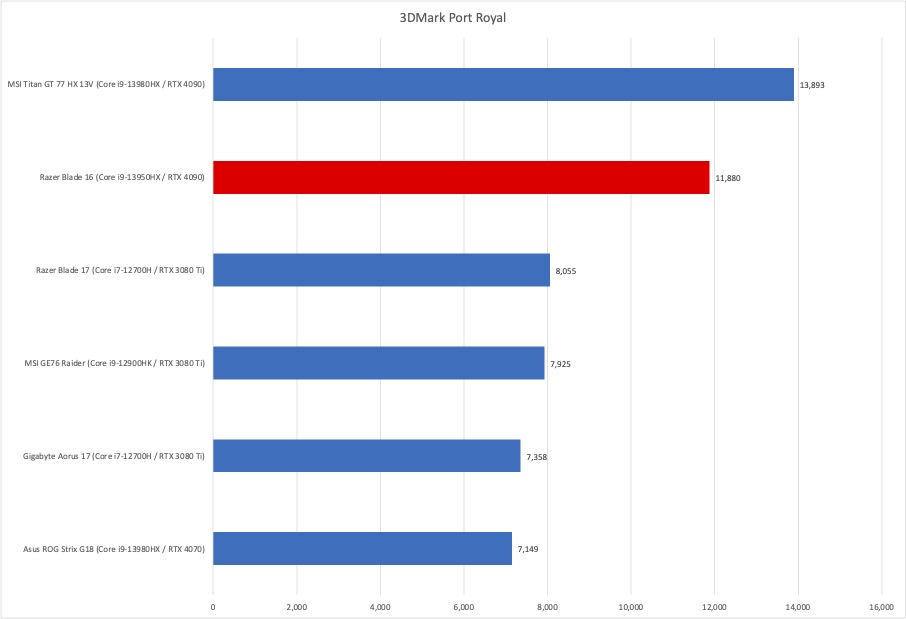 IDG / Matthew Elliott
On our real world game benchmarks, the Blade 16 did exceedingly well. It took top honors on Shadow of the Tomb Raider. Running at 1920×1080 resolution at the Highest quality preset, the Strix G18 averaged an impressive 170 fps. That's 10 fps better than the MSI Titan GT 77. The Blade 16 and MSI Titan GT 77 traded spots on Metro Exodus, with the Blade 16 averaging 76 fps to the MSI's 88 fps. Both were clearly superior to the three laptops with RTX 3080 Ti graphics as well as the RTX 4070-based Asus ROG Strix G18.
One last note on 3D graphics and gaming—the Blade 16 gets loud under heavy loads. Keeping thermals in check for the high-powered Core i9 CPU and RTX 4090 requires the cooling fans to crank up to a pretty good level of volume, but it's not any louder than the typical gaming laptop. Thankfully, its speakers are loud enough to drown out the fan noise.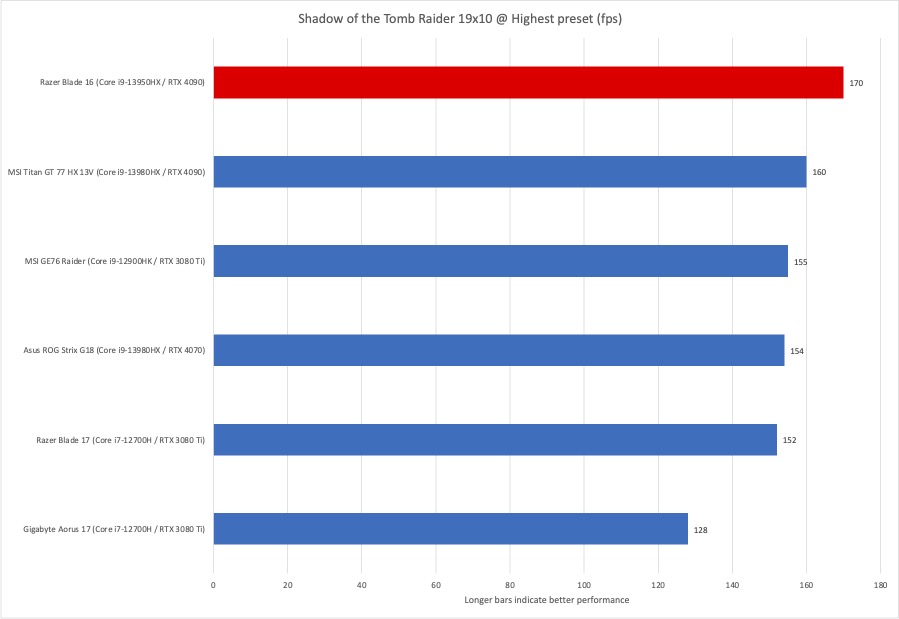 IDG / Matthew Elliott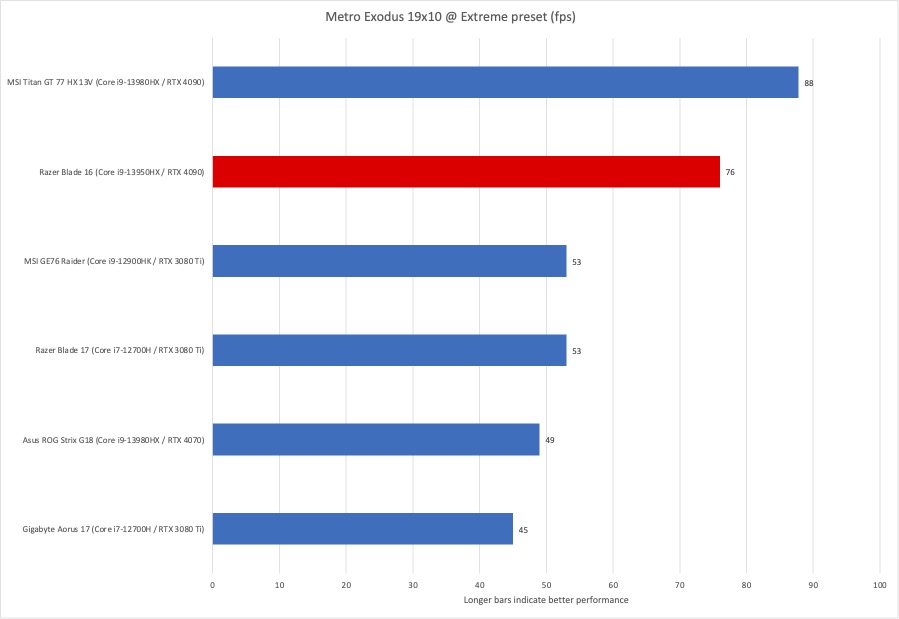 IDG / Matthew Elliott
To test a laptop's battery life, we loop a 4K video using Windows 11's Movies & TV app, with the laptop set to Airplane mode and earbuds plugged in. We set the screen brightness at a relatively bright 250 nits to 260 nits, which is a good brightness for watching a movie in an office with the lights on. The Blade 16 lasted more than 7 hours, which would be a bit below average for a regular laptop but is outstanding among the high-powered gaming set.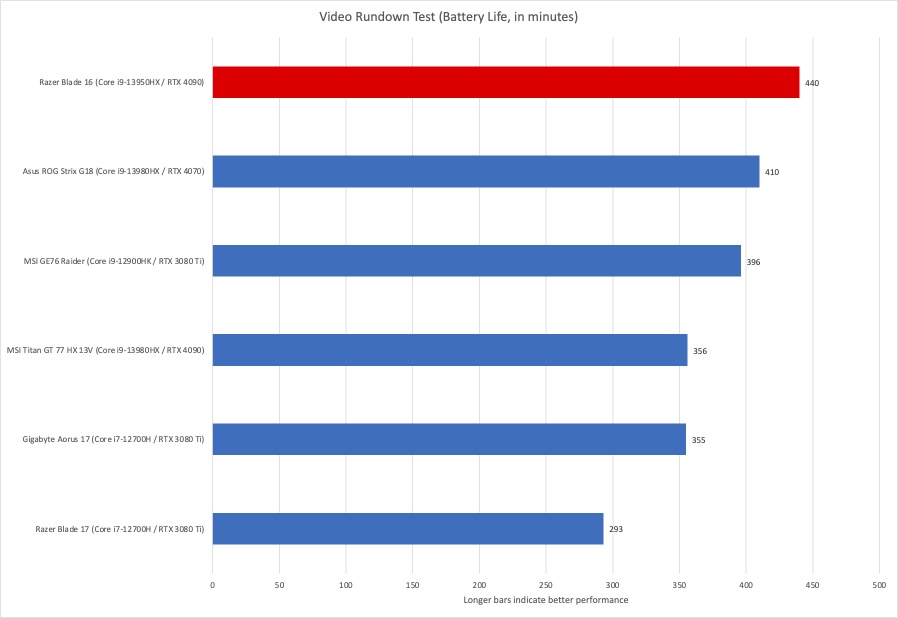 IDG / Matthew Elliott
Razer Blade 16: Conclusion
Bleeding edge technology never comes cheap, and the Razer Blade 16 is certainly proof of that. But its $4,300 price tag begins to look a bit more reasonable (less unreasonable?) when you consider the similarly configured MSI Titan GT 77 HX 13V costs $5,300—a cool grand more than the Blade 16. And while the Blade 16 was a step behind the MSI on most of our tests, it's still one of the most powerful laptops we've ever tested while also boasting a better design. If you are going to spend this much on a gaming laptop, I'd argue it had better look the part in addition to acting the part. The Razer Blade 16 offers one of the coolest designs among gaming laptops. And the mini-LED, dual-mode display provides stellar performance and added versatility to help you digest the hefty price.
Best Prices Today: Razer Blade 16