At a glance
Expert's Rating
Pros
Outstanding all day battery life
Gorgeous and smooth FHD+ 16:10 display
Robust chassis with US military grade certification
Cons
Left-side port orientation won't suit left handers
Keys feel a bit soft and fatiguing
The 720p HD camera isn't the best
Our Verdict
With respectable performance, superb visuals and a battery life that lasts all day, the Asus TUF Gaming A16 Advantage Edition is an excellent option for 1080p gamers.
Price When Reviewed
$1,099.99
Best Prices Today: Asus TUF Gaming A16 Advantage Edition
AMD's well-priced but powerful Ryzen 7000 CPUs make the perfect nucleus for a mid-range laptop like the A16 that's easy on the hip pocket, but reasonably powerful. In 2022 we saw the same thing with the Asus ROG Strix G15 Advantage Edition, which we applauded for its stupidly good price-to-power ratio.
What these laptops have in common is the "AMD advantage"–meaning they meet specific AMD guidelines to perform at their peak for mid-range laptops. But, of course, there's more to laptops then just CPU performance.
Indeed, the A16 also has an exceptionally long battery life and a large, gorgeous 16-inch 16:10 ratio display. An extra sweetener is its robust chassis that's as strong an ox, factors that make this a real gem for 1080p gamers.
For more options, check out our roundup of the best gaming laptops available right now.
Asus TUF Gaming A16 Advantage Edition: Specifications and features
The Asus TUF Gaming A16 Advantage Edition is available with either AMD Rembrandt Zen3+ (Ryzen 7 7735HS) or AMD Phoenix (Ryzen 9 7940HS) CPUs. Two display options are available also – a FHD+ with 165 Hz refresh rate or QHD+ with 240 Hz refresh rate. The specification of our review model are as follows:
CPU: AMD Ryzen 7 7735HS
RAM: 16GB DDR5 / 4800MHz
GPU: AMD Radeon RX 7600S
Display: 16-inch FHD+ (1920 x1200) IPS-level, 165Hz refresh rate, 100 percent sRGB, 7ms response, FreeSync Premium
Storage: 1TB SSD PCIe 4
Ports: 2 x USB-C 3.2 Gen 2 (Both with Display Port 1.4 one with 100W PD), 2 x USB-A 3.2 Gen 1, HDMI 2.1 port, 3.5 mm audio port, 1G Lan port, Kensington lock
Networking: Wi-Fi 6 (802.11ax)
Weight: 4.85lbs (2.2kg)
Dimensions: 13.88 x 9.92 x 0.87 inches
Battery capacity: 90Whr
Price: Currently $1,099 USD at Best Buy
Asus TUF Gaming A16 Advantage Edition: Design and build
The A16's design reflects the mid-range focus of the Asus Advantage series laptops. It won't melt your eyeballs with luxurious extras like flashy RGB lighting or curves that resemble samurai swords. Indeed, it has neither of these things, but it does get the basics right.
Returning legacy features like its immovable plastic chassis and rigid metal lid have passed US military grade certification for toughness, which is very reassuring for a pack horse like me. The lid also comes well adjusted—it stayed put in all of the myriad angles I tested it.
The A16's chassis is a very versatile size. While its big sibling the 2023 Asus ROG Strix G18 is a little too big and heavy to use on the fly—like for finishing a quest with the laptop balanced on one knee—the A16 is reasonably spacious, but still small enough for moving around. It measures 13.88 x 9.92 x 0.87 inches and weighs just 4.85 pounds, which is lightweight for a gaming laptop.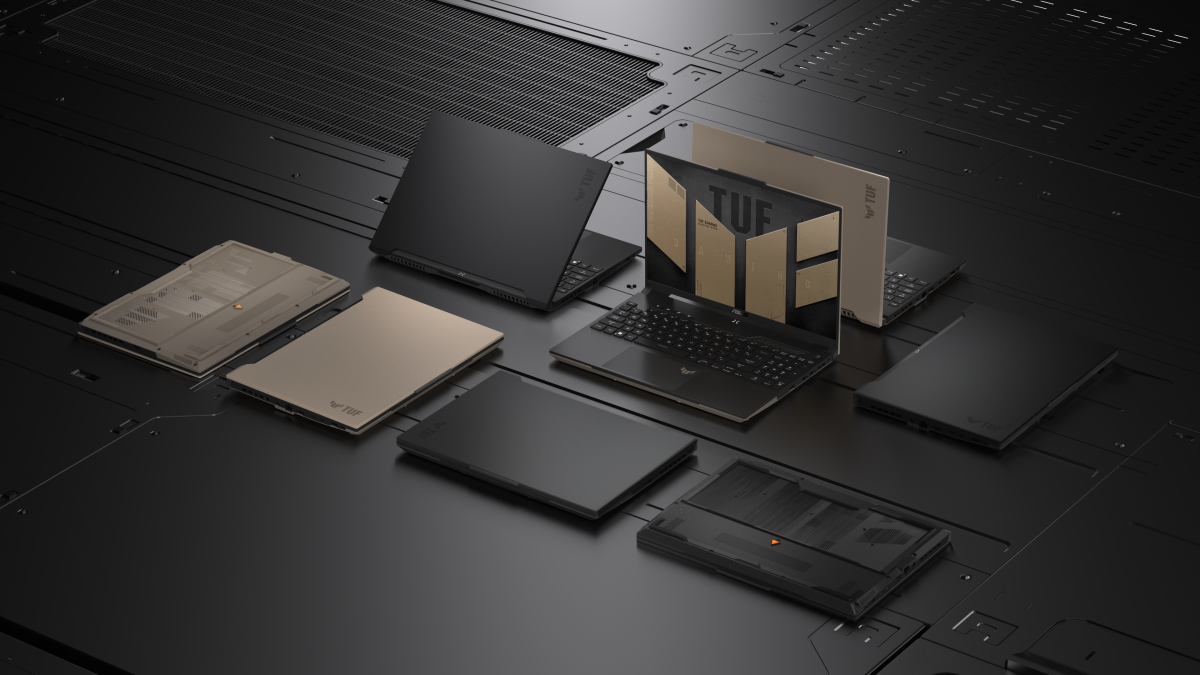 Asus
So much of the A16's design is expertly engineered for your viewing pleasure. In fact, the saying "all roads lead to Rome" can be applied here; only the roads are its ultra slim bezels that frame up the 16:10 ratio panel so beautifully. An elaborate hinge mechanism pops the display up well above the laptop's lower edge so you're not just looking at bezels.
Another thing I loved about the A16's design is its modest styling. For a gaming laptop, the A16 looks a little under-cooked, with not much more than an unobtrusive TUF logo on the lid and a crest in the track pad. But alas, the upside is it won't attract any unwanted attention in the office—it's just as geared towards work as it is play. This versatility is further validated by its excellent battery life (but more on that later).
This year, in addition to a black model, the A16 also comes in a new Sandstorm color. Both models feature a matte finish on their lids that reduces fingerprints to mere dull smudges. However, it also holds them firm, so you'll need quite a bit of elbow grease to rub them off.
Asus TUF Gaming A16 Advantage Edition: Keyboard and trackpad
The A16's keyboard is large and spacious and has a generous 1.7 mm travel between keys. There's also ample room to rest your hands either side of the trackpad, so you can relax into your game.
Although they don't have multi-colored RGB, the keys are backlit by an attractive white light that's easy to see. The keys feel low-set and soft, which makes typing quick, but a little fatiguing during long stints. Personally, I would have preferred them to be a little bouncier like in the ROG Strix G18.
Dominic Bayley / IDG
That said, the keyboard configuration is very generous. You get a full-sized number pad, all the Fn keys and a set of convenient audio controls at the very top. Below the keyboard, the decent sized track pad feels neither too slippery nor too grippy–just ideal for gaming.
Asus TUF Gaming A16 Advantage Edition: Display and webcam
I've played with my fair share of laptops with 4K displays, and in my opinion some of them are just too high resolution for their hardware to provide really seamless experiences.
The A16 by comparison packs a more modest FHD+ display so it doesn't suffer from this problem. Its colors really pop off the 100 percent sRGB panel and look rich and varied. Despite having a peak brightness level of just 250 nits, there's a surprising depth to the blacks and greys too.
Dominic Bayley / IDG
But the panel's best feature is undoubtedly its fluid video playback–the 165Hz panel ticks over without the slightest hint of stutter or glitching. I never once saw it skip a beat, which is the kind of performance I'd take any day over a juiced-up 4K display that struggles to keep up.
For webcam, the A16 sports a 720p High-Definition camera. It does a respectable job for sound and imagery, but like a lot of gaming laptop webcams, it can't compete with the quality you get from some productivity laptops–especially in low light conditions where it can look a bit grainy.
Asus TUF Gaming A16 Advantage Edition: Connectivity and audio
The TUF A16 Advantage Edition locates most of its ports on the left side, which frees up plenty of space for your mouse hand if you're right-handed, but isn't so great for lefties.
As expected, there's no Thunderbolt 4 ports, but the inclusion of multiple USB-A and USB-C ports and one HDMI 2.1 port means there are still plenty of great options for your devices. Conveniently both USB-C ports feature DisplayPort 1.4. Additionally, one of the USB-C ports features 100W Power Delivery so you can charge devices quickly on the fly.
The A16's two speakers sound clear and balanced, yet the bass won't bedazzle you. It levels out to become quite flat toward the lower end. You do get Hi-Res Audio and Dolby, however, so it will produce close-to-cinematic sounding audio.
Asus TUF Gaming A16 Advantage Edition: CPU performance
Our A16 came with an AMD Ryzen 7 7735HS CPU, an 8 core (16 thread) CPU based on AMD's Zen 3+ microarchitecture. For a yard-stick comparison, it's basically a refresh of the Ryzen 7 6800HS, just with higher clock speeds and TGP settings.
To test the laptop's CPU performance, I pitted it against a variety of gaming laptops, mostly consisting of 2022 models–since it's still early days in our 2023 review schedule. Most I chose because they had similar mid-range CPUs–for example, the Asus ROG Zephyrus Duo 16 boasts a Ryzen 9 6900HX CPU, which in 2022 didn't top the charts, but performed solidly in some PCWorld reviews.
First up we ran Maxon's Cinebench R20 Single-Threaded benchmark which flexes just a single core of a laptop's CPU. In the graph we generated below, you can see the A16's CPU was just a moderate performer against our comparisons. Even so, this result indicates the A16 will have no trouble running lightweight apps and programs.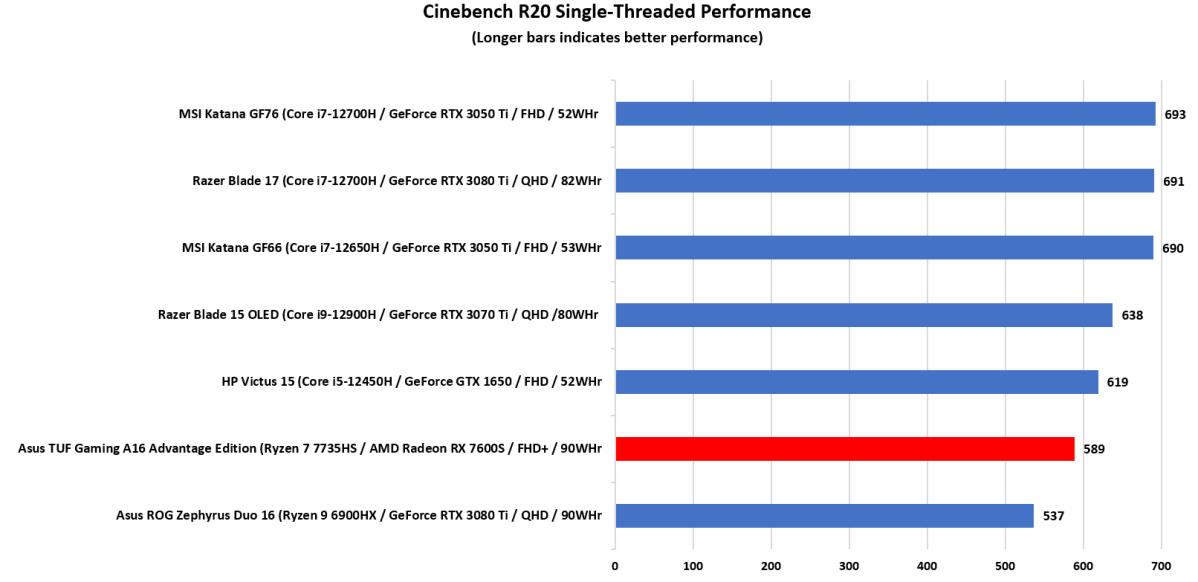 Dominic Bayley / IDG
In the Cinebench R20 Multi-Threaded benchmark, the A16's Ryzen 7 7735HS CPU fared somewhat better, proving its suitability for AAA games and CPU-demanding tasks like video editing and encoding. What's noteworthy is that it out-performed the MSI Katana GF76, which features an Intel 12th-gen Core i7-12700H CPU.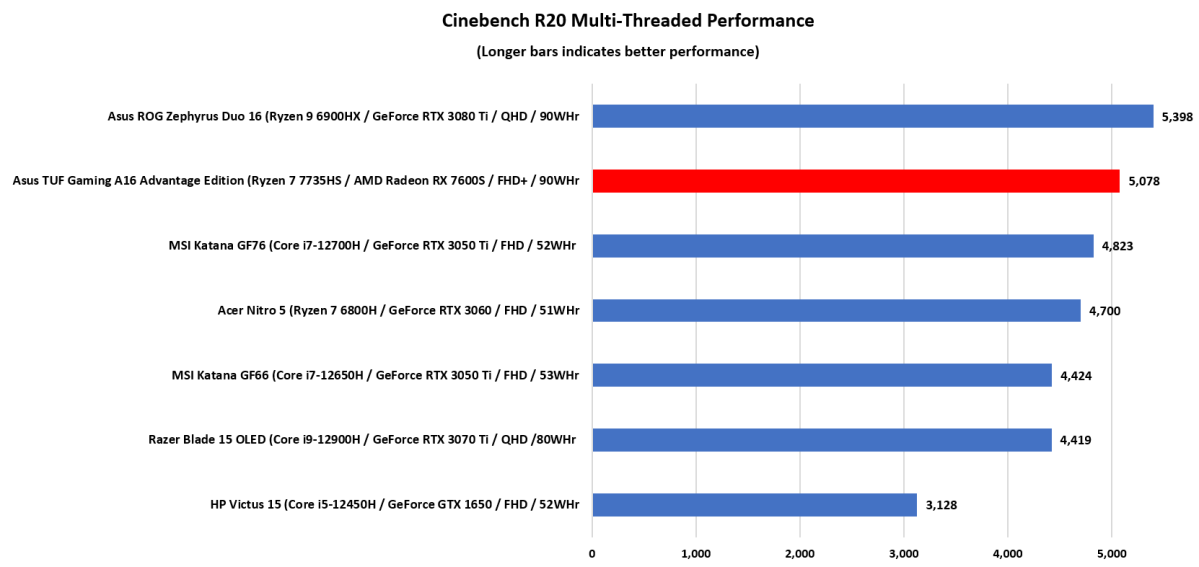 Dominic Bayley / IDG
Next, we ran a bespoke test we created specifically for the free HandBrake utility. This gave us an indication of how well our laptop could keep processing a CPU-intensive task before it got too hot and needed to throttle performance. The result? The A16 did a decent job staying cool and powering on, finishing the test in a respectable time of 1,072 seconds.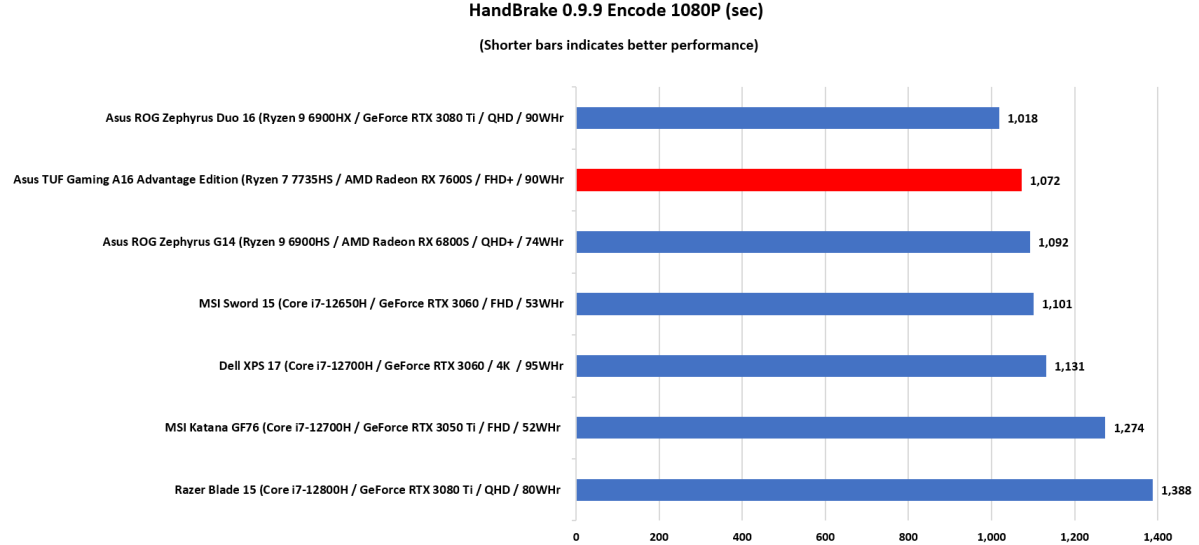 Dominic Bayley / IDG
Asus TUF Gaming A16 Advantage Edition: GPU performance
Under the hood, my A16 review unit came with a mid-range AMD Radeon RX 7600S GPU. GPUs in AMDs new 7000 Mobile Series feature AMD RDNA 3 architecture; they include new compute units that share resources between rendering, AI and ray tracing and make full use of each transistor for faster, more efficient performance.
While our benchmarks specifically tested for GPU performance, it's worth noting that the A16 incorporates AMD SmartShift technologies too.
Mentioned in this article
Asus ROG Strix G15 Advantage Edition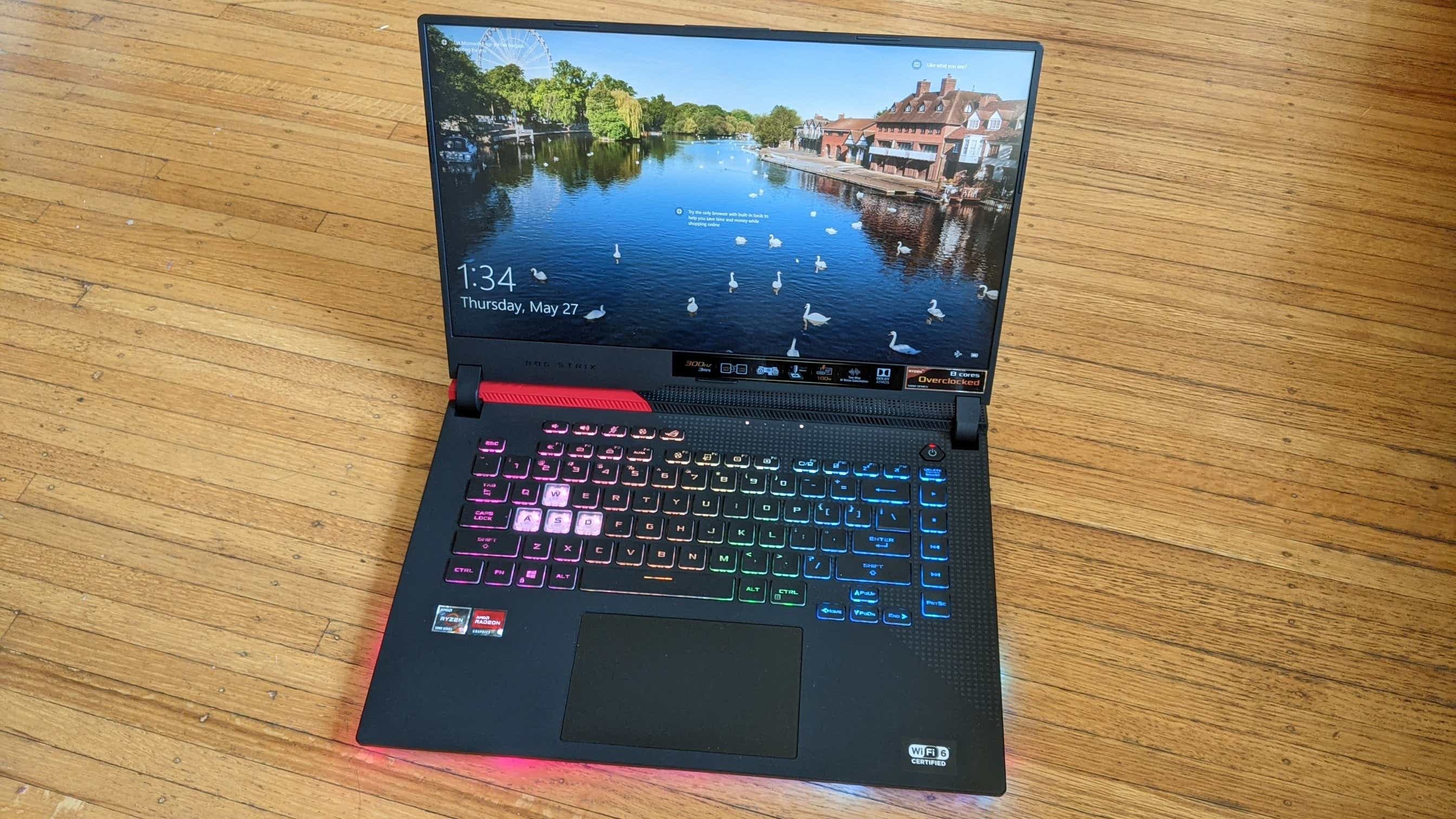 Price When Reviewed:
$1649.99
AMD says one SmartShift technology, SmartShift RSR, works by "intelligently distributing the rendering, upscaling and presentation demands between the APU and GPU resources to deliver the best possible performance"—which, in case you're wondering, makes it similar to Advanced Optimus in some Nvidia supported laptops.
The results from 3DMark's Time Spy benchmark gave us a general overview of the GPU's performance for both gaming and other graphics-based tasks. As you can see below, the A16 appears in the middle of our comparison field, close behind the Asus ROG Zephyrus G14 and Razer Blade 15.
Dominic Bayley / IDG
Moving to our gaming benchmarks and for Rise of the Tomb Raider the results are more promising. Here you can see our laptop produced faster framerates than most of our comparisons.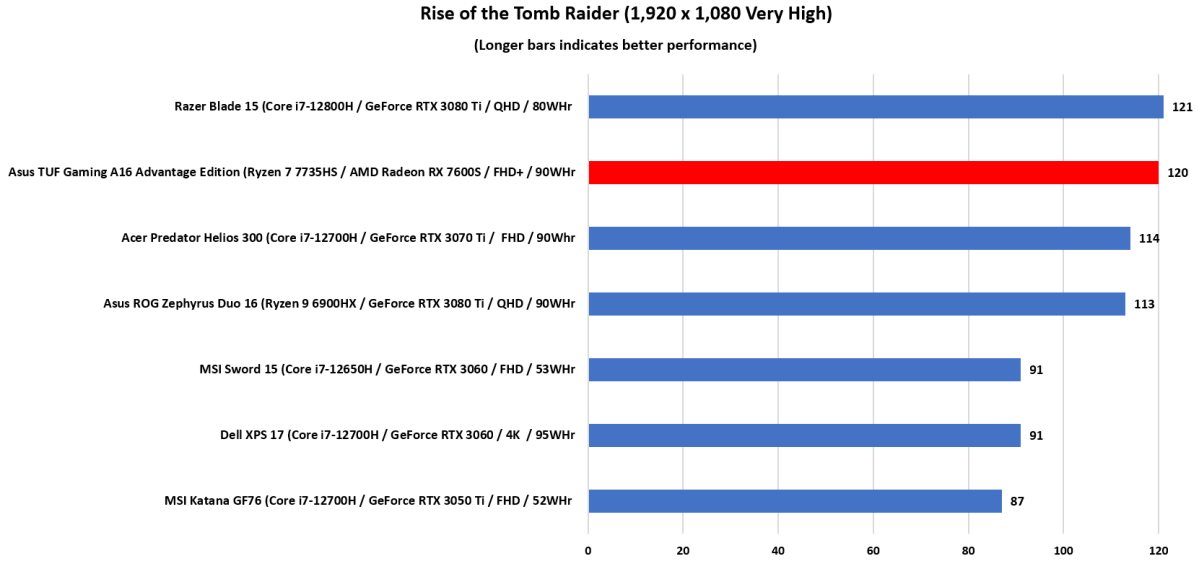 Dominic Bayley / IDG
In the Shadow of the Tomb Raider game benchmark, the A16 also performed very well, outpacing the competition—except for the Aus ROG Zephyrus Duo 16, which although a little older, has more premium graphics hardware.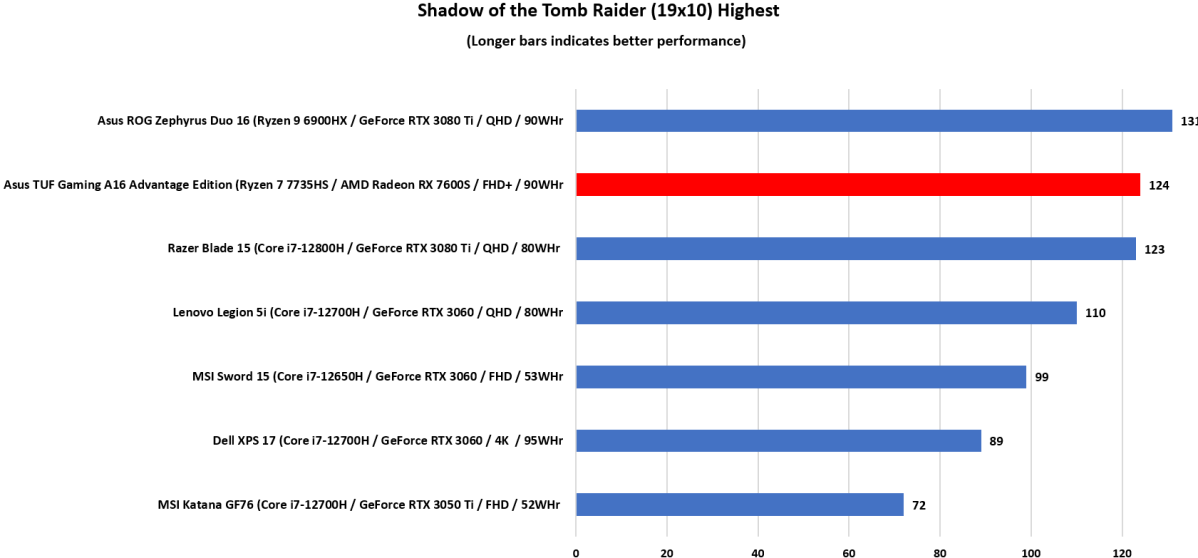 Dominic Bayley / IDG
What do these results tell us? Overall, they confirm that the A16's GPU delivers mid-range graphics performance, but also prove that it's definitely powerful enough for decent gaming at FHD+ resolution. It's what I saw the laptop achieve during my testing—that is, consistently high frame rates and a smooth seamless motion on the display.
Asus TUF Gaming A16 Advantage Edition: Battery life
The A16 has a number of energy efficiency advantages over 2022 Advantage Edition models—the aforementioned AMD SmartShift technologies included—and these really made a difference in the longevity of the A16's battery life.
I began running our PCWorld battery test at 6:35 a.m. one morning, and when I arrived home from the office at 7pm, much to my astonishment, it was still going. In total, it ran for a whopping 11 and a half hours that day.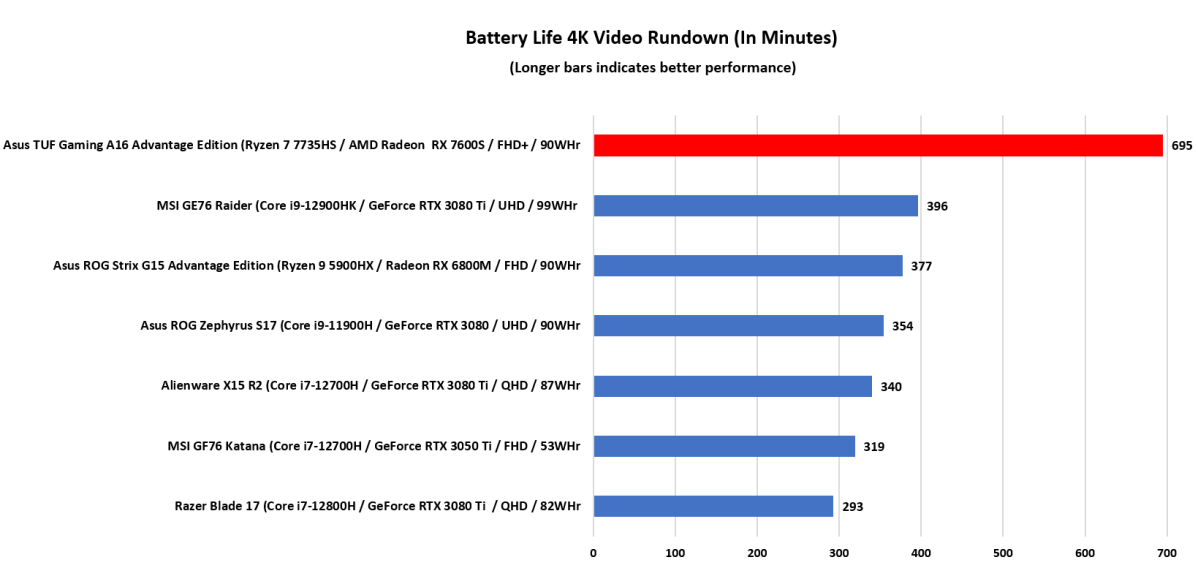 Dominic Bayley / IDG
Admittedly, PCWorld's battery test is quite lightweight, but these results still suggest the A16's 90Whr battery will see you through approximately seven hours of gaming away from an AC outlet. If you're only running light productivity apps, you'll most likely get more than a full day's operation, which is quite extraordinary for a gaming laptop.
Asus TUF Gaming A16 Advantage Edition: Should you buy it?
The A16 (which is currently $1,099, USD at Best Buy) makes an excellent case against more expensive laptops like the Asus ROG Zephyrus Duo 16 and the MSI Katana GF76, especially if you're into 1080p gaming. However, although its affordable, it doesn't skimp on performance or a robust chassis.
But for me, the biggest factor that sets it apart from these options is its incredible battery life. In my time reviewing laptops, I can't remember when I last saw a gaming laptop lasted 11 and a half hours on a single charge, which makes the A16, in my book, truly outstanding.