At a glance
Expert's Rating
Pros
Super-small form factor
Performance far exceeds claims on Amazon
Hide-away USB connector
Cons
Protectable USB connector can be a tad problematic on insertion
Significantly pricier than 5Gbps sticks
Our Verdict
The PNY Pro Elite V2 is the fastest USB stick (10Gbps or otherwise) we've tested to date, and by a rather large margin. It also sports a small form-factor and a hide-away USB connector. Being relatively affordable, it's what you want if you value your time.
Price When Reviewed
1TB: $109.99 I 512GB: $74.99 I 256GB: $44.99
Best Prices Today: PNY Pro Elite V2 10Gbps USB stick
Few people in the world these days get excited about USB thumb drives. Especially with so many users relying solely on storage in the cloud. But I'll be damned if I don't experience a slight twinge of "Oh, boy!" when I get 700MBps-plus writing from one of these tiny wonders—in this case, the PNY Pro Elite V2 flash drive.
Maybe that's because I tend to run repair utilities and alternate operating systems from them. But even the average user will appreciate being able to offload or back up the day's work in just a few seconds, rather than the minutes that slower 5Gbps USB sticks can take.
And while online storage has proven relatively secure and safe to date, there's nothing quite as safe or secure as your data tucked away in your pocket.
Further reading: See our roundup of the best external drives to learn about competing products.
PNY Pro Elite V2 design and features
The Pro Elite V2 is available in 256GB ($44.99/tested), 512GB ($74.99), and 1TB ($109.99) capacities. Note that these prices were further discounted to the tune of $3 to $15 on Amazon at the time of this writing. Even discounted, that's up to five times what you'll pay for a 5Gbps USB stick of like capacity. Ahem.
PNY didn't disclose the inner workings of the Pro Elite V2 on our fact check, but it's a sure bet from the performance that it has to be NVMe internally. Also, given the small form factor, the NAND is either TLC or QLC. Since the lowest speed I saw in testing off cache was 350MBps, I'm calling TLC. (QLC will generally write natively at 90 to 150MBps.)
Unlike many of its ilk, the Pro Elite V2's USB connector doesn't slide into an enclosed body, but rather the connector is part of cartridge like element that is pushed in from the rear of the stick to produce the USB connector up front. When the connector is retracted, the cartridge element protrudes from the back. The approximately 2.2-inch long, 0.74-inch wide, 0.37-inch thick profile remains constant in either state.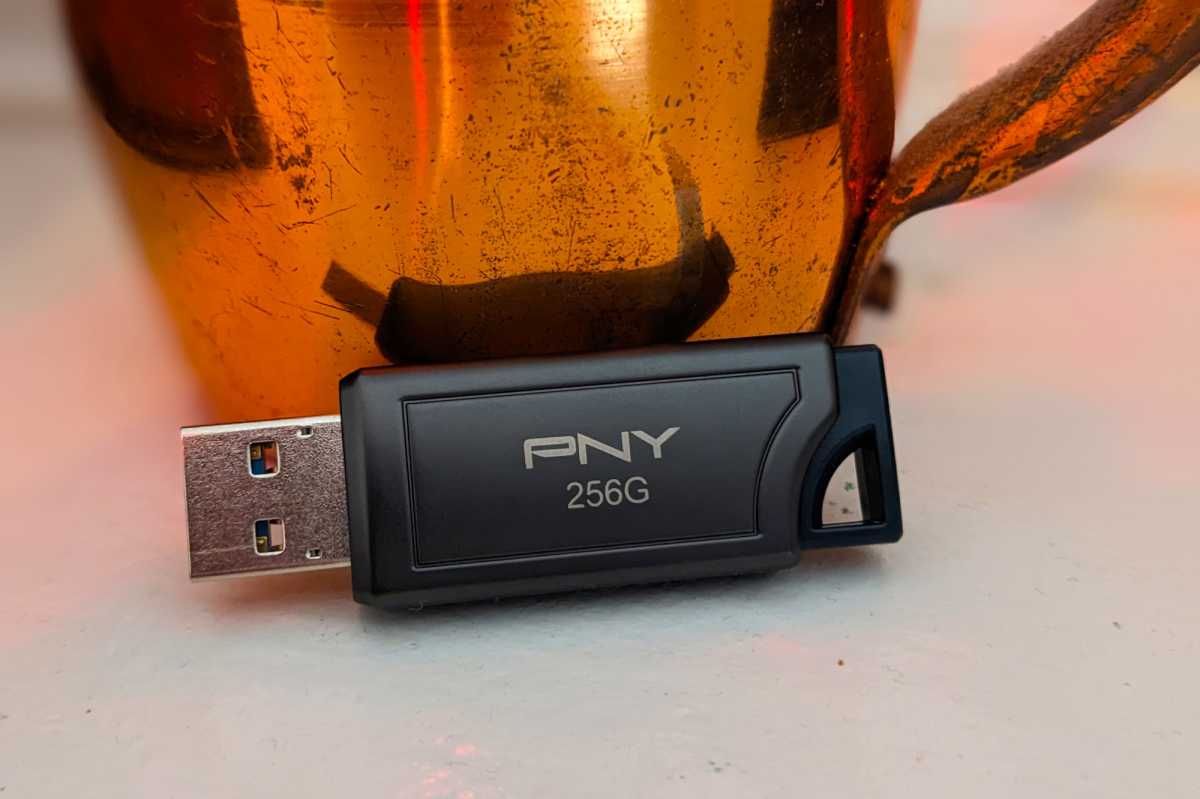 Inserting the Pro Elite V2's by holding its end eliminates my common complaint with USB stick retractable connectors: top-mounted slide switches that may be obstructed by other USB sticks, cables, etc. Not the Pro Elite V2. Nice touch, PNY.
How does the PNY Pro Elite V2 perform?
Either we received an upgraded version, or PNY is being stupidly modest in its claims of 600MBps read and 200MBps write performance for the Pro Elite V2. We saw 637MBps reading (no surprise), and a whopping 753MBps writing—nearly four times the claimed write speed. How many sales has the company squandered because of this error?
Compared to the other 10Gbps USB stick we've tested—the Teamgroup C212—the Pro Elite V2 mopped the floor with it. Of course, the C212 is rather less expensive than the Pro Elite V2, though hardly bargain-basement 5Gbps-priced.
Note that these numbers are from a retest of the C212 on our new test bed (described at the end of this article). Its numbers under AS SSD, albeit still slower than the Pro Elite V2's, are more in line with the real-world performance seen in the 48GB transfers.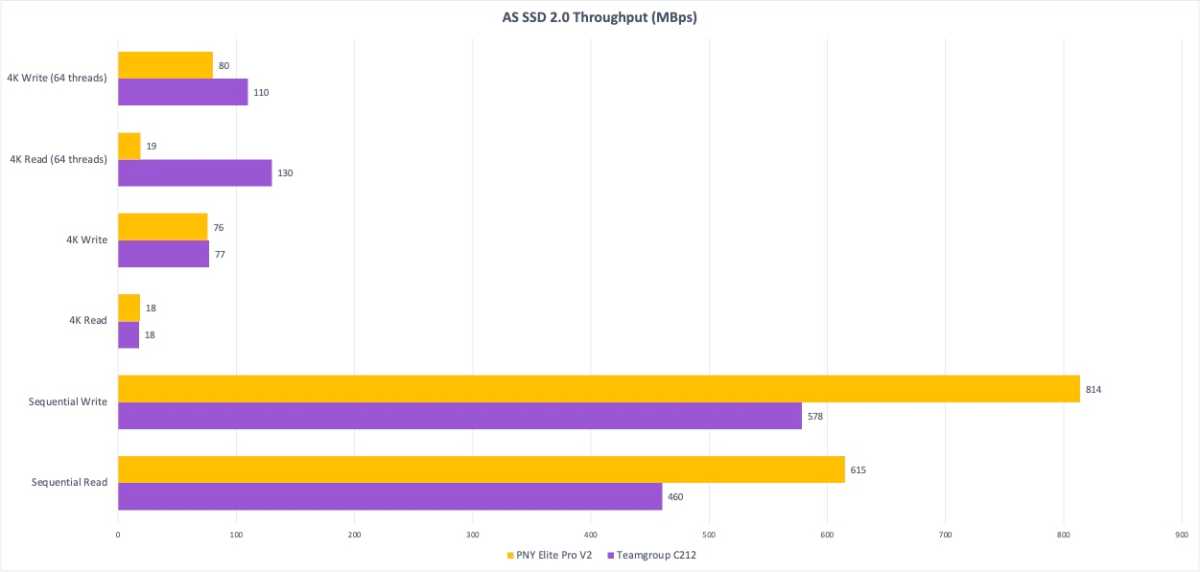 The 256GB version of Pro Elite V2 we tested might have suffered from lack of secondary cache during our 48GB copy tests, though it still did quite well compared to the C212. Also, 256GB is obviously not enough to participate in the 450GB write, which we'd normally include in the article right after the 48GB transfers.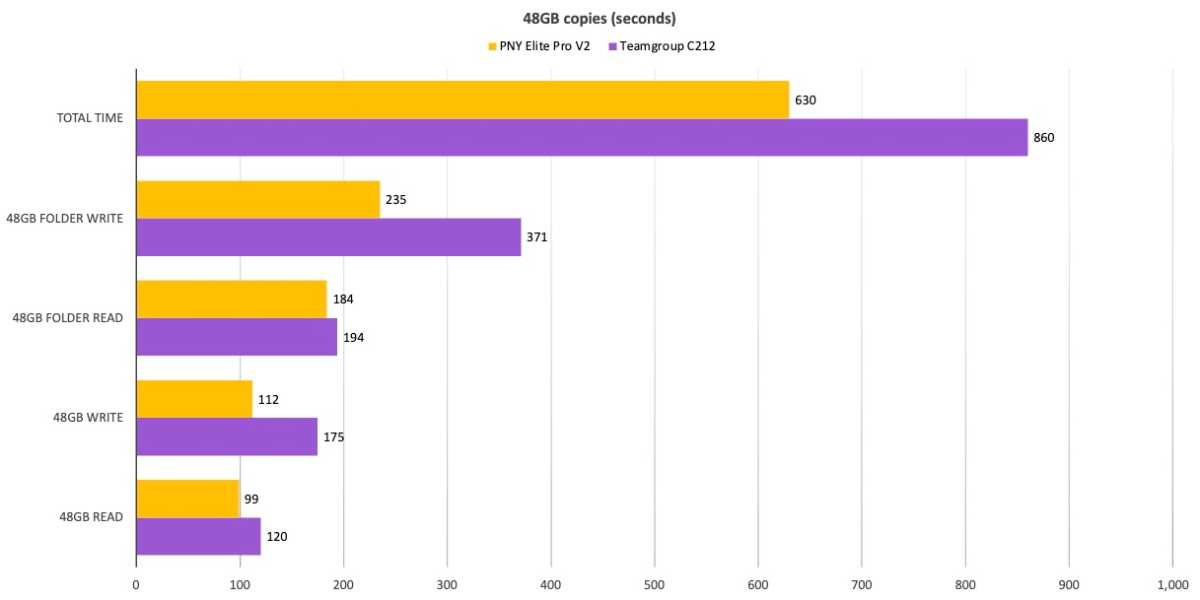 While we weren't able to perform the 450GB write on the Pro Elite V2, based on the 350MBps low point we saw with the 256GB version close to full, the 500GB and 1TB versions should be able to finish the task in 22 minutes or less—well under half the time (52 minutes) it took the C212. Again, that's not a guarantee, nor a promise, but a projection based on observation.
Is the PNY Pro Elite V2 worth it
If you just want a plain-Jane USB stick, you can get one for far less than the Pro Elite V2. If on the other hand, you consider your time valuable, or occasionally need to rush to catch the bus, then the PNY's product is well worth the extra coin. Zero complaints. Good stuff.
How we test
External drive tests currently utilize Windows 11 (22H2) 64-bit running on an X790 (PCIe 5.0) motherboard/i5-12400 CPU combo with two Kingston Fury 32GB DDR5 modules (64GB of memory total). Intel integrated graphics are used.

The 48GB transfer tests utilize an ImDisk RAM disk taking up 58GB of the 64GB total memory. The 450GB file is transferred from a Samsung 990 Pro 2TB, which also contains the operating system.

Each test is performed on a newly formatted (NTFS, not the more compatible, but slower exFAT) and TRIM'd drive so the results are optimal. Note that in normal use, as any drive fills up, performance will decrease due to less NAND for caching, and other factors.

The policy for all drives is set to "Better performance" with write caching enabled. You might get lower numbers if you leave the drive's policy set to "Quick Removal" (the default).

The performance numbers shown apply only to the drive we were shipped as well as the capacity tested. SSD performance can vary by capacity due to more or fewer chips to read/write across and the amount of NAND available for secondary caching (writing TLC/QLC as SLC).

Vendors also occasionally swap components and Teamgroup reserves this right. If you ever notice a large discrepancy between the performance you experience and that which we report (systems being roughly equal), by all means—let us know.
Best Prices Today: PNY Pro Elite V2 10Gbps USB stick