Any files you have stored in OneDrive or other cloud services are probably organized by file and name so you know where they are. But in the workplace, all bets are off. A new OneDrive for the web UI feature helps solve that problem.
OneDrive's new feature for businesses and schools allows you to organize files by people, not just file name. You can also organize them by meeting, too—even upcoming meetings that haven't happened yet.
Those are two solid improvements to the OneDrive UI. If you're the type of person who can mentally categorize files across multiple workgroups, good for you. Sometimes that means navigating through threads and chat rooms to find the relevant file, whether they've ben bookmarked or pinned or not. What OneDrive is proposing is simply skipping all that. Perhaps you're supposed to be working with a coworker or two on a specific proposal—which may have been shunted off into separate drafts. OneDrive's new Meetings view will automatically organize those files, whether it be in the context of a specific past or upcoming meeting, or just the coworker(s) that are involved.
Note that OneDrive isn't moving away from its traditional file-first organization scheme—if you want to organize your shared and personal files like that, you can. OneDrive is also adding filtering by file type and little touches like the ability to color-code your folders, too.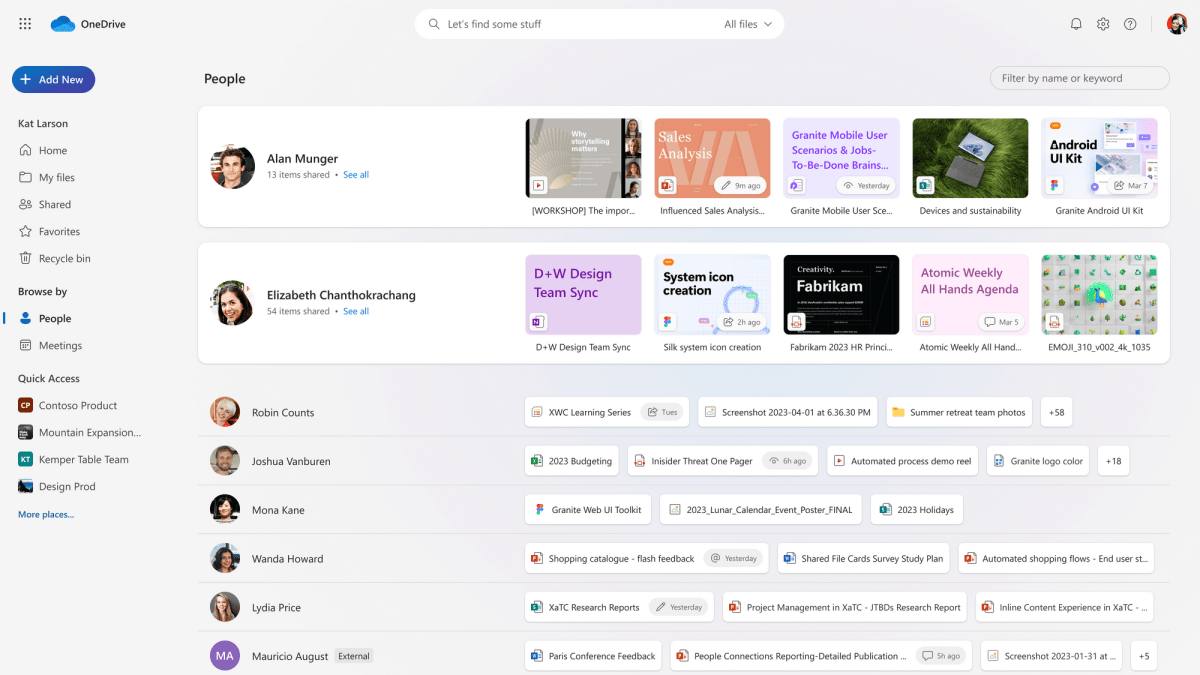 Microsoft
The only hitch? For one, this is only being rolled out to schools and businesses, and only on the web. The consumer version of OneDrive will remain unchanged. Microsoft isn't giving an exact timeframe for when these new changes will roll out, either, only that they'll happen.
Microsoft also plans to use AI to make additional file recommendations "coming soon" as part of the "For You" section of the OneDrive home page. Though AI gets all the headlines these days, it honestly feels like organizing files by person and meeting is well on its way to helping you find what you need. (Maybe Projects can be the next addition?) OneDrive's new schema seems like a smart addition already.