At a glance
Expert's Rating
Pros
Transparent pricing and pay-as-you-go model
Comprehensive suite of features, including seamless Kubernetes cluster management
Strong security measures and multiple backup options
99.99% uptime guarantee and multiple global data centers for reduced latency
Cons
Not geared toward beginners
Some important features, like automated backups, require a technical background to set up
Our Verdict
DigitalOcean is an excellent choice for developers and businesses seeking a reliable, scalable, and affordable cloud-based hosting solution with a wide range of features. While it may not be suitable for complete beginners, those with some technical knowledge can benefit from its transparent pricing, strong security, and high-performance infrastructure.
Price When Reviewed
$4/month
Best Prices Today: DigitalOcean
With a strong focus on providing cloud-based web hosting solutions for developers and businesses, DigitalOcean has quickly risen in popularity since it was founded in 2011. Its services are designed to be simple, scalable, and affordable, making it an attractive option for developers, startups, and small- to medium-sized businesses.
DigitalOcean doesn't cater directly to beginners like HostGator, InMotion Hosting, and Bluehost, but the platform is straightforward enough for those with a little technical knowledge to navigate.
DigitalOcean pricing
DigitalOcean offers various hosting plans with different features and pricing options to accommodate a range of needs and budgets. The pricing model is based on pay-as-you-go hourly or monthly rates, which gives your more control over your costs.
The most basic plan, called Basic Droplets, starts at $4 per month, or $0.00595 per hour. The more advanced plans offer increased resources, such as RAM and storage, at progressively higher prices. Unlike some competitors, DigitalOcean is transparent about its prices.
Marshall Gunnell / Foundry
There are five different Droplets packages you can choose from, and each package has different CPU options. Visit DigitalOcean's pricing page to browse the different prices for each item in each package, based on your CPU selection. If you're not sure what you need, DigitalOcean put together a comprehensive document to help you choose.
Getting started with DigitalOcean
Setting up a server with DigitalOcean is pretty straightforward, but it's geared towards developers and businesses with some technical knowledge. DigitalOcean's "Droplets" concept refers to virtual machines that can be deployed in a matter of seconds. Users can choose from a wide range of pre-built images or upload their own, so the setup process is highly customizable.
DigitalOcean's control panel is intuitive, and lets users easily manage their Droplets and other resources. It includes features like monitoring, backups, snapshots, and team collaboration tools. For those who prefer command-line access, DigitalOcean also offers an API and CLI tool.
It also provides an extensive library of tutorials and guides that cover a wide range of topics, from setting up a server to deploying applications and optimizing performance, to using the service's APIs.
What features does DigitalOcean offer?
DigitalOcean provides a comprehensive suite of features and tools designed to meet the needs of users with varying levels of experience and requirements. Whether you're a beginner or an experienced developer, DigitalOcean has what you need.
DigitalOcean's Droplets—its virtual private servers—are the backbone of its hosting offerings. These Droplets come with flexible configurations, allowing you to choose from various RAM, CPU, and storage options. This lets you tailor your hosting environment to suit your specific needs.
One standout feature of DigitalOcean is the ability to create and manage Kubernetes clusters seamlessly. This is particularly beneficial for users looking to deploy containerized applications using the popular Kubernetes orchestration platform.
DigitalOcean also offers a variety of one-click applications, which simplifies the process of deploying popular applications and services like WordPress, Ghost, or MySQL. If you're looking to improve performance and delivery, DigitalOcean provides Spaces, an object storage solution, and the Content Delivery Network (CDN) feature. These services let you store and deliver content more efficiently.
DigitalOcean's feature set also includes advanced networking options, like Load Balancers and Floating IPs. These features help ensure high availability and improved performance for hosted applications and services.
DigitalOcean backup and security
DigitalOcean provides multiple options for backing up and protecting your data so that your web applications and services remain safe from potential threats.
One of the primary backup options offered by DigitalOcean is its automated backup feature, but you'll need a bit of a technical background to set it up. These snapshots can be used to restore your Droplet to a previous state in case of any issues. For more granular control over backups, DigitalOcean also allows users to create manual snapshots at any time.
DigitalOcean has robust security measures in place, including two-factor authentication (2FA) for user accounts and secure connections using SSL/TLS. Its data centers are monitored 24/7 and equipped with advanced security measures, such as biometric access controls and on-site security personnel.
In addition to these security features, DigitalOcean encourages users to follow best practices for securing its applications and services. DigitalOcean provides a range of resources and guides on topics like securing servers, implementing firewalls, and protecting against DDoS attacks..
How is Digital Ocean's reliability and performance?
DigitalOcean guarantees a 99.99 percent uptime for its hosting services, ensuring that users' websites and applications remain accessible virtually all the time. This level of uptime is crucial for businesses and individuals who depend on their online presence for generating leads, sales, or revenue. After all, lost time is lost money.
To ensure optimal performance, DigitalOcean operates multiple data centers across the globe. This distribution of data centers allows for faster content delivery and reduced latency, which means a better better overall user experience.
DigitalOcean's infrastructure is built using high-quality hardware and scalable SSD storage, providing fast and reliable performance. Users can also take advantage of DigitalOcean's load balancers, which help distribute traffic evenly across multiple Droplets, ensuring consistent performance even during traffic spikes or high-demand periods.
The provided monitoring tools lets you track your Droplets' performance and resource usage. This visibility allows you to optimize your setup and make informed decisions about scaling your resources as needed.
DigitalOcean customer support
DigitalOcean provides top-notch customer support through various channels, so if you are having issues, you can get them resolved quickly and easily. Regardless of what kind of user you are, you can contact DigitalOcean's support team at any time via email. The response time varies, depending on which support plan you're subscribed to.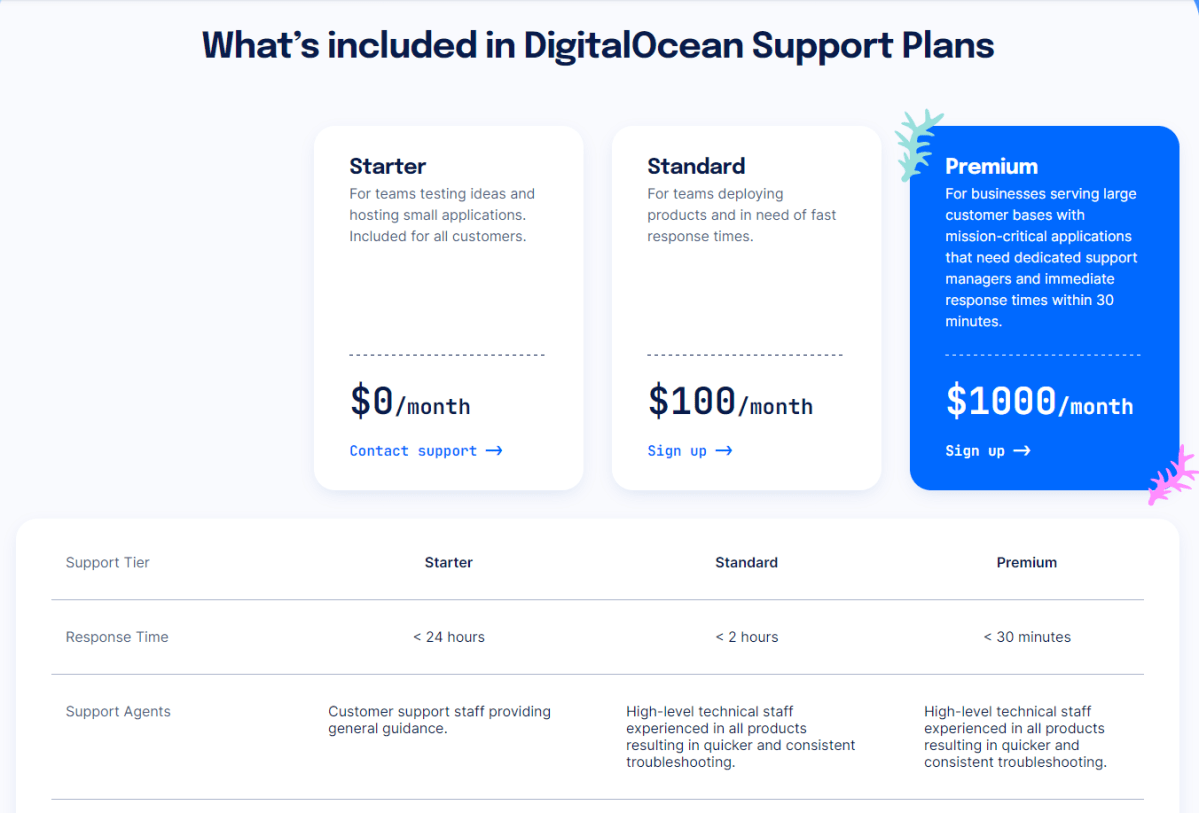 Marshall Gunnell / Foundry
For those who prefer self-help options, DigitalOcean offers a comprehensive knowledge base filled with in-depth articles and tutorials on a variety of topics related to web hosting, server management, and application deployment. The knowledge base is accessible through the website and can be a valuable resource for troubleshooting common issues or learning more about hosting best practices.
DigitalOcean also has an active community forum, where users can seek assistance from fellow developers and hosting experts. The community forum serves as a platform for users to ask questions, share tips and insights, and engage in discussions related to web hosting and development.
Is DigitalOcean worth it?
DigitalOcean is an excellent choice for developers and businesses looking for a reliable, scalable, and affordable cloud-based hosting solution. With transparent pricing, a wide range of features, and a user-friendly control panel, DigitalOcean caters to the needs of technically inclined users and businesses.
While DigitalOcean may not be the best option for complete beginners, the platform is straightforward enough for those with some technical knowledge to navigate. The combination of high uptime, global data center presence, and a focus on security makes DigitalOcean a solid choice for hosting web applications and services.
Best Prices Today: DigitalOcean