AMD announced four new processors within its Ryzen Mobile 7040 series, taking more steps toward what AMD believes will eventually be a future full of artificial intelligence-enhanced PCs powered by its XDNA AI architecture.
Two of these new chips include Ryzen AI, hardware AI logic supported by new instructions. That said, you'll want to buy laptops based upon new chips for what they can deliver now, more than for their potential for AI in the future. And AMD's latest laptop processors look to pack plenty of punch. These new 7040U processors wield not only AMD's latest Zen 4 compute cores, but also powerful integrated Radeon graphics based on the same RDNA 3 architecture found in the latest and greatest Radeon graphics cards.
AMD's new processors plug a small hole in the complicated mosaic of mobile Ryzen processors AMD announced this January at CES, specifically the Ryzen 7040 Mobile series, or "Phoenix." AMD announced two families of Phoenix parts in January, detailing the 7040HS series for "elite ultrathin" notebooks. Those are beginning to arrive on retail shelves. These new versions, the Ryzen Mobile 7040U processors, are aimed at lower-power (15-30W) notebooks instead.
Specifically, AMD announced four new processors:
Ryzen 7 7840U: 8 cores/16 threads, 3.3GHz base clock/5.1GHz turbo; 24MB cache; 780M GPU; Ryzen AI; 15-30W TDP
Ryzen 5 7640U: 6 cores/12 threads, 3.5GHz base clock/4.9GHz turbo; 22MB cache; 760M GPU; Ryzen AI; 15-30W TDP
Ryzen 5 7540U: 6 cores/12 threads, 3.2GHz base clock/4.9GHz turbo; 22MB cache; 740M GPU; 15-30W TDP
Ryzen 3 7440U: 4 cores/8 threads, 3.0GHz base clock/4.7GHz turbo; 12MB cache; 740M GPU; 15-30W TDP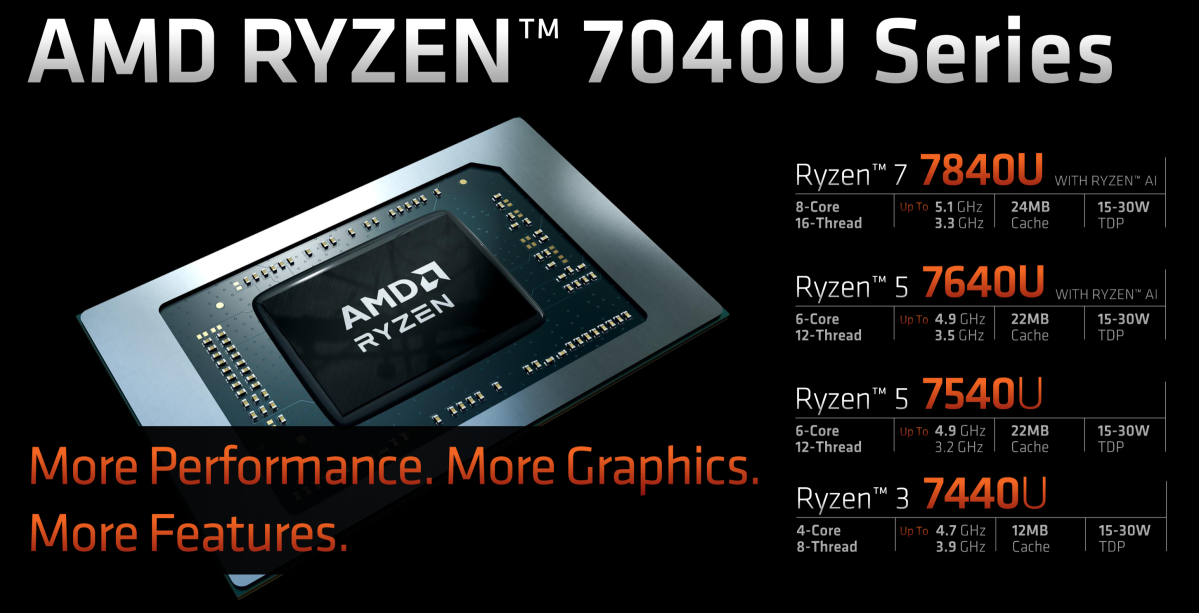 AMD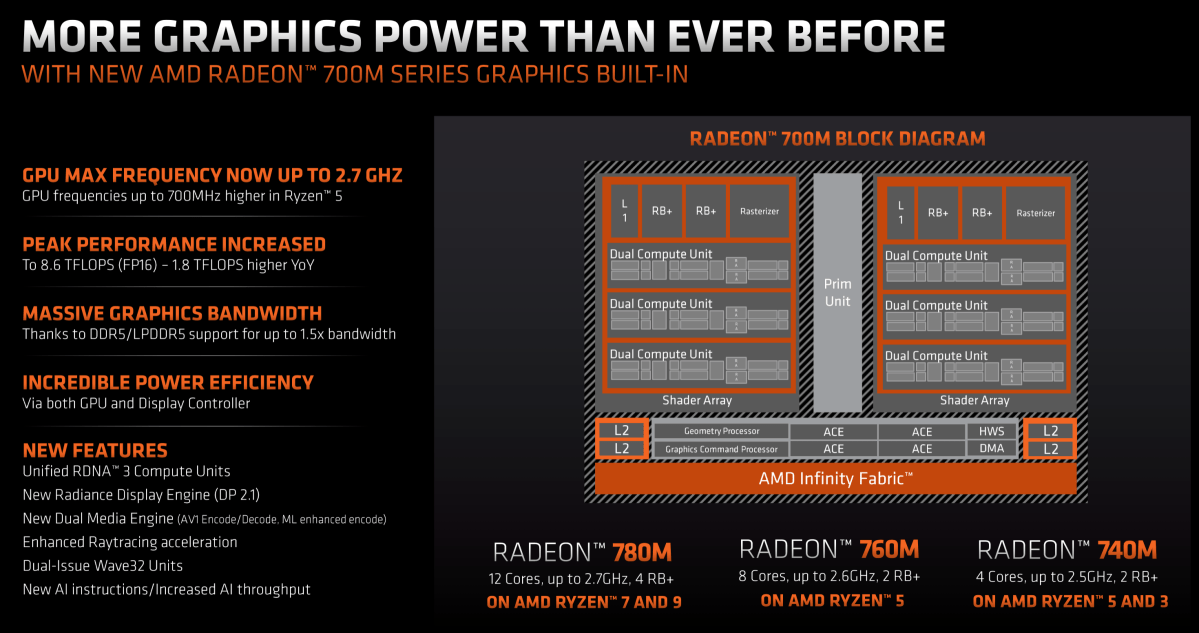 AMD
AMD Ryzen 7040U performance claims
Before we dig into futuristic AI ambitions, it makes more sense to look at how the 7040U handles traditional applications today.
The difference between what AMD's performance assessment in January and today is actually the retail availability of Intel's 13th-gen Core notebooks. Then, AMD compared the Ryzen 7 7840HS to the Intel Core i7-1280P. Now, AMD is claiming that its 8-core Ryzen 7 7840U can outperform a Core i7-1360P instead in both games and application performance.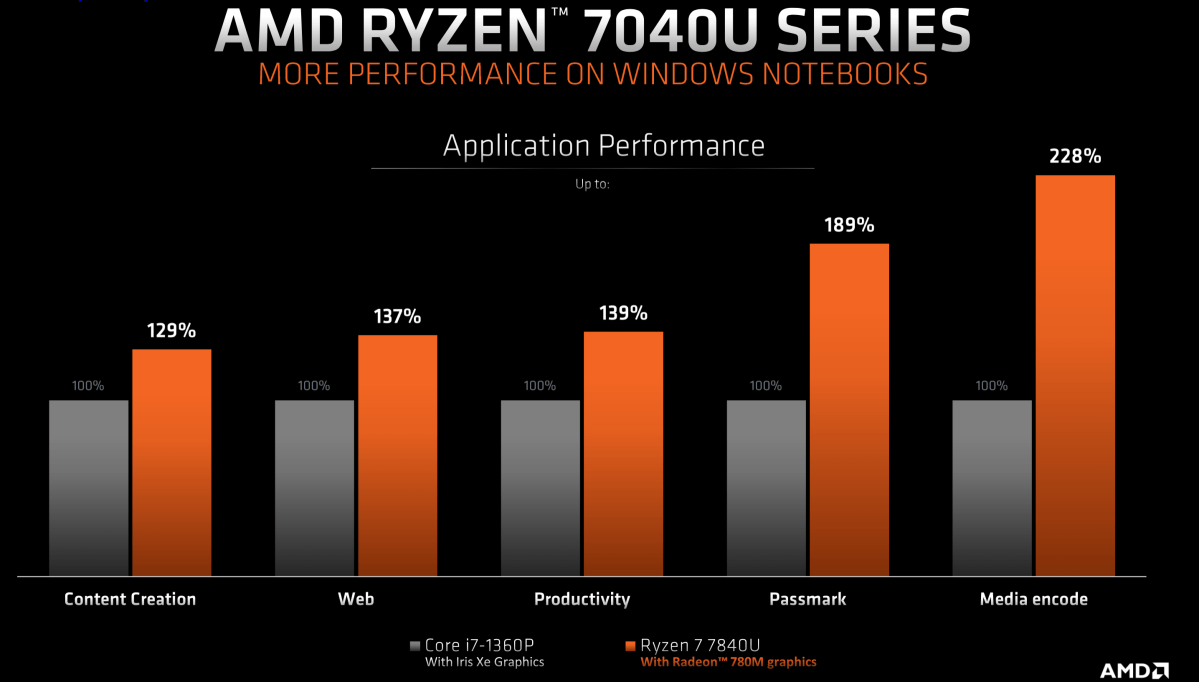 AMD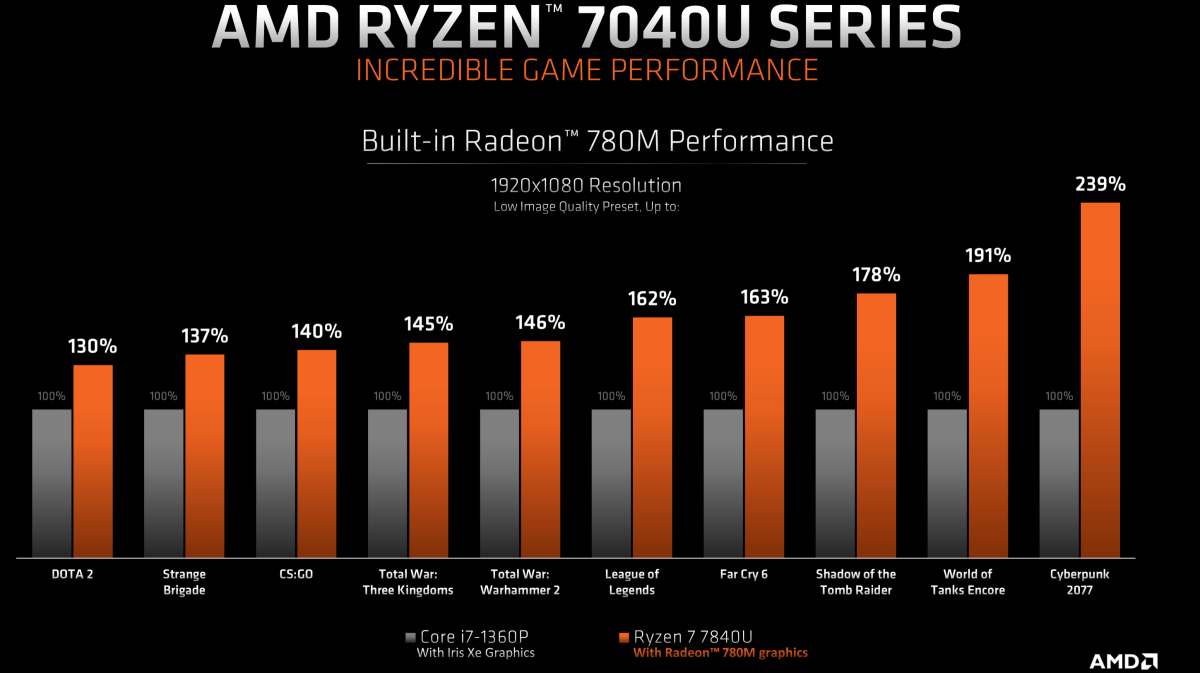 AMD
In part, that's because AMD's new Radeon graphics cores outrun the Iris Xe GPU inside an Intel chip. AMD offers three integrated GPUs—the 780M (12 cores, up to 2.7GHz), the 760M (8 cores, up to 2.6GHz) and the 740M (4 cores, up to 2.5GHz)—based upon the RDNA3 graphics architecture and DDR5/LPDDR5 support. The game comparison uses Low image quality settings as a point of comparison, as these are integrated graphics, but running games like Cyberpunk 2077 and Far Cry 6 off your processor in an ultrathin laptop is an impressive technical accomplishment.
Productivity tasks no doubt enjoy the performance boost AMD's cutting-edge Zen 4 CPU architecture offers. Machine learning is used for video encoding as well as the AI instructions. Speaking of…
Future-proofing through AI
Dr. Lisa Su, AMD's chief executive, told analysts Tuesday that AI is AMD's "number one strategic priority."
Though AI has dominated the news with everything from AI art to chatbots like ChatGPT and Bing, its presence on the PC has been relatively muted. In 2018, Microsoft made a small splash with Windows ML, a machine learning update that debuted in Windows 10. Intel, for its part, showed how its Movidius chips could tap Windows ML and begin creating an AI-empowered future.
Microsoft eventually tapped Arm instead, working with the smartphone developer and its Snapdragon PC chips to create AI-powered video experiences called Windows Studio Effects for the Surface Pro 9 5G. A very few of Intel's 13th-gen Core chips contain AI capabilities via bundled Movidius AI cards, which have appeared in Evo-branded laptops like the Samsung Galaxy Book3 series. It's this distinctly "dipping a toe in" approach to AI that AMD's Ryzen 7040 Mobile series adopts, too.
AMD's Ryzen AI is based on a more compact, less complex version of the Versal AI logic AMD acquired with its purchase of Xilinx — scaled up for the datacenter, and scaled down for the PC. AMD hopes that using a common AI engine for the datacenter as well as the PC will allow developers a faster, easier road to develop AI-enabled software for the PC. AMD has unified its AI efforts across the company, led by the former CEO of Xilinx, Victor Peng.
One remaining question? AMD hasn't said when these processors will appear in laptops. With the 7040HS beginning to appear, however, we can hope that these won't be too far behind.