At a glance
Expert's Rating
Pros
Good build quality
3D screen can wow with the right titles
Good performance
Cons
60Hz screen refresh rate
Lone USB-C port
Chintzy trackpad
No biometric login option
Expensive
Our Verdict
Glasses-free 3D could be great, but not quite yet.
Price When Reviewed
$3,499.99
Best Prices Today: Acer Predator Helios 300 SpatialLabs Edition
Remember the Nintendo 3DS handheld? Personally, I loved my 3DS and I still enjoy one from time to time even now. Although many opted to play in 2D, with the addition of eye tracking in later models, glasses-free 3D became a pretty neat experience. Unfortunately, 3D as a fad had overstayed its welcome and few games really supported a full 3D experience.
Now, Acer is trying a similar tack to Nintendo. With its SpatialLabs screen technology, users can get a little added depth from their games without having to don a VR headset or pesky 3D glasses. The Predator Helios 300 SpatialLabs Edition one of the first laptops of its kind…but is it an experience worth forking over $3,500 to see with your own eyes? Let's find out.
Looking for more options? Check out our roundup of the best gaming laptops.
Acer Predator Helios 300: Specs and features
Our review unit came equipped with an Intel Core i9-12900H CPU, an Nvidia GeForce RTX 3080 GPU, 32GB of RAM, and 2TB of NVMe SSD storage. For more information on the specs and other features, check out the list below:
CPU: Intel Core i9-12900H (14 cores, 20 threads with 6 performance cores and 8 efficiency cores)
Memory: 32 GB DDR5 4800MHz
Graphics/GPU: Nvidia GeForce RTX 3080 with 8 GB GDDR6 VRAM
Display: 15.6-inch 3840×2160 60 Hz IPS SpatialLabs glasses-free 3D screen at 350 nits
Storage: 2 TB (2x 1TB M.2 NVMe SSD in RAID 0)
Webcam: 720p
Connectivity: 1x Thunderbolt 4 Type-C, 2x USB-A 3.2, 1xUSB-A 3.1, HDMI 2.1, mini DisplayPort, gigabit Ethernet, 3.5mm headset jack
Networking: Killer AX1675i Wi-Fi 6E, Bluetooth 5.2
Biometrics: Windows Hello facial recognition
Battery capacity: 90Wh
Dimensions: 12.4 W x 8.7 L x 0.7 H inches
Weight: 5.7 pounds, 7.82 pounds with AC adapter
Price as Reviewed: $3,499.99
Acer Predator Helios 300: Design and build quality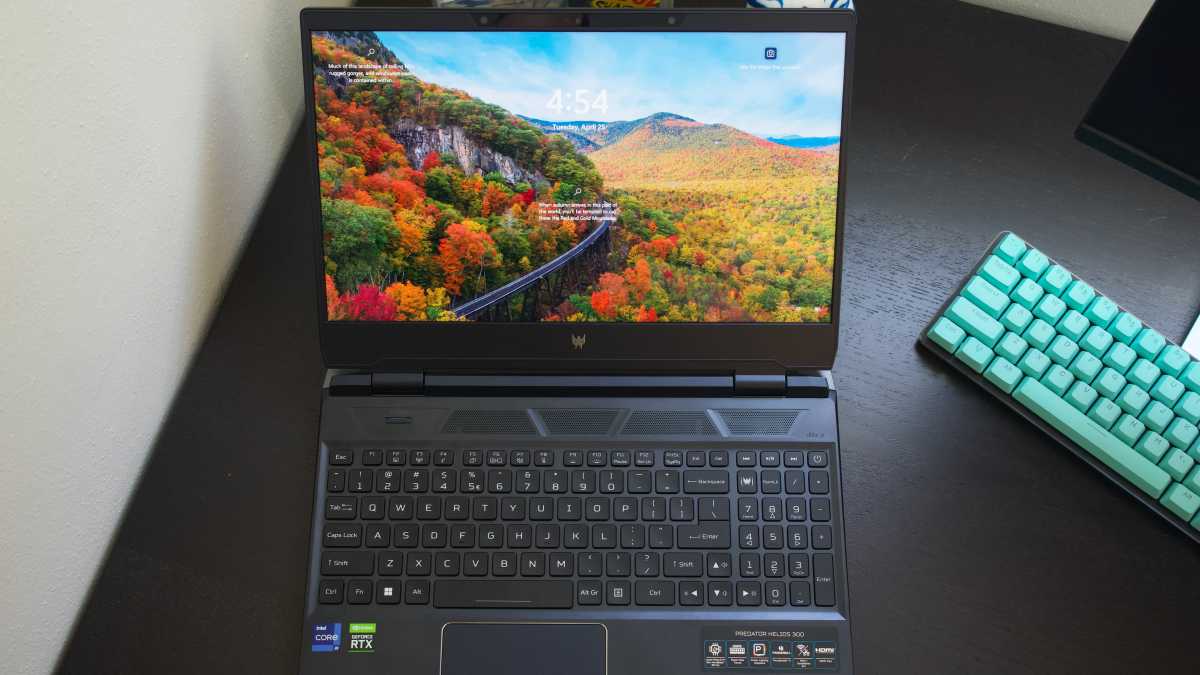 IDG / Brendan Nystedt
Even though mobile computing has come a long way over the past years, gaming laptops often aren't as thin or light because of the demand for additional power. That's why the Acer Predator Helios 300 SpatialLabs edition is such a big chungus. The hot i9 chip and RTX 3080 need a big heatpipe, fans, and room to dissipate so much heat. Plus, the large 15.6-inch display necessitates a broad frame in order to fit. But all of that considered, at 5.7 lbs, this Predator is a lot of laptop.
Thankfully, it feels well built with a blend of aluminum and plastic. Although I still found the design a bit too gamer-y for my tastes, its aggressive angles and numerous rear vents reminded me of a stealth airplane. I've seen far weirder, worse designs with cheaper materials so at least know that you're getting a flimsy, chintzy gaming computer with the Helios 300. Perhaps the biggest nit I can pick here is that the gunmetal finish of the Helios 300 picks up fingerprints like crazy and I found myself constantly wiping it off with a microfiber cloth.
Acer Predator Helios 300: Connectivity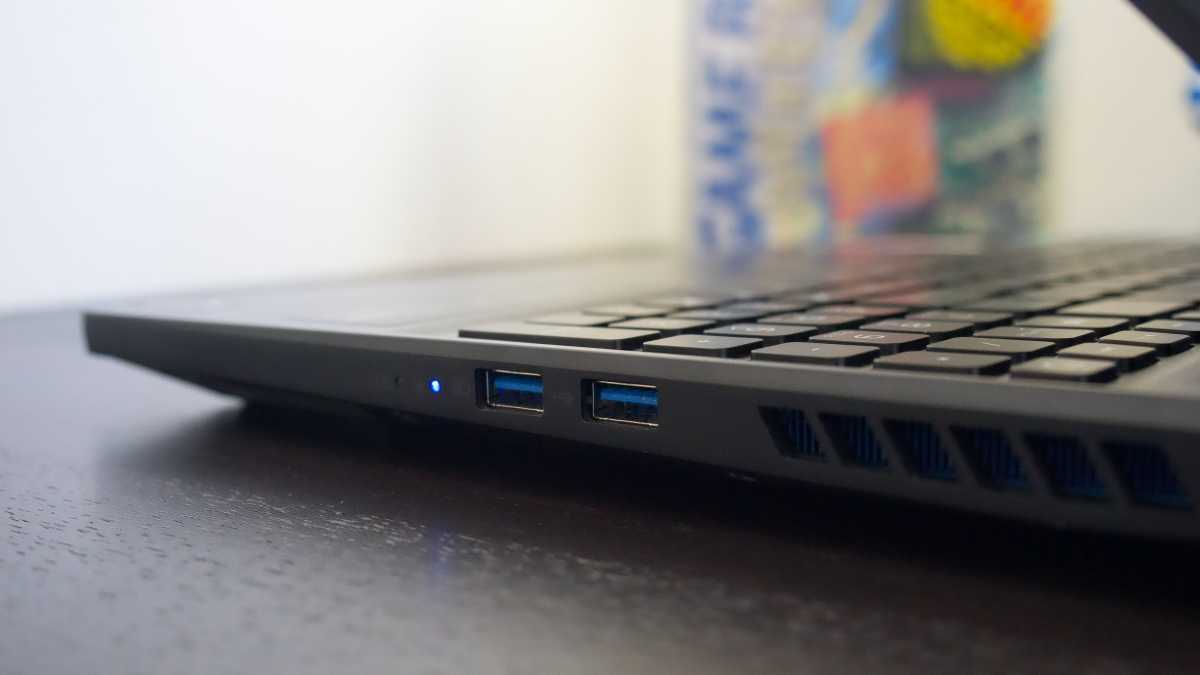 IDG / Brendan Nystedt
With its ample chassis, the Predator Helios 300 has a ton of ports, but maybe not the ones I'd prefer to see in 2023. With such powerful internal components, this could easily be a computer that creative professionals use while docked at a desk. You'll find three handy USB-A ports, a gigabit Ethernet, HDMI 2.1, and a miniDisplayPort. What I would love to see is more than the one Thunderbolt 4 port. Computers that cost far less than the Helios 300 give users at least two of these flexible, high-speed ports that can be super useful when working with large video files on an external drive. That said, you'll need to plug in the external A/C adapter to get the computer properly powered and charging.
Wireless is top-shelf here, with the latest WiFi 6E standard and Bluetooth 5.2 onboard. This wireless card is from Killer, Intel's gaming-focused wireless brand, and should provide a smooth streaming and online gaming experience, should you lack access to a more reliable wired connection. I'd have liked to see faster, more future-proofed 2.5 gigabit Ethernet for the price.
Acer Predator Helios 300: Keyboard and trackpad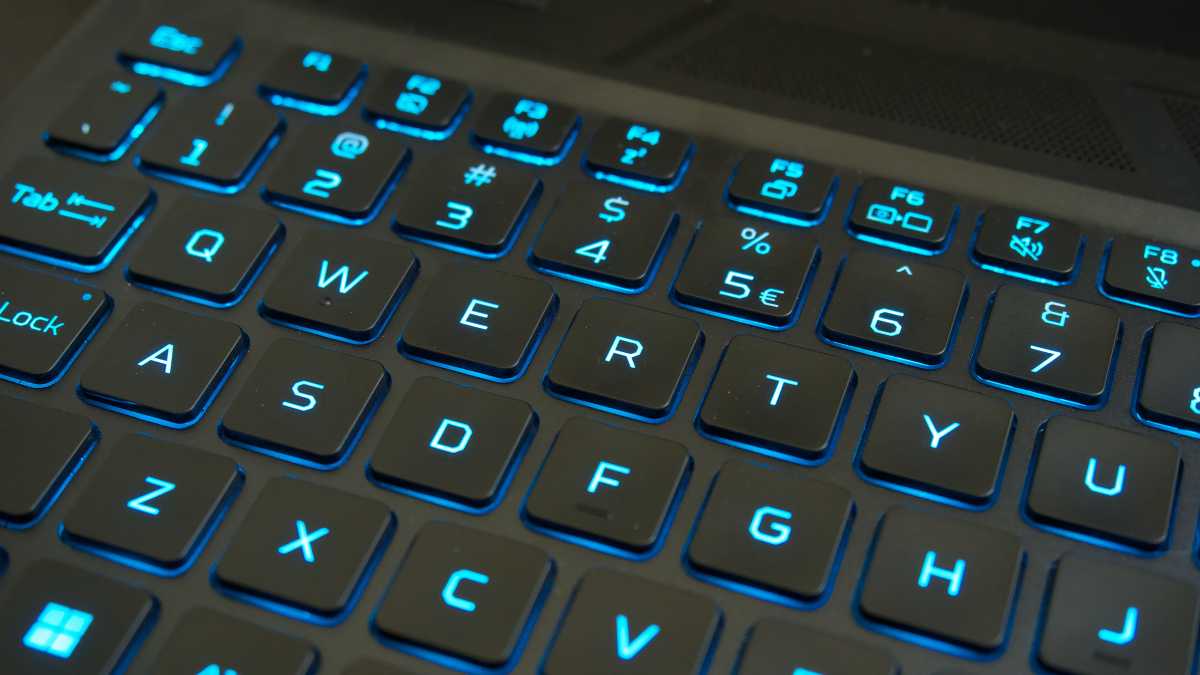 IDG / Brendan Nystedt
While the WASD keys might be the most important on the keyboard for a gamer (they're typically used for moving around), a laptop is only as good as its typing experience. Acer put a pretty good keyboard in the Predator Helios 300. While they're not fancy mechanical keys, I found that they were responsive and gave me accurate feedback on when a key was pressed correctly. If you're a spreadsheet wizard, you may find the slightly small numpad on the right hand side to be of value. Of course, you can customize the keyboard's backlight to be whatever color or animation you prefer.
IDG / Brendan Nystedt
The trackpad, unfortunately, wasn't very good. Although it was fine for most mousing around, the click mechanism underneath feels weirdly loose and weak. You can see and feel the trackpad wiggle just a tad as you run your finger across it. I've used cheaper laptops with far nicer feeling touchpads—it's really too bad that Acer bestowed the Helios 300 with such a chintzy one.
Acer Predator Helios 300: 3D display
IDG / Brendan Nystedt
Although it's a powerful computer that can game quite well, the Predator Helios 300 SpatialLabs edition is all about its big, 3D screen. Why else would you pay almost $3,500 on a machine that could otherwise be more affordable? The screen has a few different components that it needs to work correctly. The first is the panel itself, with its special glasses-free technology layer inside. The second piece of the puzzle is the infrared camera system that tracks the user's eyes in order to tell the display how to offset the images for each eye to add depth. The final piece of the SpatialLabs technology is its proprietary games launcher software. This tells the system which compatible game you're launching and enables an overlay to let you tweak the depth settings while you're running a game.
On paper, there were more than 70 games when I tried the Helios 300 SpatialLabs edition. There are two tiers of augmentation. Some games have a "3D+" rating, which is the standard addition of some depth while others are "3D Ultra," which should take more advantage of the technology. During my time with the laptop, I mostly played two games: Psychonauts 2 (which is 3D Ultra-rated) and Forza Horzon 5 (which is only 3D+ tier). I had very different experiences with these titles.
Forza Horizon 5, with its somewhat realistic graphics, looked only okay in 3D. Many of the menus were rendered incorrectly in 3D and it was very strange having to refocus my eyes on the game's speedometer, which exists on a separate plane from the deeper landscape and car. Although the graphics looked pretty good and ran at a solid 60 FPS, there's a loss of detail as the screen's effective resolution goes from 4K (3840×2160) in 2D to 1920×2160 in 3D mode. The overall picture looks a bit like you were gazing at it through a screen door in 3D.
My so-so Forza experience pales in comparison to the eye-popping graphics of Psychonauts 2. This cartoony, stylish third-person game looked fantastic with 3D on and the amount of depth—both inside and outside the screen—was awesome. The effect simply works better because it's not trying to recreate the real world, so my eyes can buy it for what it is. But this is probably all down to personal taste and whether or not your favorite games are well-supported by the SpatialLabs software.
The biggest drawback of the display is that it displays all games at only 60 Hz. That means that the graphics power from the RTX 3080 chip can't get you smoother-looking games, at least not without an external screen. With the reduction in resolution when you're enjoying 3D, any additional detail in games may be nullified. Plus, you're dependent on Acer to add support to games in the future, so it could take a while for your favorites to make the cut. All of this makes me feel a bit like although it demos well, the 3D may be a gimmick you don't want to pay for.
Acer Predator Helios 300: Speakers and webcam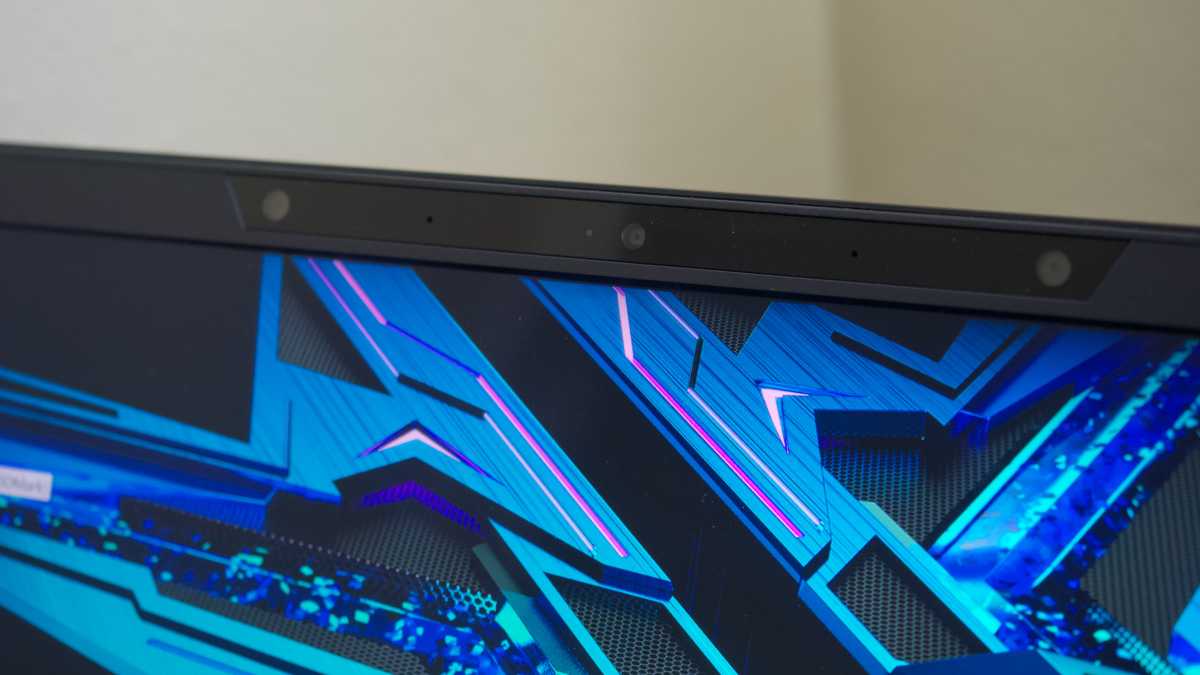 IDG / Brendan Nystedt
You'd hope that a brainy, brawny laptop would pack big speakers, but unfortunately the sound from the Predator Helios 300 seems small and weak. Acer says this laptop has two internal speakers, half the number of great-sounding machines like the HP Dragonfly Pro I tried earlier in the year. The result is that this pricey laptop might as well trumpet a "whomp whomp" whenever you try to play a video or music on it.
The webcam built in here was kind of a letdown given the price of this machine. It's limited to 720p and although image quality was fine, it doesn't have compatibility with Windows Hello. It has the ability to track your head for the 3D effect, but no biometric login whatsoever. Not that you would, but the single microphone setup is pretty retro and doesn't have any kind of fancy noise cancellation for when you're on work calls at home. Acer probably (correctly) assumes the target audience for this laptop will don a headset when they get to "work."
Acer Predator Helios 300: Performance
As far as gaming laptops go, the Predator Helios 300 has some of the best performance available. It comes with the top-tier i9-12900H 14-core chip (with 6 performance cores and 8 efficiency cores) and Nvidia's capable RTX 3080 for added graphics performance. Although not one of Intel's extreme HX-class chips, this is one of the best mobile processors around for sheer muscle. Not content to give users software settings for changing performance, you can also hit the Turbo button like on an old 286 PC and kick the cooling system into overdrive for max clocks on the CPU and an overclock on the GPU.
IDG / Brendan Nystedt
We benchmark every laptop with the PCMark 10 suite. This gives us a good overview of a laptop's performance when doing everyday tasks like working in documents, browsing the web, and chatting on video calls. The Acer Predator Helios 300 has plenty of power on tap and kept pace with other 12th gen Intel-based gaming laptops with H-class chips.
IDG / Brendan Nystedt
In this performance test, we use Cinebench R15 to get a sense for how well all a laptop's processors work together to render a 3D scene. With its plentiful performance cores, the Helios 300 SpatialLabs edition was able to chew through the test scene around as fast as other high-end Intel-based gaming machines. It's worth noting that the MSI equipped with the Nvidia 4090 chip is much closer to a desktop-class GPU than the mobile-focused 3080 and 3080 Ti's in these graphs.
IDG / Brendan Nystedt
Using the 3DMark Time Spy benchmark, we can get a sense for a laptop's graphical performance when compared to others. Although it was blown away by the higher-end MSI Titan GT77 with its beefier, newer RTX 4090 graphics chip, it still turned in performance in line with similar 3080-based machines.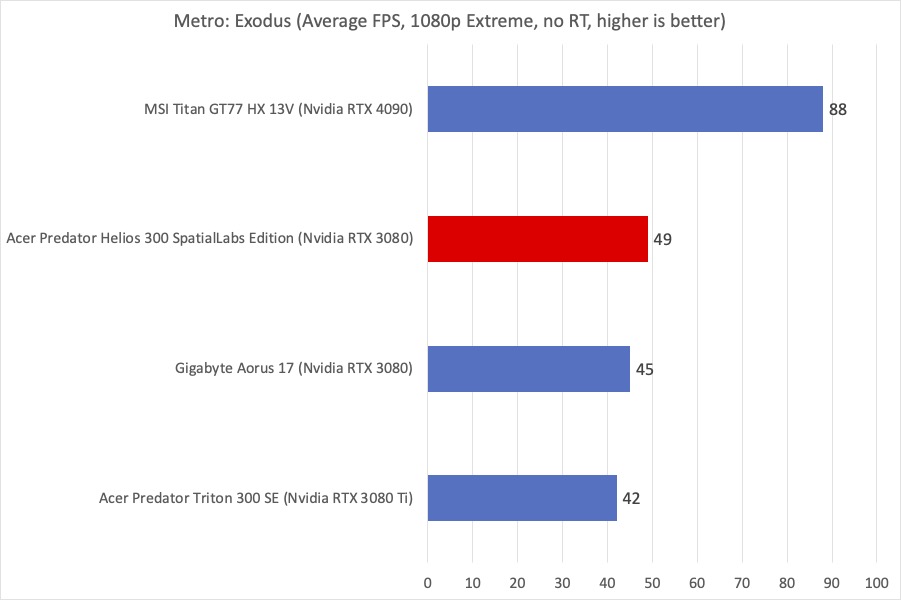 IDG / Brendan Nystedt
In a real-life scenario, we run the Metro Exodus benchmark to get an average frame rate in a graphically-intensive game. Using the Extreme setting at a 1080p resolution, we measured an average frame rate count of 49 fps, making it competitive with other laptops with 3080 Ti GPUs.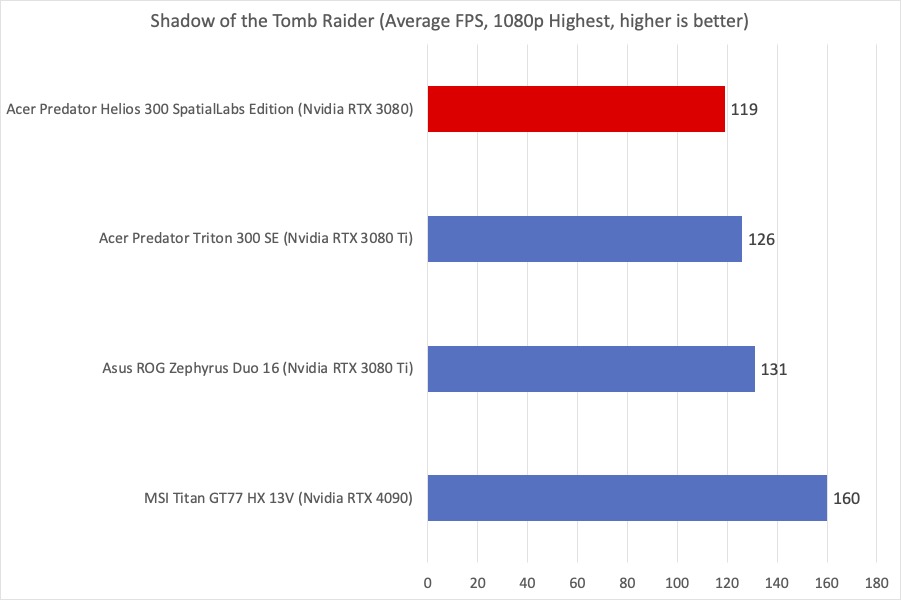 IDG / Brendan Nystedt
An older, but still challenging gaming benchmark we use is Shadow of the Tomb Raider. Although the Helios 300 is behind some other Nvidia 30-series powered laptops of late, but not by much.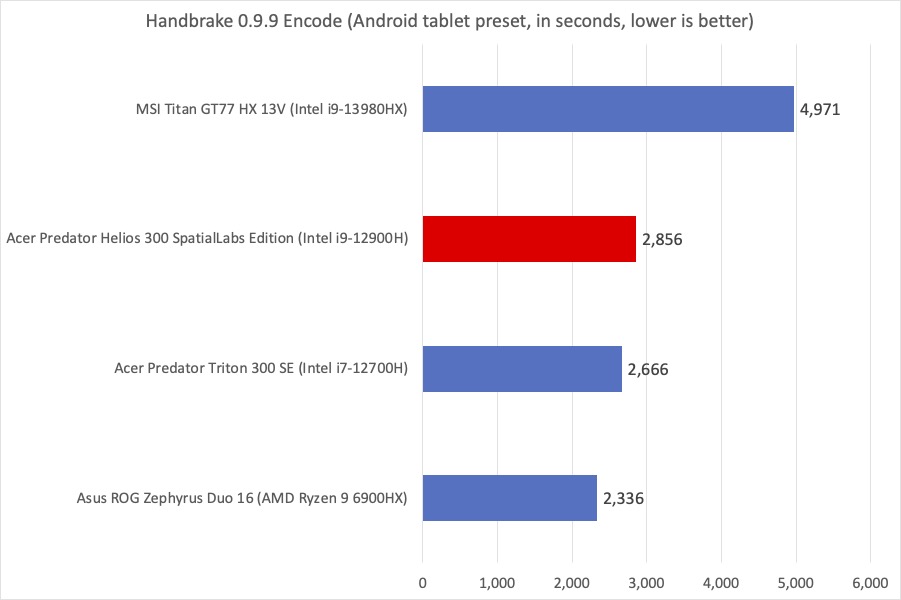 IDG / Brendan Nystedt
In our final performance chart, we use Handbrake and time how long it takes to turn an HD movie into a tablet-friendly file that's heavily compressed. Unsurprisingly, the i9-equipped Helios 300 outdoes the i7 and Ryzen 9 options out there while coming way behind the i9-12980HX, which is a different performance tier.
Acer Predator Helios 300: Battery life
IDG / Brendan Nystedt
Gaming laptop battery life can hardly be expected to last an entire day. But at the very least, the Helios 300 SpatialLabs edition more or less hangs with the rest of today's high-performing pack. We measured a little over five hours from this beastly machine on our standard looping 4K video test. That's lower than other Intel i9-equipped gaming laptops like the Razer Blade and well behind i7 and AMD Ryzen ones.
Acer Predator Helios 300: Conclusion
While the guts of the Predator Helios 300 SpatialLabs Edition are pretty solid, the entire system is let down by its screen. The tech works, but if you're into gaming on the go, this expensive package is a disappointment. I'd say even with the upcoming 13th gen Intel/Nvidia 40-series refresh of this product, having a limited 60Hz panel makes it a tough recommendation. When similar gaming laptops are reaching 240Hz and beyond, 60Hz even at 4K seems pretty wimpy. More than that, the inconsistent 3D implementation dulls the sharpness of the slow panel. For its $3,500 price, you really need to want the glasses-free 3D screen, and will need to be into any genre but fast-twitch shooters or e-sports titles that benefit from the responsiveness of a high-refresh screen. That's a lot of caveats.
I'll admit that when the 3D effect works, it can be utterly enchanting. And there may be interesting applications of this technology—if they can get the refresh rate up in future SpatialLabs screens, then the premium might be worth it for gamers. But as it stands right now, this special Predator Helios 300 version should be skipped.