At a glance
Expert's Rating
Pros
Excellent design and build quality
Thin, light for its size
Attractive OLED display
GPU performance gets a big upgrade
Cons
No USB-A, HDMI, or Ethernet ports
OLED display could be brighter
Our Verdict
Dell's new XPS 15 equips the latest Intel and Nvidia hardware to deliver big performance gains with little downside.
Price When Reviewed
$2,799
Best Prices Today: Dell XPS 15 9530
The Dell XPS 15 is an elder of the laptop world. It carries itself with a stately, reserved manner, and wouldn't dream of troubling itself with trivialities like a radical new colorway or different badging. 2023's XPS 15 keeps the pomp but delivers one major improvement: It's a lot quicker than before.
Looking for more options? Check out our roundup of the best ultraportable laptops available today.
Dell XPS 15: Specs and features
The 2023 Dell XPS 15 leaps to Intel's 13th-gen Core processors and Nvidia's RTX 40-series graphics. The top-tier GPU is kicked up two rungs from the RTX 3050 Ti in the outgoing model to the RTX 4070 in the new XPS 15.
CPU: Intel Core i7-13700H
Memory: 32GB LPDDR5
Graphics/GPU: Nvidia RTX 4070 (40-watt TGP)
Display: 15.6-inch 3.5K OLED
Storage: 1TB PCIe Gen4 SSD
Webcam: 720p
Connectivity: 2x Thunderbolt 4 / USB-C with Power Delivery and DisplayPort Alternate Mode, 1x USB-C with Power Delivery and DisplayPort Alternate Mode, 1x SDcard reader, 1x 3.5mm combo audio
Networking: WiFi 6E, Bluetooth 5.3
Biometrics: Windows Hello fingerprint, facial recognition
Battery capacity: 86 watt-hours
Dimensions: 13.57 x 9.06 x 0.71 inches
Weight: 4.21 pounds
MSRP: $2,799 as-tested ($1,499 base)
The review configuration, which included the top-tier GPU and upgraded OLED display, rang up at $2,799. Base models are more affordable, however, with an MSRP of just $1,499. That drops the graphics to Intel's Arc A370 and the display to a 1080p IPS screen, but you still receive an Intel Core i7-13700H processor, 16GB of RAM, and a 512GB solid state drive.
Dell XPS 15: Design and build quality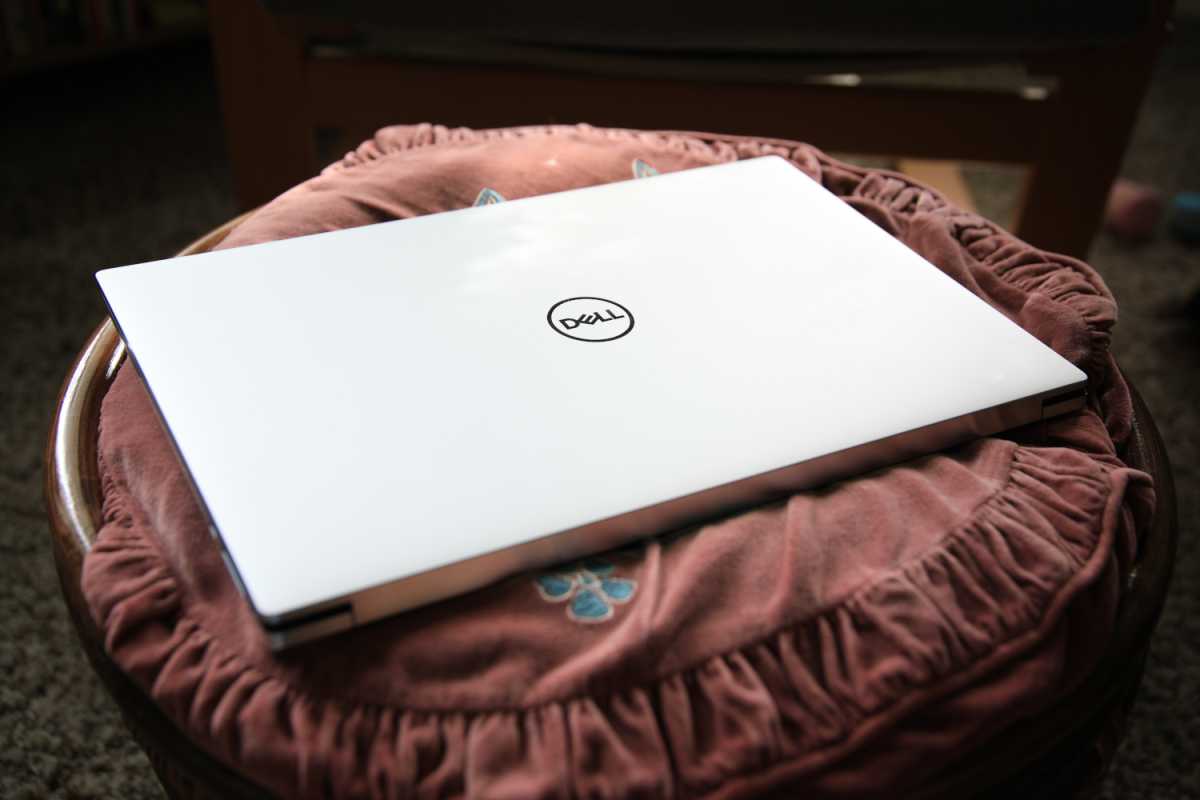 IDG / Matthew Smith
Dell's XPS product line settled on a design language in the middle of the last decade and hasn't changed since. It's a bit dull, to be sure, but shows a hard-won confidence in the fundamentals of the XPS design language. It may look the same as past XPS 15 models, but it's also handsome and feels durable. That's what matters.
Looks aside, the XPS 15 is rather slim and light for its size. It tips the scales at 4.23 pounds when configured with the OLED display found in my review unit and measures a mere .71 inches thick, as well as roughly 13.5 inches across and nine inches deep. The XPS 15 is a bit smaller than a MacBook Pro 16 or Razer Blade 16 (or Blade 15) and weighs less, too.
The XPS 15 earns top marks in build quality with rigid panels across the top and bottom and plenty of reinforcement through the keyboard. Display flex is a non-issue and even the firmest typing hands will cause only a hint of wobble across the keyboard surface.
Dell XPS 15: Keyboard, trackpad, pen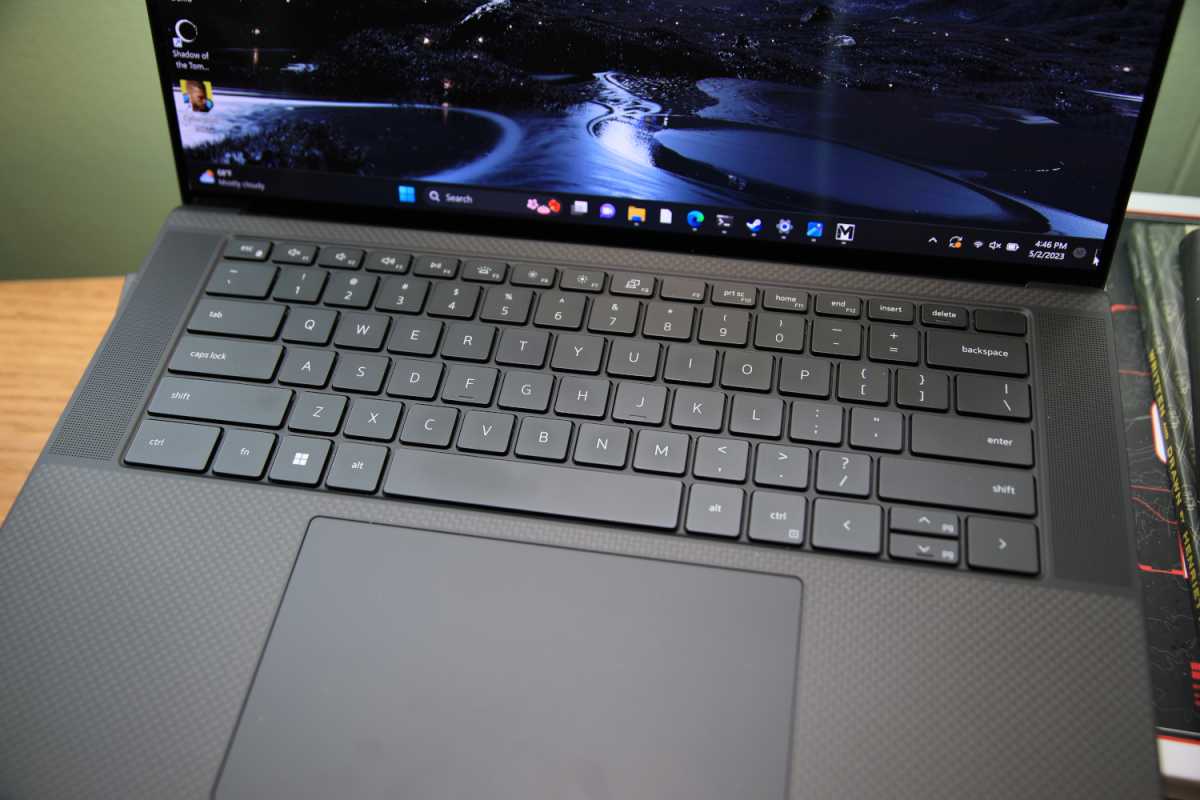 IDG / Matthew Smith
The Dell XPS 15 has a spacious keyboard with a centered layout. I found it immediately familiar and had plenty of room to maneuver while typing at high speeds. The centered layout ditches the numpad, however, which may bother those aiming to compete in the Microsoft Excel Championship (really, it's a thing).
Key feel is good but unremarkable with reasonable key travel and a timid bottoming action that provides only a hint of tactile feedback. It's similar to an Apple MacBook Pro 16 and a touch improved over Razer's Blade 16, but can't beat Lenovo laptops like the Slim Pro 7. Keyboard backlighting is standard and does the job with little fuss.
Dell's spacious touchpad measures about six inches wide and three inches deep. That's large for any laptop and makes maximum use of the spacious interior. The touchpad is responsive and easily handles multitouch gestures but occasionally picks up unintended inputs when typing. Even so, it's a good touchpad and comfortable to use for hours on end.
Dell XPS 15: Display, audio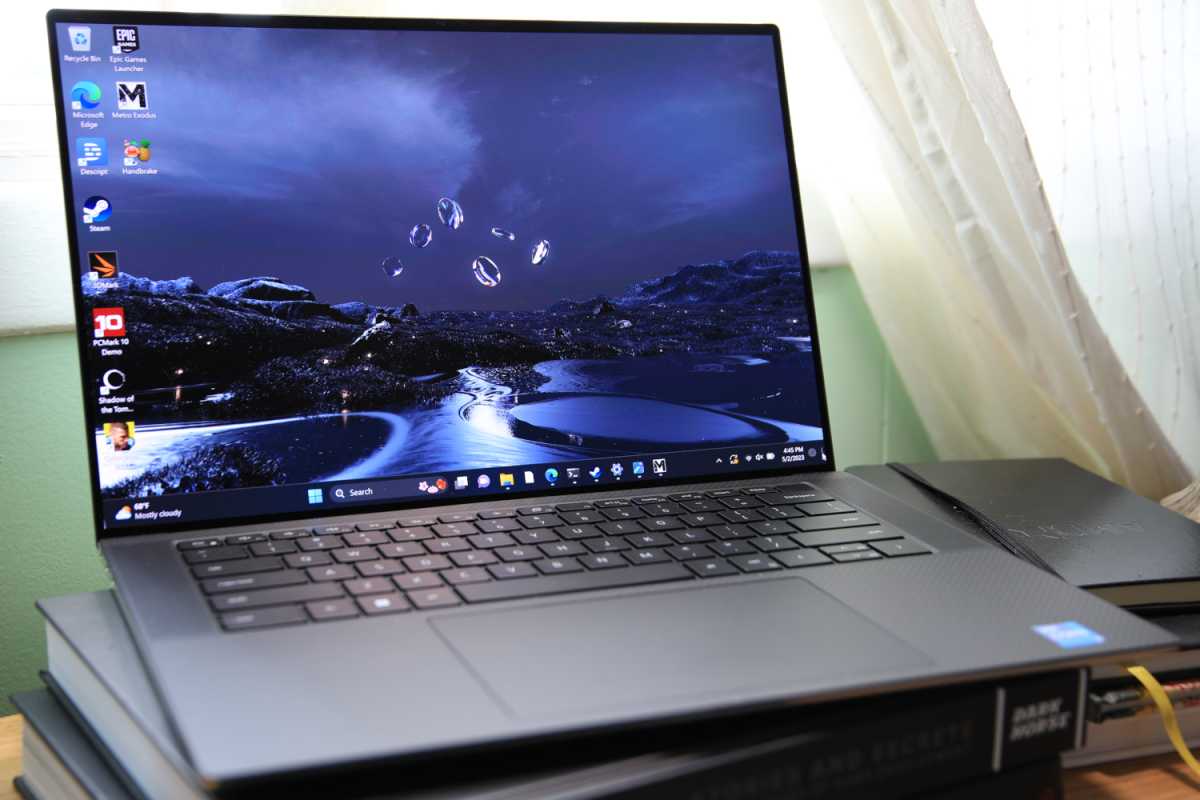 IDG / Matthew Smith
The entry-level Dell XPS 15 has a 15.6-inch 1080p IPS non-touch display, but my test laptop enjoyed an upgrade to the 3.5K OLED touchscreen. The display's 3456×2160 resolution places it just short of true 4K (which has a resolution of 3840×2160) but looks sharp all the same, squeezing an impressive 261 pixels into every inch. Fine fonts look excellent and games appear extremely crisp when run at the display's native resolution.
Image quality is otherwise excellent. OLED provides an excellent contrast ratio, wide color gamut, and good color accuracy, all of which adds up to a vibrant, punchy image with a tangible sense of realism and depth. High-quality content, like a 4K movie ripped from a Blu-Ray or purchased from a digital store, seems to leap out from the display in dynamic, high-contrast scenes.
OLED isn't perfect, however, and brightness is a struggle. The laptop quotes a maximum brightness of 400 nits and achieved 403 nits in testing. This, combined with the glossy display coat, can make the display a tad uncomfortable in bright rooms. The lack of brightness spells trouble for HDR, which looks good but lacks brilliance and luminance detail compared to a Mini-LED display, such as those found in the Razer Blade 16 and Apple MacBook Pro 16.
Shoppers who care more for function than image quality should consider sticking with the less expensive 1,920 x 1,200 IPS screen. Though nowhere near as attractive, it offers a higher maximum brightness of 500 nits and has an anti-glare finish.
A pair of upward-facing speakers are placed alongside the XPS 15's keyboard. They deliver strong, clear audio that won't be muffled or amplified by the surface the laptop is placed on. Distortion is an issue at high volume, however, as the bass crowds into the midrange and highs begin to sound shrill. Music sounds better at lower volumes, thankfully, and this remains loud enough to fill a home office with tunes.
Dell XPS 15: Webcam, microphone, biometrics
A meager 720p webcam squeezes into the XPS 15's tiny top bezel. Sticking with 720p prevents the need for a webcam cut-out or larger bezel but comes at the cost of a fuzzy, ill-defined image. It's ok for video calls but will never help you look your best.
The dual-array microphone is better, recording clear, clean dialogue that's easy for listeners to understand. Audio quality remains rather tinny, however. Noise cancellation is included and effective, removing repetitive sounds of modest volume with no ill effects.
A fingerprint reader is provided on the power button for quick biometric login. It works as well as any Windows fingerprint reader I've tried—which is to say it usually works but can have trouble if your finger is dirty, wet, or placed at an odd angle. Windows Hello facial recognition is also available and much more reliable, as it works in both light and dark conditions and can be set up to recognize you with or without glasses.
Dell XPS 15: Connectivity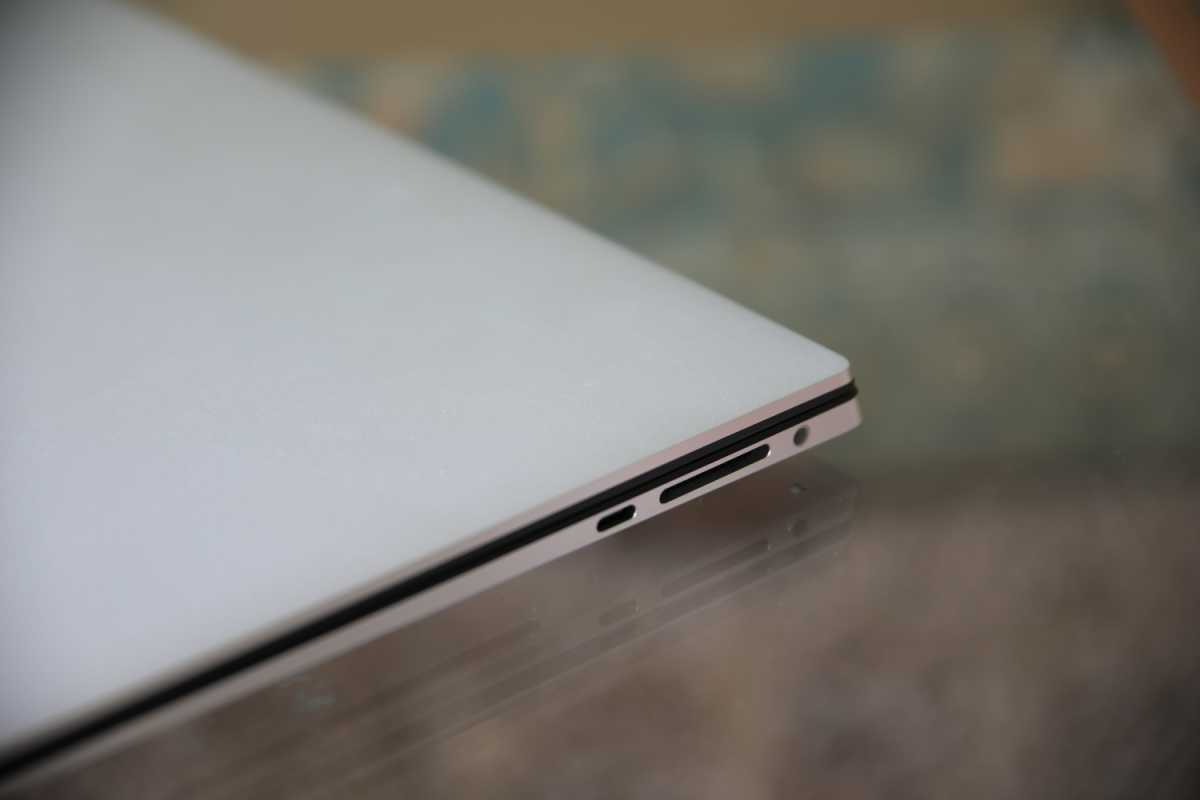 IDG / Matthew Smith
Dell is all-in on modern connectivity, ditching both USB-A and Ethernet in favor of three USB-C ports. Two of these support Thunderbolt 4 and all three support Power Delivery. That means the included 130 watt power adapter, which uses USB-C, can charge the laptop through any of the three USB-C ports.
The XPS 15's flanks also contain a full-sized SDcard reader and 3.5mm audio jack, but that's it. Those who still use older USB-A devices, or need an HDMI or DisplayPort output, will need to use an adapter. Fortunately, XPS 15 ships with an adapter that converts a USB-C port to USB-A and HDMI.
That still leaves wired Ethernet in the cold. You'll need to buy an additional adapter or a USB-C hub/dock that supports Ethernet.
Or perhaps not. The Dell XPS 15 supports the latest Wi-Fi 6E standard as well as Bluetooth 5.3. Wi-Fi performance was strong with download speeds up to 80MB/s from Steam and The Epic Store. That's almost as quick as the speeds I receive from my Gigabit Internet service connected over wired Ethernet.
Dell XPS 15: Performance
The Dell XPS 15 I received was a mid-range model with an Intel Core i7-13700H processor, Nvidia RTX 4070 graphics, 32GB of RAM, and 1TB NVMe solid state drive. Dell offers some upgrades from here including a Core i9-13900H processor and up to 64GB of memory.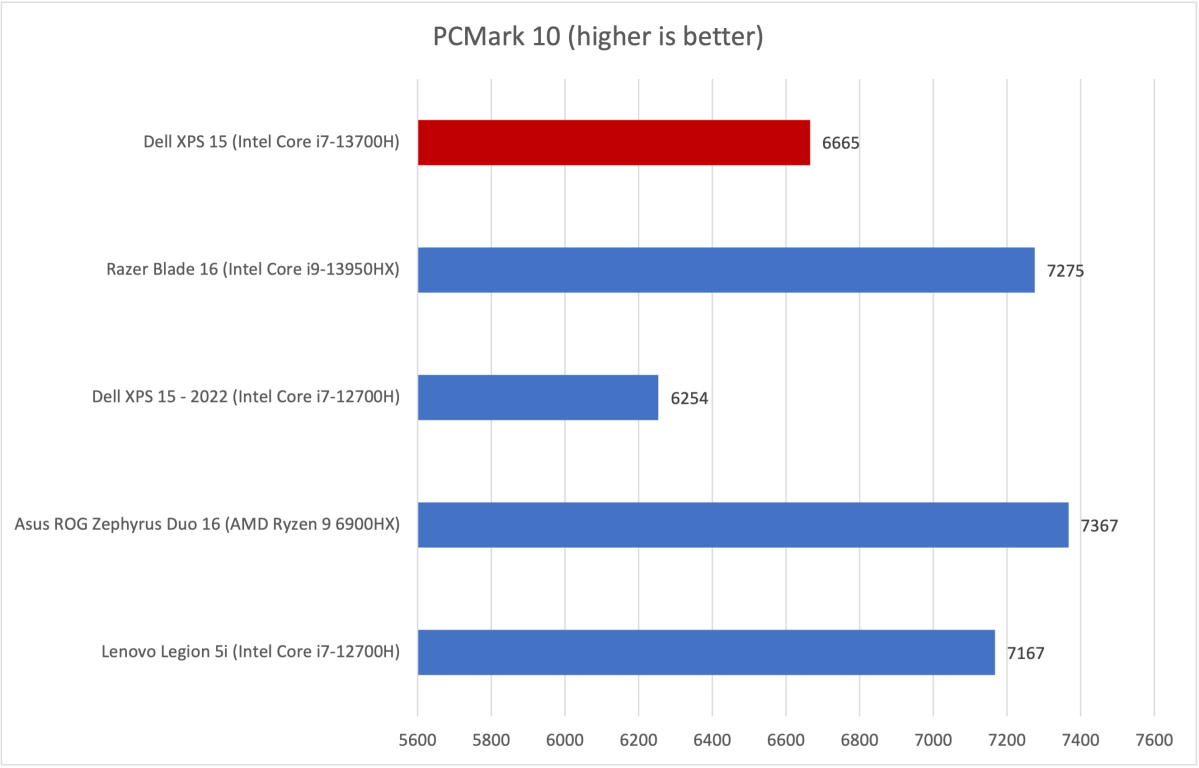 IDG / Matthew Smith
PCMark 10, a holistic benchmark, kicks off the tests with a mediocre score of 6,665. This is notably behind some other powerful laptops, though it's also worth mentioning that the Dell XPS 15 is lighter and thinner than the laptops it loses to. The XPS 15 does manage a leap over last year's model, however, scoring six percent better.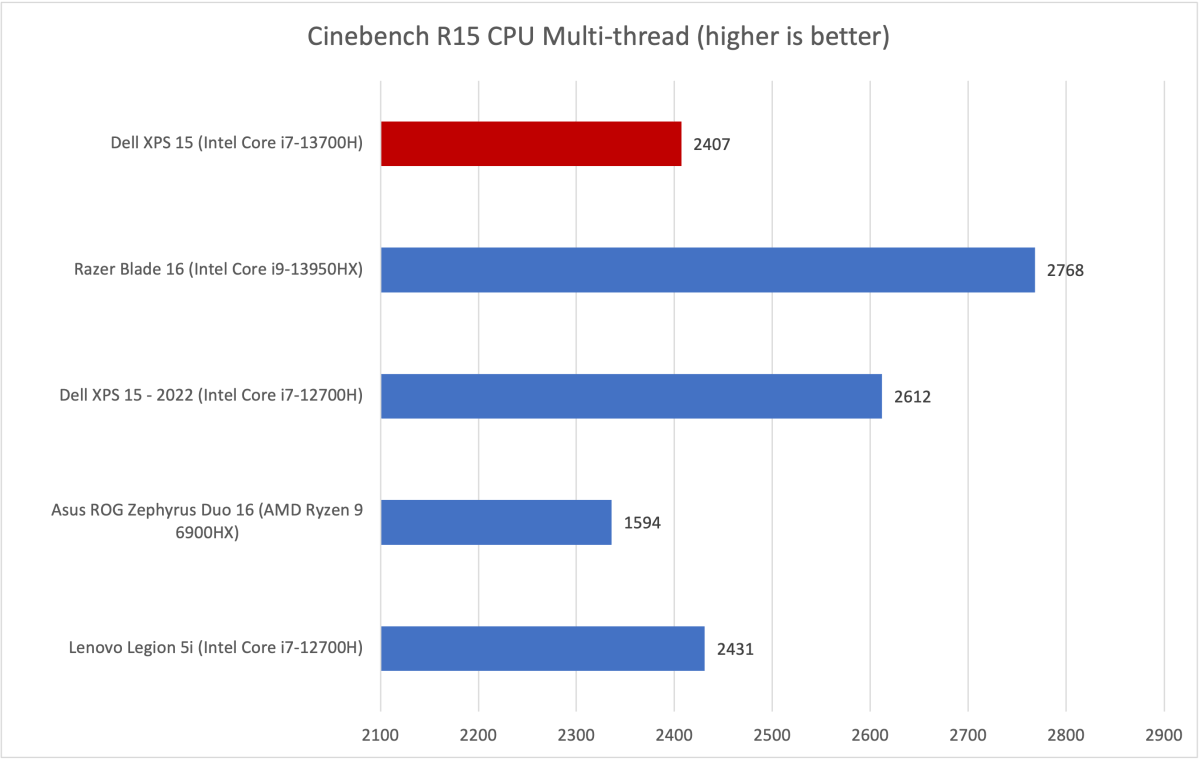 IDG / Matthew Smith
I was certainly surprised by the Cinebench R15 test, which shows the older Dell XPS 15 a tad ahead of the new model. The new XPS 15 also falls a tad behind the Lenovo Legion 5i, another laptop with Intel 12th-gen Core hardware. This indicates that the multicore performance of Intel's new Core i7-13700H is not much different from the prior model.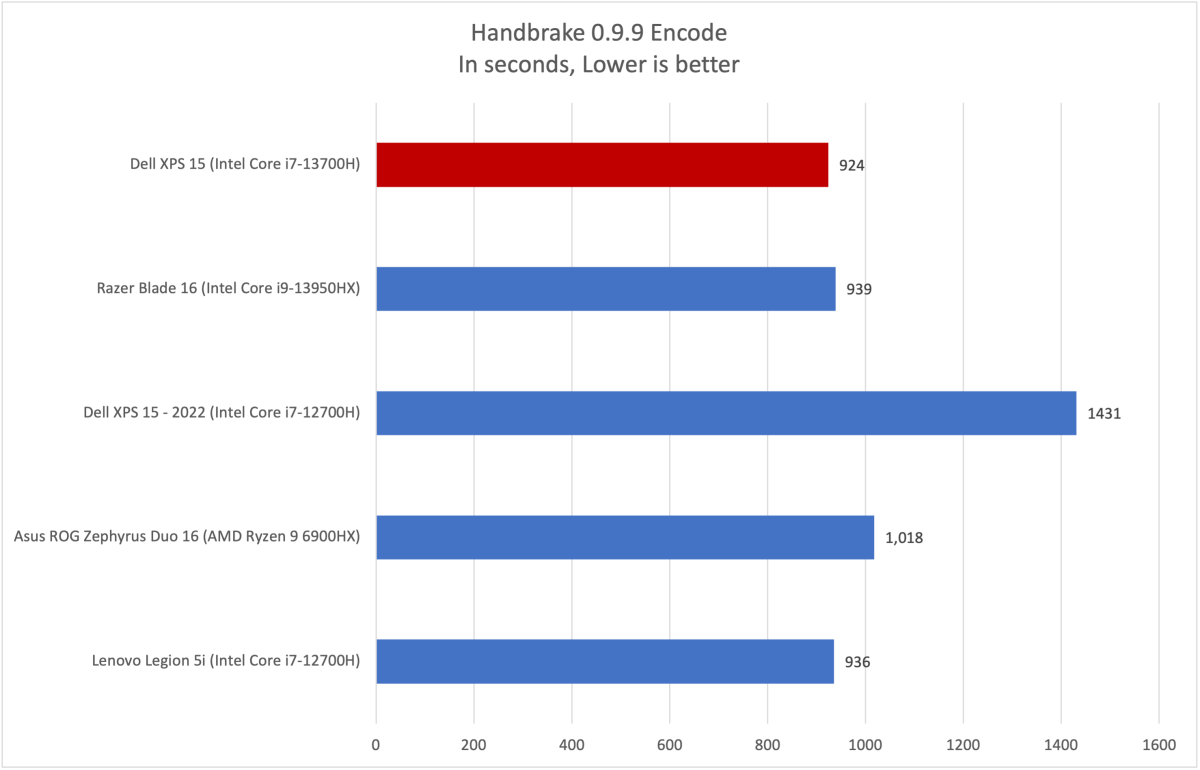 IDG / Matthew Smith
Handbrake, on the other hand, shows a significant win for the new Dell XPS 15 over the prior model, though it also still more or less ties the Lenovo Legion 5i with the old Intel Core i7-12700H. The most significant takeaway from this test is that design matters. There's clearly significant variance between laptops with the same processor, which may cause results to bend outside of what's expected.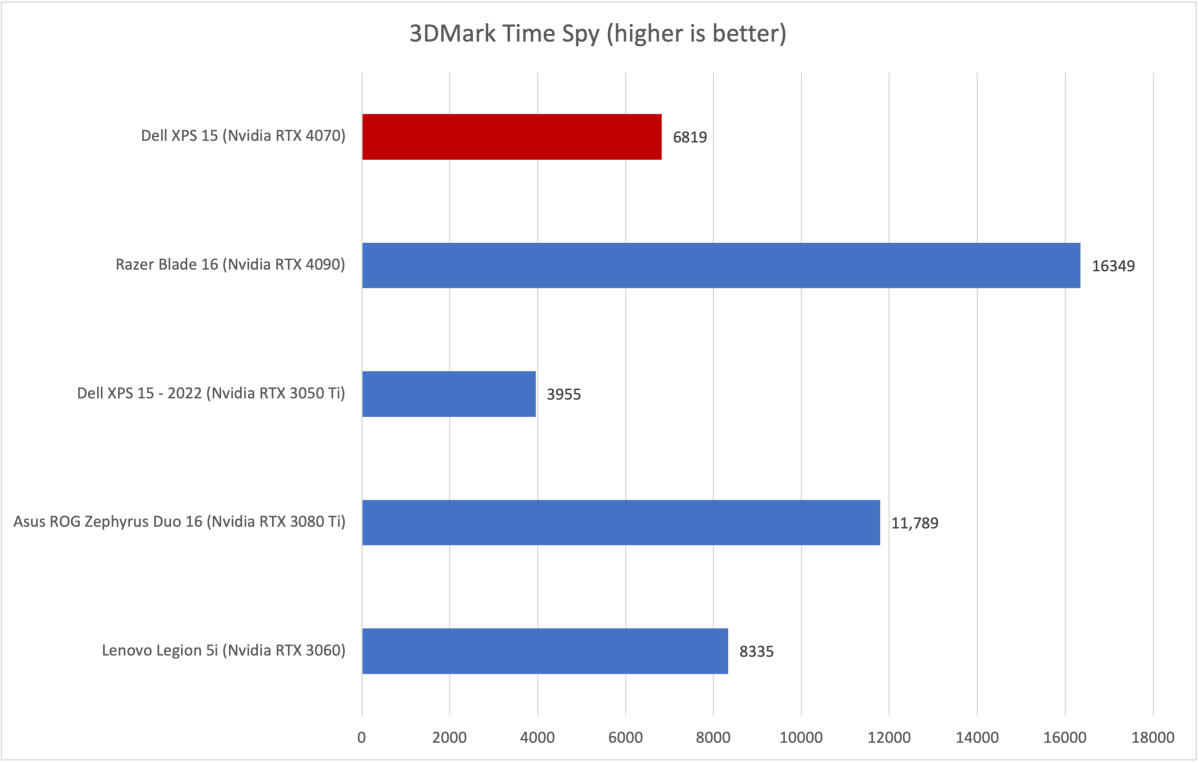 IDG / Matthew Smith
3DMark Time Spy brings us to the graphics benchmarks and, wow, the new Dell XPS 15 delivers. Upgrading from an RTX 3050 Ti to an RTX 4070 increases performance by an amazing 72 percent.
With that said, this result also marks a clear difference between the Dell XPS 15, a premium performance laptop, and peers that fall into the gaming laptop category. Competitors that focus on gaming toss in much more powerful GPUs and reap the benefits in 3D benchmarks (though they pay for that in battery life, as I'll show shortly).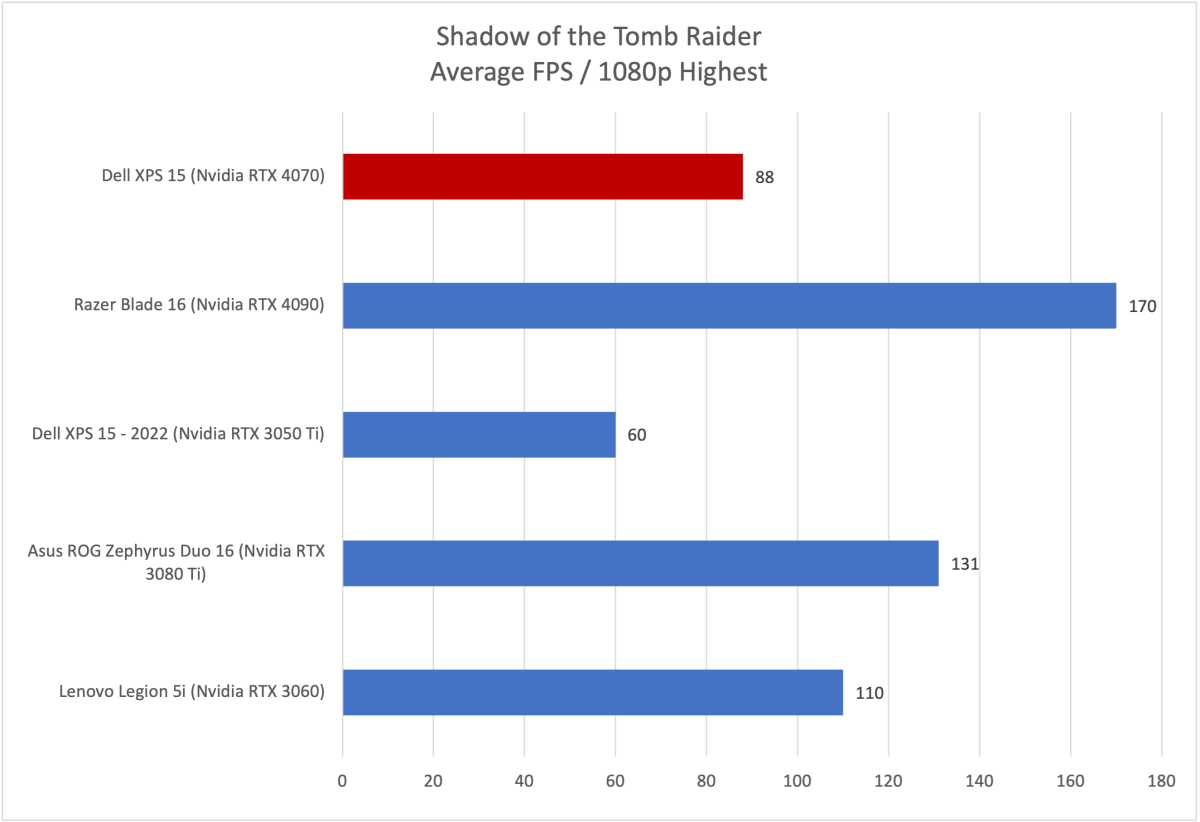 IDG / Matthew Smith
Shadow of the Tomb Raider delivers another big improvement but, once again, marks a clear line between the XPS 15 and full-on gaming laptops. I still feel this result is a positive, however, as it means the Dell easily provides a fluid 60 FPS gaming experience. The older model could average 60 FPS, but would sometimes dip below that mark, which can cause stutters or dips in fluidity.
IDG / Matthew Smith
Metro Exodus demonstrates another game-changing improvement, improving the average frames per second from an unplayable 16 FPS to a barely tolerable 28 FPS. That may seem a bit disappointing, but the Extreme settings we use are quite extreme, and the Dell XPS 15 is just a few minor detail tweaks from a steady 30 FPS.
I also ran Cyberpunk 2077 to judge the laptop's ray-tracing performance. The RTX 4070 in the XPS 15 averaged only 20 FPS at 1080p with Ultra detail settings and Ultra ray-tracing enabled. However, turning on DLSS 3 boosted that to a steady 60 FPS, which means Cyberpunk 2077 ray-tracing is completely playable on the XPS 15. It even manages 35 FPS in the brand-new "Overdrive" ray tracing mode, again at 1080p and with Ultra detail and DLSS 3 turned on.
The new Dell XPS 15 clearly benefits from its new hardware. The Intel Core i7-13700H is not a remarkable improvement, but seems a tad quicker on the whole. Nvidia's RTX 4070, on the other hand, is a gigantic leap over the old model's RTX 3050 Ti. The new model's MSRP is only $200 more, so it's not as if the better GPU completely blows up the price.
These improvements change the nature of the Dell XPS 15. The prior model was attractive and offered powerful CPU performance, but it was hard to recommend to anyone who wanted to play modern 3D games after work. Dell's new XPS 15 with RTX 4070 changes that. It's now a fully capable gaming laptop that can play nearly all modern games at 1080p and 30 to 60 FPS, even when high detail settings are used.
Dell XPS 15: Battery life
Dell crams a large 86 watt-hour battery inside the XPS 15. This isn't the largest battery found in a laptop of this size, as some competitors exceed 90 watt-hours, but it delivered excellent battery life in my testing.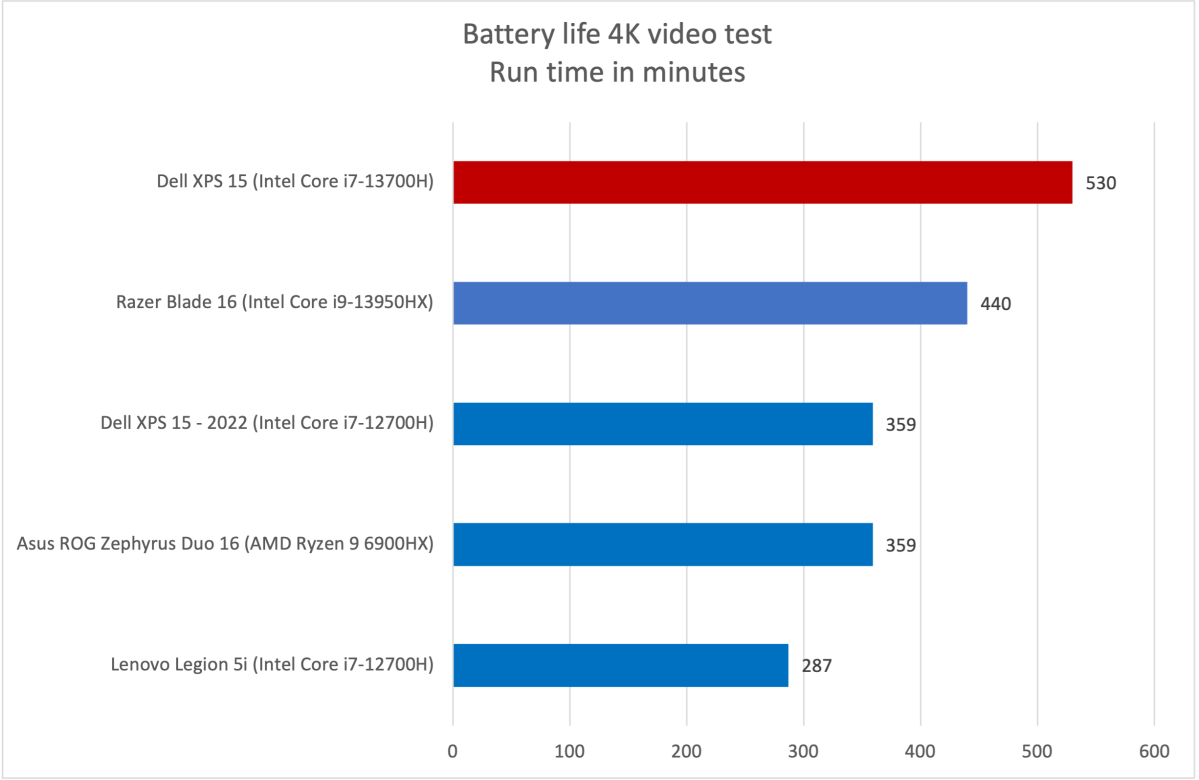 IDG / Matthew Smith
The XPS 15 looped a 4K trailer of the short film Tears of Steel for eight hours and 50 minutes. That's not the best available from a Windows laptop, but a solid result for this category and a large improvement over the outgoing XPS 15. Owners will need to monitor the laptop closely to squeeze out a full work day of real-world use, depending on the apps most frequently used, but it's close.
Dell XPS 15: Conclusion
Dell's new XPS 15 is much like the old XPS 15, but faster. Much faster. The one-two punch of new Intel 13th-gen processors and Nvidia RTX 40-series graphics provides real-world upgrades over the prior model.
The old XPS 15 was a respectable workhorse but not always an impressive performer, especially in 3D games. The new model is perfectly capable of handling even the most demanding modern titles at 60 FPS—when packing the RTX 4070, at least.
There is still room for improvement. The touchpad can be overly sensitive and the webcam could use an upgrade. Still, these problems don't detract from the XPS 15's slim design, high build quality, and strong performance, and it remains a go-to pick for those craving a premium laptop with a balance of portability with speed.
Best Prices Today: Dell XPS 15 9530