At a glance
Expert's Rating
Pros
The CPU and GPU produce impressive power
The 18-inch QHD+ display is large and brilliantly colorful
Aura Sync RGB light bars lighten things up
Cons
Battery life is just average
The trackpad is too firm for all-day use
A 1080p webcam would have made it more suitable for creators
Our Verdict
With dollops of CPU/GPU power and a gorgeous 18-inch QHD+ display, the Asus ROG Strix G18 is an ideal companion for serious gamers or creators.
Price When Reviewed
3899.99
Best Prices Today: Asus ROG Strix G18
The Asus Strix G18 is truly a gaming powerhouse capable of chart-topping performance thanks to its Intel Core i9-13980HX processor and Nvidia GeForce RTX 4090 series GPU, but also due to an innovative design that enhances airflow and cooling. Additionally, with its huge, gorgeous 18-inch, QHD+ 240Hz display, this laptop is the closest thing we've seen to a true desktop replacement to date. Read on to find out just why that is.
Looking for more gaming laptop options? Check out our roundup of the best gaming laptops available right now.
Asus ROG Strix G18: Specifications
All configurations of the Asus ROG Strix G18 have the same Core i9-13980HX processor, with differences among the models consisting of their varying RTX 40 Series GPUs or other hardware components.
Price-wise, all Strix G18 models cost a pretty penny, but when compared against premium laptops of a similar ilk they're actually fairly competitive. My laptop cost $3899.99 and, at the time of writing this review, was out of stock at Asus' online store, but you can buy an Asus Strix G18 with RTX 4080 GPU at Best Buy for a more reasonable $2,499.99 USD.
By comparison, Razer's newest Blade 18, with the same chipset paring as our review unit cost $4,999.99 and MSI's Titan GT77 HX 13V, yet again with the same chipset, is dearer still with a MSRP of $5,299.99. The specifications of our unit are as follows:
CPU: Intel Core i9-13980HX
RAM: 32GB DDR 5 / 4800 MHz
GPU: Nvidia GeForce RTX 4090
Display: 18-inch, QHD+ (2560 x 1600), 16:10 aspect ratio, IPS-level, 240 Hz refresh rate, DCI-P3 100 %, G-Sync, Advanced Optimus
Storage: 1TB PCIe Gen 4 NVMe solid state drive
Ports: 2 x USB 3.2 Gen 2 Type-A, USB 3.2 Gen 2 Type-C (supports DisplayPort, power delivery), Thunderbolt 4 (USB-C), HDMI 2.1, 3.5 mm combo audio port
Networking: Wi-Fi 6E (802.11 ax), Bluetooth 5.3
Dimensions: 15.71 x 11.57 x 0.91 inches
Weight: 6.61 lbs (3kg)
Battery: 90WHrs
Price: $3,899.99
Asus ROG Strix G18: Design and build
The G18 is unashamedly a laptop for serious gamers–as its huge size and extravagant feature set attests to. Measuring 15.71 x 11.57 x 0.91 inches, it's not as thin and compact as its near rival the Razer Blade 18 and it won't fit in any of my laptop bags, but then again, a few millimeters each way in a gaming laptop does have its advantages.
For one, viewing the G18's 18-inch QHD+ display, which incidentally sports an impressive 89 percent screen-to-body and 16:10 aspect ratio, and thinner bezels than most 17-inch laptops, was a tantalizing experience. For me it felt like I was gaming on a flashier, blinged-out Smart TV–something I never thought I'd see myself write in a laptop review.
What's more, the G18's big proportions make it possible to host its powerful new 13-gen Intel and RTX 40 Series hardware–so that you can actually get near-to-desktop performance. To that end, the G18's motherboard and chassis were designed from the ground up for more efficient cooling, including the addition of a full-width three section heatsink. A third intake fan was also added to allow for better sustained performance over long gaming sessions–something you could only do in in chassis this big.
All these changes from the G18's predecessors, the Strix/Scar 17 models considered, and you'd expect this laptop to have an extra 1.5lbs weight on it, but somehow it weighs just 6.61lbs. It's baffling how Asus did this, but I'm not complaining if it means I can continue to game like I'm on a desktop and simply pack the laptop down like a book afterwards.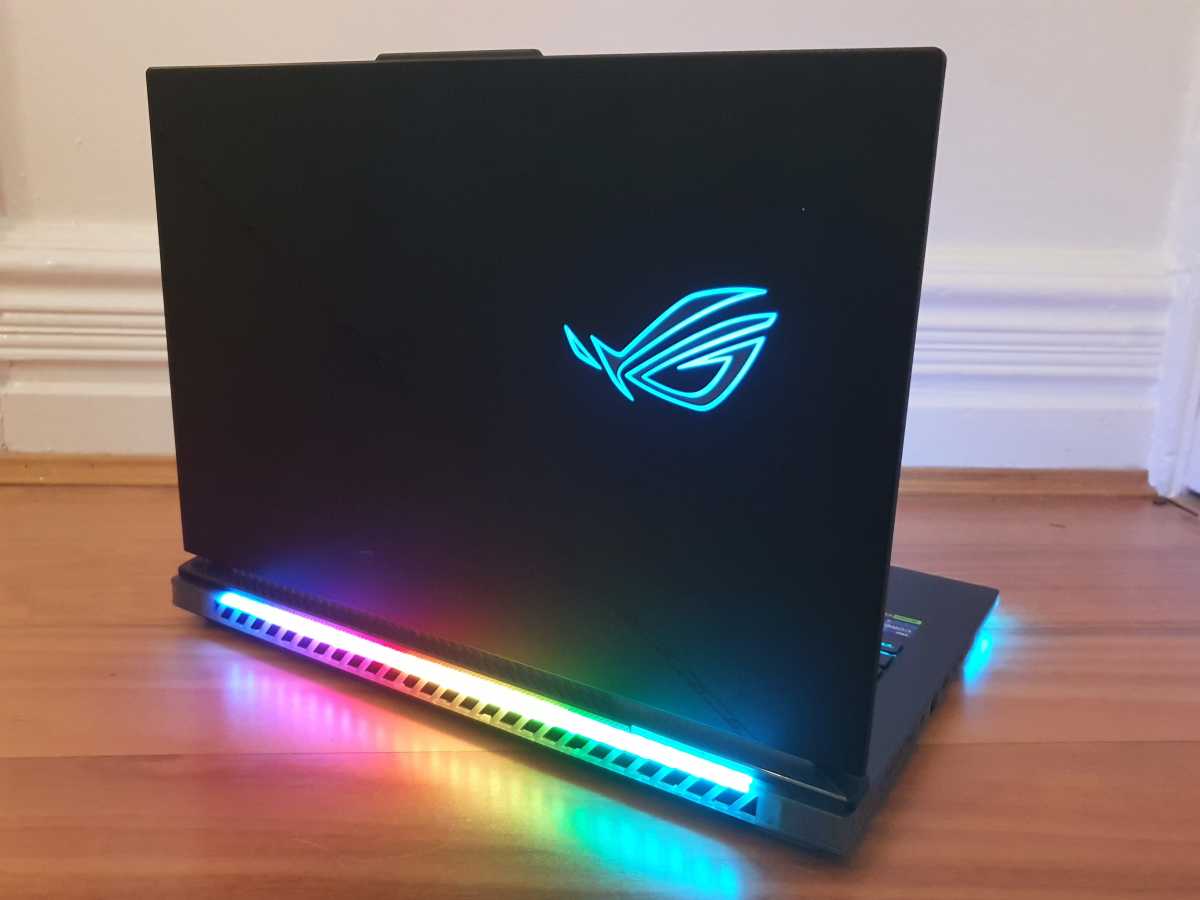 Dominic Bayley / IDG
But the Strix G18 is more than just a big and powerful laptop; it also features lavish styling that appeals deeply to my gamer psyche. Some of the familiar features that return from last year look fantastic with fresh touches; features like the sharp edges and laser polished surface with anti-fingerprint coating. The iconic ROG logo also appears again on the top lid, however the cut line that we saw last year has very aptly been changed to a black one for a more discrete look.
On the base of the chassis and around the keyboard, there are plenty of interesting features to admire, too. From customizable magnetic armor caps along the back to semi-translucent casings that give it a distinctive cyberpunk look, Asus has seemingly spared no expense to really impress us on the style front.
There's plenty of flashy RGB color accents around the G18 too, to really bedazzle us. Notwithstanding the Aura Sync per-key lit keyboard, which looks large and brilliant and flashes when not in use, you'll also find colorful RGB light bars on both the back and front of the chassis.
These have been propped up with extra LEDs in the new model to emit an even more wondrous glow–but you might want to turn them off during hardcore gaming sessions if you need absolute focus.
Asus ROG Strix G18: Keyboard and trackpad
Apart from looking fantastic, the keyboard sports a generous layout, including a spacious full-sized numpad and full-sized arrow keys. It also has a smattering of dedicated hot keys that will require a bit of a learning curve to remember them all at first, but after a while they'll really speed up how quickly you can access your essential commands.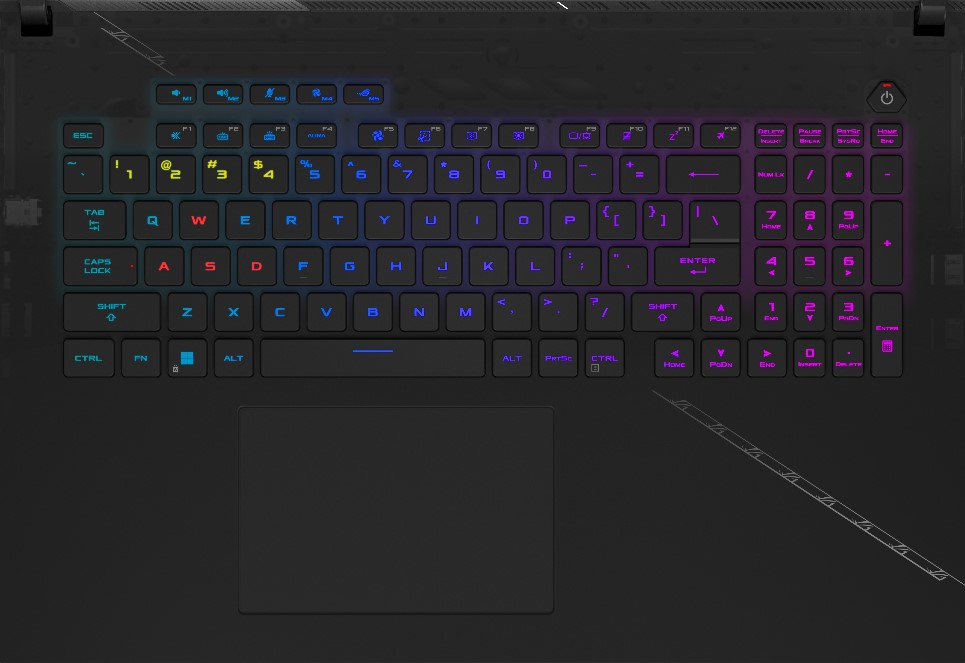 Dominic Bayley / IDG
The keys feel much lighter and bouncier than I found in the Asus TUF A16 Advantage Edition, so are nice and comfy for long typing stints. The trackpad by comparison feels smooth, but a small nit-pick is that it requires a little too much pressure to register clicks. That's fine for light usage, but I did develop a strange throbbing pain in my index finger after a whole day's clicking, so using a mouse is going to be preferable to avoid a similar result for me in the future.
Asus ROG Strix G18: Connectivity and audio
Gamers and creators are going to find the I/O options much to their liking, with both USB port types available and enough slots to plug in four devices. The addition of a Thunderbolt 4 port is a nice touch too that means gamers can transfer large game files quickly at a speed of up to 40Gbs (gigabits per second), instead of sitting around and waiting for their games to download on Steam.
Mentioned in this review
MSI Titan GT77 HX 13V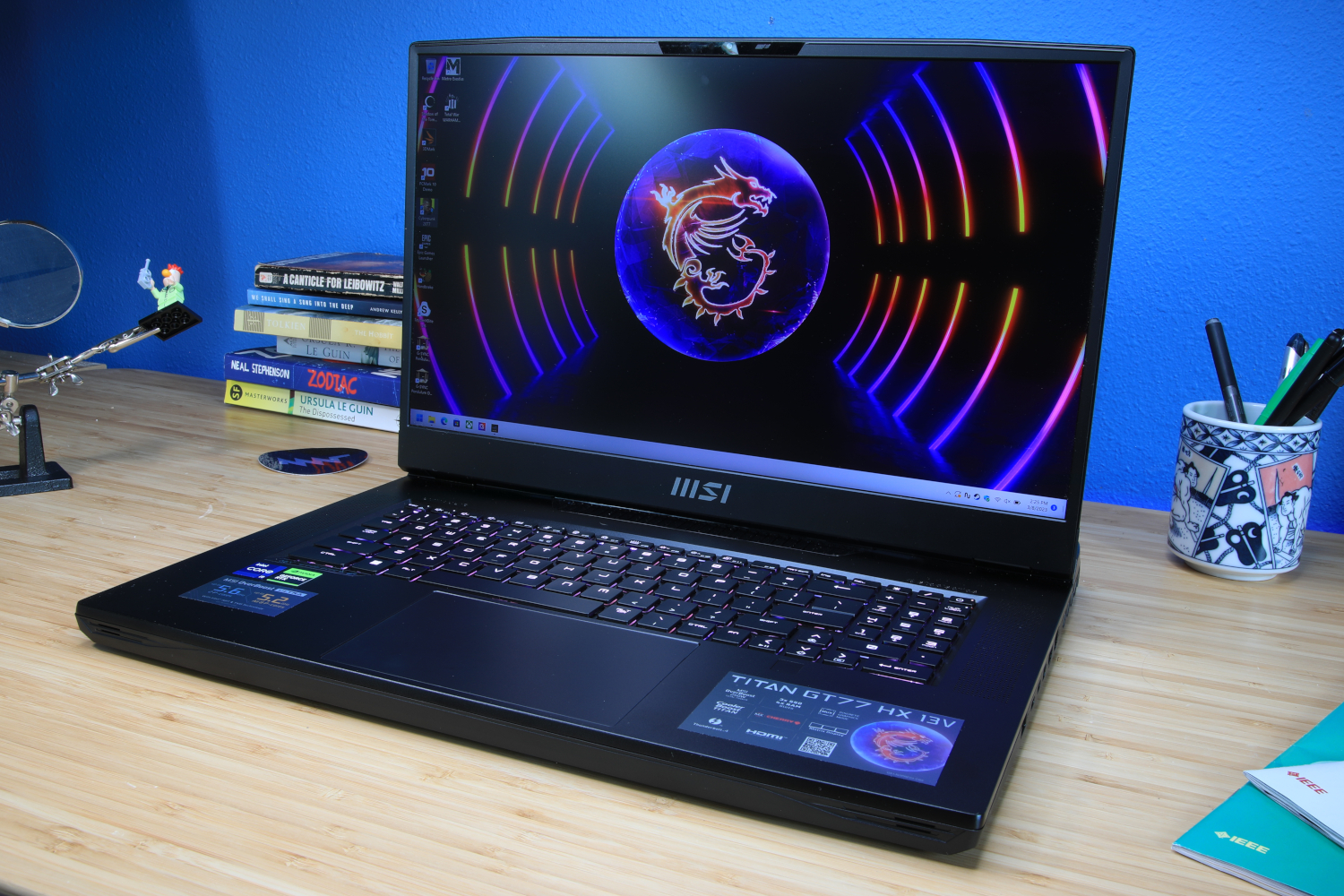 Price When Reviewed:
$5,299
For displaying video or games the G18 also gives you multiple options; the Thunderbolt 4 port for one allows you to stream video to either 2 x 4K displays or a single 8K display at a refresh rate of 60Hz, or you can also use the laptop's HDMI 2.1 display port if you don't want to tie down a USB-C.
In regards to the sound, the quality is middling for a laptop of this size with the ends of the tonal range, both highs and lows, sounding a little hollow. That said, in most games and videos the two-speaker system can still muster a fairly decent cinematic experience, and it does have Dolby Atmos and Hi-Res audio support which adds a richness and flair to movies and games.
Asus ROG Strix G18: Display and webcam
The G18 I tested had an 18-inch QHD+ (2560×1600) ROG Nebula panel with 100% DCI-P3 and sRGB color gamut coverage and a 240 Hz refresh rate. It also came with Adaptive-Sync and Dolby Vision.
I've already raved on about the 18-inch panel's generous size, but aside from that it also delivers gorgeous colors and crisp images. That said, being a conventional IPS-level LCD panel, it does have one obvious limitation, in that it lacks some depth of contrast in darker images, that if it were an OLED panel, it probably would have had.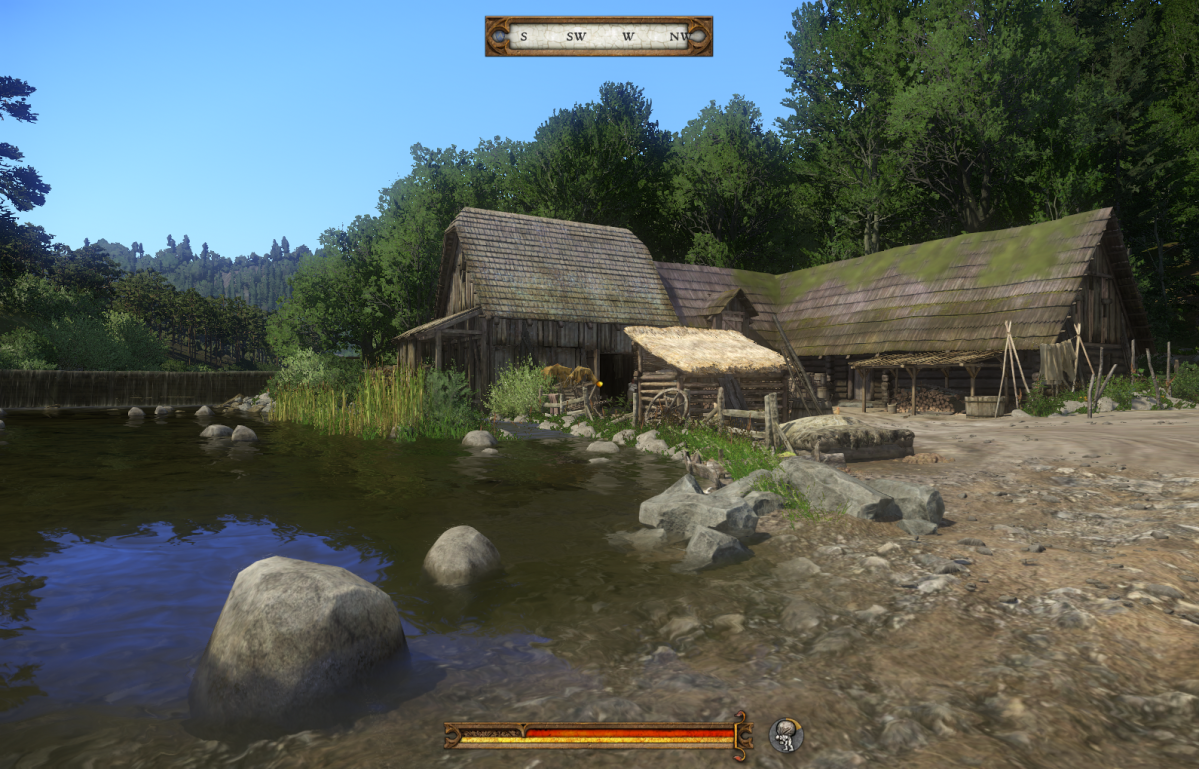 Dominic Bayley / IDG
Consequently, some darker scenes in games show up a little murky. However, the panel's high peak brightness of 489 nits (as measured by my LUX meter) does make it really easy to see in bright or sun-soaked environments and it also brings out the best in games which have more vivid colors.
The panel's 240 refresh rate, however, is a welcome feature that proved a gem. It did a spectacular job of keeping frame rates ticking over, and to me the G18's motion appeared buttery smooth with little to no tearing or micro stuttering.
While it's nice to see a webcam, the fact that it is a low-res 720p one instead of a 1080p camera seems a little incongruent with the laptop's premium price point. As expected, the low-resolution picture it produced was a little underwhelming at times. It provided passable, but not great performance, with some imagery sometimes appearing hazy.
Asus ROG Strix G18: CPU performance
My G18 came with some of the most powerful performance hardware you can get these days–namely an Intel Core i9-13980HX CPU and Nvidia GeForce RTX 4090 GPU. And, as you'll see in our benchmarking, they made a truly sensational pairing.
But just on its own the G18's CPU is impressive enough. It features a whopping 24 cores and 32 threads. Intel's own benchmarking results have shown this chip to be extremely quick, demonstrating clock speeds of 5.6 GHz for its Performance cores (P-cores), and 4 GHz for its Efficient cores (E-cores).
MenTioned in this article
Asus TUF Gaming A16 Advantage Edition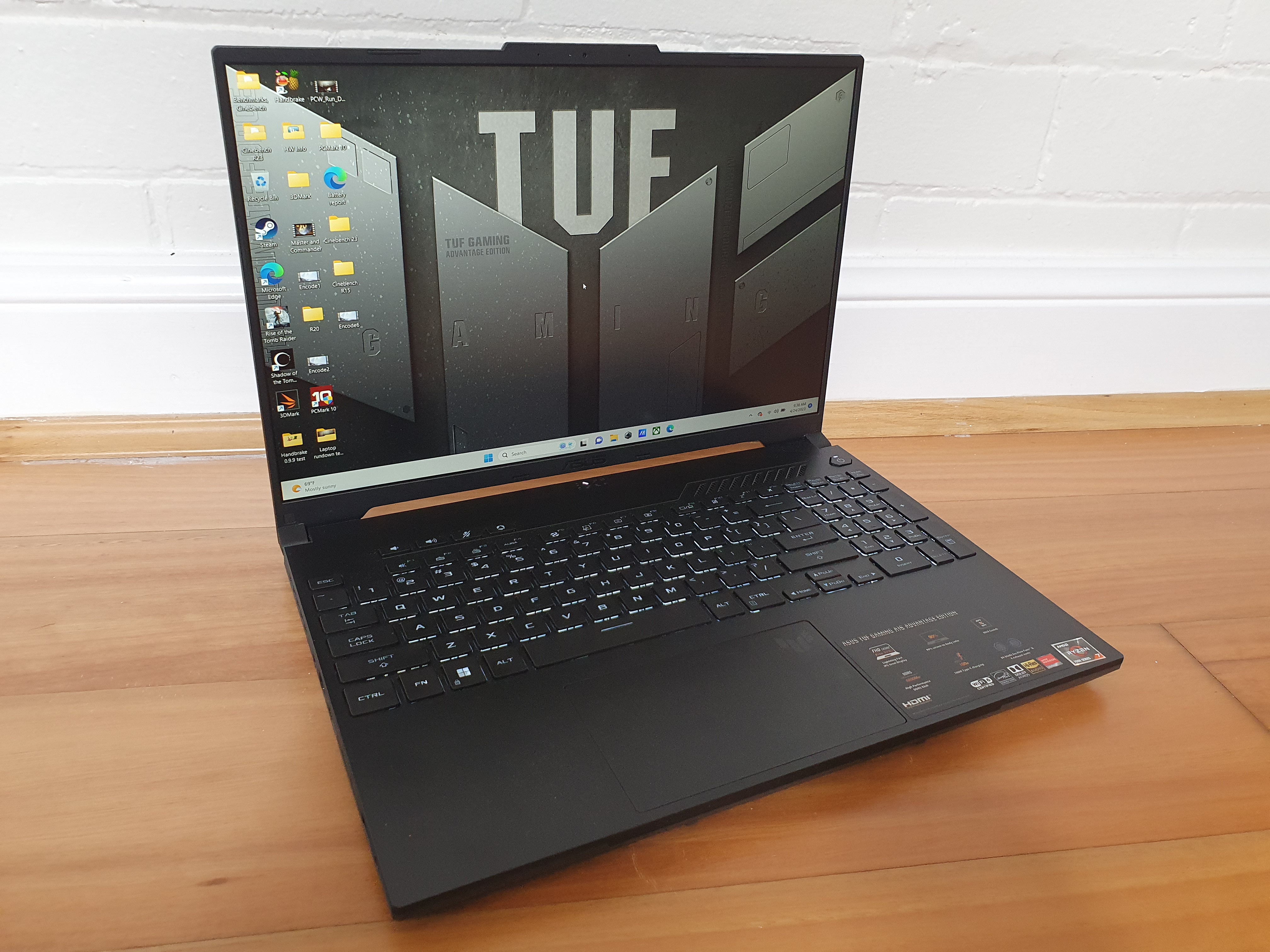 Price When Reviewed:
$1,099
Because of all that power, I pulled out PCWorld's very top performing laptops of 2022 and 2023 for CPU comparisons. The line-up for this clash of the titans included the MSI Titan GT77, which features the same CPU as our review unit, and the Razer Blade 17, which sports an Intel 12th-gen Core i7-12700H CPU.
First up in my testing schedule, I ran Maxon Cinebench's Single-Threaded benchmark. As you can see in the results below, the G18 showed excellent single core performance, leading the pack in our comparison charts. This result suggests the G18 has dollops of power for running simple programs like office apps, or browsers.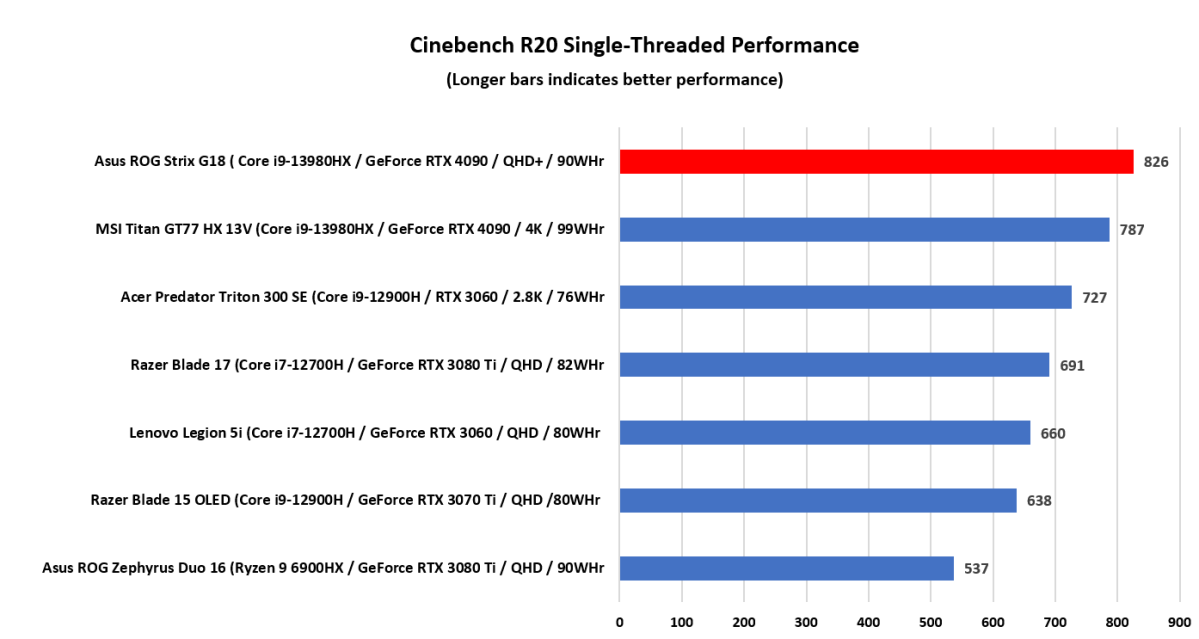 Dominic Bayley / IDG
Still in Cinebench, I ran the Multi-Threaded benchmark which tests all the cores of a laptop's CPU. Once again, the G18's Core i9-13980HX displayed the most impressive performance among our comparison group. On average it was about 15-30 percent quicker than laptops with midrange 12th-generation Intel chips, but it also outclassed the MSI Titan GT77, which features the same Intel 13th-gen i9 processor.
Dominic Bayley / IDG
With such a result, you can thereby also expect exceptional performance for high-end gaming and for other CPU-intensive tasks like video editing or encoding.
Last but not least, I completed the HandBrake 0.9.9 test – a kind of sprint to the finish line which allows us to gauge a laptop's ability to control thermals before it gets too hot and needs to throttle performance.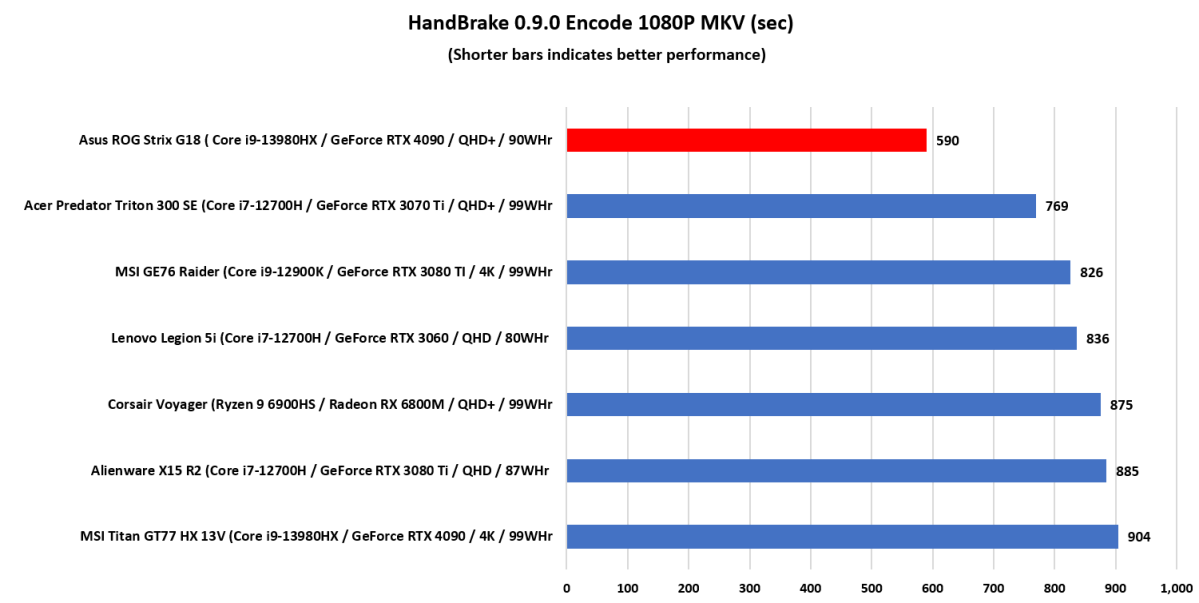 Dominic Bayley / IDG
In this test the G18 finished first in a very quick time of just 590 seconds, thereby proving it can keep cool and power on, even when other laptops fall by the wayside. It's also testament to the G18's innovative design that seems to quite efficiently manage its thermal load.
Asus ROG Strix G18: Gaming performance
The Strix G18 is the first laptop featuring Nvidia's new RTX 40 Series GPUs that I've had the pleasure of reviewing and what a place to start! The RTX 4090 is the most high-end mobile GPU Nvidia currently has available. This video card is built with ultra-efficient Ada Lovelace Architecture and includes new cores and AI technologies that combined, deliver higher base and top-line performance than Nvidia RTX 30 Series cards.
To quote my PCWorld colleagues Gordon Mah Ung and Alania Yee, "RTX 4090 for laptops is absolutely ferocious"–which just about sums up the Strix G18's GPU performance in the following graphics benchmark results below.
The first test I ran was the 3DMark Time Spy benchmark, which gives a rough indication of the G18's suitability for a variety of tasks that require graphics processing. As the result shows, the G18's performance was comparable with the MSI GT77, in that it's absolutely primed for the most graphically demanding tasks you can throw at it–be that AAA games or something else a content creator might run on it.
Dominic Bayley / IDG
Next, we move on to the first of our gaming benchmarks for Rise of the Tomb Raider. Here, the Strix G18 clocked an average frame rate score of 209 frames-per-second. This not only tops our list of comparisons, it also tops our PCWorld charts as the fastest score to date–an exceptionally fine result that's going to be hard to beat in 2023.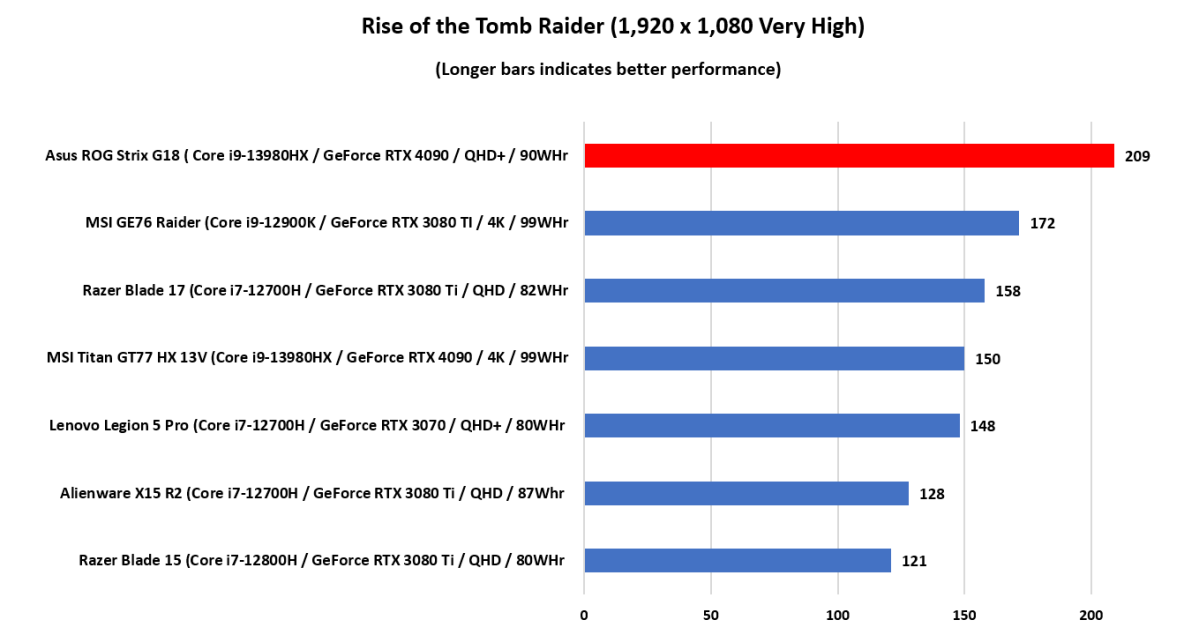 Dominic Bayley / IDG
The results for our next gaming benchmark for Shadow of the Tomb Raider were literally no different. In fact, the G18 clocked an average frame rate of 209 frames-per-second yet again, thus once again securing first place in the list of comparison gaming laptops.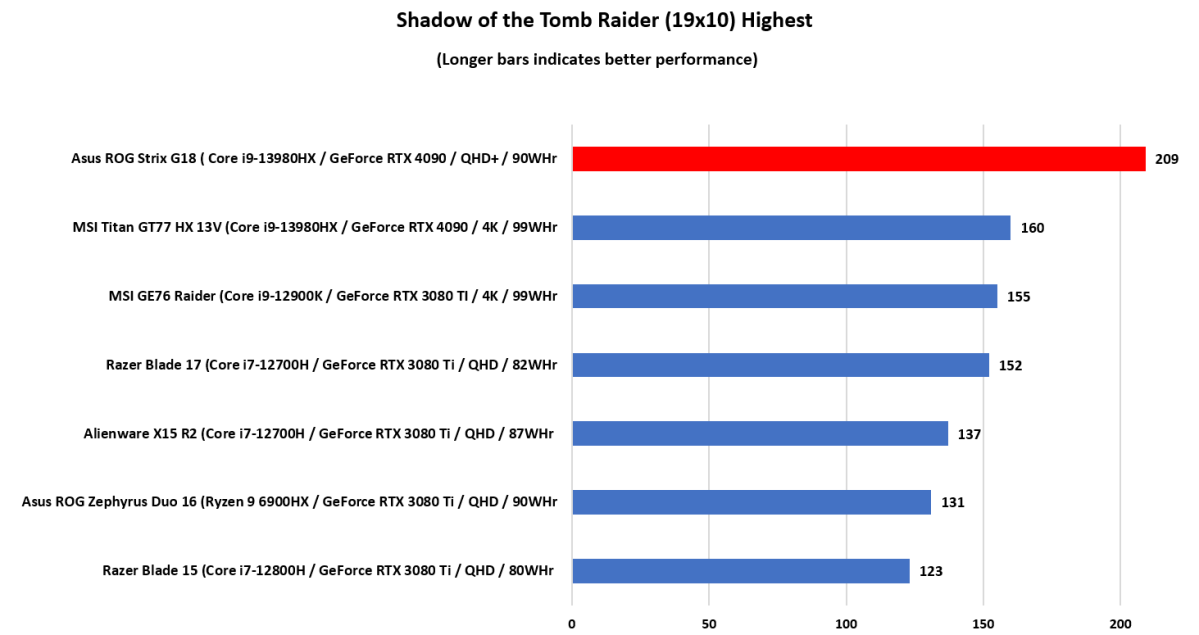 Dominic Bayley / IDG
Overall, these benchmark results are very encouraging. Not only do they reinforce the superiority of the Nvidia's new RTX 4090 video card over countless older GPUs and hence the G18's suitability for the most graphically demanding games, they also suggest the G18 can just as well handle creator-focused graphics tasks with gusto.
Consequently, since the G18's display is also Pantone Certified, we can surmise that it would also make a fine choice for content creators wanting a laptop that performs both powerfully and accurately, that they can use in either the home or office.
Asus ROG Strix G18: Battery performance
Considering this laptop's large 90WHr battery, efficient new generation hardware and Advanced Optimus technology that can switch off the discrete GPU to save power, I had high hopes for a long battery life in the Strix G18.
Regrettably, though, it lasted just shy of seven hours in our lightweight 4K video rundown test. For that reason, if you're not near an outlet you can expect approximately four hours gaming time unplugged, due to the higher power drain you'll get whilst gaming.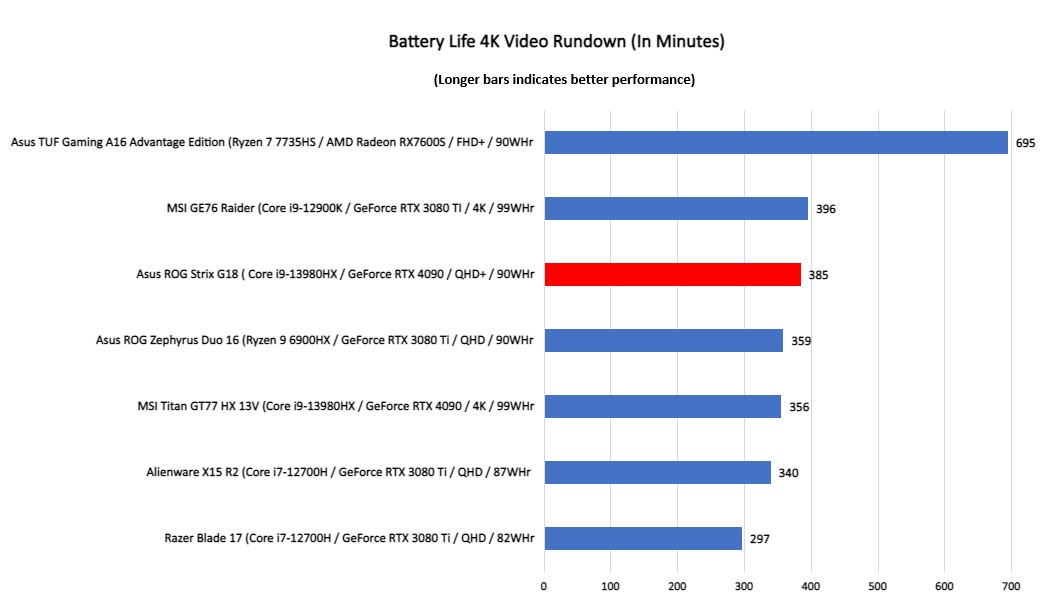 Dominic Bayley / IDG
If that's a deal breaker, then perhaps you should check out the Asus Gaming A16 Advantage Edition instead. This 16-inch laptop lasted a whopping 11 and a half hours when we ran the same test on it–which is truly an impressive result.
Asus ROG Strix G18: Should you buy it?
The Asus Strix G18 is a top-notch gaming laptop, there's no denying that. While it does have a few drawbacks, namely its average battery life and steep price, the G18 is stacked with so much power to be considered a prized possession in any gamer's household. Put simply, if you're after a desktop replacement with the very best performance on offer and you can afford to buy one, you absolutely should.