At a glance
Expert's Rating
Pros
Strong overall performance
Display is big, bright and fast
Per-key RGB lighting
Cons
Some flex to keyboard deck
Poor battery life
Our Verdict
Armed with a 13th-gen Core i9 CPU and RTX 4070 graphics, the Lenovo Legion Pro 7i Gen 8 is mid-priced powerhouse.
Price When Reviewed
$2,175
Best Prices Today: Lenovo Legion Pro 7i Gen 8
The Lenovo Legion Pro 7i Gen 8 delivers the latest from Intel and Nvidia for a fraction of the cost of premium models that feature higher-grade RTX 40-series GPUs. We've reviewed two admittedly impressive RTX 4090-based gaming monsters—the $4,300 Razer Blade 16 and the $5,300 (!) MSI Titan GT 77 HX 13V—that are more show pieces than attainable objects for most. This laptop will fit into many more budgets.
You can outfit the Legion Pro 7i Gen 8 with an RTX 4080 or RTX 4090 GPU, but our test model features a RTX 4070 GPU and is roughly half the price of the Razer Blade 16 we reviewed recently. It lacks the striking design of the slab-like Razer as well as its dual-mode display, but the look and build quality is certainly appropriate for a midrange gaming laptop. And the 16-inch display is spacious, crisp, bright, and fast. After dreaming about owning a $4,000 or $5,000 next-gen gaming laptop, the next-gen Pro 7i Gen 8 is a solid choice for when you snap back to reality and your financial constraints.
Looking for more options? If so, check out our roundup of the best gaming laptops available today.
Lenovo Legion Pro 7i Gen 8: Specifications
Our Lenovo Legion Pro 7i Gen 8 test system costs $2,175 from Lenovo and features the following specs:
CPU: Quad-core Intel Core i9-13900HX
Memory: 32GB DDR5 5600MHz
Graphics: Nvidia GeForce RTX 4070
Storage: 1TB PCIe NVMe M.2 SSD
Display: 16-inch QHD (2560×1600) 240Hz display
Webcam: 1080p with electronic kill switch
Connectivity: 1 x Thunderbolt 4 USB Type-C, 1 x USB-C 3.2 Gen 2, 4 x USB-A 3.2 Gen 1, HDMI 2.1, Ethernet, combo audio jack
Networking: Wi-Fi 6E, Bluetooth 5.1
Biometrics: None
Battery capacity: 99 Watt-hours
Dimensions: 0.86 x 14.3 x 10.3 inches
Measured weight: 5.46 pounds (power brick weighs 2.65 pounds)
Price: $2,175
The Lenovo Legion Pro 7i Gen 8 starts at $2,070 for a system with the Intel Core i9-13900HX CPU, GeForce RTX 4070 graphics, 16GB of RAM, and a 512GB SSD. Our test system features two upgrades to the baseline model: 32GB of RAM that adds $55 and a 1TB SSD that adds $50. The highest-end model in the line costs $3,600 and features RTX 4090 graphics and a 2TB SSD. The Core i9-13900HX is the only CPU offered and all models feature the same 16-inch, 16:10 display with a 2560×1600 resolution and speedy 240Hz refresh rate.
Lenovo Legion Pro 7i Gen 8: Per-key RGB and full-size arrow keys
The Legion Pro 7i Gen 8 looks more like an overgrown corporate laptop than a gaming laptop until you fire up the RGB lighting. The aluminum chassis is dark gray throughout, and aside from a pair of small Lenovo badges and a larger Legion wordmark, there is a distinct lack of chrome accents. The large vents on the side edges and back edge are your only hints that this is a high-powered gaming laptop.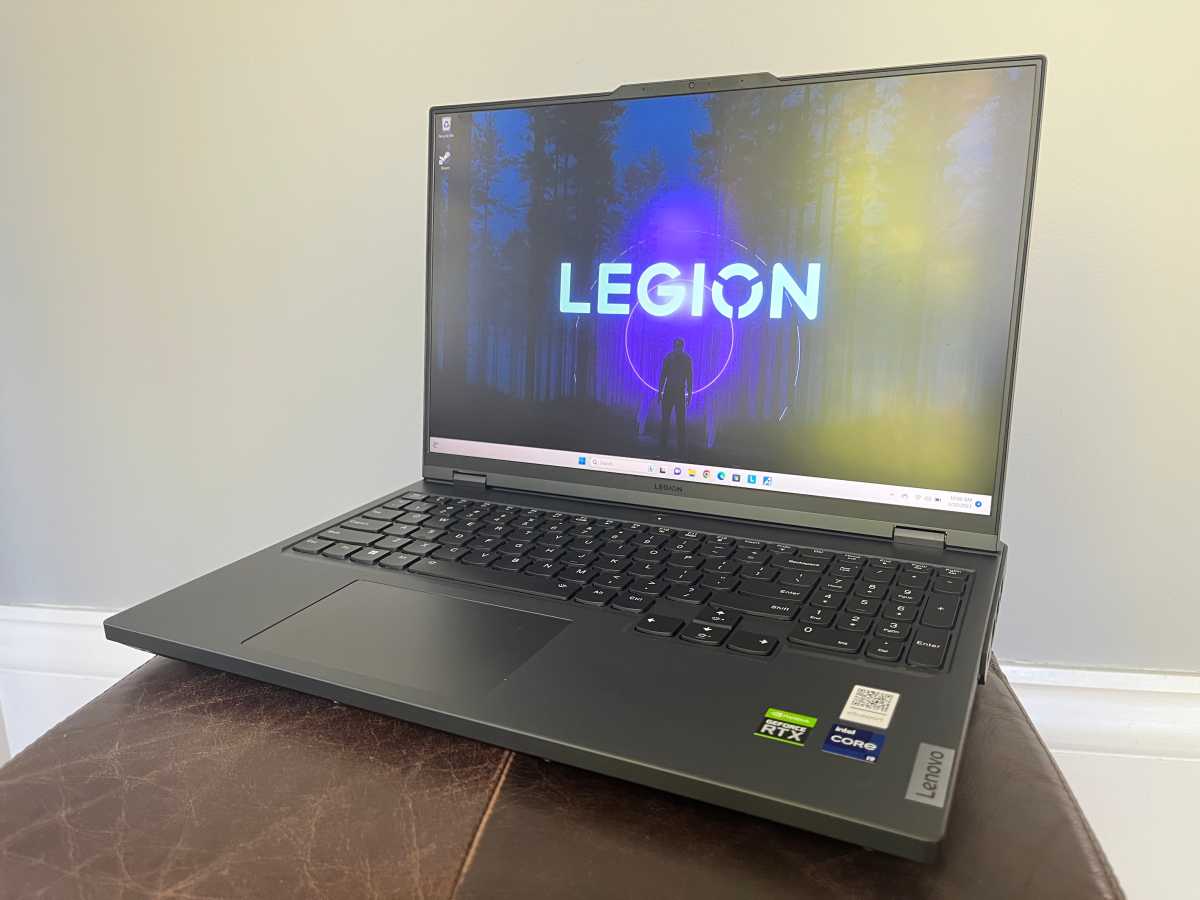 IDG / Matthew Elliott
The laptop weighs 5.46 pounds, which is average for a 16-inch 16:10 laptop. The sleek Razer Blade 16 actually weighs slightly more at 5.52 pounds, while two other 16-inch 16:10 models, the Acer Predator Triton 500 SE at 5.29 pounds and the HP Victus 16 at 5.44 pounds, are a bit lighter. The Legion Pro 7i Gen 8's massive power brick, however, will weigh you down. The 300-watt brick weighs a hefty 2.65 pounds, making the overall travel weight a substantial eight pounds.
IDG / Matthew Elliott
The aluminum chassis feels fairly sturdy, although it does flex a bit in the middle of the keyboard. Mashing the WASD keys near the left edge felt more rigid than pressing keys closer to the middle of the keyboard, but there is definitely some flex to the keyboard deck. It lacks the rock-solid feeling of the Razer Blade 16. The keys themselves felt snappy, and I appreciate Lenovo finding room for both a number pad and four full-size arrow keys. It's a smart design choice to take advantage of the added space afforded by the tall 16:10 display and use it to extend the arrow keys.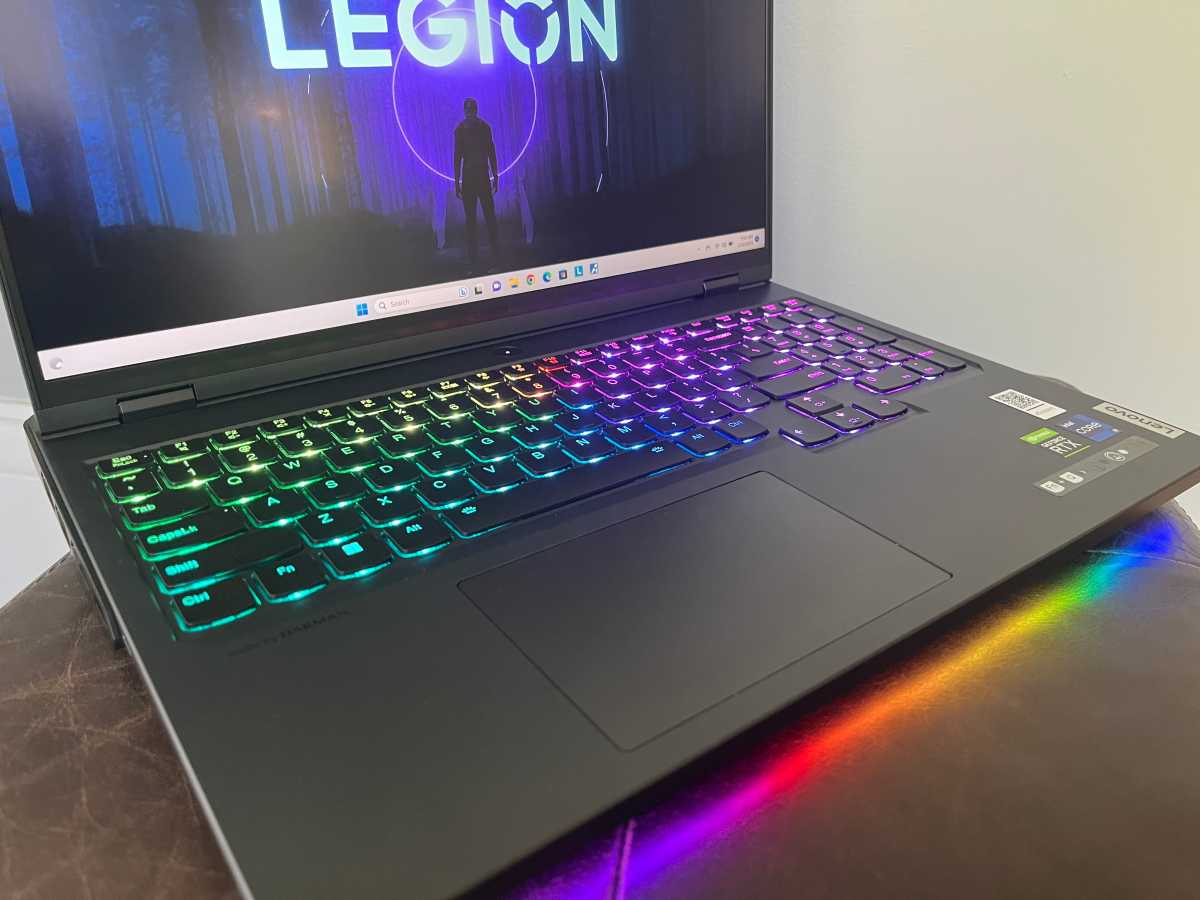 IDG / Matthew Elliott
The Legion Pro 7i Gen 8 offers per-key RGB lighting, a fun feature that isn't always offered on a midrange gaming laptop. Most midrange models let you customize the look of the keyboard with various lighting patterns or perhaps with a four-zone lighting, but the Pro 7i Gen 8 provides maximum RGB flexibility with per-key lighting. You can set up to six RGB lighting profiles and you can cycle through them using the Function key and spacebar. There's also an LED stripe that runs along the front edge of the laptop that you can also customize with RGB lighting. It has six zones you can customize. The per-key lighting and LED stripe along the front edge go a long way to making the laptop look like a gaming model and not an overgrown ThinkPad.
Lenovo Legion Pro 7i Gen 8: Big, bright, and fast display
The display is stellar, especially for a midrange model. It's big at 16 inches and has a 16:10 aspect ratio that's taller than a traditional 16:9 widescreen display. It's crisp with a 2560×1600 resolution that's finer than the 1920×1200 resolution found on many midrange 16-inch models. And it's fast and bright with a blazing 240Hz refresh rate and rated for 500 nits of brightness. My own measurements with a lux meter showed it was actually a bit brighter than its rating, reaching a peak brightness of 550 nits. Colors looked vivid, edges of images and text looked sharp, and games showed smooth movement.
The laptop features a modern 1080p camera that produces a crisp, well-balanced image. There's also a kill switch for the webcam on the laptop's left edge that interrupts the power to the camera to ensure your privacy when it's not in use.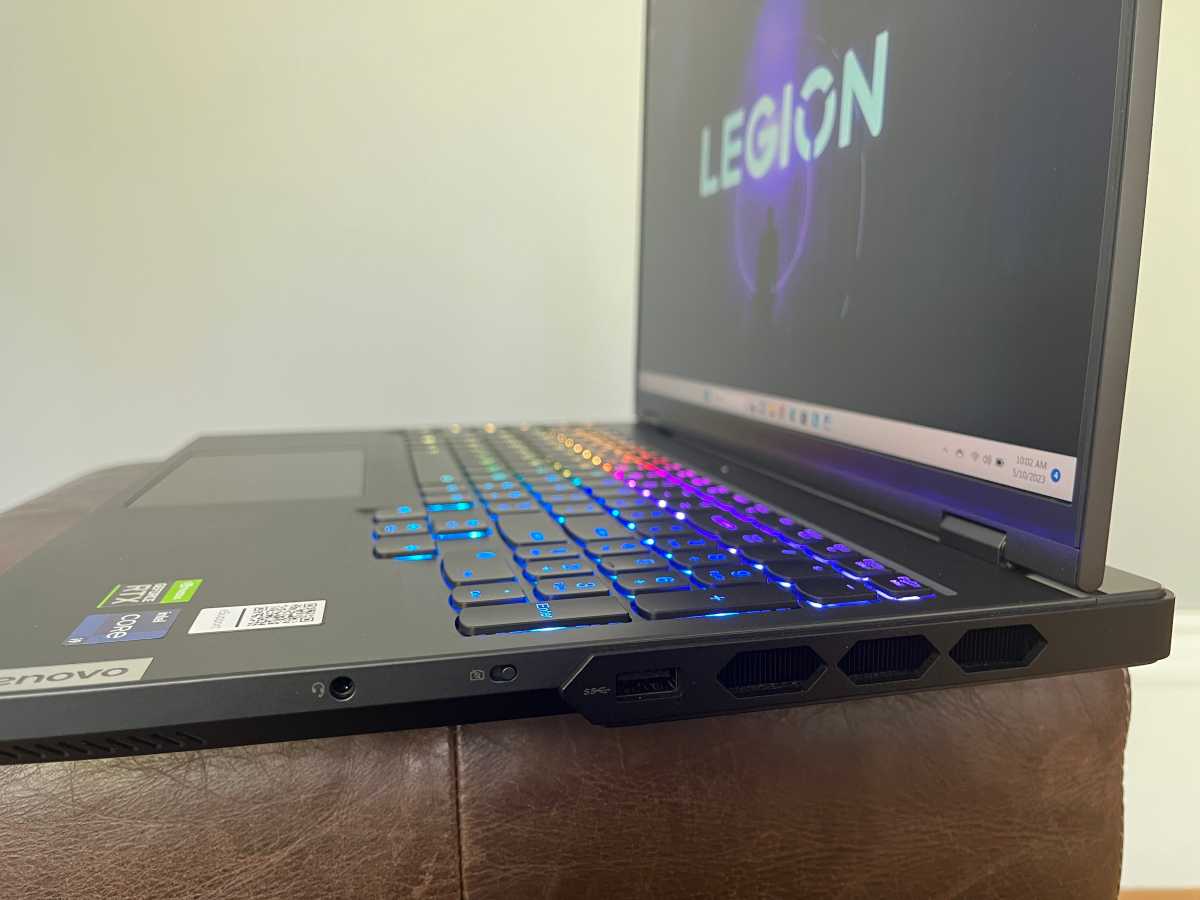 IDG / Matthew Elliott
If the display has you dreaming of getting a premium gaming laptop AV system at a mainstream price, the speakers will snap you back to reality. Some higher-end 16-inch models such as the Razer Blade 16 find room for four speakers—two tweeters and two subs. You only get a pair of 2-watt speakers with the Legion Pro 7i Gen 8 and they produce muddy audio with no separation between the highs and mids. Without any subs, the bass response is predictably lacking.
IDG / Matthew Elliott
The port selection is varied and well located. There are two USB-C ports, one of which offers Thunderbolt 4 support. There are four USB Type-A ports—two in the back and one of each side of the laptop. This USB-A arrangement allows left and right mousers to connect their gaming mouse to their preferred side. The audio jack is also conveniently located on the front half of the right side for each access. And with the speakers being what they are, you'll want to keep your headphones nearby.
Lenovo Legion Pro 7i Gen 8: Performance
Our Legion Pro 7i Gen 8 test system is based on the Core i9-13900HX CPU and GeForce RTX 4070 graphics. It also supplies a generous 32GB of RAM and a 1TB SSD. The 13th-gen Core i9-13900HX features Intel's hybrid architecture with performance and efficiency cores; it has eight performance cores, 16 efficiency cores, and a total of 32 processing threads. The RTX 4070 is a midrange GPU in Nvidia's latest GeForce 40 series behind the RTX 4080 and 4090 graphics processors. In our test system, it's set to run at its maximum of 140 watts. That's a combination of the GPU's maximum power draw of 115 watts and 25 watts supplied by the CPU via Dynamic Boost.
We started off testing with PCMark 10, which measures performance on everyday computing work including office productivity tasks, web browsing, and video chats. With a score approaching 8,000, the Legion Pro 7i Pro 8 proved itself to be overqualified as a productivity machine.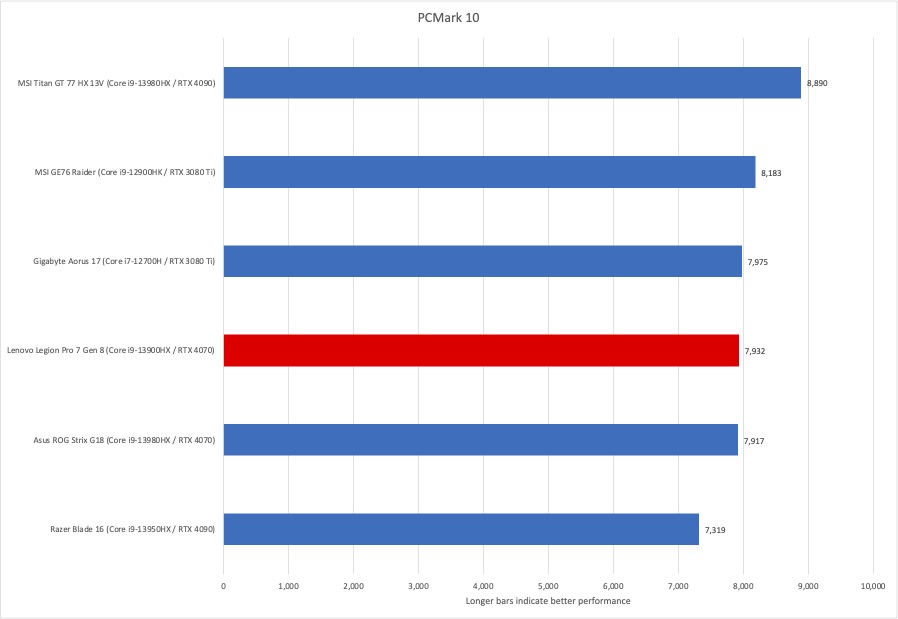 IDG / Matthew Elliott
Our HandBrake benchmark tests how a laptop is able to handle crushing CPU loads over a lengthy period—in this case, transcoding a 30GB MKV file to a format suitable for Android tablets using HandBrake, the free video encoding utility. The Legion Pro 7i Gen 8 barely broke a sweat on the test, edging the Strix G18 as one of the fastest times we've seen on the test. It can pull double duty as a gaming machine and content creation laptop.
IDG / Matthew Elliott
Next up is Cinebench, another CPU-intensive test but one that renders a complex 2D scene over a short period of time. The trio of laptops with 13th-gen Core i9 chips crushed the competition, illustrating the power of Intel's latest generation of Core processors.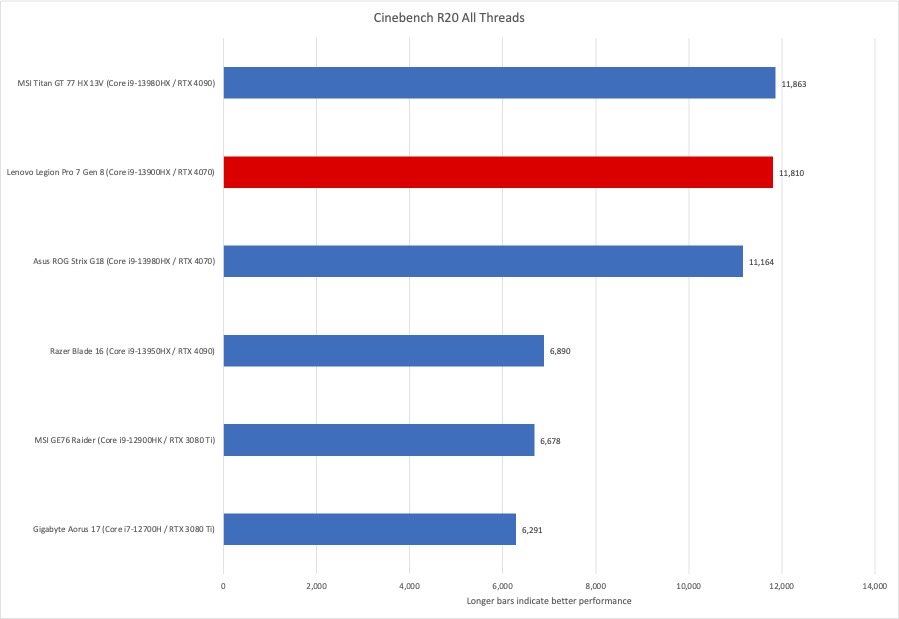 IDG / Matthew Elliott
Lenovo Legion Pro 7i Gen 8: Graphics performance
Now we get to the goods—3D performance. First up are two synthetic tests, 3DMark's Time Spy and Port Royal. On Time Spy, the Legion Pro 7i Gen 8 trailed both RTX 4090-based laptops but edged the RTX 4070-based Asus ROG Strix G18 and a pair of laptops with previous-gen RTX 3080 Ti GPUs. On Port Royal, the results were largely the same, although the Legion Pro 7i Gen 8 finished in between the two RTX 3080 Ti laptops.
IDG / Matthew Elliott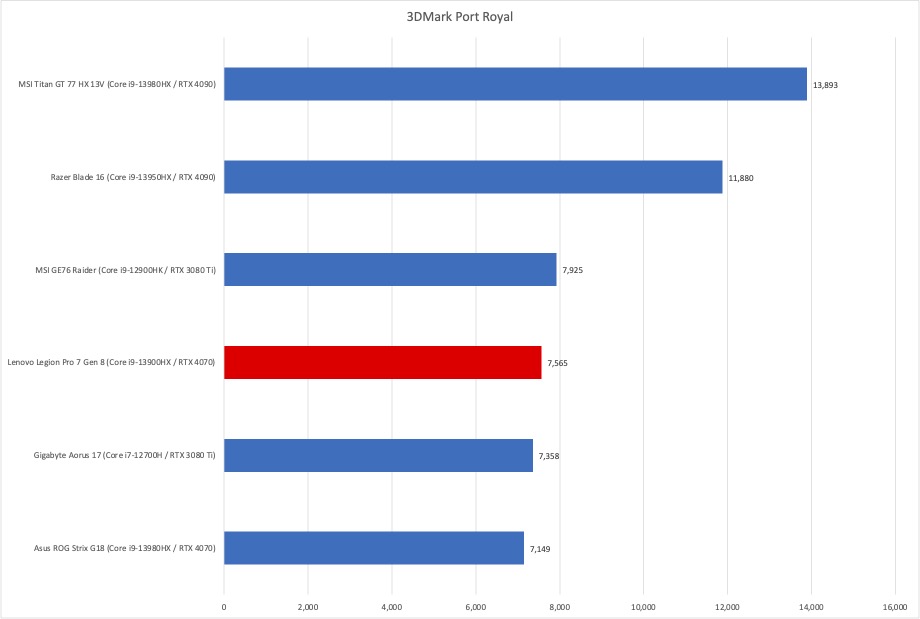 IDG / Matthew Elliott
On our real-world game benchmarks, the Legion Pro 7i Gen 8 started off with a bang, averaging 166 fps on our Shadow of the Tomb Raider benchmark at 1920×1080 resolution at the Highest quality preset. That was actually better than the RTX 4090-based MSI Titan GT 77 HX 13V and only four frames per second less than the RTX 4090-based Razer Blade 16. The two RTX 4090 machines were able to flex their muscles on the more demanding Metro Exodus test, and the Legion Pro 7i Gen 8's performance fell more in line with the other RTX 4070 laptop and the pair of RTX 3080 Ti systems.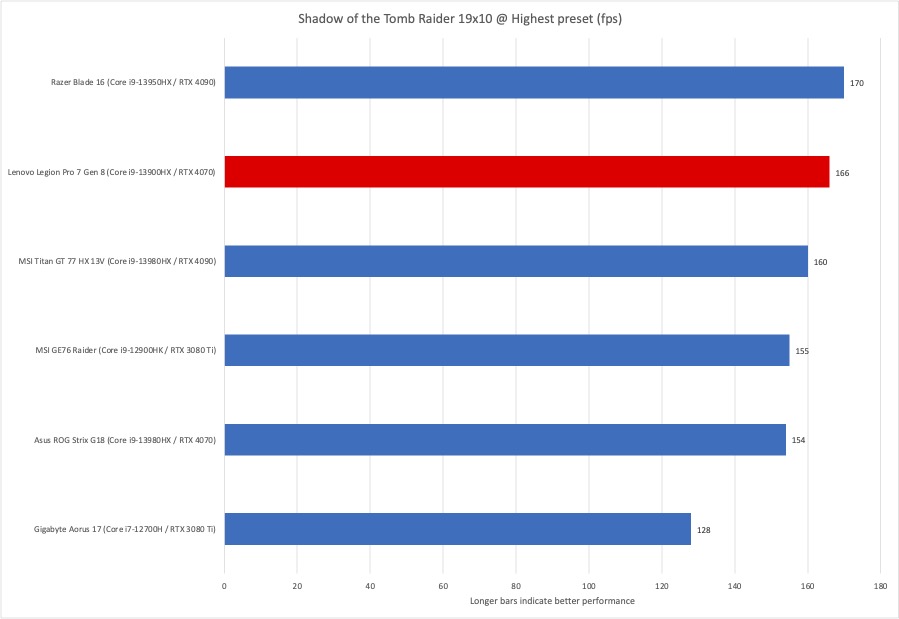 IDG / Matthew Elliott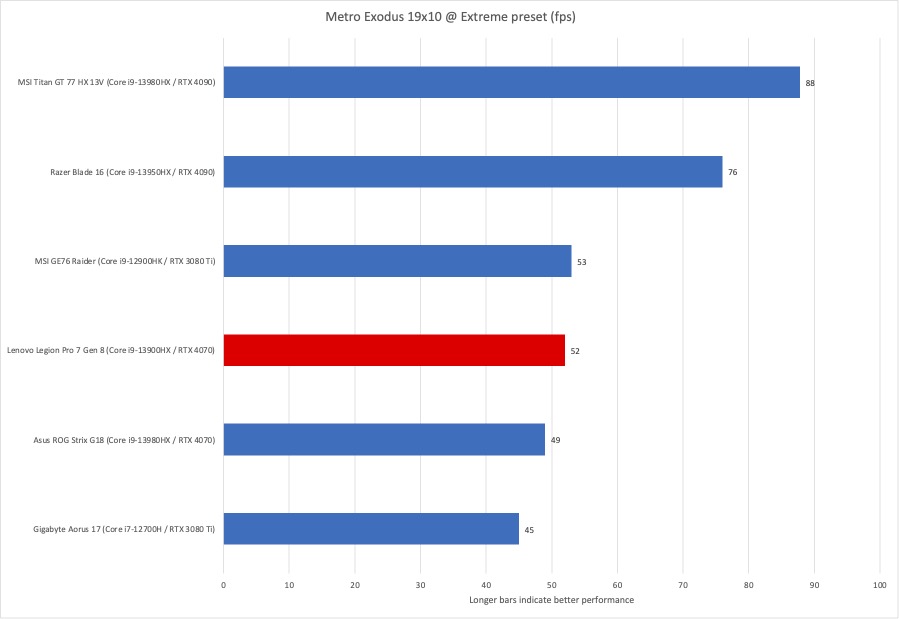 IDG / Matthew Elliott
To test a laptop's battery life, we loop a 4K video using Windows 11's Movies & TV app, with the laptop set to Airplane mode and earbuds plugged in. We set the screen brightness at a relatively bright 250 nits to 260 nits, which is a good brightness for watching a movie in an office with the lights on. Despite using a large, 99Whr battery, the Legion Pro 7i Gen 8 failed to last even five hours on our battery drain test. That's a short runtime even among gaming laptops, which rarely provide decent battery life. Then again, you are unlikely to lug this large, 16-inch laptop around with any regularity and will spend most of your time with it plugged in.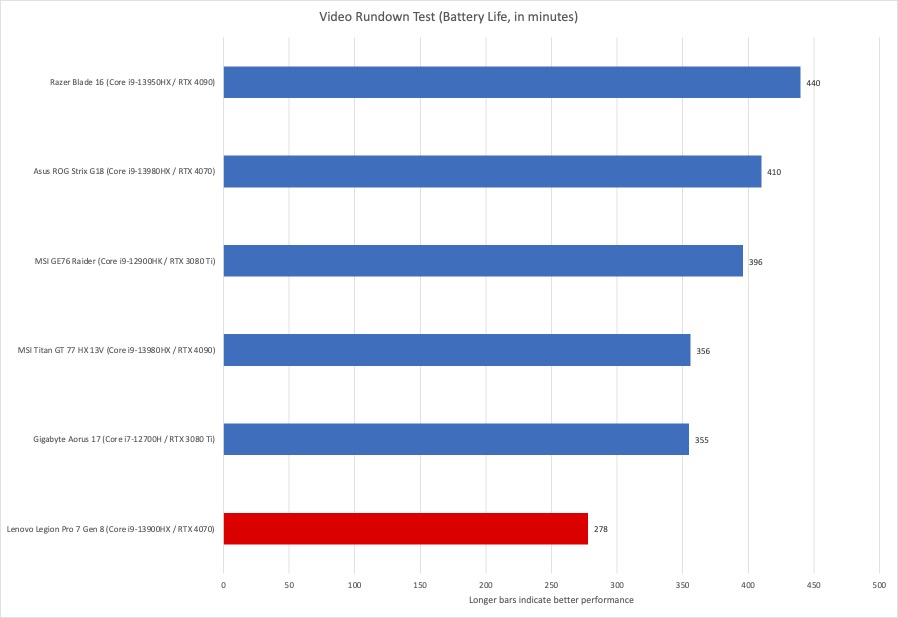 IDG / Matthew Elliott
Lenovo Legion Pro 7i Gen 8: Should you buy it?
Costs can quickly spiral out of control when shopping for a gaming laptop that offers the latest technology from Intel and Nvidia. The Lenovo Legion Pro 7i Gen 8 delivers the goods while staying on budget. It provides excellent value by pairing a powerful Core i9-13900HX CPU with not RTX 4080 or RTX 4090 graphics, but the more cost-effective RTX 4070 GPU. And its roomy, 16-inch 16:10 display is bright, sharp, and fast enough to extend the laptop's value even further. For a midrange gaming laptop, the rather staid design is sufficient. We'd expect a more interesting and rigid enclosure for a higher-end gaming laptop, which is why we wouldn't recommend scaling up in the Legion Pro 7i Gen 8 line and choosing one of the pricier models with an RTX 4080 or RTX 4090 GPU. As configured, this machine is an excellent example of a mainstream gaming laptop that delivers for the price.
Best Prices Today: Lenovo Legion Pro 7i Gen 8